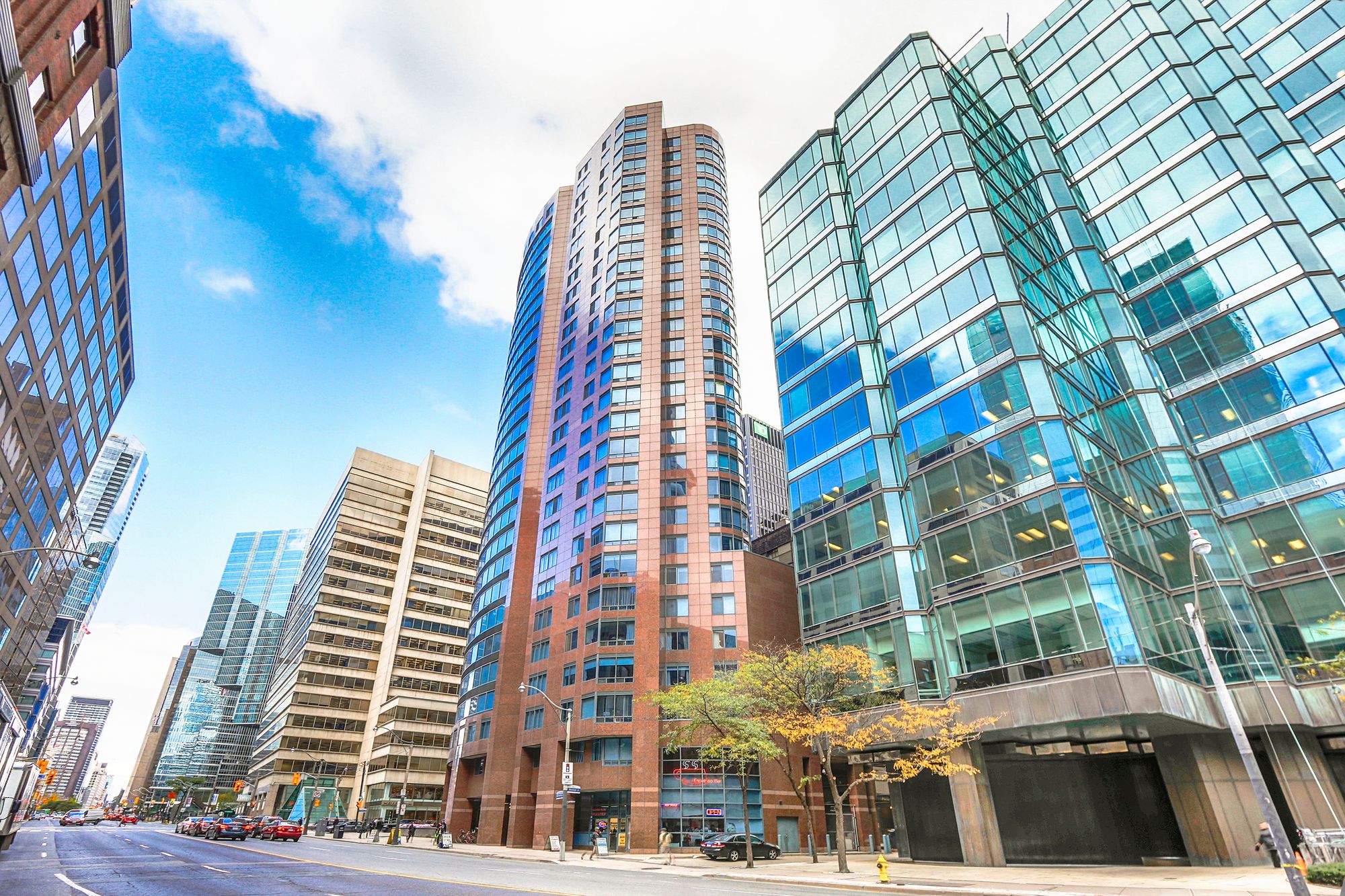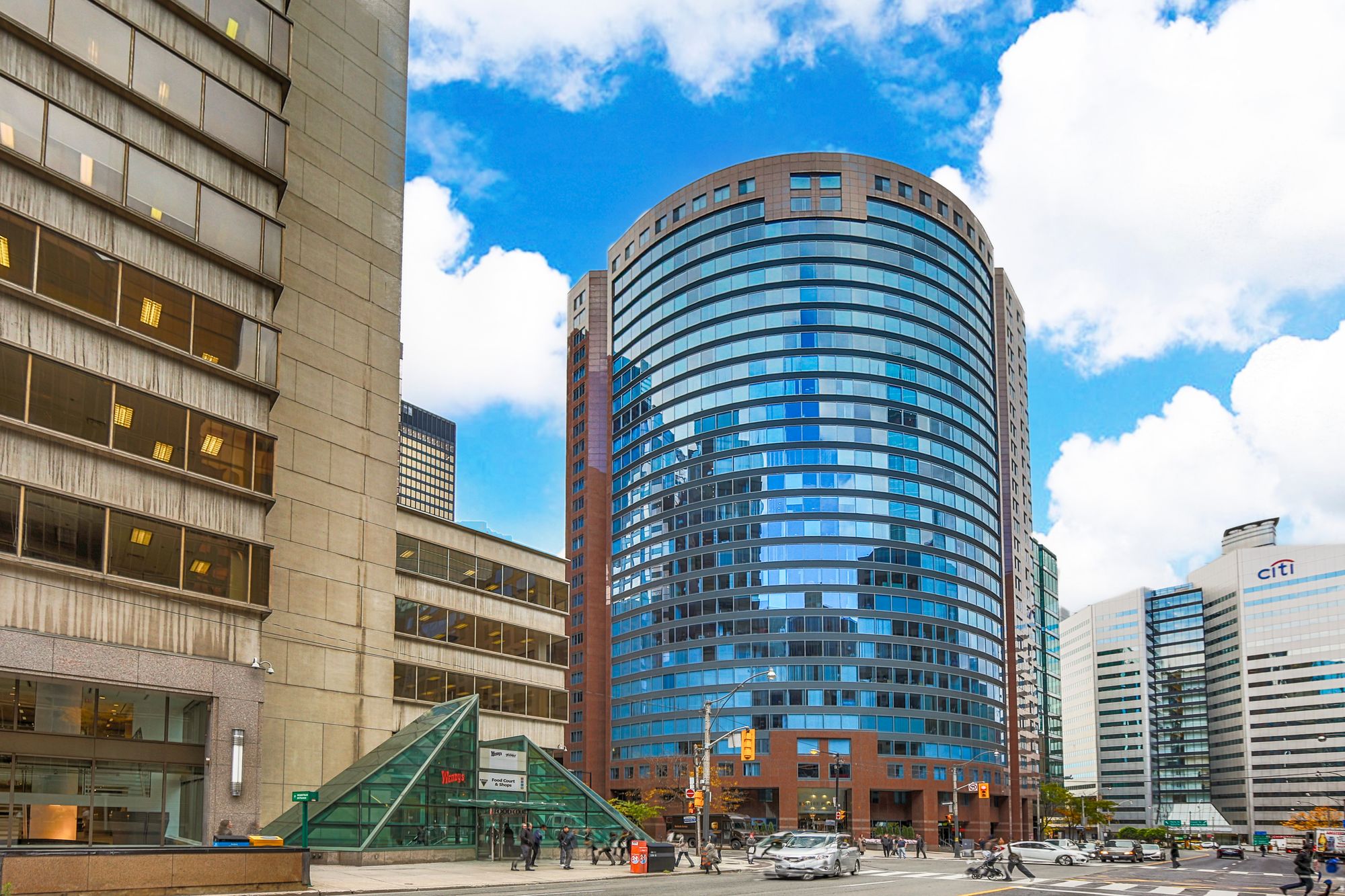 33 University Ave
5
Listings for Sale
for Sale
0
Listings for Rent
for Rent
Empire Plaza
33 University Ave
Empire Plaza
5
Listings for Sale
for Sale
0
Listings for Rent
for Rent
0
Developer
Creson Corporation
Property Management
Icon Property Management
Unit Size Range
628 - 6479 SQFT
33 University Ave, Toronto
About this condo
Condo Overview
It may come as a surprise to many that the first condo on Toronto's prestigious University Avenue, which connects Queens Park and Union Station, was built relatively recently — in 1990. Today a landmark in its own right, the Creson Corporation's Empire Plaza at 33 University Avenue Avenue are attractive luxury homes, even in comparison with the more recently built developments in the area.
Standing at 28 storeys tall, the Empire Plaza was designed by the renowned Young + Wright Architects. This firm's inventive design, a modern circular structure, showcases an enormous expanse of windows. A grand window wall encompassing almost all of the northwest face of the tower casts a stunning impression, allowing the designers to keep the rest of 33 University elegant and understated. In doing so, Young + Wright chose for most of the building to be clad in distinguished granite.
33 University conveniently contains well-established shops and eateries At street level, as well as a sophisticated lobby, cared for by 24-hour concierge service. And that's just one of the many amenities offered to those living in the Empire Plaza. For those who love to work out, residents will love having access to the building's well-equipped fitness facilities. Prospective buyers who plan to host friends and family will be won over by the posh party room, as well as its rooftop garden that boasts captivating views of the city.
The Suites
The Empire Plaza's circular structure isn't just beautiful — it's practical too. The design carves out plenty of space for long series of windows, which then grace the building's 224 suites with an abundance of natural light. This light moves quite well through the suites, courtesy of the thoughtful layouts of each living space. The homes range in size from approximately 550 to 3,200 square feet, and vary from one and two bedroom floor plans, with and without dens. And for those interested in Toronto condos for sale with a little more prestige, the building is also home to a select number of three-bedroom penthouses.
As smart as the suites' floor plans are, especially considering the chic solariums throughout, these condos feature state-of-the-art design their residents cannot see: the thick windows and innovative engineering reduces sound from both their neighbours in the building, as well as the bustling city streets surrounding them. As a result, even as deep in downtown Toronto as they are, these living spaces prove to be serene escapes for 33 University's residents.
The Neighbourhood
Located in the City Centre neighbourhood at the corner of Yonge and Wellington, the neighbours of the Empire Plaza Condos happen to be some of Toronto's most stalwart skyscrapers. Since these are much sought-after spaces that major businesses wish to inhabit, most of the shopping here is instead done underground. Fortunately, this underground mall known as the PATH is an extensive network of stores and eateries that stretches from Union Station all the way north past College Street.
Nevertheless, residents can explore other areas beyond the immediate vicinity surrounding their homes: just up the street, there's a exciting dining and nightlife scene to be discovered in the Entertainment District. Along King Street are the Royal Alexandra and Princess of Wales Theatres — both less than a block away from University Avenue, where theatre lovers can catch live performances. And at Simcoe Street, the Roy Thomson Hall is a concert venue that also happens to be home to the Toronto Symphony Orchestra and the Toronto Mendelssohn choir.
Finally, for an indulgent dining experience, David Chang's celebrated Momofuku is about a five-minute walk from the lobby doors, located inside the elegant Shangri-La Hotel on University between Richmond and Adelaide. Spanning 3-storeys, Momofuku caters to a different price point on every floor – but regardless of which level one chooses, the restaurant makes for a great date night in the neighbourhood.
Transportation
With the PATH running beneath their homes, residents live in a very walkable neighbourhood is very walkable — even in winter. Still, when those living at 33 University need to travel further from home, the city's public transit serves them well. A subway line runs along University, yet deep below street level.
As expected, this subway line is known as the Yonge-University-Spadina line. The station closest is Union Station, just a few minutes south by foot. A major transit hub in the city, Union Station provides access to streetcars that head through the Lakeshore area and around the downtown core. GO Transit, VIA Rail, and the UP Express are all housed within this station as well.
Last but not least, the building is well located for residents who drive. University Avenue is an exceptionally wide roadway, especially for one that cuts across the downtown core. And, south of Front Street where University becomes York, there's a convenient onramp for the Gardiner Expressway — often less than ten minutes away.
5
Listings For Sale
Interested in receiving new listings for sale?
0
Listings For Rent
Interested in receiving new listings for rent?
Amenities
Maintenance Fees Cover
Maintenance fees include
Water
Owner / renter pays separately
Hydro
Heat
Air Conditioning
Past Sold & Rented Listings
Stats, Trends & Rankings
Price Per Square Foot
Empire Plaza vs The
City Centre Area
Less Expensive
per SQFT compared to the neighbourhood average
Empire Plaza's Avg
price per SQFT
$778
/ SQFT
Neighbourhood Avg
price per SQFT
$1,034
/ SQFT
Building Trends At Empire Plaza
Days on Market
Units at Empire Plaza spend an average of
31
Days on Market
based on recent sales
List vs Selling Price
On average, these condos sell for
below
the list price.

Offer Competition
Condos in this building have an
AVERAGE
chance of receiving
Multiple Offers
Turnover of Units
On average, each unit is owned for
11
YEARS
before being sold again
Property Value
Decrease
in property value within the past twelve months
Price Ranking
Highest price per SQFT out of
36
condos in the City Centre area
Sold Units
11
Units were
Sold
over the past twelve months
Rented Units
27
Units were
Rented
over the past twelve months
Best Value
Empire Plaza offers the
best value
out of 36 condos in the City Centre neighbourhood
Return on Investment
Empire Plaza has the
highest ROI
out of 36 condos in the City Centre neighbourhood
Rental Yield
Empire Plaza yields the
highest rent prices
out of 36 condos in the City Centre neighbourhood
High Demand
Empire Plaza is the
most popular
building out of 36 condos in the City Centre neighbourhood
Sales vs Rental Values For This Condo
Rental Price Range
$2,350 - $3,400
1 Bed + Den
873 - 1200 SQFT
Average Cost Per Sqft
$757
Sales Price Range
$670,000 - $795,000
Rental Price Range
$1,900 - $3,100
Average Cost Per Sqft
$750
Sales Price Range
$1,150,000 - $1,150,000
Rental Price Range
$3,550 - $3,850
2 Bed + Den
1200 - 1878 SQFT
Average Cost Per Sqft
$734
Sales Price Range
$906,000 - $1,299,000
Rental Price Range
$3,100 - $4,000
3 Bed + Den
2700 - 2700 SQFT
Rental Price Range
$7,800 - $7,800
How Often Are Units Listed?
Average Sales Availability
Average Rental Availability
Ratio of Unit Type in Building
7%
1 Bed + Den
628 - 1350 SQFT
Average Sales Availability
Average Rental Availability
Ratio of Unit Type in Building
38%
Average Sales Availability
Average Rental Availability
Ratio of Unit Type in Building
18%
2 Bed + Den
1000 - 2738 SQFT
Average Sales Availability
Average Rental Availability
Ratio of Unit Type in Building
35%
Average Sales Availability
Average Rental Availability
Ratio of Unit Type in Building
4%
3 Bed + Den
2700 - 6479 SQFT
Average Sales Availability
Average Rental Availability
Ratio of Unit Type in Building
2%
Maintenance Fees

Empire Plaza vs The

City Centre Area
Less Expensive
per SQFT compared to the neighbourhood average
Empire Plaza's Avg
monthly maintenance
fee per SQFT
$0.73
/ SQFT
Neighbourhood Avg
monthly maintenance
fee price per SQFT
$0.84
/ SQFT
Similar condos