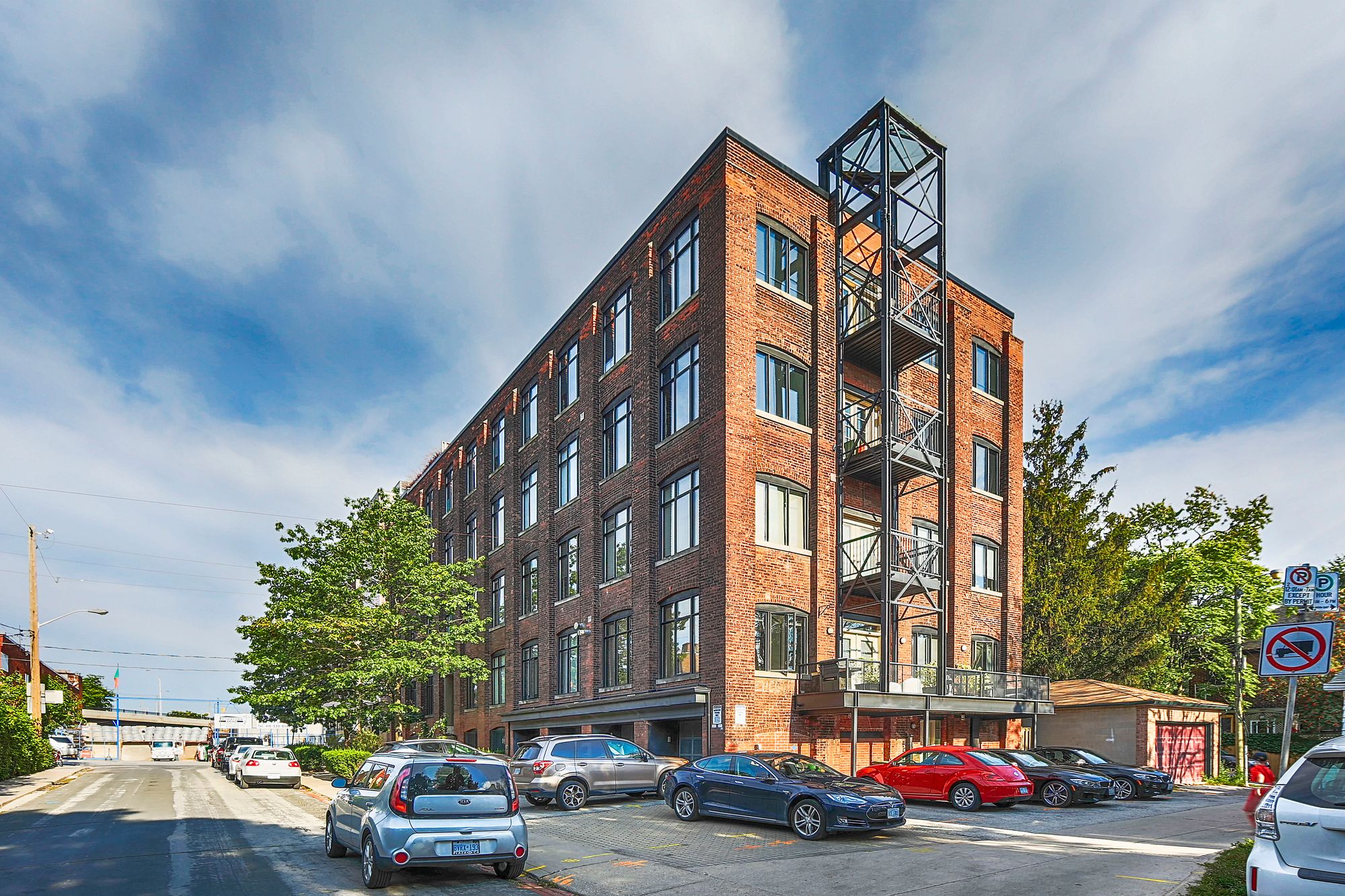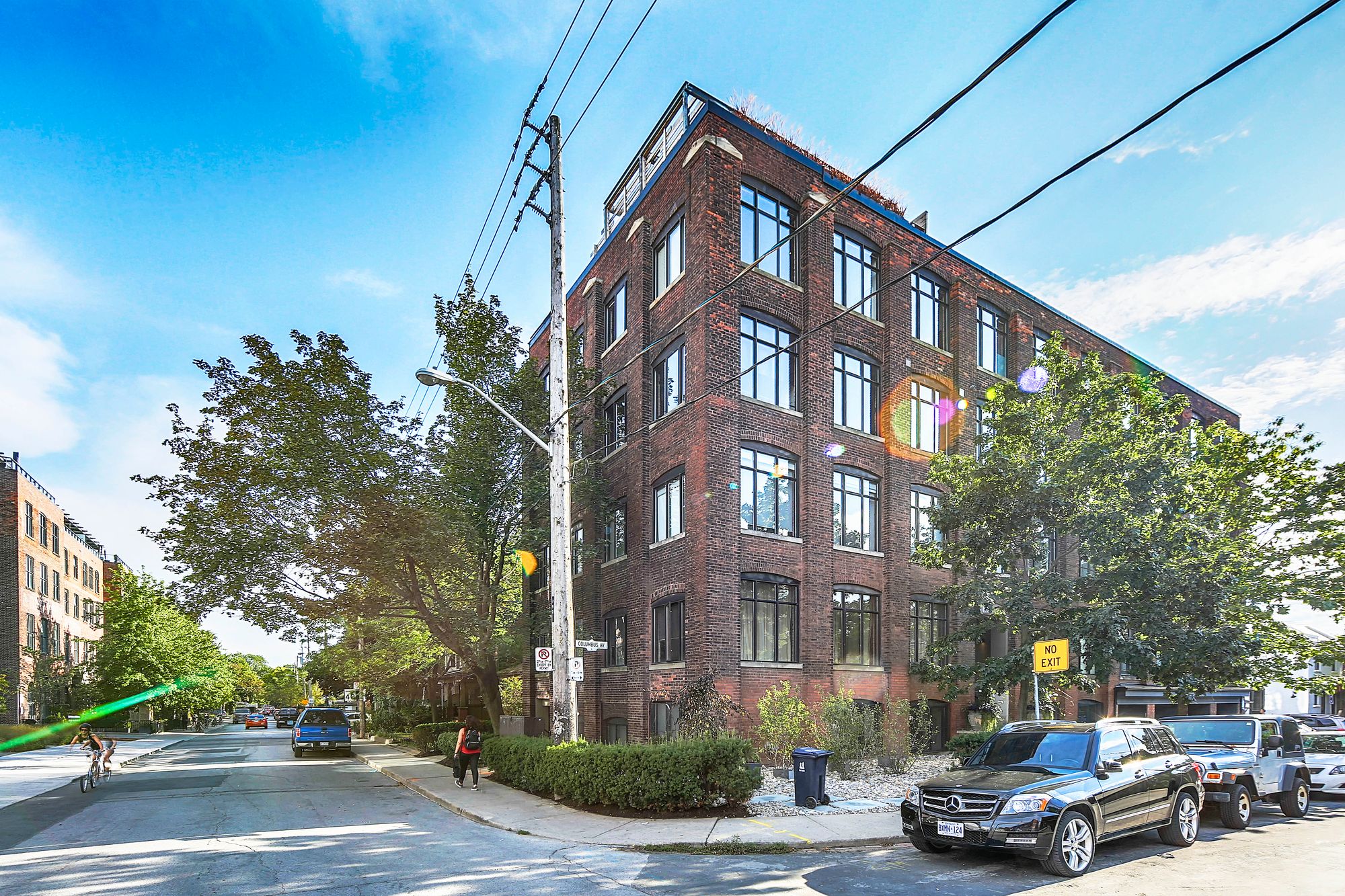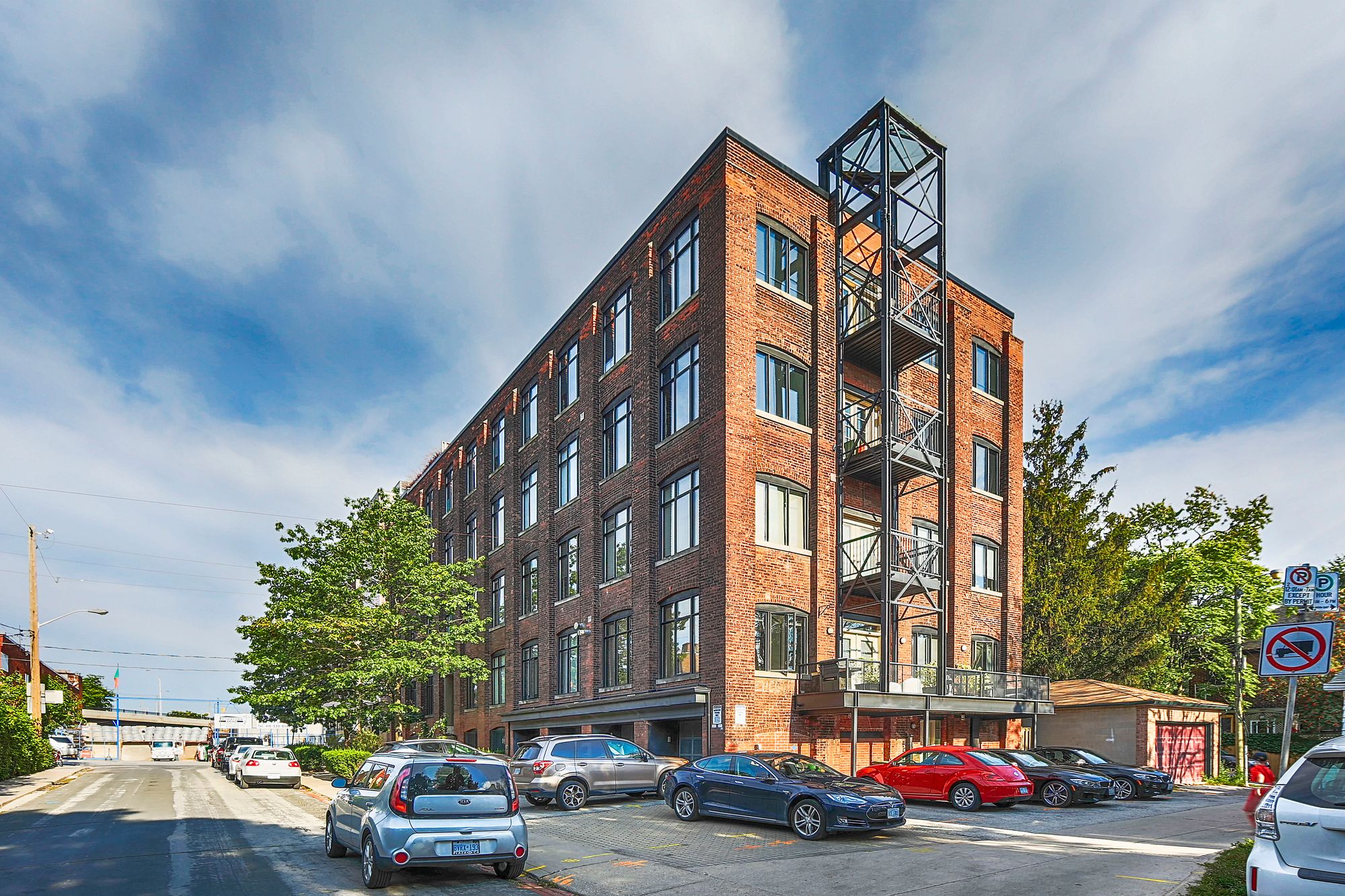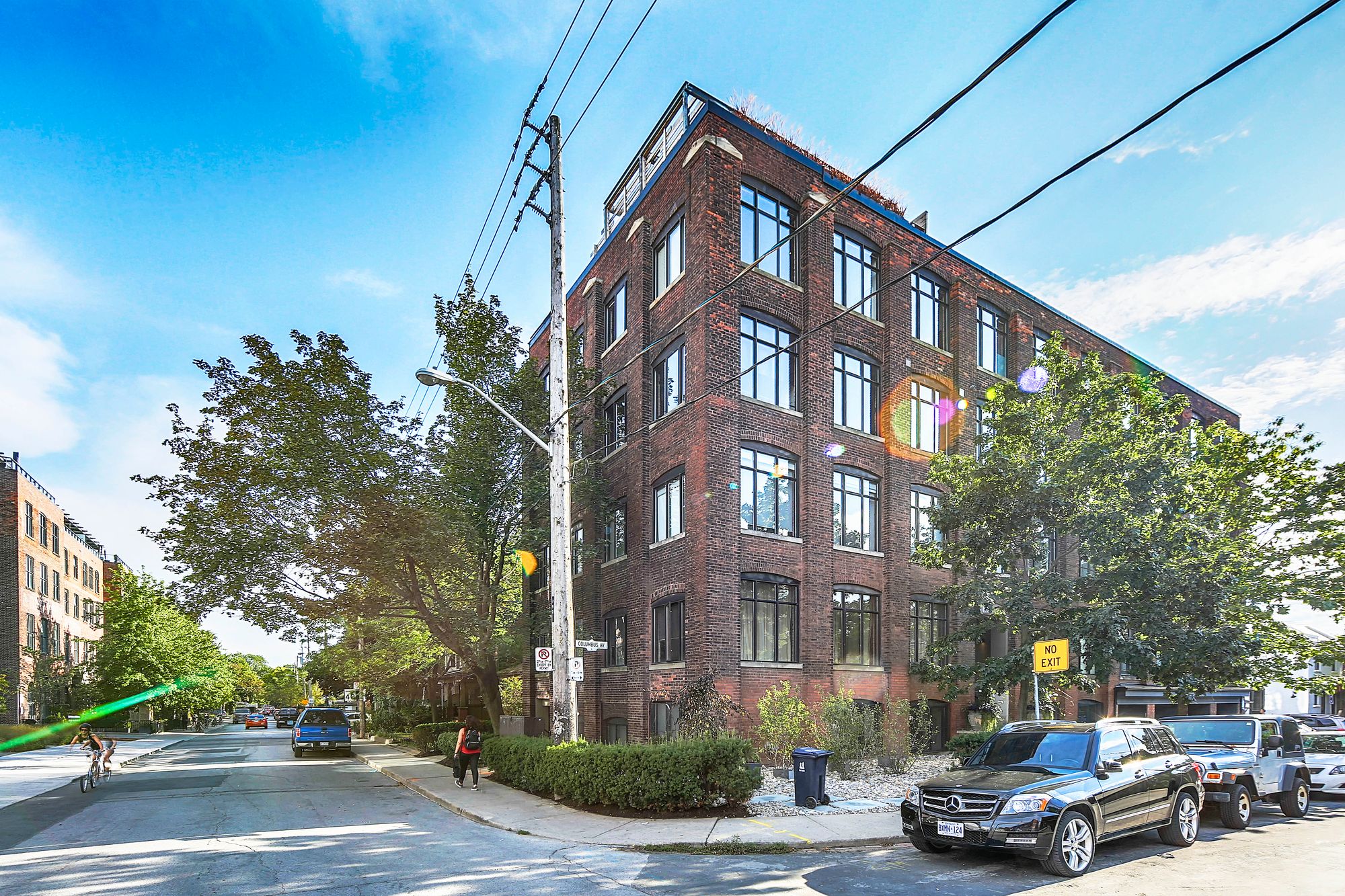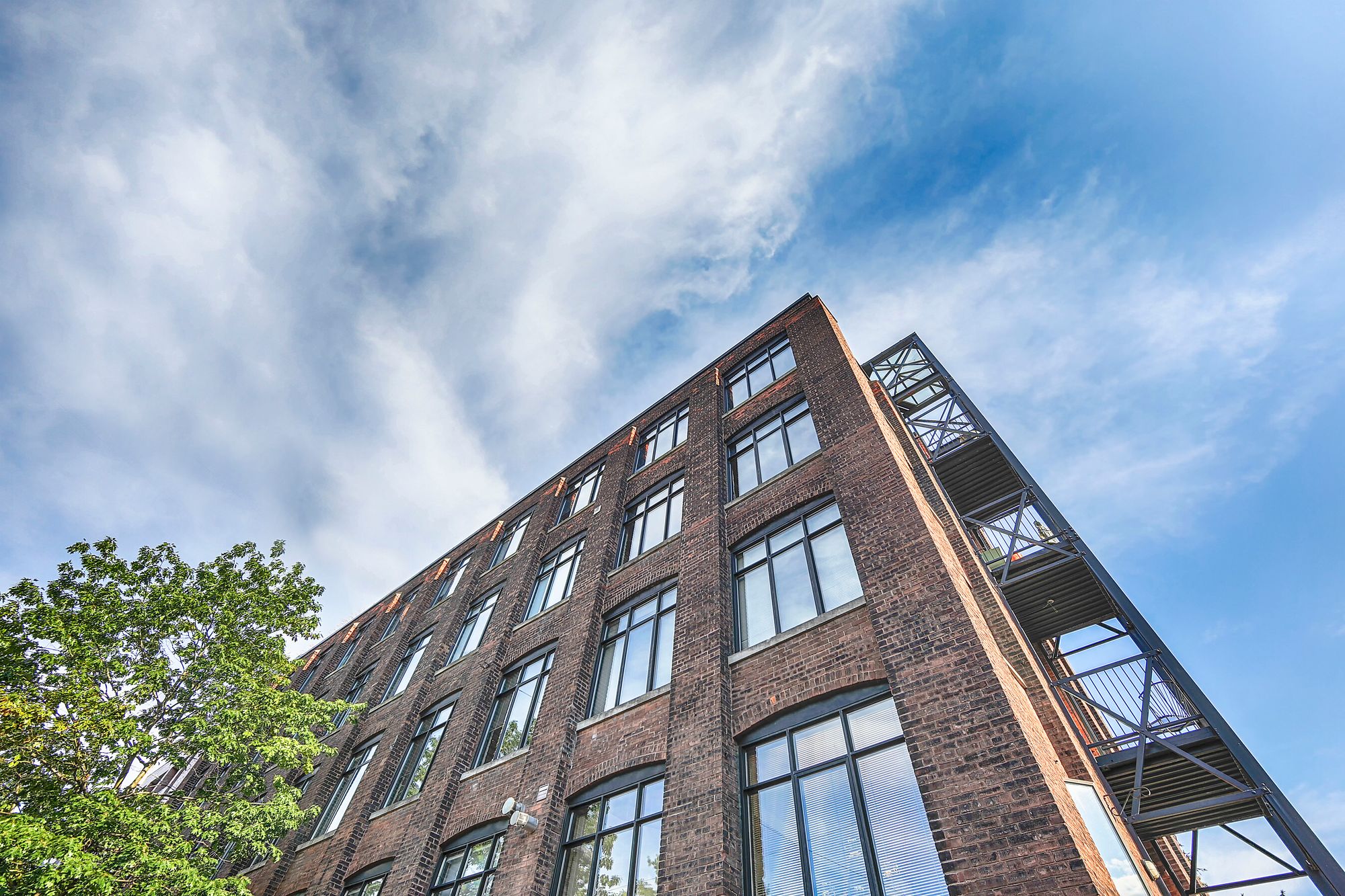 1 Columbus Ave
0
Listings for Sale
for Sale
0
Listings for Rent
for Rent
1 Columbus
1 Columbus Ave
1 Columbus
0
Listings for Sale
for Sale
0
Listings for Rent
for Rent
0
Developer
Jackson Goad Architects
Property Management
Taft Forward Property Management Group
Unit Size Range
1224 - 2400 SQFT
1 Columbus Ave, Toronto
About this loft
Within the unassuming exterior of a former leather factory lies the modern residences at 1 Columbus Avenue, home to some of the most attractive Toronto lofts in the downtown core. While it's typical these days for developers to cut corners (and costs) by labeling their buildings as lofts, 1 Columbus truly captures that often sought blend of rustic, exposed interiors and luxurious exclusivity.
The original factory at 1 Columbus, with its classic red brick façade and 3 panel workshop windows, was built over a hundred years ago, in 1902. Recognizing that Roncesvalles was becoming one of the city's most desirable neighbourhoods, Jackson Goad Architects renovated the building in 1997, although the interiors could rival any modern lofts on the market today.
Between the low-key, antique exterior, its deluxe and expertly designed suites, and the terrific neighbourhood surrounding it, buyers who are lucky enough to find Toronto condos for sale here will thank their lucky stars.
The Suites
Spacious, bright, and highly customizable, the suites at 1 Columbus provide the perfect home for residents looking to settle down in west end Toronto. Suites are quite large, ranging from around 1300 to approximately 2300 square feet. Moreover, this loft is only home to 10 units, adding to the exclusivity of the building.
The suites are outfitted with 1 or 2 bedrooms, 1 or 2 bathrooms, and some even boast dens. The hard-loft style of these units are perfectly executed: polished concrete and hardwood floors, exposed brick walls, and wooden beamed ceilings are expertly lit by large factory windows. As well, these homes feel incredibly spacious, thanks to their 10-foot ceilings and open-concept designs.
Luxurious kitchens designed by Scavolini feature stainless steel appliances, wood cabinetry, stone countertops, and spacious breakfast bars. Bathrooms are equally luxurious, with marble finishes, large soaker tubs and glass-encased showers.
Many of the homes have private elevator access in addition to private garages on the ground floor. As well, certain suites boast balconies or access to private rooftop terraces, while some even have their own gas fireplaces.
The Neighbourhood
1 Columbus Avenue is located in Roncesvalles Village, known for its highly walkable streets filled with unique boutiques, hip restaurants, popular bars and local grocers, in addition to the annual Polish Festival. There is also plenty of green-space in the area, including Sorauren Park, great for taking dogs (or loved ones) for a walk, or the enormous High Park to the west of Roncesvalles, which some compare to NYC's Central Park.
For weekend or nighttime entertainment, residents might opt to visit the independent Revue Cinema, Dufferin Mall to the east, or any of the many local bars known for their unique food or live music. Alternatively, there's the Shevchenko Museum for a taste of Ukrainian culture and history, the Boulevard Golf Club along the lakeshore, or the High Park Library for a quiet afternoon spent indoors.
Several schools also service the area, including Howard Junior Public School, Keele Street Public School, Humberside Collegiate, Catholic Saint Frere-Andre, and Brock Public School.
Transportation
Getting around town is a breeze. There are nearby streetcars that travel along Roncesvalles Avenue, as well as Queen Street West and Dundas Street West. Also, Dundas West Subway Station is about a 12 minute walk (or 8 minute bus ride) away. There are also many bus routes available in the area, but with all the shops throughout Roncesvalles, residents will be highly tempted to walk to and from home.
For motorists, the nearest highway is the Gardiner Expressway to the south, which is accessible via Parkside Drive.
0
Listings For Sale
Interested in receiving new listings for sale?
0
Listings For Rent
Interested in receiving new listings for rent?
Amenities
Maintenance Fees Cover
Maintenance fees include
Water
Owner / renter pays separately
Hydro
Heat
Air Conditioning
Past Sold & Rented Listings
Stats, Trends & Rankings
Price Per Square Foot
1 Columbus vs The
Roncesvalles Area
More Expensive
per SQFT compared to the neighbourhood average
1 Columbus's Avg
price per SQFT
Neighbourhood Avg
price per SQFT
Building Trends At 1 Columbus
Days on Market
Units at 1 Columbus spend an average of
1
Days on Market
based on recent sales
List vs Selling Price
On average, these lofts sell for
of the list price.
Or in other words, the
entire list price
Offer Competition
Lofts in this building have a
HIGH
chance of receiving
Multiple Offers
Turnover of Units
On average, each unit is owned for
5.9
YEARS
before being sold again
Property Value
Increase
in property value within the past twelve months
Price Ranking
Highest price per SQFT out of
12
condos in the Roncesvalles area
Sold Units
1
Units were
Sold
over the past twelve months
Rented Units
0
Units were
Rented
over the past twelve months
Best Value
1 Columbus offers the
best value
out of 12 condos in the Roncesvalles neighbourhood
Return on Investment
1 Columbus has the
highest ROI
out of 12 condos in the Roncesvalles neighbourhood
Rental Yield
1 Columbus yields the
highest rent prices
out of 12 condos in the Roncesvalles neighbourhood
High Demand
1 Columbus is the
most popular
building out of 12 condos in the Roncesvalles neighbourhood
Sales vs Rental Values For This Loft
2 Bed + Den
1951 - 1951 SQFT
Average Cost Per Sqft
$1,919
Sales Price Range
$3,745,000 - $3,745,000
How Often Are Units Listed?
Average Sales Availability
Average Rental Availability
Ratio of Unit Type in Building
46%
Average Sales Availability
Average Rental Availability
Ratio of Unit Type in Building
10%
Average Sales Availability
Average Rental Availability
Ratio of Unit Type in Building
19%
2 Bed + Den
1951 - 2300 SQFT
Average Sales Availability
Average Rental Availability
Ratio of Unit Type in Building
19%
Average Sales Availability
Average Rental Availability
Ratio of Unit Type in Building
10%
Maintenance Fees

1 Columbus vs The

Roncesvalles Area
Less Expensive
per SQFT compared to the neighbourhood average
1 Columbus's Avg
monthly maintenance
fee per SQFT
Neighbourhood Avg
monthly maintenance
fee price per SQFT
Similar lofts