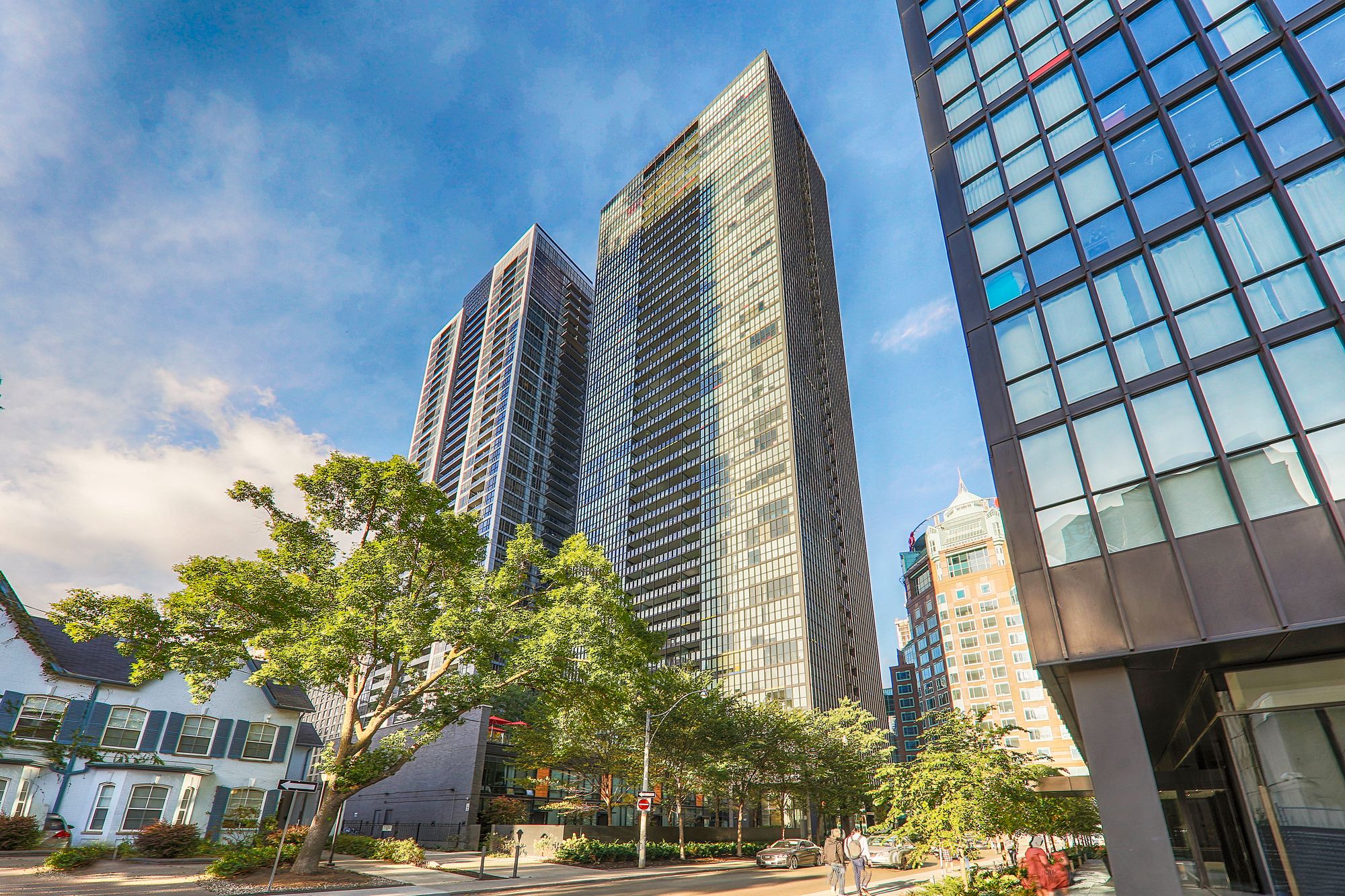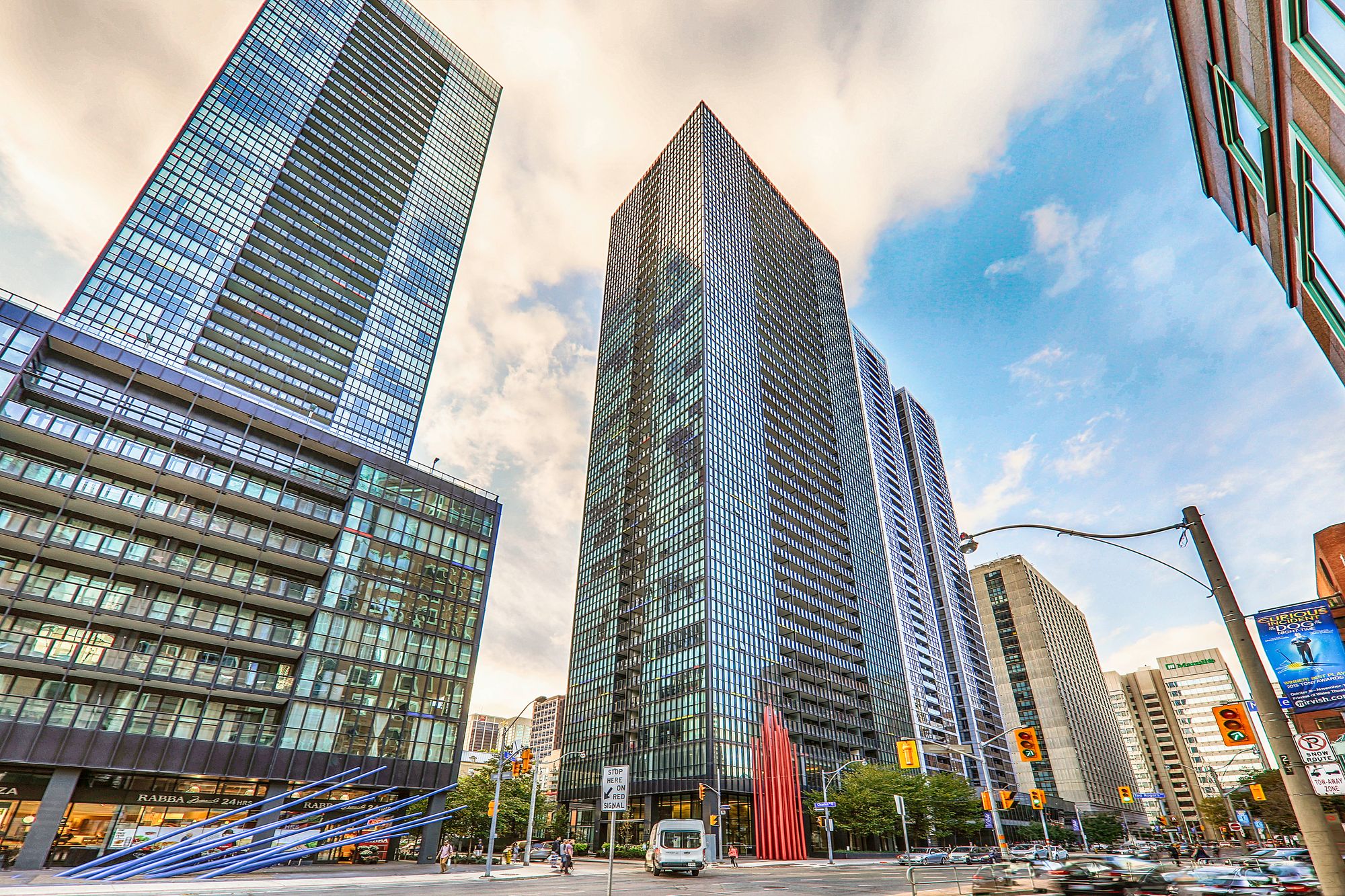 110 Charles St E
4
Listings for Sale
for Sale
5
Listings for Rent
for Rent
X Condos
110 Charles St E
X Condos
4
Listings for Sale
for Sale
5
Listings for Rent
for Rent
0
Unit Availability
Above Average
Property Management
Crossbridge Condominium Services Ltd.
Unit Size Range
400 - 1751 SQFT
110 Charles St E, Toronto
About this condo
Condo Overview
The vivid, red sculpture of horizontal poles might have caught the eye of anyone who has walked by 110 Charles Street East. While this piece of art is certainly striking to look at for all Torontonians, it's also a great way for residents to refer to when giving directions or describing where they live.
Yet another distinguishing characteristic of the X Condos is their likeness to the TD Centre. This is no coincidence, however, as Peter Clewes of Architects Alliance apparently designed the condos at 110 Charles Street East to reflect (and express admiration for) Ludwig Mies van der Rohe, who designed the TD building complex at 66 Wellington Street.
Both buildings have a dark — almost black — exterior, with glass making up the majority of their façades. As a result, the X Condos have a mysterious aesthetic that is almost as elusive as the name itself.
The X Condos are located in Yonge and Bloor neighbourhood near Yorkville and the busy intersection of Yonge and Church, with 415 units inhabiting the 44-storey, retro-international style structure. BlogTO even named the condos at 110 Charles East one of the 10 most stunning condos in Toronto.
Brought to prospective buyers and homeowners by Great Gulf in 2010, the building features a grand front entryway clad in glass and steel. The monochromatic look continues through into the lobby, which is decorated in plenty of grey and silver.
Thanks to its contemporary construction date, four high-speed elevators service the condo, while the amenities afforded to residents are equally modern. For one, bicycle parking encourages an eco-friendly commute for those who can manage one. Exercise is also extremely accessible to residents, thanks to the building's gym, yoga room, and rooftop pool.
As for those who just need a little rest and relaxation, a hot tub, communal barbecues, a garden, and a gas fireplace can also be found up on the rooftop. The entire space was designed by landscape architect Janet Rosenberg and Associates, while interior amenities include a library, guest suites, party room, parking, and a concierge.
The Suites
With suites ranging from around 500 to 1,700 square feet, all sorts of prospective buyers can find Toronto condos for sale here. While none of the condos at 110 Charles Street East can be considered "palatial," the largest homes in the building are just right for small families or couples who love to play host.
One to three bedrooms grace each of the homes, with ceiling heights reaching to 9 feet tall. Floor-to-ceiling windows brighten each of the condos, as warm sunlight is ushered in through them.
Unsurprisingly, the suites are as modern as the building itself, with Cecconi Simone to thank for the sleek kitchen cabinetry. Countertops are made of granite, corian, or laminate, depending on the unit, while certain homes features sliding doors that lead to and from the bedrooms.
The Neighbourhood
With its location in downtown Toronto so close to Bloor and Church Street, residents of the X Condos have numerous exciting areas to explore in their time off. As well, this central and well-populated area has much to offer in terms of errand-running, as well as entertainment.
Groceries can be found at a number of shops, including the Market by Longos at the Hudson's Bay Centre on Bloor. Those looking for hard to find ingredients may want to head over to the expansive Loblaws in former the Maple Leaf Gardens, while lovers of organic goods will prefer to do their shopping at Whole Foods, located on Avenue Road just north of Bloor.
And now for the fun stuff: those looking to be entertained have their pick, between the Cineplex Cinemas on Bloor, the Pheonix Concert Theatre on Jarvis, the ROM and Gardiner Museums at Bloor and Avenue Road, or window shopping along the elegant streets of Yorkville.
Green spaces are also within reach, thanks to the building's close proximity to the Rosedale Ravine Lands and Riverdale Park. Here, adventurous residents can even walk or cycle along the Don Valley Trails, which lead all the way down to the base of the river.
Transportation
With Bloor-Yonge and Sherbourne Stations about equidistant from the X Condos, residents can have their pick. Those heading north and south on the Yonge-University-Spadina line will want to head toward the former, while the latter is ideal for traveling east and west along the Bloor-Danforth line.
With the subway so close at hand, Union Station is only about 15 minutes away, from which travelers heading out of the city can catch GO trains and buses or VIA Rail trains. International travelers, on the other hand, can ride west for about 15 minutes on the Bloor line in order to reach the UP station — this makes a trip to the airport only 45 minutes long without a car.
Drivers can reach Pearson in only 35 minutes by using Mount Pleasant and Yonge Street to reach the 401. Those heading out by car can also reach the Don Valley Parkway in no time at all via Bloor Street East.
4
Listings For Sale
Interested in receiving new listings for sale?
5
Listings For Rent
Interested in receiving new listings for rent?
Amenities
Maintenance Fees Cover
Maintenance fees include
Water
Owner / renter pays separately
Hydro
Heat
Air Conditioning
Past Sold & Rented Listings
Stats, Trends & Rankings
Price Per Square Foot
X Condos vs The
Yonge and Bloor Area
More Expensive
per SQFT compared to the neighbourhood average
X Condos's Avg
price per SQFT
$1,236
/ SQFT
Neighbourhood Avg
price per SQFT
$1,181
/ SQFT
Building Trends At X Condos
Days on Market
Units at X Condos spend an average of
10
Days on Market
based on recent sales
List vs Selling Price
On average, these condos sell for
above
the list price.

Offer Competition
Condos in this building have an
AVERAGE
chance of receiving
Multiple Offers
Turnover of Units
On average, each unit is owned for
6.4
YEARS
before being sold again
Property Value
Increase
in property value within the past twelve months
Price Ranking
Highest price per SQFT out of
33
condos in the Yonge and Bloor area
Sold Units
25
Units were
Sold
over the past twelve months
Rented Units
64
Units were
Rented
over the past twelve months
Best Value
X Condos offers the
best value
out of 33 condos in the Yonge and Bloor neighbourhood
Return on Investment
X Condos has the
highest ROI
out of 33 condos in the Yonge and Bloor neighbourhood
Rental Yield
X Condos yields the
highest rent prices
out of 33 condos in the Yonge and Bloor neighbourhood
High Demand
X Condos is the
most popular
building out of 33 condos in the Yonge and Bloor neighbourhood
Sales vs Rental Values For This Condo
Average Cost Per Sqft
$1,132
Sales Price Range
$610,000 - $750,000
Rental Price Range
$1,950 - $2,750
1 Bed + Den
564 - 754 SQFT
Average Cost Per Sqft
$1,083
Sales Price Range
$729,000 - $890,000
Rental Price Range
$2,300 - $2,950
Average Cost Per Sqft
$1,104
Sales Price Range
$890,000 - $1,120,000
Rental Price Range
$2,800 - $4,200
2 Bed + Den
1063 - 1660 SQFT
Average Cost Per Sqft
$1,150
Sales Price Range
$1,685,000 - $1,850,000
Rental Price Range
$3,350 - $3,350
How Often Are Units Listed?
Average Sales Availability
Average Rental Availability
Ratio of Unit Type in Building
2%
Average Sales Availability
Average Rental Availability
Ratio of Unit Type in Building
27%
1 Bed + Den
507 - 803 SQFT
Average Sales Availability
Average Rental Availability
Ratio of Unit Type in Building
30%
Average Sales Availability
Average Rental Availability
Ratio of Unit Type in Building
35%
2 Bed + Den
935 - 1751 SQFT
Average Sales Availability
Average Rental Availability
Ratio of Unit Type in Building
7%
Average Sales Availability
Average Rental Availability
Ratio of Unit Type in Building
1%
Maintenance Fees

X Condos vs The

Yonge and Bloor Area
Less Expensive
per SQFT compared to the neighbourhood average
X Condos's Avg
monthly maintenance
fee per SQFT
$0.70
/ SQFT
Neighbourhood Avg
monthly maintenance
fee price per SQFT
$0.87
/ SQFT
Similar condos