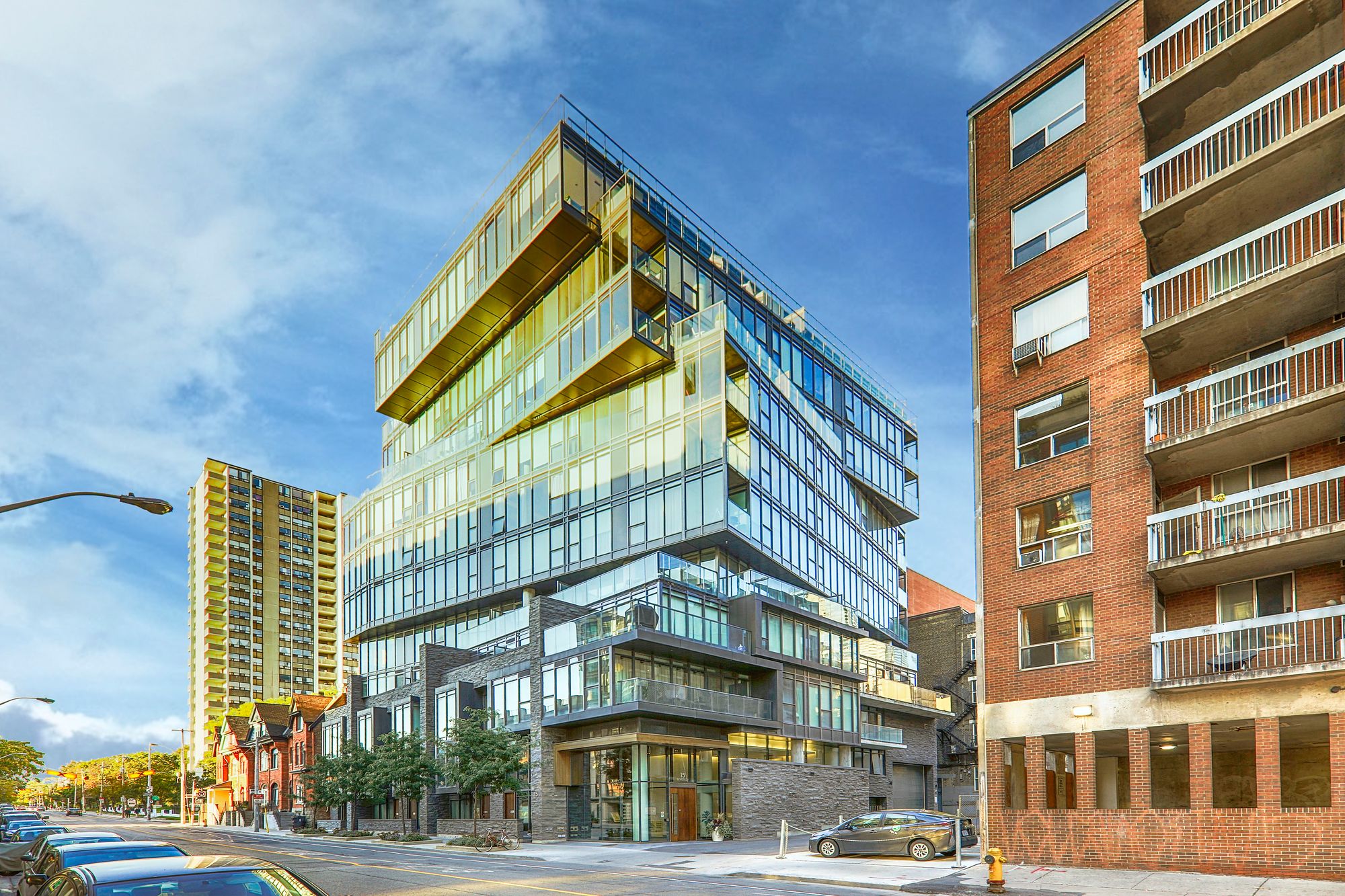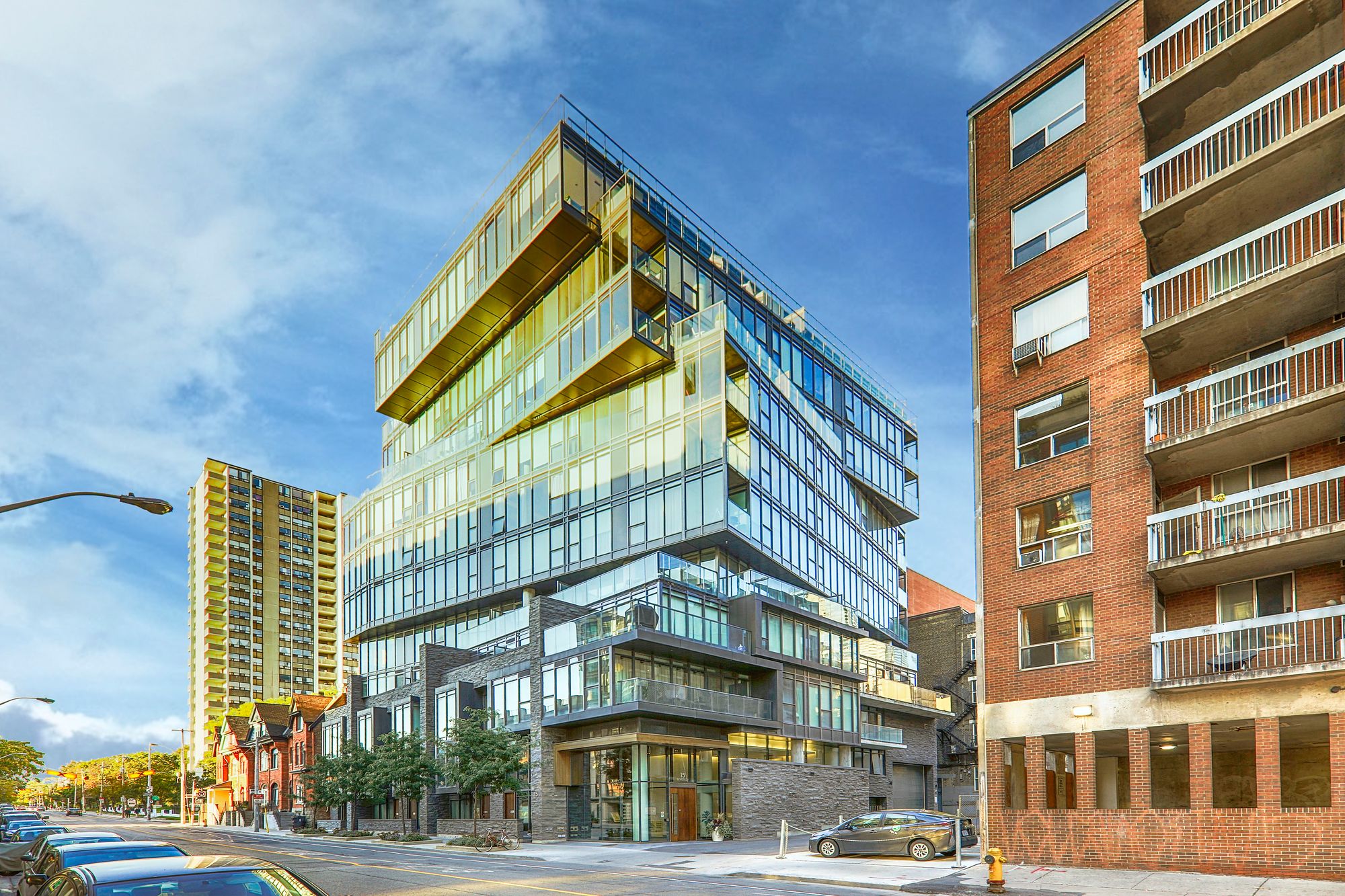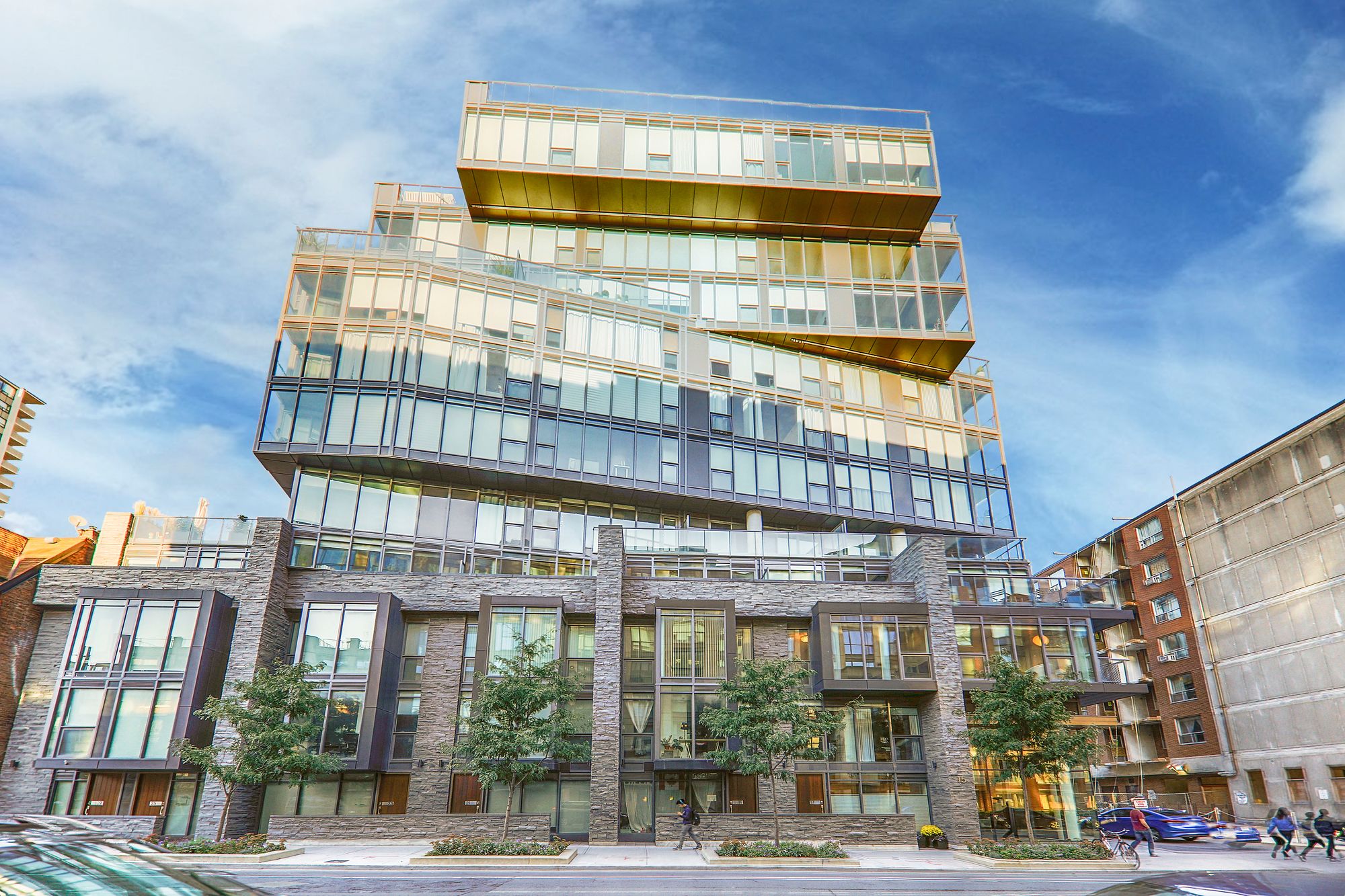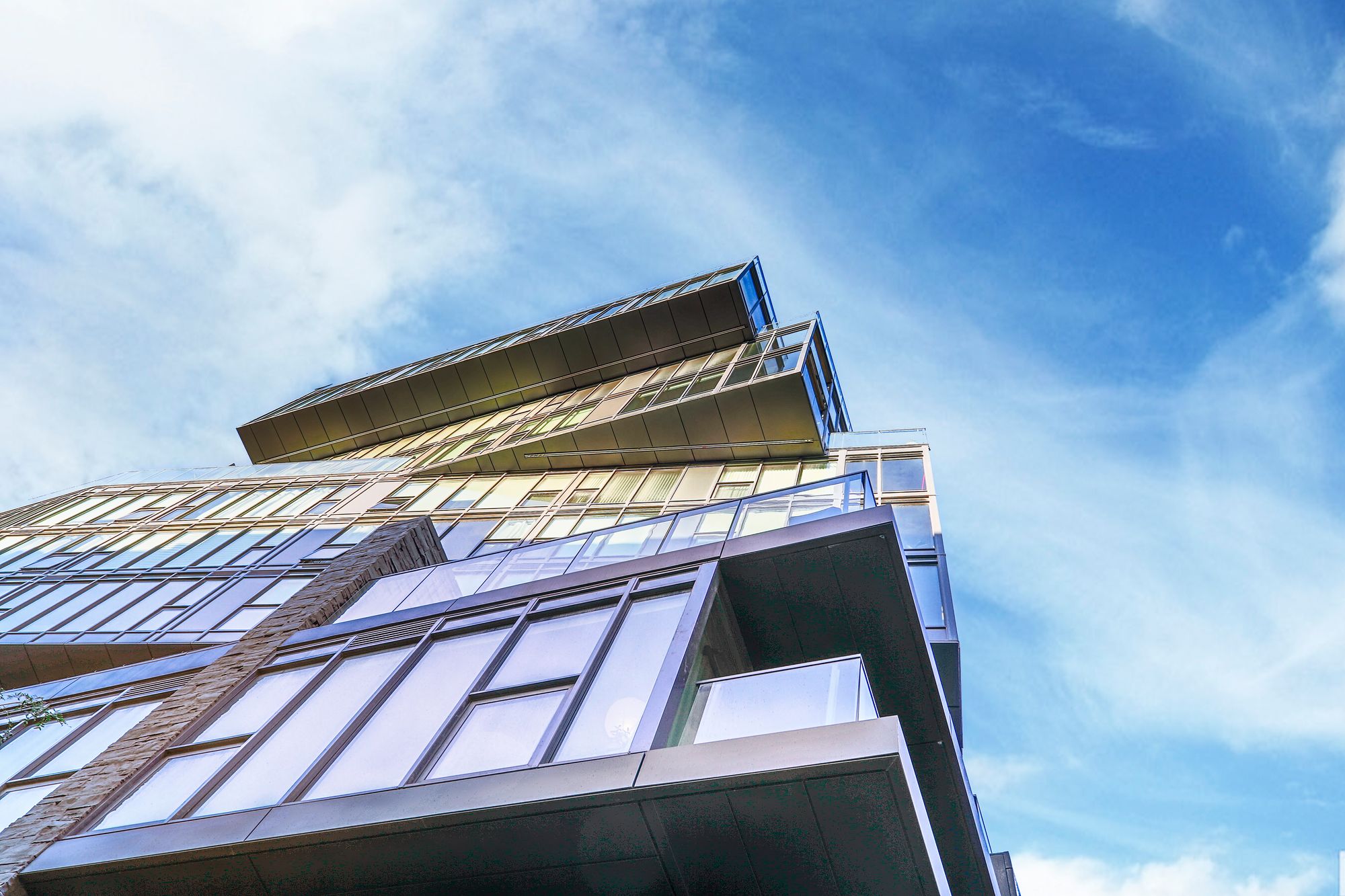 15-25 Beverley St
3
Listings for Sale
for Sale
1
Listing for Rent
for Rent
Developer
BSaR Group of Companies
Property Management
Crossbridge Condominium Services Ltd.
Unit Size Range
339 - 1585 SQFT
About this condo
Innovative yet surprisingly intimate best characterizes the 12 Degrees Condos at 15-27 Beverley Street in the Grange Park neighbourhood. Completed in 2015 by the developers at the BSäR Group, 12 Degrees utilizes cutting-edge engineering to execute the delightful design created by CORE Architects.
The upper section of this 11-storey building is composed of three glass-covered blocks, whose slight rotated arrangement as the building rises infuses the architectural aesthetic with energy. Expectedly, each block skews 12 degrees from the next.
At ground level, an array of bay windows and stone-clad piers accent the 3-storey base running along 15-27 Beverley. In this base six spacious townhouses and a welcoming lobby can be found, featuring a charming wood canopy as well.
Catering to active, engaged urbanites, the amenities are very attractive. The fully stocked fitness studio, private dining room with attached catering kitchen, and private lounge are all designed by the spectacular Studio Munge. Finally, prospective residents will definitely enjoy the scene atop their building: set against the backdrop of the bustling city, the condo offers a rooftop pool and cabana lounge.
The Suites
The 12 Degrees includes a number condo suites ranging in size from approximately 450 to 1700 square feet. Attracting a variety of residents, there are one, two and three bedroom suites found throughout the building. Additionally, there are those aforementioned six townhouses, which results in a total of 96 downtown Toronto condos at 15-27 Beverley.
The suites have one thing in common: they're all luxurious homes. Residents adore their hardwood floors, spa-style bathrooms, and 9-foot ceilings. Furthermore, the building's stylish rotated form also has a great function: to give greater light exposure. That, combined floor-to-ceiling windows, means all Toronto condos for sale in this building have a bright and fresh atmosphere.
The Neighbourhood
Steps away from some of the city's most venerable cultural institutions — the Art Gallery of Ontario, the Four Seasons Centre for the Performing Arts, and the Rex Jazz Bar — residents will find the innovative design of the condo fits well into the creative character of the community.
Even those who don't love art will enjoy living at 15-27 Beverley. The recently renovated landscape of Grange Park offers a rare, expansive downtown green space, an enclosed dog park, and an immaculately designed playground, perfect for families.
Set slightly off of Queen Street West, residents are not far from its promenade of shops and boutiques, as well as many trendy restaurants.
Additionally, residents of enjoy living close to Chinatown, which is just a short walk up the street. There they can find their favourite Chinese dishes in any of the numerous restaurants, explore fun, interactive hot-pot eateries, and even indulge in elegant banquet style dim-sum.
When shopping for groceries, 12 Degrees residents may be attracted to the exotic, inexpensive, and expansive selection of Chinatown's grocers, or they can stop by the Shoppers just around the corner on Queen when staples have run low.
Transportation
Living so close to many cultural venues, as well as OCAD University, means there are great public transportation options available for residents.
15-27 Beverley is just about five minutes away from Osgoode station on foot, where trains run north and south on the Yonge-University-Spadina line. This subway line even makes a stop at Union Station, where travelers can access GO Transit, the VIA Rail, and the UP Express.
Additionally, the 501 Queen streetcar runs east and west across the surface of the city and travels through Trinity Bellwoods, past the Eaton Centre and even to the Beaches.
Residents of who drive have it easy too. When Queen street is busy, they can zip up to Dundas. Furthermore, reaching the highway is simple: drivers can head down Simcoe avenue to access the Gardiner in about five minutes.
3
Listings For Sale
Interested in receiving new listings for sale?
1
Listings For Rent
Interested in receiving new listings for rent?
Property Highlights
Listing History for 12 Degrees
Nearby Amenities
Stats, Trends & Rankings
12 Degrees vs The Grange Park Area
Building Trends At 12 Degrees
Days on Strata
Units at 12 Degrees spend an average of
35
Days on Strata
based on recent sales
List vs Selling Price
On average, these condos sell for
above
the list price.

Offer Competition
Condos in this building have an
AVERAGE
chance of receiving
Multiple Offers
Turnover of Units
On average, each unit is owned for
5.7
YEARS
before being sold again
Property Value
Decrease
in property value within the past twelve months
Price Ranking
Highest price per SQFT out of
13
condos in the Grange Park area
Sold Units
5
Units were
Sold
over the past twelve months
Rented Units
8
Units were
Rented
over the past twelve months
Sales vs Rental Values For This Condo
Average Cost Per Sqft
$1,093
Sales Price Range
$600,000 - $716,500
Rental Price Range
$2,400 - $3,000
1 Bed + Den
678 - 810 SQFT
Average Cost Per Sqft
$868
Sales Price Range
$640,000 - $640,000
Rental Price Range
$3,350 - $3,350
Average Cost Per Sqft
$1,077
Sales Price Range
$990,000 - $990,000
Rental Price Range
No Data
2 Bed + Den
1017 - 1017 SQFT
Average Cost Per Sqft
No Data
Rental Price Range
$3,800 - $3,800
Average Cost Per Sqft
No Data
Rental Price Range
$4,500 - $4,500
How Often Are Units Listed?
Average Sales Availability
Average Rental Availability
Ratio of Unit Type in Building
5%
Average Sales Availability
Average Rental Availability
Ratio of Unit Type in Building
36%
1 Bed + Den
601 - 849 SQFT
Average Sales Availability
Average Rental Availability
Ratio of Unit Type in Building
17%
Average Sales Availability
Average Rental Availability
Ratio of Unit Type in Building
29%
2 Bed + Den
1017 - 1099 SQFT
Average Sales Availability
Average Rental Availability
Ratio of Unit Type in Building
4%
Average Sales Availability
Average Rental Availability
Ratio of Unit Type in Building
13%
Maintenance Fees
12 Degrees vs The
Grange Park Area
12 Degrees's Avg
monthly maintenance fee
Neighbourhood Avg
monthly maintenance fee
Similar condos