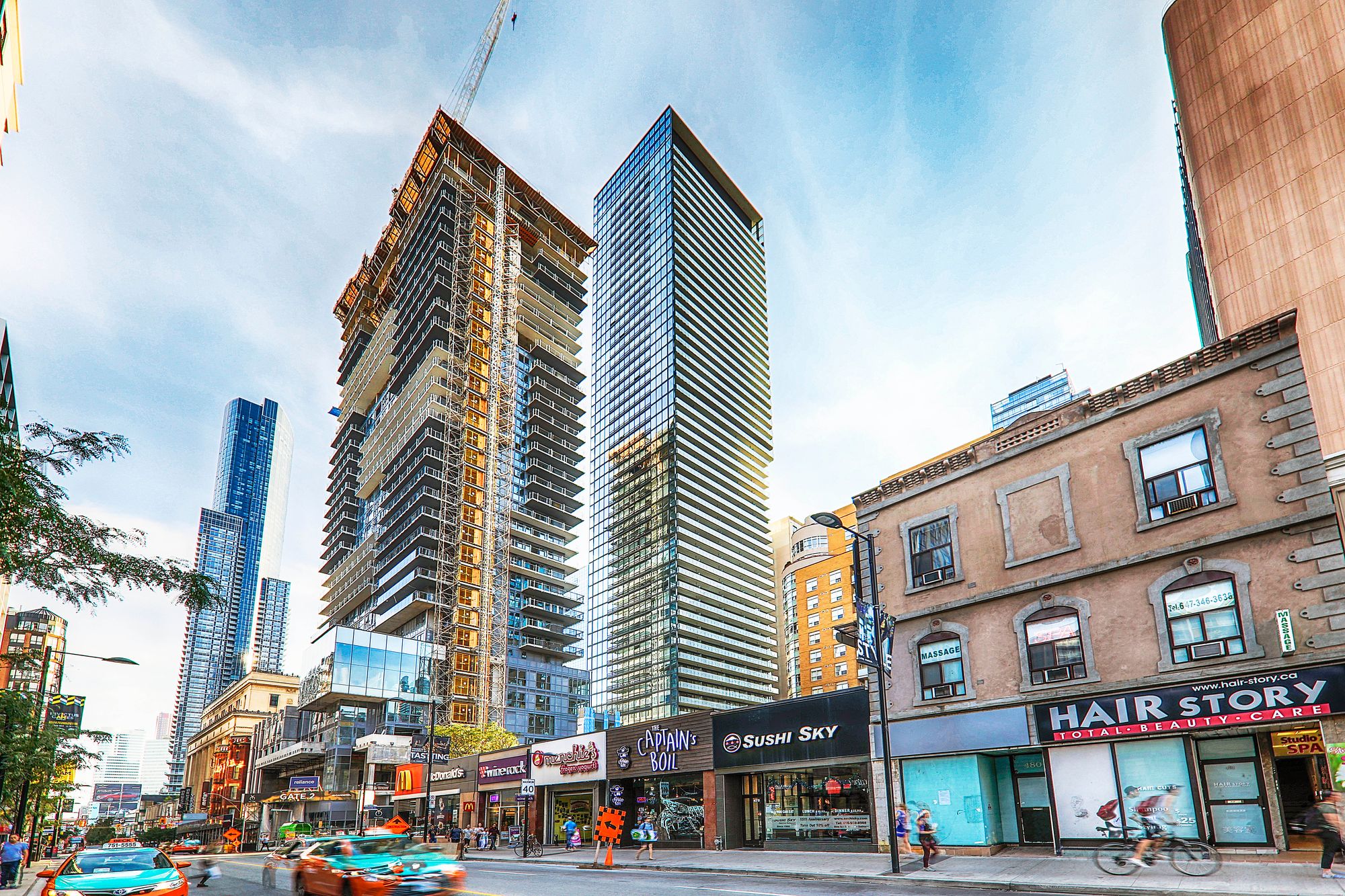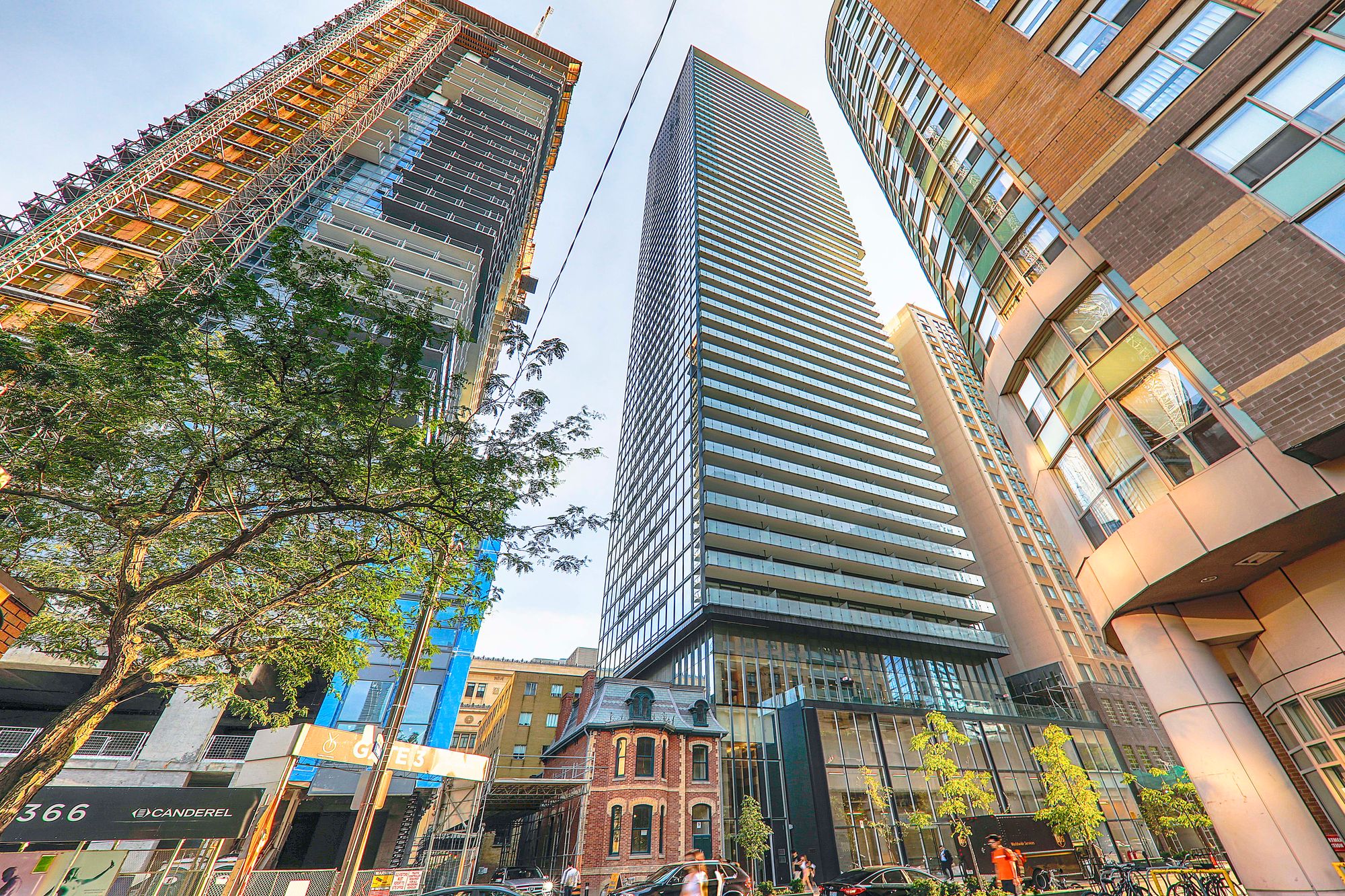 15 Grenville St
4
Listings for Sale
for Sale
8
Listings for Rent
for Rent
Karma Condos
15 Grenville St
Karma Condos
4
Listings for Sale
for Sale
8
Listings for Rent
for Rent
0
Developer
Lifetime Developments
Property Management
First Service Residential
Unit Size Range
251 - 921 SQFT
15 Grenville St, Toronto
About this condo
Condo Overview
Renowned for their ability to recognize bourgeoning neighbourhoods, Lifetime Developments has chosen well yet again: 15 & 21 Grenville Street is an exciting location in Toronto's Discovery District. Long attracting researchers and tech entrepreneurs to the area, this new residential development, the Karma Condos, is a suitably smart addition to an area well-known for its brilliant demographic.
Completed in 2016, these downtown Toronto condos comprise 50-stories of contemporary urban excellence, thanks to a brilliant design by ArchitectsAlliance. Best characterized by its subtle accents and arrangements, these condos cultivate a sophisticated aesthetic.
The grid of glass window panels on the east and west sides of the tower balance the lines of the long balconies running along the north and south sides. This interplay gives the design its striking confidence, without the need for any flashy adornments.
At street level, the podium is both elegant and efficient. Encased in glass, the lobby features a 24-hour concierge service – though it's the soaring columns which give 15 & 21 Grenville a grand impression. Moreover, these columns allow for the preservation of parts of the historic building that formerly stood at this location. This charming accent perfectly balances the aptly named Karma Condos.
Additionally, the podium holds an alluring retail area, as well as many of the building's generous amenities. This includes a state-of-the-art gym with an adjoining steam room, a theatre room, and, guest suites.
Atop the podium, residents enjoy a spacious terrace featuring exceptional landscape design by Strybos Barron King; the terrace gives residents a vibrant green escape that's unexpected so deep in the downtown Core.
The Suites
Located so close to universities and research hospitals, many young professionals will be attracted to this property. It holds 495 Toronto condos, which range in size from approximately 300 to 900 square feet. This range includes bachelor, one and two bedroom suites, and the option of a den as well.
Regardless of actual size, the trusted Lifetime Developers have ensured all these homes are comfortable and stylish. With a strong base of engineered hardwood flooring throughout, smooth ceilings, and floor-to-ceiling windows, the suites' finishes are certainly elegant and on par with most luxury condos.
The designers at Cecconi Simone have chosen wonderful accents for the suites, culminating in their distinctively modern yet welcoming atmosphere. This is best represented by the elegant and efficient European kitchen cabinetry – both streamlined and spacious. Prices could be seen as a deterrent for some buyers, as Bay St condos for sale generally have high price tags, and this building in particular has one of the highest prices per square foot in downtown Toronto.
The Neighbourhood
Residents of Karma Condos will enjoy living so close to Yonge Street. Shoppers adore the selection of stores which includes all the major brands, as well as many eclectic and local retailers. Whether seeking inexpensive essentials or high-end goods, residents can find what they want and need nearby.
Foodies will especially enjoy the offerings in the area. Residents can explore an almost endless array of restaurant options: delicious bowls of ramen, gourmet burgers, banh mis, burritos, all-day brunch, and more are all walking distance from home.
Still, one can't eat out every day, so residents will be happy to hear that there is a Loblaws just down the street, at the corner Carlton and Church. Located in the historic Maple Leaf Gardens, its selection can't be beat by any other downtown grocer. Additionally, College Park is also nearby - its Metro and LCBO are very convenient.
Transportation
Being close to many universities, offices, and hospitals means there are many transportation options available to residents . Just around the corner, inside College Park, they can access the subway at College Station on the Yonge-University-Spadina line.
Alternatively, accessible at street level on College, the 506 Carlton streetcar is a great option for traveling throughout the Core. Along its route west to High Park and east to Broadview station, the 506 stops about two minutes from 15 & 21 Grenville at the Yonge and College.
Lastly, Karma residents who drive need not head far to find the highway. They can just follow Bay to Bloor, and then head east to the Don Valley Parkway access point, just after the bridge.
4
Listings For Sale
Interested in receiving new listings for sale?
8
Listings For Rent
Interested in receiving new listings for rent?
Amenities
Maintenance Fees Cover
Maintenance fees include
Water
Owner / renter pays separately
Hydro
Heat
Air Conditioning
Past Sold & Rented Listings
Stats, Trends & Rankings
Price Per Square Foot
Karma Condos vs The
Bay St. Corridor Area
More Expensive
per SQFT compared to the neighbourhood average
Karma Condos's Avg
price per SQFT
$1,566
/ SQFT
Neighbourhood Avg
price per SQFT
$1,168
/ SQFT
Building Trends At Karma Condos
Days on Market
Units at Karma Condos spend an average of
13
Days on Market
based on recent sales
List vs Selling Price
On average, these condos sell for
above
the list price.

Offer Competition
Condos in this building have a
HIGH
chance of receiving
Multiple Offers
Turnover of Units
On average, each unit is owned for
5.5
YEARS
before being sold again
Property Value
Increase
in property value within the past twelve months
Price Ranking
Highest price per SQFT out of
32
condos in the Bay St. Corridor area
Sold Units
19
Units were
Sold
over the past twelve months
Rented Units
107
Units were
Rented
over the past twelve months
Best Value
Karma Condos offers the
best value
out of 32 condos in the Bay St. Corridor neighbourhood
Return on Investment
Karma Condos has the
highest ROI
out of 32 condos in the Bay St. Corridor neighbourhood
Rental Yield
Karma Condos yields the
highest rent prices
out of 32 condos in the Bay St. Corridor neighbourhood
High Demand
Karma Condos is the
most popular
building out of 32 condos in the Bay St. Corridor neighbourhood
Sales vs Rental Values For This Condo
Average Cost Per Sqft
$1,431
Sales Price Range
$440,000 - $450,000
Rental Price Range
$1,650 - $2,100
Average Cost Per Sqft
$1,376
Sales Price Range
$720,000 - $802,000
Rental Price Range
$2,050 - $2,780
1 Bed + Den
500 - 582 SQFT
Average Cost Per Sqft
$1,444
Sales Price Range
$769,800 - $930,000
Rental Price Range
$2,280 - $3,100
Average Cost Per Sqft
$1,297
Sales Price Range
$946,000 - $1,138,000
Rental Price Range
$2,750 - $4,300
2 Bed + Den
803 - 921 SQFT
Average Cost Per Sqft
$1,313
Sales Price Range
$1,150,500 - $1,150,500
Rental Price Range
$3,250 - $4,000
How Often Are Units Listed?
Average Sales Availability
Average Rental Availability
Ratio of Unit Type in Building
10%
Average Sales Availability
Average Rental Availability
Ratio of Unit Type in Building
35%
1 Bed + Den
500 - 649 SQFT
Average Sales Availability
Average Rental Availability
Ratio of Unit Type in Building
30%
Average Sales Availability
Average Rental Availability
Ratio of Unit Type in Building
21%
2 Bed + Den
803 - 921 SQFT
Average Sales Availability
Average Rental Availability
Ratio of Unit Type in Building
7%
Maintenance Fees

Karma Condos vs The

Bay St. Corridor Area
Less Expensive
per SQFT compared to the neighbourhood average
Karma Condos's Avg
monthly maintenance
fee per SQFT
$0.79
/ SQFT
Neighbourhood Avg
monthly maintenance
fee price per SQFT
$0.79
/ SQFT
Similar condos