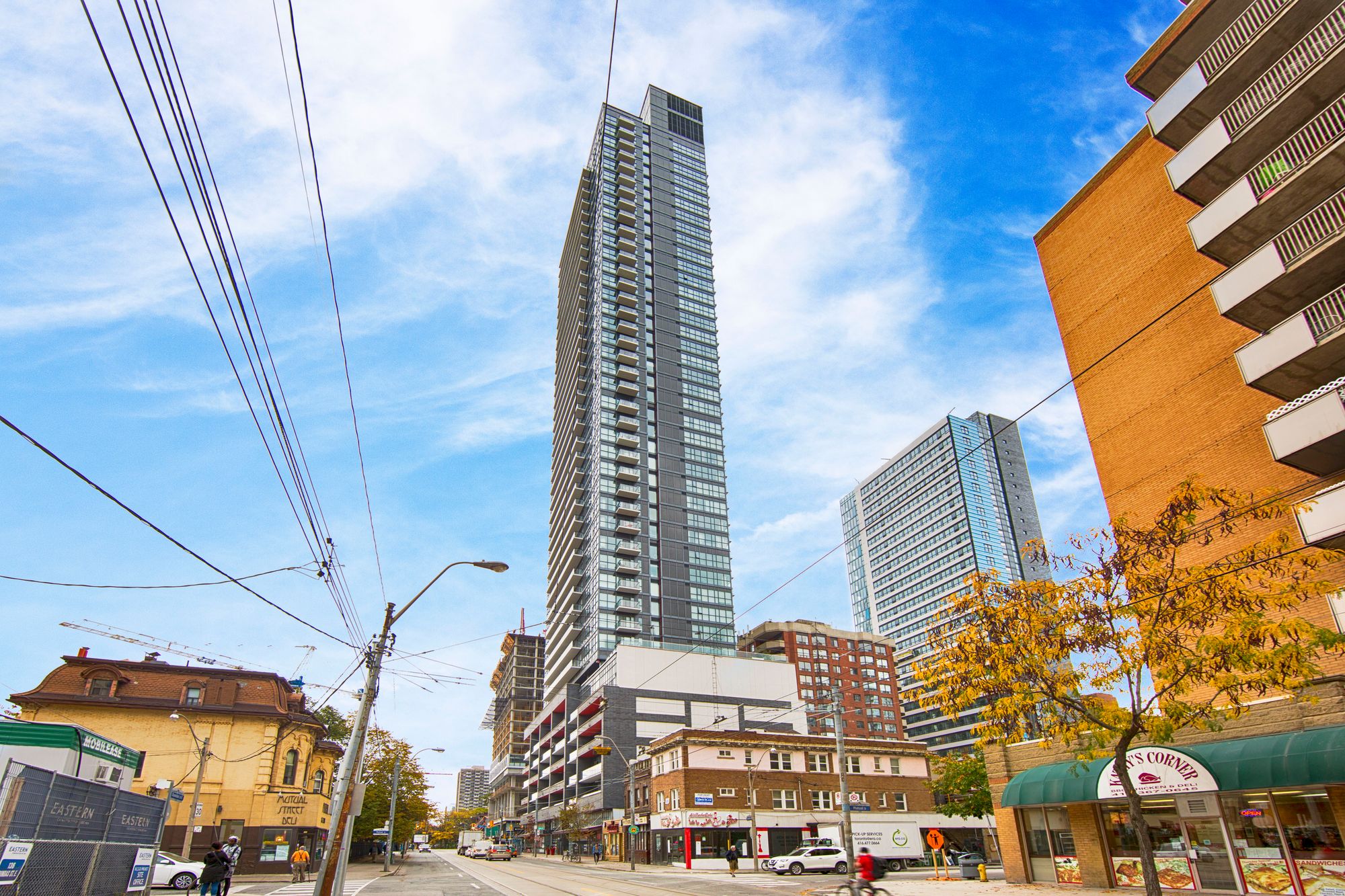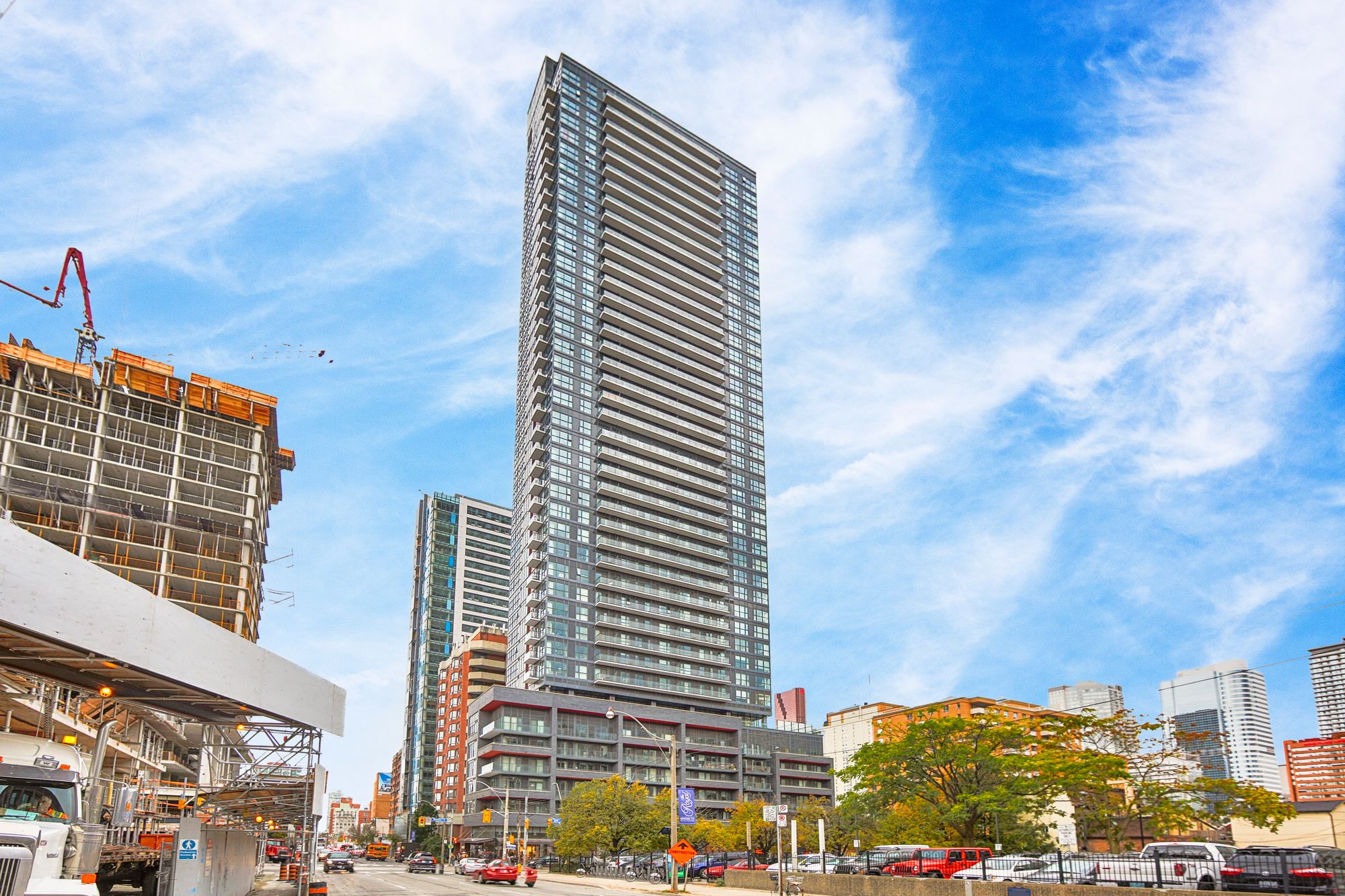 159 Dundas St E & 155 Dundas St E
5
Listings for Sale
for Sale
5
Listings for Rent
for Rent
PACE Condos
159 Dundas St E
PACE Condos
5
Listings for Sale
for Sale
5
Listings for Rent
for Rent
0
Unit Availability
Above Average
Property Management
Balance Residential Management
Unit Size Range
399 - 907 SQFT
159 Dundas St E, Toronto
About this condo
Condo Overview
For those seeking a stylish spot to call home in the heart of the city, the PACE Condos may be exactly what they're seeking.
Located just off Jarvis Street, at 155-159 Dundas Street East, these condos never fail to impress, thanks to the team at Diamond Schmitt Architects.
Completed in 2016 by Great Gulf Homes, the architecture of the PACE Condos' 35-storey tower is filled with attractive accents and details. The 6-storey podium, comprised of glass and a charcoal-coloured brick, has its cool character playfully undercut with retro red paint in the ceilings of its balconies' recessions. This eye-catching design is playful, in line with the vibrant City Centre neighbourhood surrounding the property
A subtle red vertical stripe runs up the length of the PACE Condos, though it's the tower's overall texture that's remarkable: the framing of the glass window panels creates the illusion of latticework. This make the building give an impression of levity and a sense of flow. If not for the long balconies handsomely accenting the window pattern, this tower would almost seem transparent.
Still, there's more delightful design to be found inside 155-159 Dundas East. Inside, the breathtaking double-height lobby, beautifully decorated by renowned Toronto interior design practice Cecconi Simone, is where the exceptional 24-hour concierge can be found.
The entire eleventh floor is devoted to delivering top-notch amenities. This includes full service workout facilities, meaning weight and cardio rooms and his and hers change-rooms. For entertainment, this floor also has a billiards room, TV lounge, reading lounge and party room.
To top it all off, the amenities floor opens onto a beautiful rooftop garden. While its vibrant landscaping would be inviting enough for most residents, there's still more: an opulent outdoor pool.
The Suites
The PACE Condos' 272 units cannot be discussed without giving credit to interior designers Cecconi Simone. The suites' sophisticated and practical linear style is distinctive of their work.
Again, there's more than delightful design at 155-159 Dundas East: the suites are remarkably comfortable as well. Kitchens feature Corian countertops, stainless steel appliances and a warm backsplash consisting of a glass tile mosaic. Their bathrooms are ultra comfortable, with porcelain tiles, deep soaker tubs or glass framed showers, as per plans, and elegant European vanities.
The units come in studio, one, or two bedroom styles that range from just over 400 to almost 900 square feet, so these condos may be best suited for young professionals and couples who are keen on Downtown Toronto condos for sale. Regardless, all prospective buyers will find these suites comfortable. Many feature large balconies, while floor-to-ceiling windows throughout all the suites ensure these are bright and fresh-feeling homes.
The Neighbourhood
Known as the Garden District, this downtown neighbourhood has developed a charming character over its long history, perhaps best seen in its residential architecture: a mix of contemporary Toronto condos, Victorian villas and Edwardian row homes.
For those who aren't avid fans of residential architecture, there's still much more to offer: the Garden District's eclectic and inexpensive restaurants, markets, and cafes; the array of art galleries; the nearby cinemas and theatres, like the Adelaide Theatre Admin and Elgin and Winter Garden Theatres; concerts in historic Massey Hall. Plus, living only a short walk from both the Eaton Centre and St. Lawrence Market, and the historic Distillery District are just a few other bonuses.
Expectedly, as this area is called the Garden District, green space is abundant. Ryerson's courtyard offers a collegial atmosphere, while those seeking a more cultivated environment will enjoy the Allan Gardens. Its greenhouse conservatory houses rare tropical plants, showcases seasonal blooms, and never disappoints. Open year round and free, PACE Condos residents will surely adore it.
Transportation
PACE Condos' closest major intersection is Dundas and Jarvis. This means that drivers only need to head south five minutes down Jarvis to reach the Gardiner Expressway.
Alternatively, residents seeking the TTC have an equally long walk to reach their closest subway station, Dundas, on the Yonge-University-Spadina Line.
This subway line runs north and south and through Union Station, and PACE Condo Residents heading east and west across the city can use it to meet the Bloor-Danforth line, or they can take the one of the many streetcars their area.
The closest streetcar to 155-159 Dundas East is the 505, and it happens to stop just outside the building. Its route along Dundas brackets the downtown Core, heading west to Dundas West Station and east to Broadview Station. Better yet, both allow transfers onto the Bloor-Danforth subway line.
5
Listings For Sale
Interested in receiving new listings for sale?
5
Listings For Rent
Interested in receiving new listings for rent?
Amenities
Maintenance Fees Cover
Maintenance fees include
Water
Owner / renter pays separately
Hydro
Heat
Air Conditioning
Past Sold & Rented Listings
Stats, Trends & Rankings
Price Per Square Foot
PACE Condos vs The
City Centre Area
More Expensive
per SQFT compared to the neighbourhood average
PACE Condos's Avg
price per SQFT
$1,180
/ SQFT
Neighbourhood Avg
price per SQFT
$1,038
/ SQFT
Building Trends At PACE Condos
Days on Market
Units at PACE Condos spend an average of
20
Days on Market
based on recent sales
List vs Selling Price
On average, these condos sell for
above
the list price.

Offer Competition
Condos in this building have an
AVERAGE
chance of receiving
Multiple Offers
Turnover of Units
On average, each unit is owned for
5.3
YEARS
before being sold again
Property Value
Increase
in property value within the past twelve months
Price Ranking
Highest price per SQFT out of
36
condos in the City Centre area
Sold Units
27
Units were
Sold
over the past twelve months
Rented Units
99
Units were
Rented
over the past twelve months
Best Value
PACE Condos offers the
best value
out of 36 condos in the City Centre neighbourhood
Return on Investment
PACE Condos has the
highest ROI
out of 36 condos in the City Centre neighbourhood
Rental Yield
PACE Condos yields the
highest rent prices
out of 36 condos in the City Centre neighbourhood
High Demand
PACE Condos is the
most popular
building out of 36 condos in the City Centre neighbourhood
Sales vs Rental Values For This Condo
Rental Price Range
$1,850 - $1,850
Average Cost Per Sqft
$1,104
Sales Price Range
$575,000 - $660,000
Rental Price Range
$1,625 - $2,400
1 Bed + Den
643 - 739 SQFT
Average Cost Per Sqft
$985
Sales Price Range
$605,000 - $785,000
Rental Price Range
$1,800 - $2,800
Average Cost Per Sqft
$1,099
Sales Price Range
$680,100 - $899,000
Rental Price Range
$2,300 - $3,250
2 Bed + Den
900 - 907 SQFT
Rental Price Range
$2,650 - $2,950
How Often Are Units Listed?
Average Sales Availability
Average Rental Availability
Ratio of Unit Type in Building
3%
Average Sales Availability
Average Rental Availability
Ratio of Unit Type in Building
46%
1 Bed + Den
549 - 749 SQFT
Average Sales Availability
Average Rental Availability
Ratio of Unit Type in Building
11%
Average Sales Availability
Average Rental Availability
Ratio of Unit Type in Building
42%
2 Bed + Den
900 - 907 SQFT
Average Sales Availability
Average Rental Availability
Ratio of Unit Type in Building
1%
Maintenance Fees

PACE Condos vs The

City Centre Area
More Expensive
per SQFT compared to the neighbourhood average
PACE Condos's Avg
monthly maintenance
fee per SQFT
$0.85
/ SQFT
Neighbourhood Avg
monthly maintenance
fee price per SQFT
$0.84
/ SQFT
Similar condos