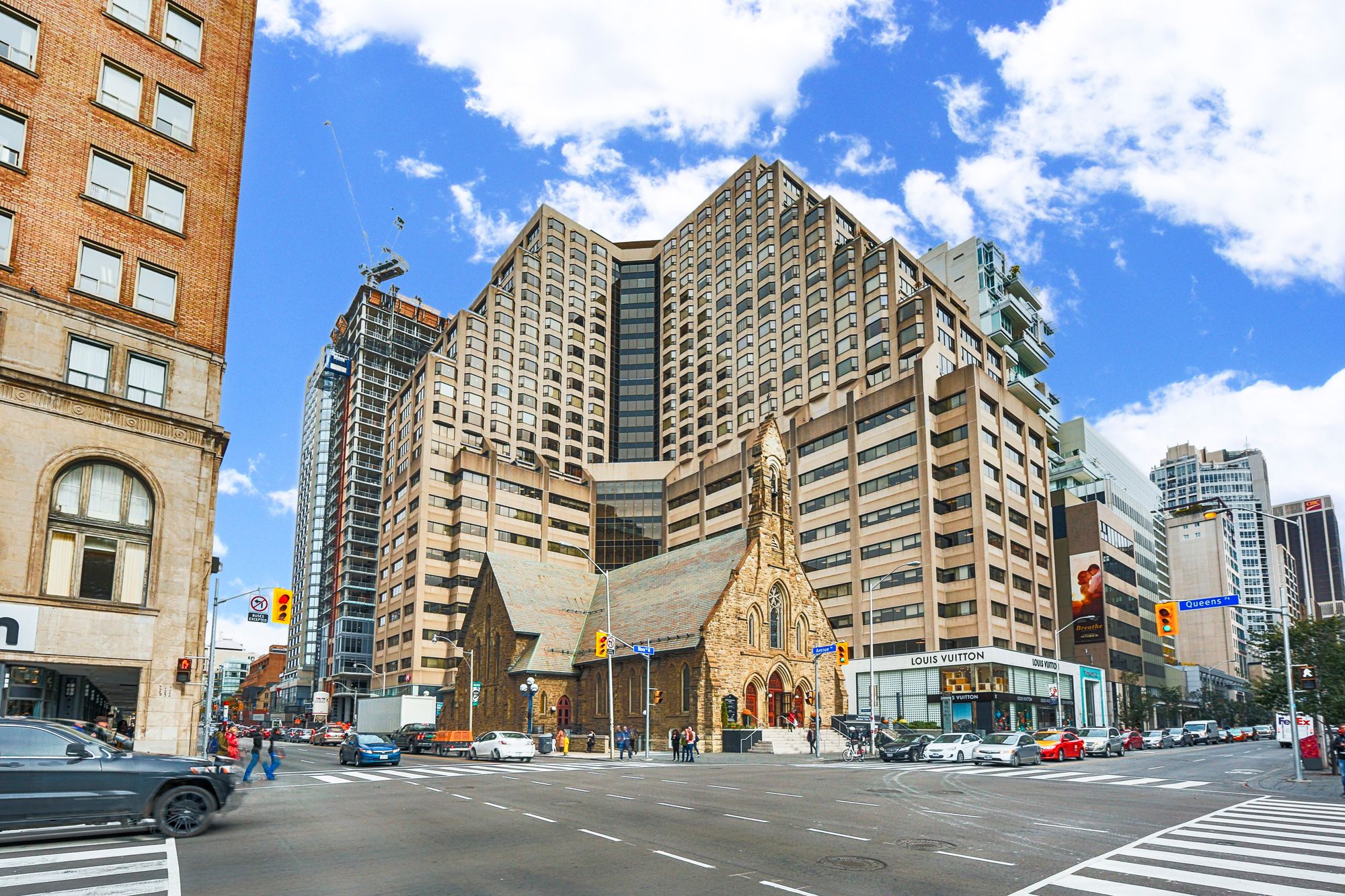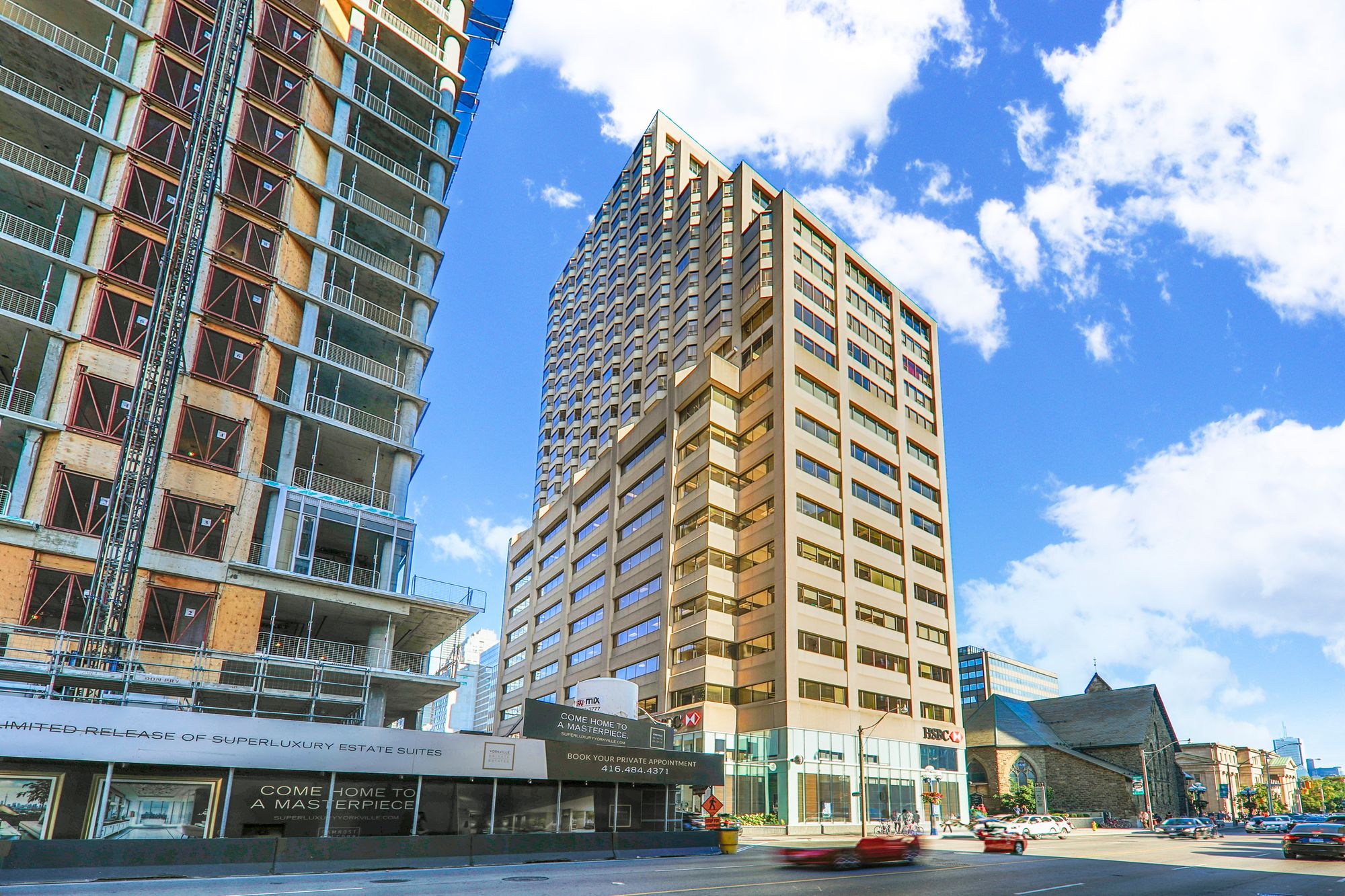 175 Cumberland St
1
Listing for Sale
for Sale
2
Listings for Rent
for Rent
Renaissance Plaza
175 Cumberland St
Renaissance Plaza
1
Listing for Sale
for Sale
2
Listings for Rent
for Rent
0
Developer
Bramalea Limited
Property Management
Del Property Management Inc.
Unit Size Range
1100 - 5240 SQFT
175 Cumberland St, Toronto
About this condo
Condo Overview
A name like Renaissance Plaza brings certain images to mind: kings, queens, red and purple velvet. So while the Brutalist style façade of 175 Cumberland Street doesn't necessarily fit in with this picture, it also doesn't seem to reflect the updated homes found within.
Built back in 1983 by (now renowned) architects Page + Steele, the 15-storey building at 175 Cumberland Street is colossal in scale. Although not tall by Toronto's condo standards, the Renaissance Plaza is a mammoth building width-wise. For example, it may not sit right on the corner of Avenue and Bloor, but even so the building is very prominent when looking around this intersection.
Even though the Renaissance Plaza has been around for over 30 years now, the building manages to remain relevant: Toronto Life highlighted a condo at 175 Cumberland in a 2015 article, with the title reading "newer isn't necessarily better."
Set in Yorkville — an area that has seen bohemians move out and elite members of Toronto's society move in — the Renaissance Plaza has stood the test of time.
And while the more mature style of decor found in the lobby reflects the crowd attracted to the building and the neighbourhood at large, the amenities are fit for the modern homeowner. Residents have access to a gym with squash court, a pool and sauna, a concierge and security, a parking garage, and valet parking service.
The Suites
With 127 downtown Toronto condos to choose from, Toronto condos for sale here attract a wide range of prospective buyers. However, when it comes to size, condos at 175 Cumberland start large and only get larger from there: the smallest homes begin at around 1,000 and reach to approximately 4,000 square feet.
First time buyers looking for a place for one or two will be more than pleased with the one bedroom units available; families or those who enjoy playing host will want to opt for more spacious units, such as those with three bedrooms plus a den.
While luxurious bathrooms and separate kitchens are anything but rare at 175 Cumberland, there has clearly been lots of time for personalization over the years. Many units have been completely remade by now, some of which renovations have included removing walls, replacing flooring, and building walk-in closets. As a result, numerous homes at the Renaissance Plaza are now even better thought out than brand new condos.
One renovation worth noting resulted in a pink, marble-clad suite that looks like it is straight out of Sofia Coppola's Marie Antoinette, complete with a grand chandelier and gold-framed fireplace. Plus, this particular unit has an eat-in kitchen and a separate dining room.
Other owners have chosen to favour utility in their renovations, for example with the creation of home offices, or the use of glass to brighten living spaces and add a sense of modernity.
Penthouse suites are even more luxurious than the rest, thanks to the fact that these home boast fireplaces. And while many of the condos in the building offer pleasant views for their homeowners, certain residents benefit from being able to stare at the ROM and the infamous Michael Lee-Chin Crystal.
The Neighbourhood
Staring at the ROM from the comfort of your own home is fine enough, but residents of the Renaissance Plaza are also lucky enough to be able to walk over to this beloved museum whenever the mood strikes.
When residents feel they've had enough, the Gardiner Museum, the Bata Shoe Museum, and the Art Museum at the University of Toronto are all just around the corner as well.
Shopaholics and celebrity seekers alike will love spending afternoons roaming the streets of Yorkville. The prevalence of upscale boutiques and restaurants has a way of attracting the most fashionable of visitors from both Toronto and around the globe.
Basic errands are less of a chore thanks to the close proximity to the Whole Foods Market on Avenue Road and the Market by Longo's in the HBC Centre. Home goods can be gathered at the HomeSense on Bloor, while bibliophiles will be glad to learn about the massive Indigo located at the corner of Bay and Bloor.
Transportation
With its central location at Avenue Road and Bloor Street, residents can zip around the city in no time. For those who prefer to get around by car, Bloor Street can be used to reach the 427 to the west or the Don Valley Parkway to the east. A quick trip north on Avenue Road will also land drivers at the 401, while a southbound ride delivers one at the Financial District, Union Station or Lake Ontario.
Those who prefer public transit, on the other hand, are equally in luck. St. George, Bay, and Bloor-Yonge Stations are just a short walk away, from which passengers can ride east or west along the Bloor-Danforth Line, as well as north and south on the Yonge-University-Spadina Line.
1
Listings For Sale
Interested in receiving new listings for sale?
2
Listings For Rent
Interested in receiving new listings for rent?
Amenities
Maintenance Fees Cover
Maintenance fees include
Water
Owner / renter pays separately
Hydro
Heat
Air Conditioning
Past Sold & Rented Listings
Stats, Trends & Rankings
Price Per Square Foot
Renaissance Plaza vs The
Yorkville Area
Less Expensive
per SQFT compared to the neighbourhood average
Renaissance Plaza's Avg
price per SQFT
$1,155
/ SQFT
Neighbourhood Avg
price per SQFT
$1,310
/ SQFT
Building Trends At Renaissance Plaza
Days on Market
Units at Renaissance Plaza spend an average of
7
Days on Market
based on recent sales
List vs Selling Price
On average, these condos sell for
above
the list price.

Offer Competition
Condos in this building have an
AVERAGE
chance of receiving
Multiple Offers
Turnover of Units
On average, each unit is owned for
15.8
YEARS
before being sold again
Property Value
Increase
in property value within the past twelve months
Price Ranking
Highest price per SQFT out of
55
condos in the Yorkville area
Sold Units
3
Units were
Sold
over the past twelve months
Rented Units
5
Units were
Rented
over the past twelve months
Best Value
Renaissance Plaza offers the
best value
out of 55 condos in the Yorkville neighbourhood
Return on Investment
Renaissance Plaza has the
highest ROI
out of 55 condos in the Yorkville neighbourhood
Rental Yield
Renaissance Plaza yields the
highest rent prices
out of 55 condos in the Yorkville neighbourhood
High Demand
Renaissance Plaza is the
most popular
building out of 55 condos in the Yorkville neighbourhood
Sales vs Rental Values For This Condo
Average Cost Per Sqft
$1,015
Sales Price Range
$1,303,000 - $1,303,000
Rental Price Range
$3,300 - $4,500
Average Cost Per Sqft
$1,196
Sales Price Range
$1,945,000 - $2,200,000
Rental Price Range
$5,500 - $5,500
How Often Are Units Listed?
Average Sales Availability
Average Rental Availability
Ratio of Unit Type in Building
29%
1 Bed + Den
1100 - 1287 SQFT
Average Sales Availability
Average Rental Availability
Ratio of Unit Type in Building
5%
Average Sales Availability
Average Rental Availability
Ratio of Unit Type in Building
43%
2 Bed + Den
1700 - 2820 SQFT
Average Sales Availability
Average Rental Availability
Ratio of Unit Type in Building
13%
Average Sales Availability
Average Rental Availability
Ratio of Unit Type in Building
7%
3 Bed + Den
2365 - 5240 SQFT
Average Sales Availability
Average Rental Availability
Ratio of Unit Type in Building
7%
Maintenance Fees

Renaissance Plaza vs The

Yorkville Area
More Expensive
per SQFT compared to the neighbourhood average
Renaissance Plaza's Avg
monthly maintenance
fee per SQFT
$1.01
/ SQFT
Neighbourhood Avg
monthly maintenance
fee price per SQFT
$0.97
/ SQFT
Similar condos