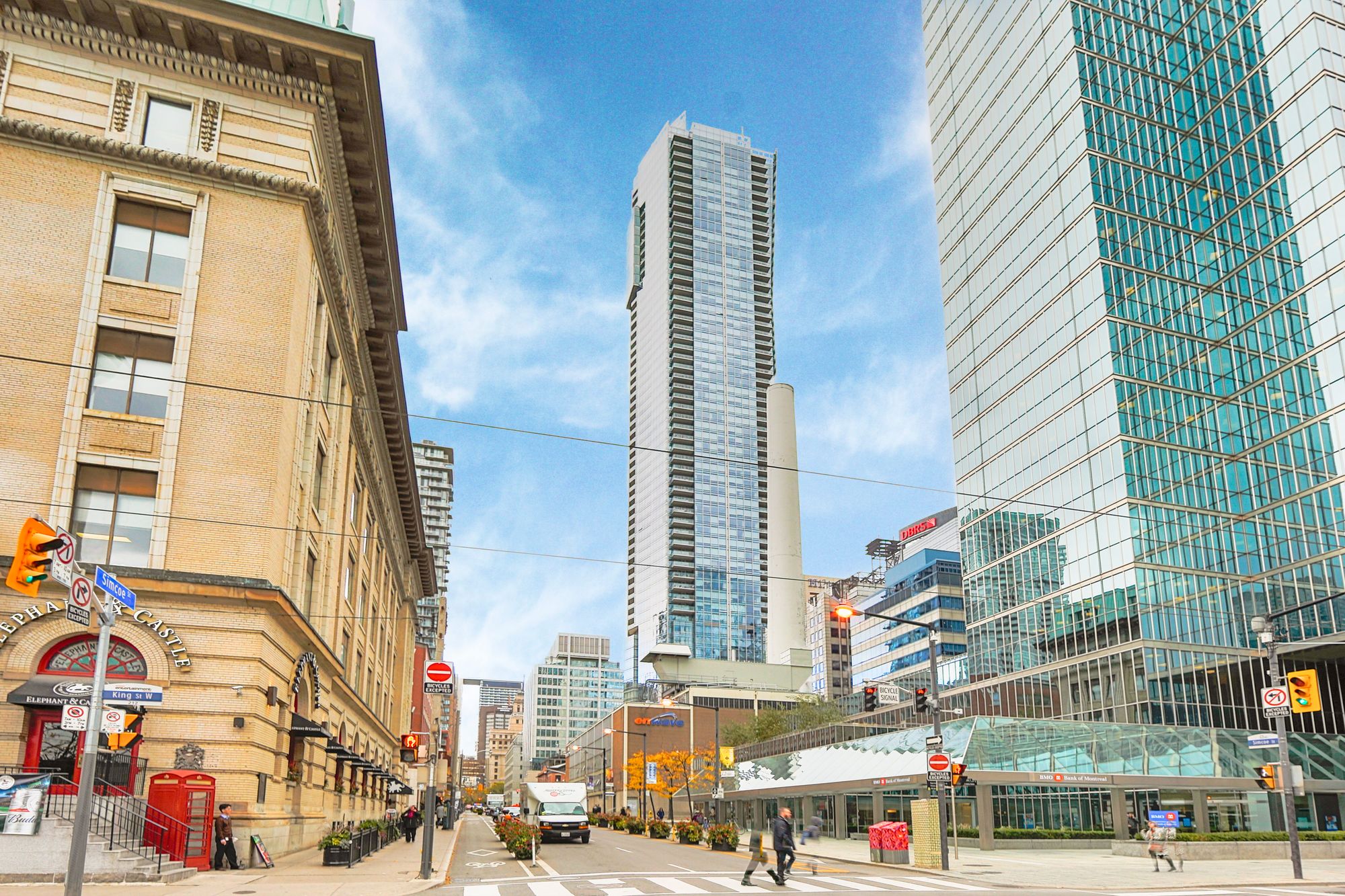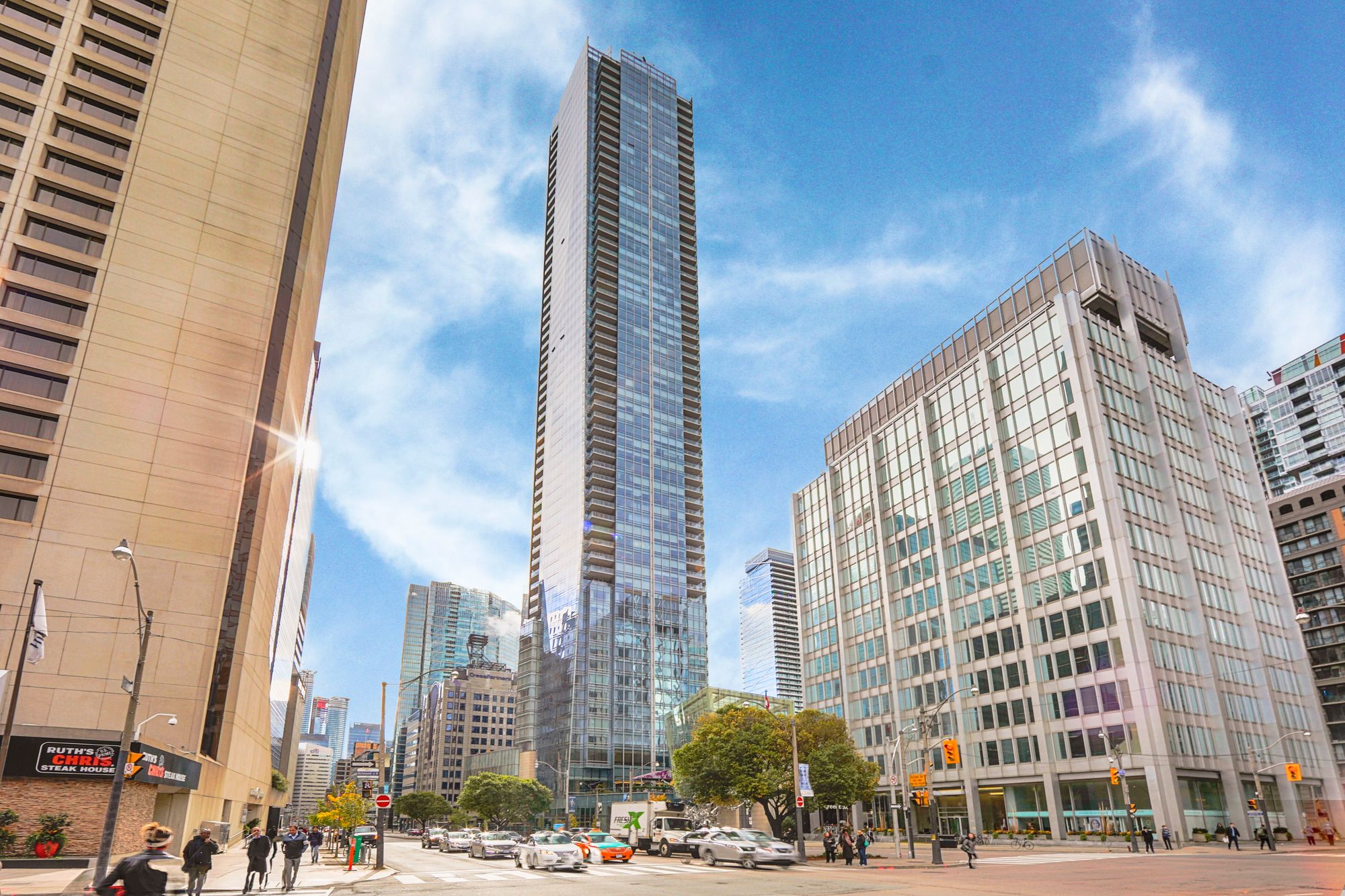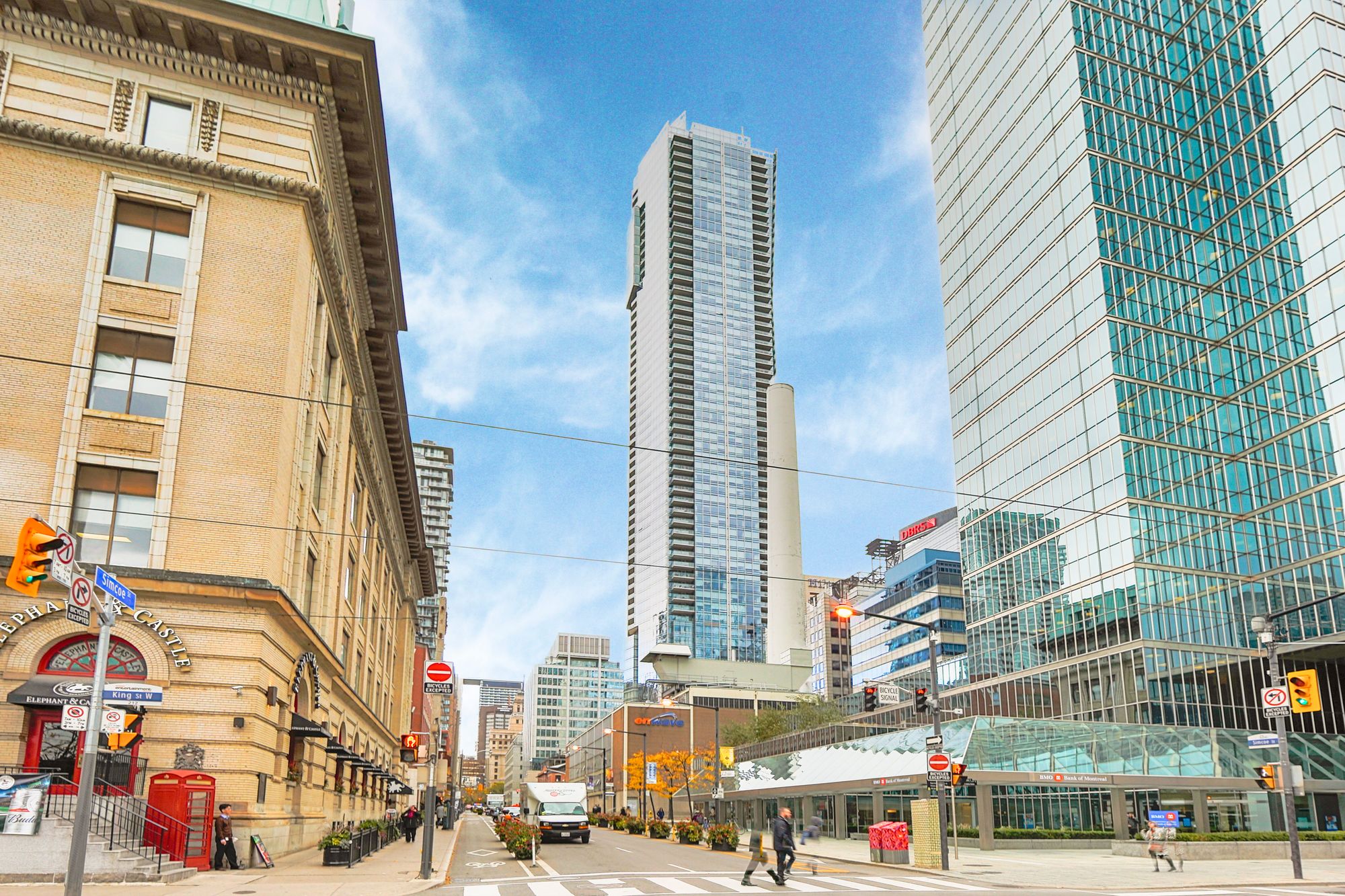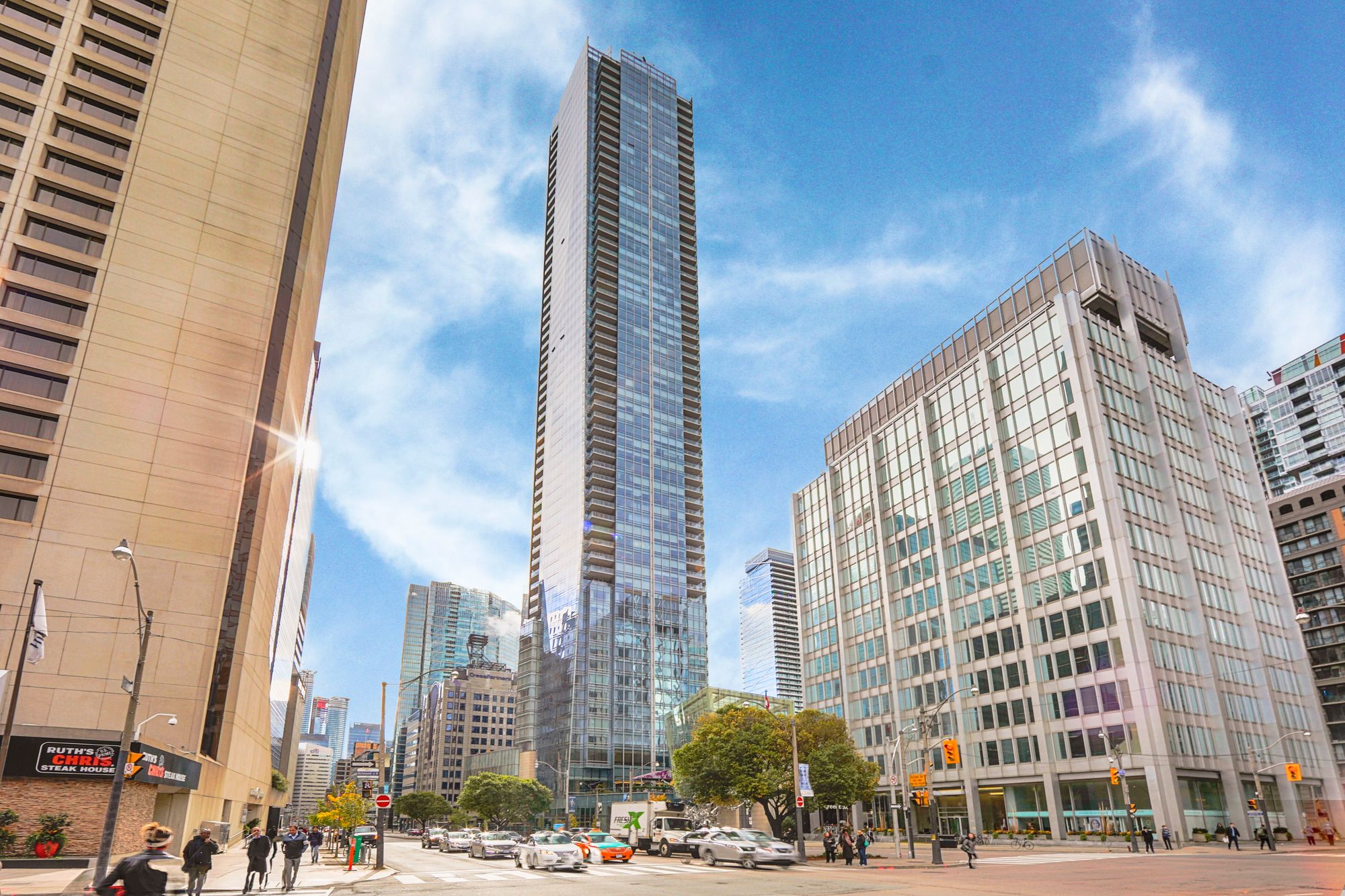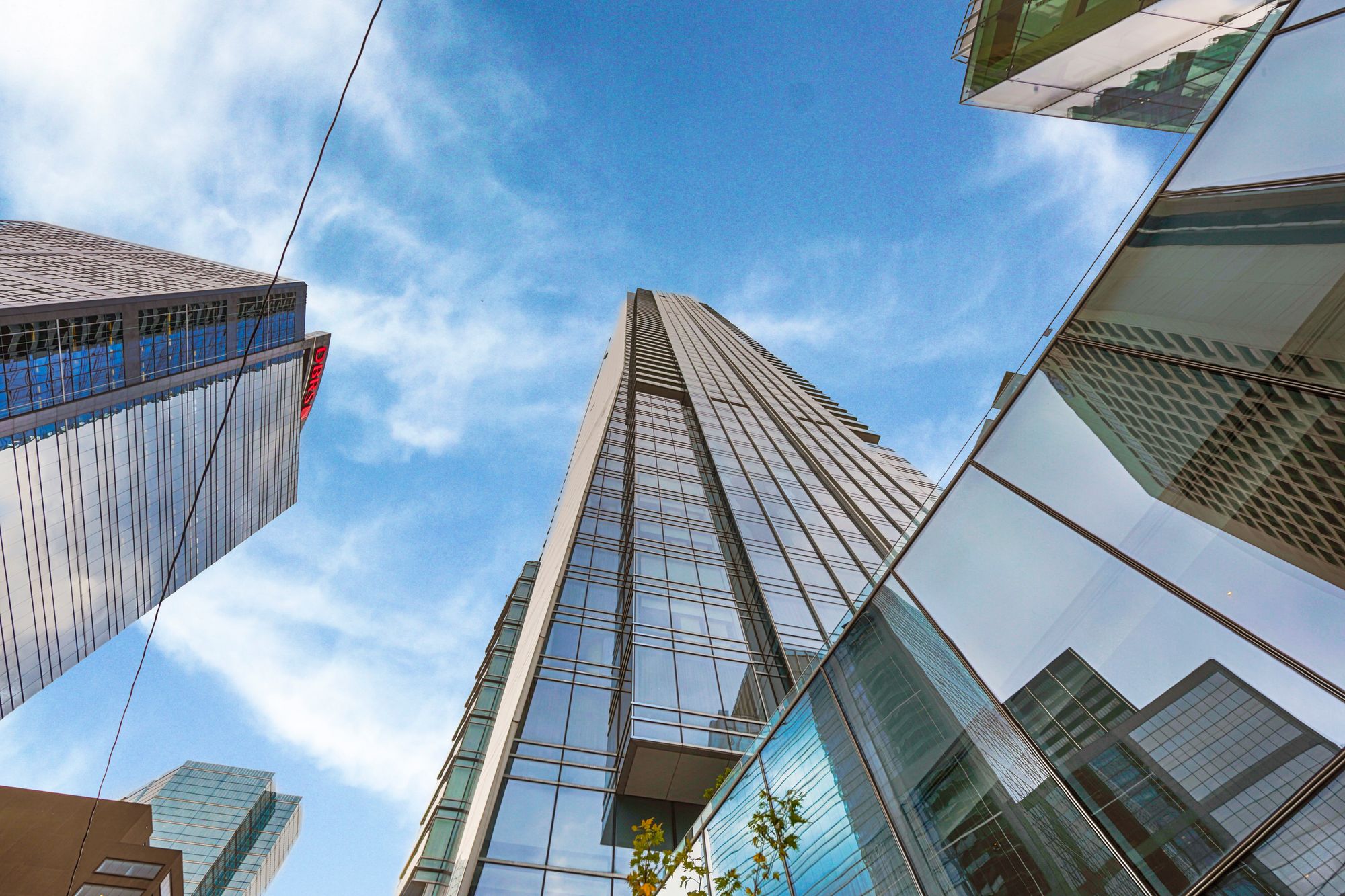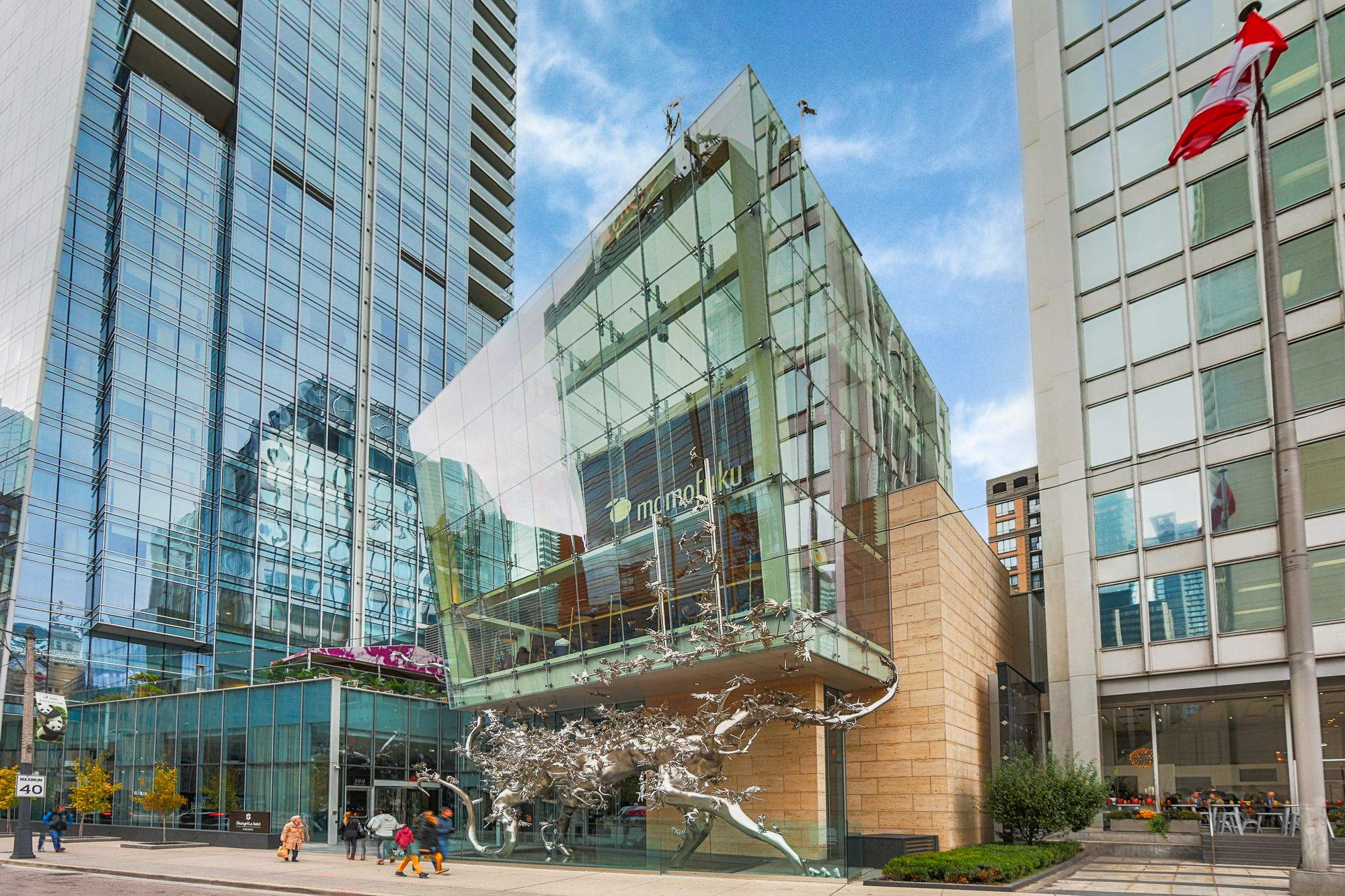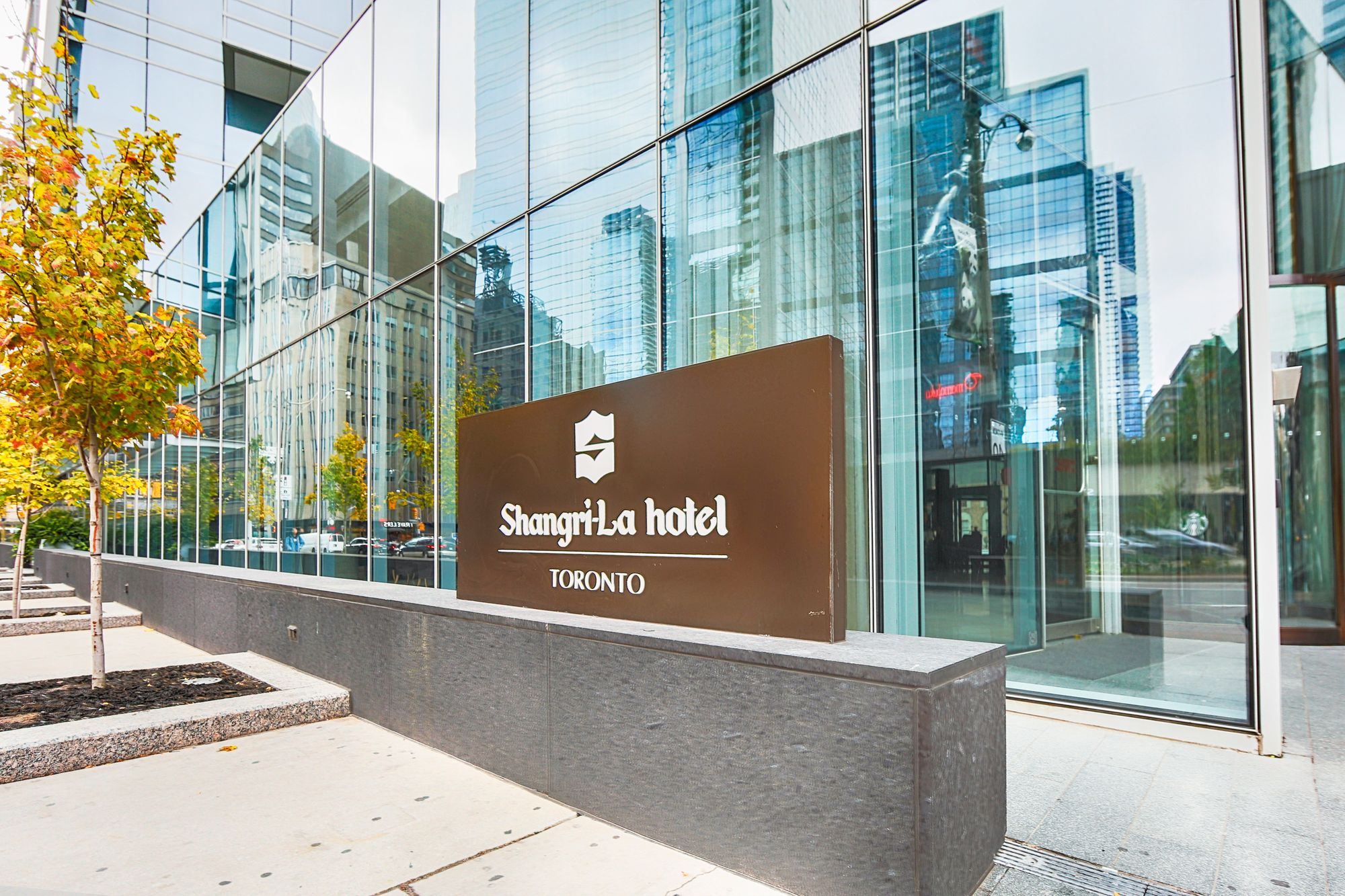 180 University Ave
8
Listings for Sale
for Sale
7
Listings for Rent
for Rent
Shangri-La
180 University Ave
Shangri-La
8
Listings for Sale
for Sale
7
Listings for Rent
for Rent
0
Unit Availability
Above Average
Developer
Westbank Projects Corp
Property Management
Brookfield Property Management
Unit Size Range
400 - 6700 SQFT
180 University Ave, Toronto
About this condo
The mountain paradise of Shangri-La may be a work of fiction, but this desirable condo building is anything but — stretching to 66 storeys of steel and glass at 180 University Avenue, this property takes James Hilton's vision and makes it real… in a condo building.
If you recognized the name as that of a well known Toronto hotel — they are one of the same, as this property doubles as a condo residence and a hotel. The first 17 floors are comprised of hotel suites, while those above belong to the condo residence; the most exclusive suites, can be found above the 50th floor.
Because this property is also a hotel, amenities are far more extensive than what you'd find in the average condo residence: Indoor pool, sauna, business centre, media room, party room, concierge, security guard, parking garage, and visitor parking. Maintenance fees are on the high side, but if that's a concern, you'd be wise to look elsewhere.
There is one major drawback to this building and it could be a deal breaker for some — Shangri-La is one of the most expensive condo residences in the city, and the price per square foot is quite high, so you're going to have to reach deep into your pockets if you're eyeing Queen West condos for sale in this building.
The Suites
Good news for prospective buyers — Shangri-La houses almost 400 luxury condos, all of which have spacious floor plans; suite sizes range start 679 square feet for a 1 bedroom, which could easily be a 2 bedroom unit in other modern high-rises, and suites can be as large as 4430 for a sprawling penthouse unit.
Suites in this building take a 'spare no expense' approach to finishes, offering executively styled suites with wide open floor plans. Interested buyers can expect rich hardwood floors, walk-in closets, European kitchens with stainless steel appliances, marble walls in bathrooms, automated blinds, and some suites have fireplaces.
All units have private balconies, and those with suites above the 50th floor have some of the best views in the city. For those who are keen on a penthouse, you can expect multi-floor layouts with soaring mezzanine areas and panoramic views.
The Neighbourhood
180 University Ave is nestled in downtown Toronto — as urban as urban gets, this incredible area places residents in the heart of the action, with Toronto's biggest and best attractions just next door. This is an amazing neighbourhood for residents who don't own a vehicle, because not only are there restaurants, pubs, and retail options in every direction, but there's also 24/7 public transit to carry you anywhere you want to go.
Toronto is renowned for its dining experience and it seems only fitting that residents of Shangri-La have some tantalizing restaurants around the corner — there's Fune for upscale Japanese, Michael's On Simcoe for a picture perfect steak paired with an amazing wine, Pizzeria Libretto for wood-fired pizza, Drake One Fifty where the setting is as good as the food, and Marcello's Market and Deli for buffet; all of these restaurants are less than 3 blocks from the building, and there are hundreds more nearby.
Entertainment options are plentiful, and there's something for any taste; sports fans can walk to the Rogers Centre for the Jays or Scotiabank Arena for the Leafs and Raptors, concert goers have bars for local talent and large venues like the Sony Centre for the Performing Arts and Roy Thomson Hall for larger acts. There are also touristy attractions like the CN Tower, TIFF, The Hockey Hall of Fame, and Ripley's Aquarium of Canada.
Nightlife options are vast in this neighbourhood, from cozy hangouts with extensive beer menus like The Town Crier, to lively rooftop hangouts such as The Porch. Residents who crave a bustling dance floor have Cake Bar & Nightclub, Fiction, Stadium Nightclub, and more. Plus, countless microbreweries like 3 Brewers Adelaide.
Transportation
180 University Ave Flexes its way to a flawless 100 Walk Score — as resident of this building you can get everything done with just two feet and a heartbeat, no matter what you have on the agenda. Grocery shopping can be accomplished effortlessly, as there's a Rabba Fine Foods less than a 2 minute walk from the front door.
With so much urban convenience, you could forgive the Shangri-La for not having green spaces nearby… except that it does, because David Pecaut Square is just a short walk away. For residents who need a little more nature in their lives, you can make your way south for lakeside parks and the Waterfront Recreational Trail.
When not walking, public transit will likely be your preferred method of travel — there are at least 7 bus routes with stops outside of 180 University Ave, north and southbound buses on University, and east and westbound streetcars on King. And if you need subway lines, St Andrew Station is just a few blocks south.
There's no way to claim a driver friendly environment — if your teeth aren't gritted in this area of town then you must be a master of breathing exercises. Nonetheless, car owners can reach the nearest highway somewhat quickly by heading south on University to York Street for the Gardiner Expressway…expect traffic, lots and lots of traffic.
8
Listings For Sale
Interested in receiving new listings for sale?
7
Listings For Rent
Interested in receiving new listings for rent?
Amenities
Maintenance Fees Cover
Maintenance fees include
Water
Owner / renter pays separately
Hydro
Heat
Air Conditioning
Past Sold & Rented Listings
Stats, Trends & Rankings
Price Per Square Foot
Shangri-La vs The
Queen West Area
More Expensive
per SQFT compared to the neighbourhood average
Shangri-La's Avg
price per SQFT
Neighbourhood Avg
price per SQFT
Building Trends At Shangri-La
Days on Market
Units at Shangri-La spend an average of
32
Days on Market
based on recent sales
List vs Selling Price
On average, these condos sell for
below
the list price.

Offer Competition
Condos in this building have a
LOW
chance of receiving
Multiple Offers
Turnover of Units
On average, each unit is owned for
5.7
YEARS
before being sold again
Property Value
Increase
in property value within the past twelve months
Price Ranking
Highest price per SQFT out of
46
condos in the Queen West area
Sold Units
22
Units were
Sold
over the past twelve months
Rented Units
47
Units were
Rented
over the past twelve months
Best Value
Shangri-La offers the
best value
out of 46 condos in the Queen West neighbourhood
Return on Investment
Shangri-La has the
highest ROI
out of 46 condos in the Queen West neighbourhood
Rental Yield
Shangri-La yields the
highest rent prices
out of 46 condos in the Queen West neighbourhood
High Demand
Shangri-La is the
most popular
building out of 46 condos in the Queen West neighbourhood
Sales vs Rental Values For This Condo
Average Cost Per Sqft
$1,379
Sales Price Range
$1,005,000 - $1,250,000
Rental Price Range
$3,850 - $32,347
1 Bed + Den
1100 - 1157 SQFT
Average Cost Per Sqft
$1,338
Sales Price Range
$1,401,000 - $1,480,000
Rental Price Range
$5,250 - $5,500
Average Cost Per Sqft
$1,274
Sales Price Range
$1,650,000 - $2,355,000
Rental Price Range
$5,500 - $13,250
2 Bed + Den
1738 - 2000 SQFT
Average Cost Per Sqft
$1,576
Sales Price Range
$2,281,000 - $3,200,000
Rental Price Range
$6,500 - $14,000
How Often Are Units Listed?
Average Sales Availability
Average Rental Availability
Ratio of Unit Type in Building
1%
Average Sales Availability
Average Rental Availability
Ratio of Unit Type in Building
23%
1 Bed + Den
1032 - 1157 SQFT
Average Sales Availability
Average Rental Availability
Ratio of Unit Type in Building
11%
Average Sales Availability
Average Rental Availability
Ratio of Unit Type in Building
39%
2 Bed + Den
1600 - 3258 SQFT
Average Sales Availability
Average Rental Availability
Ratio of Unit Type in Building
26%
Average Sales Availability
Average Rental Availability
Ratio of Unit Type in Building
2%
3 Bed + Den
1773 - 3272 SQFT
Average Sales Availability
Average Rental Availability
Ratio of Unit Type in Building
2%
Maintenance Fees

Shangri-La vs The

Queen West Area
More Expensive
per SQFT compared to the neighbourhood average
Shangri-La's Avg
monthly maintenance
fee per SQFT
Neighbourhood Avg
monthly maintenance
fee price per SQFT
Similar condos