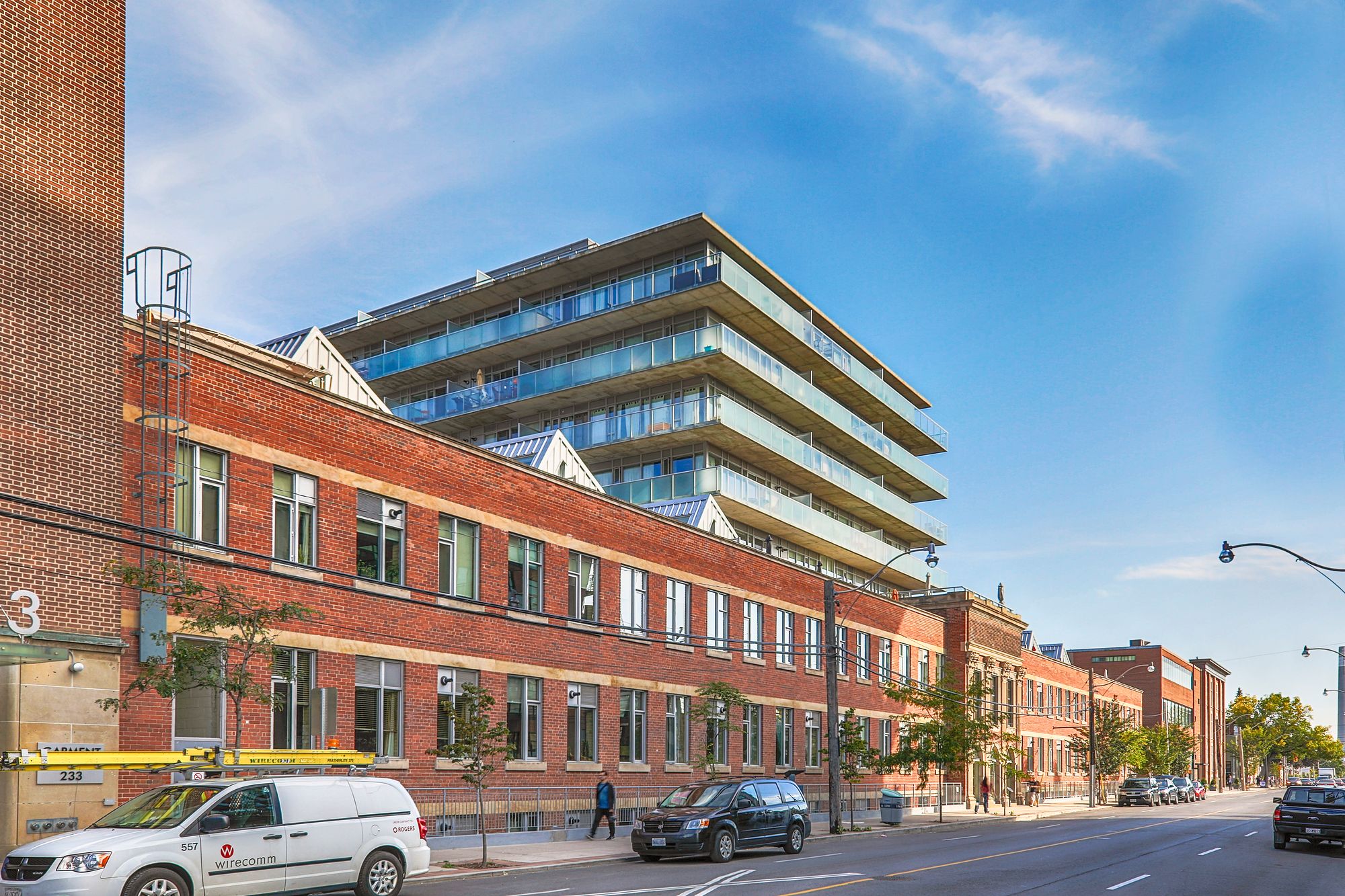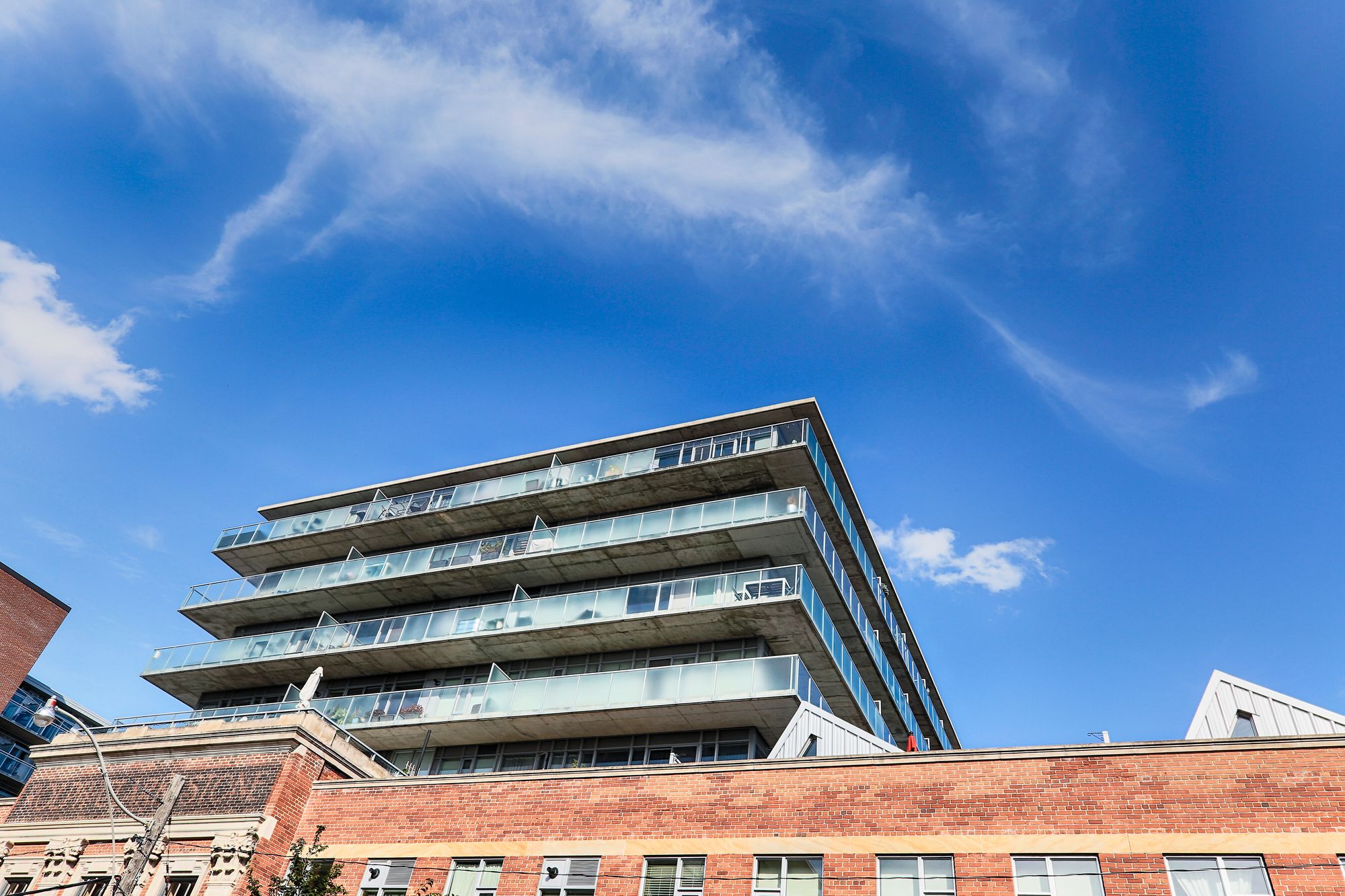 201 Carlaw Ave & 34-50 Boston Ave
1
Listing for Sale
for Sale
0
Listings for Rent
for Rent
The Printing Factory
201 Carlaw Ave
The Printing Factory
1
Listing for Sale
for Sale
0
Listings for Rent
for Rent
0
Unit Availability
Above Average
Developer
Beaverbrook Homes
Property Management
360 Community Management Ltd.
Unit Size Range
460 - 1568 SQFT
201 Carlaw Ave, Toronto
About this loft
Loft Overview
Sandwiched between Dundas East and Queen East in Toronto's Leslieville & South Riverdale neighbourhood, The Printing Factory at 201 Carlaw Avenue is home to both authentic hard lofts and contemporary soft lofts. The Printing Factory is ideal for residents looking to live luxuriously in a converted property with plenty of history.
Occupied since 2010, The Printing Factory was originally, you guessed it, a printing factory built back in 1913. The company name of 'Rolph Clark Stone' still rests above the building's front entryway, atop the original brickwork and arched stone doorways. The 3 storey brick factory was left mostly intact during its conversion, although the renovation resulted in the addition of a central tower made of of metal and glass, plus townhomes in the building's back section.
In addition to the building's contemporary designs and unique layout, 201 Carlaw features several amenities for residents to enjoy, including communal barbecues, garage parking for residents and guests, concierge and security services, a conference room, and a party room. 201 Carlaw Avenue is also welcoming to any prospective buyers with pets.
The Suites
The central tower that rests on the original factory reaches to 8 storeys tall, and the building as a whole holds 256 units composed of studios, one or two bedroom suites, and 3 bedroom townhomes. The homes range in size from around 450 square feet, to just over 1,550 square feet. Units in the 3-storey podium boast that authentic hard loft aesthetic - meaning more aspects like exposed brick, ductwork, and concrete beams — while suites in the 8 storey tower are soft lofts with fresh wooden floors.
Layouts at The Printing Factory are well thought out, with developers paying special attention to making use of the large floor-to-ceiling ceiling windows. Open-concept living and dining spaces allow plenty of light into the units, and are perfect for entertaining.
Kitchens are outfitted with stainless-steel appliances, large islands for dining and serving, and stone counters. Bathrooms feature soaker tubs, stone counters, ceramic floors and tiled shower walls. Many suites at 201 Carlaw also feature outdoor terraces with small gardens, skylights, or balconies, and all units come with ensuite laundry machines.
For those who are curious, this article should give you a taste of the finishes found within.
The Neighbourhood
There's a lot to see and do around Leslieville these days, which is why Leslieville condos for sale are so desirable. Throughout the last couple of decades it's been rebuilt from a former industrial section of east end Toronto, where many factory workers once lived, to a hip section of the east end, full of popular cafes, restaurants and independent stores. Caffeine addicts and foodies alike will really appreciate the area around The Printing Factory, thanks to all the local coffee shops, as well as casual and fine dining establishments.
Residents of 201 Carlaw are able to embark upon plenty of interesting shopping trips around the building, as streets like Gerrard, Dundas and Queen are filled with plenty of fun independent boutiques to browse. And for more traditional shopping, running errands, or more grocery options, residents can visit the nearby Gerrard Square or Riverdale Shopping Centre.
For entertainment, residents can head over to The Opera House for live concerts, the Alliance Cinemas in The Beach, or one of the nearby theaters like the Puppetmongers Theatre or Crow's Theatre. As well, the Distillery District is relatively close by, a great destination to visit year round, but especially around the winter holidays.
A number of parks are closeby, including McCleary Park, Jimmie Simpson Park, John Chang Neighbourhood Park, and Greenwood Park with its own baseball diamonds, pool, skating rink, and dog park. And some of the schools that serve the area are just a walk away, like Morse Street Junior Public School, Wilkinson Junior Public School, or Inglenook Community School.
Transportation
Getting around Leslieville & South Riverdale and reaching the rest of the city is easy for The Printing Factory's residents. There are nearby bus stops on Carlaw Avenue and Dundas Street, and streetcars serve both Gerrard Street East and Queen Street East. Residents looking to take the subway can even be at Pape Station in ten minutes by taking a bus north from the building.
And drivers at 201 Carlaw Avenue are also in luck: they can access the Don Valley Parkway via Dundas Street East in just a few minutes.
1
Listings For Sale
Interested in receiving new listings for sale?
0
Listings For Rent
Interested in receiving new listings for rent?
Amenities
Maintenance Fees Cover
Maintenance fees include
Water
Owner / renter pays separately
Hydro
Heat
Air Conditioning
Past Sold & Rented Listings
Stats, Trends & Rankings
Price Per Square Foot
The Printing Factory vs The
Leslieville | South Riverdale Area
More Expensive
per SQFT compared to the neighbourhood average
The Printing Factory's Avg
price per SQFT
$1,140
/ SQFT
Neighbourhood Avg
price per SQFT
$1,114
/ SQFT
Building Trends At The Printing Factory
Days on Market
Units at The Printing Factory spend an average of
11
Days on Market
based on recent sales
List vs Selling Price
On average, these lofts sell for
above
the list price.

Offer Competition
Lofts in this building have a
HIGH
chance of receiving
Multiple Offers
Turnover of Units
On average, each unit is owned for
6.1
YEARS
before being sold again
Property Value
Increase
in property value within the past twelve months
Price Ranking
Highest price per SQFT out of
33
condos in the Leslieville | South Riverdale area
Sold Units
22
Units were
Sold
over the past twelve months
Rented Units
14
Units were
Rented
over the past twelve months
Best Value
The Printing Factory offers the
best value
out of 33 condos in the Leslieville | South Riverdale neighbourhood
Return on Investment
The Printing Factory has the
highest ROI
out of 33 condos in the Leslieville | South Riverdale neighbourhood
Rental Yield
The Printing Factory yields the
highest rent prices
out of 33 condos in the Leslieville | South Riverdale neighbourhood
High Demand
The Printing Factory is the
most popular
building out of 33 condos in the Leslieville | South Riverdale neighbourhood
Sales vs Rental Values For This Loft
Average Cost Per Sqft
$1,032
Sales Price Range
$558,000 - $810,500
Rental Price Range
$1,700 - $2,950
1 Bed + Den
650 - 1186 SQFT
Average Cost Per Sqft
$949
Sales Price Range
$894,999 - $1,180,000
Rental Price Range
$2,175 - $3,300
Average Cost Per Sqft
$1,013
Sales Price Range
$899,000 - $1,185,000
Average Cost Per Sqft
$691
Sales Price Range
$1,011,111 - $1,011,111
How Often Are Units Listed?
Average Sales Availability
Average Rental Availability
Ratio of Unit Type in Building
1%
Average Sales Availability
Average Rental Availability
Ratio of Unit Type in Building
52%
1 Bed + Den
648 - 1315 SQFT
Average Sales Availability
Average Rental Availability
Ratio of Unit Type in Building
10%
Average Sales Availability
Average Rental Availability
Ratio of Unit Type in Building
26%
2 Bed + Den
1006 - 1568 SQFT
Average Sales Availability
Average Rental Availability
Ratio of Unit Type in Building
6%
Average Sales Availability
Average Rental Availability
Ratio of Unit Type in Building
8%
Maintenance Fees

The Printing Factory vs The

Leslieville | South Riverdale Area
Less Expensive
per SQFT compared to the neighbourhood average
The Printing Factory's Avg
monthly maintenance
fee per SQFT
$0.62
/ SQFT
Neighbourhood Avg
monthly maintenance
fee price per SQFT
$0.65
/ SQFT
Similar lofts