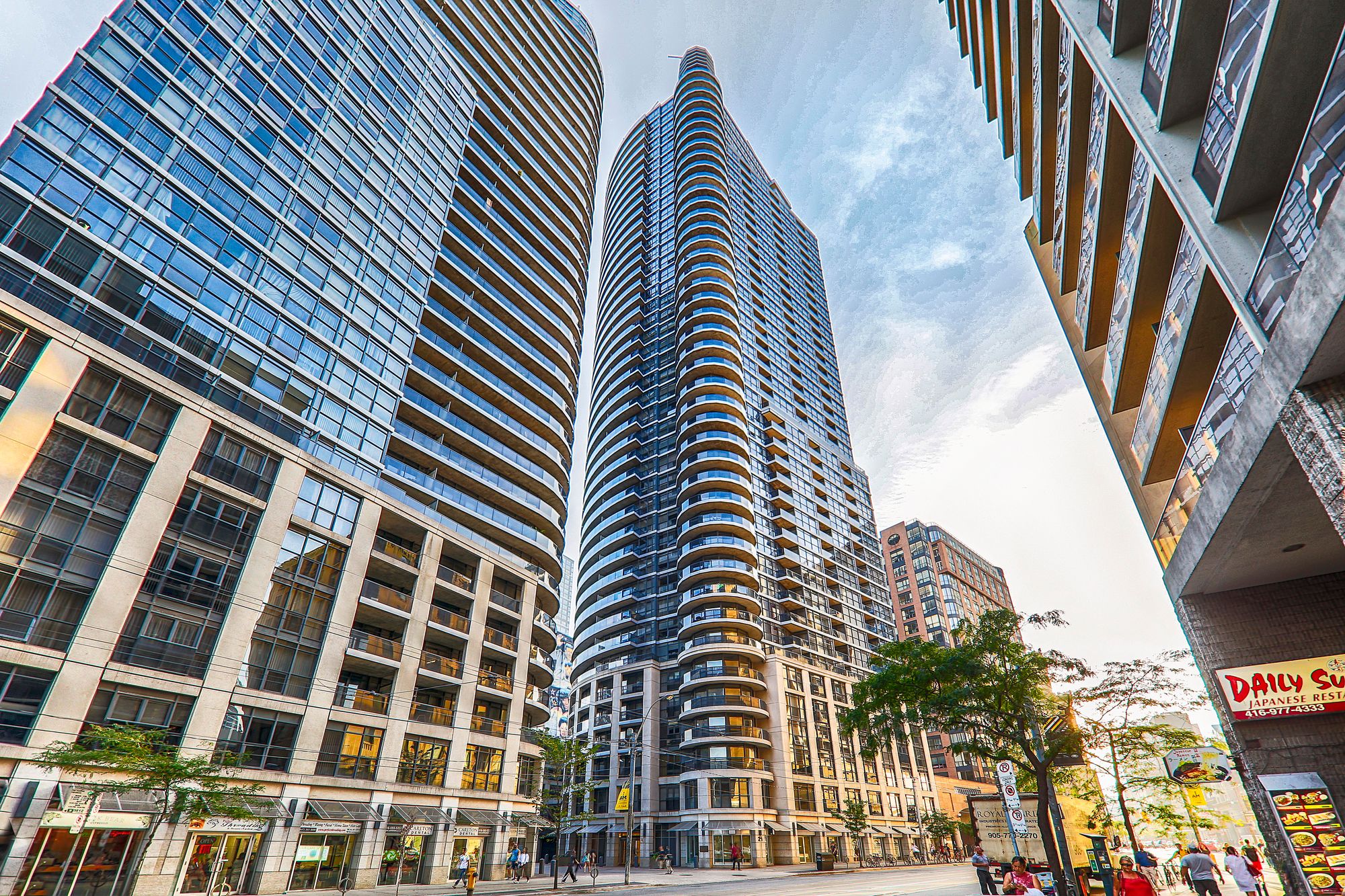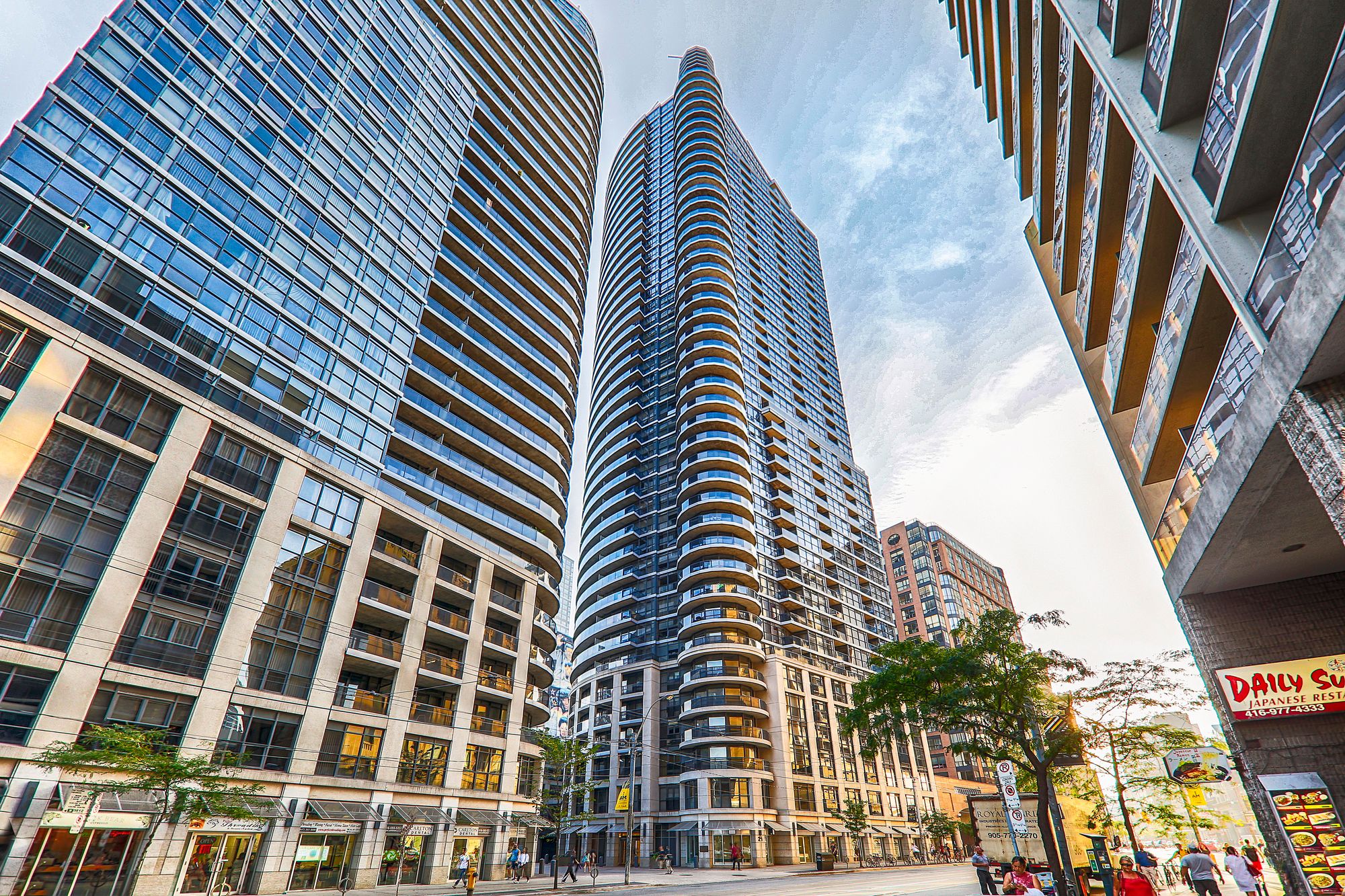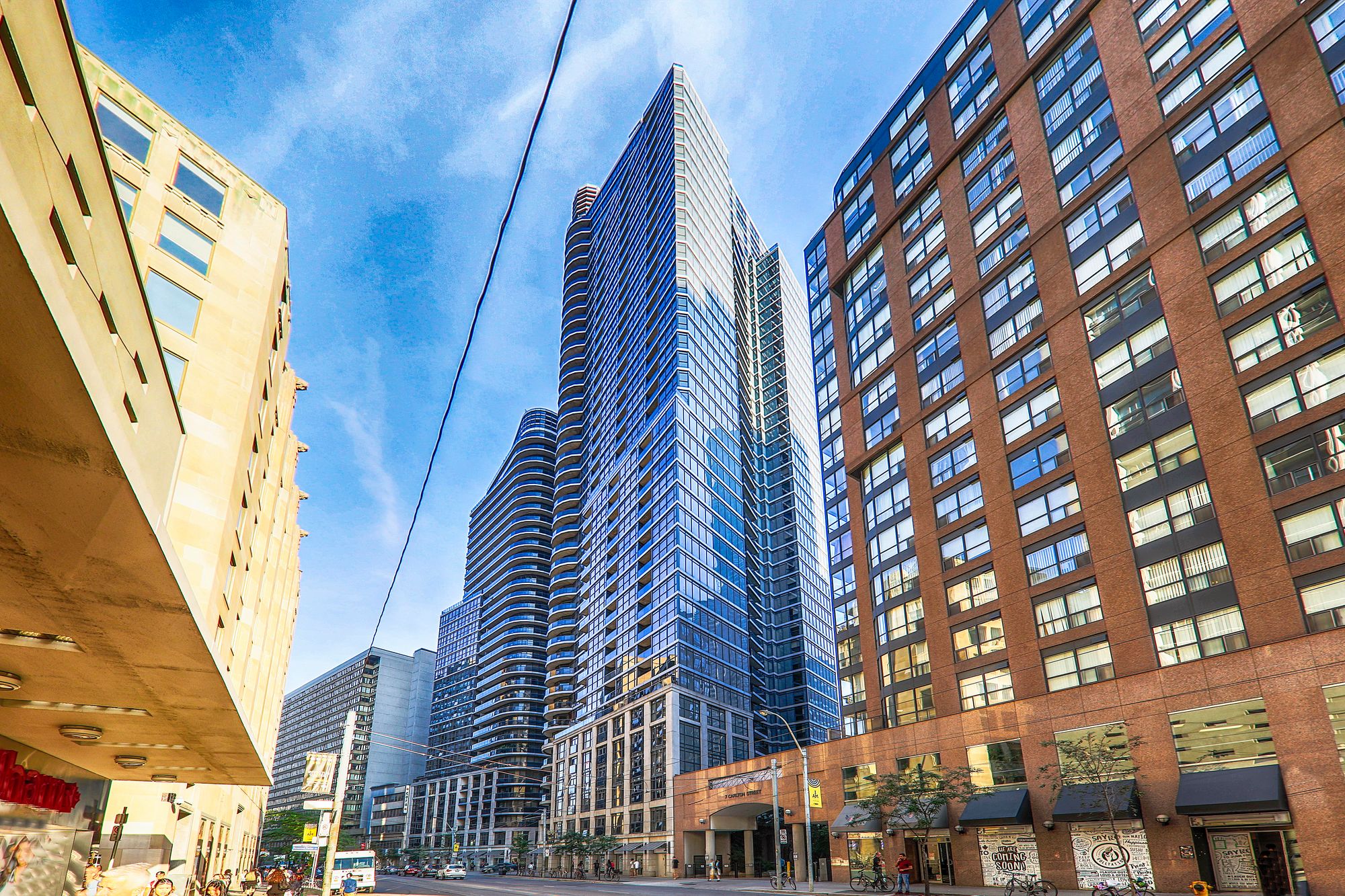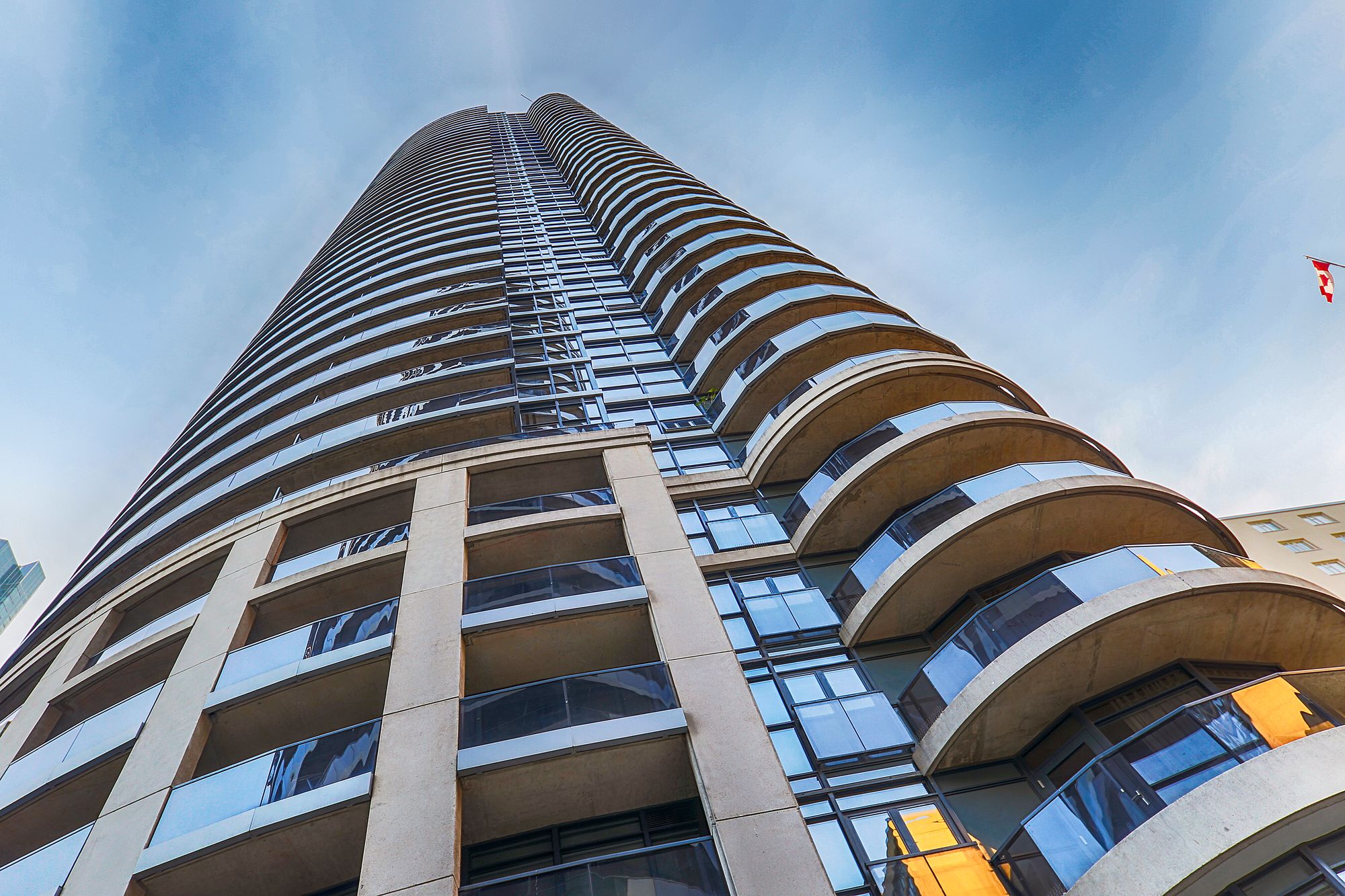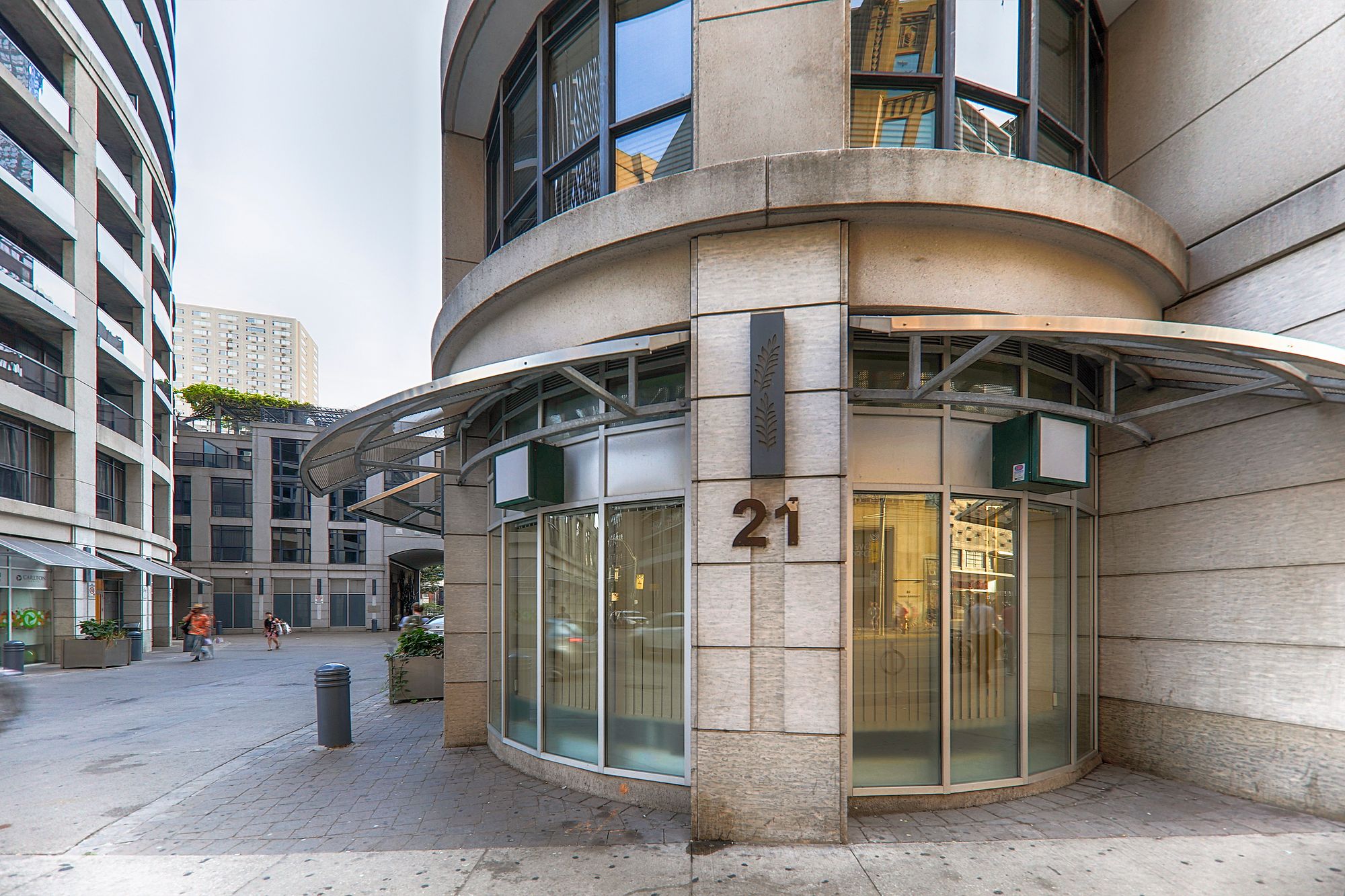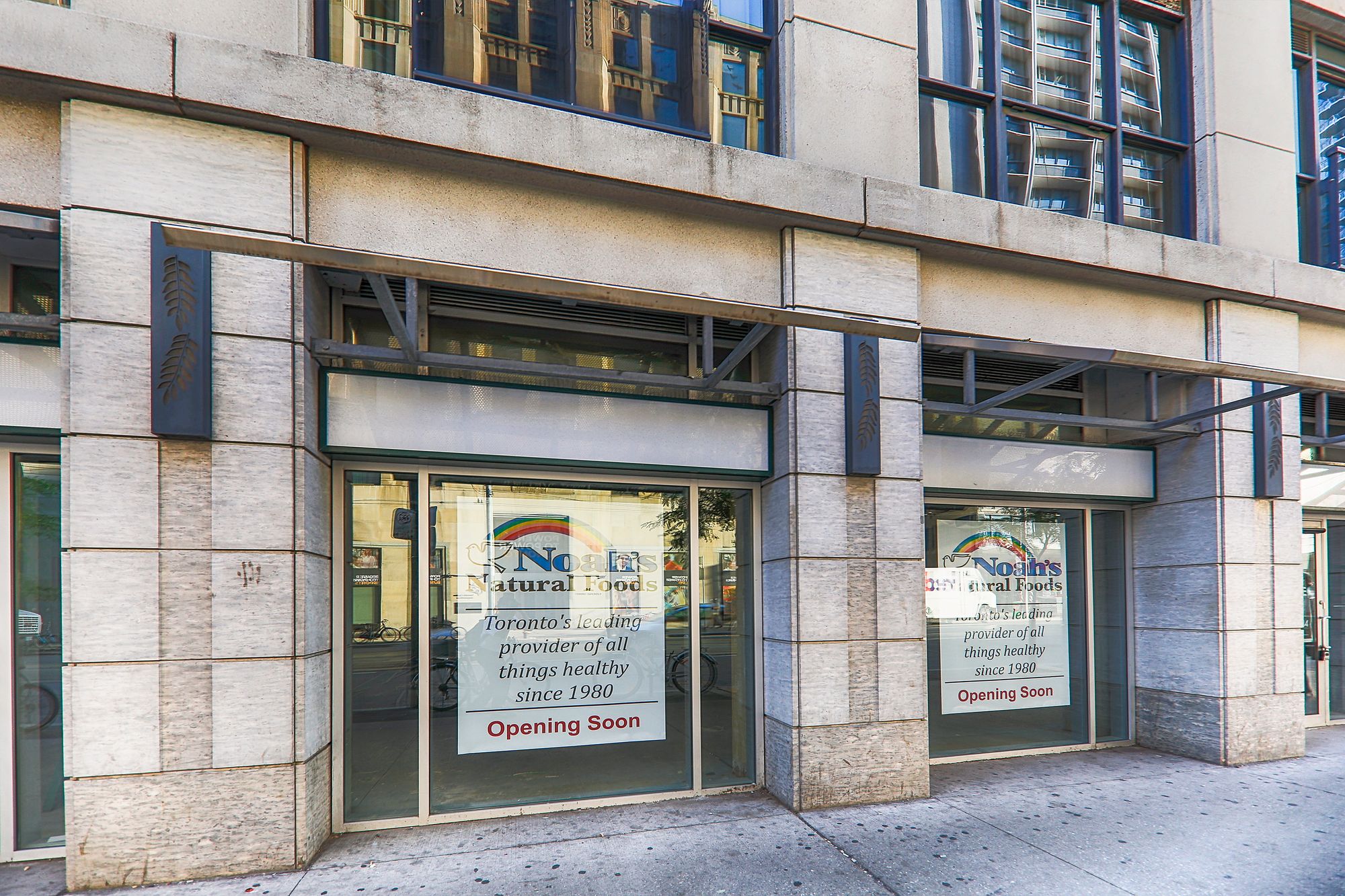 21 Carlton St, 23 Carlton St & 4-30 Granby St
8
Listings for Sale
for Sale
4
Listings for Rent
for Rent
Developer
Edilcan Development
Property Management
Crossbridge Condominium Services Ltd.
Unit Size Range
347 - 1847 SQFT
About this condo
The rounded corner on the façade of the Met Condos is just the tip of the iceberg when it comes to the appeal of these residences.
In fact, the homes at 21 Carlton Street were so well liked after being completed in 2008 that they had to create a second building — the Encore. With its twin tower now sitting next door at 25 Carlton, the complex really takes control of the corner on which it sits.
Technically speaking, the Granby Street Maisonettes make this complex into more of a trio than a duet, however the humble height of these homes means they can sometimes be overlooked by the Met and the Encore, which tower above.
Edilcan Development is behind the creation of the ever-impressive Met Condos, a residential tower that reaches to a soaring 43 storeys. With its grand total of 398 units, turnover rates are expected to stay decently high, even for such a well-liked building, so buyers have a good chance of finding Toronto condos for sale here at any given time.
At 21 Carlton, a 6 storey podium comprises the base of the building. However, one of the most impressive amenities is found on top of this section. Located on the 5th floor, above the townhouse-style units, is the Dr. Mark Ernsting Gardens. Here, residents can lounge, barbecue, read a book, or even pick some fresh herbs and vegetables for their supper.
That's right, the vegetable garden — tended to by the building's garden committee — means an empty fridge doesn't necessitate a trip to the grocery store. The garden may be seasonal, but it is quite helpful when it is in full bloom.
The rest of the amenities are designed to make life easier for its residents. For example, it's easy to stay fit, thanks to the indoor pool, yoga studio, gym, and sauna. Relaxing even becomes simpler, with the building's library and cinema. And as for entertaining, even this becomes effortless with the guest suites, visitor parking, and party room available.
And last but not least, staying informed is less of a chore for residents, since the building has its very own website. Here, one can find information about the building, including safety details, rules, emergency procedures, access to building documents, forms for making reservations, and frequently asked questions.
The Suites
As previously mentioned, the units gracing the podium at 21 Carlton Street are townhouses, while condo units can be found throughout the upper portion of the building. This way, prospective buyers of all sorts can find something they like.
Various buyers with different needs and budgets can also be satisfied thanks to the large range of sizes. Floor plans range from around 400 to 1,800 square feet, with open concept layouts and 8 or 9-foot ceilings making these homes feel larger than life, regardless of their measurements.
Floor-to-ceiling windows brighten the living spaces, with sunbathing extended to the outdoors in the tower units, thanks to the terraces or balconies found here. Suites range from bachelors to three bedroom homes, although all are contemporary in appearance.
Creating this modern atmosphere are materials like engineered hardwood and granite, as well as stainless steel appliances and glossy tile surrounding spacious bathtubs.
The Neighbourhood
The Met Condos' central location in the The Village neighbourhood does make one thing more difficult for its residents: deciding what to do on any given day off.
Rainy days can be spent indoors at the Imagine Cinemas directly across the street, or wandering the shops of the Eaton Centre, located just a few blocks (or one subway stop) south of 21 Carlton Street.
As for those who prefer spending as much time outdoors as possible, it's a good thing that so much green space can be found within close proximity to the Met Condos. Queen's Park is just a short walk away, while a short walk or ride on the streetcar will land residents at Riverdale Park West, Riverdale Farm, and the Toronto Necropolis.
And those who can't seem to get enough culture can stroll over to the University of Toronto Art Centre or the Ryerson Image Centre, as well as the Royal Ontario Museum or the Art Gallery of Ontario.
Maple Leaf Gardens is also located right around the corner, a building with lots of history and an exciting future. Once hosting hockey games, the building is now home to a colossal Loblaws, as well as Toronto Metropolitan University's athletic centre, which still has its very own ice rink.
Transportation
Traveling to and from the Met Condos is simple thanks to its location directly beside College subway station. Hopping onto a train on the Yonge line allows travelers to ride north or south, while those looking to connect to the Bloor-Danforth line are only two stops away from Bloor-Yonge station.
A streetcar route along College services those looking to travel east and west, while bike lanes on College are yet another great way to travel. As for those who drive, the Don Valley Parkway, 401, and Gardiner Expressway are all within reach for those living at 21 Carlton Street, allowing drivers to escape downtown Toronto traffic when needed.
8
Listings For Sale
Interested in receiving new listings for sale?
4
Listings For Rent
Interested in receiving new listings for rent?
Property Highlights
Listing History for The Met Condos
Nearby Amenities
Stats, Trends & Rankings
The Met Condos vs The Village Area
Building Trends At The Met Condos
Days on Strata
Units at The Met Condos spend an average of
18
Days on Strata
based on recent sales
List vs Selling Price
On average, these condos sell for
below
the list price.

Offer Competition
Condos in this building have an
AVERAGE
chance of receiving
Multiple Offers
Turnover of Units
On average, each unit is owned for
6.6
YEARS
before being sold again
Property Value
Increase
in property value within the past twelve months
Price Ranking
Highest price per SQFT out of
29
condos in The Village area
Sold Units
9
Units were
Sold
over the past twelve months
Rented Units
50
Units were
Rented
over the past twelve months
Sales vs Rental Values For This Condo
Average Cost Per Sqft
$1,354
Sales Price Range
$508,000 - $508,000
Rental Price Range
$2,100 - $2,800
Average Cost Per Sqft
$1,052
Sales Price Range
$630,000 - $630,000
Rental Price Range
$2,250 - $2,600
1 Bed + Den
549 - 671 SQFT
Average Cost Per Sqft
$1,131
Sales Price Range
$640,000 - $760,000
Rental Price Range
$2,500 - $2,800
Average Cost Per Sqft
$1,160
Sales Price Range
$829,000 - $1,325,000
Rental Price Range
$3,000 - $4,500
2 Bed + Den
1000 - 1053 SQFT
Average Cost Per Sqft
No Data
Rental Price Range
$3,450 - $3,950
How Often Are Units Listed?
Average Sales Availability
Average Rental Availability
Ratio of Unit Type in Building
10%
Average Sales Availability
Average Rental Availability
Ratio of Unit Type in Building
16%
1 Bed + Den
549 - 746 SQFT
Average Sales Availability
Average Rental Availability
Ratio of Unit Type in Building
27%
Average Sales Availability
Average Rental Availability
Ratio of Unit Type in Building
42%
2 Bed + Den
913 - 1710 SQFT
Average Sales Availability
Average Rental Availability
Ratio of Unit Type in Building
6%
Average Sales Availability
Average Rental Availability
Ratio of Unit Type in Building
2%
Maintenance Fees
The Met Condos vs The
Village Area
The Met Condos's Avg
monthly maintenance fee
Neighbourhood Avg
monthly maintenance fee
Similar condos