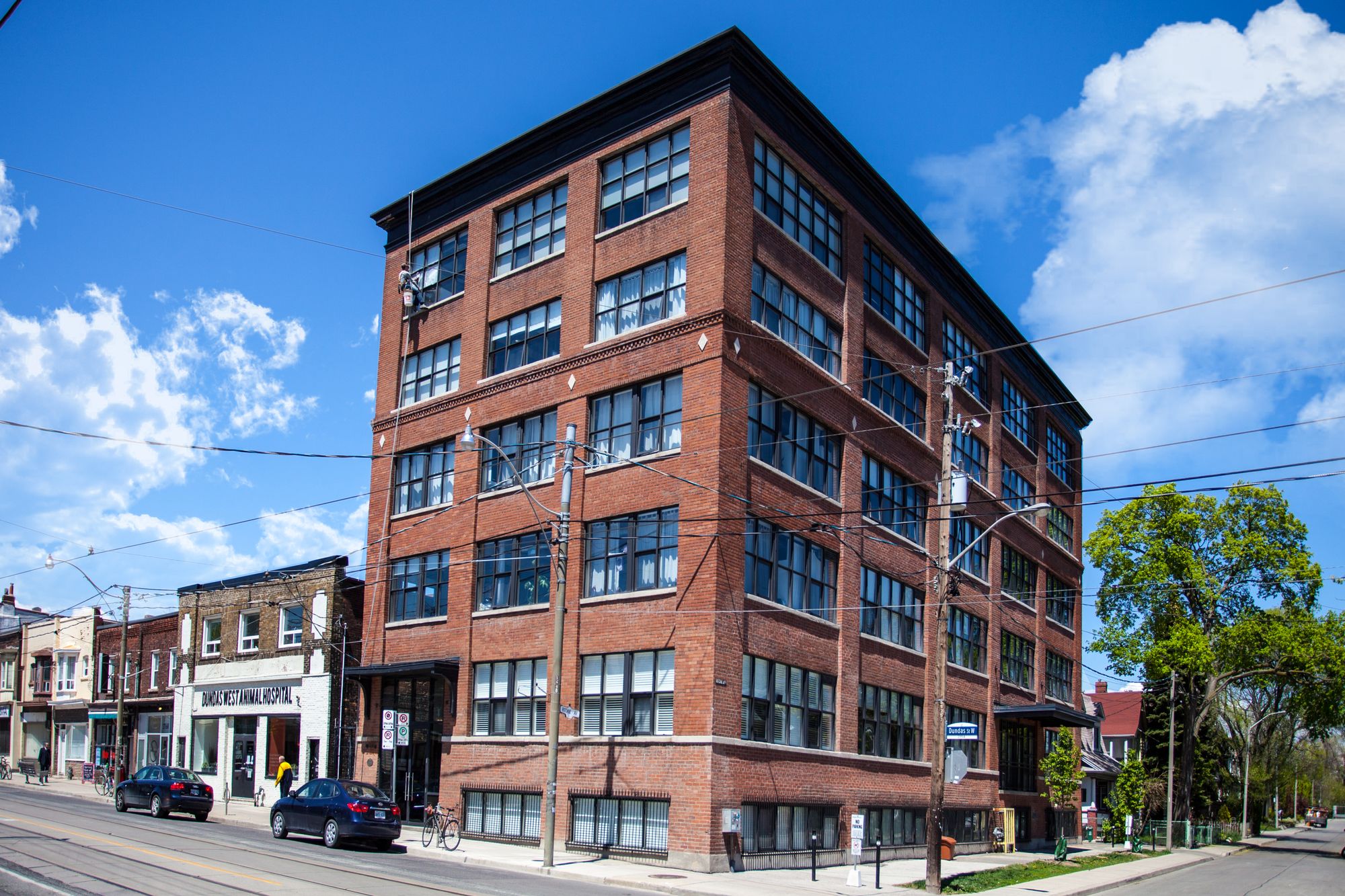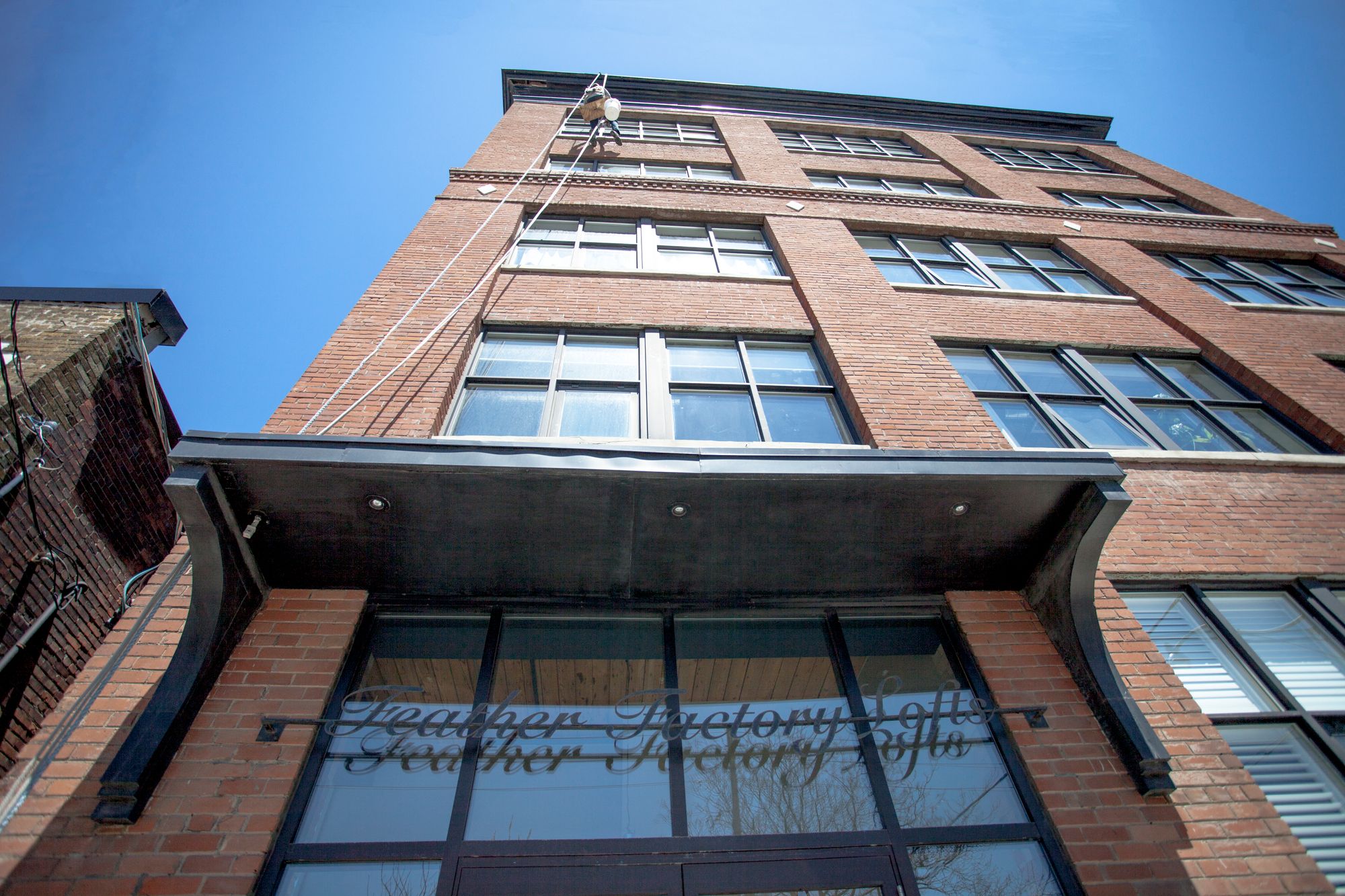 2154 Dundas St W
0
Listings for Sale
for Sale
0
Listings for Rent
for Rent
Feather Factory Lofts
2154 Dundas St W
Feather Factory Lofts
0
Listings for Sale
for Sale
0
Listings for Rent
for Rent
0
Property Management
Taft Forward Property Management Group
Unit Size Range
400 - 1070 SQFT
2154 Dundas St W, Toronto
About this loft
Loft Overview
Although houses themselves were not manufactured in the Feather Factory Lofts, it would still be fair to call the building "meta." What were made here, during Toronto's fruitful industrial era, would be found in the bedroom: feather duvets.
More specifically, the hard loft structure at 2154 Dundas Street West was originally home to the B.F. Harvey Co. Bedding Factory. Built in 1913, the top two storeys were added in 1922 — almost seamlessly. If you look closely, you can still see the original cornice that separates the two sections from one another.
The 2008 conversion of the Feather Factory Lofts was carried out by Plaza, with the official heritage designation to come later, in 2011. Buyers were given a nice surprise, although they might have been able to see it coming, what with the classic red brick façade. The exterior is simple — an incarnation of traditional industrial architecture — with warehouse style windows all over.
What Plaza did play around with, fortunately, are the features that remain out of sight. Interior system such as hydro and electricity were completely overhauled, allowing residents to control temperatures in each of their own units.
The Suites
The authentic atmosphere is obvious upon stepping foot into one of the Feather Factory Lofts — these are no cookie cutter Toronto condos for sale here. On top of the inherent exclusivity afforded by the small number of units, the history and character preserved during the conversion cannot be matched by modern constructions, even with their luxurious amenities and high-gloss finishes.
The 44 west end condos at 2154 Dundas West range in size from around 500 to 1,000 square feet, and from junior one bedrooms to one bedroom plus dens. While these sizes are comfortable enough, it is not the quantity that impresses prospective buyers here.
Rather, original finishes from the building's days as a factory serve as both conversation pieces and atmospheric enhancers. Wooden posts and beams, exposed ductwork, and copious amounts exposed brick and windows are some of the more immediate elements that draw buyers in.
Contemporary hardwood flooring was installed during the conversion, although this was done in order to preserve the original wooden ceilings — which are pretty impressive. These reach as high as 14.5 feet in the penthouses, with 11 feet being the standard in most units.
The homes at the Feather Factory Lofts are designed in an open concept fashion, with partition walls added in order to separate bedrooms. These walls are thin and often don't reach as high as the ceilings, meaning those in search of privacy may lose interest here.
Some of the lofts span multiple storeys at 2154 Dundas West, while all of them are completely sundrenched. The expansive windows illuminate the century-old wood and brick, providing a sense of warmth unavailable to modern condos. Residents moving in here better be sure to pack their curtains, then, come moving day.
The Neighbourhood
With its location between Brockton Village and Roncesvalles, the Feather Factory Lofts is well positioned for those who enjoy a little bit of calm every now and then. Since these lofts are set far enough from the central downtown Toronto, residents, luckily, will never be bombarded with map-wielding tourists. That said, the area is chock full of all the urban amenities any Torontonian could ask for.
Following Dundas as it curves north will land residents in the Junction, an area filled with reclaimed furniture, odd finds, and of course vegan bakeries. To the south, Dundas becomes dotted with vintage clothing and upscale homeware boutiques, as well as some of the best brunches in the city.
A walk down Roncesvalles is yet another way to spend a day off. Independent cafes and live music venues share the street with Toronto's oldest running movie theatre, the Revue Cinema. And from here, residents can head over to High Park, which offers over 400 acres for residents (and others) to explore.
Transportation
The Feather Factory Lofts may be slightly north-west of the central downtown core, however their proximity to Bloor Street West and the subway allow residents to travel around the city with ease. In fact, Dundas West station on the Bloor-Danforth line is a mere 500 metres from the lofts at 2154 Dundas.
Also directly beside Dundas West station is the Bloor GO/UP station. From here, residents heading out on lengthier journeys can make use of GO buses and trails, as well as the UP service to Pearson International Airport.
Within a short drive, residents can access the Gardiner Expressway via Jameson Avenue. This fast-paced route will allow drivers to reach the 427, the Don Valley Parkway, and neighbouring cities and towns with ease.
0
Listings For Sale
Interested in receiving new listings for sale?
0
Listings For Rent
Interested in receiving new listings for rent?
Amenities
Maintenance Fees Cover
Maintenance fees include
Water
Owner / renter pays separately
Hydro
Heat
Air Conditioning
Past Sold & Rented Listings
Stats, Trends & Rankings
Price Per Square Foot
Feather Factory Lofts vs The
Roncesvalles Area
Less Expensive
per SQFT compared to the neighbourhood average
Feather Factory Lofts's Avg
price per SQFT
$1,166
/ SQFT
Neighbourhood Avg
price per SQFT
$1,183
/ SQFT
Building Trends At Feather Factory Lofts
Days on Market
Units at Feather Factory Lofts spend an average of
7
Days on Market
based on recent sales
List vs Selling Price
On average, these lofts sell for
below
the list price.

Offer Competition
Lofts in this building have a
LOW
chance of receiving
Multiple Offers
Turnover of Units
On average, each unit is owned for
5.2
YEARS
before being sold again
Property Value
Increase
in property value within the past twelve months
Price Ranking
Highest price per SQFT out of
12
condos in the Roncesvalles area
Sold Units
2
Units were
Sold
over the past twelve months
Rented Units
5
Units were
Rented
over the past twelve months
Best Value
Feather Factory Lofts offers the
best value
out of 12 condos in the Roncesvalles neighbourhood
Return on Investment
Feather Factory Lofts has the
highest ROI
out of 12 condos in the Roncesvalles neighbourhood
Rental Yield
Feather Factory Lofts yields the
highest rent prices
out of 12 condos in the Roncesvalles neighbourhood
High Demand
Feather Factory Lofts is the
most popular
building out of 12 condos in the Roncesvalles neighbourhood
Sales vs Rental Values For This Loft
Rental Price Range
$1,849 - $1,849
Average Cost Per Sqft
$1,058
Sales Price Range
$645,000 - $661,378
Rental Price Range
$2,150 - $2,600
How Often Are Units Listed?
Average Sales Availability
Average Rental Availability
Ratio of Unit Type in Building
13%
Average Sales Availability
Average Rental Availability
Ratio of Unit Type in Building
80%
Average Sales Availability
Average Rental Availability
Ratio of Unit Type in Building
8%
Maintenance Fees

Feather Factory Lofts vs The

Roncesvalles Area
More Expensive
per SQFT compared to the neighbourhood average
Feather Factory Lofts's Avg
monthly maintenance
fee per SQFT
$0.75
/ SQFT
Neighbourhood Avg
monthly maintenance
fee price per SQFT
$0.67
/ SQFT
Similar lofts