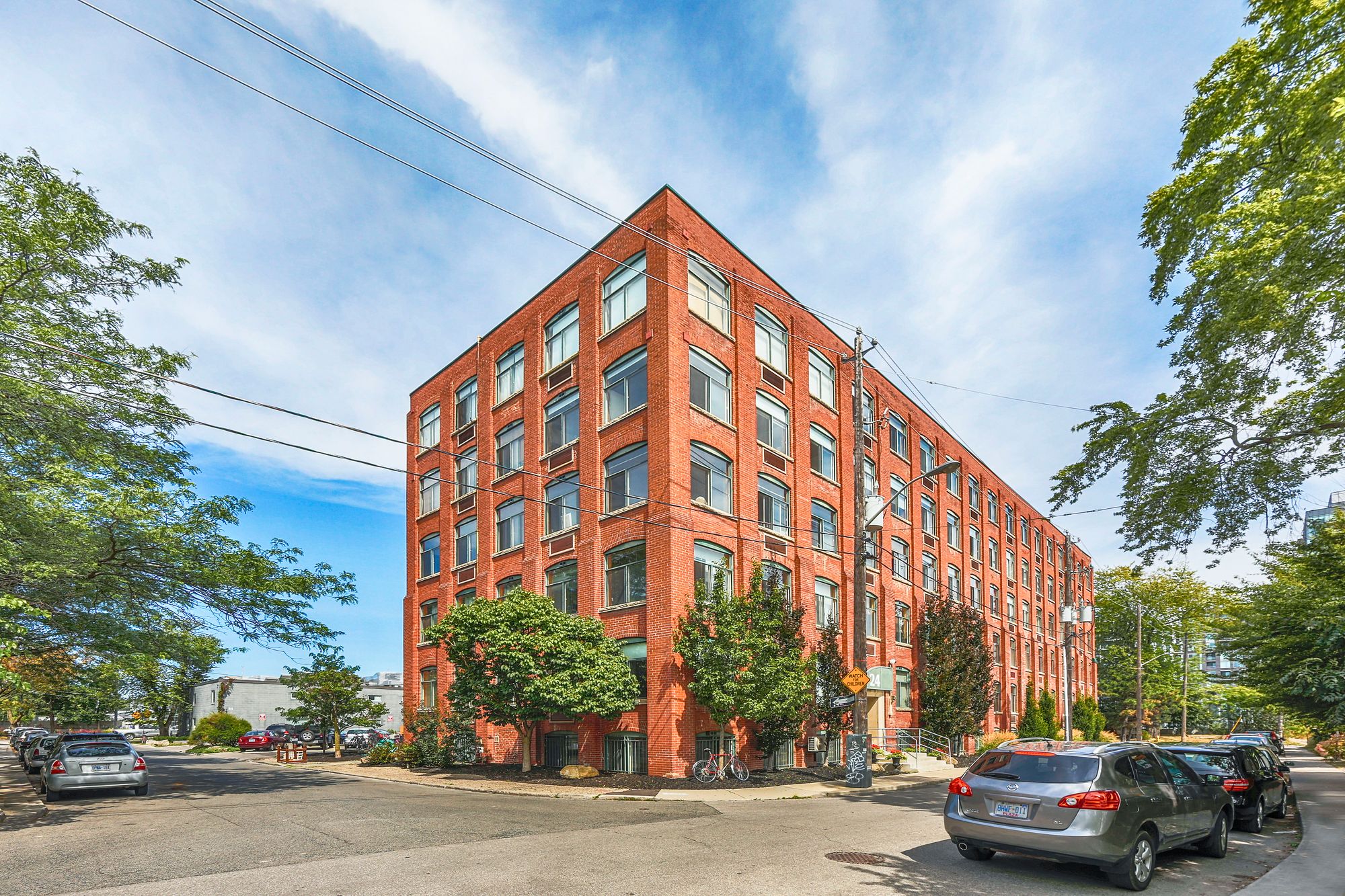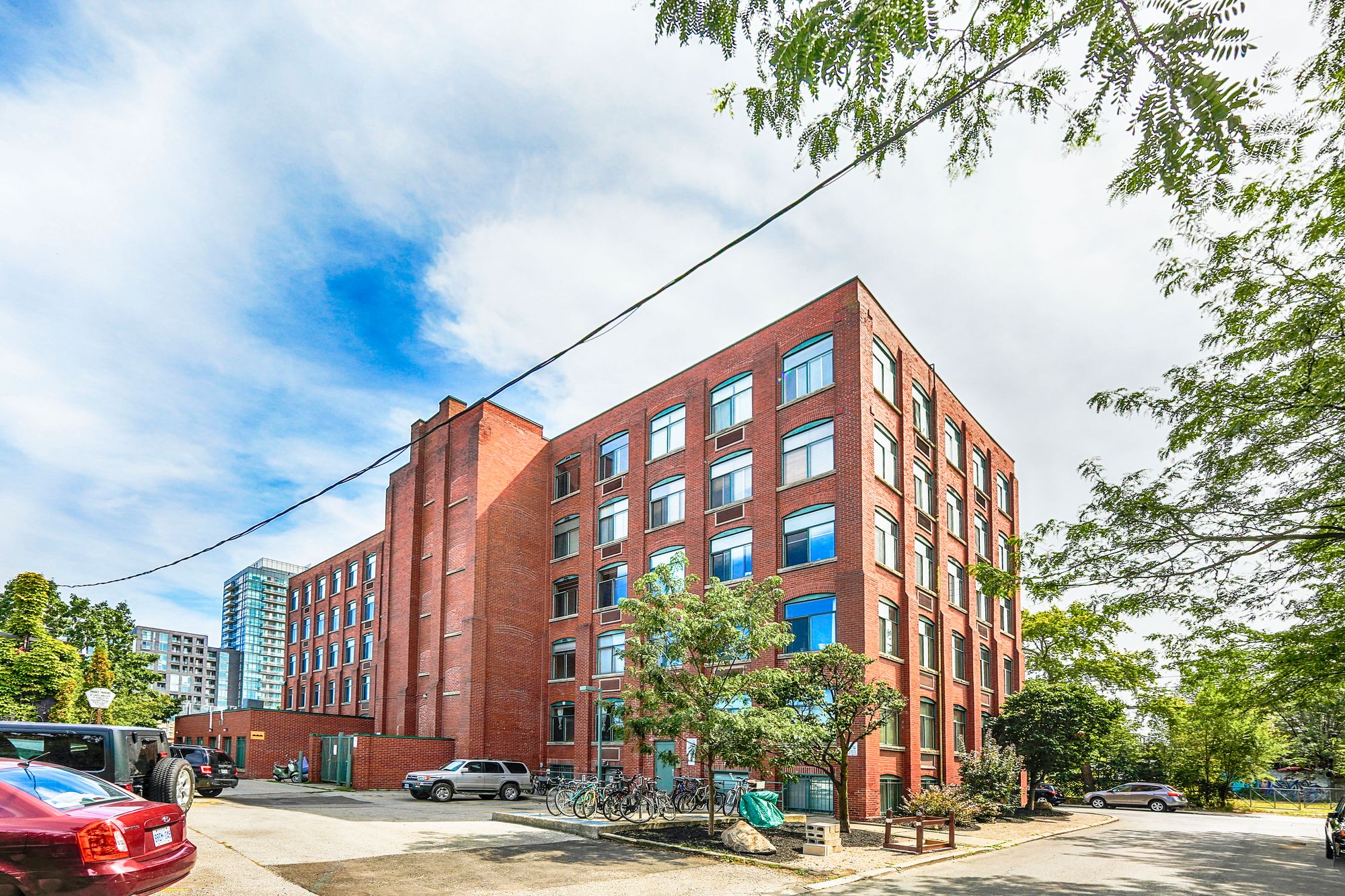 24 Noble St
0
Listings for Sale
for Sale
2
Listings for Rent
for Rent
Noble Court Lofts
24 Noble St
Noble Court Lofts
0
Listings for Sale
for Sale
2
Listings for Rent
for Rent
0
Property Management
Clp Management
Unit Size Range
350 - 1148 SQFT
24 Noble St, Toronto
About this loft
Loft Overview
Alas, even though the name might suggest it, the Noble Court Lofts aren't necessarily home to any aristocrats. They are, however, the home of a number of fortunate Torontonians.
Named for its address, rather than its inhabitants, these hard lofts at 24 Noble Street are still enchanting as can be. Now over a century old, the 1910-built structure originally served as a warehouse before functioning as commercial spaces. In 1990, just as Toronto's loft market began to boom, Greenwin Ltd. took advantage of the historic structure at 24 Noble and converted it into 79 spectacular Toronto lofts.
What the Noble Court Lofts lack in majestic aesthetics, they certainly make up for in exclusivity and reputation. With less than 100 homes, this 5-storey building is intimate as can be. Residents can even keep up with the buildings happenings, thanks to a functioning Facebook page for the building. Those who really want to get involved in the community also have the option to join the building's gardening team, or to participate in the annual garage sale.
Common amenities may be limited, however maintenance fees are known to be quite low for residents. Between these savings and the idyllic location near downtown Toronto, residents hardly need to mourn the loss of a gym or concierge.
The Suites
The Noble Court Lofts benefit from their early conversion date for more than one reason: they are regarded as one of the pioneering hard loft conversions in Toronto, plus the units themselves have received many upgrades throughout the years. Today, every loft at 24 Noble Street is unique, while industrial elements are guaranteed in each one.
Although modern appliances and fixtures can be found in bathrooms and kitchens throughout the building, some are even more lavish than the rest. One particular unit of note is even outfitted with a surround sound system and heated flooring. And as for those looking to get their creative juices flowing, other less high-tech units remain (relatively) untouched from their days as artist's studios.
The façade at 24 Noble Street — red brick, warehouse windows, utilitarian simplicity — foreshadows what will soon be found within. Pore often than not, prospective buyers are wooed by bright wooden floors and ceiling panels, as well as exposed brick walls and ductwork. Ceiling heights reach to 11 feet, thanks to the building's industrial past, while an abundance of windows breaths new life into these spaces each and every day.
In terms of size, a number of options are available to those interested in Toronto condos for sale at Noble Court Lofts — when they appear on the market, that is. Homes begin at around 450 square feet, with larger lofts spanning up to 1,100. Regardless of their measurements, though, all of the units feel bright, spacious, and equally inviting.
The Neighbourhood
The Noble Court Lofts are located in trendy, yet laid-back Parkdale neighbourhood. This neighbourhood contains loads of history, and due to the fact that it has only more recently become popular, a good number of historical businesses remain here. Vintage boutiques and cocktail bars share the land with decades-old mom and pop shops, as well as a recording studio used by Drake.
Speaking of Drake, the unrelated yet similarly named boutique hotel is located just a few blocks away. Here, visitors needn't stay the night to enjoy the Drake Hotel's perks: a rooftop bar, live music venue, café, restaurant, and boutique. Coincidentally, the Gladstone Hotel likewise functions as more than just lodging — this particular hotel also hosts trivia nights, as well as temporary design and art exhibitions from time to time.
In just a short walk, residents can also land themselves at the shores of Lake Ontario. While many Torontonians head east to do their sunbathing, Sunnyside is an ideal west end alternative. As for those especially active types, the Martin Goodman Trail is a car-free route that allows cyclists and pedestrians to explore the southern edge of the city.
Transportation
Accessing the entirety of Toronto is a piece of cake with 24 Noble Street as a starting point. Dufferin and Queen Streets are ideal routes for both drivers and those riding the TTC. Streetcars along Queen will carry passengers toward the Yonge-University-Spadina Line, while the Bloor-Danforth subway line can be reached via a bus ride along Dufferin.
Drivers will also enjoy their close proximity to the Gardiner Expressway, a fast-paced highway that provides access to both the Don Valley Parkway and the 427. Pearson International Airport can be reached in just over 20 minutes by car, or about an hour by public transit.
0
Listings For Sale
Interested in receiving new listings for sale?
2
Listings For Rent
Interested in receiving new listings for rent?
Amenities
Maintenance Fees Cover
Maintenance fees include
Water
Owner / renter pays separately
Hydro
Heat
Air Conditioning
Past Sold & Rented Listings
Stats, Trends & Rankings
Price Per Square Foot
Noble Court Lofts vs The
Parkdale Area
More Expensive
per SQFT compared to the neighbourhood average
Noble Court Lofts's Avg
price per SQFT
$1,230
/ SQFT
Neighbourhood Avg
price per SQFT
$1,068
/ SQFT
Building Trends At Noble Court Lofts
Days on Market
Units at Noble Court Lofts spend an average of
7
Days on Market
based on recent sales
List vs Selling Price
On average, these lofts sell for
above
the list price.

Offer Competition
Lofts in this building have an
AVERAGE
chance of receiving
Multiple Offers
Turnover of Units
On average, each unit is owned for
5.5
YEARS
before being sold again
Property Value
Increase
in property value within the past twelve months
Price Ranking
Highest price per SQFT out of
13
condos in the Parkdale area
Sold Units
4
Units were
Sold
over the past twelve months
Rented Units
0
Units were
Rented
over the past twelve months
Best Value
Noble Court Lofts offers the
best value
out of 13 condos in the Parkdale neighbourhood
Return on Investment
Noble Court Lofts has the
highest ROI
out of 13 condos in the Parkdale neighbourhood
Rental Yield
Noble Court Lofts yields the
highest rent prices
out of 13 condos in the Parkdale neighbourhood
High Demand
Noble Court Lofts is the
most popular
building out of 13 condos in the Parkdale neighbourhood
Sales vs Rental Values For This Loft
Average Cost Per Sqft
$1,099
Sales Price Range
$570,000 - $570,000
Average Cost Per Sqft
$1,165
Sales Price Range
$878,000 - $878,000
1 Bed + Den
622 - 1000 SQFT
Average Cost Per Sqft
$1,036
Sales Price Range
$740,000 - $856,000
How Often Are Units Listed?
Average Sales Availability
Average Rental Availability
Ratio of Unit Type in Building
34%
Average Sales Availability
Average Rental Availability
Ratio of Unit Type in Building
52%
1 Bed + Den
622 - 1000 SQFT
Average Sales Availability
Average Rental Availability
Ratio of Unit Type in Building
9%
Average Sales Availability
Average Rental Availability
Ratio of Unit Type in Building
3%
Average Sales Availability
Average Rental Availability
Ratio of Unit Type in Building
3%
Maintenance Fees

Noble Court Lofts vs The

Parkdale Area
Less Expensive
per SQFT compared to the neighbourhood average
Noble Court Lofts's Avg
monthly maintenance
fee per SQFT
$0.65
/ SQFT
Neighbourhood Avg
monthly maintenance
fee price per SQFT
$0.72
/ SQFT
Similar lofts