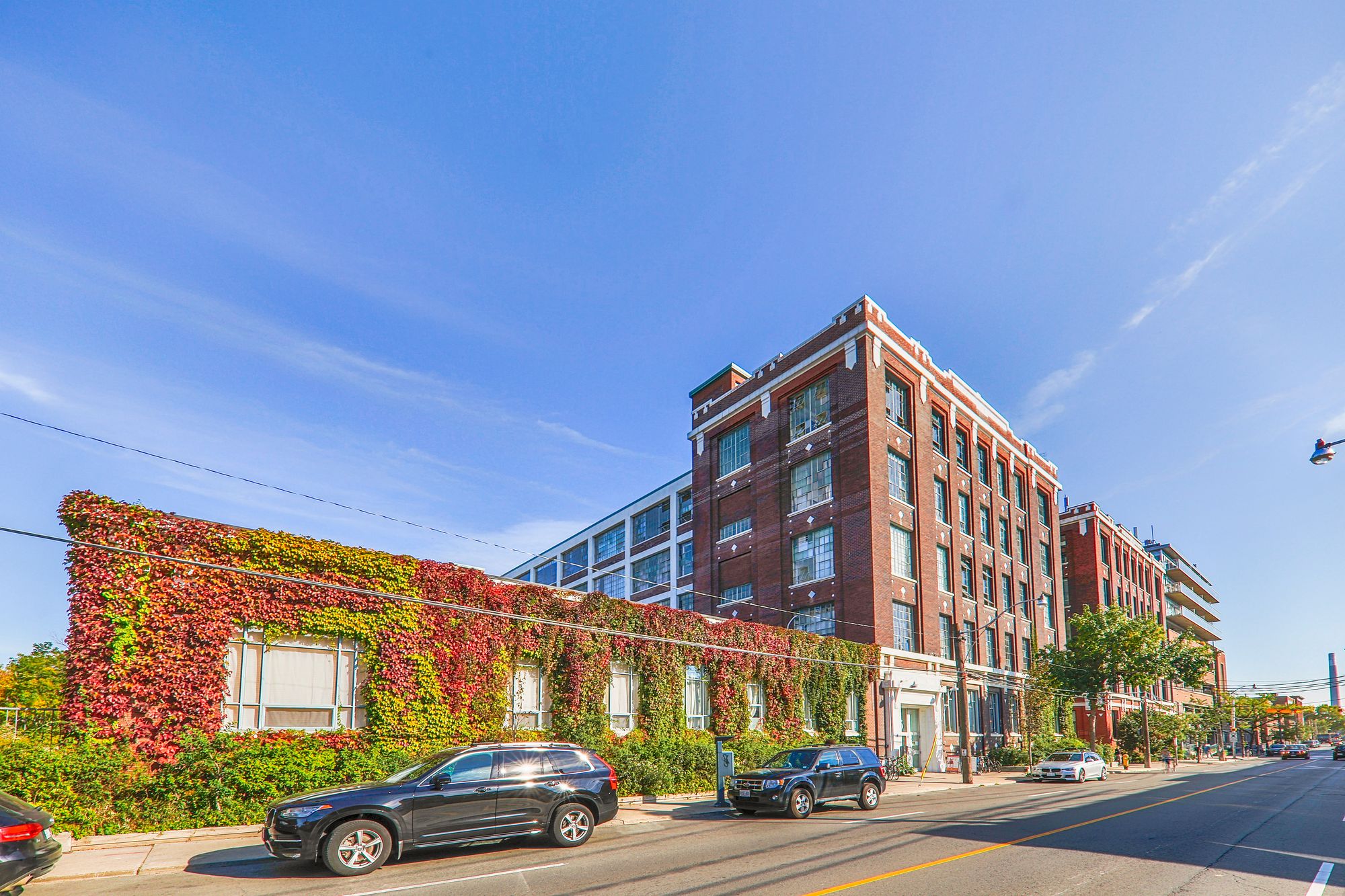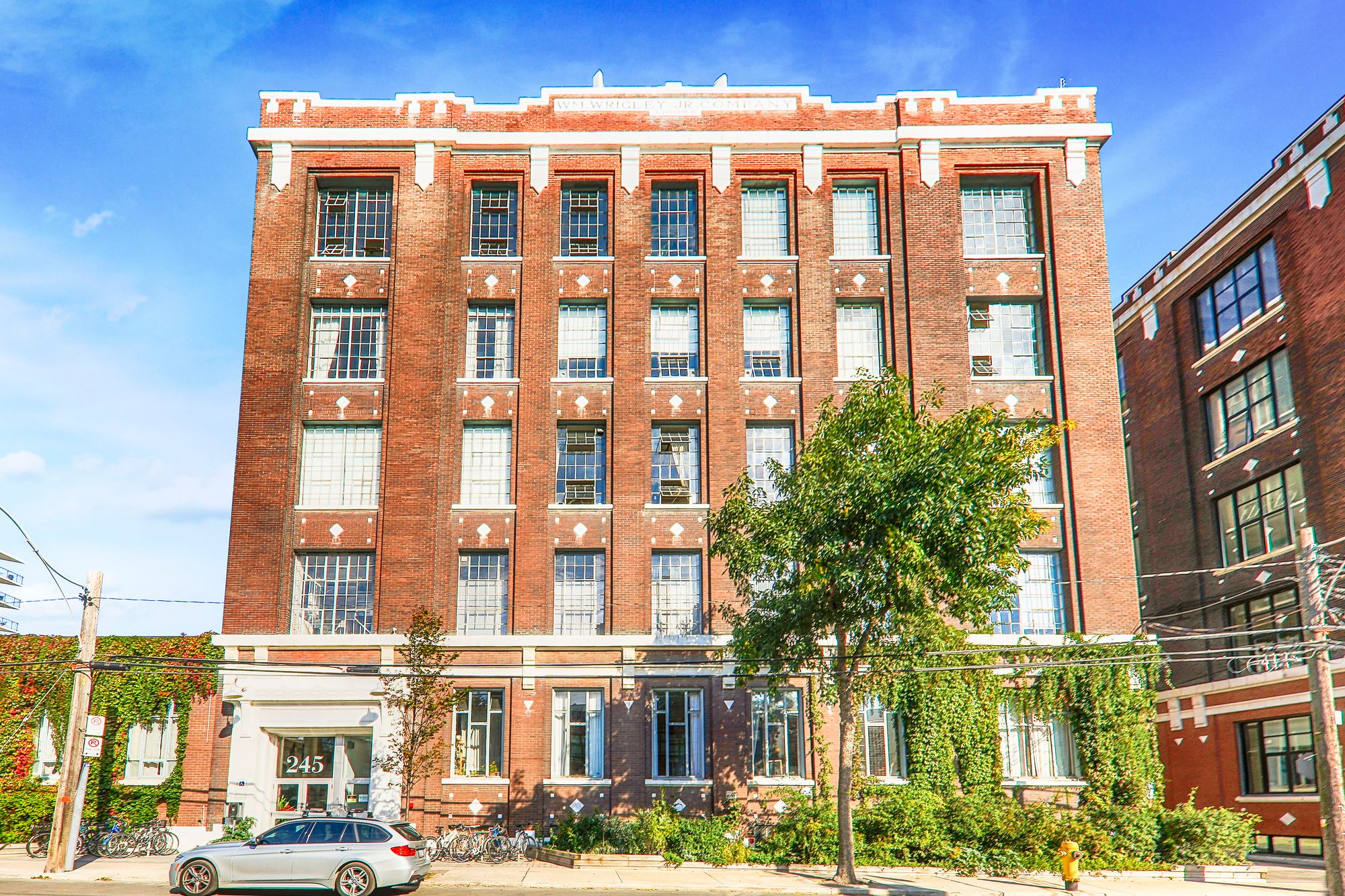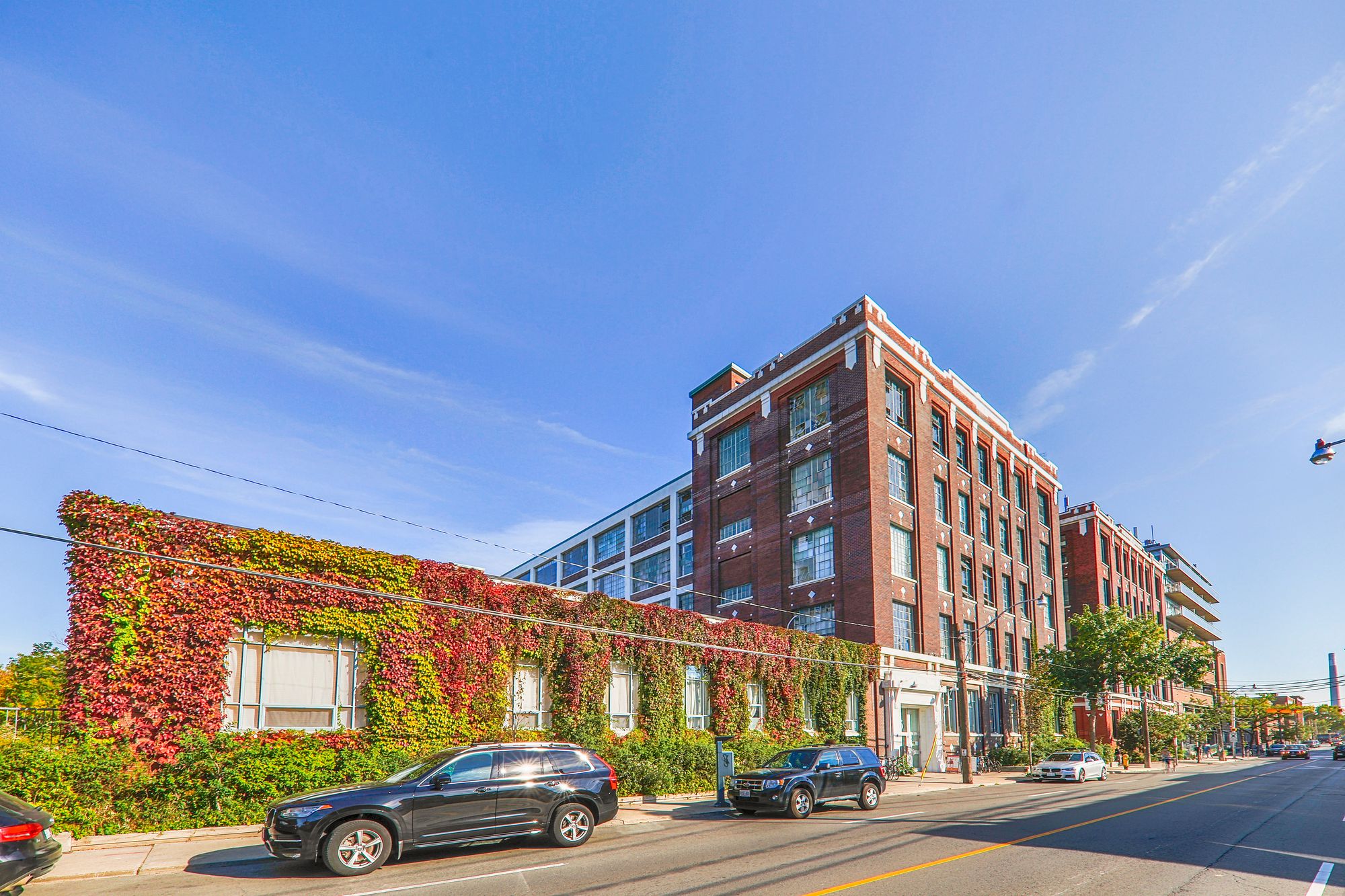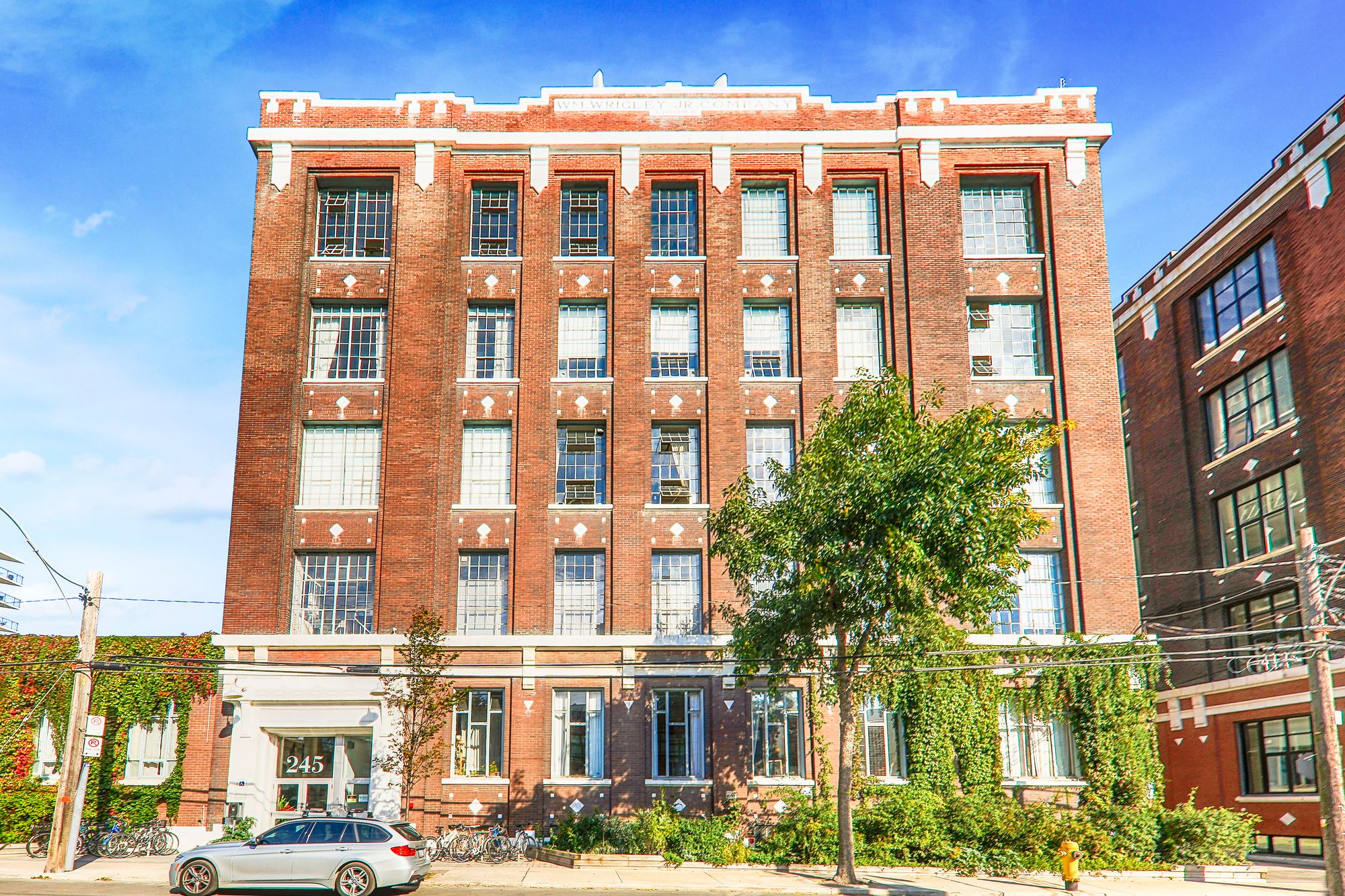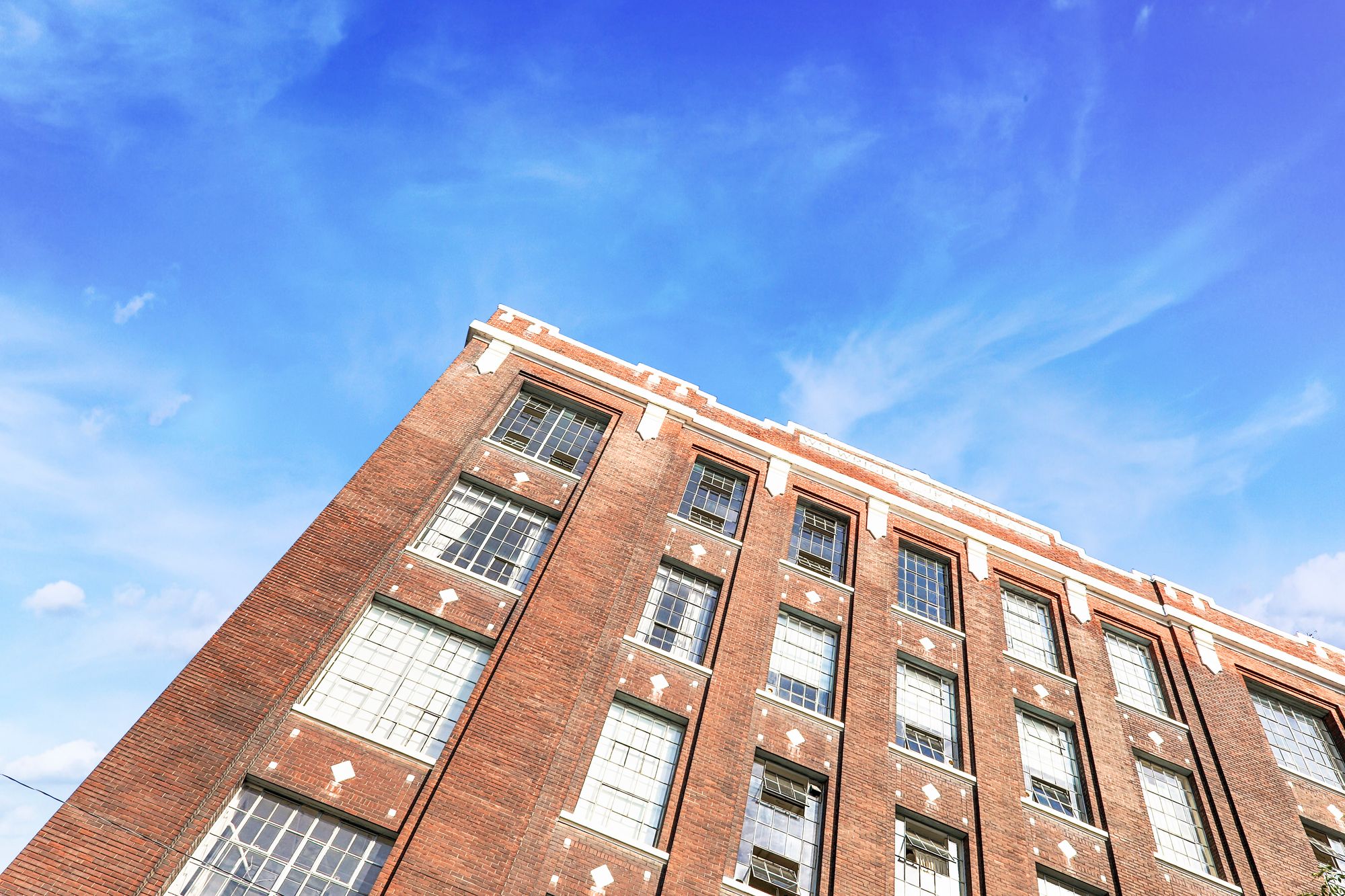 245 Carlaw Ave
0
Listings for Sale
for Sale
0
Listings for Rent
for Rent
Wrigley Lofts
245 Carlaw Ave
Wrigley Lofts
0
Listings for Sale
for Sale
0
Listings for Rent
for Rent
0
Developer
Atria Developments
Property Management
Esbin Property Management
Unit Size Range
350 - 2000 SQFT
245 Carlaw Ave, Toronto
About this loft
At 245 Carlaw Avenue, amongst plenty of industrial-era architecture, sits a former chewing gum factory. Before being transformed into opulent residences, the address was home to Wrigley's stomping grounds since 1907. Wrigley may have moved its factory to Leslie and Eglinton in 1963, however since then the structure on Carlaw waited patiently for an insightful developer to come along and oversee its conversion.
In 1998, before hard loft conversions had become widespread in Toronto, Atria Developments took a stab at the factory space. At the outset of the loft boom, rather, the most insightful and trendsetting of Torontonians were the ones to secure a spot at the Wrigley Lofts. Little did they know, Atria's triumph with 245 Carlaw's conversion would be followed a decade later by yet another sensation just next door, known as the Garment Factory Lofts.
These 88 authentic Toronto lofts are distinctive, however, for their live/work zoning. This, combined with generous square footages, positions the lofts as an ideal spot for artists and creative to settle down — or get to work — in.
Typical of an intimately sized true conversion, the lofts offer few shared amenities to its residents. Neighbours can gather in the communal party and meeting room, however beyond this they must look to their surrounding neighbourhood. Thankfully, the building is set within the lively Leslieville & South Riverdale neighbourhood, where residents can find anything their hearts could possibly desire.
The Suites
Once inside the majestic brickwork façade of 245 Carlaw Avenue, prospective buyers are even more impressed. The original sales of units were geared toward creative types who wanted to design their own spaces, and as a result, artists and designers still make up the bulk of the residents. Those units that do appear on the market are often methodically designed, making any Leslieville condos for sale in this building, one-of-a-kind.
For example, one such unit was bought by a glass salesman, meaning this material is copious in the loft. Yet another embraces a minimalist aesthetic, with a mezzanine level added to take advantage of soaring ceiling heights.
Sizes range quite dramatically, offering something for every type of buyer. Cozier, 300 square foot units are ideal for single professionals who are too active to spend much time at home. Other lofts span 3,000 square feet, offering ample space to raise a family or have a couple of pets run around in. The largest of homes here feature up to two bedrooms and two bathrooms, a rarity for this metropolitan area.
Regardless of their dimensions, the hard lofts are bright, airy, and embrace an updated industrial atmosphere. Ceilings reach to 16 feet high and are supported by concrete mushroom columns, while multitudes of windowpanes are grouped together and framed in metal. Many of the homes also retain the open concept layouts arranged during the initial conversion process.
The Neighbourhood
Leslieville & South Riverdale is a neighbourhood that manages to keep a low profile, while it becomes trendier and more exciting for its residents each year. Independent shops and offbeat restaurants line Queen Street East, meaning locals can find anything from decadent pulled pork sandwiches to delicate antique glassware on their Sunday morning strolls.
Dave and Charlotte's No Frills is also less than 10 minutes away from 245 Carlaw on foot, where residents can stock their pantries with inexpensive staples. For the more lavish purchases — when either throwing a dinner party or simply just indulging — residents can head over to Sandy Aleksander on Queen East, known as Toronto's best source for all things charcuterie.
What's more, the abundance of yoga studios and gyms along Carlaw Avenue make up for the lack of a gym within the Wrigley Lofts itself. Alternatively, residents can explore the outdoors at nearby green spaces such as Jimmie Simpson Park and Corktown Common.
Transportation
With Leslieville as a starting point, residents of the Wrigley Lofts can easily access other dynamic Toronto areas such as the Danforth or The Beaches. As well, residents can make their way over to the central core of the city, via car, bicycle, or public transit.
Drivers can use the Don Valley Parkway and the Gardiner Expressway to zip around the city in no time. From the DVP, residents can also reach the 401 to the north, which leads to Pearson International Airport as well as neighbouring towns and cities.
Those relying on public transit can hop on a streetcar that runs along Queen Street East or Gerrard, both of which offer transfers onto the Yonge subway line. From here, residents can also travel two stops south in order to reach Union Station, where those looking to leave the city have access to VIA Rail, Go Transit, and the UP service to Pearson Airport.
0
Listings For Sale
Interested in receiving new listings for sale?
0
Listings For Rent
Interested in receiving new listings for rent?
Amenities
Maintenance Fees Cover
Maintenance fees include
Water
Owner / renter pays separately
Hydro
Heat
Air Conditioning
Past Sold & Rented Listings
Stats, Trends & Rankings
Price Per Square Foot
Wrigley Lofts vs The
Leslieville | South Riverdale Area
Less Expensive
per SQFT compared to the neighbourhood average
Wrigley Lofts's Avg
price per SQFT
Neighbourhood Avg
price per SQFT
Building Trends At Wrigley Lofts
Days on Market
Units at Wrigley Lofts spend an average of
15
Days on Market
based on recent sales
List vs Selling Price
On average, these lofts sell for
above
the list price.

Offer Competition
Lofts in this building have a
HIGH
chance of receiving
Multiple Offers
Turnover of Units
On average, each unit is owned for
3
YEARS
before being sold again
Property Value
Increase
in property value within the past twelve months
Price Ranking
Highest price per SQFT out of
36
condos in the Leslieville | South Riverdale area
Sold Units
4
Units were
Sold
over the past twelve months
Rented Units
2
Units were
Rented
over the past twelve months
Best Value
Wrigley Lofts offers the
best value
out of 36 condos in the Leslieville | South Riverdale neighbourhood
Return on Investment
Wrigley Lofts has the
highest ROI
out of 36 condos in the Leslieville | South Riverdale neighbourhood
Rental Yield
Wrigley Lofts yields the
highest rent prices
out of 36 condos in the Leslieville | South Riverdale neighbourhood
High Demand
Wrigley Lofts is the
most popular
building out of 36 condos in the Leslieville | South Riverdale neighbourhood
Sales vs Rental Values For This Loft
Average Cost Per Sqft
$644
Sales Price Range
$610,000 - $610,000
Average Cost Per Sqft
$921
Sales Price Range
$801,000 - $1,428,000
Rental Price Range
$3,000 - $4,000
How Often Are Units Listed?
Average Sales Availability
Average Rental Availability
Ratio of Unit Type in Building
15%
Average Sales Availability
Average Rental Availability
Ratio of Unit Type in Building
49%
1 Bed + Den
1000 - 2000 SQFT
Average Sales Availability
Average Rental Availability
Ratio of Unit Type in Building
21%
Average Sales Availability
Average Rental Availability
Ratio of Unit Type in Building
5%
2 Bed + Den
972 - 1643 SQFT
Average Sales Availability
Average Rental Availability
Ratio of Unit Type in Building
10%
Average Sales Availability
Average Rental Availability
Ratio of Unit Type in Building
2%
Maintenance Fees

Wrigley Lofts vs The

Leslieville | South Riverdale Area
Less Expensive
per SQFT compared to the neighbourhood average
Wrigley Lofts's Avg
monthly maintenance
fee per SQFT
Neighbourhood Avg
monthly maintenance
fee price per SQFT
Similar lofts