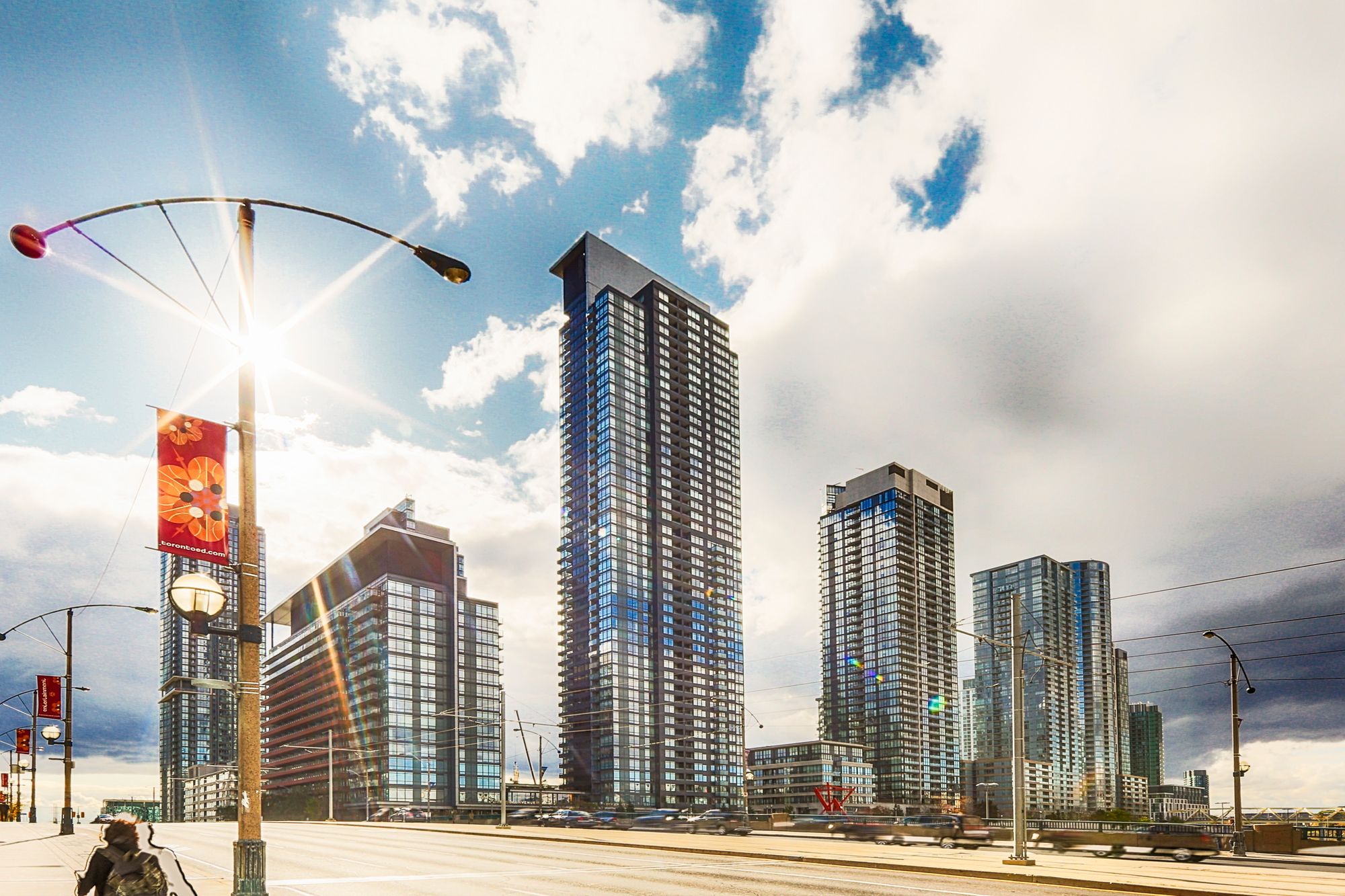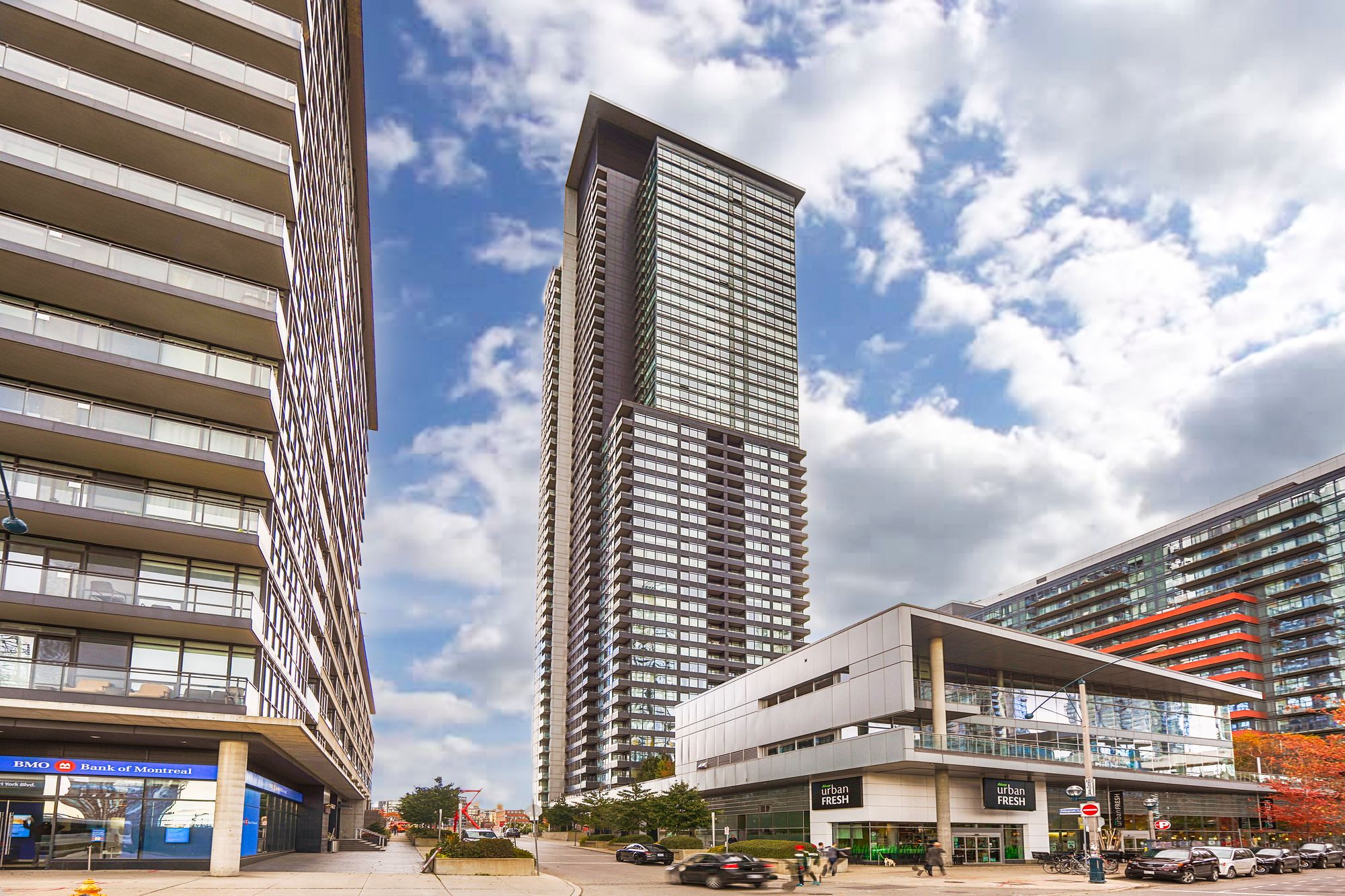 25 Telegram Mews
4
Listings for Sale
for Sale
3
Listings for Rent
for Rent
Montage
25 Telegram Mews
Montage
4
Listings for Sale
for Sale
3
Listings for Rent
for Rent
0
Unit Availability
Above Average
Property Management
ICC Property Management Toronto
Unit Size Range
400 - 2000 SQFT
25 Telegram Mews , Toronto
About this condo
Condo Overview
With a team like Concord Adex Development Corporation and the architects at KPMB, it's no surprise Montage Condos is such a popular place to live. It doesn't hurt that the building is divided into over 500 suites either. Completed in 2009 and comprising part of the enormous CityPlace community, the 47-storey edifice is situated at a rather charming address: 25 Telegram Mews.
25 Telegram Mews may soar into the sky, but it also blends in with neighbouring buildings that make up the southern portion of Toronto's skyline, thanks to its sleek glass façade. Steel and glass are certainly concentrated towards the top of the tower, yet stone and wood grace the base of the building, creating a warm welcome for residents of 25 Telegram Mews—and their guests.
As previously mentioned, living at CityPlace means being part of a larger community made up of more than just the individuals living in a single building. Extending from Bathurst to the Rogers Centre, and from Lake Shore Boulevard to Front Street, CityPlace is home to 10 residential blocks and a grand total of over 5,000 homes.
While residents living at 25 Telegram Mews may have to share amenities with their neighbours who live in the Neo Condos, that's a fair price to pay considering the relatively low maintenance fees and impressive list of facilities at their disposal. Plus, the communal amenities space means residents can get to know some neighbours who live beyond the confines of their own building.
A rooftop terrace with barbecues, a gym, a sauna, and a party room may not sound all that extraordinary, but that's because we've yet to get to the more unusual amenities: the building is also equipped with a rock climbing wall, karaoke equipment, a cards room, a children's cinema, and an enormous indoor swimming pool. And last but not least, guest suites and visitor parking allows family and friends of residents to join in on the fun every now and then.
The Suites
The homes within 25 Telegram Mews range dramatically in size in order to cater to the diverse array of prospective buyers looking to live in the CityPlace neighbourhood. Suites start at approximately 500 and reach to around 1,400 square feet.
Those looking for something a little more luxurious will want to pay attention to homes located on the 31st storey and upwards. These units are known as Luxury Edition (LE) suites, and besides their more luxurious interior finishes, residents living in them have access to their own lobby and concierge, separate elevators, and of course the best views in the building.
Even finishes in the 'regular' units are impressive at Montage Condos: homes here boast granite countertops, stainless steel appliances, engineered hardwood flooring, and large, bright windows. And when compared to other Toronto condos for sale, prices are around average.
The Neighbourhood
Even within the downtown core of Toronto, CityPlace has a bustling atmosphere of its own. Sunny summer days often involve residents gathering in a local park, a couple of which even boast striking outdoor art pieces. Flower Power by Mark Di Suvero can be found in Northern Linear Park, while beloved Canadian author and artist Douglas Coupland worked on the designs for Canoe Landing.
Along Fort York Boulevard — both east and west of Spadina — is where residents will find plenty of retail businesses. When groceries are running low, those living at 25 Telegram Mews can head downstairs to shop at Sobeys Urban Fresh without even leaving the building.
Residents are also within close reach of a number of exciting neighbourhoods. Date nights might involve a trip over to King West or Liberty Village, both of which are packed with trendy bars and restaurants. Outdoorsy types might opt to head south instead, where they can find the Martin Goodman Trail. This pedestrian and cycling path follows the shores of Lake Ontario for 56 kilometres, and makes a great route for heading toward Ontario Place to the west or the Beaches to the east.
Transportation
Traveling to and from Montage Condos is simple, with or without a car. Residents can walk just one block east to reach streetcars headed north or south along Spadina. Alternatively, walking one block south will land travelers at a stop for the Fort York bus.
Union Station may only be a 17-minute walk away, but in a city like Toronto the weather doesn't always cooperate. Thankfully Union Station can be reached in less than 20 minutes via the Spadina Streetcar. Once at Union, travelers can connect onto subway trains, VIA Rail trains, GO buses or trains, or the UP Express to Pearson International Airport.
Those who prefer to drive have many options when heading out; major arterial roads like Spadina and Front will come in handy for local commutes, while the Gardiner Expressway makes trips into the suburbs a breeze.
4
Listings For Sale
Interested in receiving new listings for sale?
3
Listings For Rent
Interested in receiving new listings for rent?
Amenities
Maintenance Fees Cover
Maintenance fees include
Water
Owner / renter pays separately
Hydro
Heat
Air Conditioning
Past Sold & Rented Listings
Stats, Trends & Rankings
Price Per Square Foot
Montage vs The
CityPlace Area
More Expensive
per SQFT compared to the neighbourhood average
Montage's Avg
price per SQFT
$1,145
/ SQFT
Neighbourhood Avg
price per SQFT
$1,122
/ SQFT
Building Trends At Montage
Days on Market
Units at Montage spend an average of
12
Days on Market
based on recent sales
List vs Selling Price
On average, these condos sell for
above
the list price.

Offer Competition
Condos in this building have a
HIGH
chance of receiving
Multiple Offers
Turnover of Units
On average, each unit is owned for
6.2
YEARS
before being sold again
Property Value
Increase
in property value within the past twelve months
Price Ranking
Highest price per SQFT out of
20
condos in the CityPlace area
Sold Units
34
Units were
Sold
over the past twelve months
Rented Units
87
Units were
Rented
over the past twelve months
Best Value
Montage offers the
best value
out of 20 condos in the CityPlace neighbourhood
Return on Investment
Montage has the
highest ROI
out of 20 condos in the CityPlace neighbourhood
Rental Yield
Montage yields the
highest rent prices
out of 20 condos in the CityPlace neighbourhood
High Demand
Montage is the
most popular
building out of 20 condos in the CityPlace neighbourhood
Sales vs Rental Values For This Condo
Average Cost Per Sqft
$1,030
Sales Price Range
$572,000 - $668,000
Rental Price Range
$1,850 - $2,200
1 Bed + Den
503 - 700 SQFT
Average Cost Per Sqft
$1,077
Sales Price Range
$585,000 - $785,000
Rental Price Range
$1,850 - $2,500
Average Cost Per Sqft
$997
Sales Price Range
$735,000 - $835,000
Rental Price Range
$2,550 - $3,500
2 Bed + Den
783 - 1208 SQFT
Average Cost Per Sqft
$981
Sales Price Range
$759,900 - $1,360,000
Rental Price Range
$2,500 - $4,700
How Often Are Units Listed?
Average Sales Availability
Average Rental Availability
Ratio of Unit Type in Building
2%
Average Sales Availability
Average Rental Availability
Ratio of Unit Type in Building
15%
1 Bed + Den
502 - 708 SQFT
Average Sales Availability
Average Rental Availability
Ratio of Unit Type in Building
51%
Average Sales Availability
Average Rental Availability
Ratio of Unit Type in Building
11%
2 Bed + Den
727 - 1259 SQFT
Average Sales Availability
Average Rental Availability
Ratio of Unit Type in Building
23%
Maintenance Fees

Montage vs The

CityPlace Area
Less Expensive
per SQFT compared to the neighbourhood average
Montage's Avg
monthly maintenance
fee per SQFT
$0.64
/ SQFT
Neighbourhood Avg
monthly maintenance
fee price per SQFT
$0.72
/ SQFT
Similar condos