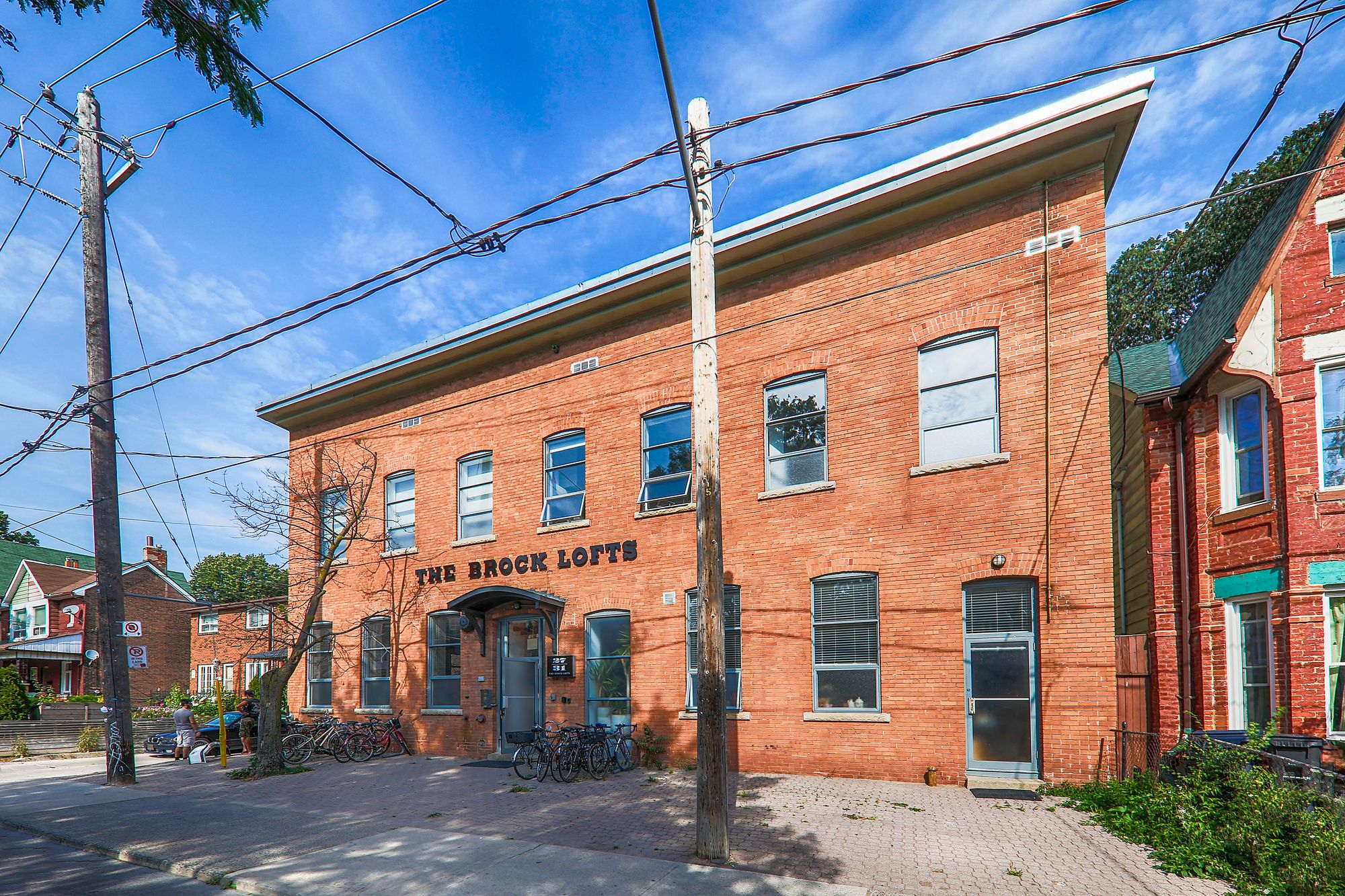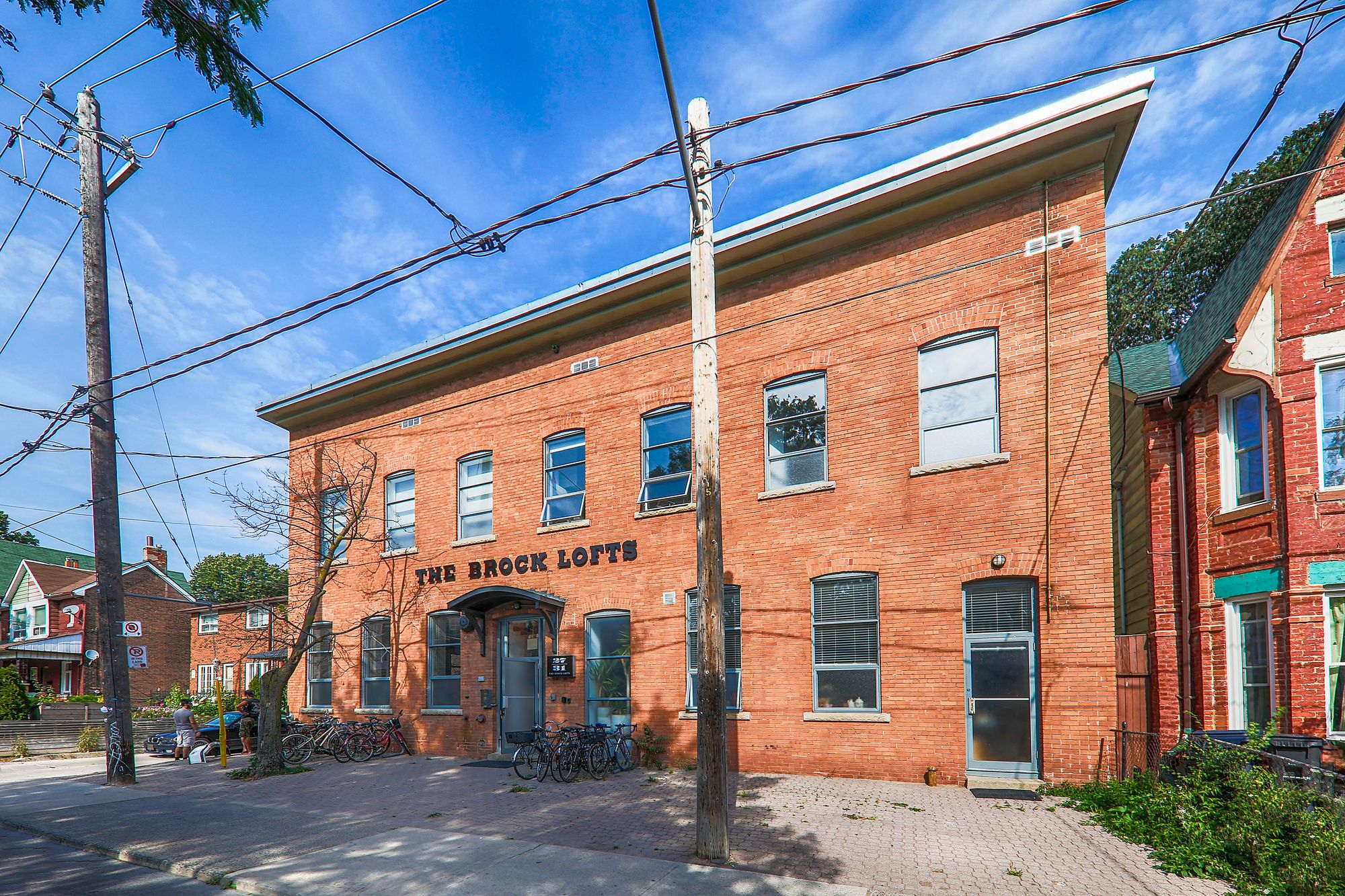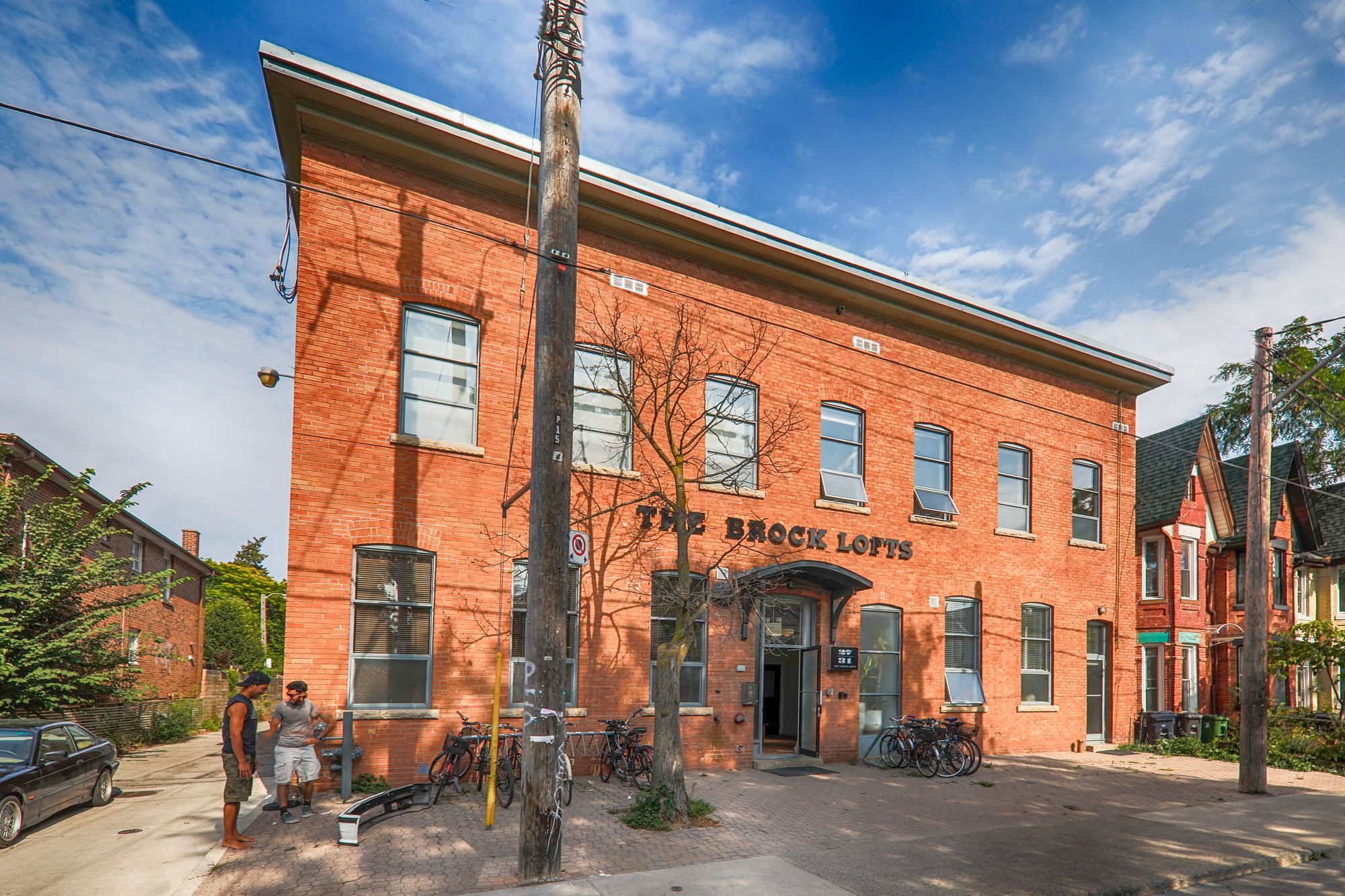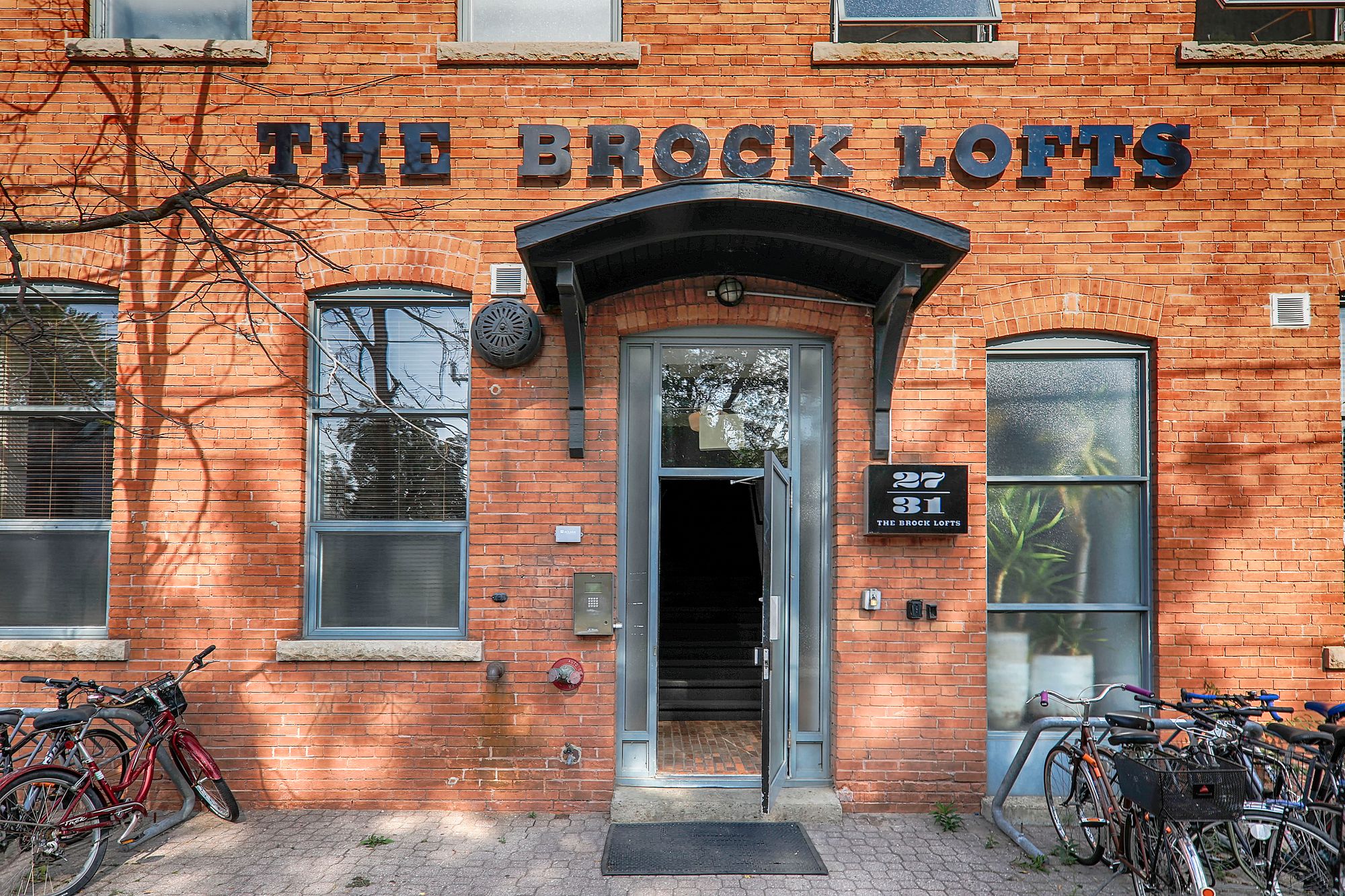 31 Brock Ave & 27 Brock Ave
1
Listing for Sale
for Sale
0
Listings for Rent
for Rent
Developer
27-31 Brock Investments Inc.
Property Management
Goldview Property Management Ltd
Unit Size Range
360 - 1383 SQFT
About this loft
The Brock Lofts have it all: history, convenience, and style. 27-31 Brock Avenue was once home to the Eureka Refrigerator Factory, although the building has been inhabited by numerous residents between those days and its residential conversion in 2003. A sizeable factory churning out phonographs also operated out of this location back in the day.
After a careful renovation of this historic structure by Brock Investments Inc., 24 hard lofts were fashioned out of the two-storey building. Aesthetically speaking, the exterior of the Brock Lofts is traditional, yet understated, which is no surprise after learning that the vintage edifice dates back to the 19th century. The building is clad in a red brick that simple cannot be emulated the same way today.
While a huge lineup of amenities is nowhere to be found at 27 Brock Avenue, what the building does offer residents is just enough for some prospective buyers: an ideal location, a pet friendly atomosphere, and a rooftop terrace with barbecues for all to use.
The Suites
The homes at Brock Lofts range considerably in size, meaning listings in this building will interest everyone from first-time buyers to retirees looking for a pied-à-terre in the city. Floor plans range from approximately 350 to 1,400 square feet, with some suites even covering multiple floors.
These Toronto lofts are great for throwing parties, especially for hosts in the business of making their guests jealous. Industrial elements are everywhere one looks, while the open-concept layouts keep these lofts clean and simple.
Hardwood flooring, wooden beams, exposed brick walls, ductwork, and wooden ceiling panels can be found throughout 27 Brock Avenue. Natural sunlight illuminates these details, entering spaces through expansive windows or skylights. And to top it all off, ceilings can reach to 21 feet depending on the unit — try finding that in most Toronto condos for sale... spoiler alert, you won't.
The Neighbourhood
It's very likely that anyone interested in an authentic hard loft will also enjoy a neighbourhood that's home to so many. The Parkdale neighbourhood is more industrial, hip, and laid back than the central downtown core, and its lack of glass towers only proves this point more.
Along Queen West, residents will find endless options for eating out, shopping, and entertainment. From vintage shops to the best homemade jam in the city, entire Saturdays can easily be spent exploring the immediate vicinity.
And for convenience's sake, residents of the Brock Lofts can quickly walk over to the Beer Store on Brock, the LCBO on Queen, or FreshCo on Gladstone in order to stock up for the week.
Transportation
Traveling to and from home is easy here; residents need only walk 2 minutes in order to reach Queen Street, where they can then catch a streetcar heading east into the centre of the city.
Alternatively, drivers might want to avoid the TTC altogether. Thankfully for this group, Jameson is just a few blocks away, from which one can hop onto the Gardiner Expressway. From there, a ride all the way to the east end, or even up to Pearson International Airport, is straightforward and speedy.
1
Listings For Sale
Interested in receiving new listings for sale?
0
Listings For Rent
Interested in receiving new listings for rent?
Property Highlights
Listing History for The Brock Lofts
Nearby Amenities
Stats, Trends & Rankings
The Brock Lofts vs The Parkdale Area
Building Trends At The Brock Lofts
Days on Strata
Units at The Brock Lofts spend an average of
13
Days on Strata
based on recent sales
List vs Selling Price
On average, these lofts sell for
below
the list price.

Offer Competition
Lofts in this building have a
LOW
chance of receiving
Multiple Offers
Turnover of Units
On average, each unit is owned for
3.3
YEARS
before being sold again
Property Value
Decrease
in property value within the past twelve months
Price Ranking
Highest price per SQFT out of
15
condos in the Parkdale area
Sold Units
2
Units were
Sold
over the past twelve months
Rented Units
1
Units were
Rented
over the past twelve months
Sales vs Rental Values For This Loft
Average Cost Per Sqft
$1,053
Sales Price Range
$855,000 - $920,000
Rental Price Range
$2,700 - $2,700
How Often Are Units Listed?
Average Sales Availability
Average Rental Availability
Ratio of Unit Type in Building
10%
Average Sales Availability
Average Rental Availability
Ratio of Unit Type in Building
46%
1 Bed + Den
790 - 1022 SQFT
Average Sales Availability
Average Rental Availability
Ratio of Unit Type in Building
19%
Average Sales Availability
Average Rental Availability
Ratio of Unit Type in Building
28%
Maintenance Fees
The Brock Lofts vs The
Parkdale Area
The Brock Lofts's Avg
monthly maintenance fee
Neighbourhood Avg
monthly maintenance fee
Similar lofts