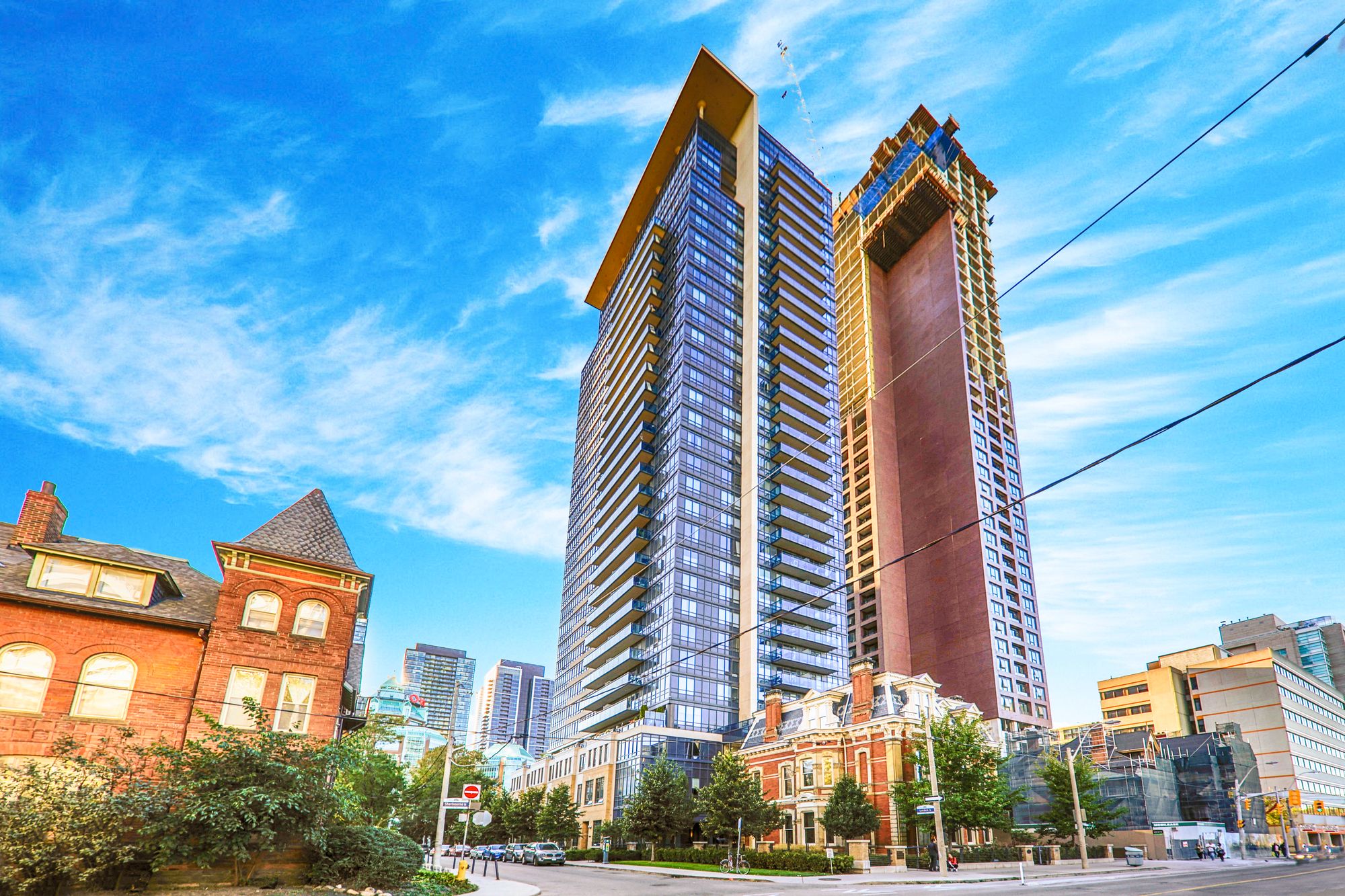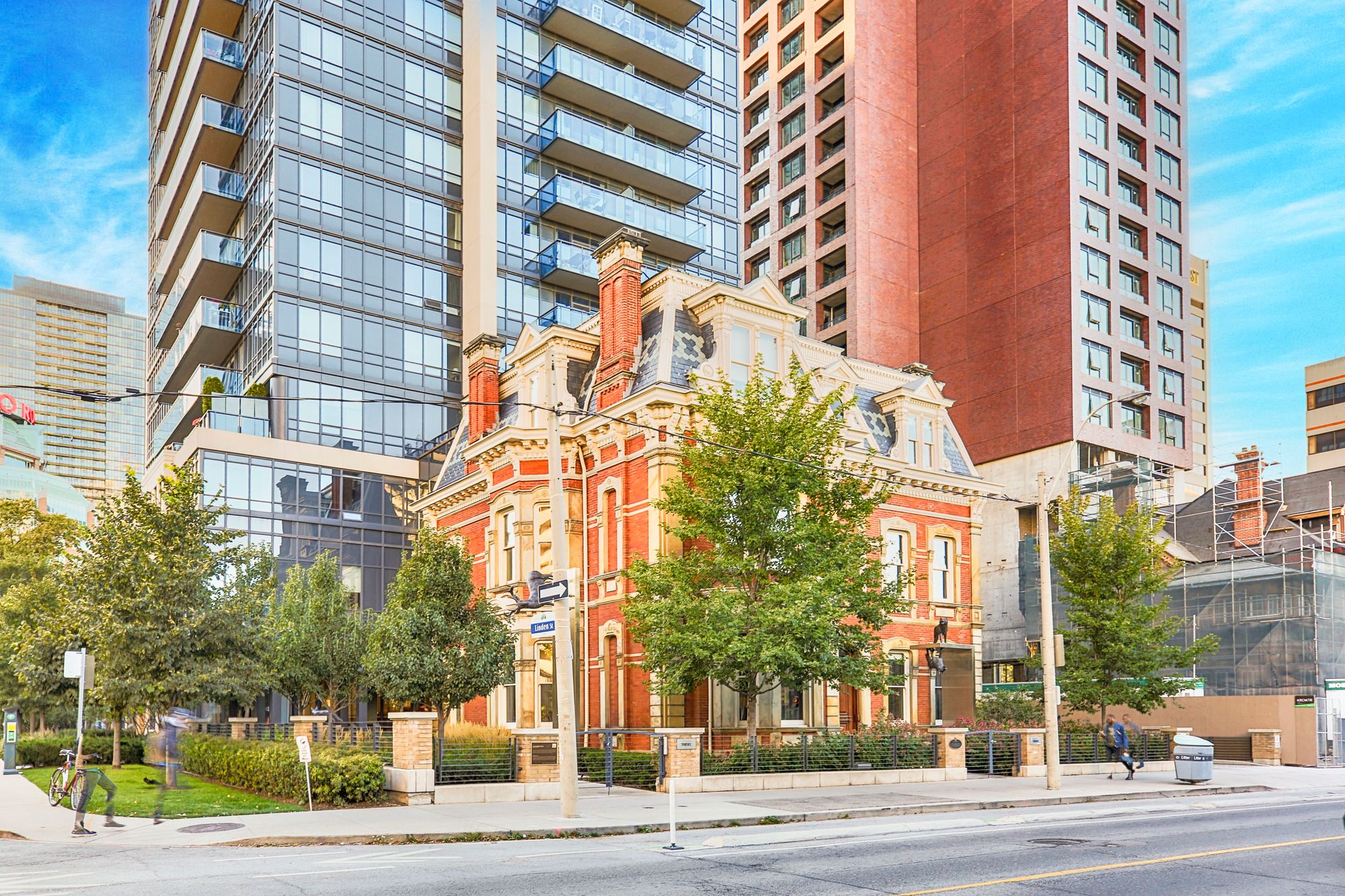 28 Linden St
1
Listing for Sale
for Sale
1
Listing for Rent
for Rent
James Cooper Mansion
28 Linden St
James Cooper Mansion
1
Listing for Sale
for Sale
1
Listing for Rent
for Rent
0
Property Management
Del Property Management Inc.
Unit Size Range
437 - 1638 SQFT
28 Linden St, Toronto
About this condo
Condo Overview
Residents living at 28 Linden Street in the Yonge and Bloor neighbourhood probably prefer to describe their home using the building's name, rather than its address. However, after telling friends and family members that you live at the James Cooper Mansion, just know that you might have some explaining to do.
And while homeowners living at 28 Linden don't exactly live inside a mansion, residents do have this mansion all to themselves, seeing as the building's amenities are located here.
But the bragging rights don't have as much to do with the size of the James Cooper Mansion, as they so with its heritage status.
Today, the James Cooper Mansion is adjacent to — and named for — the 1881-built James Cooper Mansion, a heritage building originally owned by a shoe magnate. This Second-Empire-style structure, complete with classical detailing, became home to the Keeley Institute for Nervous Diseases after Cooper moved out, and the stomping grounds for the Toronto Knights of Columbus after that.
Not only is the heritage building heritage-worthy for its early construction date, however: in 2008 the structure made history yet again when it became the heaviest residence in Canada to be physically relocated. And this miniscule move was no small feat — the 25-foot move cost around $1 million.
This was Tridel's doing, and although this developer footed the bill in order to make room for the James Cooper Mansion, it was clearly well worth it. Today, a 33-storey glass tower shares the land with the James Cooper Mansion.
Within the 2011-completed high-rise condo, 274 modern Toronto condos can be found. Yet next door, in the 19th century construction, is where the real fun happens. Back when the mansion was built, the most creative of minds couldn't have even imagined the amenities that would be available to residents living at 28 Linden Street today. These include a gym with yoga area and steam rooms, a games room, party room, cinema, and meeting room, as well as guest suites and visitor parking.
The Suites
With suites ranging from approximately 500 to 2,500 square feet, demographics at the James Cooper Mansion Condos are about as diverse as they are in the city itself. Thanks to the availability of intimately sized, one bedroom suites, even young, first-time buyers can land downtown Toronto condos for sale here.
More palatial, 2,500 square foot units might appeal to a more established crowd, however. These modern and elegant homes are ideal for growing families, empty nesters, and everyone in between.
Regardless of the measurements, the homes at 28 Linden Street are made to feel bright and spacious, thanks to their ceiling heights that reach up to 9 feet, as well as the open concept layouts.
Suites contain either one bedroom or two — some with dens — and balconies can be found gracing many of the homes at the James Cooper Mansion.
The Neighbourhood
All residents have to do is look down in order to recognize how good they have it. And while the views of the Rosedale Valley, St. James Town, and Riverdale Park are always pleasing to the eye, those living at 28 Linden are encouraged to actually go out and explore every now and then.
Spare time can be spent in endless ways, depending on what each resident enjoys. Arts and culture buffs can spend entire days roaming the galleries of the Royal Ontario Museum or the Gardiner Museum, as well as the Ryerson Image Centre or the Art Centre at the University of Toronto. Alternatively, those in search of some live entertainment can catch a concert at the Phoenix Concert Theatre, or watch a play at the Buddies in Bad Time Theatre.
Foodies won't be disappointed either, thanks to the numerous eateries and bars that can be found surrounding the James Cooper Mansions. A quick trip along bloor will land hungry travelers at Greek Town, Korea Town; Dundas is the place to go for all things Japanese, while those in search of Indian cuisine will want to head down to Gerrard Street in order to reach the Gerrard India Bazaar.
Transportation
Those who want to forgo city driving altogether will be more than pleased with the proximity to the subway. Sherbourne Station is only a 3-minute walk away from 28-Linden street, from which travelers can ride along the Bloor-Danforth line, or transfer onto the Yonge-University-Spadina line at Bloor-Yonge, St. George, or Spadina stations.
Drivers are well situated as well, with a drive onto the Don Valley Parkway taking a few short minutes via Bloor Street East. From here, one can zip up to the 401 or down to the Gardiner Expressway in no time.
1
Listings For Sale
Interested in receiving new listings for sale?
1
Listings For Rent
Interested in receiving new listings for rent?
Amenities
Maintenance Fees Cover
Maintenance fees include
Water
Owner / renter pays separately
Hydro
Heat
Air Conditioning
Past Sold & Rented Listings
Stats, Trends & Rankings
Price Per Square Foot
James Cooper Mansion vs The
Yonge and Bloor Area
Less Expensive
per SQFT compared to the neighbourhood average
James Cooper Mansion's Avg
price per SQFT
$1,120
/ SQFT
Neighbourhood Avg
price per SQFT
$1,181
/ SQFT
Building Trends At James Cooper Mansion
Days on Market
Units at James Cooper Mansion spend an average of
9
Days on Market
based on recent sales
List vs Selling Price
On average, these condos sell for
above
the list price.

Offer Competition
Condos in this building have an
AVERAGE
chance of receiving
Multiple Offers
Turnover of Units
On average, each unit is owned for
6.5
YEARS
before being sold again
Property Value
Increase
in property value within the past twelve months
Price Ranking
Highest price per SQFT out of
33
condos in the Yonge and Bloor area
Sold Units
13
Units were
Sold
over the past twelve months
Rented Units
25
Units were
Rented
over the past twelve months
Best Value
James Cooper Mansion offers the
best value
out of 33 condos in the Yonge and Bloor neighbourhood
Return on Investment
James Cooper Mansion has the
highest ROI
out of 33 condos in the Yonge and Bloor neighbourhood
Rental Yield
James Cooper Mansion yields the
highest rent prices
out of 33 condos in the Yonge and Bloor neighbourhood
High Demand
James Cooper Mansion is the
most popular
building out of 33 condos in the Yonge and Bloor neighbourhood
Sales vs Rental Values For This Condo
Rental Price Range
$1,630 - $2,100
1 Bed + Den
633 - 786 SQFT
Average Cost Per Sqft
$1,091
Sales Price Range
$712,000 - $768,800
Rental Price Range
$2,150 - $2,500
Average Cost Per Sqft
$1,010
Sales Price Range
$818,000 - $1,103,500
Rental Price Range
$2,450 - $3,200
How Often Are Units Listed?
Average Sales Availability
Average Rental Availability
Ratio of Unit Type in Building
26%
1 Bed + Den
601 - 800 SQFT
Average Sales Availability
Average Rental Availability
Ratio of Unit Type in Building
21%
Average Sales Availability
Average Rental Availability
Ratio of Unit Type in Building
53%
2 Bed + Den
1560 - 1560 SQFT
Average Sales Availability
Average Rental Availability
Ratio of Unit Type in Building
1%
Average Sales Availability
Average Rental Availability
Ratio of Unit Type in Building
2%
Maintenance Fees

James Cooper Mansion vs The

Yonge and Bloor Area
Less Expensive
per SQFT compared to the neighbourhood average
James Cooper Mansion's Avg
monthly maintenance
fee per SQFT
$0.77
/ SQFT
Neighbourhood Avg
monthly maintenance
fee price per SQFT
$0.87
/ SQFT
Similar condos