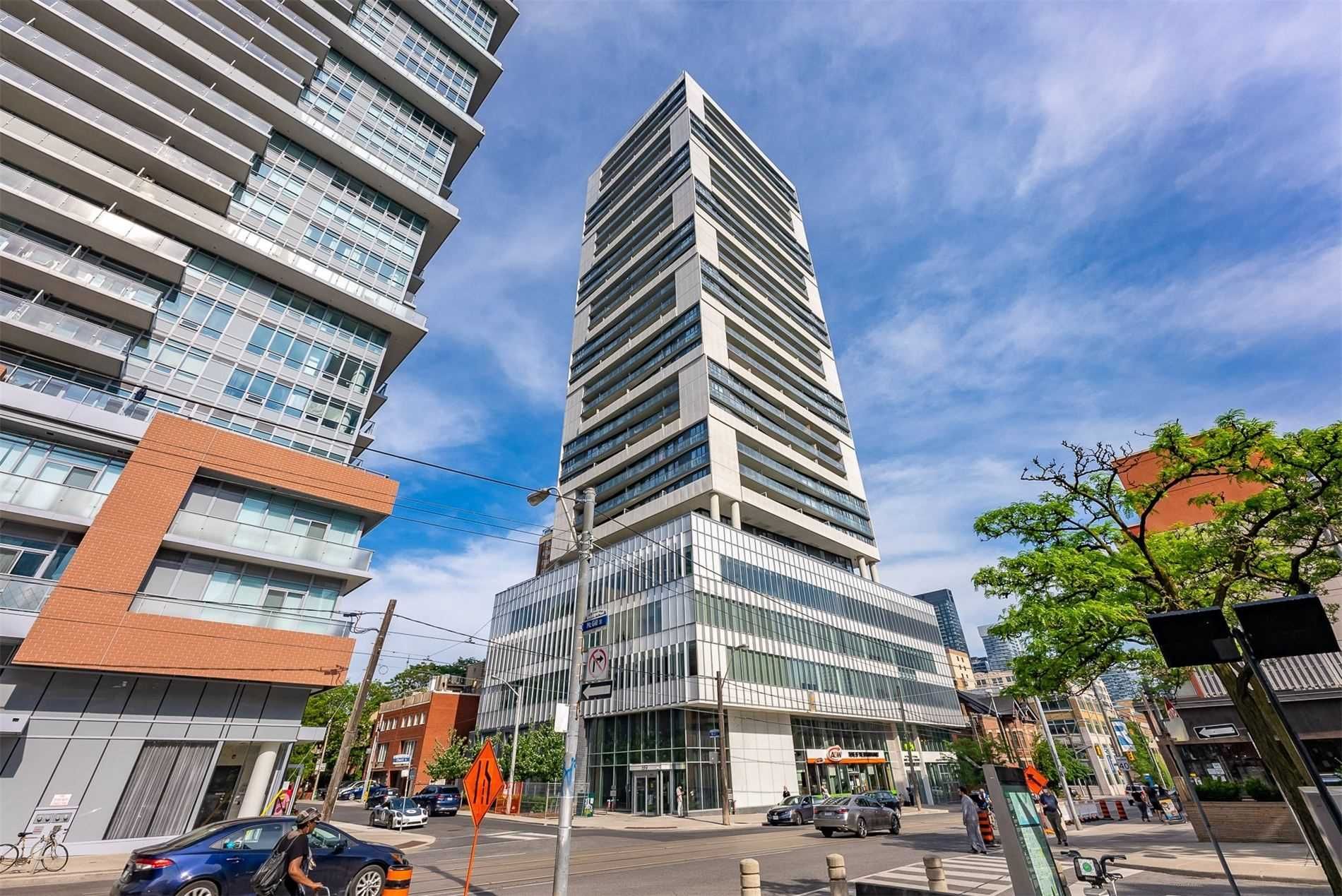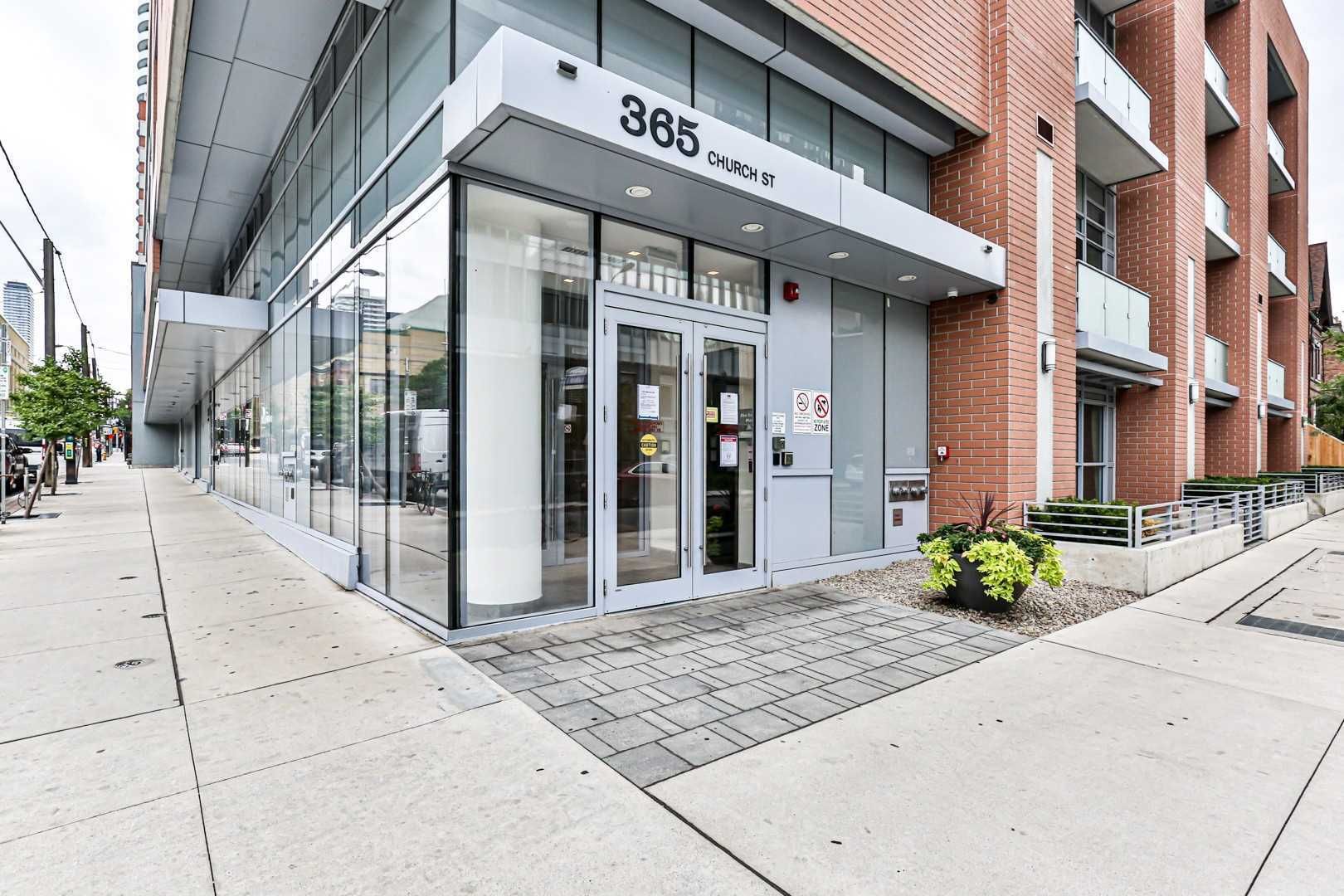 355 Church St & 89-95 McGill St
2
Listings for Sale
for Sale
3
Listings for Rent
for Rent
Alter Condos
355 Church St
Alter Condos
2
Listings for Sale
for Sale
3
Listings for Rent
for Rent
0
Property Management
Del Property Management Inc.
Unit Size Range
308 - 1285 SQFT
355 Church St, Toronto
About this condo
Condo Overview
The name for the forthcoming condo building at 89-95 McGill Street and 355 Church Street in The Village neighbourhood is quite fitting: the Alter Condos indicate a reworking of the traditional residential tower. Rather than shower the building in glass, the architects behind the Alter Condos opted for a more interesting design.
The design by Architects Alliance is striking and exciting: atop a glass-clad podium sits a tower with a grey glass and white snake-like design working its way up the façade. Recessed balconies maintain a sleek aesthetic while providing residents with shady spaces for dining al fresco or planting small gardens. Built in 2018 and developed by Tridel, the structure soars to 33 storeys and houses 335 units.
While the exterior is alluring enough, prospective buyers are often enticed by the long list of amenities offered to residents living at 89-95 McGill St & 355 Church St. Inside, homeowners have access to a concierge, a gym with yoga studio, a movie screening room, and a party room and lounge
Outdoor amenities, on the other hand, are found on the terrace situated on top of the building's podium. Here, residents can take a dip in the outdoor pool, lounge or dine on the rooftop, or even cook in the outdoor kitchen.
And at the end of a particularly long day, residents can spend some time in the building's hot tub set beside a fireplace for the ultimate in relaxation and luxury.
The Suites
When designing the Alter Condos, Architects Alliance and Tridel took Toronto's diversity into consideration. Suites range dramatically in size, starting at approximately 400 square feet and reaching to around 1,200. Not only can buyers with families of all sizes (or none at all) find suitable Toronto condos for sale here, but buyers also have a choice in unit style based on their budgets.
For example, standard ceiling heights of around 8 feet can be found in suites on floors 6 through 12 and 14 through 23. Those looking for something slightly more dramatic might opt for a unit on the 5th, 13th, or 24th floors, or a penthouse unit, since all of these boast 9-foot ceilings. Yet any home one chooses comes with a private balcony of its own.
The suites within the Alter Condos are designed with both style and comfort in mind. Laminate flooring features acoustic underlay, while ceramic or porcelain floors are found in laundry areas, storage spaces, and bathrooms. Granite or quartz countertops are the norm in 89-95 McGill Street and 355 Church Street's kitchens, as are Energy Star dishwashers and refrigerators, plus low-flow faucets with pull down sprays.
The bathrooms are equally efficient, thanks to dual flush, low-flow toilets and low-flow showerheads and faucets. And stacked, high efficiency Energy Star washers and dryers mean residents can even rest easy knowing they won't be wasting any extra water when doing a load of laundry.
The Neighbourhood
While the Alter Condos is located in the heart of downtown Toronto, there are plenty of quiet and cozy spots to enjoy in the immediate area as well. This way, residents can have their pick — or they can simply enjoy the best of both worlds.
An entire day can be spent getting lost in the shops within the Eaton Center, which attracts more visitors each year than the Mall of America. Alternatively, a couple of venues for live theatre are within walking distance, including the Ed Mirvish Theatre, the Elgin and Winter Garden Theatre Centre, and the Buddies in Bad Times Theatre. Music fans will also love living so close to the Phoenix Concert Theatre, which takes just around 10 minutes to reach by foot.
Groceries are within even closer reach for residents of the Alter Condos: an expansive Loblaws is located in the historic Maple Leaf Gardens building at Carlton and Church. Alternatively, a 7-minute walk will land one at a Metro at College and Yonge.
Transportation
Living so close to Yonge Street has its perks. Residents of the Alter Condos can walk to College Station on the Yonge subway line in around 7 minutes, while Dundas Station takes approximately 9 minutes to reach. From the latter, Union Station is just 3 stops away, where passengers can transfer onto VIA Rail trains, GO buses and trains, or the UP service to Pearson International Airport.
Drivers living at 89-95 McGill Street and 355 Church Street can also get around the city with ease. Both the Gardiner Expressway and the Don Valley Parkway can be reached in less than 10 minutes. Best of all, either of these highways can be used to reach Pearson in around 30 minutes when the traffic cooperates.
2
Listings For Sale
Interested in receiving new listings for sale?
3
Listings For Rent
Amenities
Maintenance Fees Cover
Maintenance fees include
None
Owner / renter pays separately
Hydro
Heat
Air Conditioning
Water
Past Sold & Rented Listings
Stats, Trends & Rankings
Price Per Square Foot
Alter Condos vs The
Village Area
More Expensive
per SQFT compared to the neighbourhood average
Alter Condos's Avg
price per SQFT
$1,440
/ SQFT
Neighbourhood Avg
price per SQFT
$1,021
/ SQFT
Building Trends At Alter Condos
Days on Market
Units at Alter Condos spend an average of
21
Days on Market
based on recent sales
List vs Selling Price
On average, these condos sell for
above
the list price.

Offer Competition
Condos in this building have an
AVERAGE
chance of receiving
Multiple Offers
Turnover of Units
On average, each unit is owned for
YEARS
before being sold again
Property Value
Increase
in property value within the past twelve months
Price Ranking
Highest price per SQFT out of
29
condos in The Village area
Sold Units
15
Units were
Sold
over the past twelve months
Rented Units
58
Units were
Rented
over the past twelve months
Best Value
Alter Condos offers the
best value
out of 29 condos in neighbourhood
Return on Investment
Alter Condos has the
highest ROI
out of 29 condos in neighbourhood
Rental Yield
Alter Condos yields the
highest rent prices
out of 29 condos in neighbourhood
High Demand
Alter Condos is the
most popular
building out of 29 condos in neighbourhood
Sales vs Rental Values For This Condo
Rental Price Range
$1,795 - $1,795
Average Cost Per Sqft
$1,390
Sales Price Range
$605,000 - $730,000
Rental Price Range
$1,800 - $2,500
1 Bed + Den
507 - 589 SQFT
Average Cost Per Sqft
$1,479
Sales Price Range
$740,000 - $740,000
Rental Price Range
$2,050 - $2,600
Average Cost Per Sqft
$1,188
Sales Price Range
$795,000 - $960,000
Rental Price Range
$2,650 - $3,500
Rental Price Range
$3,000 - $3,000
Average Cost Per Sqft
$1,177
Sales Price Range
$1,015,000 - $1,030,000
Rental Price Range
$3,300 - $4,500
How Often Are Units Listed?
Average Sales Availability
Average Rental Availability
Ratio of Unit Type in Building
3%
Average Sales Availability
Average Rental Availability
Ratio of Unit Type in Building
48%
1 Bed + Den
500 - 905 SQFT
Average Sales Availability
Average Rental Availability
Ratio of Unit Type in Building
18%
Average Sales Availability
Average Rental Availability
Ratio of Unit Type in Building
23%
Average Sales Availability
Average Rental Availability
Ratio of Unit Type in Building
1%
Average Sales Availability
Average Rental Availability
Ratio of Unit Type in Building
10%
Maintenance Fees

Alter Condos vs The

Village Area
Less Expensive
per SQFT compared to the neighbourhood average
Alter Condos's Avg
monthly maintenance
fee per SQFT
$0.85
/ SQFT
Neighbourhood Avg
monthly maintenance
fee price per SQFT
$0.93
/ SQFT
Similar condos