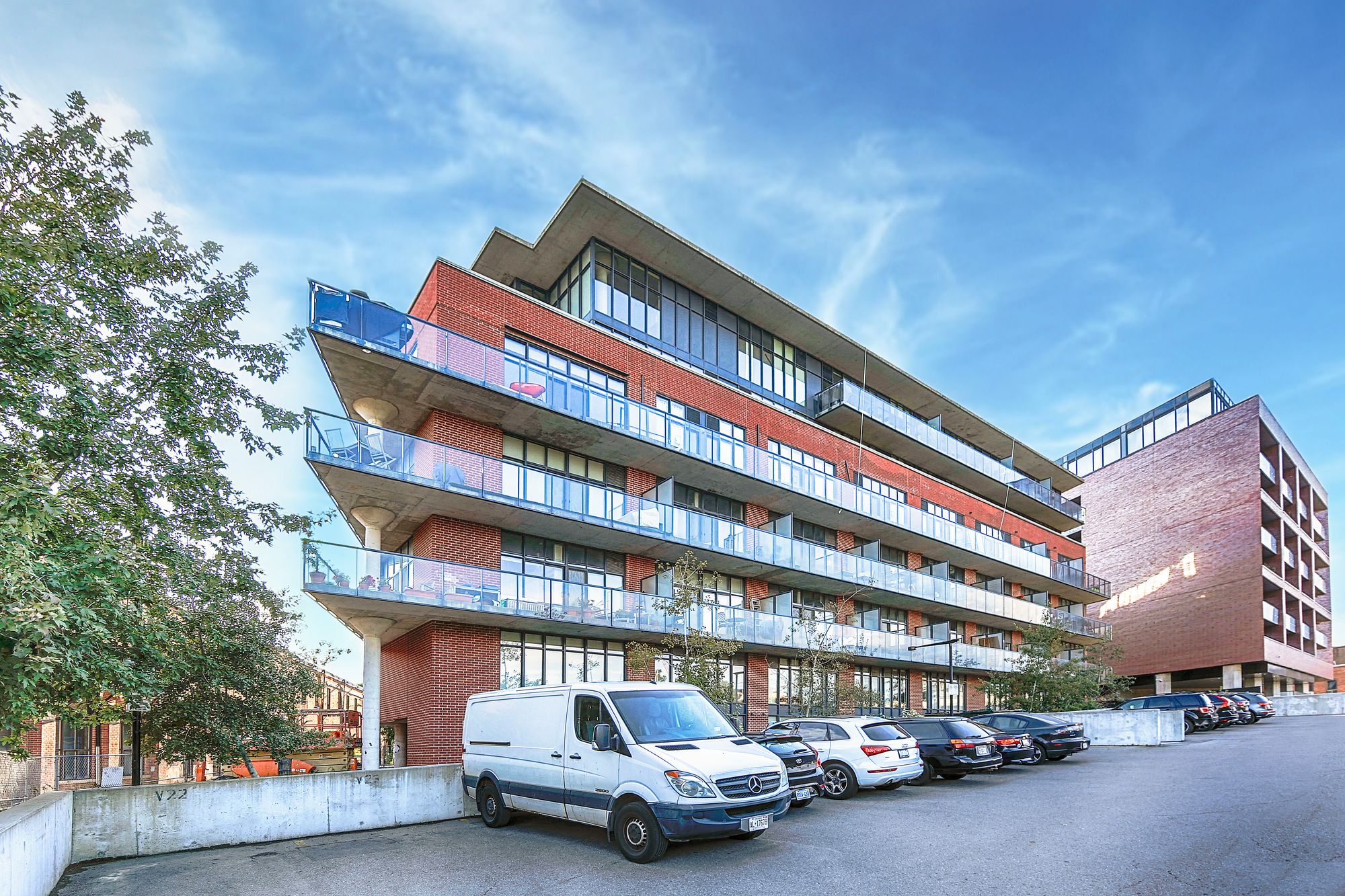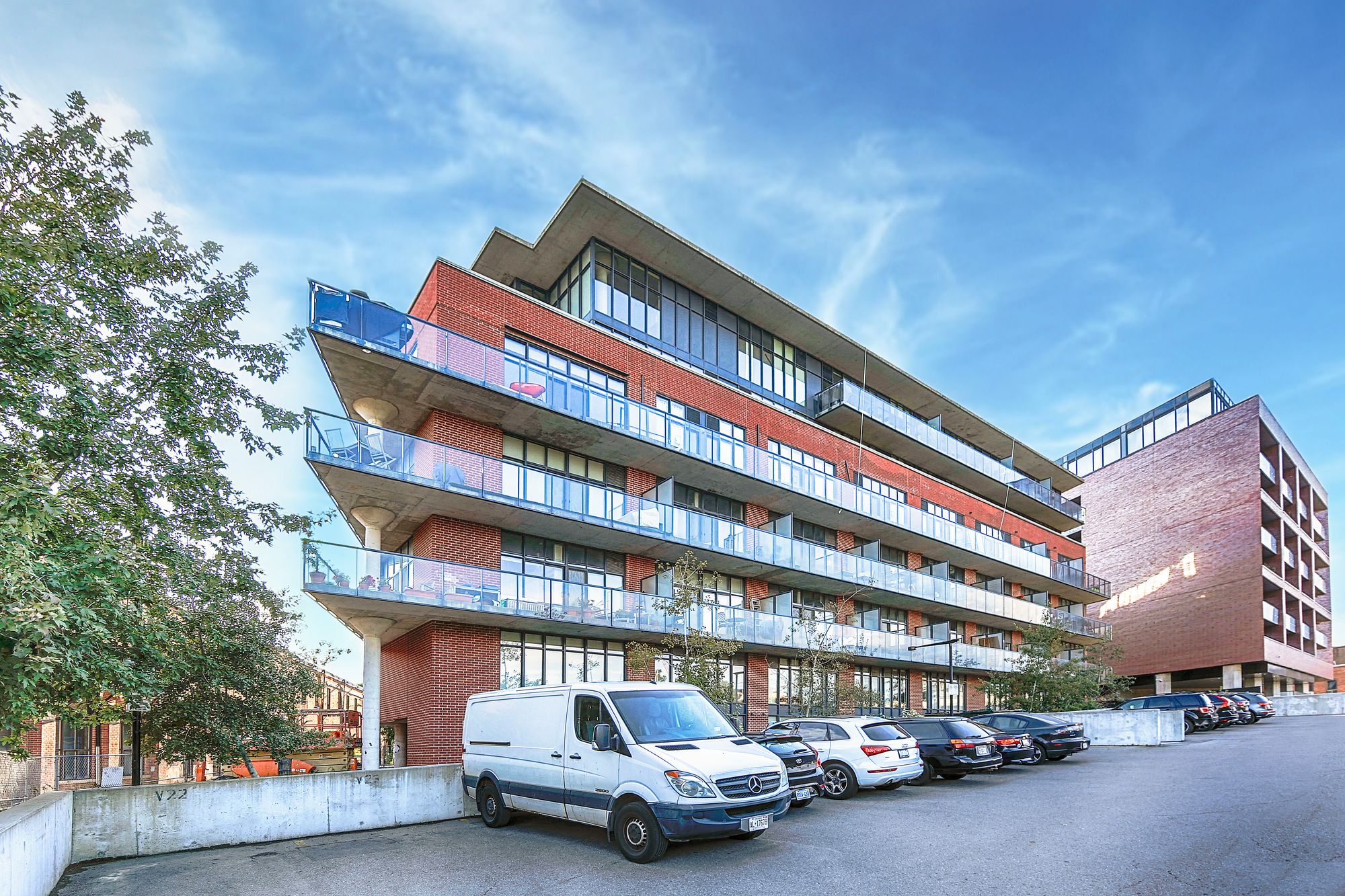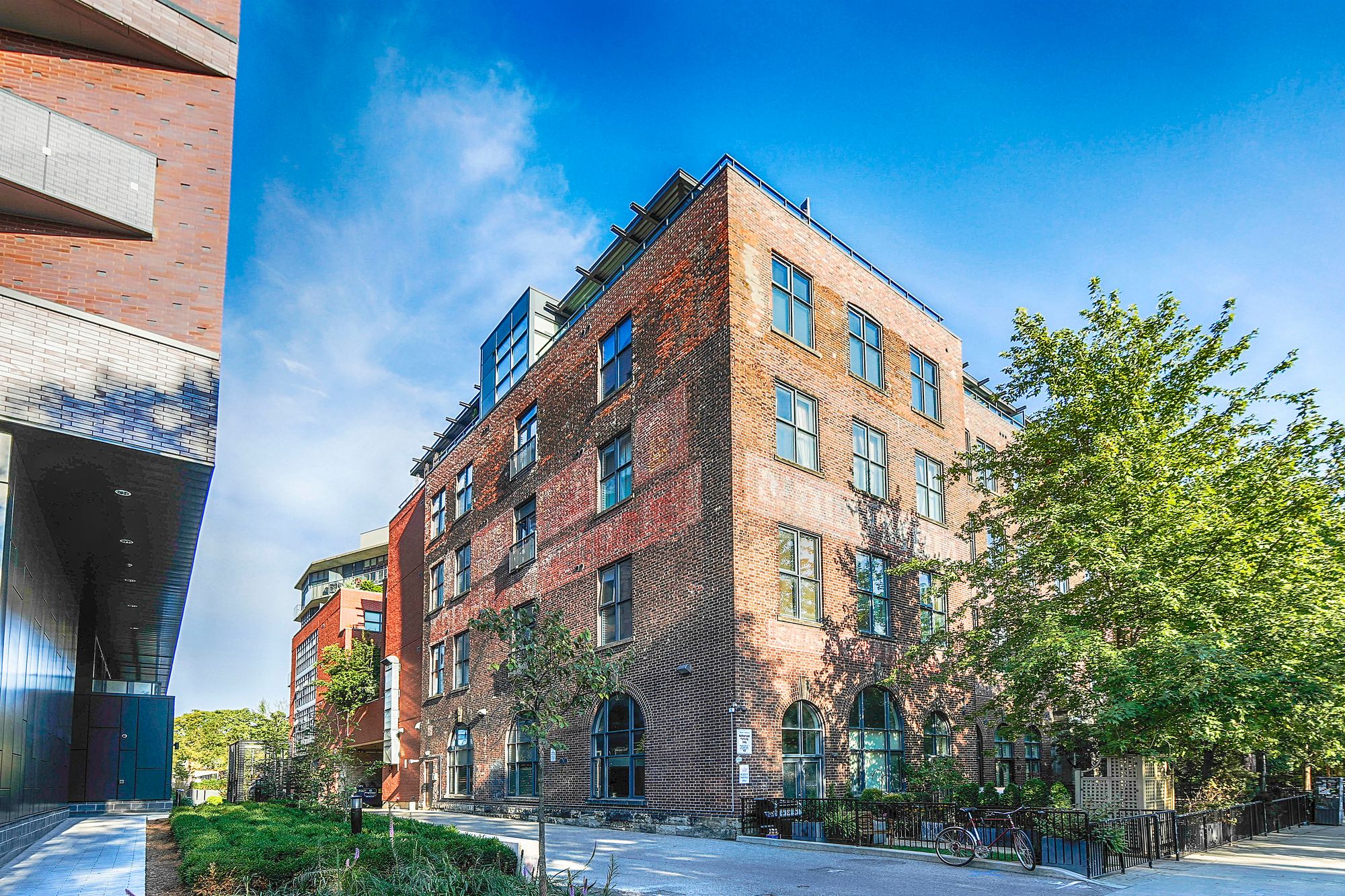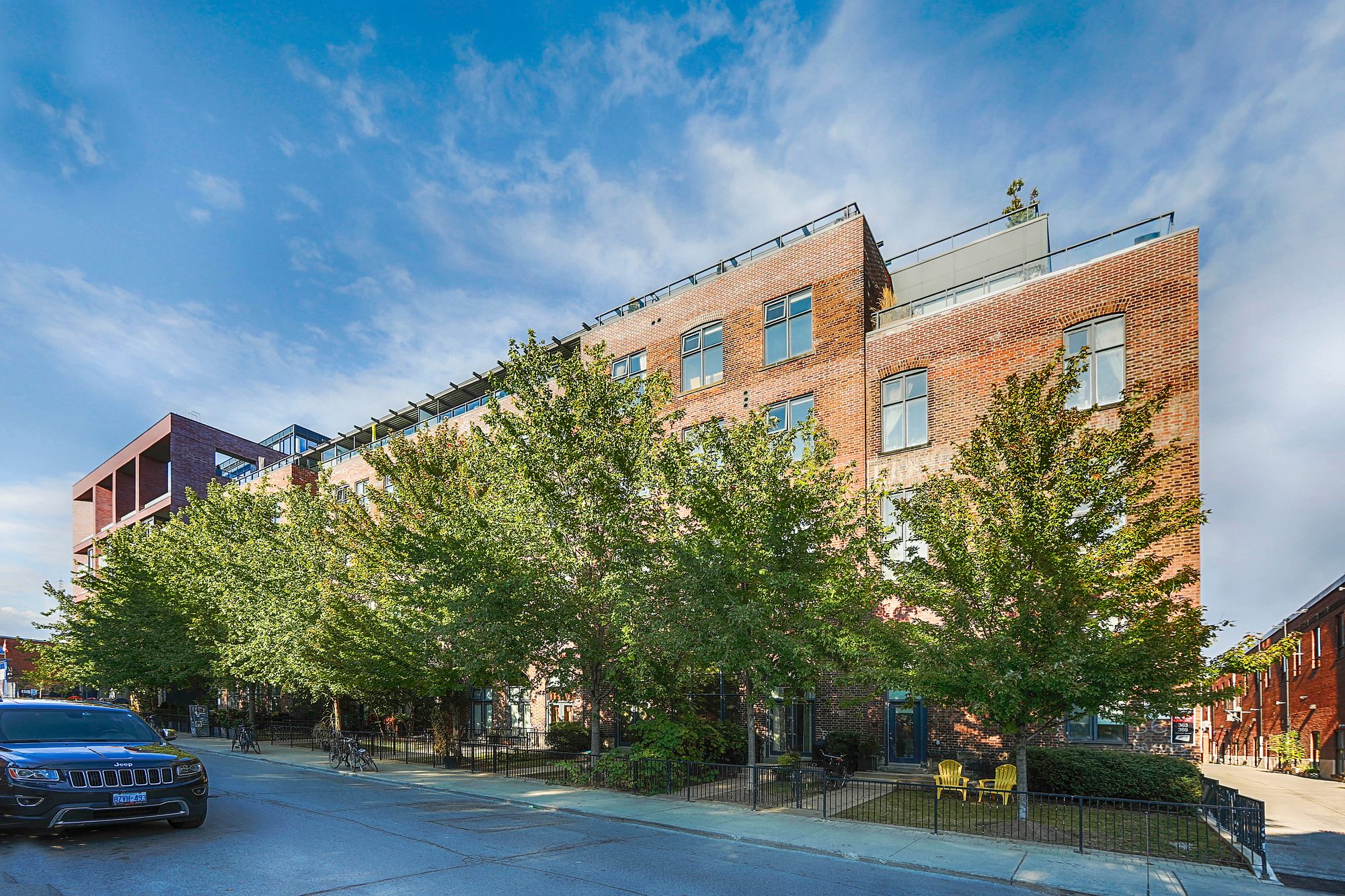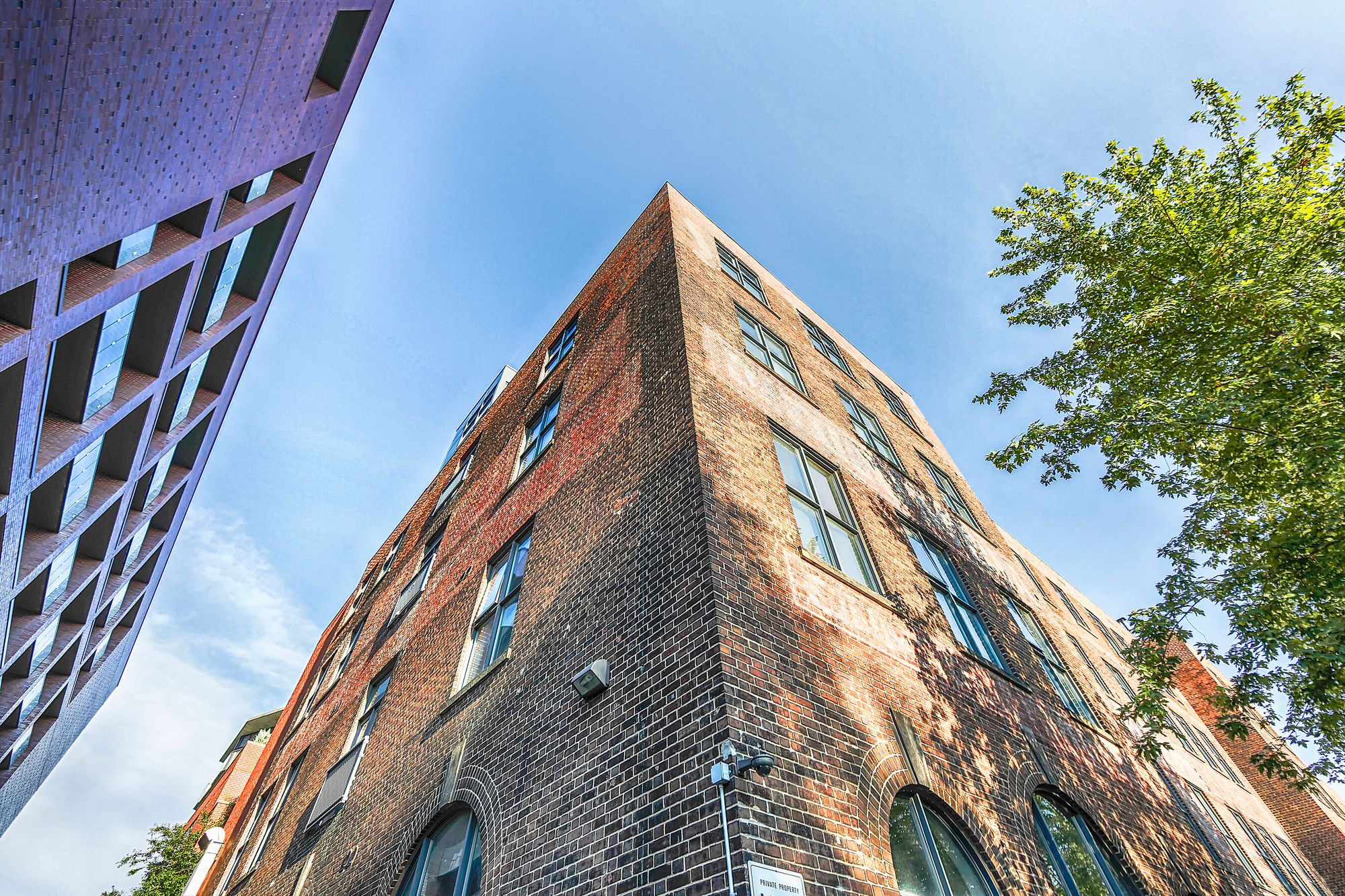 363 Sorauren Ave & 369 Sorauren Ave
2
Listings for Sale
for Sale
1
Listing for Rent
for Rent
Developer
Sky Developments
Property Management
Icon Property Management
Unit Size Range
400 - 1559 SQFT
About this loft
There are a couple of Toronto lofts that allow adults to live out their childhood dreams — to live in a candy factory. Okay, so this one might not be fully functioning anymore, but it without a doubt passes the litmus test for authenticity. Although its former function isn't clear at first, a little research will unveil that Robert Watson was the owner and namesake of the candy company known as Robert Watson & Co.
While the Candy Factory Lofts may be an obvious choice for prospective buyers with a sweet tooth for history, the Robert Watson Lofts at 363-369 Sorauren are no less spectacular. Nestled a little west of the downtown core, in the lower-key (and possibly even more posh) Roncesvalles neighbourhood, the building is made up of 153 hard lofts chock-full of character.
All this character mostly owes to the factory's age — new buildings have their perks but they can't possibly contain this sort of historical quality just yet. The building was originally constructed in 1907, after Robert Watson & Co. had already had 25 years of experience under its belt. Today the structure serves as evidence of Toronto's industrial past, as well as home to some very fortunate residents thanks to Sky developments.
The conversion into the Robert Watson Lofts took place when the building was exactly a century old. Even while maintaining the integrity of the façade, the developers in charge of the renovation process were able to create a considerable number of homes by adding new structures on the same property, as well as above the building itself. This way, buyers interested in the building include hard and soft loft seekers alike.
Connecting the old and new structures is a landscaped courtyard, which residents can use to visit neighbours, or simply to hunker down in with a good book. Other amenities resulted from Sky Developments' renovations to 363-369 Sorauren Avenue. While many smaller hard lofts in the city lack the space for extras, residents have access to an exercise facility, a meeting room, and a party room, as well as a rooftop garden.
Faded white paint suggests to pedestrians that this building is too important to tear down. The Neo-classical red brick façade and (no longer functioning) smoke stack are additional hints. Once inside, the lofts get even better.
The Suites
Artists have a knack for finding vacant industrial spaces to work in: they come for the cheap rent, and stay for the wide-open spaces and bright natural sunlight. While this was the case pre-conversion, after 2007 prices rose to a level that only an artist who has sold a piece or two could afford. Nevertheless, the Robert Watson Lofts continues to attract creative types looking for Toronto condos for sale with live-work functionality.
Many of the suites at 363-369 Sorauren span two storeys, and layouts are designed in an open-concept fashion. Even from the outside once can make an educated guess as to how brightly lit these lofts are, as the red brick exterior is teeming with windows.
This estimate is definitely correct, and thanks to the beams of warm sunlight that enter every suite, even the smallest of homes feels bright and airy. The smallest of units begins at approximately 400 square feet, with the largest reaching to about 1,500.
In addition of the authentic ornamentation found outside, certain elements were preserved while the building was being renovated. These now make for interesting design features that effortlessly complement these homes: wooden ceiling panels, posts and beams, original hardwood floors, and exposed red brick are found throughout the hard loft units. Alternatively, those interested in the soft lofts at 363-369 Sorauren will find polished concrete when inspecting their potential new home.
Those who want to live large needn't compromise either, as a couple of penthouses can be found at the Robert Watson Lofts. These glass-clad homes boast floor-to-ceiling windows and private rooftop terraces. Buyers looking for hard loft units with outdoor space will be interested in the ground floor units that come equipped with personal front yards or patios.
The Neighbourhood
Residents are within close proximity to the local businesses on both Roncesvalles Avenue and Dundas Street West. What both of these strips have in common is the diminutive selection of big-box stores.
While a Loblaws and an LCBO are a short walk away at the corner of Bloor and Dundas West, residents have the option of buying local from shops like Greenfield Grocery on Roncesvalles Avenue.
Entertainment is abundant as well: residents of the Robert Watson Lofts can walk over to the Revue Cinema, Toronto's longest-running theatre that shows both blockbuster hits and independent films.
When the 400 acres of High Park are too much to fathom, Sorauren Park is another great option for some outdoor fun. Here, residents can enjoy some baseball, soccer, or tennis. Alternatively, one can even get some shopping done at Sorauren Park, at the weekly farmer's market that runs year round.
Transportation
The available parking isn't the only perk for drivers who live here. Those heading out from 363-369 Sorauren by car can access the Gardiner Expressway in just minutes via Jameson Avenue. From here, the 427 and the Don Valley Parkway are within reach.
Those without wheels of their own will take advantage of the Dundas West streetcar service that carries passengers all the way to the Yonge-University-Spadina subway line. Alternatively, the Bloor-Danforth line is a short walk away, where residents can catch trains moving east and west.
Also a short walk or drive away is the Bloor GO/UP station, where travelers can find buses and trains to neighbouring cities, as well as to Pearson International Airport.
2
Listings For Sale
Interested in receiving new listings for sale?
1
Listings For Rent
Interested in receiving new listings for rent?
Property Highlights
Listing History for Robert Watson Lofts
Nearby Amenities
Stats, Trends & Rankings
Robert Watson Lofts vs The Roncesvalles Area
Robert Watson Lofts's Avg
Building Trends At Robert Watson Lofts
Days on Strata
Units at Robert Watson Lofts spend an average of
32
Days on Strata
based on recent sales
List vs Selling Price
On average, these lofts sell for
below
the list price.

Offer Competition
Lofts in this building have a
LOW
chance of receiving
Multiple Offers
Turnover of Units
On average, each unit is owned for
3.8
YEARS
before being sold again
Property Value
Decrease
in property value within the past twelve months
Price Ranking
Highest price per SQFT out of
12
condos in the Roncesvalles area
Sold Units
7
Units were
Sold
over the past twelve months
Rented Units
5
Units were
Rented
over the past twelve months
Sales vs Rental Values For This Loft
Average Cost Per Sqft
$1,175
Sales Price Range
$675,000 - $775,000
Rental Price Range
$2,700 - $2,700
1 Bed + Den
620 - 1200 SQFT
Average Cost Per Sqft
$1,065
Sales Price Range
$767,500 - $1,200,000
Rental Price Range
No Data
Average Cost Per Sqft
$1,290
Sales Price Range
$1,800,000 - $1,800,000
Rental Price Range
$3,500 - $4,200
2 Bed + Den
1559 - 1559 SQFT
Average Cost Per Sqft
$830
Sales Price Range
$1,290,000 - $1,290,000
Rental Price Range
No Data
How Often Are Units Listed?
Average Sales Availability
Average Rental Availability
Ratio of Unit Type in Building
3%
Average Sales Availability
Average Rental Availability
Ratio of Unit Type in Building
48%
1 Bed + Den
585 - 1200 SQFT
Average Sales Availability
Average Rental Availability
Ratio of Unit Type in Building
18%
Average Sales Availability
Average Rental Availability
Ratio of Unit Type in Building
32%
2 Bed + Den
1400 - 1559 SQFT
Average Sales Availability
Average Rental Availability
Ratio of Unit Type in Building
3%
Maintenance Fees
Robert Watson Lofts vs The
Roncesvalles Area
Robert Watson Lofts's Avg
monthly maintenance fee
Neighbourhood Avg
monthly maintenance fee
Similar lofts