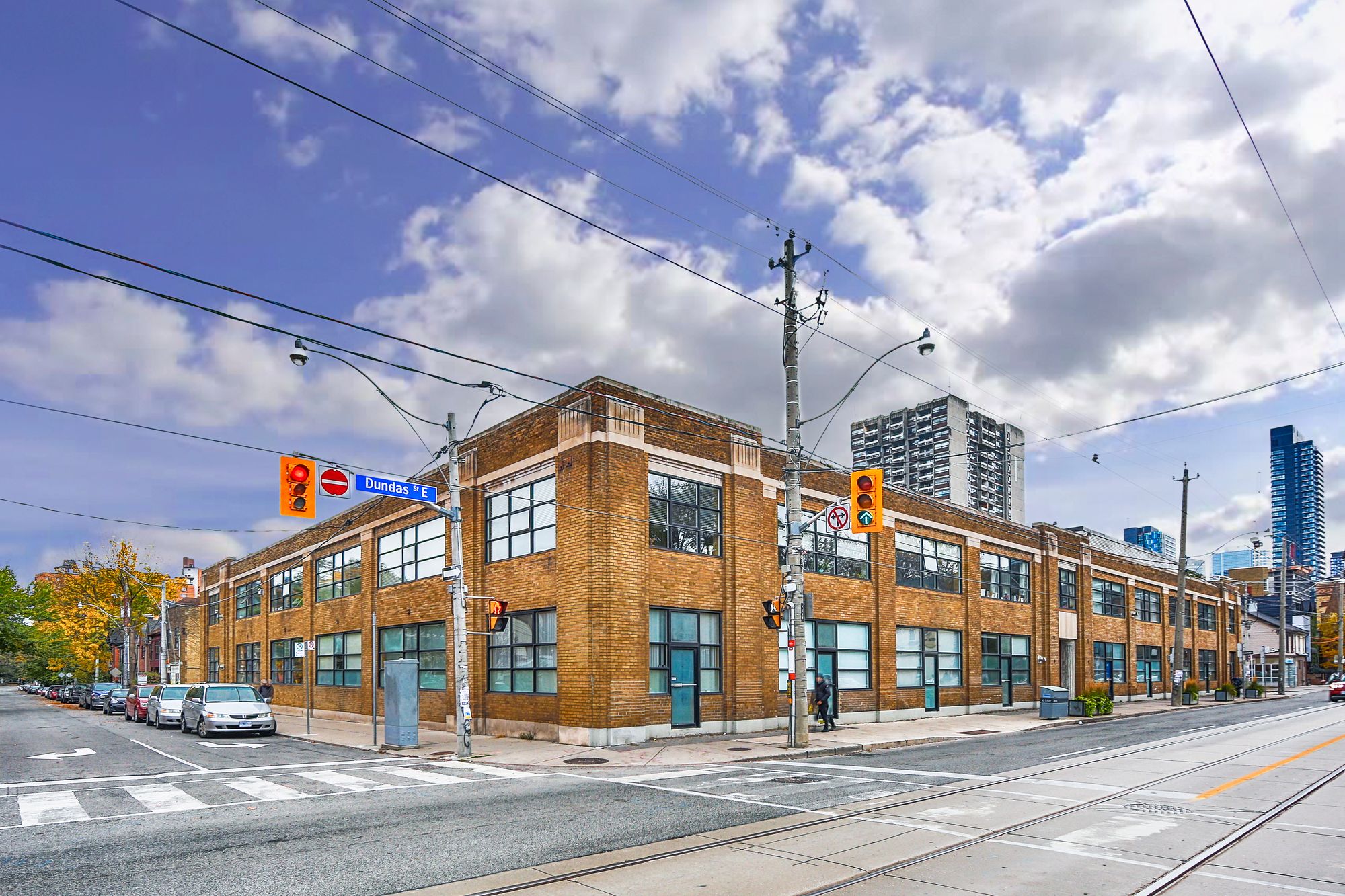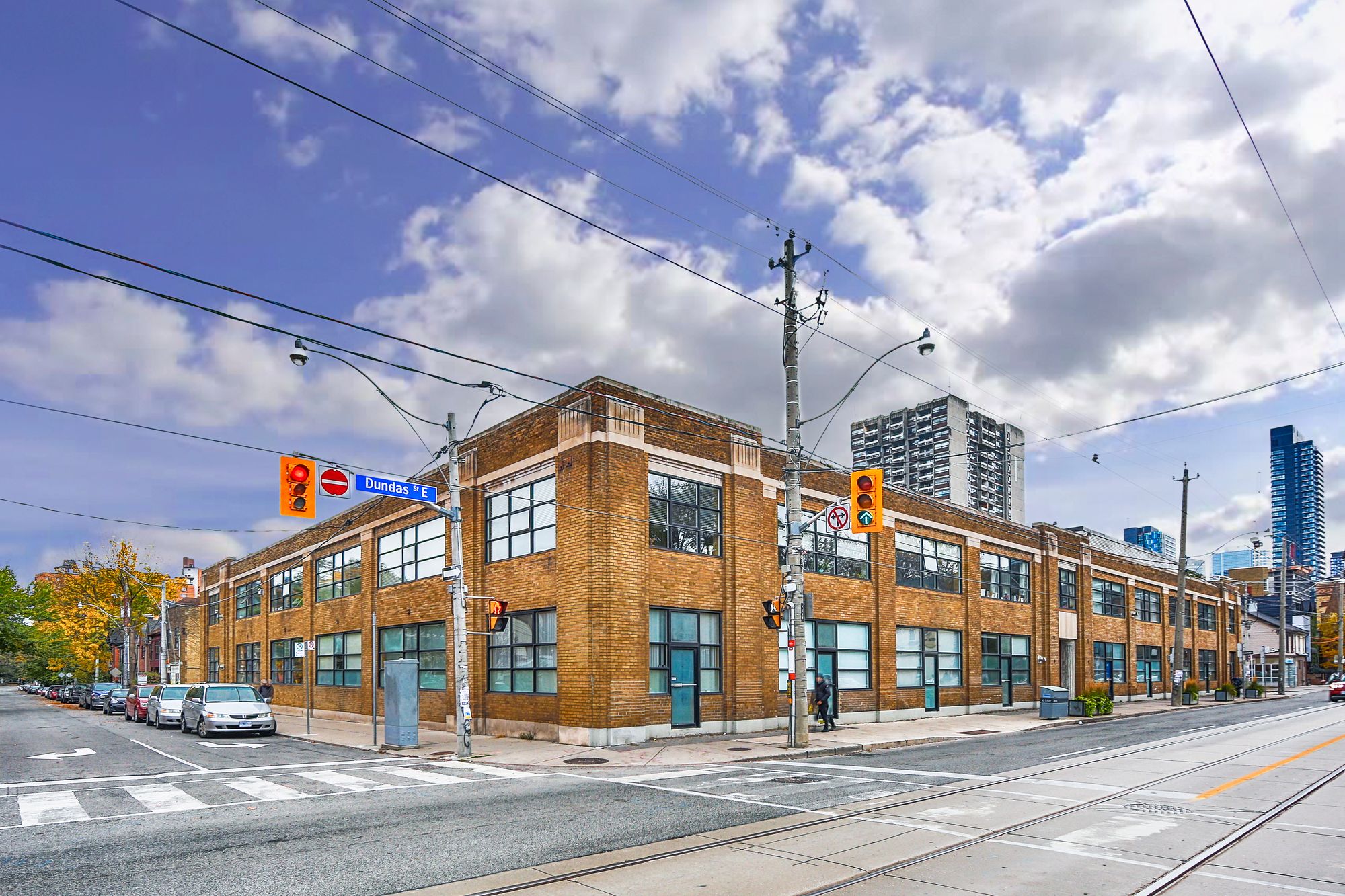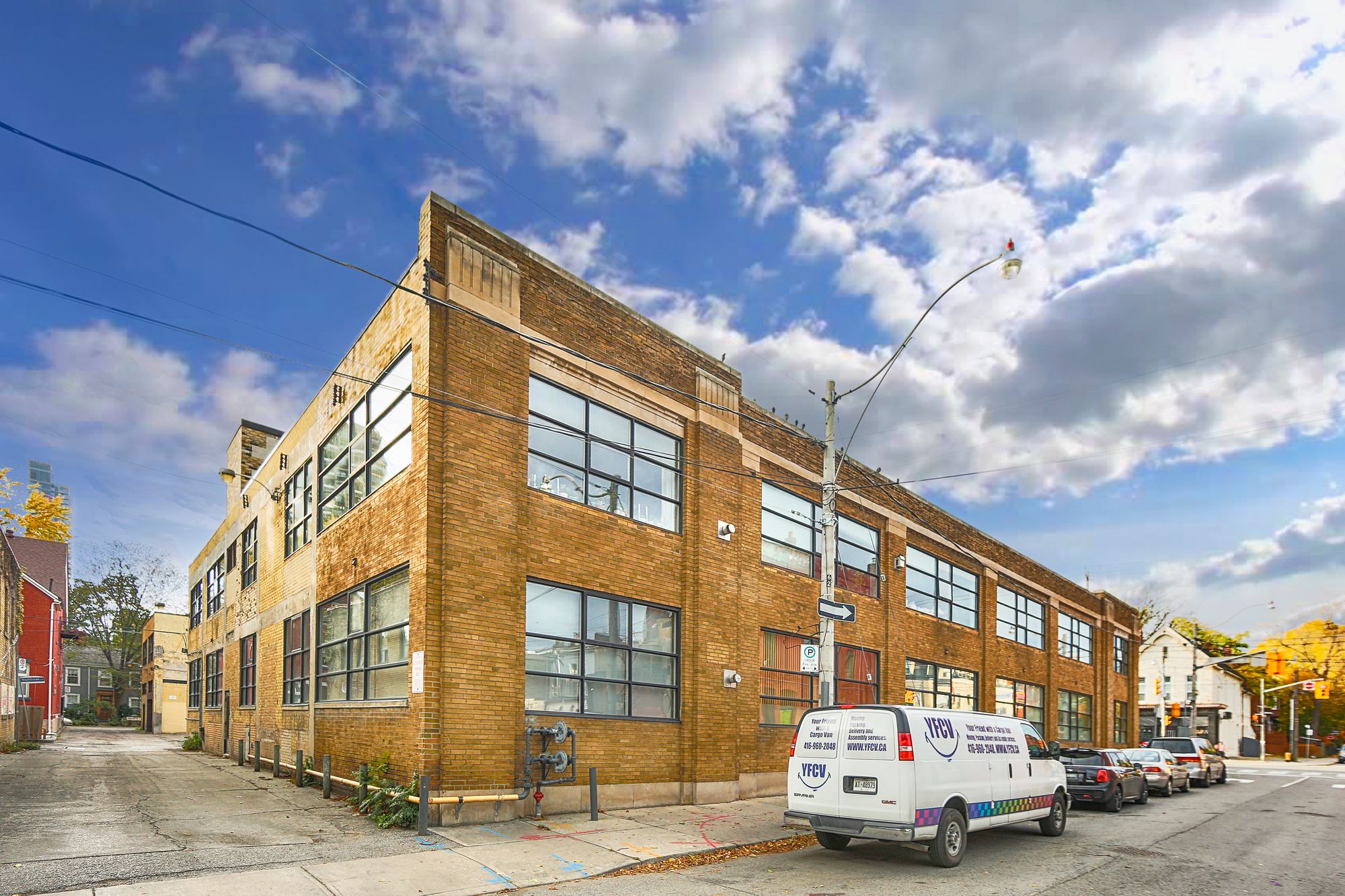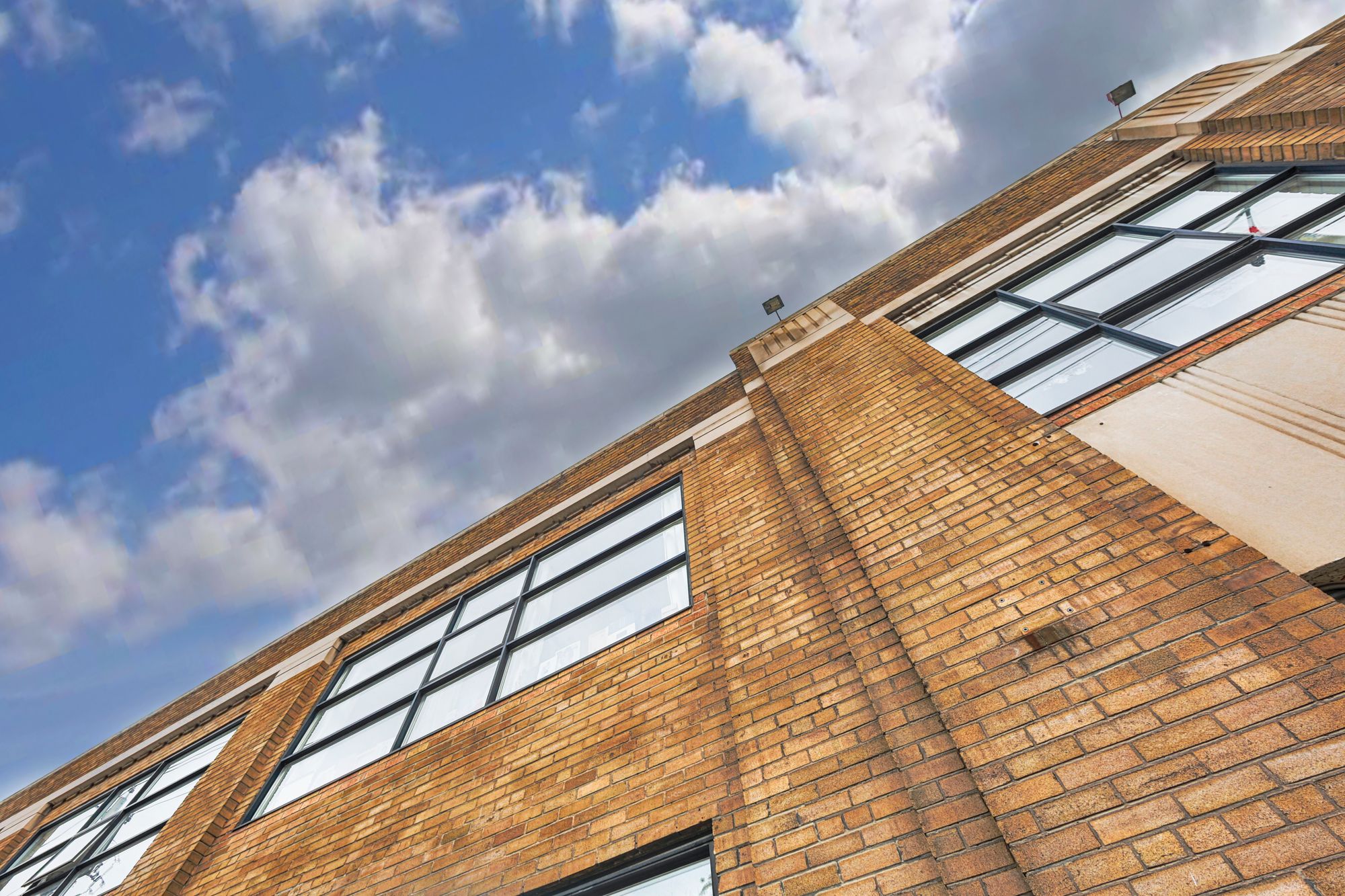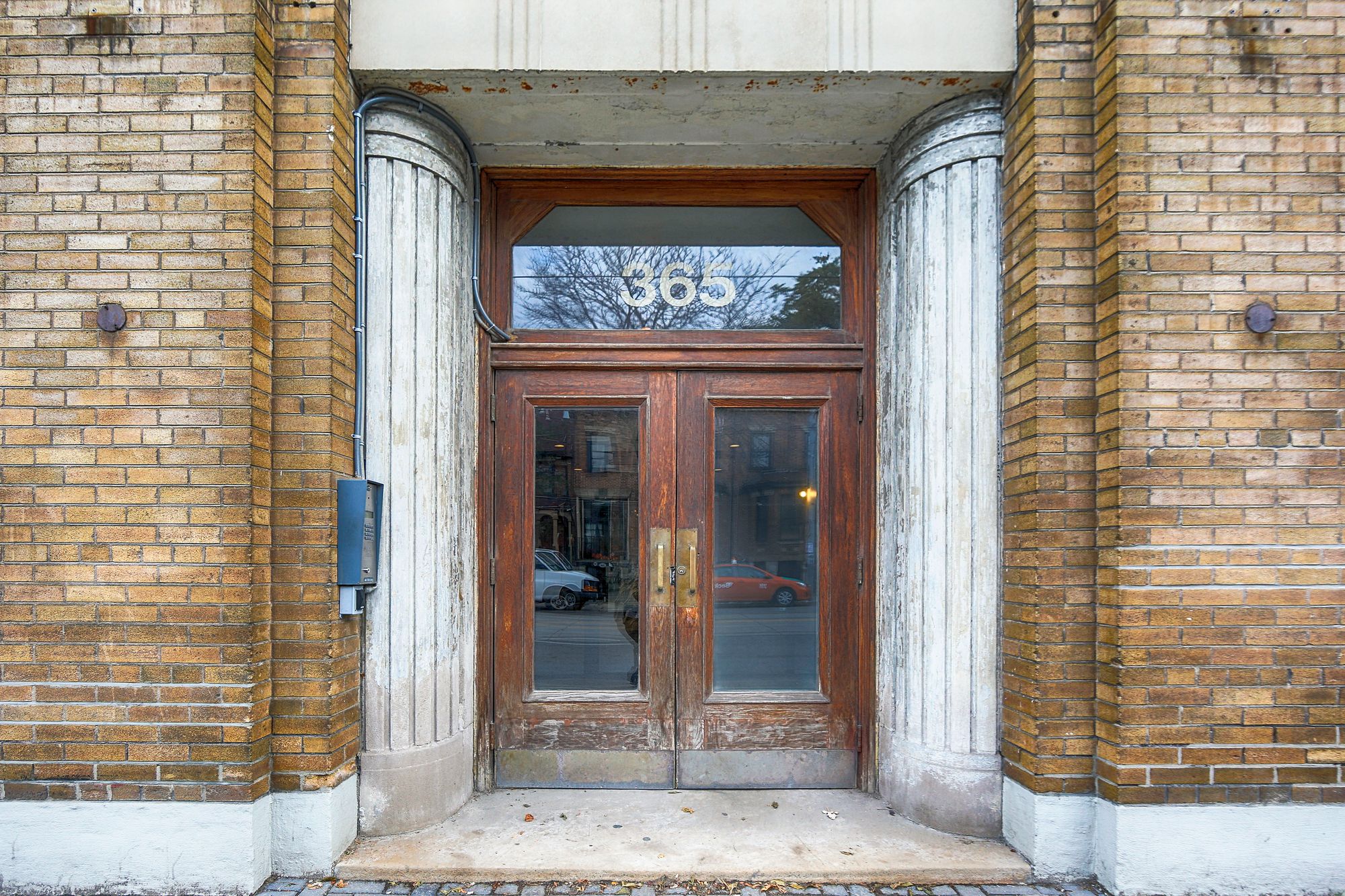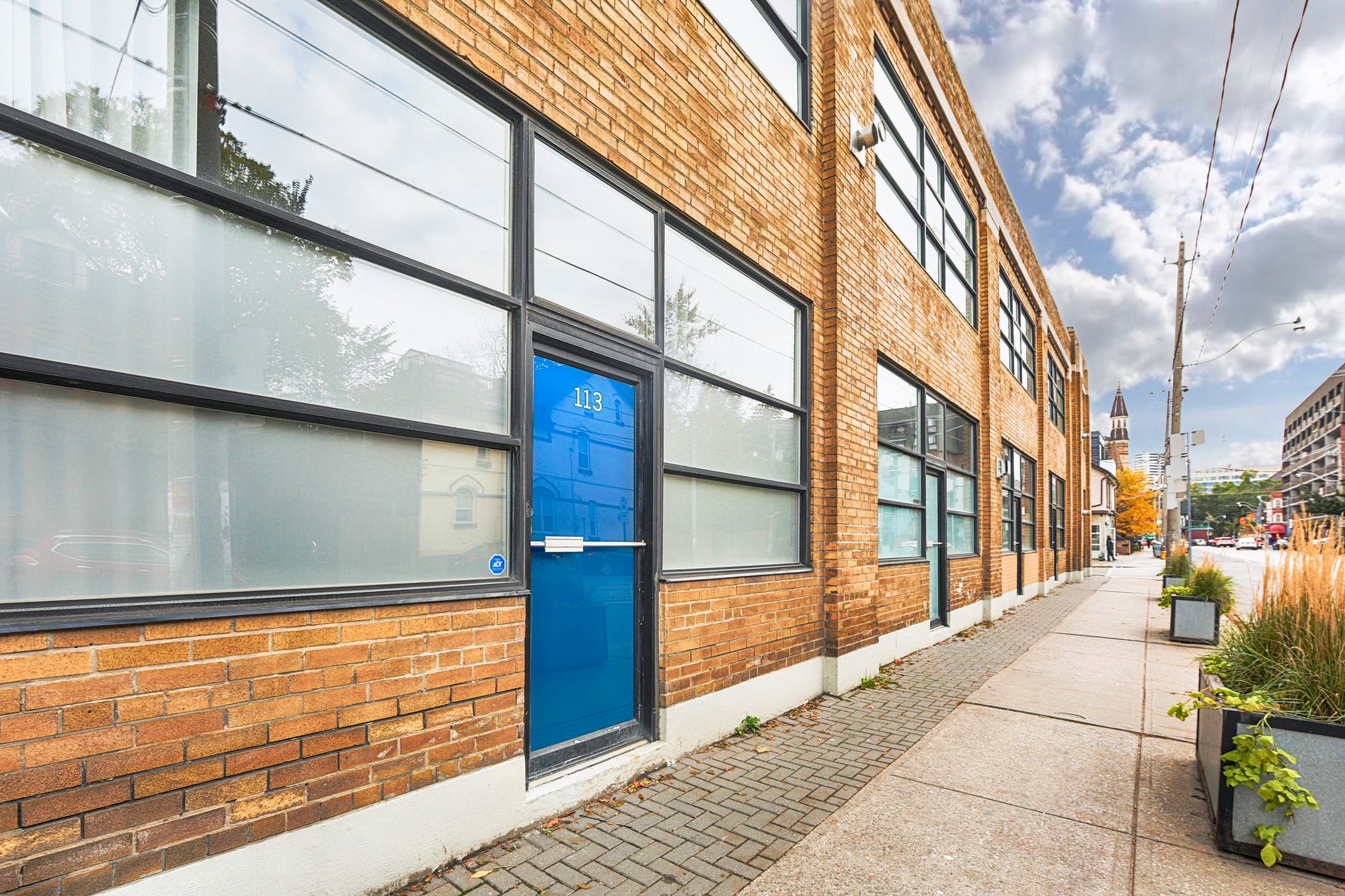 365 Dundas St E
1
Listing for Sale
for Sale
1
Listing for Rent
for Rent
Developer
Century Lofts Inc.
Property Management
Royale Grande Property Management Ltd.
Unit Size Range
350 - 1200 SQFT
About this loft
Whether intentionally or not, the Century Lofts are rather inconspicuous. The low-rise building at 365 Dundas East is humble and nonchalant, drawing little attention to itself in the best way possible. What this all means for residents is a shared secret — that of the remarkable Toronto lofts inside.
The yellow brick façade of the Century Lofts is intersected with rectangular-paned warehouse windows. Upon first glance, this hard loft conversion might simply be mistaken for what it once was: an industrial factory. Look a little closer, however, and one notices the rare art-deco details subtly adorning the building's exterior.
In 1940, the structure was constructed in order to house the Imperial Optical Lens factory. 60 years later, modern-day developers finally got their hands on the building, resulting in 41 authentic hard lofts for Toronto buyers to battle over.
Those living at 365 Dundas East are also privy to a wide range of amenities, such as a gym, storage, parking, a rooftop terrace, and a communal kitchen area.
The Suites
Thanks to its low-rise status, the Century Lofts contains 41 units, most of which offer residents direct street access from their front doors. This way, those looking for the perks of a shared building and the privacy of a detached home are in luck.
Windows have been mentioned in regards to the exterior, but from within the loft these sprawling panes of glass only get better. With industrial windows grouped together, natural sunlight is abundant as ever. This warm lighting illuminates certain features best, such as the elegant hardwood flooring.
Other more industrial elements, on the other hand, juxtapose this warmth. Exposed ductwork can be found throughout the building, as can towering, concrete mushroom columns. Brickwork from the 1940s is beautiful, and the developers behind the Century Lofts were clearly aware of this when they chose not only to preserve it but to also leave it exposed.
Certain homes at 365 Dundas East are outfitted with wood-paneled ceilings, while others boast sliding doors made of the very same material. Ceilings typically reach to 11 feet high, offering a sense of space in even the coziest of units.
Speaking of size, Toronto condos for sale in this building vary considerably: the smallest loft sits at just under 600 square feet, with the largest reaching to approximately 1,300. Studios are great options for single professionals and couples alike, while budding young families will be comfortable in the larger, two-bedroom units.
The Neighbourhood
While some readers might already be sold on the superiority of the Century Lofts, the surrounding Cabbagetown neighbourhood is yet another aspect to admire about these homes. While currently less snazzy than its counterparts just north or south, the area has been experiencing a revival in recent years, with a surefire promise of more to come.
Technically, the Century Lofts fall within reach of a number of neighbourhoods, including Moss Park, the Garden District, and Cabbagetown. The building is also within walking distance to Yonge-Dundas Square and the Eaton Centre, as well as the West Don Lands and Riverdale Park. Traversing this entire expanse, one will encounter everything from an expansive shopping mall, Times Square-esque billboards, Victorian-era homes, a university campus, and even a sprawling park complete with its very own farm.
For practicality's sake, a sizeable Metro can be reached in about 10 minutes on foot. For those who prefer more variety while they shop, St. Lawrence Market is also within reach. Here, shoppers can find everything from authentic ethnic delights to the freshest of baked goods, meat, seafood, and produce.
Transportation
With its address directly on Dundas Street East, those living at 365 Dundas East will find it easy as ever to travel around Toronto. Dundas streetcars make stops at Dundas and Ontario Street, picking up passengers a mere steps away before heading either east or west. Westbound streetcars land travelers at Dundas station on the Yonge subway line, from which they can reach the rest of the city with ease.
Those with vehicles of their own will also find it simple to navigate the city by car. While rush hour might not be the time to do so, one-way streets like Richmond and Adelaide are usually good options for getting to and from the office. Longer trips might make use of the Don Valley Parkway or the Gardiner Expressway, two highways that together allow for swift travel in all four directions.
1
Listings For Sale
Interested in receiving new listings for sale?
1
Listings For Rent
Interested in receiving new listings for rent?
Property Highlights
Listing History for Century Lofts
Nearby Amenities
Stats, Trends & Rankings
Century Lofts vs The Cabbagetown Area
Building Trends At Century Lofts
Days on Strata
Units at Century Lofts spend an average of
21
Days on Strata
based on recent sales
List vs Selling Price
On average, these lofts sell for
above
the list price.

Offer Competition
Lofts in this building have an
AVERAGE
chance of receiving
Multiple Offers
Turnover of Units
On average, each unit is owned for
4.2
YEARS
before being sold again
Property Value
Decrease
in property value within the past twelve months
Price Ranking
Highest price per SQFT out of
30
condos in the Cabbagetown area
Sold Units
2
Units were
Sold
over the past twelve months
Rented Units
1
Units were
Rented
over the past twelve months
Sales vs Rental Values For This Loft
Average Cost Per Sqft
$768
Sales Price Range
$594,900 - $881,000
Rental Price Range
No Data
Average Cost Per Sqft
No Data
Rental Price Range
$3,850 - $3,850
How Often Are Units Listed?
Average Sales Availability
Average Rental Availability
Ratio of Unit Type in Building
9%
Average Sales Availability
Average Rental Availability
Ratio of Unit Type in Building
70%
1 Bed + Den
878 - 878 SQFT
Average Sales Availability
Average Rental Availability
Ratio of Unit Type in Building
9%
Average Sales Availability
Average Rental Availability
Ratio of Unit Type in Building
12%
Average Sales Availability
Average Rental Availability
Ratio of Unit Type in Building
3%
Maintenance Fees
Century Lofts vs The
Cabbagetown Area
Century Lofts's Avg
monthly maintenance fee
Neighbourhood Avg
monthly maintenance fee
Similar lofts