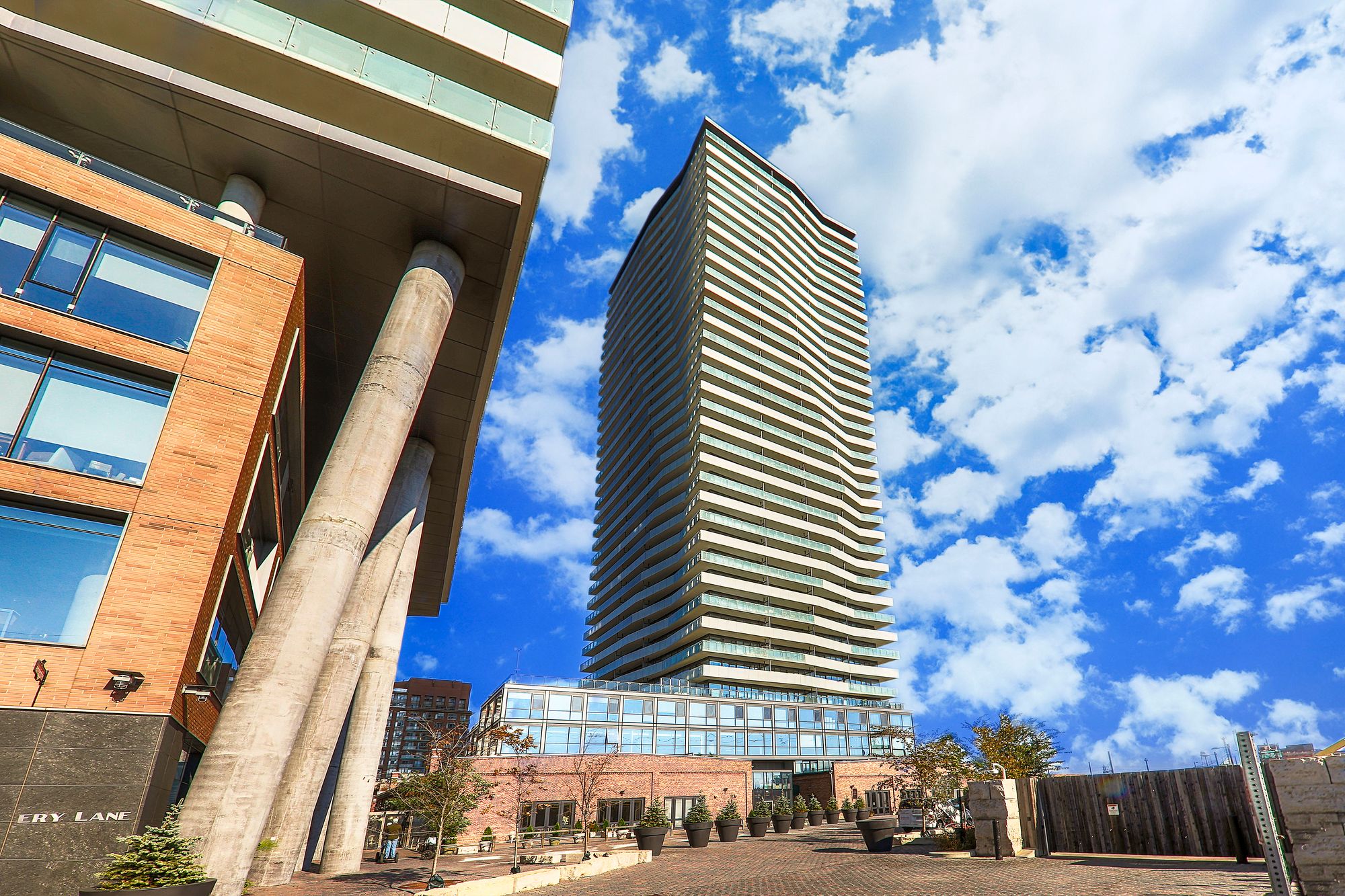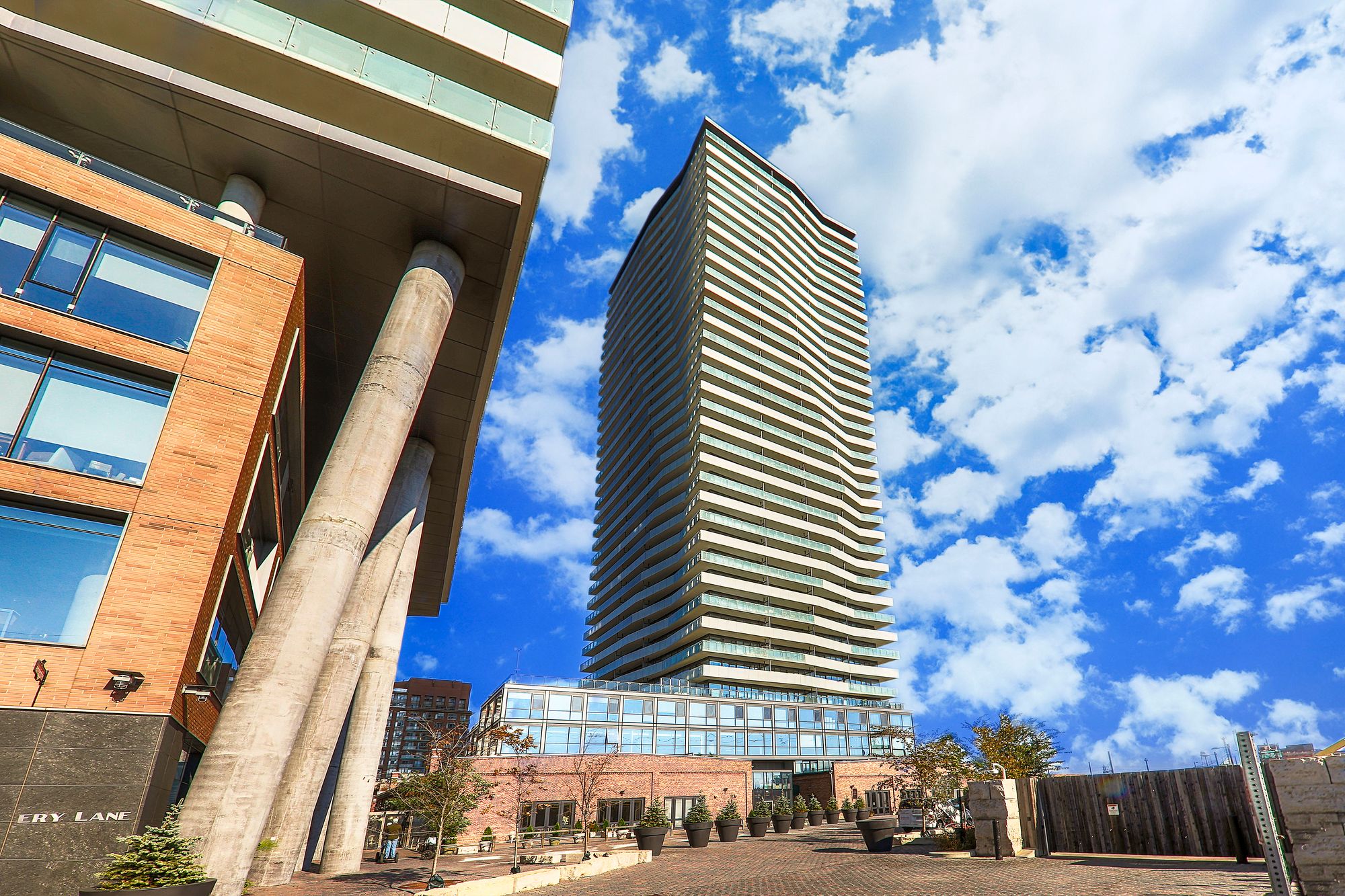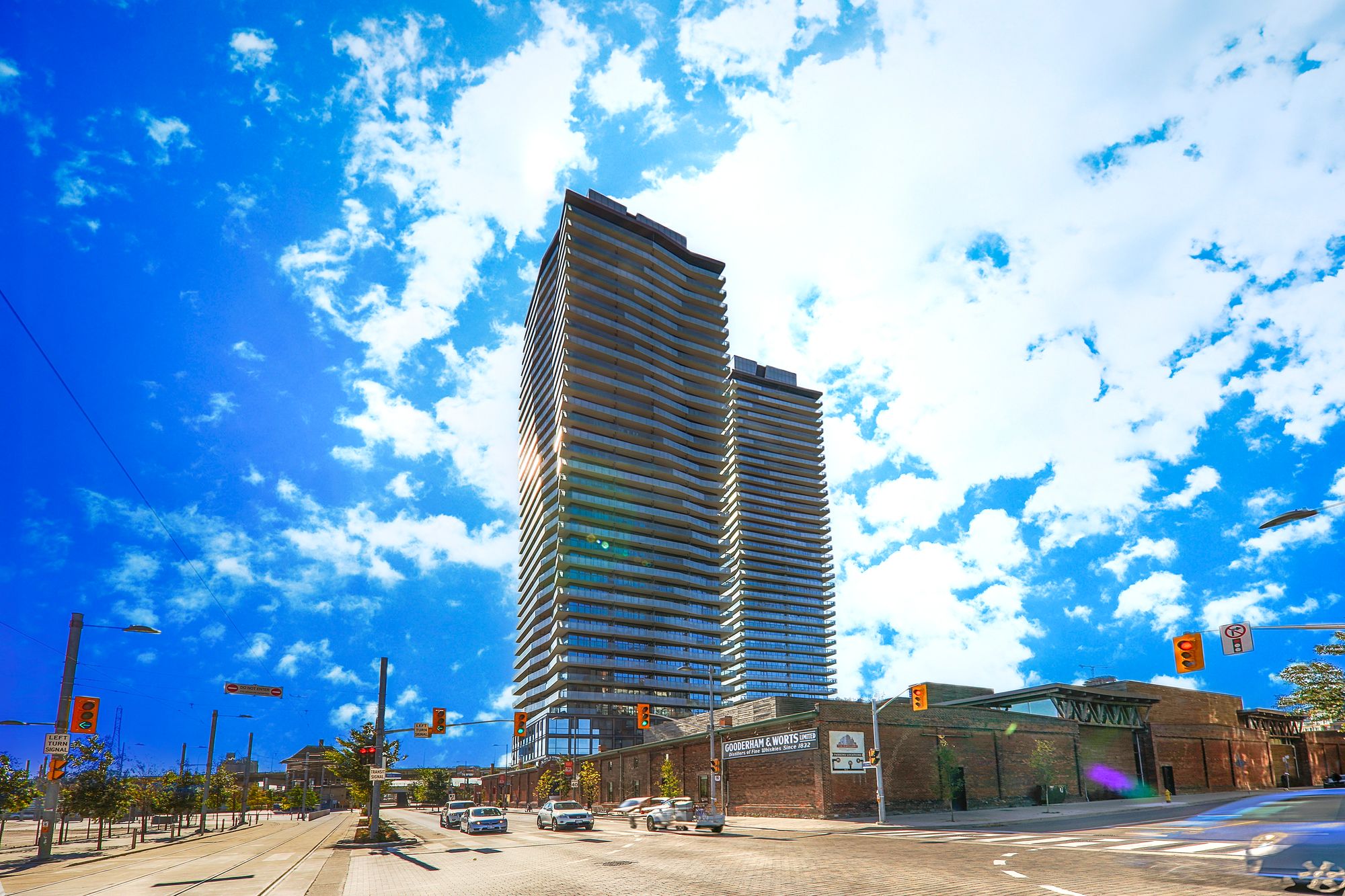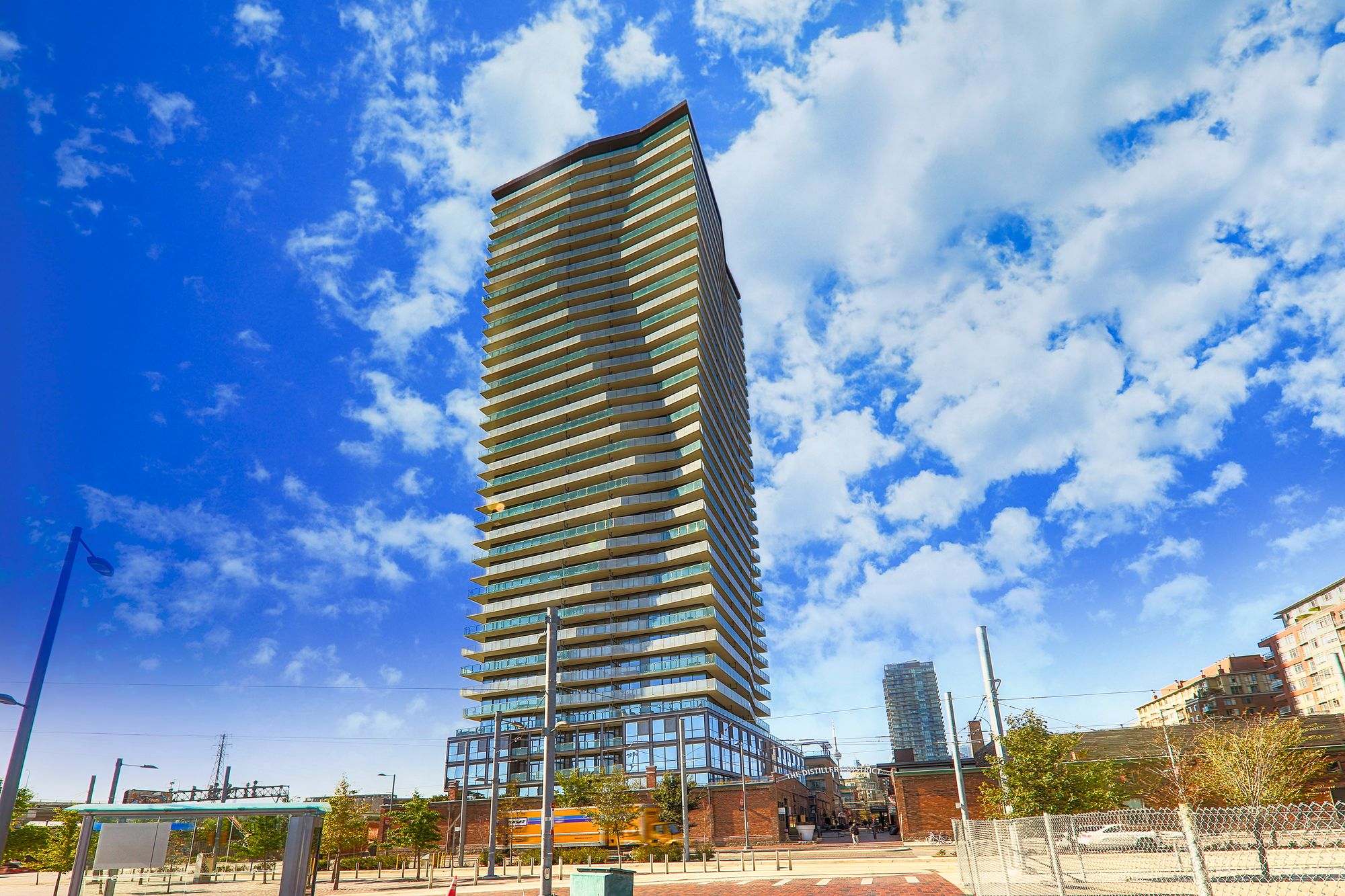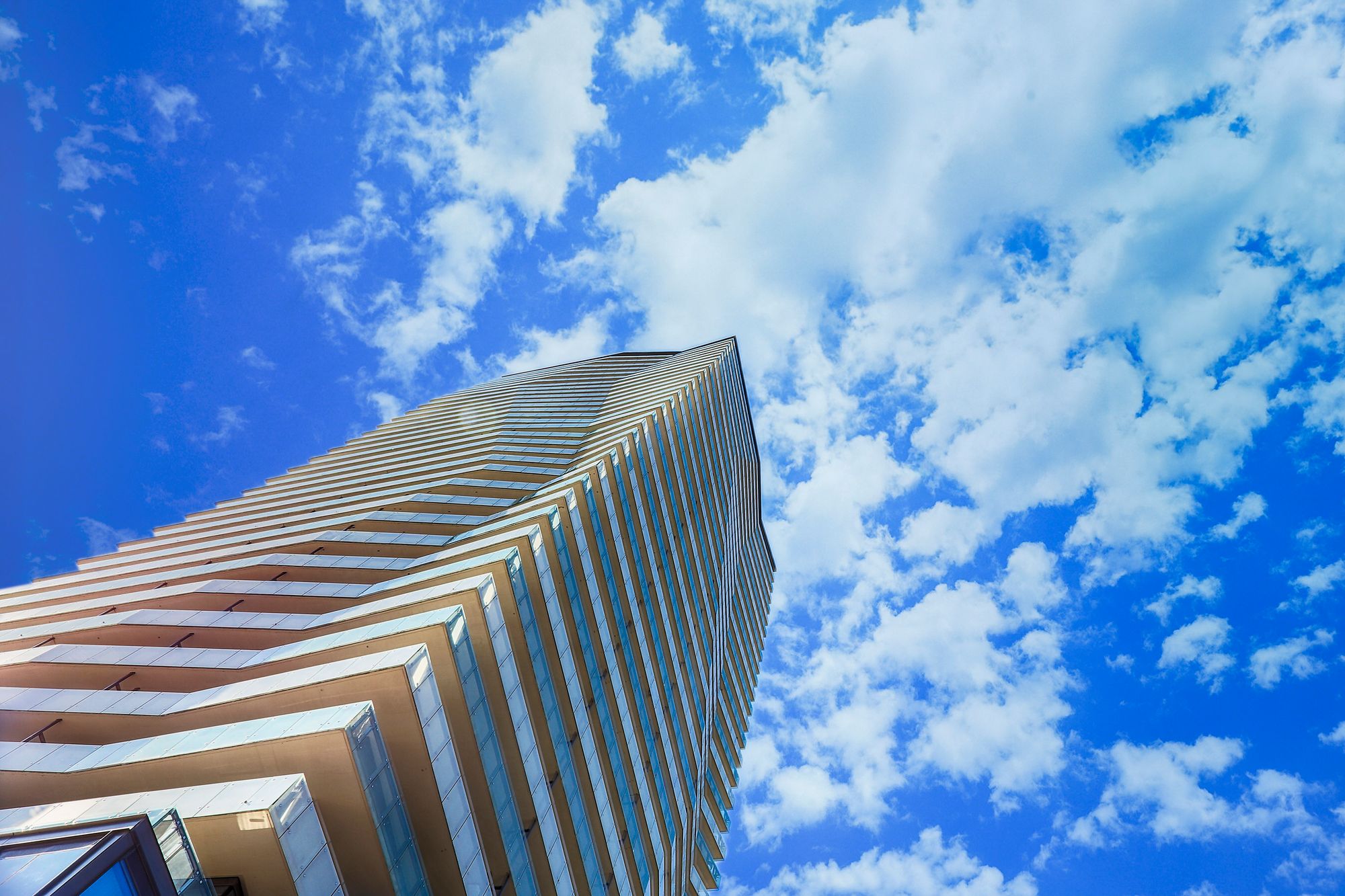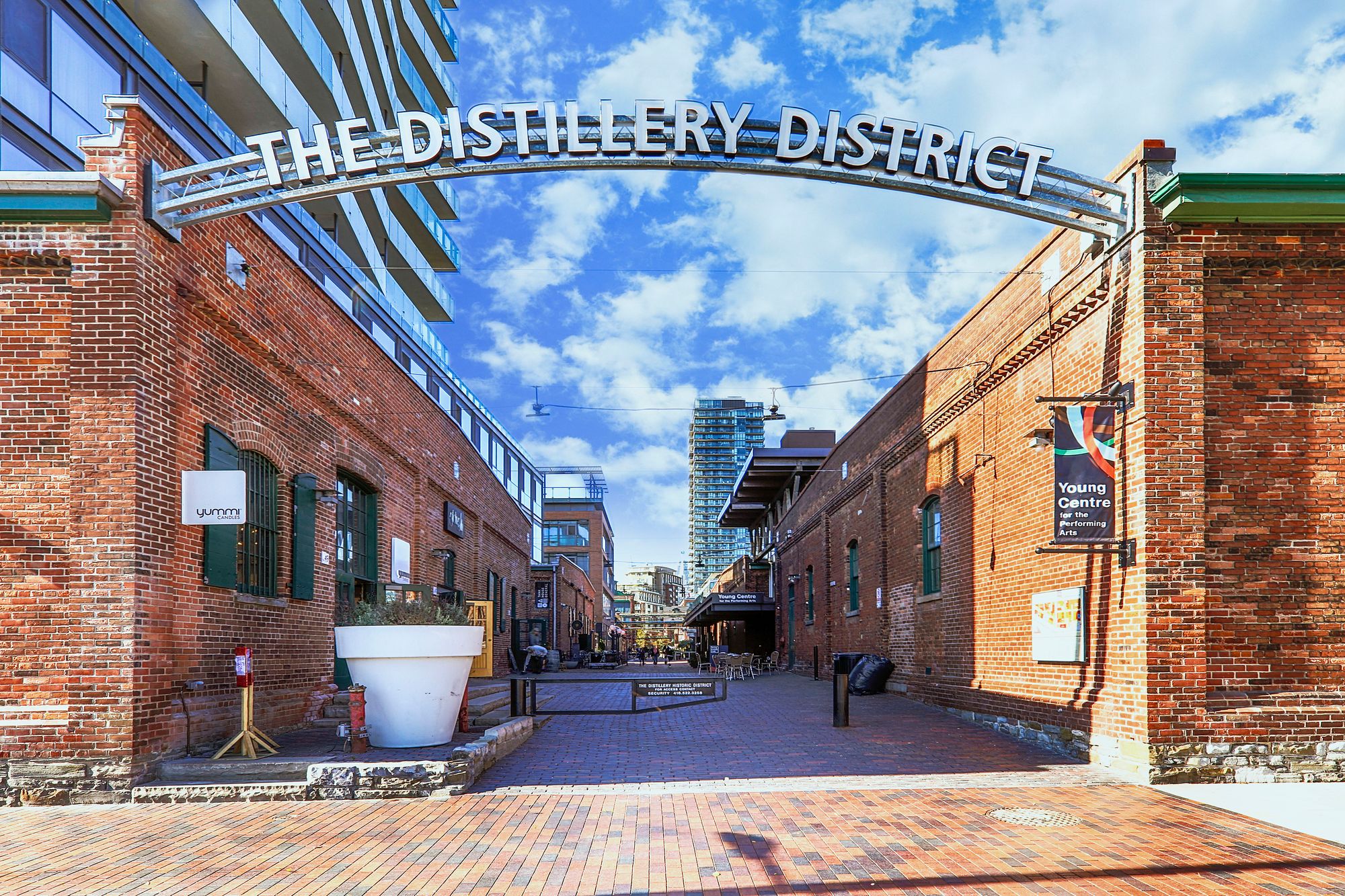 390 Cherry St
9
Listings for Sale
for Sale
3
Listings for Rent
for Rent
Developer
CityScape Development Corp.
Property Management
Crossbridge Condominium Services Ltd.
Unit Size Range
400 - 1608 SQFT
About this loft
Some people are hesitant about change: they eat what they've eaten since childhood, they visit the same restaurants all their lives, and they are certainly opposed to the modernization of their beloved cities. Those people will probably dislike the Gooderham Condos.
As for the rest of us — those who embrace the new with open (or even critical) arms — the condos at 390 Cherry Street are completely alluring. This 36-storey, 2014-built tower is a modern edifice set amongst some of Toronto's longest standing architecture.
Don't get us wrong, the brick podium ensures that the building doesn't overwhelm the cobblestone streets of the Distillery District. Look up, however, and it's clear that the elegant glass construction is a contemporary masterpiece.
CityScape Development Corp. specializes in restoring and converting historic buildings, and has even won awards for their work in the Distillery, which points to why they would put an added amount of care into the Gooderham Condos. The condos are even named after the area's originator, Gooderham and Worts.
The Distillery District may be known for its heritage, however it is also a posh destination filled with impressive bars, restaurants, galleries and boutiques. The amenities at 390 Cherry Street allow residents to continue the lavish experience in the comfort of their own building. The Gooderham Condos comes complete with a concierge, visitor parking and guests suites, a gym, spa, sauna, outdoor pool and hot tub, a yoga studio, rooftop terrace with barbecues, and cinema, as well as a party room and games room.
The Suites
A walk through the lobby at 390 Cherry Street will remind residents and their guests of the area's boozy heritage, thanks to the recycled barrels that now serve merely as decoration. Upstairs, however, the homes are totally 21st century.
Sleek concrete pillars and hardwood flooring set the tone, combined in a pleasing juxtaposition of raw and polished materials. Floor-to-ceiling windows allow natural sunlight to highlight these elements, while brightening the remainder of the open concept homes at the same time. Corner units are especially dramatic, with window-clad walls offering panoramic vistas and maximum radiance.
Between the 328 downtown Toronto condos in the building, the homes vary considerably in size. Cozier units start at around 500 square feet, with more extravagant units reaching to approximately 1,500 square feet.
Size aside, all of the homes at 390 Cherry Street are outfitted with sleek kitchens and bathrooms. Wraparound balconies should come as no surprise, as passersby will notice them from outside. What they might not realize, however, is that certain Distillery District condos for sale in The Gooderham building boast exquisite 1,000 square foot terraces.
The Neighbourhood
If the description of the building at 390 Cherry Street wasn't convincing enough, that's quite alright. Many prospective buyers are sold the second they hear 'Distillery District' anyways. This 13-acre historic site is home to the largest collection of preserved Victorian industrial architecture in North America, and a walk through the cobblestone streets really does feel like taking a walk back in time.
That is, until one pops into any one of the art galleries, boutiques or restaurants that now inhabit the area. Once the largest distillery in the world, the neighbourhood is now one of Toronto's most distinctive destinations. Plus, since movies are constantly shot here because of its unique appearance, celebrity sightings aren't all that hard to come by.
Now we also understand the need to explore the city from time to time, and thankfully the area surrounding the Gooderham Condos also has much to offer. St. Lawrence — with its infamous market — as well as beaches and parks in the Port Lands, and Queen Street East are all waiting to be explored by future residents of 390 Cherry Street.
Transportation
Even though it can sometimes feel like a world apart, the Distillery District is centrally located, making traveling around the city a piece of cake. Union station is about 2 kilometers away, and can be reached in around 20 minutes via the 121 Fort-York Esplanade bus or the 514 Cherry streetcar.
From Union Station, riding around the city is as simple as hopping on a subway train heading north along the Yonge-University-Spadina line. Streetcar routes on King Street will also come in handy for those traveling east and west.
Drivers living at the Gooderham Condos can hop over to the Don Valley Parkway or the Gardiner Expressway in mere minutes. Using either of these two highways makes reaching any corner of the city painless, while both can be used to exit Toronto altogether as well.
9
Listings For Sale
Interested in receiving new listings for sale?
3
Listings For Rent
Interested in receiving new listings for rent?
Property Highlights
Listing History for The Gooderham
Nearby Amenities
Stats, Trends & Rankings
The Gooderham vs The Distillery District Area
Building Trends At The Gooderham
Days on Strata
Units at The Gooderham spend an average of
21
Days on Strata
based on recent sales
List vs Selling Price
On average, these lofts sell for
below
the list price.

Offer Competition
Lofts in this building have an
AVERAGE
chance of receiving
Multiple Offers
Turnover of Units
On average, each unit is owned for
5.9
YEARS
before being sold again
Property Value
Decrease
in property value within the past twelve months
Price Ranking
Highest price per SQFT out of
8
condos in the Distillery District area
Sold Units
8
Units were
Sold
over the past twelve months
Rented Units
29
Units were
Rented
over the past twelve months
Sales vs Rental Values For This Loft
Average Cost Per Sqft
$1,074
Sales Price Range
$589,900 - $589,900
Rental Price Range
$2,300 - $2,700
1 Bed + Den
504 - 813 SQFT
Average Cost Per Sqft
$1,154
Sales Price Range
$600,000 - $775,000
Rental Price Range
$2,500 - $3,000
Average Cost Per Sqft
$1,250
Sales Price Range
$1,797,000 - $1,797,000
Rental Price Range
$3,298 - $4,250
2 Bed + Den
822 - 867 SQFT
Average Cost Per Sqft
$1,161
Sales Price Range
$900,000 - $1,075,000
Rental Price Range
$3,400 - $3,400
Average Cost Per Sqft
No Data
Rental Price Range
$4,700 - $4,700
How Often Are Units Listed?
Average Sales Availability
Average Rental Availability
Ratio of Unit Type in Building
27%
1 Bed + Den
504 - 813 SQFT
Average Sales Availability
Average Rental Availability
Ratio of Unit Type in Building
24%
Average Sales Availability
Average Rental Availability
Ratio of Unit Type in Building
35%
2 Bed + Den
819 - 1312 SQFT
Average Sales Availability
Average Rental Availability
Ratio of Unit Type in Building
14%
Average Sales Availability
Average Rental Availability
Ratio of Unit Type in Building
2%
Maintenance Fees
The Gooderham vs The
Distillery District Area
The Gooderham 's Avg
monthly maintenance fee
Neighbourhood Avg
monthly maintenance fee
Similar lofts