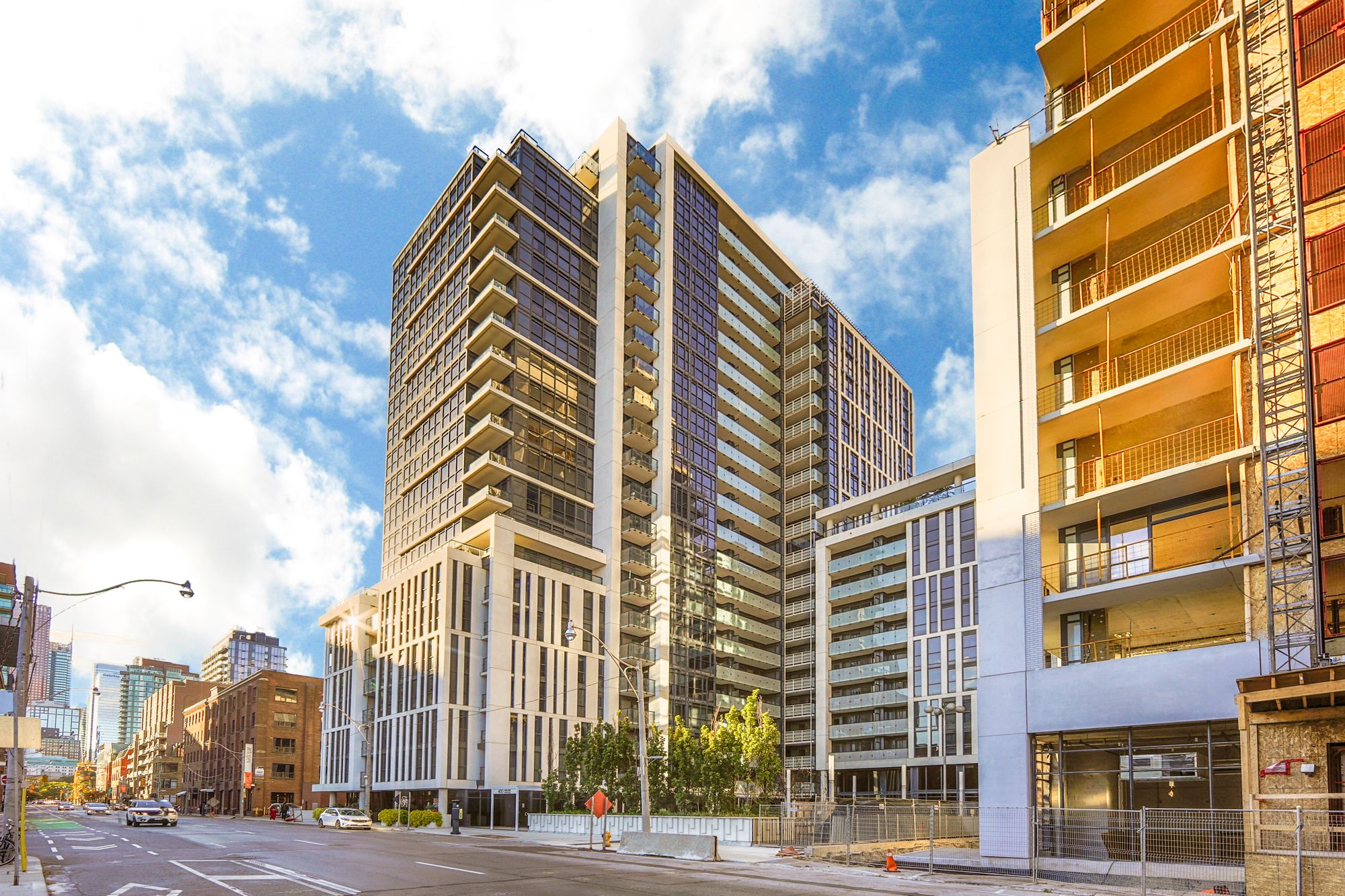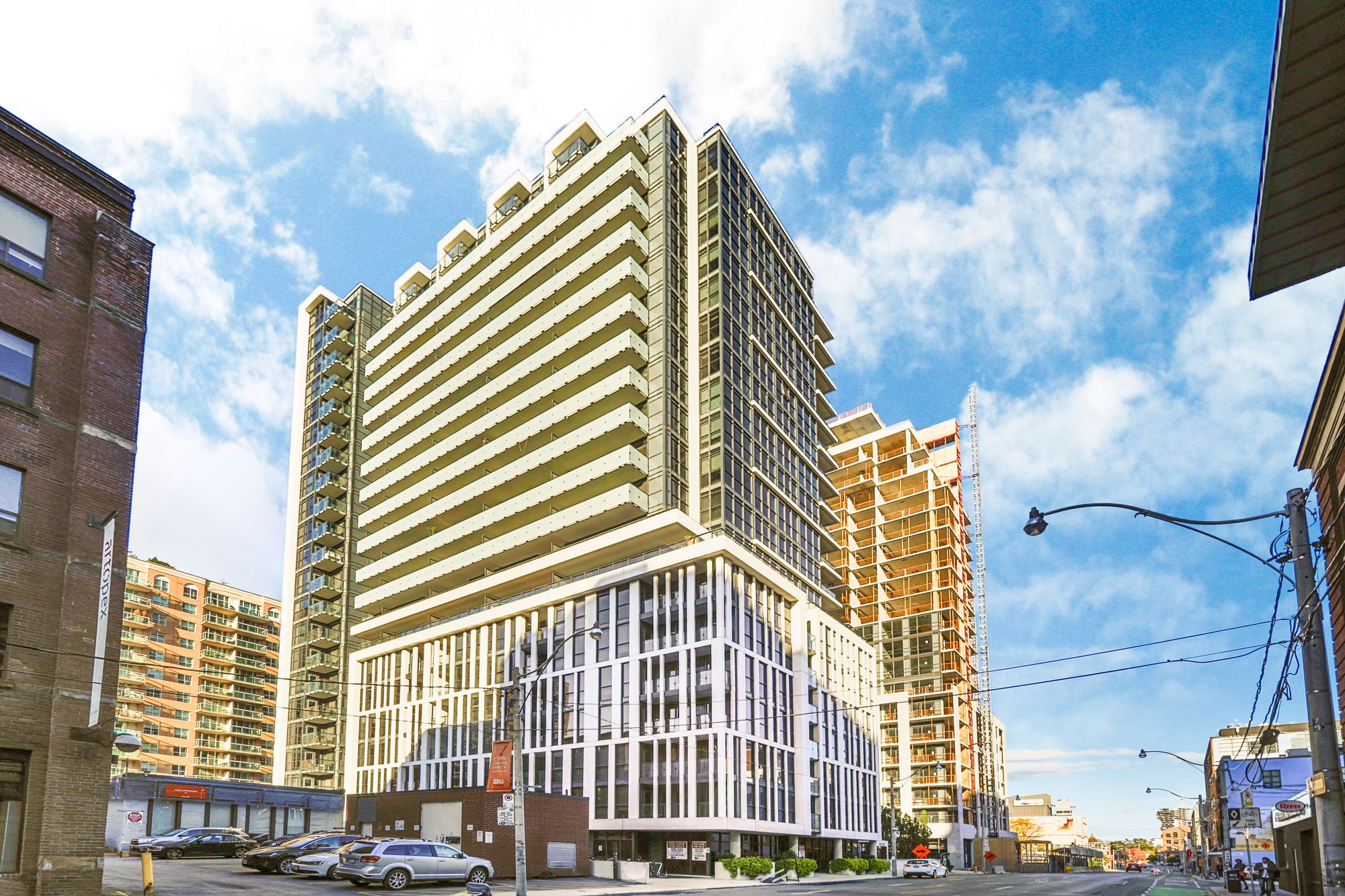 400 Adelaide St E
3
Listings for Sale
for Sale
4
Listings for Rent
for Rent
Ivory on Adelaide
400 Adelaide St E
Ivory on Adelaide
3
Listings for Sale
for Sale
4
Listings for Rent
for Rent
0
Unit Availability
Above Average
Property Management
First Service Residential
Unit Size Range
502 - 1099 SQFT
400 Adelaide St E, Toronto
About this condo
Condo Overview
Ivory on Adelaide is located at 400 Adelaide Street East in one of the most treasured neighbourhoods in the city: the St. Lawrence Market area is widely regarded as the best preserved region in the GTA because the area is full of red brick Victorian factories and warehouses that have been revitalized into trendy Toronto lofts.
Ivory condos beautifully contrast with these industrial buildings by offering a modern mid-rise in the region. It stands at 22 storeys, and it has 357 units that range from one-bedroom to three-bedroom units — plenty of options for those seeking Toronto condos for sale in this building.
This building was designed by internationally renowned architects Hariri Pontarini, and it was built by Plaza — one of the most well respected developers in the Toronto real estate industry. This respect culminated in being named the 2018 High-Rise Builder of the Year by Tarion.
The Suites
This building is all about design, which is immediately apparent from its modern facade that seamlessly blends together concrete, steel and glass. This trend continues with the interior of the units, as these condos sport open concept floor plans, as well as world class fixtures and finishes.
Every unit in this development has been equipped with a balcony or terrace, so you can rest easy knowing you have your own outdoor space. The floors are all engineered, and the kitchens are outfitted with granite countertops, undermount sinks and Whirlpool appliances. The spa inspired bathrooms have deep soaker tubs and marble vanity countertops.
This building also has amazing amenities that are available to all residents. There is a comprehensive exercise room, as well as a swimming pool. There's also concierge service, so you'll always have that extra help when you need it.
The Neighbourhood
400 Adelaide East is located in the St. Lawrence neighbourhood, which is renowned for successfully holding onto the charm of Old Toronto. It's also managed to add contemporary touches that provide the modern day conveniences on which we've come to rely.
The neighbourhood is named after the St. Lawrence Market. This market is the go-to destination for foodies from all over the GTA. Its vendors have a seemingly endless supply of artisan preserves, cheeses, and cured meats. It's also the home of Toronto's famous Bacon Sandwiches. Make sure you visit on the weekend, because that's when farmers from all over Southern Ontario come to sell their freshly picked produce.
The prevalence of lofts in the area has given the neighbourhood the reputation for being a major arts centre in the city. This is further bolstered by the George Brown campus, making Ivory on Adelaide a great option for students, faculty, or art professionals. The newly established Studio District just east of here could also make it a tremendous home for one of the many film professionals in the city.
The Distillery District is another nearby neighbourhood that adds more appeal to the Ivory condos. The Distillery District was once the old Gooderham and Worts whiskey distillery, but today it has been refurbished into an arts and entertainment district complete with a variety of restaurants and boutique shops. It has successfully kept its Victorian facades, however, complete with the cobblestone streets.
Transportation
400 Adelaide East is an incredibly central address because it's in between Queen and King Streets. In addition to these being integral commercial thoroughfares, they are both equipped with streetcar lines that make travelling from east to west in downtown much easier.
If you're looking to use public transit for longer trips, King Station is only a short walk away. This is part of Line 1 Yonge-University, so thanks to the recent extension, riders can make it up to North York or even Vaughan. They can also transfer at Bloor-Yonge Station to easily travel to Etobicoke or Scarborough.
Drivers will also find that this is a great starting point in the city, because it's incredibly close to both the Gardiner Expressway and the Don Valley Parkway. These arterial highways put all of Southern Ontario within reach, so everything is at your fingertips.
3
Listings For Sale
4
Listings For Rent
Interested in receiving new listings for rent?
Amenities
Maintenance Fees Cover
Maintenance fees include
Water
Owner / renter pays separately
Hydro
Heat
Air Conditioning
Past Sold & Rented Listings
Stats, Trends & Rankings
Price Per Square Foot
Ivory on Adelaide vs The
St. Lawrence Area
More Expensive
per SQFT compared to the neighbourhood average
Ivory on Adelaide's Avg
price per SQFT
$1,214
/ SQFT
Neighbourhood Avg
price per SQFT
$1,062
/ SQFT
Building Trends At Ivory on Adelaide
Days on Market
Units at Ivory on Adelaide spend an average of
8
Days on Market
based on recent sales
List vs Selling Price
On average, these condos sell for
above
the list price.

Offer Competition
Condos in this building have a
HIGH
chance of receiving
Multiple Offers
Turnover of Units
On average, each unit is owned for
5.8
YEARS
before being sold again
Property Value
Increase
in property value within the past twelve months
Price Ranking
Highest price per SQFT out of
64
condos in the St. Lawrence area
Sold Units
24
Units were
Sold
over the past twelve months
Rented Units
46
Units were
Rented
over the past twelve months
Best Value
Ivory on Adelaide offers the
best value
out of 64 condos in the St. Lawrence neighbourhood
Return on Investment
Ivory on Adelaide has the
highest ROI
out of 64 condos in the St. Lawrence neighbourhood
Rental Yield
Ivory on Adelaide yields the
highest rent prices
out of 64 condos in the St. Lawrence neighbourhood
High Demand
Ivory on Adelaide is the
most popular
building out of 64 condos in the St. Lawrence neighbourhood
Sales vs Rental Values For This Condo
Average Cost Per Sqft
$1,045
Sales Price Range
$632,150 - $781,000
Rental Price Range
$1,750 - $2,450
1 Bed + Den
611 - 940 SQFT
Average Cost Per Sqft
$1,048
Sales Price Range
$675,000 - $1,070,000
Rental Price Range
$1,900 - $2,600
Average Cost Per Sqft
$917
Sales Price Range
$680,000 - $983,000
Rental Price Range
$2,600 - $3,000
How Often Are Units Listed?
Average Sales Availability
Average Rental Availability
Ratio of Unit Type in Building
33%
1 Bed + Den
605 - 940 SQFT
Average Sales Availability
Average Rental Availability
Ratio of Unit Type in Building
48%
Average Sales Availability
Average Rental Availability
Ratio of Unit Type in Building
21%
Average Sales Availability
Average Rental Availability
Ratio of Unit Type in Building
1%
Average Sales Availability
Average Rental Availability
Ratio of Unit Type in Building
1%
Maintenance Fees

Ivory on Adelaide vs The

St. Lawrence Area
Less Expensive
per SQFT compared to the neighbourhood average
Ivory on Adelaide's Avg
monthly maintenance
fee per SQFT
$0.61
/ SQFT
Neighbourhood Avg
monthly maintenance
fee price per SQFT
$0.82
/ SQFT
Similar condos