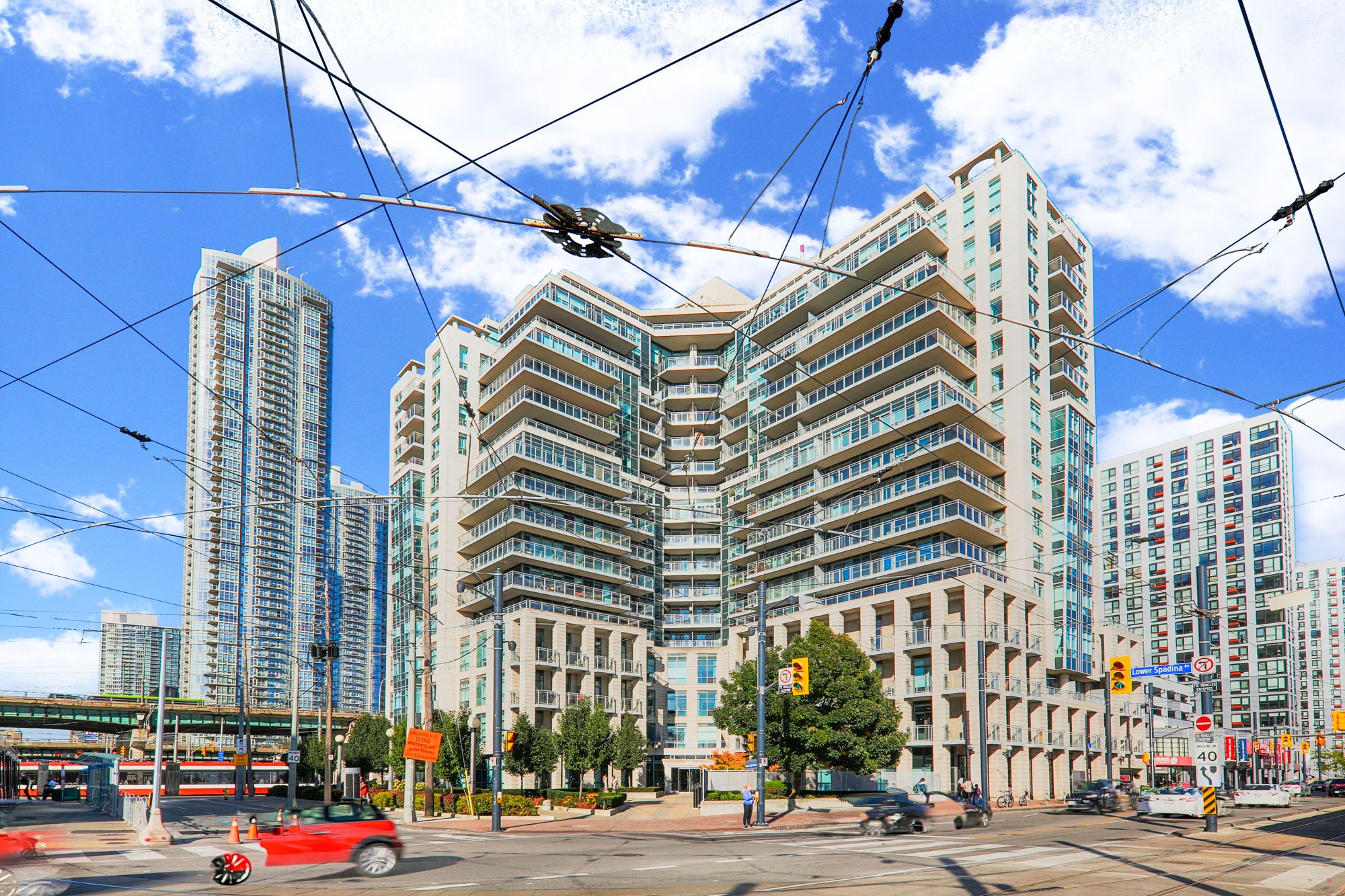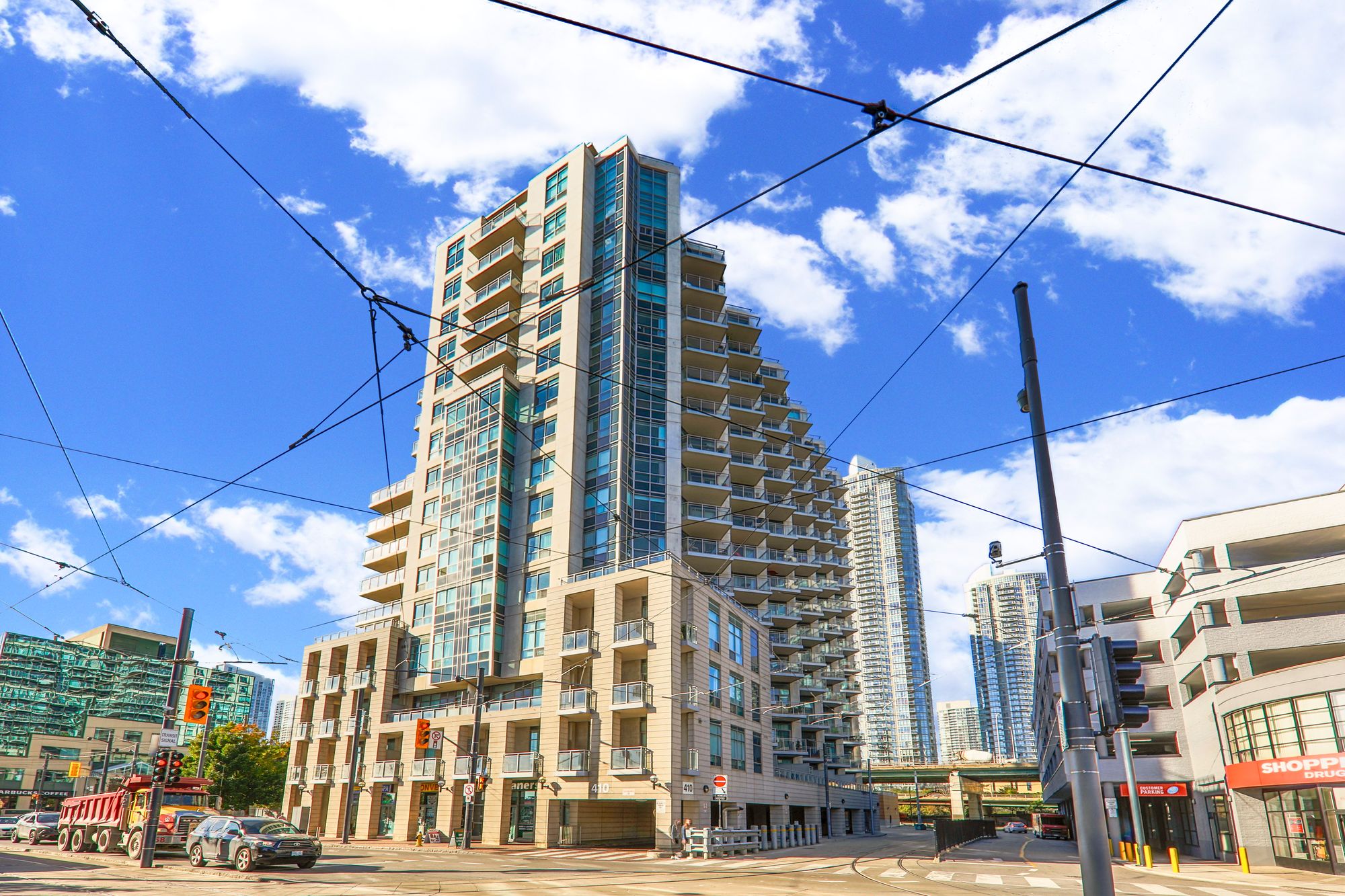 410 Queens Quay W
4
Listings for Sale
for Sale
2
Listings for Rent
for Rent
Aqua
410 Queens Quay W
Aqua
4
Listings for Sale
for Sale
2
Listings for Rent
for Rent
0
Property Management
Crossbridge Condominium Services Ltd.
Unit Size Range
350 - 1711 SQFT
410 Queens Quay W, Toronto
About this condo
Condo Overview
Looking for a home that places you in the heart of the action, near serene walking trails, and with quick access to highways? Aqua has all of that and more — plus, you won't have to sell your soul to purchase a condo in this building.
Located at 410 Queens Quay West, Aqua is a 16-storey condominium offering urban living in Toronto's picturesque Waterfront neighbourhood. This property boasts an impressive list of amenities to help residents unwind after a busy week: gym, sauna, whirlpool, party room, meeting room, rooftop terrace with BBQ space, parking garage and 24hr concierge.
Aqua is an ideal location for people who want to live and work in downtown Toronto but need a little more nature in their lives — Waterfront condos for sale give you have all the convenience of urban living and a bounty of green spaces just outside your front door.
The Suites
Aqua house 273 units, with sizes that range from cozy 1 bedroom units to large 2 bedroom + den suites. Units follow a variety of floor plans, but all condos are spacious and open concept. Features include en-suite laundry, hardwood floors, floor to ceiling windows, and private balconies.
Residents also have access to a shared rooftop patio with sweeping lakefront views. As an added bonus to those who like to entertain friends and family — there's visitor parking available in the underground parking garage.
The Neighbourhood
Waterfront property is highly coveted, and it's easy to see why with a quick tour of this neighbourhood. From your front door at Aqua you are immediately faced with the peaceful sights of Lake Ontario. Nature lovers have their pick of walking trails, scenic parks, and harbourfront festivities. There's a sandy beach at HTO park for catching some rays on a Saturday afternoon, the Martin Goodman Trail for jogging or long walks, plus a range of recreational activities.
The Toronto Waterfront is home to some great dining options like the Amsterdam BrewHouse, Pearl harbourfront Chinese Cuisine, and Against the Grain. If you go a little further north, you have the Entertainment District and well known Restaurants like Wahlburgers, Wayne Gretzky's Toronto, Boston Pizza, Sunset Grill, and Jack Astor's Bar and Grill.
Entertainment is easy at 410 Queens Quay West — you can faithfully follow the Blue Jays and walk to every game or use convenient TTC options to watch the Leafs or Raptors. Music fans can see local acts in bars like N'Awlins, Adelaide Hall, Antler Room — or see your favourite band live at the Scotiabank Arena.
If you can't function with a morning coffee, then have no fear — you have choices here. There's a Starbucks 2 minutes away on Lower Spadina, and Music Garden Café is located right beside it. Or if you really need the Canadian coffee experience, Tim Hortons is just a few blocks away — that sentence can probably be said for every street in Canada.
For groceries, there's Rabba Fine Foods and The Kitchen Table on Queens Quay West, a Sobeys on Spadina, Longo's Maple Leaf Square on York, plus several drug stores nearby.
Transportation
With a condo in the scenic Waterfront neighbourhood, you'll want to walk as much as possible. 410 Queens Quay West has a Walk Score of 89, so residents can accomplish the majority of their errands without a vehicle or public transit.
Bikers have lakefront lanes to take in the sights and sounds on Queens Quay West and can go north by taking Lower Simcoe Street.
TTC riders have streetcar service right outside their lobby doors, from there it's easy to connect to subways and buses through the city. For longer journeys, there's GO Transit from Union Station, and you're minutes from Billy Bishop Airport.
Drivers can quickly reach the Gardiner Expressway via Spadina Avenue, connecting to the Don Valley Parkway or QEW.
4
Listings For Sale
Interested in receiving new listings for sale?
2
Listings For Rent
Interested in receiving new listings for rent?
Amenities
Maintenance Fees Cover
Maintenance fees include
Water
Owner / renter pays separately
Hydro
Heat
Air Conditioning
Past Sold & Rented Listings
Stats, Trends & Rankings
Price Per Square Foot
Aqua vs The
Waterfront Area
Less Expensive
per SQFT compared to the neighbourhood average
Aqua's Avg
price per SQFT
$1,048
/ SQFT
Neighbourhood Avg
price per SQFT
$1,139
/ SQFT
Building Trends At Aqua
Days on Market
Units at Aqua spend an average of
13
Days on Market
based on recent sales
List vs Selling Price
On average, these condos sell for
above
the list price.

Offer Competition
Condos in this building have an
AVERAGE
chance of receiving
Multiple Offers
Turnover of Units
On average, each unit is owned for
6
YEARS
before being sold again
Property Value
Increase
in property value within the past twelve months
Price Ranking
Highest price per SQFT out of
39
condos in The Waterfront area
Sold Units
19
Units were
Sold
over the past twelve months
Rented Units
23
Units were
Rented
over the past twelve months
Best Value
Aqua offers the
best value
out of 39 condos in neighbourhood
Return on Investment
Aqua has the
highest ROI
out of 39 condos in neighbourhood
Rental Yield
Aqua yields the
highest rent prices
out of 39 condos in neighbourhood
High Demand
Aqua is the
most popular
building out of 39 condos in neighbourhood
Sales vs Rental Values For This Condo
Rental Price Range
$2,000 - $2,000
Average Cost Per Sqft
$1,019
Sales Price Range
$580,000 - $731,000
Rental Price Range
$1,850 - $2,500
1 Bed + Den
664 - 770 SQFT
Average Cost Per Sqft
$946
Sales Price Range
$688,000 - $715,000
Rental Price Range
$2,000 - $2,350
Average Cost Per Sqft
$917
Sales Price Range
$605,000 - $1,200,000
Rental Price Range
$2,750 - $3,300
2 Bed + Den
754 - 1173 SQFT
Average Cost Per Sqft
$970
Sales Price Range
$1,275,000 - $1,275,000
Rental Price Range
$2,550 - $3,750
Average Cost Per Sqft
$1,044
Sales Price Range
$1,310,000 - $1,310,000
Rental Price Range
$4,000 - $4,000
How Often Are Units Listed?
Average Sales Availability
Average Rental Availability
Ratio of Unit Type in Building
2%
Average Sales Availability
Average Rental Availability
Ratio of Unit Type in Building
63%
1 Bed + Den
508 - 949 SQFT
Average Sales Availability
Average Rental Availability
Ratio of Unit Type in Building
14%
Average Sales Availability
Average Rental Availability
Ratio of Unit Type in Building
15%
2 Bed + Den
754 - 1300 SQFT
Average Sales Availability
Average Rental Availability
Ratio of Unit Type in Building
7%
Average Sales Availability
Average Rental Availability
Ratio of Unit Type in Building
2%
Maintenance Fees

Aqua vs The

Waterfront Area
More Expensive
per SQFT compared to the neighbourhood average
Aqua's Avg
monthly maintenance
fee per SQFT
$1.04
/ SQFT
Neighbourhood Avg
monthly maintenance
fee price per SQFT
$0.76
/ SQFT
Similar condos