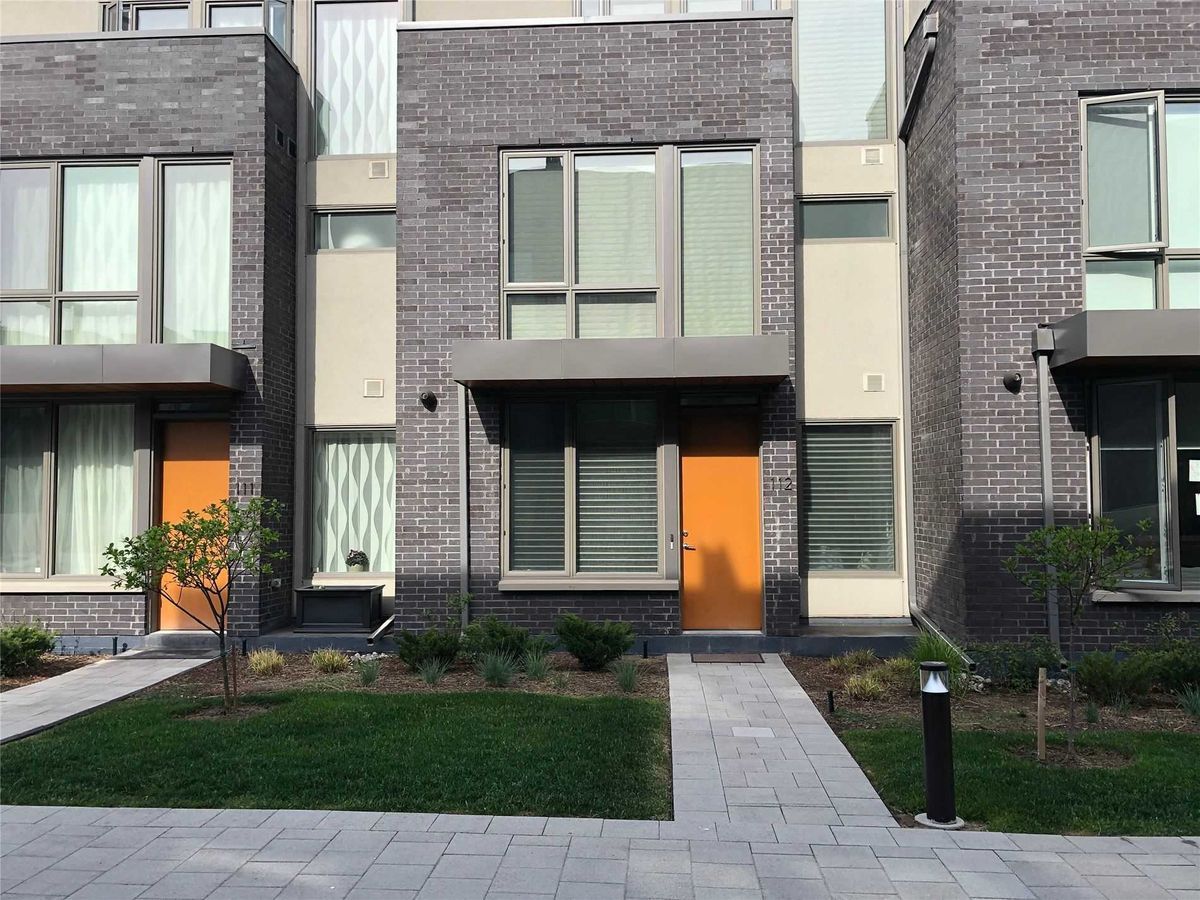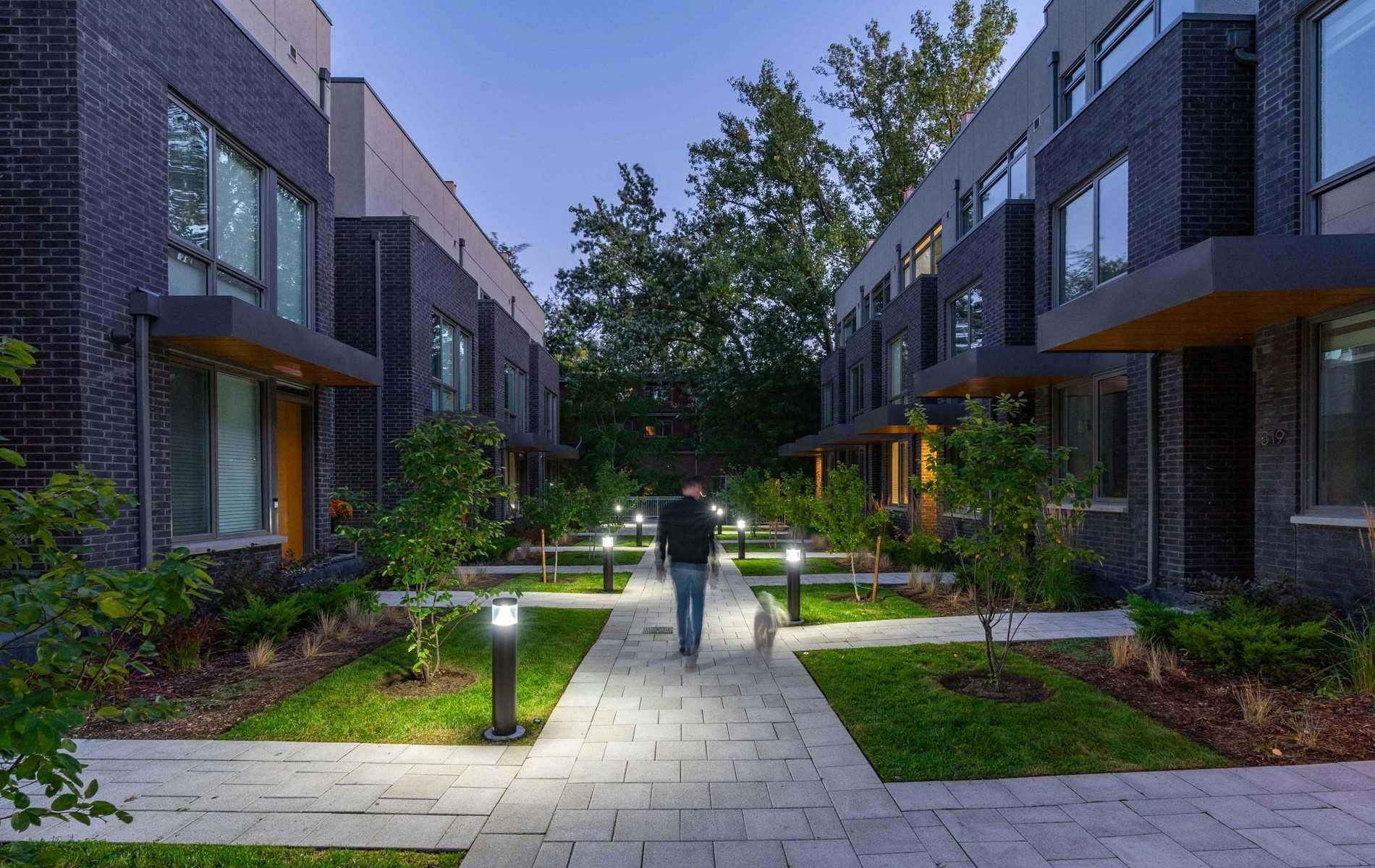 42-60 Curzon St
1
Listing for Sale
for Sale
2
Listings for Rent
for Rent
Townhouses on Curzon
42-60 Curzon St
Townhouses on Curzon
1
Listing for Sale
for Sale
2
Listings for Rent
for Rent
0
Developer
Craft Development Corporation
Property Management
First Service Residential
Unit Size Range
1617 - 2453 SQFT
42-60 Curzon St, Toronto
About this condo
Condo Overview
When home seekers think about Toronto townhouses, images of red brick and suburban lawn often come to mind. The Towns on Curzon, however, are not your traditional townhouse. The sleek grey brick and bright wooden doors at 50 Curzon Street scream metropolitan, allowing the intimately-sized complex to fit right in Leslieville & South Riverdale.
Built in 2018 by Craft Development Corporation, the townhouse complex at 50 Curzon contains 55 side-by-side units that span 3 storeys each. Residents have access to a shared rooftop terrace with barbecues, and the condo's visitor parking makes it easier than ever to throw a rooftop soirée.
The Suites
Townhouses tend to offer slightly more space than the average condo unit, and the homes at 50 Curzon are no exception. Toronto condos for sale here start at around 1,600 and reach to approximately 2,450 square feet, and contain up to 3 bedrooms plus a den. With multiple levels and ample square footage, the Towns on Curzon are ideal for prospective residents hoping to raise a family in the city.
While the architecture at 50 Curzon is about as contemporary as it gets, and ultra-modern kitchens and bathrooms are found throughout the homes, living spaces are warm and welcoming thanks to details like hardwood flooring and electric fireplaces. Prospective residents can expect to find stainless steel appliances in kitchens and deep soaker tubs in bathrooms, as well as sizeable backyards — perhaps the most exciting feature of all.
The Neighbourhood
Set on a charming residential street between Dundas and Queen Street East, 50 Curzon is well-situated for residents who want the best of both worlds. Leslieville and South Riverdale are about as bustling as they are charming, thanks to the independent shops, boutique hotels, and quirky businesses that line the streets in these two neighbourhoods.
Between pulled pork and brisket from the Leslieville Pumps and rooftop drinks at the Broadview Hotel, there's a place to suit every occasion in Leslieville and South Riverdale. When residents need to take a break from eating out, those who plan to cook can stock up on groceries at Raise the Root Organic Market on Queen East, Loblaws at Leslie and Eastern, or FreshCo just across the street from there.
Transportation
Travelling to and from 50 Curzon is easy whether residents prefer to drive, cycle, or ride the TTC, thanks to its proximity to both Dundas and Queen East. Drivers heading west can use Lake Shore Boulevard to reach the Gardiner Expressway, which hugs the southern edge of the city and guides cars into Etobicoke. Those planning to leave the city can also reach the 401 by heading east along Kingston Road until they reach the 401.
As for those who rely on public transit to get around, residents can walk just half a block in order to reach Queen Street, and from there they can hop onto a streetcar heading west into the city centre. Another great option is the 83 Jones bus, which carries passengers north toward Donlands Station, on the Bloor-Danforth line.
1
Listings For Sale
Interested in receiving new listings for sale?
2
Listings For Rent
Interested in receiving new listings for rent?
Amenities
Maintenance Fees Cover
Maintenance fees include
None
Owner / renter pays separately
Hydro
Heat
Air Conditioning
Water
Past Sold & Rented Listings
Stats, Trends & Rankings
Price Per Square Foot
Townhouses on Curzon vs The
Leslieville | South Riverdale Area
Less Expensive
per SQFT compared to the neighbourhood average
Townhouses on Curzon's Avg
price per SQFT
$743
/ SQFT
Neighbourhood Avg
price per SQFT
$1,063
/ SQFT
Building Trends At Townhouses on Curzon
Days on Market
Units at Townhouses on Curzon spend an average of
3
Days on Market
based on recent sales
List vs Selling Price
On average, these condos sell for
above
the list price.

Offer Competition
Condos in this building have an
AVERAGE
chance of receiving
Multiple Offers
Turnover of Units
On average, each unit is owned for
4.5
YEARS
before being sold again
Property Value
Increase
in property value within the past twelve months
Price Ranking
Highest price per SQFT out of
36
condos in the Leslieville | South Riverdale area
Sold Units
5
Units were
Sold
over the past twelve months
Rented Units
1
Units were
Rented
over the past twelve months
Best Value
Townhouses on Curzon offers the
best value
out of 36 condos in the Leslieville | South Riverdale neighbourhood
Return on Investment
Townhouses on Curzon has the
highest ROI
out of 36 condos in the Leslieville | South Riverdale neighbourhood
Rental Yield
Townhouses on Curzon yields the
highest rent prices
out of 36 condos in the Leslieville | South Riverdale neighbourhood
High Demand
Townhouses on Curzon is the
most popular
building out of 36 condos in the Leslieville | South Riverdale neighbourhood
Sales vs Rental Values For This Condo
Average Cost Per Sqft
$692
Sales Price Range
$1,286,000 - $1,450,000
Rental Price Range
$4,500 - $4,500
3 Bed + Den
2315 - 2315 SQFT
Average Cost Per Sqft
$641
Sales Price Range
$1,450,000 - $1,450,000
How Often Are Units Listed?
Average Sales Availability
Average Rental Availability
Ratio of Unit Type in Building
73%
3 Bed + Den
1800 - 2453 SQFT
Average Sales Availability
Average Rental Availability
Ratio of Unit Type in Building
20%
Maintenance Fees

Townhouses on Curzon vs The

Leslieville | South Riverdale Area
Less Expensive
per SQFT compared to the neighbourhood average
Townhouses on Curzon's Avg
monthly maintenance
fee per SQFT
$0.30
/ SQFT
Neighbourhood Avg
monthly maintenance
fee price per SQFT
$0.63
/ SQFT
Similar condos