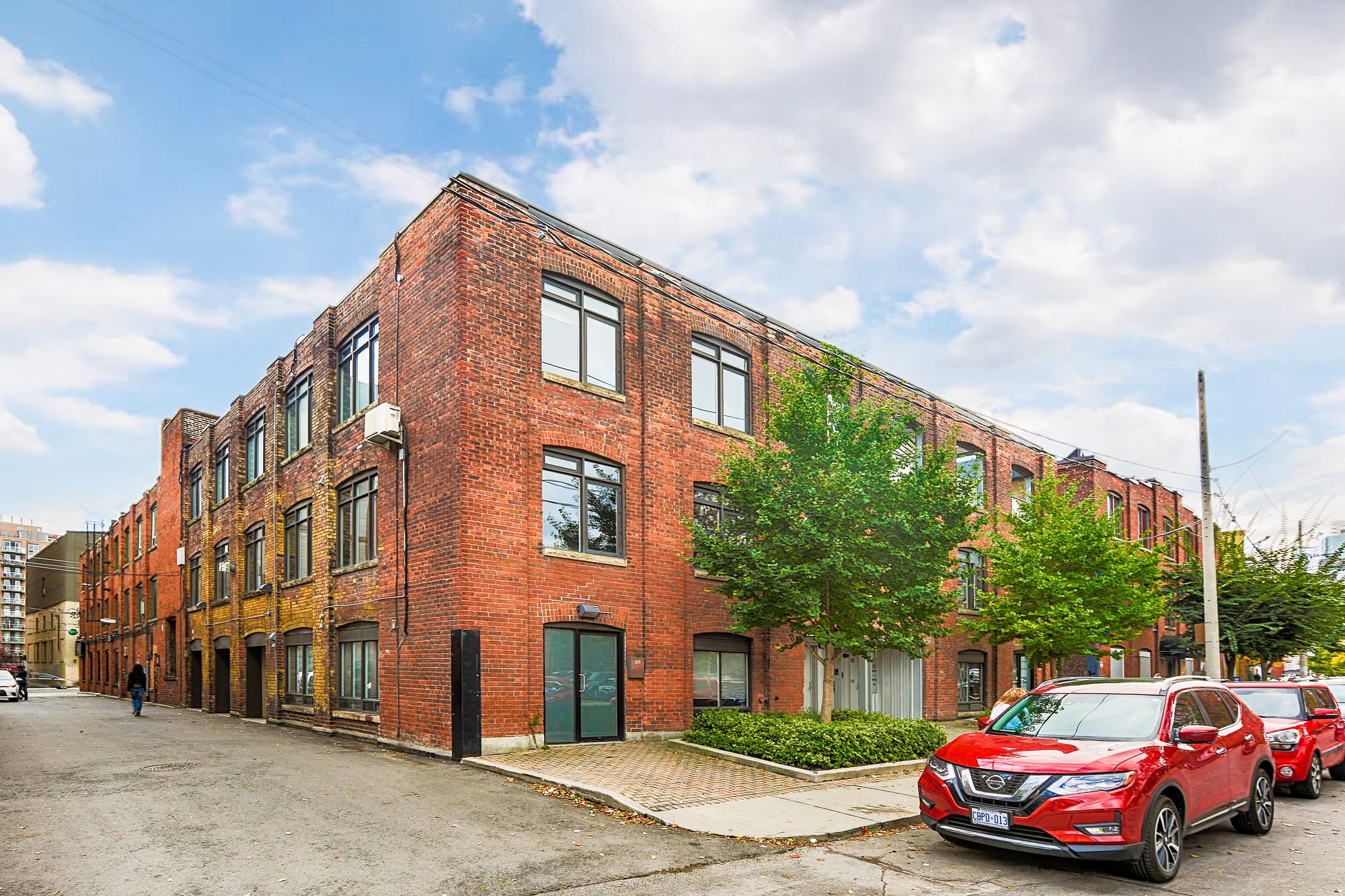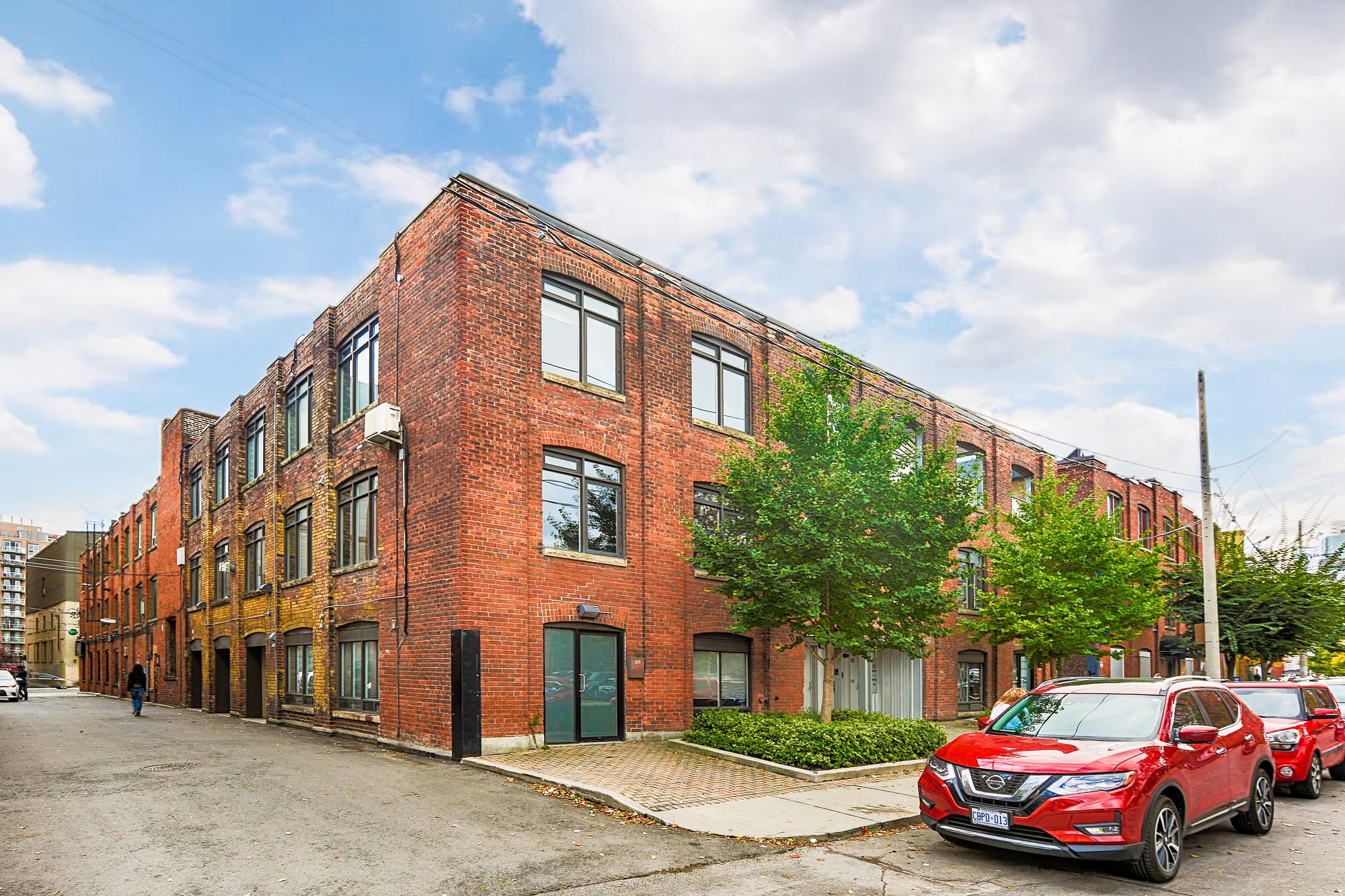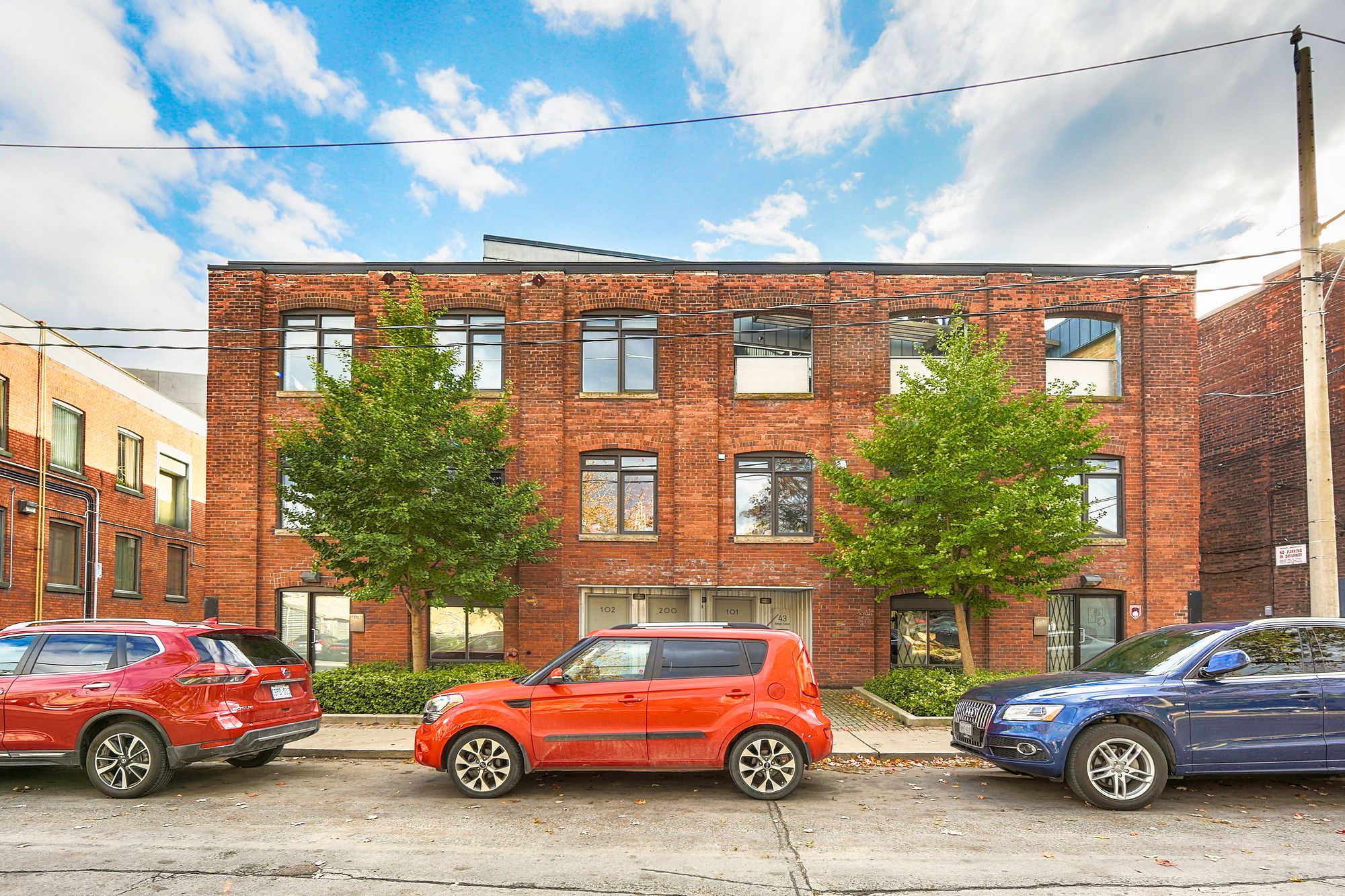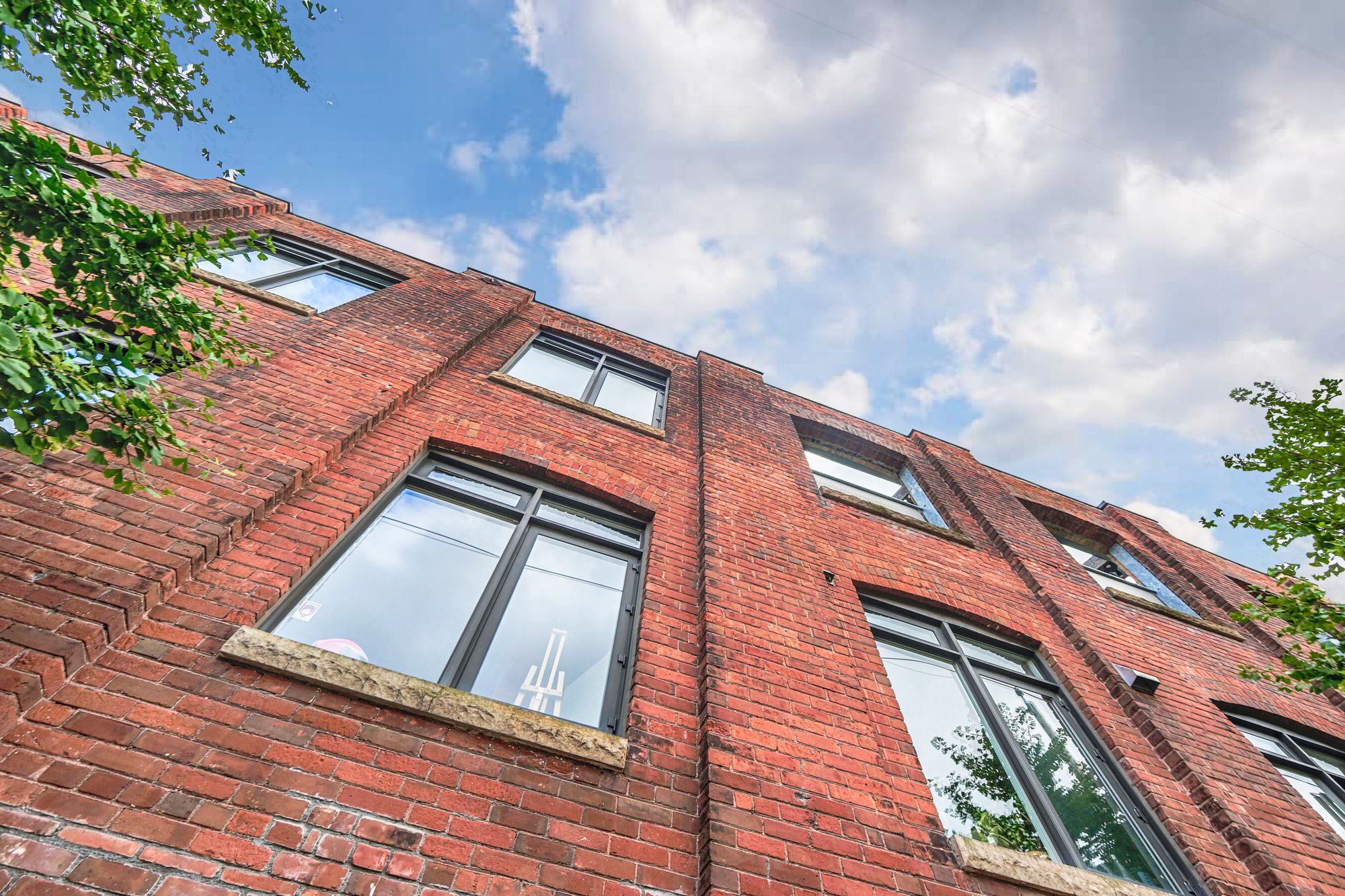 43 Britain St
0
Listings for Sale
for Sale
0
Listings for Rent
for Rent
Developer
Stonecutter Homes
Property Management
Self Managed
Unit Size Range
1150 - 4000 SQFT
About this loft
"Who controls the British crown? Who keeps the metric system down? We do, We do!". If you didn't get that reference to the infamous Stonecutters' song from the Simpsons, allow us a moment to mourn your loss.
The Stonecutter Lofts are amongst the most exclusive and desirable lofts in the city. These uniquely edgy Toronto lofts will appeal to the creative types that have been gravitating toward Toronto in recent years: the artists and tastemakers of our city.
In managing to maintain a low profile, this building seems deceivingly quaint. Nestled on a tiny street away from busy traffic, the authentic low-rise hard lofts are a low-pro masterpiece.
The Stonecutter Lofts were converted from a century old warehouse, with its location on Stonecutters Lane acting as its namesake. The name for the lane traces even further back, eponymous of the old Stonecutter's Arms Pub on Richmond Street East.
Toronto condos for sale at 43 Britain Street rarely come to market, as there are only 5 units in the entire building. The last unit listed — a swoon worthy penthouse — sold for a cool 2.85 million Canadian dollars.
The Suites
Five units are spread out over only three storeys at the Stonecutter Lofts — we'll let you do the math. Aside from some units spanning multiple levels, they also come in a range of spacious sizes, from an ample 860 square feet to more stately 4,300 square foot units. Combined with the fact that the building is zoned for both commercial and residential use, the units are perfect options for those requiring live/work spaces.
The interior design owes much to the building's past, with exposed original (and since sandblasted) brick, wood posts and beams, and genuine hardwood floors.
To come back to that previously mentioned penthouse, it was personally designed for the original owner of the building, and was the recipient of the 2011 Ontario Association of Architects (OAA) Design Excellence Award.
As quoted by the team behind the conversion, Baird Sampson Neuert Architects, "[the building's] unique contribution is in showing how the tops of the existing stock of warehouse buildings in cities like Toronto can be re-inhabited with levels of outdoor amenity, privacy and security that is comparable to traditional on the ground single family housing."
However, given the scarcity provided by the small number of units, it's unsurprising that few lucky folks have witnessed the beauty hiding within 43 Britain Street.
The Neighbourhood
The Stonecutter lofts are ideally located in Moss Park, nestled far enough from busy Queen Street that home remains a quiet and calm environment, yet steps from Toronto's bustling City Centre.
For those who enjoy the finer things in life, there's a myriad of upscale restaurants and exquisite high-end boutiques nearby.
A stroll through Toronto's historic St. Lawrence will transport pedestrians to the cobbled streets of Madrid or Lisbon, or offer cycling commuters a safe route to work.
For winter nights where going out on the town seems impossible, residents will indulge in their stockpile of tasty treats gathered from St. Lawrence Market. The market is a popular spot for Toronto's growing number of foodies, and for good reason.
As for those film buffs, Rainbow Cinema on Market Square will become a second home, as the theatre features blockbuster films at budget prices. In the summer, movies are also played weekly in the picturesque, flower-filled St. James Park on Adelaide Street East.
Transportation
Transportation to and from 43 Britain Street is a breeze by car, public transit, bicycle, or even on foot. Streetcars along Queen Street run 24 hours a day, and connect users of public transportation with the Queen subway station, from where they can transfer to trains that jet around the city.
Drivers will love the proximity to the Gardiner Expressway, as well as the easy driving routes along surrounding Richmond, Adelaide, Jarvis, and Sherbourne.
0
Listings For Sale
Interested in receiving new listings for sale?
0
Listings For Rent
Interested in receiving new listings for rent?
Property Highlights
Listing History for Stonecutter Lofts
Nearby Amenities
Stats, Trends & Rankings
Stonecutter Lofts vs The Moss Park Area
Building Trends At Stonecutter Lofts
Days on Strata
Units at Stonecutter Lofts spend an average of
37
Days on Strata
based on recent sales
List vs Selling Price
On average, these lofts sell for
of the list price.
Or in other words, the
entire list price
Offer Competition
Lofts in this building have an
AVERAGE
chance of receiving
Multiple Offers
Turnover of Units
On average, each unit is owned for
8.5
YEARS
before being sold again
Property Value
Decrease
in property value within the past twelve months
Price Ranking
Highest price per SQFT out of
10
condos in the Moss Park area
Sold Units
1
Units were
Sold
over the past twelve months
Rented Units
0
Units were
Rented
over the past twelve months
Sales vs Rental Values For This Loft
Average Cost Per Sqft
$371
Sales Price Range
$920,000 - $920,000
Rental Price Range
No Data
How Often Are Units Listed?
Average Sales Availability
Average Rental Availability
Ratio of Unit Type in Building
13%
Average Sales Availability
Average Rental Availability
Ratio of Unit Type in Building
63%
Average Sales Availability
Average Rental Availability
Ratio of Unit Type in Building
25%
Maintenance Fees
Stonecutter Lofts vs The
Moss Park Area
Stonecutter Lofts's Avg
monthly maintenance fee
Neighbourhood Avg
monthly maintenance fee
Similar lofts