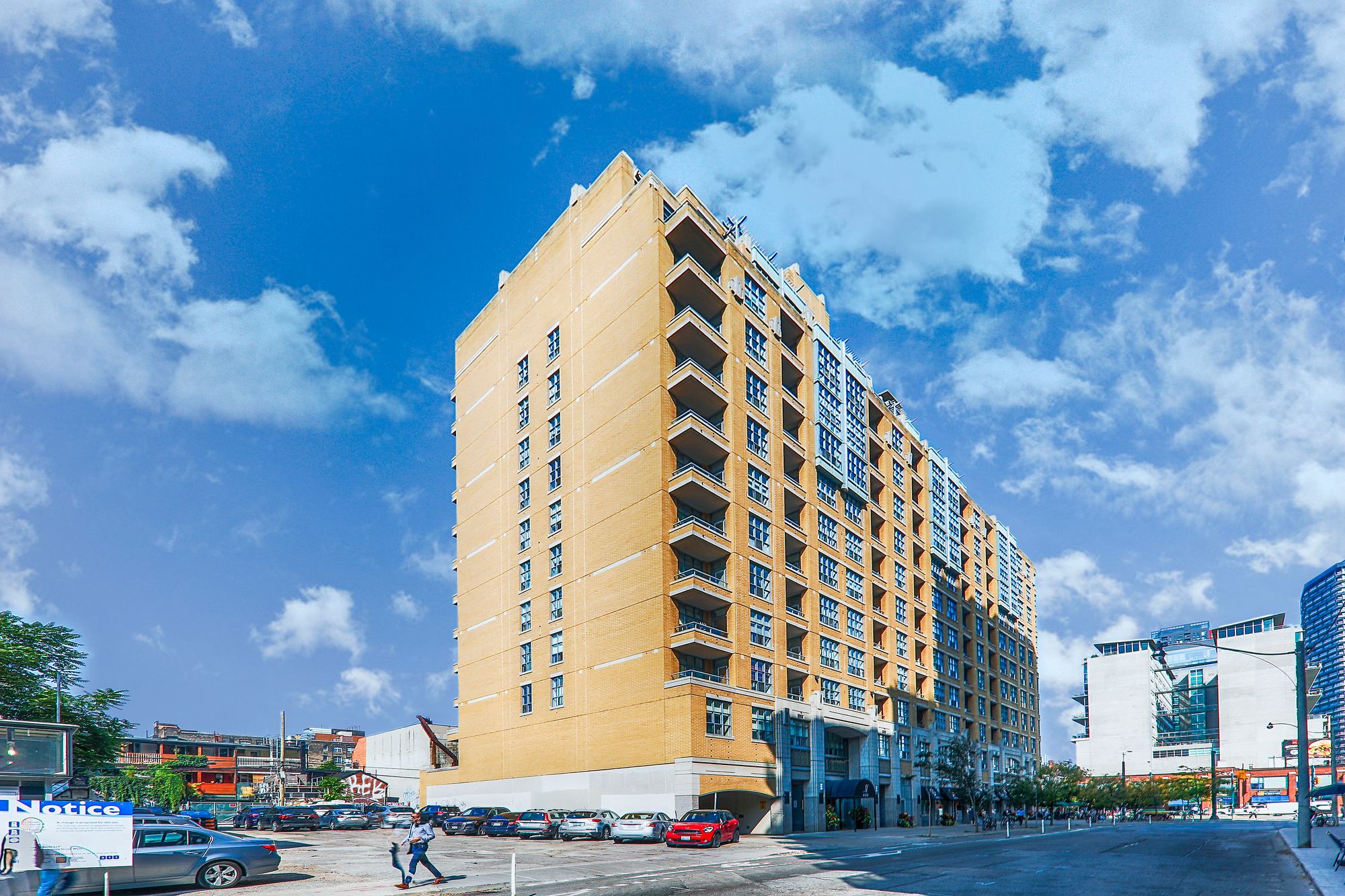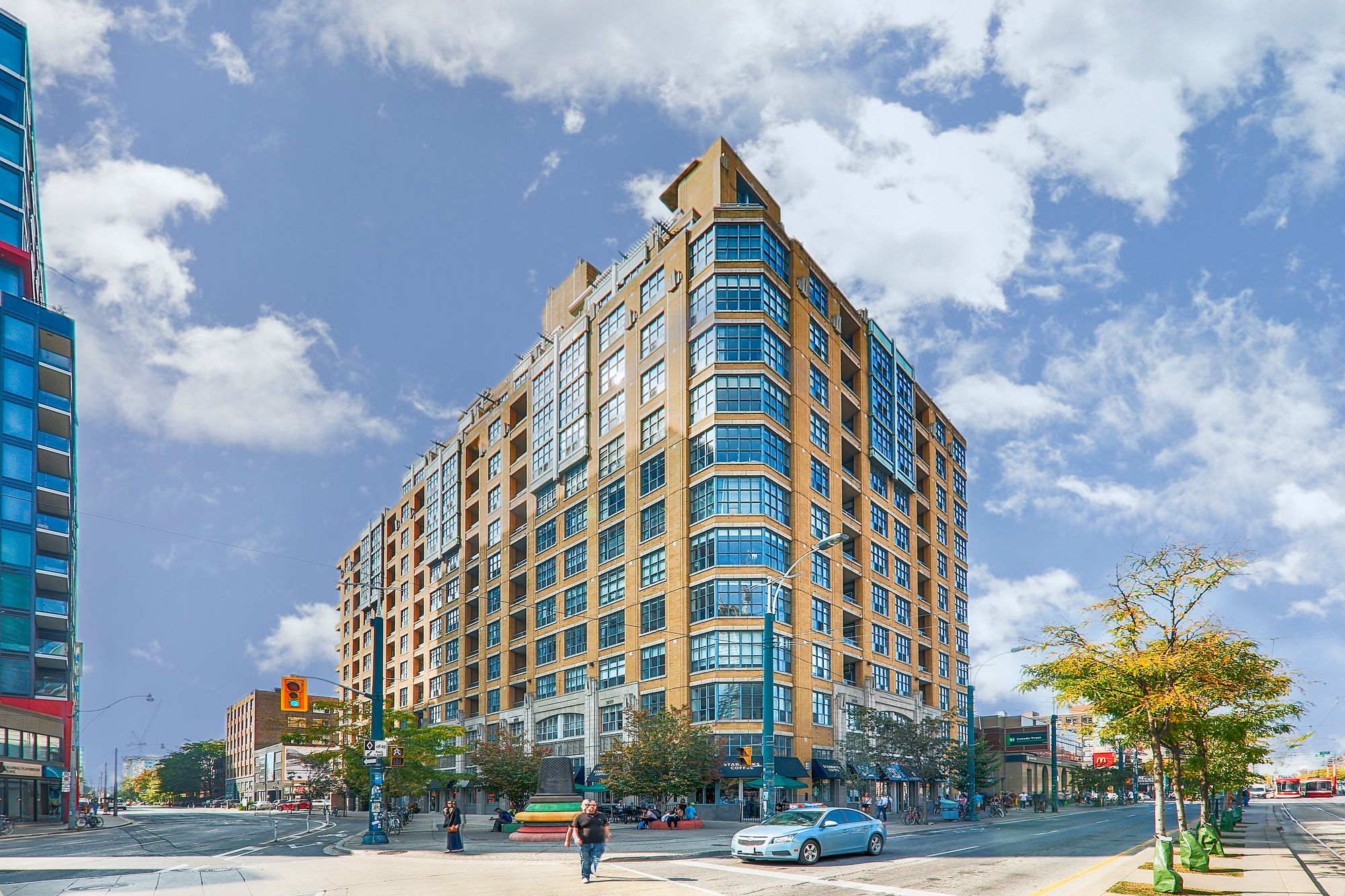 438 Richmond St W
2
Listings for Sale
for Sale
1
Listing for Rent
for Rent
The Morgan
438 Richmond St W
The Morgan
2
Listings for Sale
for Sale
1
Listing for Rent
for Rent
0
Property Management
Crossbridge Condominium Services Ltd.
Unit Size Range
353 - 5018 SQFT
438 Richmond St W, Toronto
About this condo
Condo Overview
With its floor count of only 15 storeys, the Morgan Condos may be short, however it is certainly not small. The prominent building at the corner of Richmond and Spadina is hard to miss for a number of important reasons.
The first is its size: the Morgan Condos — with 217 Queen West condos and plenty of retail space below — take up half of an entire city block. The second striking aspect of the residences at 438 Richmond Street West is its architectural style.
Built in 2002, the Morgan Condos has an aesthetic that resembles structures dating back to the 1920s. The Art Deco façade was designed by Quadrangle Architects, and has not gone unnoticed by experts in the field: in 2005, the Morgan Condos was honoured with an award of excellence from the Ontario Association of Architects.
The structure is even said to be inspired by its neighbouring edifices — built about 80 years prior — such as the Balfour and the Fashion Building. The yellow brick found adoring the condo might even trick a passersby into thinking 438 Richmond Street West is part of this historical gang.
But once one steps foot inside, they'll quickly recognize how contemporary the building really is. Just beyond the grand spiral staircase in the lobby, residents and guests will find all of the amenities one could ask for. Residents have access to a gym, meeting room, party room, cinema, rooftop terrace with barbecues, and a sauna, as well as a concierge to keep everything in order and visitor parking to ensure that residents can share these privileges with friends and family.
Ground floor retail businesses allow residents to run errands without having to travel too far. Between the Le Gourmand Café and Starbucks just downstairs, residents also have their pick of where to grab a coffee before heading out to work each morning.
The Suites
Since the building has been around for a while now, residents have had the chance to customize the units, so the Toronto condos for sale in this building that show up on the market may have varying features — some upgrades include kitchen renovations and even the removal of entire walls for brighter, airier homes.
The most impressive unit in the building is surely the three-storey penthouse, which takes up part of the 14th and 15th floors, and comprises the entirety of the 16th storey. This extravagant unit even boasts a 2,000 square foot, south-facing terrace, which residents don't have to share with anyone else in the building. Technically this home was not upgraded, but rather redesigned during the building's initial construction, with the help of Peter Berton of Ventin Group Architects.
While this modernist home is the exception at 438 Richmond Street, rather than the rule, the rest of the units in the building don't have any issues impressing prospective buyers.
Studios might appeal to single buyers or couples with tighter budgets, with these homes starting at around 400 square feet. Families — or anyone else requiring an abundance of space — will be glad to learn that the units can span up to 4,100 square feet, with larger ones containing two bedrooms each.
All of the homes at 438 Richmond Street West are bright and airy, thanks to the wealth of glass found along the facades. Upper levels are set back, allowing for plenty of space for oversized terraces, while charming balconies grace the homes below.
The Neighbourhood
Nestled between Queen and King Streets West, and steps to Spadina Avenue, residents have plenty of neighbourhoods to explore when they get the chance.
Weekends can be spent exploring the tiny yet eclectic streets of Kensington Market, dining out on the cheap in Chinatown, sunbathing in Trinity Bellwoods Park, exploring the galleries and boutiques of trendy West Queen West, or even wandering around the waterfront.
Outdoorsy types can visit Alexandra Park, which features an outdoor swimming pool in the summertime, and a skating rink once the weather takes a turn for the worst. Coronation Park is also within close reach, where residents can partake in a baseball match or run along the Martin Goodman Trail, all the while watching boats set sail on Lake Ontario.
The Morgan Condos are also located nearby to many entertainment venues, including the TIFF Bell Lightbox and Roy Thompson Hall, and even the Rogers Centre. With the lakeshore so close at hand, residents can also reach the Jack Layton Ferry Terminal in no time, while a trip over to the Ex, Ontario Place, and the Budweiser Stage is equally as effortless.
Transportation
With such a central, downtown location, residents living at 438 Richmond West can walk or cycle around the immediate area in order to run errands or make their morning commutes to work.
Alternatively, those heading out of the neighbourhood can catch a Queen streetcar in order to reach Osgoode Station, or a Spadina streetcar for access to Spadina Station. Residents also benefit from their close proximity to Billy Bishop Toronto City Airport, which can be reached in just over 20 minutes via public transit or by car or taxi.
2
Listings For Sale
Interested in receiving new listings for sale?
1
Listings For Rent
Interested in receiving new listings for rent?
Amenities
Maintenance Fees Cover
Maintenance fees include
Water
Owner / renter pays separately
Hydro
Heat
Air Conditioning
Past Sold & Rented Listings
Stats, Trends & Rankings
Price Per Square Foot
The Morgan vs The
Queen West Area
Less Expensive
per SQFT compared to the neighbourhood average
The Morgan's Avg
price per SQFT
$1,053
/ SQFT
Neighbourhood Avg
price per SQFT
$1,152
/ SQFT
Building Trends At The Morgan
Days on Market
Units at The Morgan spend an average of
17
Days on Market
based on recent sales
List vs Selling Price
On average, these condos sell for
of the list price.
Or in other words, the
entire list price
Offer Competition
Condos in this building have an
AVERAGE
chance of receiving
Multiple Offers
Turnover of Units
On average, each unit is owned for
5.7
YEARS
before being sold again
Property Value
Increase
in property value within the past twelve months
Price Ranking
Highest price per SQFT out of
46
condos in the Queen West area
Sold Units
13
Units were
Sold
over the past twelve months
Rented Units
19
Units were
Rented
over the past twelve months
Best Value
The Morgan offers the
best value
out of 46 condos in the Queen West neighbourhood
Return on Investment
The Morgan has the
highest ROI
out of 46 condos in the Queen West neighbourhood
Rental Yield
The Morgan yields the
highest rent prices
out of 46 condos in the Queen West neighbourhood
High Demand
The Morgan is the
most popular
building out of 46 condos in the Queen West neighbourhood
Sales vs Rental Values For This Condo
Average Cost Per Sqft
$947
Sales Price Range
$421,688 - $421,688
Rental Price Range
$1,750 - $1,900
Average Cost Per Sqft
$1,085
Sales Price Range
$660,000 - $685,000
Rental Price Range
$2,100 - $2,350
1 Bed + Den
700 - 845 SQFT
Average Cost Per Sqft
$906
Sales Price Range
$770,000 - $895,000
Rental Price Range
$2,200 - $2,795
Average Cost Per Sqft
$1,071
Sales Price Range
$774,900 - $1,370,000
Rental Price Range
$2,995 - $3,500
2 Bed + Den
1700 - 1700 SQFT
Average Cost Per Sqft
$1,176
Sales Price Range
$1,870,000 - $1,870,000
How Often Are Units Listed?
Average Sales Availability
Average Rental Availability
Ratio of Unit Type in Building
10%
Average Sales Availability
Average Rental Availability
Ratio of Unit Type in Building
33%
1 Bed + Den
670 - 900 SQFT
Average Sales Availability
Average Rental Availability
Ratio of Unit Type in Building
25%
Average Sales Availability
Average Rental Availability
Ratio of Unit Type in Building
30%
2 Bed + Den
920 - 1700 SQFT
Average Sales Availability
Average Rental Availability
Ratio of Unit Type in Building
3%
Average Sales Availability
Average Rental Availability
Ratio of Unit Type in Building
2%
Maintenance Fees

The Morgan vs The

Queen West Area
More Expensive
per SQFT compared to the neighbourhood average
The Morgan's Avg
monthly maintenance
fee per SQFT
$0.84
/ SQFT
Neighbourhood Avg
monthly maintenance
fee price per SQFT
$0.76
/ SQFT
Similar condos