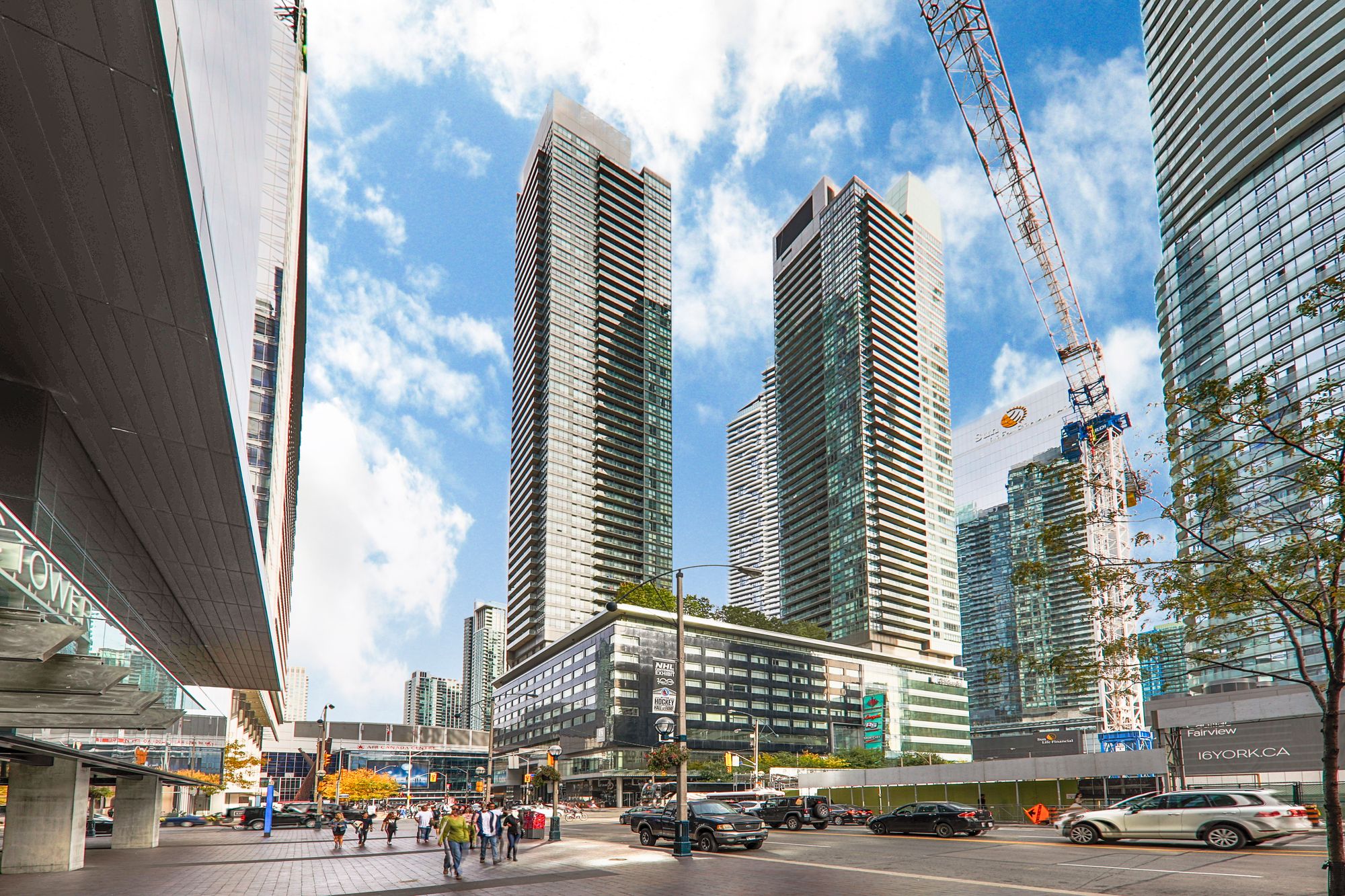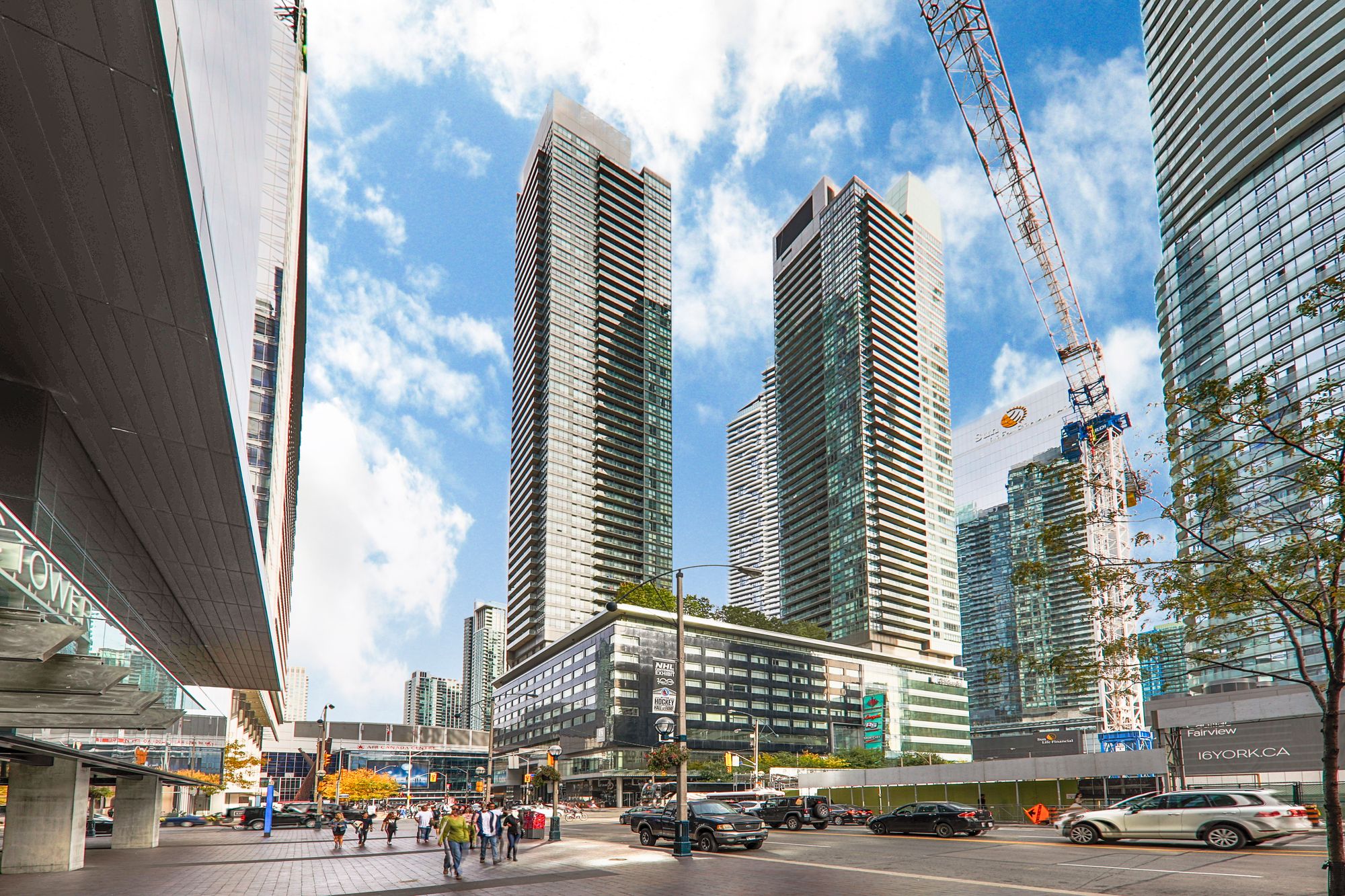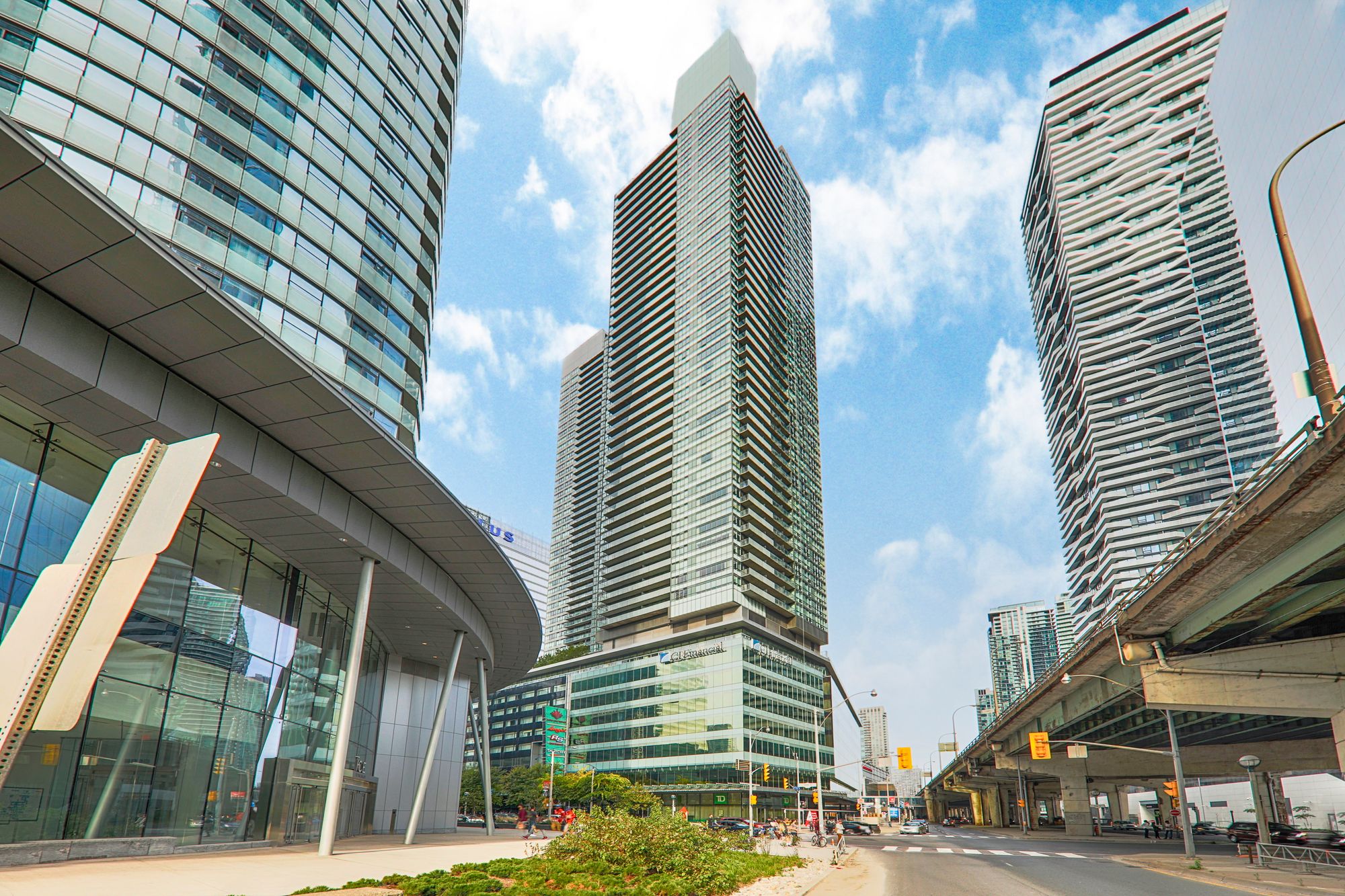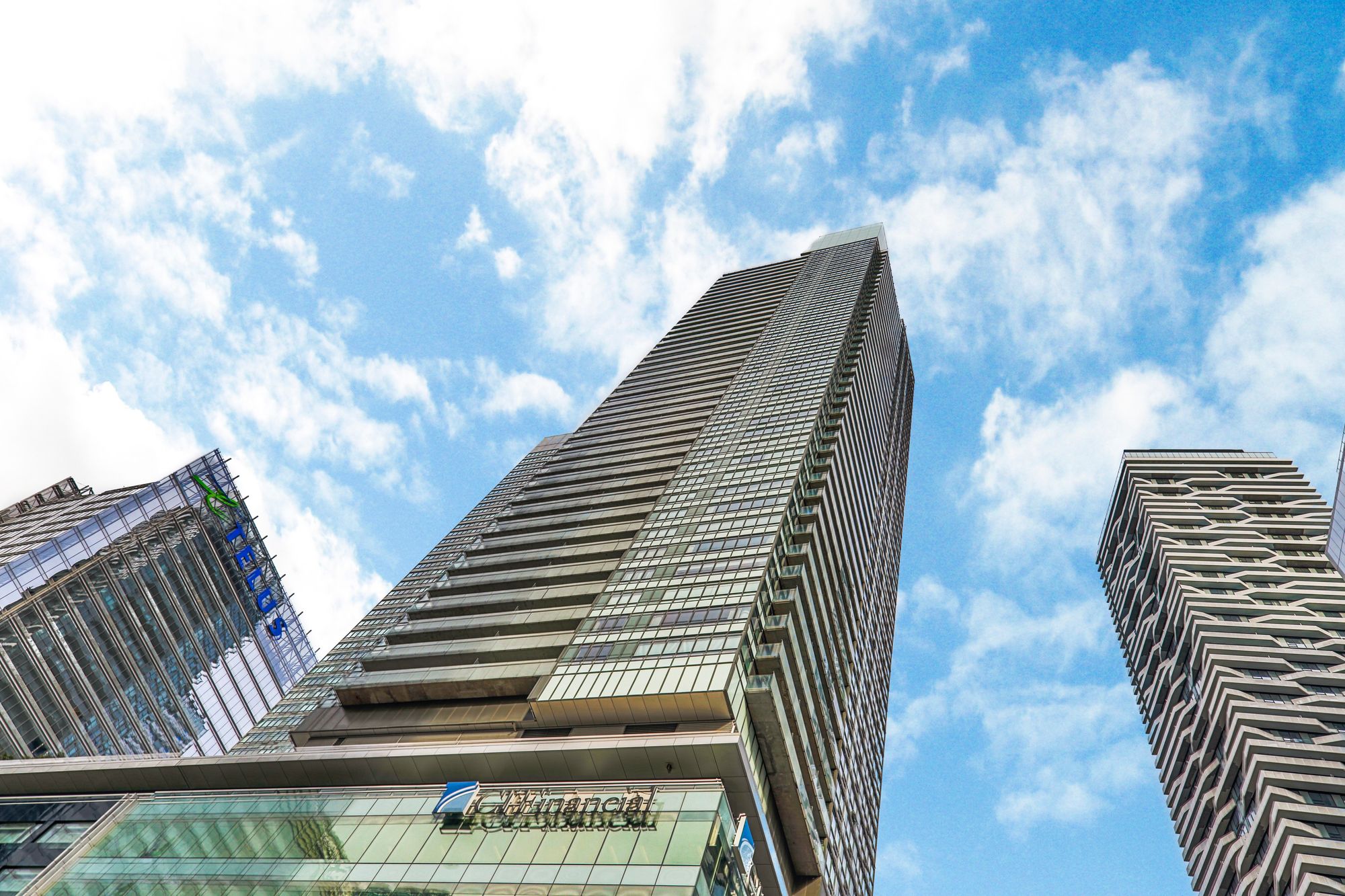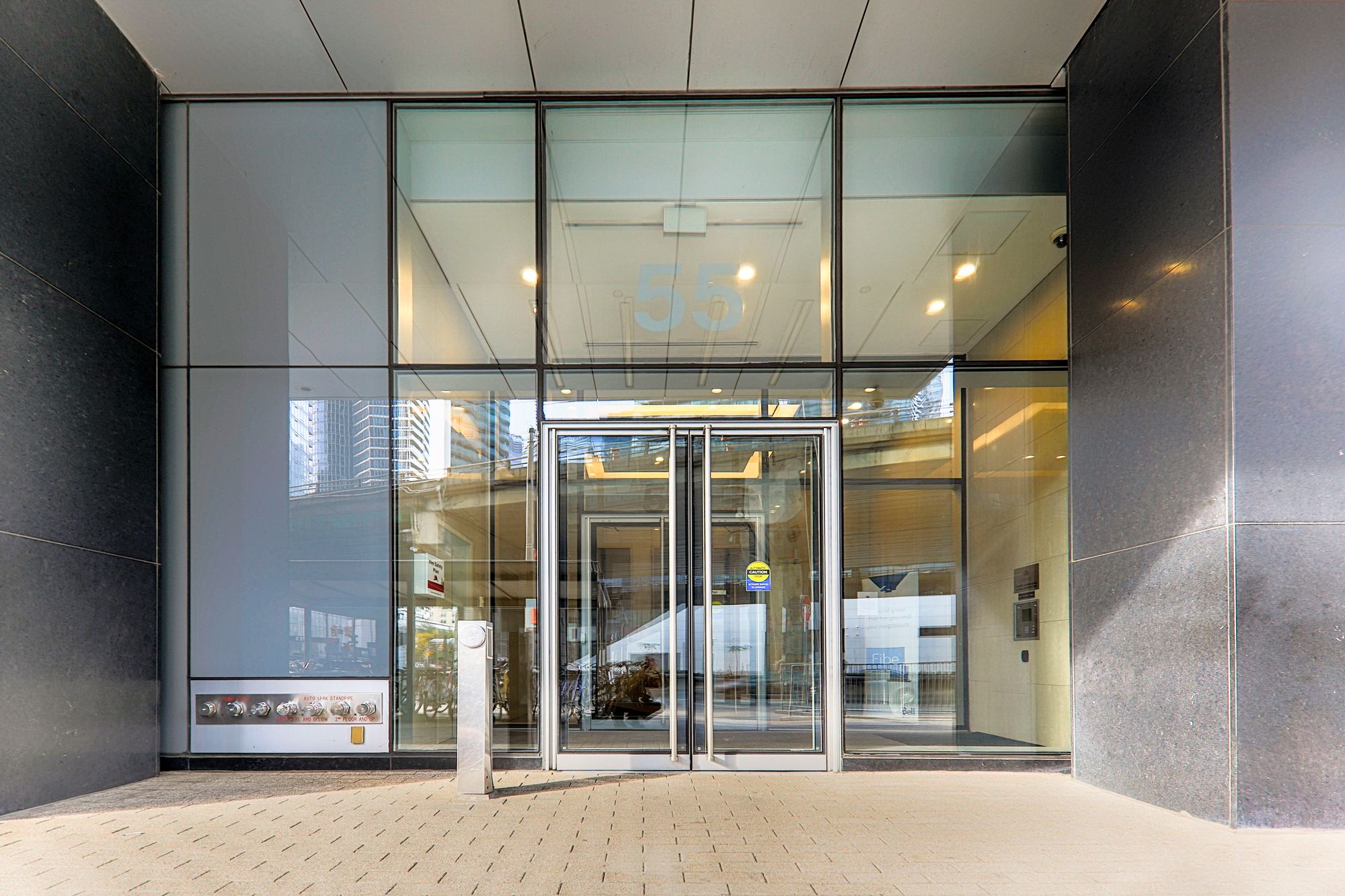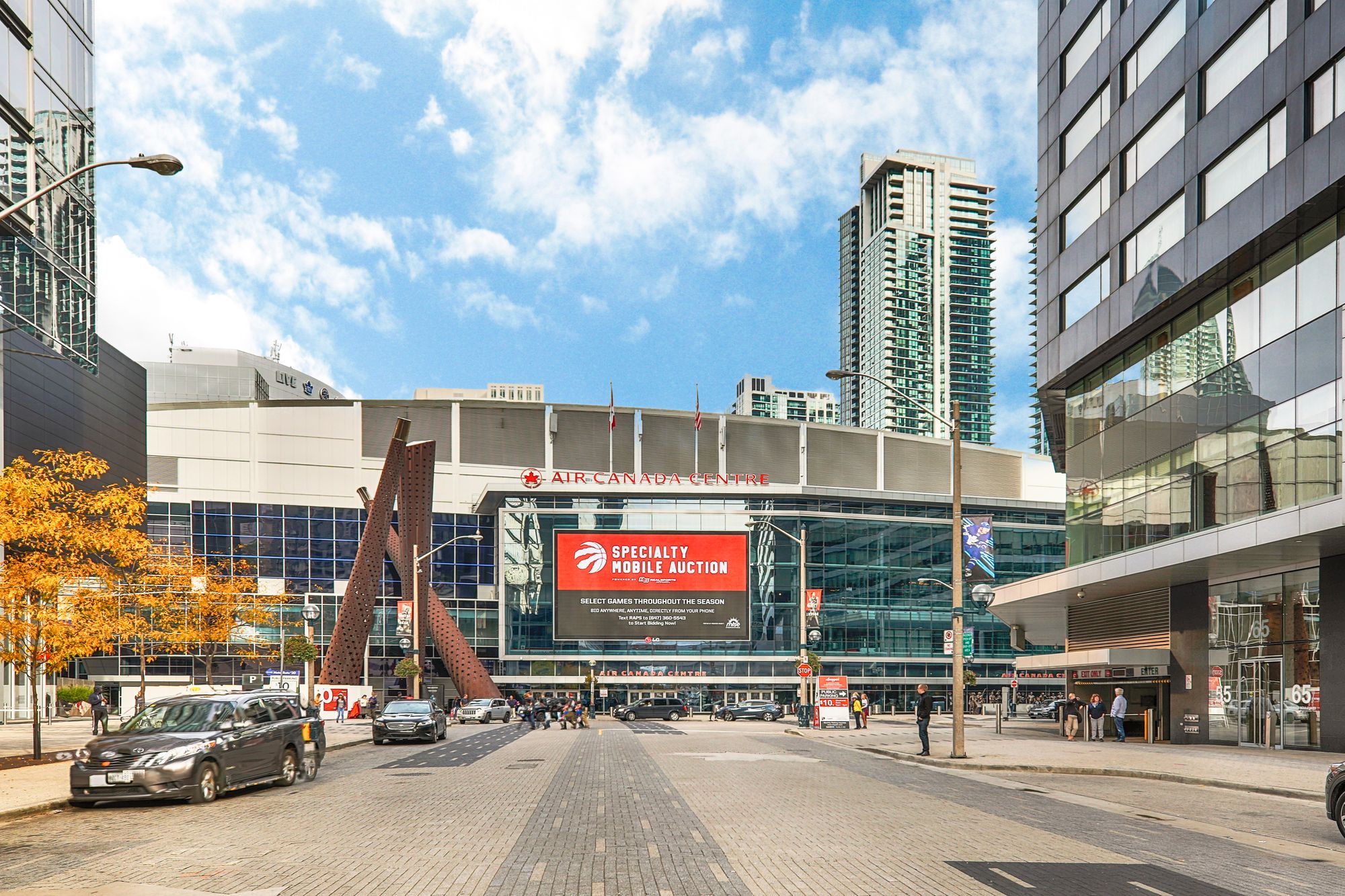 55 Bremner Blvd & 65 Bremner Blvd
7
Listings for Sale
for Sale
16
Listings for Rent
for Rent
Developer
Lanterra Developments
Property Management
Del Property Management Inc.
Unit Size Range
331 - 2124 SQFT
Unit Availability
Above Average
About this condo
If you've ever walked into Maple Leaf Square, you'll notice that these Toronto condos for sale offer more than the average residential tower. It's home to commercial businesses, Le Germain Hotel, as well as a massive community of urban residents.
Standing 49 storeys tall at 55 Bremner and 65 Bremner Boulevard, this development provides residents with an excellent starting point to explore the City Centre neighbourhood. The property was completed in 2010 by Lanterra Developments, and is comprised of 872 units, ranging in size from 331 to 2124 square feet. This condo is very conveniently located, with a well above average Walk Score of 97 and an average demand ranking, based on Strata.ca's analytics. Maintenance fees are $1.07 per-square-foot — significantly higher than the city average of about $0.67.
Despite that though, many residents will argue the fees are well worth it. Maple Leaf Square has a cinema with seating for 40, business centre, guest suites, plus a 'Sky Lobby Lounge'. Let's not forget the rooftop swimming pool, indoor pool, sauna, hot tub, and fitness facilities, too.
The Suites
The suites at 65 Bremner are elegant, yet modern. Massive windows and contemporary finishes are standard throughout. Some units have views of the city skyline, while others offer spectacular panoramas of Lake Ontario. Anyone who loves to cook will also appreciate the kitchen, featuring a ceramic backsplash, granite countertops, and energy efficient appliances. Some kitchens even include luxurious islands.
On average, units sell 0.57% above the list price, with a medium chance of receiving multiple offers. The average cost per-square-foot (based on past 12 months of sales) is $1,168. Suites typically sell with 25 days on market. Over the past year, 31 have sold and 110 have been rented here.
The Neighbourhood
Living in City Centre means access to the best of Toronto's attractions, restaurants, and shops.
The Scotiabank Arena is literally right downstairs. Also a short walk away are the CN Tower, Ripley's Aquarium, Rogers Centre, and the Metro Toronto Convention Centre.
For those wanting to escape Toronto's hustle and bustle, you can walk over to the Jack Layton Ferry Terminal in less than 10 minutes. From there, it's just a quick ride to the Toronto Islands. Visitors can have a picnic, sunbathe at the beach, or check out the attractions at Centreville.
Transportation
Not only is Maple Leaf Square in the heart of the city, it's also very well connected. Residents can access the PATH right from their condo, connecting them to commercial-lined walkways stretching all the way to Union Station.
Once you're at Union, subways can take you north up the Yonge or University-Spadina line to other areas like North York. You can also connect to VIA Rail and GO trains to visit all the neighbouring suburbs. Need to get on a plane? The UP Express makes it super easy to get to Pearson International Airport.
Drivers can use York Street to reach the Gardiner Expressway. From there, the Don Valley Parkway and 427 are both just a short drive away.
7
Listings For Sale
Interested in receiving new listings for sale?
16
Listings For Rent
Interested in receiving new listings for rent?
Property Highlights
Listing History for Maple Leaf Square
Nearby Amenities
Stats, Trends & Rankings
Maple Leaf Square vs The City Centre Area
Building Trends At Maple Leaf Square
Days on Strata
Units at Maple Leaf Square spend an average of
25
Days on Strata
based on recent sales
List vs Selling Price
On average, these condos sell for
above
the list price.

Offer Competition
Condos in this building have an
AVERAGE
chance of receiving
Multiple Offers
Turnover of Units
On average, each unit is owned for
4.8
YEARS
before being sold again
Property Value
Decrease
in property value within the past twelve months
Price Ranking
Highest price per SQFT out of
38
condos in the City Centre area
Sold Units
31
Units were
Sold
over the past twelve months
Rented Units
110
Units were
Rented
over the past twelve months
Sales vs Rental Values For This Condo
Average Cost Per Sqft
$1,615
Sales Price Range
$537,500 - $565,000
Rental Price Range
$2,200 - $2,390
Average Cost Per Sqft
$1,316
Sales Price Range
$564,000 - $875,000
Rental Price Range
$2,150 - $3,100
1 Bed + Den
452 - 736 SQFT
Average Cost Per Sqft
$1,164
Sales Price Range
$630,000 - $772,000
Rental Price Range
$2,300 - $3,300
Average Cost Per Sqft
$1,136
Sales Price Range
$875,000 - $1,180,000
Rental Price Range
$3,000 - $5,080
2 Bed + Den
784 - 2124 SQFT
Average Cost Per Sqft
$1,184
Sales Price Range
$920,000 - $1,730,000
Rental Price Range
$3,050 - $7,200
Average Cost Per Sqft
$999
Sales Price Range
$2,250,000 - $2,250,000
Rental Price Range
$9,000 - $20,000
How Often Are Units Listed?
Average Sales Availability
Average Rental Availability
Ratio of Unit Type in Building
6%
Average Sales Availability
Average Rental Availability
Ratio of Unit Type in Building
23%
1 Bed + Den
400 - 1237 SQFT
Average Sales Availability
Average Rental Availability
Ratio of Unit Type in Building
31%
Average Sales Availability
Average Rental Availability
Ratio of Unit Type in Building
21%
2 Bed + Den
552 - 2124 SQFT
Average Sales Availability
Average Rental Availability
Ratio of Unit Type in Building
19%
Average Sales Availability
Average Rental Availability
Ratio of Unit Type in Building
1%
Maintenance Fees
Maple Leaf Square vs The
City Centre Area
Maple Leaf Square's Avg
monthly maintenance fee
Neighbourhood Avg
monthly maintenance fee
Similar condos