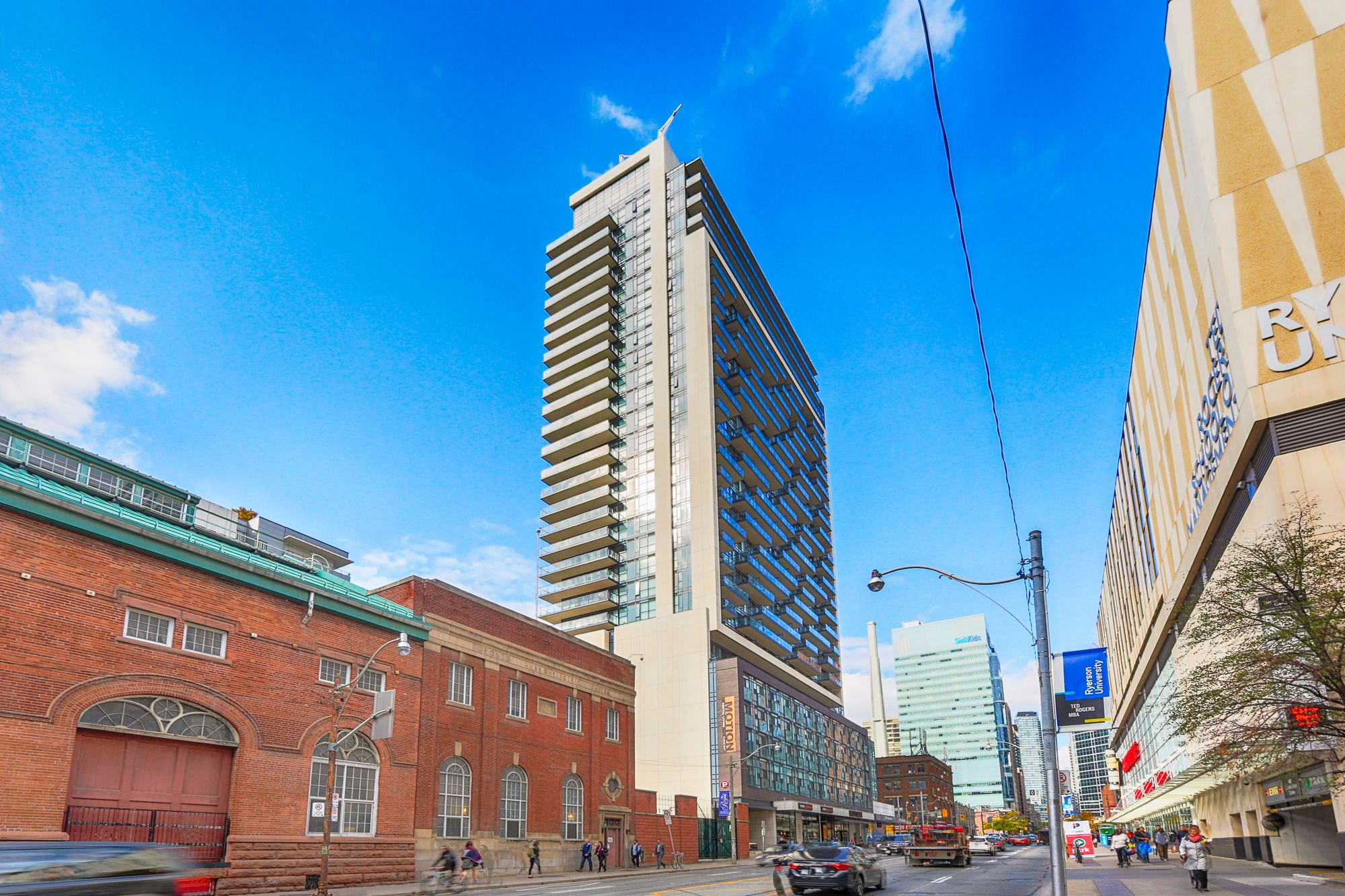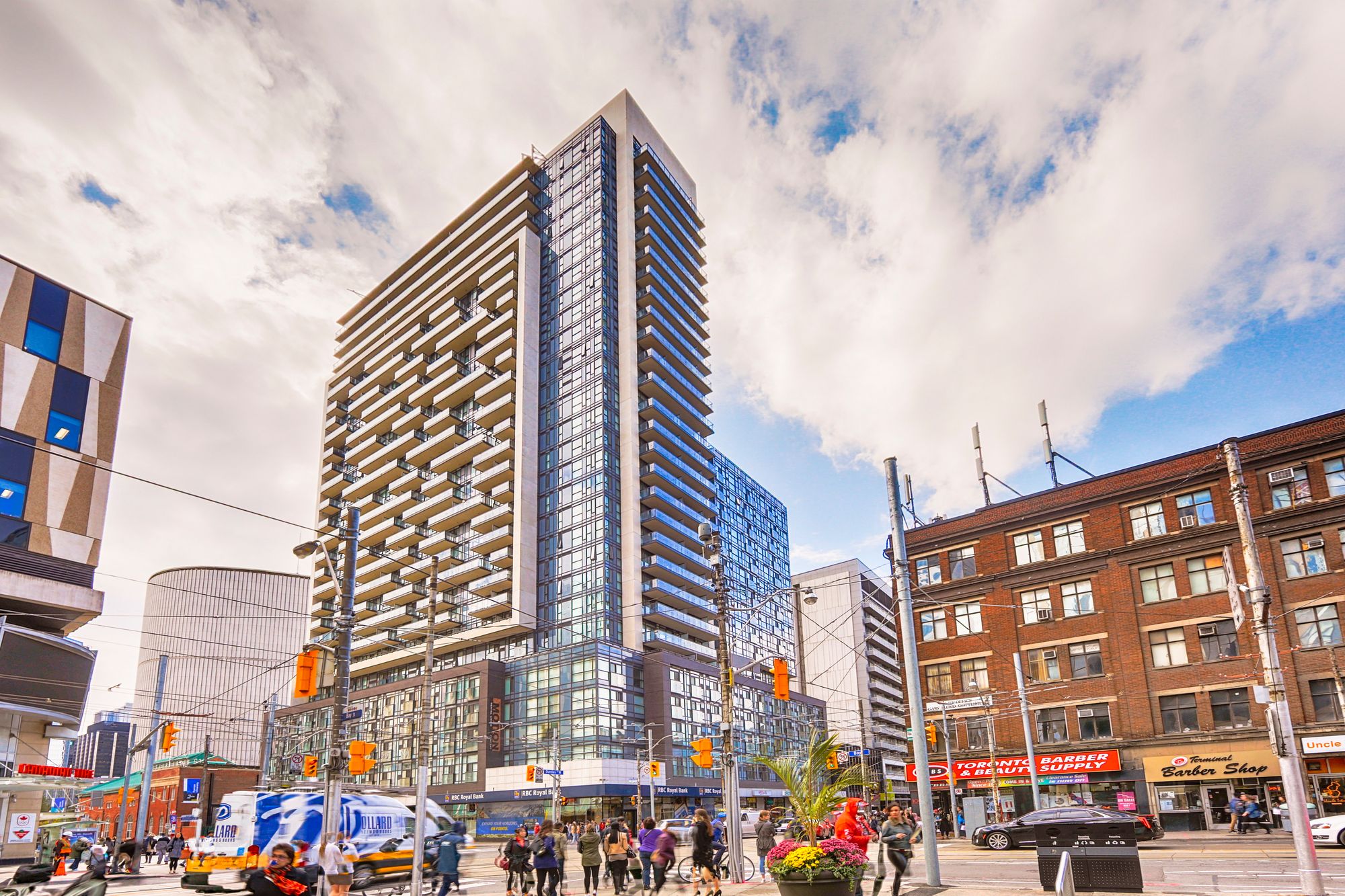 570 Bay St
0
Listings for Sale
for Sale
0
Listings for Rent
for Rent
Motion
570 Bay St
Motion
0
Listings for Sale
for Sale
0
Listings for Rent
for Rent
0
Developer
Concert Properties
Property Management
Unknown
Unit Size Range
382 - 1415 SQFT
570 Bay St, Toronto
About this condo
Condo Overview
Building a condo at the corner of Bay and Dundas is no easy feat — prospective buyers expect nothing shy of the best when shopping for Toronto condos for sale in the heart of the downtown core. Thankfully, Concert Properties Ltd. stepped up their game when building Motion in 2013. The developer still manages the building to this day, and even offers an Concert On-Call service that can be used by residents 24/7.
Concert contracted IBI Group to design the building at 570 Bay Street, while NAK Design Group took on the landscape architecture. The result is an ultramodern 29-storey structure with black and white rectangular details and plenty of glass. While Motion certainly isn't amongst the tallest condos in the city, its sizeable footprint means there's space for just shy of 500 downtown Toronto condos inside.
Those more concerned with carbon footprints will also be satisfied with the measures taken by the developers and architects behind Motion. Not only did the building receive a gold certification from LEED, it also aims to adhere to a high level of voluntary standards set by Toronto Green Standard.
And now that we've covered the building's dedication to combating climate change, it's time to move onto the good stuff. Residents living at 570 Bay have an array of amenities at their disposal, which we'll go ahead and list in no particular order.
The building is equipped with a party room, cinema, library, multiple common terraces — some with barbecues — a games room, a business centre, and a gym. Residents can also make use of the building's bicycle parking and storage lockers, plus there are even some parking spaces for Zipcars in the garage. And for added convenience, there's nearly 12,000 square feet of retail space on the ground level of Motion.
The Suites
With 463 Toronto condos spread throughout the building, it shouldn't be all that surprising to hear that there's a great deal of variation from home to home. The building is outfitted with studios, one bedroom, one plus den, two bedroom, and two bedroom plus den units. That said, a great deal of the homes are studio or one bedroom suites, meaning larger units may not appear on the market as often as smaller ones.
Many suites at Motion also boast private outdoor spaces, in the form of balconies or terraces. Layouts are generally open concept, with some kitchens even boasting sizeable islands, and energy efficient appliances are the norm throughout the building.
The Neighbourhood
Motion is a name that perfectly sums up the atmosphere of Toronto's City Centre neighbourhood: residents quickly find that the area around them seems to never stop moving.
The first thing prospective buyers will probably notice about the area is that the Eaton Centre is right across the street. Shoppers can spend entire days meandering around the seemingly endless shops inside, and of course the mall also contains plenty of restaurants.
Those looking to immerse themselves in some culture during their free time have a number of options within walking distance. Residents living at 570 Bay never need to worry about finding a parking spot when attending events at venues like the Four Seasons Centre for the Performing Arts, Massey Hall, or the Elgin and Winter Garden Theatre Centre. And to top it all off, the Ryerson Image Centre and the Art Gallery of Ontario are also both just a 10-minute walk away from Motion.
Transportation
Traveling to and from 570 Bay is simple, thanks to its central location in downtown Toronto. Living right at the intersection of Bay and Dundas means quick and easy access to buses heading north and south along the former and streetcars moving east and west on the latter.
Reaching the subway also takes no time at all: Dundas Station is a 4-minute walk away from 570 Bay. From there, residents can hop onto trains moving north or south along the Yonge line.
Those with cars of their own will have to get used to the congested roads of the downtown core, however they'll quickly learn some tricks for navigating the immediate area. For example, those heading out on longer journeys can use Bay to reach the Gardiner Expressway—a fast-paced highway that carries cars east and west along the southern edge of the city.
0
Listings For Sale
Interested in receiving new listings for sale?
0
Listings For Rent
Interested in receiving new listings for rent?
Amenities
Maintenance Fees Cover
Maintenance fees include
Water
Owner / renter pays separately
Hydro
Heat
Air Conditioning
Past Sold & Rented Listings
Stats, Trends & Rankings
Price Per Square Foot
Motion vs The
City Centre Area
More Expensive
per SQFT compared to the neighbourhood average
Motion's Avg
price per SQFT
$0
/ SQFT
Neighbourhood Avg
price per SQFT
$0
/ SQFT
Building Trends At Motion
Days on Market
Units at Motion spend an average of
Days on Market
based on recent sales
List vs Selling Price
On average, these condos sell for
of the list price.
Or in other words, the
entire list price
Offer Competition
Condos in this building have a
LOW
chance of receiving
Multiple Offers
Turnover of Units
On average, each unit is owned for
YEARS
before being sold again
Property Value
Increase
in property value within the past twelve months
Price Ranking
Highest price per SQFT out of
36
condos in the City Centre area
Sold Units
0
Units were
Sold
over the past twelve months
Rented Units
9
Units were
Rented
over the past twelve months
Best Value
Motion offers the
best value
out of 36 condos in the City Centre neighbourhood
Return on Investment
Motion has the
highest ROI
out of 36 condos in the City Centre neighbourhood
Rental Yield
Motion yields the
highest rent prices
out of 36 condos in the City Centre neighbourhood
High Demand
Motion is the
most popular
building out of 36 condos in the City Centre neighbourhood
Sales vs Rental Values For This Condo
Rental Price Range
$1,785 - $1,950
Rental Price Range
$1,935 - $2,800
Rental Price Range
$2,950 - $3,200
How Often Are Units Listed?
Average Sales Availability
Average Rental Availability
Ratio of Unit Type in Building
20%
Average Sales Availability
Average Rental Availability
Ratio of Unit Type in Building
46%
Average Sales Availability
Average Rental Availability
Ratio of Unit Type in Building
6%
Average Sales Availability
Average Rental Availability
Ratio of Unit Type in Building
24%
Average Sales Availability
Average Rental Availability
Ratio of Unit Type in Building
2%
Average Sales Availability
Average Rental Availability
Ratio of Unit Type in Building
4%
Similar condos