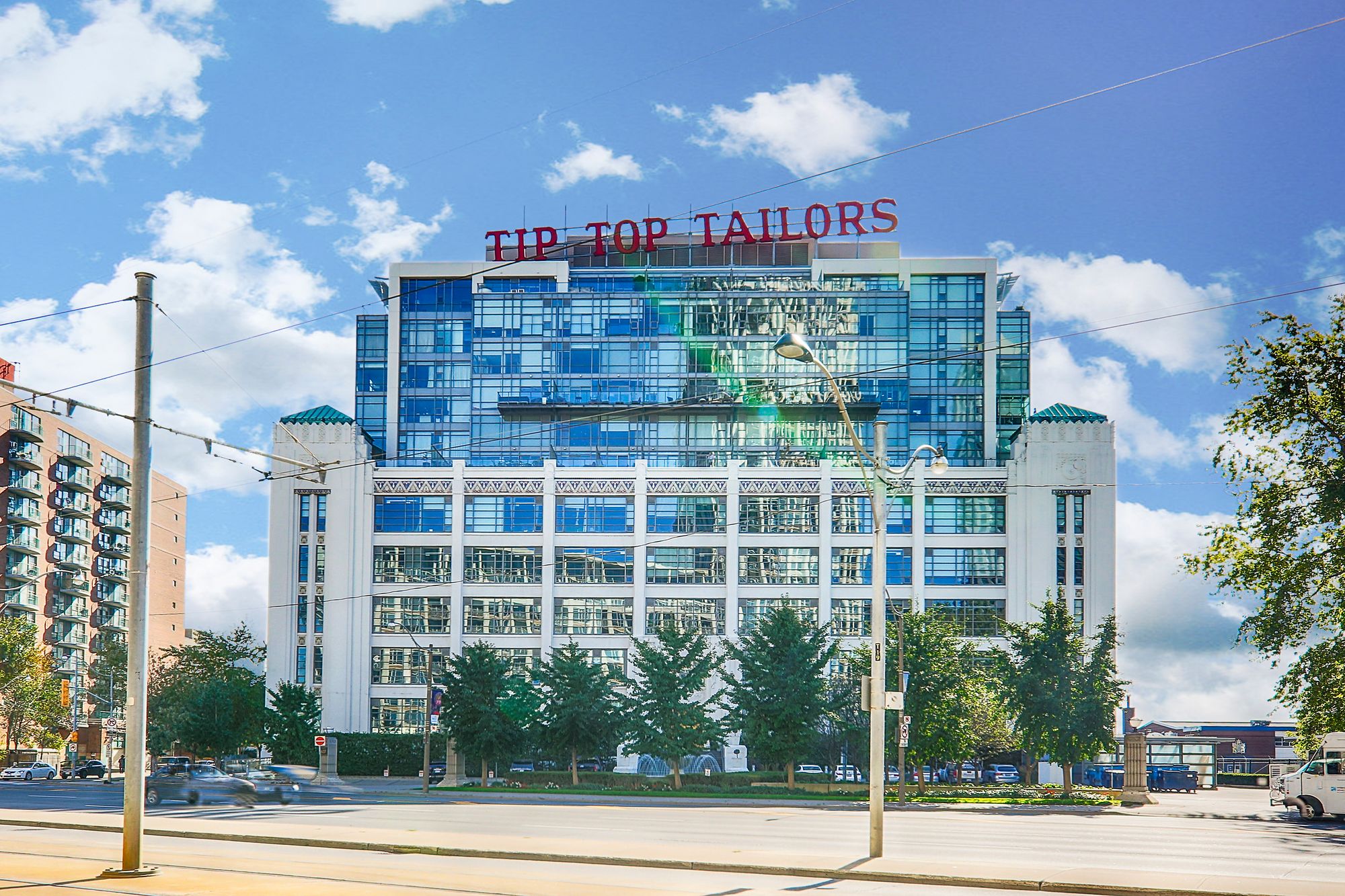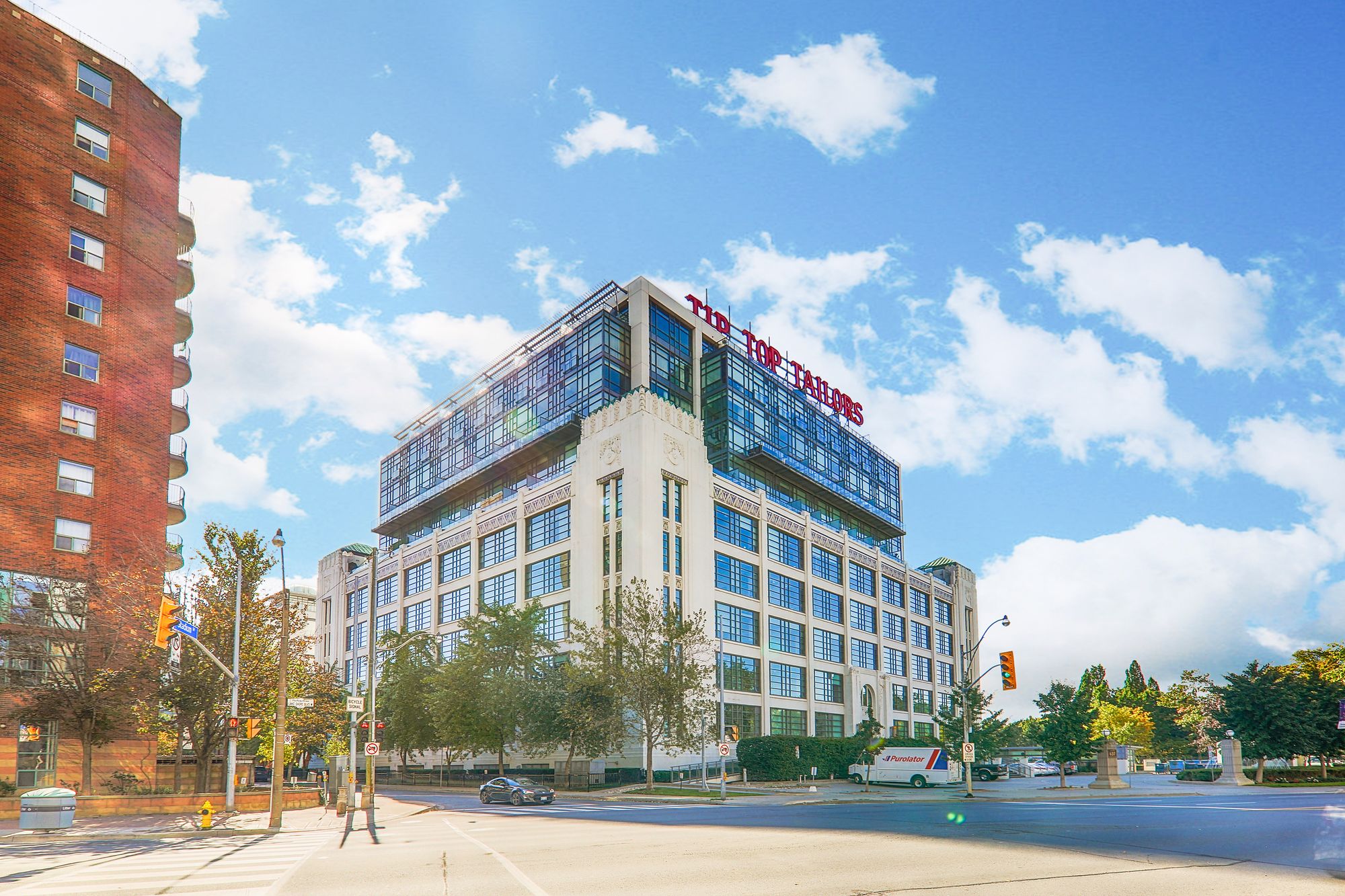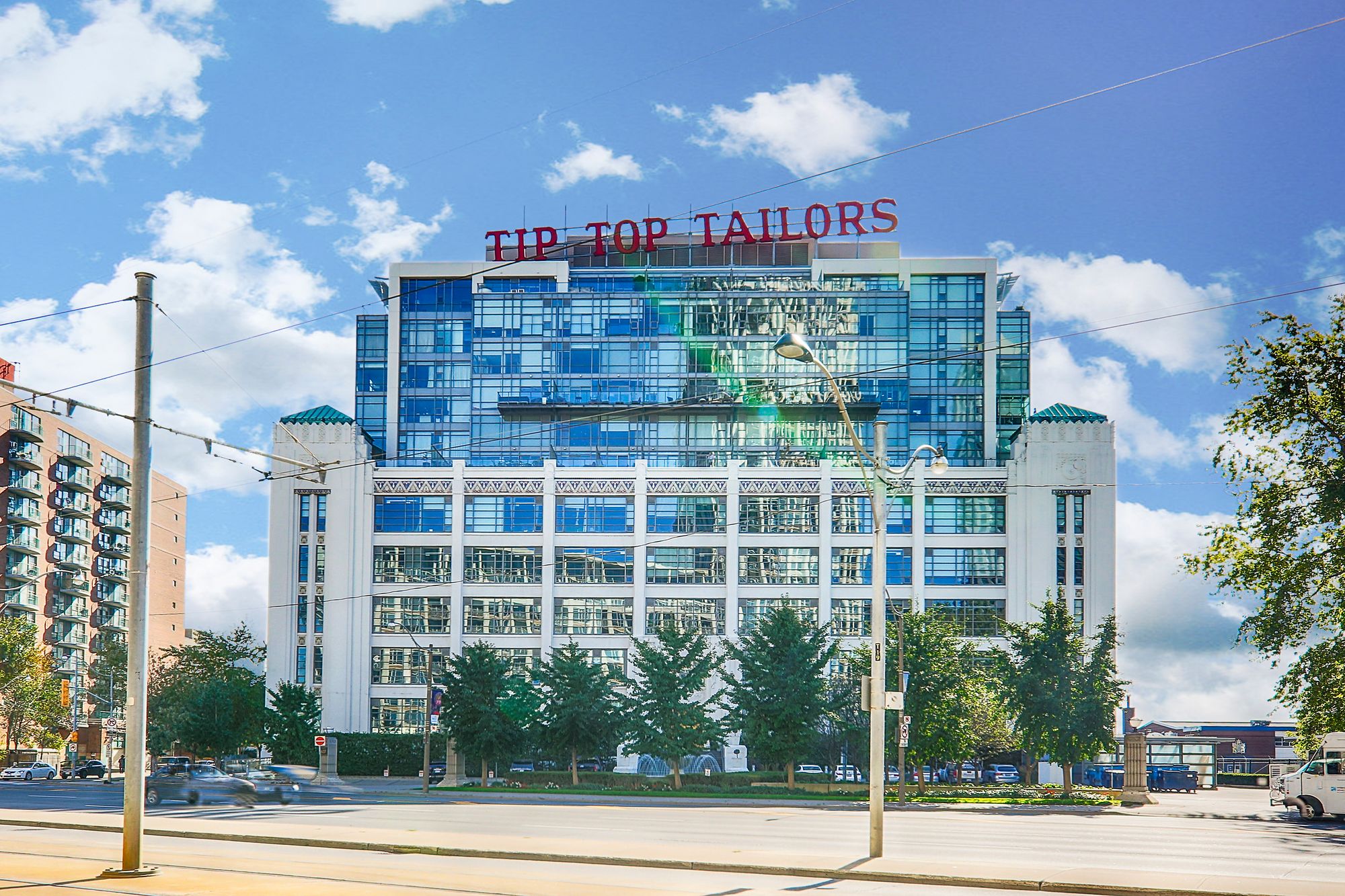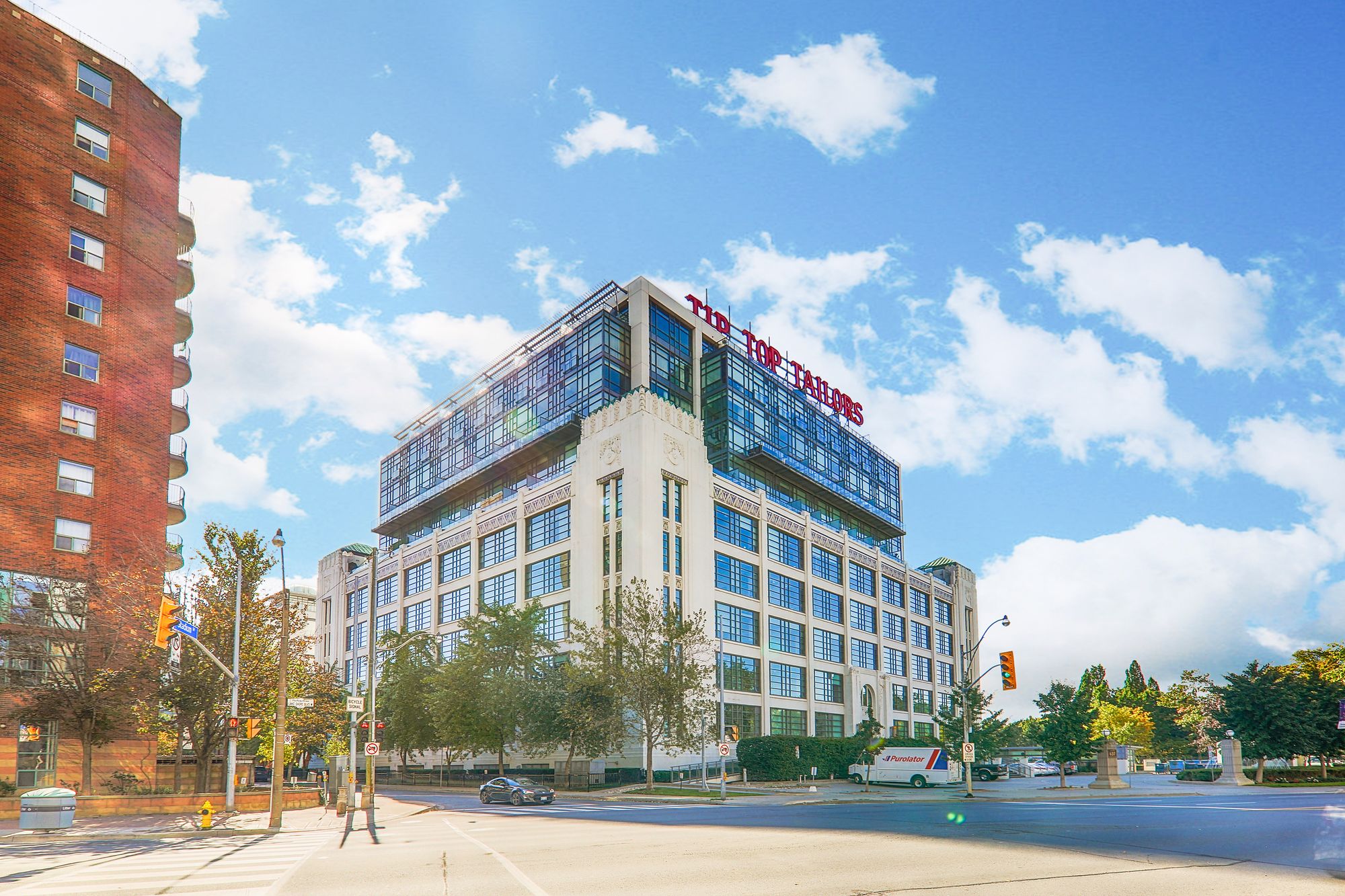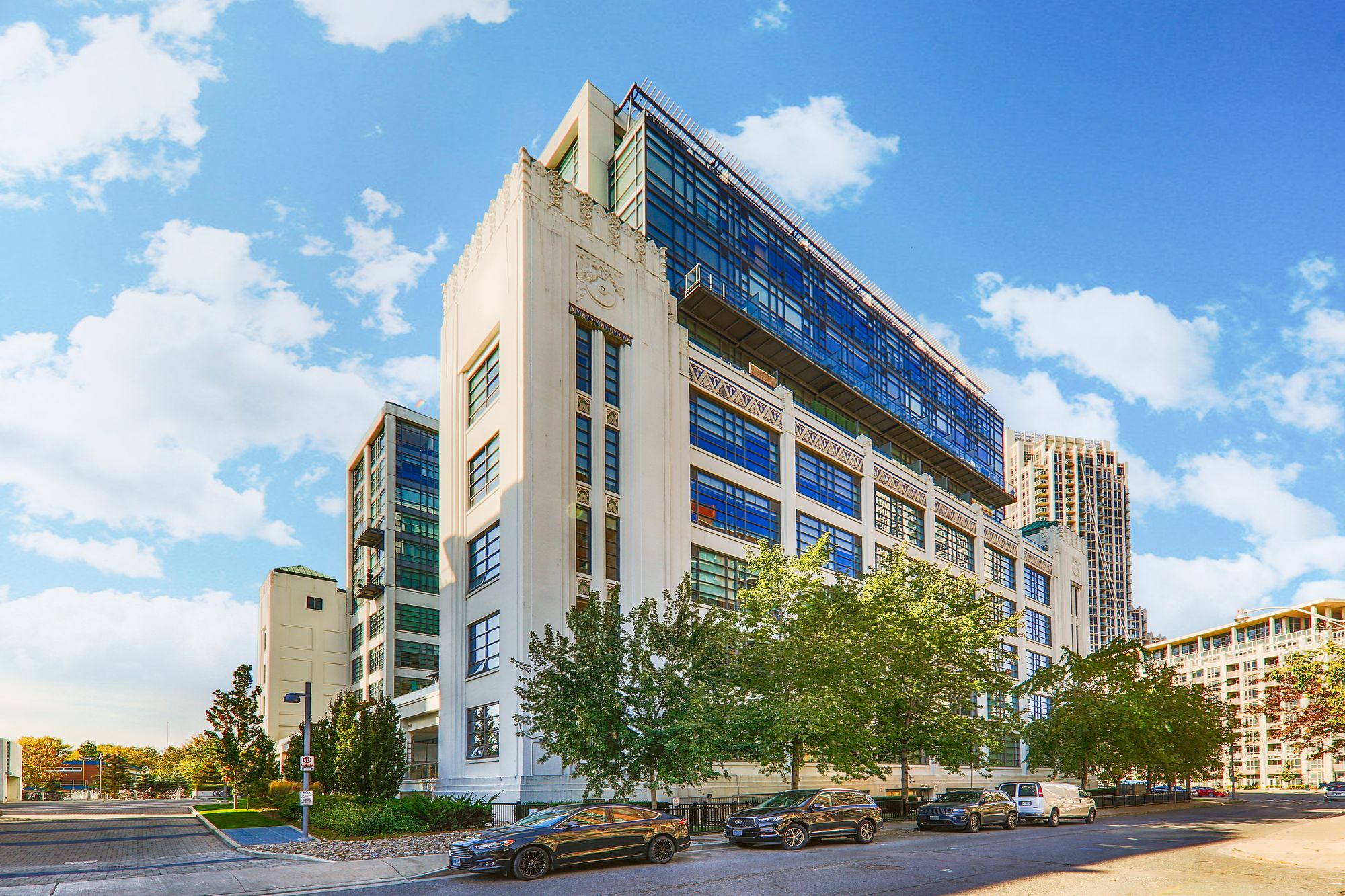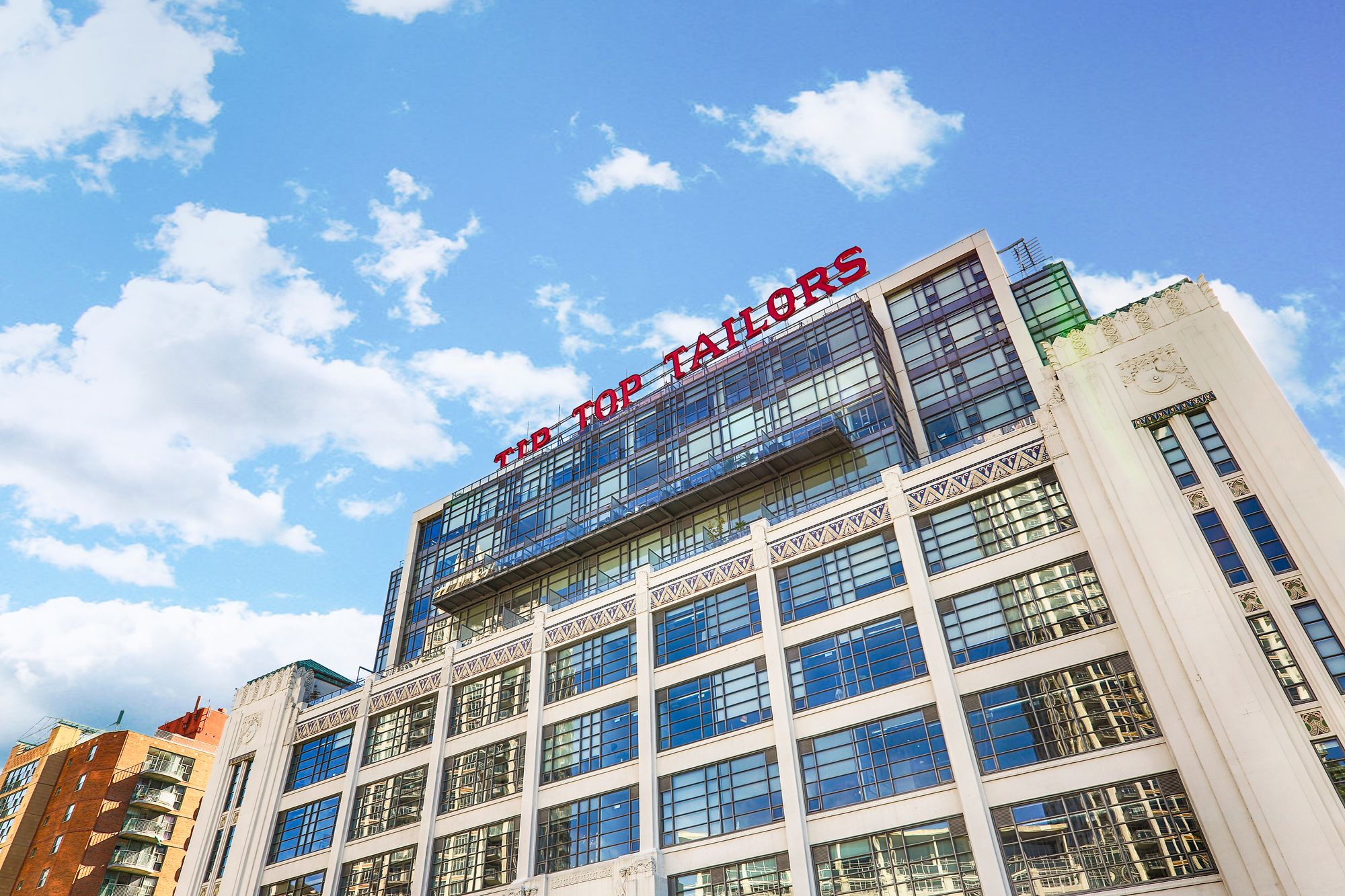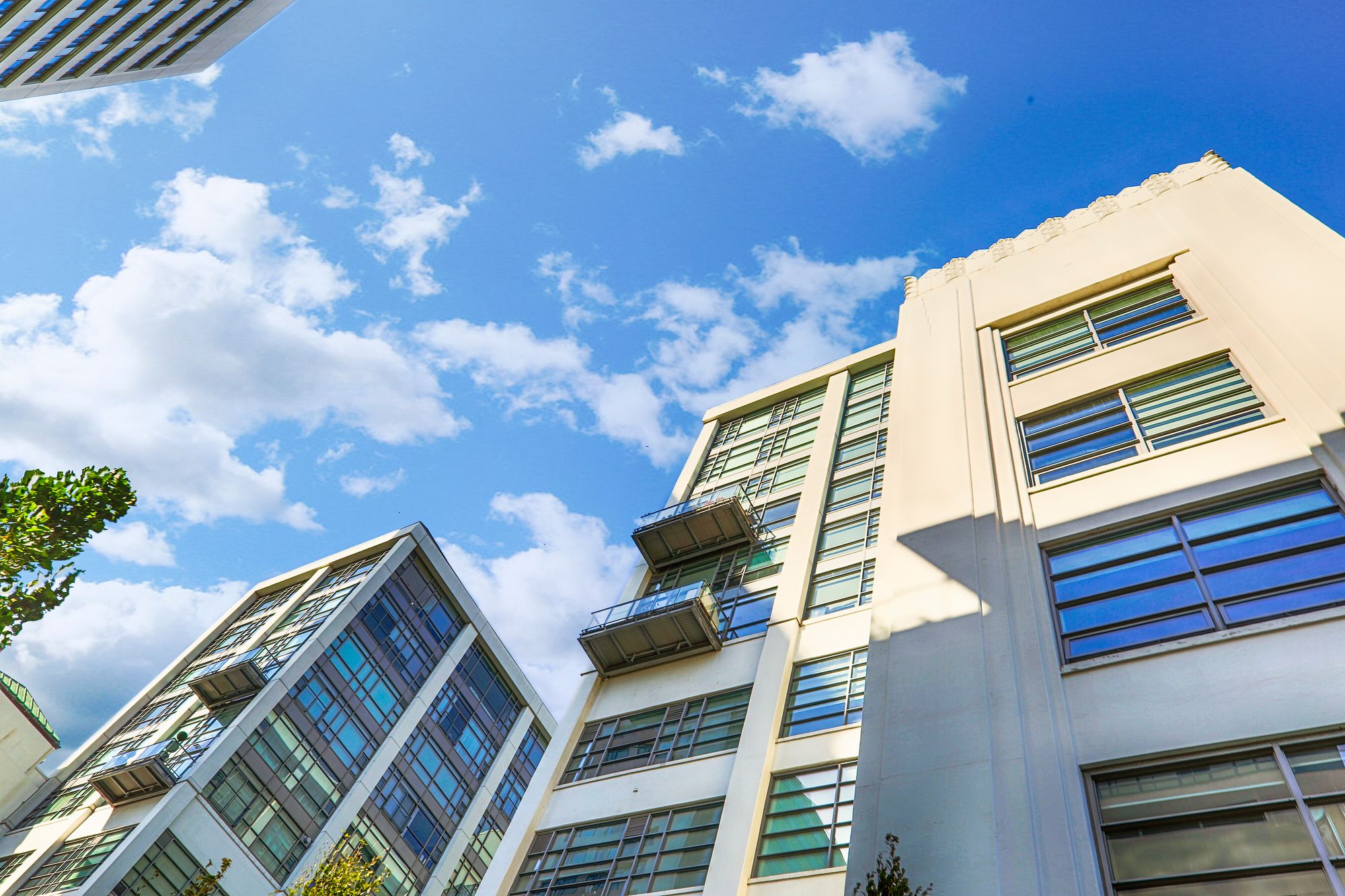 637 Lake Shore Blvd W
1
Listing for Sale
for Sale
3
Listings for Rent
for Rent
Tip Top Lofts
637 Lake Shore Blvd W
Tip Top Lofts
1
Listing for Sale
for Sale
3
Listings for Rent
for Rent
0
Developer
Context Developments
Property Management
Crossbridge Condominium Services Ltd.
Unit Size Range
474 - 3150 SQFT
637 Lake Shore Blvd W, Toronto
About this loft
The Tip Top Lofts are quite strategically located: an airport, the islands, multiple parks, and the Entertainment District are all around. But it's not just the location that prospective buyers flock to 637 Lake Shore Boulevard West for. In addition to its prime whereabouts, the Tip Top Lofts also have an abundance of historic charm, elegance, and a hint of notoriety.
Anyone who has been to the Exhibition Place or driven along Lake Shore Boulevard or the Gardiner Expressway has likely noticed the bright sign reading "Tip Top Tailors." While some may wonder about what lies within, some lucky Torontonians look at the building and see home.
While the sign might have been removed and reattached, there's no doubt about its authenticity — the lettering has been present since 1929. When the building was converted into hard lofts in 2006, developers understood the significance of the marquee, and replaced it atop the six new storeys that had been added on.
If the sign offers some ambiguity to the building, the style is anything but vague. The Tip Top Lofts is one of the most distinctively Art-Deco buildings in Toronto. The structure has a monumental feel thanks to its size and wide-set concrete base, while intricate geometric motifs need to be expected from up close to be truly appreciated. Huge swathes of windows cover much of the building's lower façade, while the newer storeys are made almost entirely of glass.
In the late 1920s, this structure at 637 Lake Shore West was built to house the Tip Top Tailor Company. The building was one of many purposes, housing a factory, a warehouse, and offices, together providing Torontonians with the most fashionable of attire.
Almost a century later, Context Developments and Architects Alliance came together to turn the building into 256 similarly stylish homes. Anticipating the type of buyer who might be interested in such an impressive building, the developers outfitted the Tip Top Lofts with a gym and sauna, a party room and meeting room, and a common rooftop patio, among other amenities.
The Suites
With suites that range in both size and style, there is truly something for everyone at the Tip Top Lofts. The 256 homes comprise the 11-storey building range from approximately 400 to 3,200 square feet. This means that while cozy one-bedroom units are not dissimilar in size from other Toronto condos for sale, the largest of homes here are fairly colossal as far as Toronto lofts go.
Floor-to-ceiling windows can be found throughout the entire building, meaning brightly lit homes for all. However, those living on the uppermost floors may want to invest in some blackout curtains, as the contemporary addition is made almost entirely of glass.
Since we're on the subject, those penthouse units found in the new addition are worth describing in detail. These spectacular suites span two storeys each, and one even boasts a separate wine room. Kitchens in these units are expansive and equipped with modern, stainless steel appliances fit for a master chef.
Even if these units are out of reach for most, the conventionally sized lofts at 637 Lake Shore Boulevard West are similarly exciting. These homes are designed with an open concept layout, which together with 12 foot ceiling heights make every loft feel anything but cramped. For a touch of modernity, sleek sliding doors are what divide rooms from one another.
Outdoor spaces are also available. Those with balconies or terraces can make use of gas hookups that are ready and waiting for barbecue season. Even those without balconies can take in the sweeping views of Toronto fro their windows. Either way, residents in north facing suites can watch the sun set over the cityscape, while those facing south will never tire of their views of Lake Ontario.
The Neighbourhood
While the Tip Top Lofts are technically located in the heart of downtown Toronto, residents can enjoy a certain sense of peace and quiet that other urbanites must live without. Thanks to the building's location beside Lake Ontario, it is surrounded by the calming hues of green and blue.
Lakefront activities include sailing, ferry rides to the island, paddle boarding, and sunbathing — weather permitting of course. Also just next door is Coronation Park, which features plenty of baseball diamonds and picnic tables, providing something for both active and relaxed types.
The Exhibition Place is within walking distance, and residents can easily walk over for special events, while the rest sit in traffic or fight for a place to park.
The Tip Top Lofts are also nearby to the voguish and vibrant King West neighbourhood. Here, residents can find everything from independent art galleries to the hottest clubs in the city — perhaps date night might even involve a little bit of both. Alternatively, the Entertainment District is also not far off, where sports and music fans can get their fix at the Rogers Centre or the Scotiabank Arena.
Transportation
With its location so near to Bathurst Street and Queens Quay West, even residents without a car can get around the city with ease. Streetcars along both of these routes will land passengers at the subway, on either the Bloor-Danforth line or the Yonge-University-Spadina line, respectively.
Union Station can be reached in only 15 minutes from the Tip Top Lofts, from which residents can catch VIA Rail or GO trains to neighbouring cities. Other options for city breaks include walking — yes walking — to Billy Bishop Toronto City Airport, or taking the UP service from Union Station to Pearson International Airport.
Those with cars will also make great use of the Gardiner Expressway, which runs parallel to Lake Shore Boulevard. From here, major highways such as the 427 and the Don Valley Parkway can be reached in no time.
1
Listings For Sale
Interested in receiving new listings for sale?
3
Listings For Rent
Amenities
Maintenance Fees Cover
Maintenance fees include
Water
Owner / renter pays separately
Hydro
Heat
Air Conditioning
Past Sold & Rented Listings
Stats, Trends & Rankings
Price Per Square Foot
Tip Top Lofts vs The
Fort York Area
More Expensive
per SQFT compared to the neighbourhood average
Tip Top Lofts's Avg
price per SQFT
Neighbourhood Avg
price per SQFT
Building Trends At Tip Top Lofts
Days on Market
Units at Tip Top Lofts spend an average of
15
Days on Market
based on recent sales
List vs Selling Price
On average, these lofts sell for
of the list price.
Or in other words, the
entire list price
Offer Competition
Lofts in this building have an
AVERAGE
chance of receiving
Multiple Offers
Turnover of Units
On average, each unit is owned for
5.2
YEARS
before being sold again
Property Value
Increase
in property value within the past twelve months
Price Ranking
Highest price per SQFT out of
17
condos in the Fort York area
Sold Units
17
Units were
Sold
over the past twelve months
Rented Units
16
Units were
Rented
over the past twelve months
Best Value
Tip Top Lofts offers the
best value
out of 17 condos in the Fort York neighbourhood
Return on Investment
Tip Top Lofts has the
highest ROI
out of 17 condos in the Fort York neighbourhood
Rental Yield
Tip Top Lofts yields the
highest rent prices
out of 17 condos in the Fort York neighbourhood
High Demand
Tip Top Lofts is the
most popular
building out of 17 condos in the Fort York neighbourhood
Sales vs Rental Values For This Loft
Average Cost Per Sqft
$1,193
Sales Price Range
$685,000 - $1,651,999
Rental Price Range
$1,895 - $3,500
1 Bed + Den
624 - 1230 SQFT
Average Cost Per Sqft
$1,157
Sales Price Range
$949,900 - $1,455,000
Rental Price Range
$2,300 - $4,700
Average Cost Per Sqft
$1,206
Sales Price Range
$1,277,000 - $2,495,000
2 Bed + Den
1300 - 1520 SQFT
Average Cost Per Sqft
$1,234
Sales Price Range
$1,329,000 - $2,200,000
How Often Are Units Listed?
Average Sales Availability
Average Rental Availability
Ratio of Unit Type in Building
46%
1 Bed + Den
600 - 3000 SQFT
Average Sales Availability
Average Rental Availability
Ratio of Unit Type in Building
34%
Average Sales Availability
Average Rental Availability
Ratio of Unit Type in Building
13%
2 Bed + Den
842 - 2300 SQFT
Average Sales Availability
Average Rental Availability
Ratio of Unit Type in Building
8%
Average Sales Availability
Average Rental Availability
Ratio of Unit Type in Building
1%
Maintenance Fees

Tip Top Lofts vs The

Fort York Area
Less Expensive
per SQFT compared to the neighbourhood average
Tip Top Lofts's Avg
monthly maintenance
fee per SQFT
Neighbourhood Avg
monthly maintenance
fee price per SQFT
Similar lofts