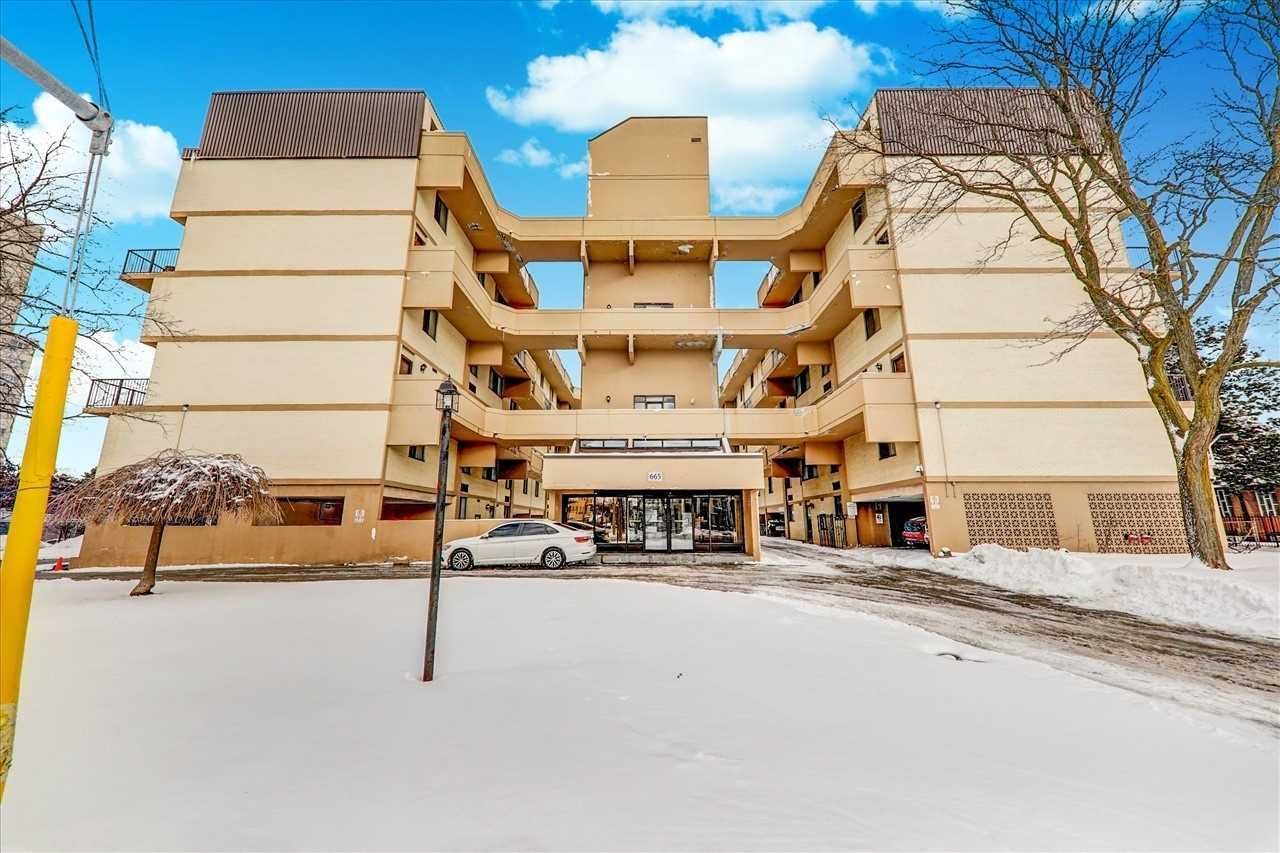 665 Kennedy Rd
0
Listings for Sale
for Sale
0
Listings for Rent
for Rent
665 Kennedy Road Condos
665 Kennedy Rd
665 Kennedy Road Condos
0
Listings for Sale
for Sale
0
Listings for Rent
for Rent
0
Developer
Shon Construction Cpmpany
Property Management
Northcan Property Management
Unit Size Range
880 - 1624 SQFT
665 Kennedy Rd, Toronto
About this condo
Condo Overview
Upon first glance, the 665 Kennedy Road Condos is reminiscent of a beachside Florida low rise. Its concrete façade is painted a joyful lemon chiffon, and outdoor walkways connect the two buildings to one another. Yet since 665 Kennedy Road is situated thousands of Kilometres from the Sunshine State, the aesthetic of this unusual structure probably has more to do with the decade in which it was built: the 1970s.
Built all those decades ago by Shon Construction Company, 665 Kennedy is an intimate, 6-storey condominium that features just 107 Toronto condos. A landscaped courtyard sits between the two towers (if we can even call them that), and residents have access to a number of useful amenities including an indoor pool, a games room, a party room, barbecues, and visitor parking.
The Suites
While condos these days seem to be getting smaller and smaller, condo seekers hoping to find something sizeable will appreciate the Toronto condos for sale at 665 Kennedy. Every suite in the building measures in at over 1,000 square feet, with the largest spanning approximately 1,500. The building is well suited to families, as homes contain either three bedrooms or three bedrooms plus a den, and some even cover two storeys.
Seeing as this is an older building, many of the homes at 665 Kennedy have received plenty of TLC over the years. For example, one penthouse unit was completely overhauled in 2016, and now has an industrial loft-like feel thanks to exposed concrete and pipes, while other homes now appear bright, shiny, and modern.
The Neighbourhood
Residents don't only choose to live in the 665 Kennedy Rd for their generous floor plans. The Scarborough Junction neighbourhood also happens to be a great place to live, thanks to its proximity to green spaces, attractions, and transportation infrastructure.
There may be plenty of parks directly surrounding 665 Kennedy Rd, however residents can often be found exploring the Scarborough Bluffs during the warmer months of the year. This natural land formation can be enjoyed from both above and below, depending on whether one is after striking views or relaxing beaches.
Nearly all of one's shopping needs can be met at Eglinton Town Centre, an outdoor mall where residents living in the Scarborough Junction can find Walmart, Canadian Tire, Homesense, LCBO, and numerous fashion and specialty stores.
Transportation
Living so close to the intersection of Kennedy and Eglinton has its perks for residents of 665 Kennedy Rd — and especially for those who choose to leave their cars at home. Not only do residents live a 12-minute walk from Kennedy Station on the Scarborough subway line, but the Kennedy GO Station is also right next door to the subway. The latter is great for passengers who need to reach Union Station in a hurry, as well as anyone heading out of town.
As for drivers living in the building, major arterial roads like Eglinton and Kennedy can be used to get around the city with ease. The 401 can be reached by driving north along Kennedy for about 7 kilometres, while the Don Valley Parkway is around the same distance away from 665 Kennedy, to the west.
0
Listings For Sale
Interested in receiving new listings for sale?
0
Listings For Rent
Interested in receiving new listings for rent?
Amenities
Maintenance Fees Cover
Maintenance fees include
None
Owner / renter pays separately
Hydro
Heat
Air Conditioning
Water
Past Sold & Rented Listings
Stats, Trends & Rankings
Price Per Square Foot
665 Kennedy Road Condos vs The
Scarborough Junction Area
Less Expensive
per SQFT compared to the neighbourhood average
665 Kennedy Road Condos's Avg
price per SQFT
$420
/ SQFT
Neighbourhood Avg
price per SQFT
$698
/ SQFT
Building Trends At 665 Kennedy Road Condos
Days on Market
Units at 665 Kennedy Road Condos spend an average of
32
Days on Market
based on recent sales
List vs Selling Price
On average, these condos sell for
above
the list price.

Offer Competition
Condos in this building have an
AVERAGE
chance of receiving
Multiple Offers
Turnover of Units
On average, each unit is owned for
14
YEARS
before being sold again
Property Value
Increase
in property value within the past twelve months
Price Ranking
Highest price per SQFT out of
10
condos in the Scarborough Junction area
Sold Units
9
Units were
Sold
over the past twelve months
Rented Units
0
Units were
Rented
over the past twelve months
Best Value
665 Kennedy Road Condos offers the
best value
out of 10 condos in the Scarborough Junction neighbourhood
Return on Investment
665 Kennedy Road Condos has the
highest ROI
out of 10 condos in the Scarborough Junction neighbourhood
Rental Yield
665 Kennedy Road Condos yields the
highest rent prices
out of 10 condos in the Scarborough Junction neighbourhood
High Demand
665 Kennedy Road Condos is the
most popular
building out of 10 condos in the Scarborough Junction neighbourhood
Sales vs Rental Values For This Condo
Average Cost Per Sqft
$367
Sales Price Range
$380,000 - $550,001
How Often Are Units Listed?
Average Sales Availability
Average Rental Availability
Ratio of Unit Type in Building
97%
3 Bed + Den
1140 - 1244 SQFT
Average Sales Availability
Average Rental Availability
Ratio of Unit Type in Building
4%
Maintenance Fees

665 Kennedy Road Condos vs The

Scarborough Junction Area
More Expensive
per SQFT compared to the neighbourhood average
665 Kennedy Road Condos's Avg
monthly maintenance
fee per SQFT
$0.72
/ SQFT
Neighbourhood Avg
monthly maintenance
fee price per SQFT
$0.64
/ SQFT
Similar condos