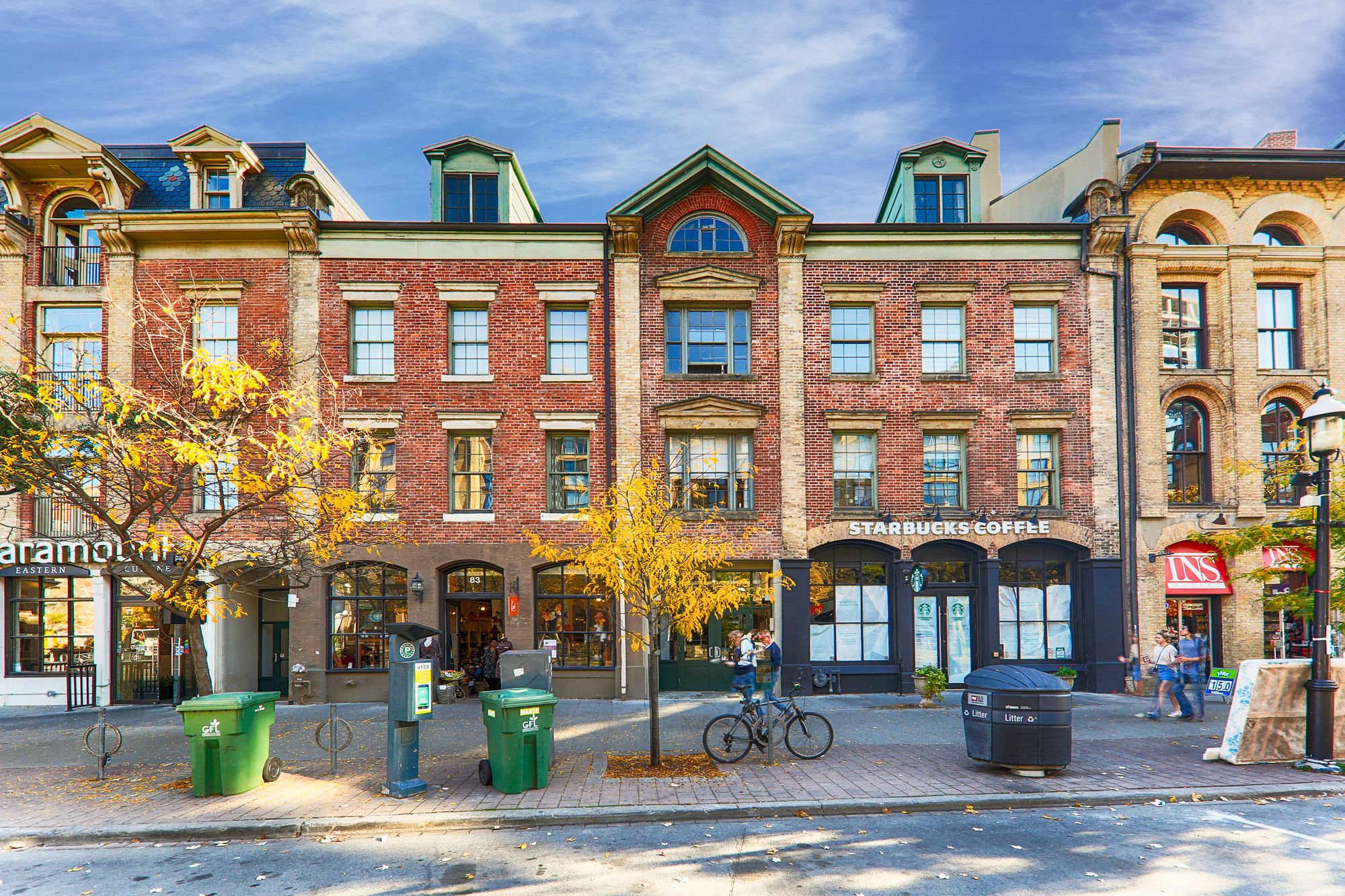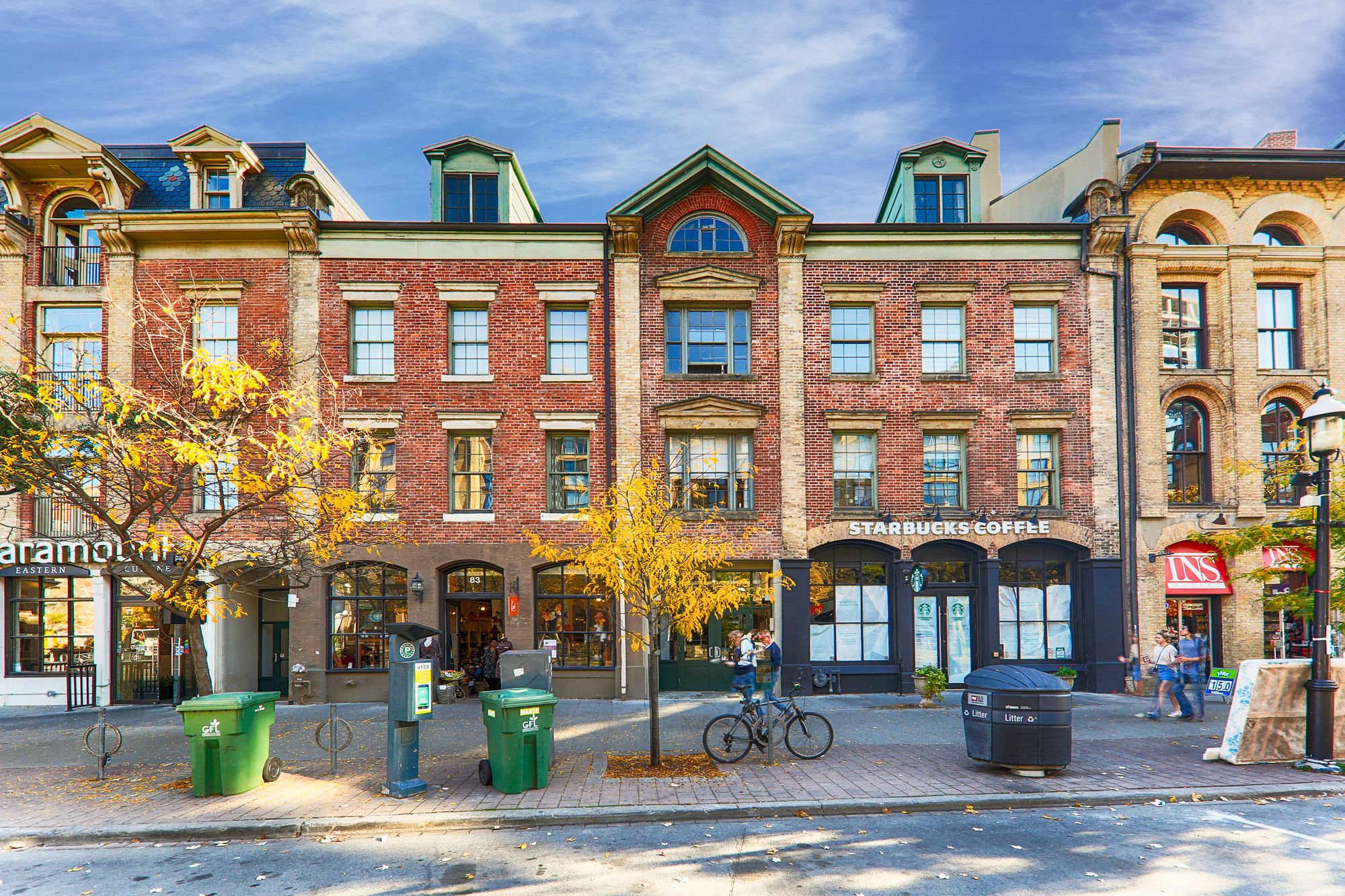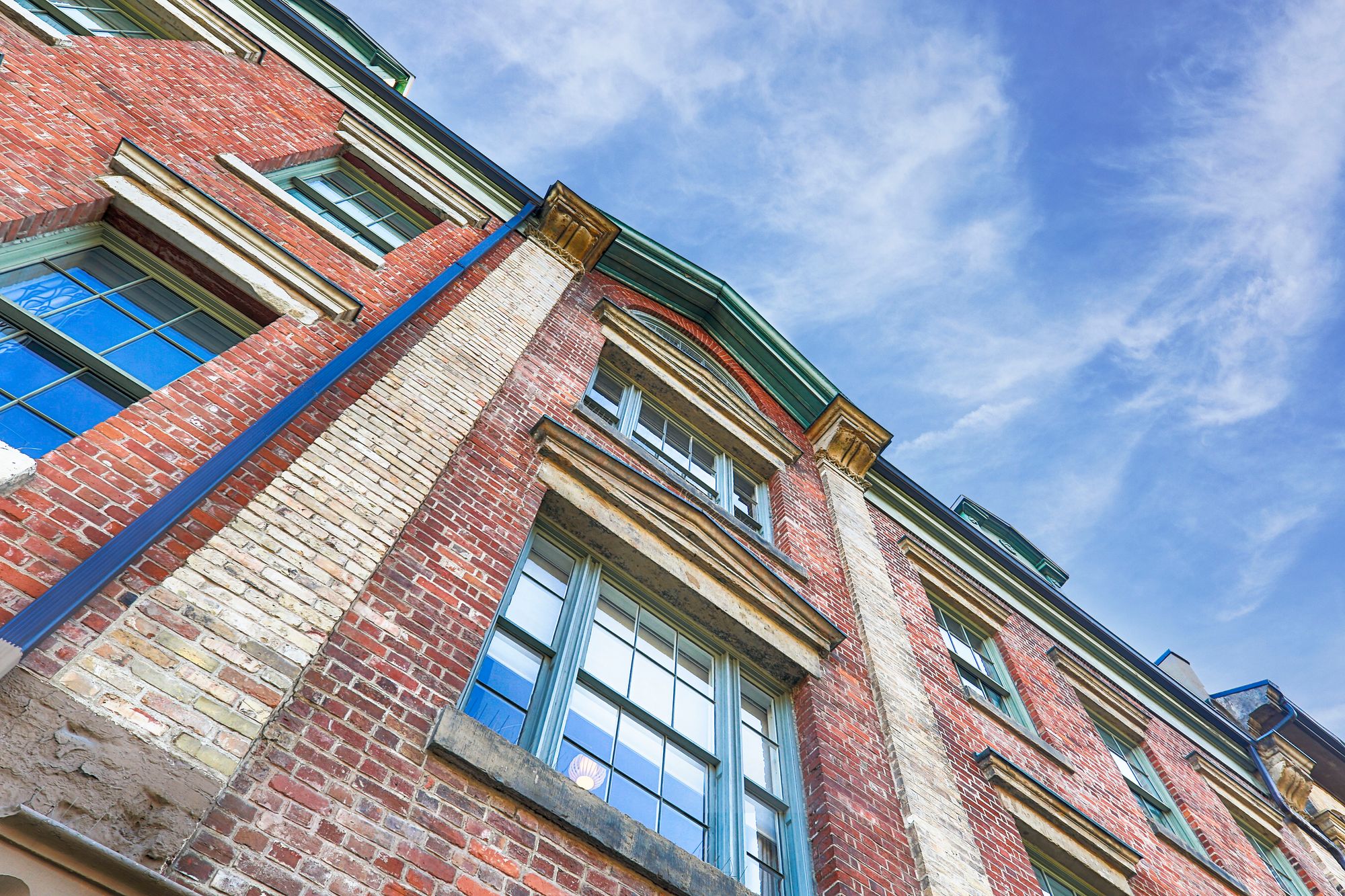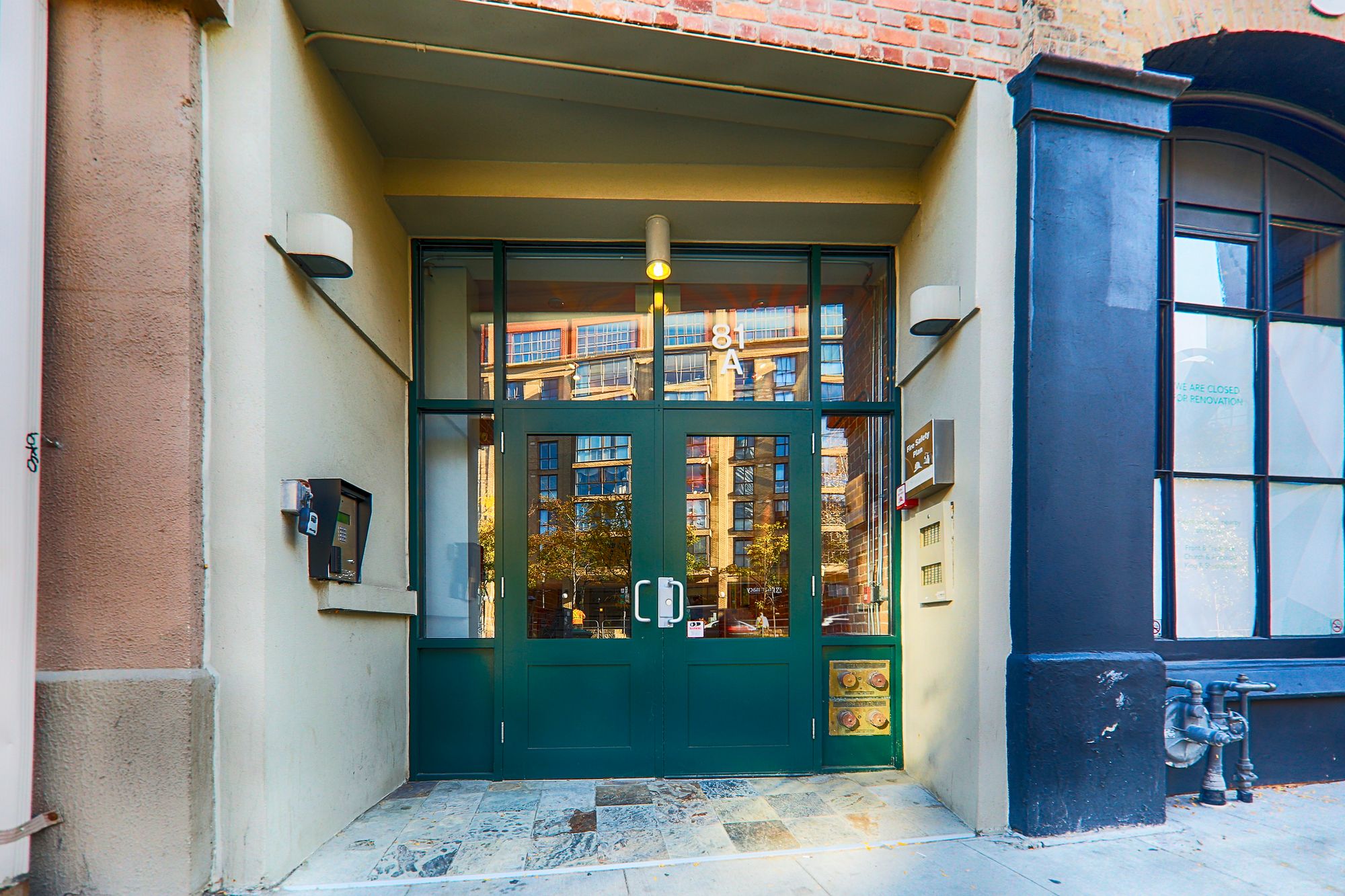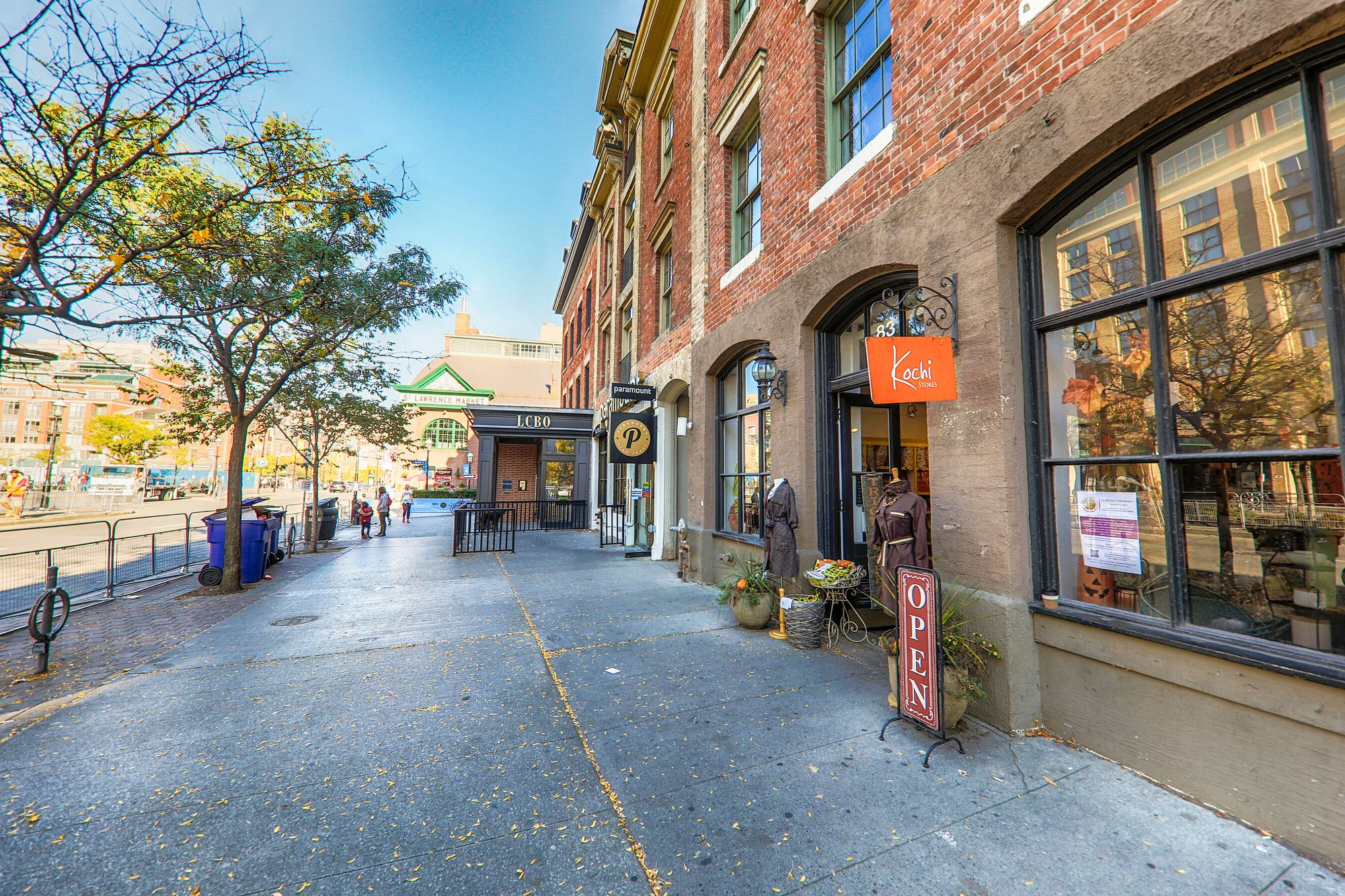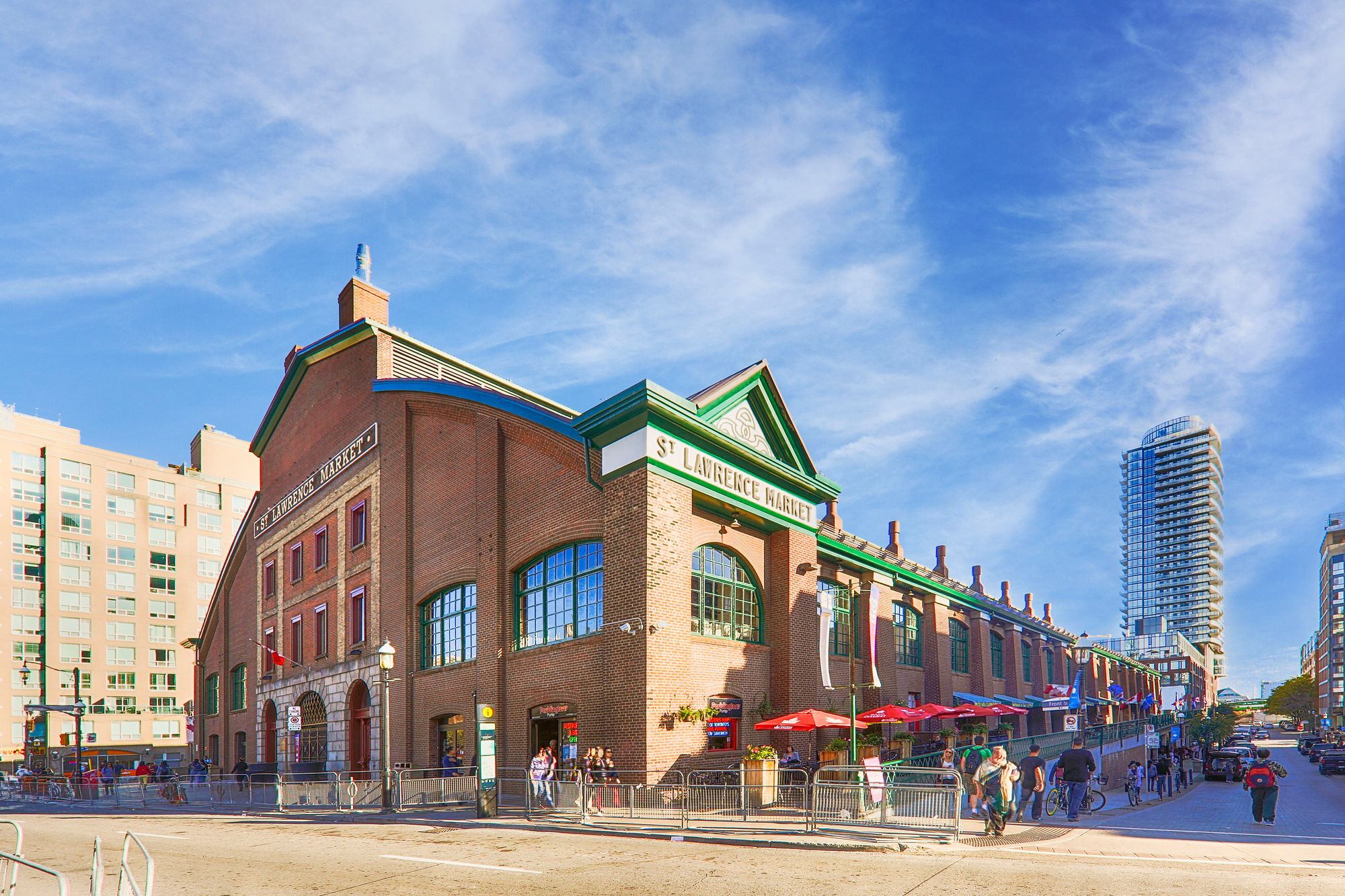 81A Front St
0
Listings for Sale
for Sale
0
Listings for Rent
for Rent
Property Management
First Service Residential
Unit Size Range
435 - 1300 SQFT
About this loft
While unable to overshadow the actual St. Lawrence Market itself, the Toronto lofts at 81A Front Street are some of the most impressive as far as historical hard lofts go. In fact, the bones of the building even pre-date Canada's confederation.
The building is technically comprised of three structures. These were originally constructed in 1837 to house the warehouses and offices of a wholesale grocer, and have since had their interiors reorganized to hold 53 authentic and lust-worthy lofts. The conversion of the building into the St. Lawrence Market Lofts was carried out in 2003 by the Georgian Group.
From the exterior, red brick that has lived through over a century and a half continues to stand the test of time. Ground-level commercial tenants, such as Starbucks, demonstrate that it's possible to embrace the new along with the old. Above, intricate, antique cornices top the windows that grace the building's façade.
Between their prime location and their historic essence, it's no wonder that turnover rates are extremely low. The low-rise building also features an elevator and parking, comprising a limited yet important set of amenities for residents of the St. Lawrence Market Lofts.
The Suites
Prospective buyers interested in Toronto condos for sale at the St. Lawrence Market Lofts are probably all asking themselves the same thing at this point: does all that red brick carry through to the interiors? And the answer, thankfully, is yes.
Suites at 81A Front Street East are clad in exposed brick that, while polished since then, date back to the mid 1800s. And while this will certainly save homeowners from purchasing large amounts of paint, the character afforded by these walls is much more important than that. Other authentic elements are abundant as well, such as the wooden beams that have lent their support since 1837.
Thanks to the building's industrial past, ceiling heights that once allowed for ample storage space now makes the homes in the St. Lawrence Market Lofts feel spacious as ever. Ceiling heights reach to 15 feet high, and are vaulted in some areas for maximum drama.
Most of the lofts at 81A Front are spread out over a single story, although a select few manage to span two floors. Sizes range from comfortable to considerable, or for those who prefer the hard numbers, they range from approximately 500 to 1,300 square feet. Each loft contains either one or two bedrooms, with communal areas laid out in an open concept fashion.
The Neighbourhood
If you haven't already guessed, the lofts at 81A were named after the market across the way and the surrounding St. Lawrence neighbourhood. The St. Lawrence Market has been around since 1803, and is still going strong today.
Residents can wander over on Sundays for a browse through the weekly antiques market that takes place in the northernmost building. On Saturdays, on the other hand, this building is reserved for local farmers hawking their fresh produce. And finally, the building just to the south is open Tuesday through Saturday, where shoppers can find everything from artisan bread to imported cheeses straight from France.
Just to the west of the St. Lawrence neighbourhood, the scenery changes quite dramatically. The financial district is where buildings rise higher and the atmosphere starts to feel more serious. Alternatively, a short trip to the east of the St. Lawrence Market Lofts will land one in the historic Distillery District. Here, cobblestone roads are lined with heritage buildings that have been cleverly repurposed into art galleries, elegant eateries, and a number of theatres.
Other opportunities for distraction can be found within walking distance; these include the Rainbow Cinemas movie theatre at Market Square, as well as the Sony Centre for the Performing Arts for something a little more refined. Residents also have their pick of green space, between St. James Park, Berczy Park, and a number of others along the lakeshore.
Transportation
When the time comes to explore areas beyond the immediate proximity, residents of the St. Lawrence Market Lofts are in luck, thanks to their central location. Union Station is an 8-minute walk away, while the 121 For York-Esplanade bus takes just as long but shelters passengers from the cold during winter months.
From Union Station, residents can access VIA Rail trains, GO buses and trains, and the UP service to Pearson International Airport. For those riding the subway north, King Station is also only 550 metres away from the lofts at 81A Front Street East.
Drivers are also well positioned, especially with the Gardiner Expressway and the Don Valley Parkway each within close reach. Using either of these routes, those heading out by car can reach any part of the city in no time.
0
Listings For Sale
Interested in receiving new listings for sale?
0
Listings For Rent
Interested in receiving new listings for rent?
Property Highlights
Listing History for St Lawrence Market Lofts
Nearby Amenities
Stats, Trends & Rankings
St Lawrence Market Lofts vs The St. Lawrence Area
St Lawrence Market Lofts's Avg
Building Trends At St Lawrence Market Lofts
Days on Strata
Units at St Lawrence Market Lofts spend an average of
20
Days on Strata
based on recent sales
List vs Selling Price
On average, these lofts sell for
of the list price.
Or in other words, the
entire list price
Offer Competition
Lofts in this building have a
LOW
chance of receiving
Multiple Offers
Turnover of Units
On average, each unit is owned for
5.4
YEARS
before being sold again
Property Value
Decrease
in property value within the past twelve months
Price Ranking
Highest price per SQFT out of
64
condos in the St. Lawrence area
Sold Units
2
Units were
Sold
over the past twelve months
Rented Units
6
Units were
Rented
over the past twelve months
Sales vs Rental Values For This Loft
Average Cost Per Sqft
$982
Sales Price Range
$628,500 - $681,000
Rental Price Range
$2,500 - $2,975
Average Cost Per Sqft
No Data
Rental Price Range
$3,650 - $3,650
How Often Are Units Listed?
Average Sales Availability
Average Rental Availability
Ratio of Unit Type in Building
72%
1 Bed + Den
875 - 1230 SQFT
Average Sales Availability
Average Rental Availability
Ratio of Unit Type in Building
11%
Average Sales Availability
Average Rental Availability
Ratio of Unit Type in Building
18%
Maintenance Fees
St Lawrence Market Lofts vs The
St. Lawrence Area
St Lawrence Market Lofts's Avg
monthly maintenance fee
Neighbourhood Avg
monthly maintenance fee
Similar lofts