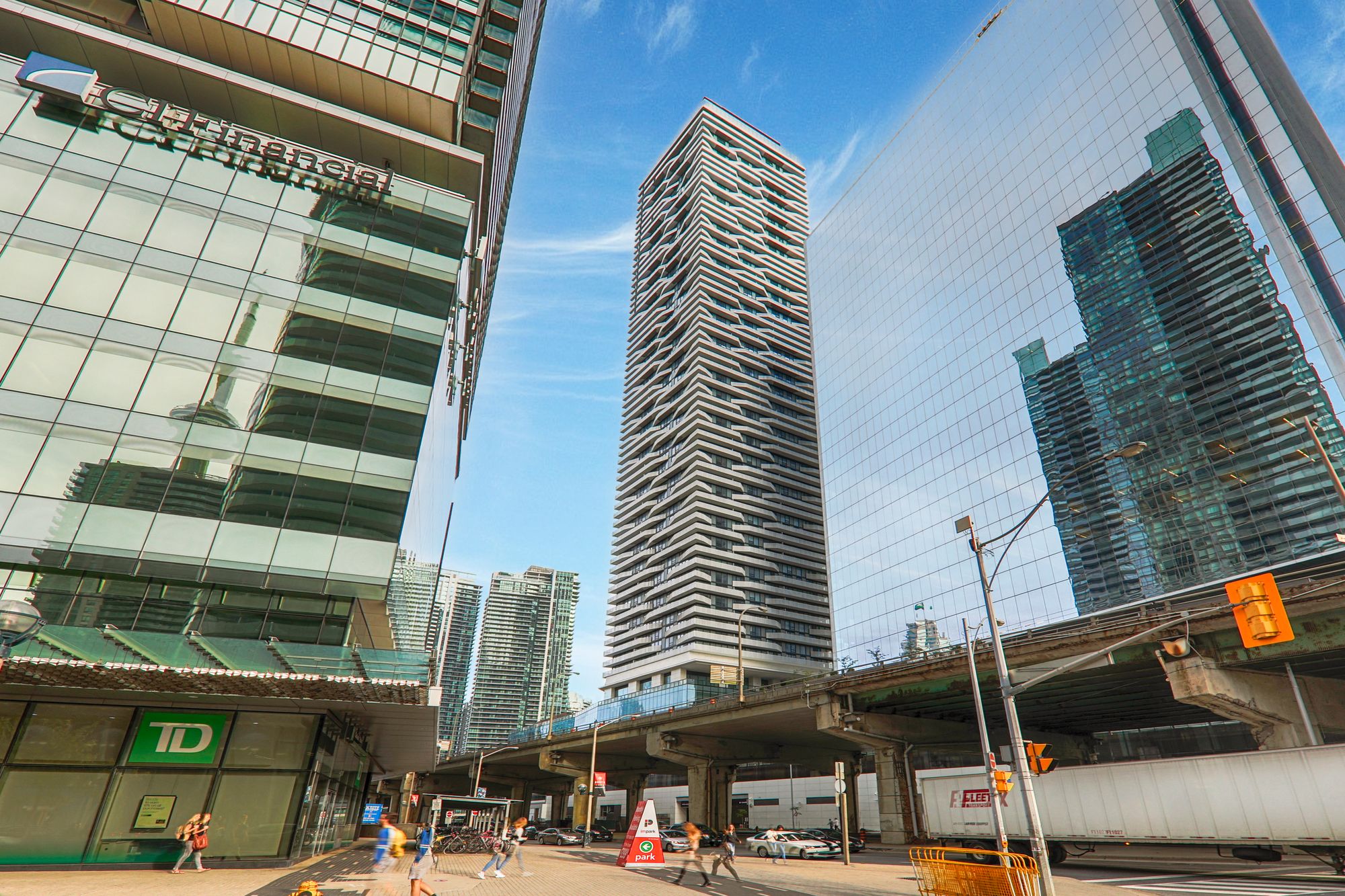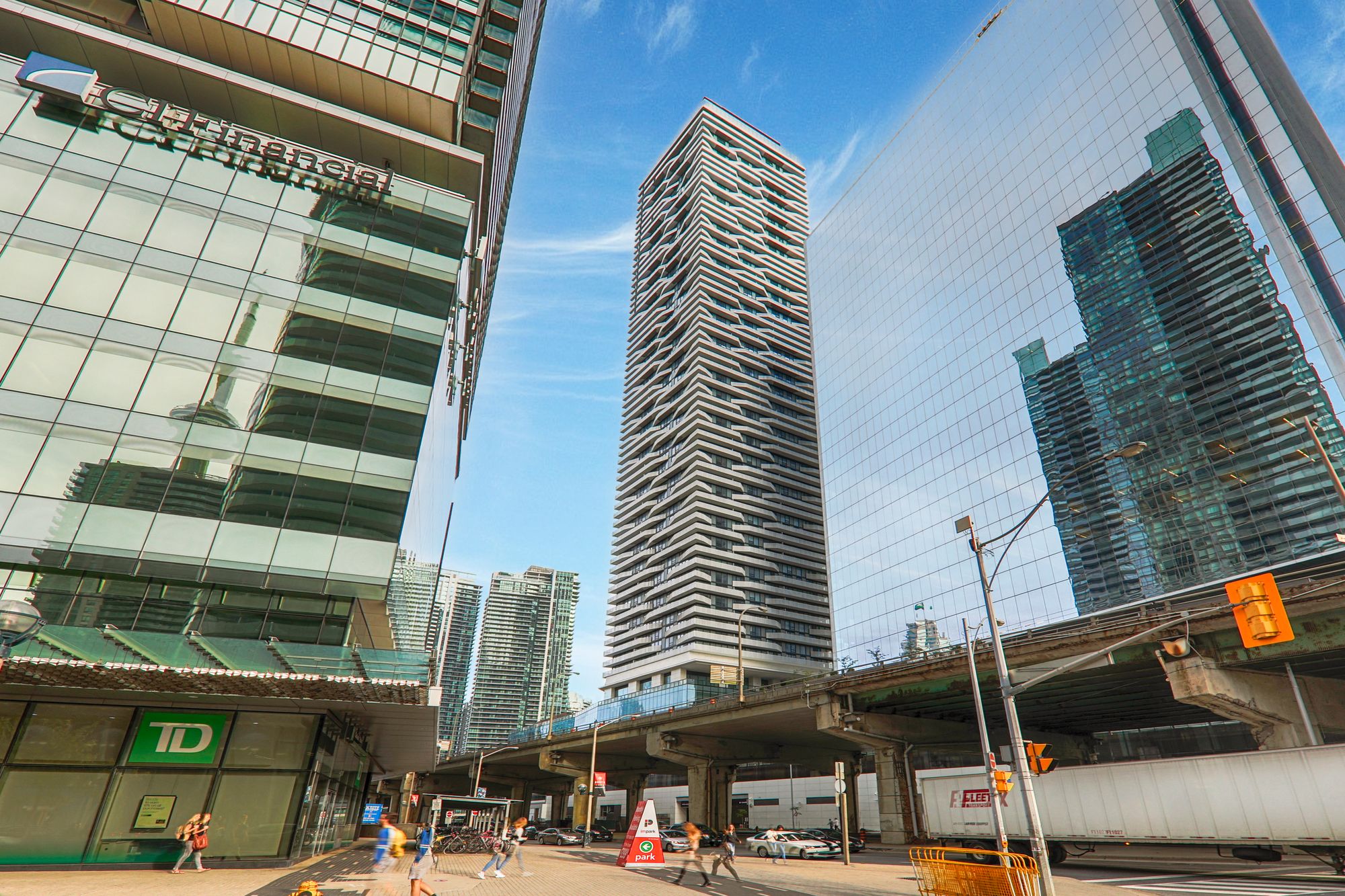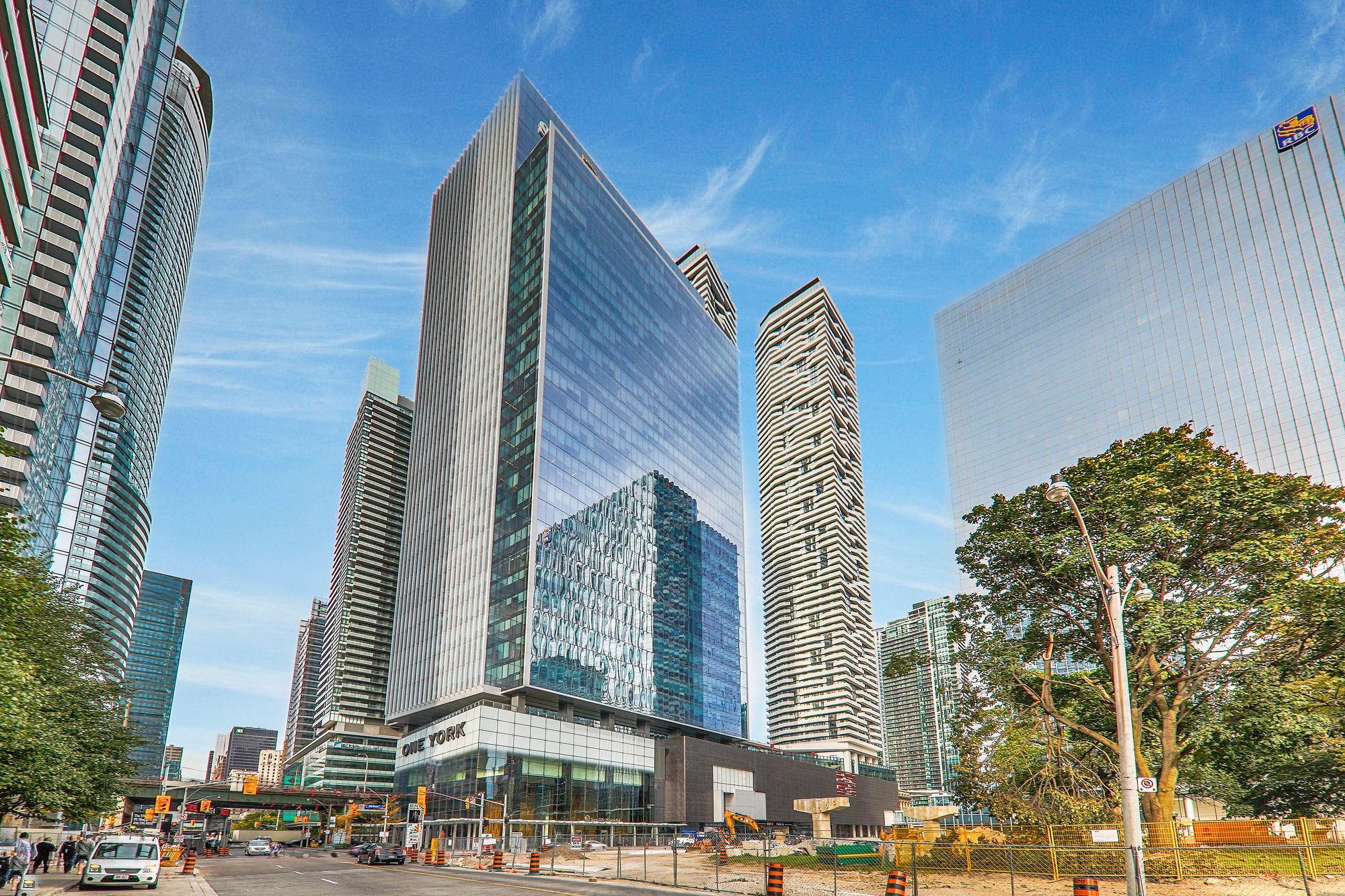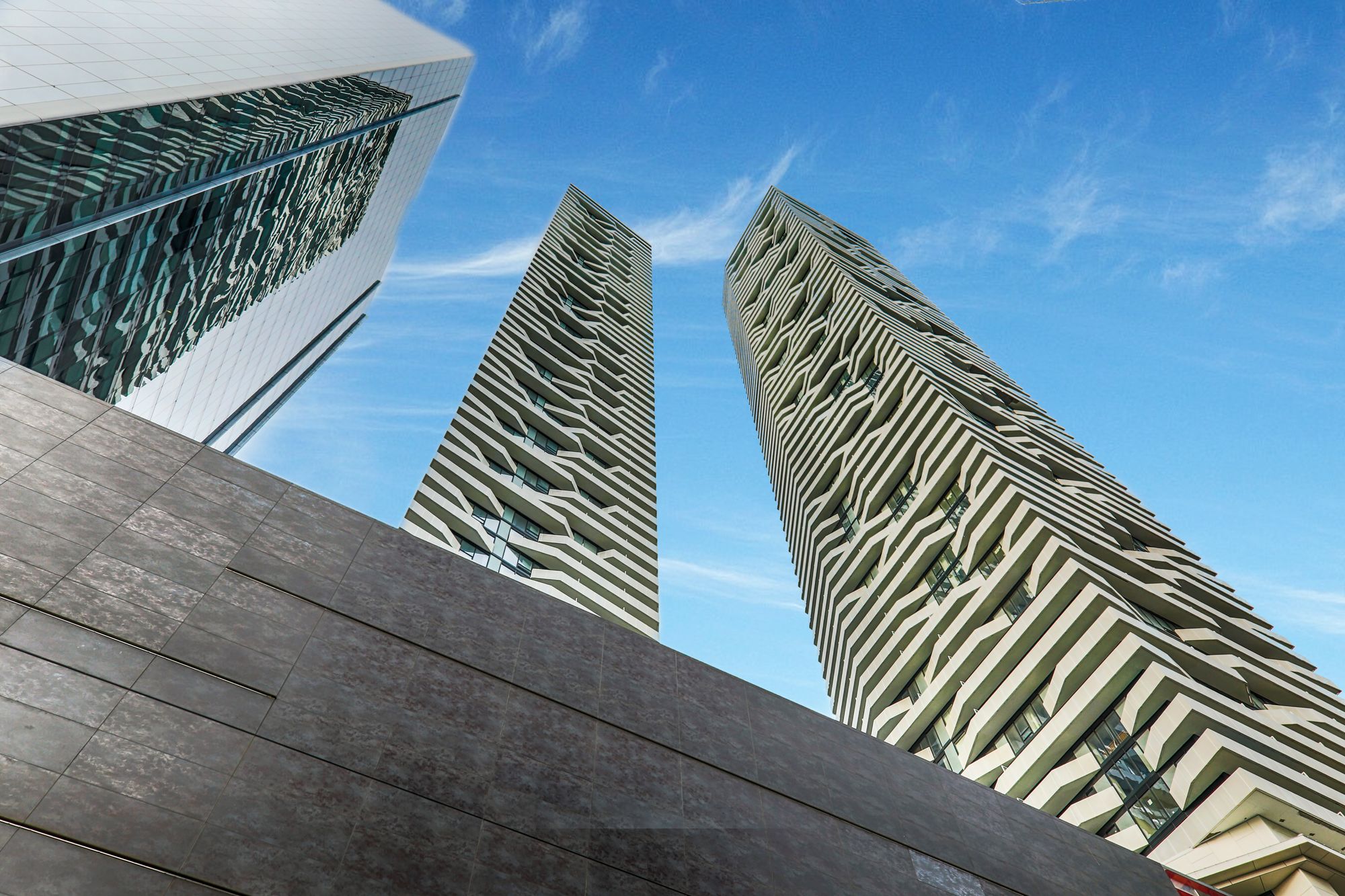 88-100 Harbour St
21
Listings for Sale
for Sale
21
Listings for Rent
for Rent
Property Management
MenRes Property Management
Unit Size Range
263 - 2000 SQFT
Unit Availability
Above Average
About this condo
Perhaps the most ambitious of all the new developments along the Lakeshore in the The Waterfront neighbourhood, at 88-100 Harbour Street the co-development team of Menkes and HOOPP Reality (The Healthcare of Ontario Pension Plan's investment team) expertly executed the Harbour Plaza Residences. While Sun Life Financial also calls one of the development's three towers home, the Harbour Plaza Residences two residential towers are phenomenal opportunities for any prospective homeowner.
Completed in 2017, the complex's lead designers, Sweeny & Co Architects, called upon the illustrious Peter Clewes of ArchitectsAlliance to oversee the residential architecture of the two graceful modern towers at 88-100 Harbour St. Standing at 62- and 66-storeys, the Harbour Plaza Residences two towers showcase an intricate pattern of white balconies, making them elegant additions to the city's skyline.
Since Menkes' development occupies a full city block, the building can easily offer an extensive array of amenities. They will more than please prospective residents, considering the much-acclaimed Cecconi Simone directed their interior design as well.
Inside, the lavish lobby certainly leaves a grand impression: it contains a fireplace lounge and is cared for by a 24-hour concierge service. For prospective buyers seeking a place to work out, the state-of-the-art fitness facility includes studios for weight training, yoga, cardio, and even spinning.
For entertaining guests, the building's indoor pool is incredible, as is the party room that's fully accessorized with a kitchen and bar. Social events can also extend out onto the condo's massive outdoor terrace. Landscaped gorgeously, the terrace features a reflecting pool and sunset lounge overlooking the city.
Lastly, while the common areas were all sophisticatedly decorated by Cecconi Simone, this interior design studio's work in the Harbour Plaza Residences theatre is exceptional. Watching movies by the warmth of a fireplace offers a truly serene escape for residents to enjoy with friends and family.
The Suites
These towers are home to a total of 1305 suites that range in size from approximately 400 to 1,100 square feet. This includes studios, as well as three bedroom homes. Still, no matter their specific size, every suite is luxurious and spacious, courtesy of fixtures and finishes chosen by Cecconi Simone. The sheer number of units ensures that buyers have a great chance of finding Toronto condos for sale in this complex.
The suites' chic modern aesthetic resounds both in the kitchen and bathrooms, where custom-designed streamlined cabinetry features quartz and stone countertops, respectively. Similarly, engineered hardwood floors (throughout except for the bathrooms) and awning-style windows ensure the atmosphere in the suites is bright and fresh.
The Neighbourhood
Considered an "urban re-generator," Menkes and HOOPP's development attracts many more businesses to the area, especially considering the new Sun Life Financial building. All in all, the Harbour Plaza Residences sits in an exciting part of the city, south of the Gardiner and just steps from Lake Ontario, but also within walking distance of trendy neighbourhoods like King West, and Liberty Village.
Down York Street, the lakeshore offers many great attractions. Those living in the area may best enjoy the Harbourfront Centre. Giving the residents of these new condos an opportunity to engage with an exciting community, the Harbourfront Centre's arts, cultural, educational, and recreational programming reflects the diversity of Toronto, as it works with business and cultural leaders from throughout the city.
Transportation
The development of 88-100 Harbour Street resulted in the first extension of the city's PATH network south of the Gardiner Expressway. As such, residents can easily walk throughout the city — even during winter — thanks to the network of enclosed walkways at their building's footsteps.
Furthermore, the PATH connects residents to Union Station. From there, the TTC, GO Transit, VIA Rail and the UP Express can all be accessed by travelers heading around or out of town.
Last but not least, those who prefer to drive are well situated when living at 90 Harbour and 1 York. Even if the area's roads are busy, there's an on-ramp for the Gardiner Expressway at York Street. Drivers need only a few minutes to get their trips on the fast-track.
21
Listings For Sale
Interested in receiving new listings for sale?
21
Listings For Rent
Interested in receiving new listings for rent?
Property Highlights
Listing History for Harbour Plaza Residences
Nearby Amenities
Stats, Trends & Rankings
Harbour Plaza Residences vs The Waterfront Area
Harbour Plaza Residences's Avg
Building Trends At Harbour Plaza Residences
Days on Strata
Units at Harbour Plaza Residences spend an average of
28
Days on Strata
based on recent sales
List vs Selling Price
On average, these condos sell for
above
the list price.

Offer Competition
Condos in this building have an
AVERAGE
chance of receiving
Multiple Offers
Turnover of Units
On average, each unit is owned for
4.8
YEARS
before being sold again
Property Value
Decrease
in property value within the past twelve months
Price Ranking
Highest price per SQFT out of
41
condos in The Waterfront area
Sold Units
30
Units were
Sold
over the past twelve months
Rented Units
252
Units were
Rented
over the past twelve months
Sales vs Rental Values For This Condo
Average Cost Per Sqft
$1,486
Sales Price Range
$426,000 - $550,888
Rental Price Range
$1,950 - $2,350
Average Cost Per Sqft
$1,328
Sales Price Range
$640,000 - $850,000
Rental Price Range
$2,350 - $5,600
1 Bed + Den
576 - 694 SQFT
Average Cost Per Sqft
$1,258
Sales Price Range
$718,800 - $718,800
Rental Price Range
$2,575 - $3,300
Average Cost Per Sqft
$1,259
Sales Price Range
$929,000 - $985,000
Rental Price Range
$3,000 - $7,000
2 Bed + Den
749 - 1299 SQFT
Average Cost Per Sqft
No Data
Rental Price Range
$3,750 - $7,500
Average Cost Per Sqft
$1,459
Sales Price Range
$1,060,000 - $1,060,000
Rental Price Range
$3,550 - $4,700
3 Bed + Den
2000 - 2000 SQFT
Average Cost Per Sqft
No Data
Rental Price Range
$3,100 - $3,100
How Often Are Units Listed?
Average Sales Availability
Average Rental Availability
Ratio of Unit Type in Building
12%
Average Sales Availability
Average Rental Availability
Ratio of Unit Type in Building
49%
1 Bed + Den
549 - 694 SQFT
Average Sales Availability
Average Rental Availability
Ratio of Unit Type in Building
14%
Average Sales Availability
Average Rental Availability
Ratio of Unit Type in Building
21%
2 Bed + Den
740 - 1499 SQFT
Average Sales Availability
Average Rental Availability
Ratio of Unit Type in Building
2%
Average Sales Availability
Average Rental Availability
Ratio of Unit Type in Building
5%
3 Bed + Den
1007 - 2000 SQFT
Average Sales Availability
Average Rental Availability
Ratio of Unit Type in Building
1%
Maintenance Fees
Harbour Plaza Residences vs The
Waterfront Area
Harbour Plaza Residences's Avg
monthly maintenance fee
Neighbourhood Avg
monthly maintenance fee
Similar condos