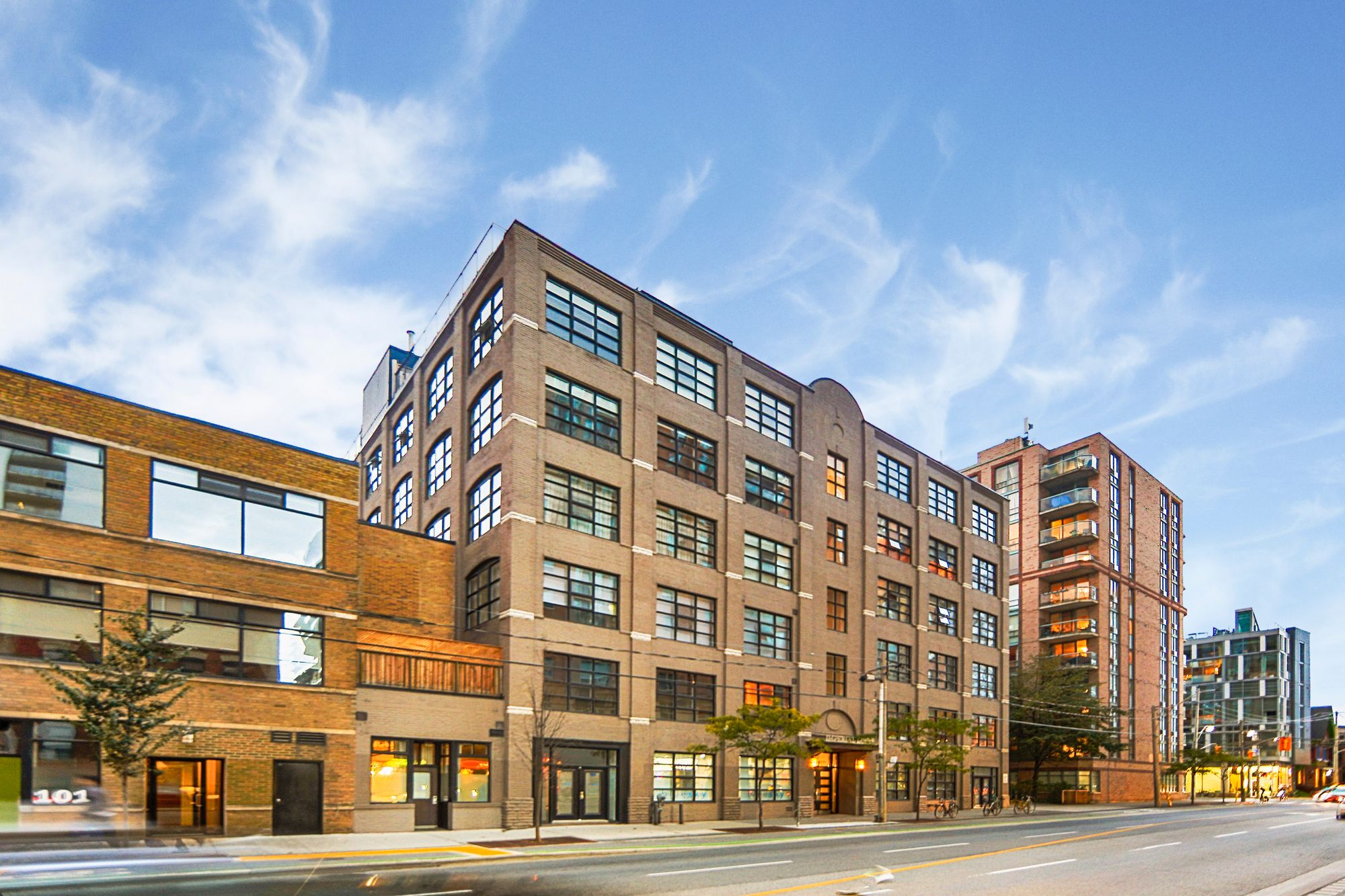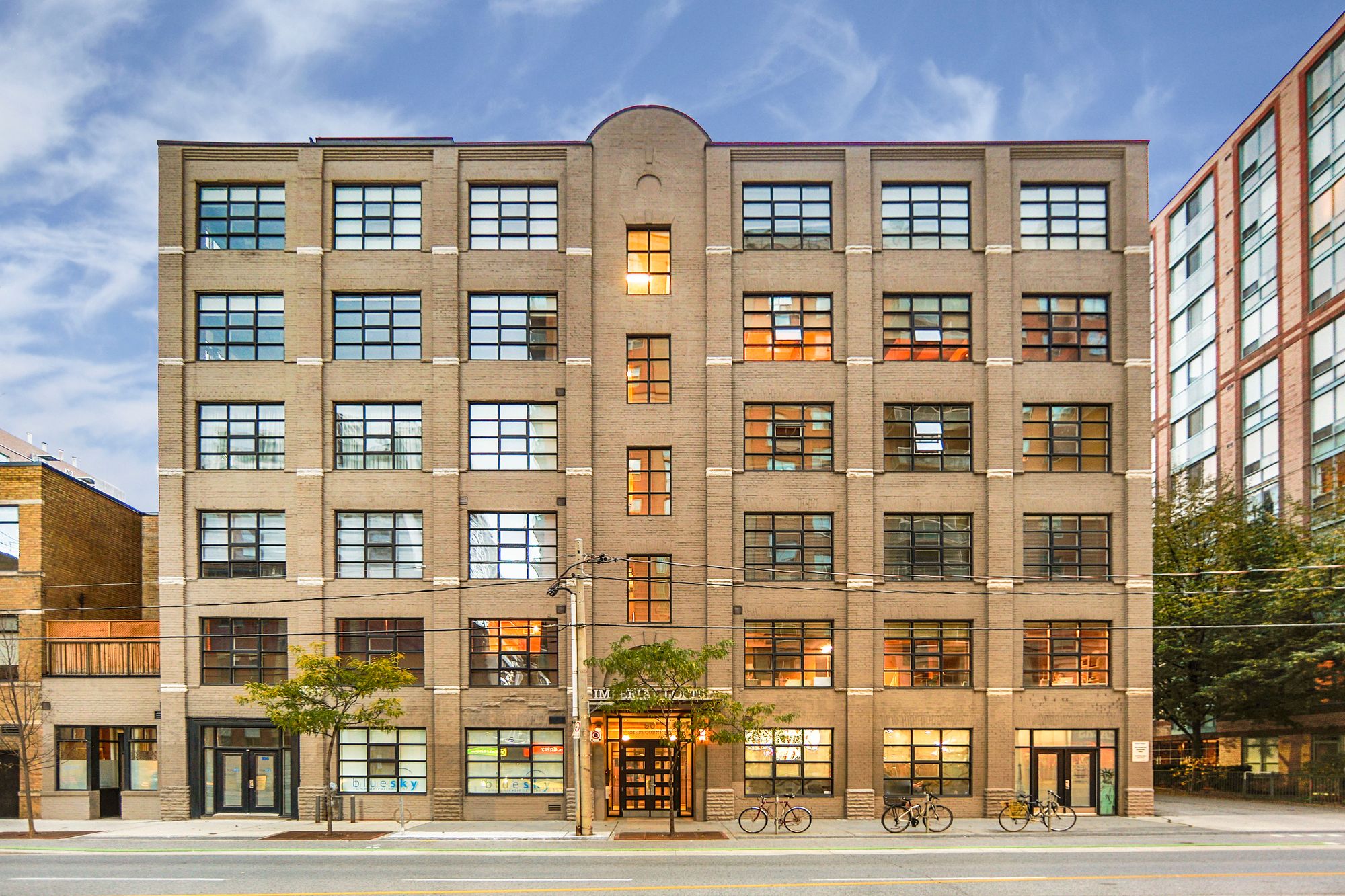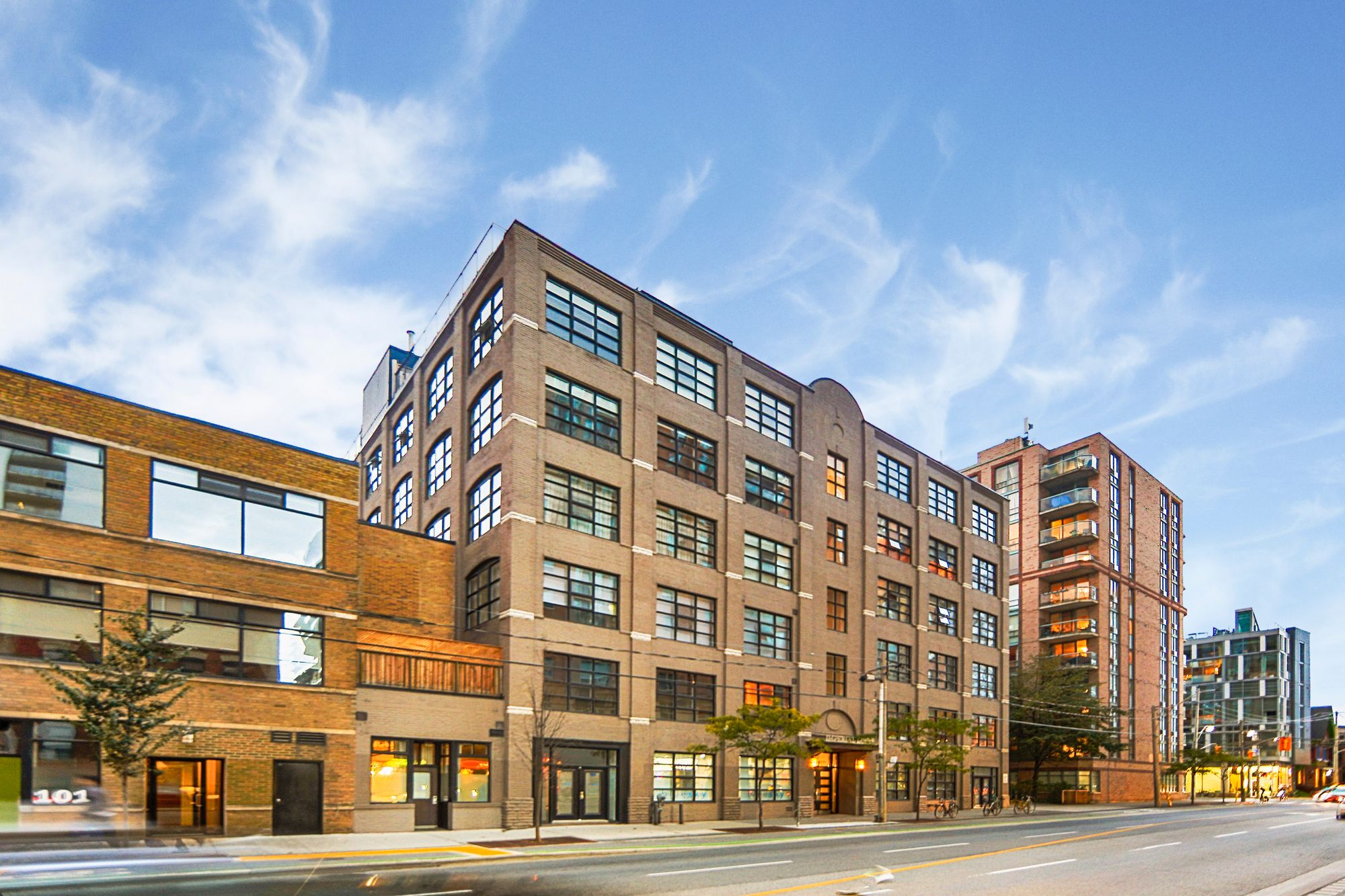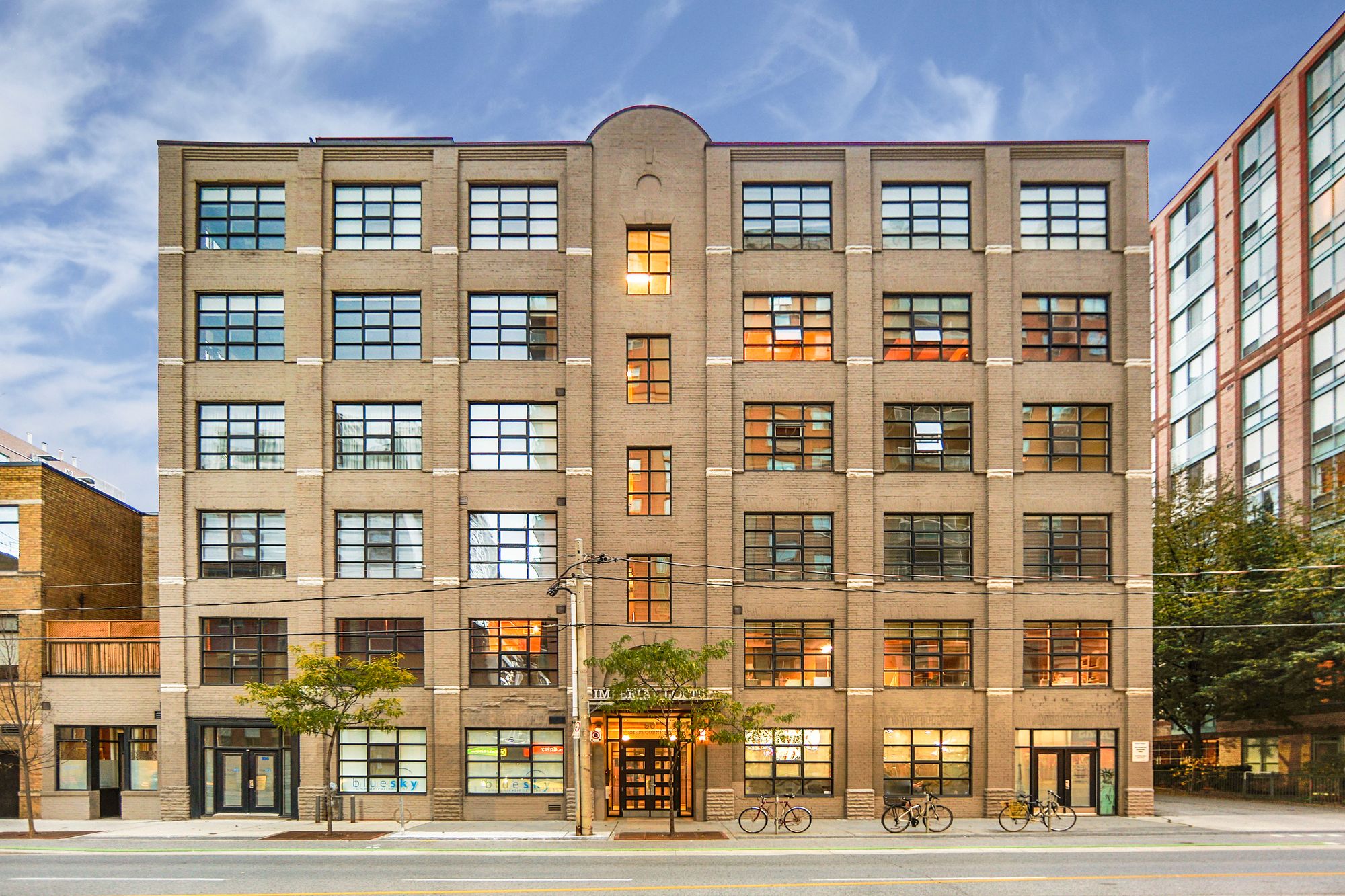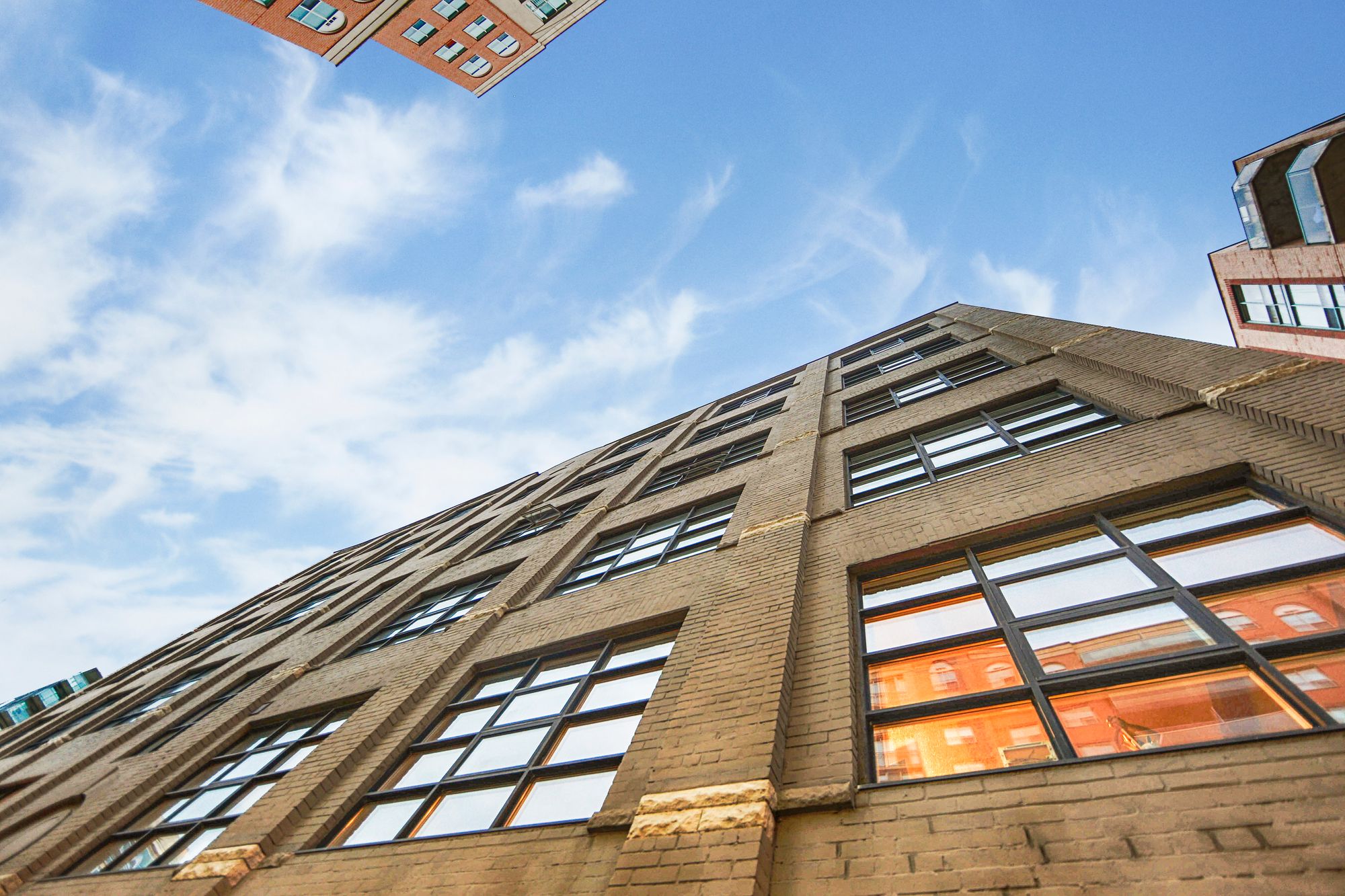 90 Sherbourne St & 80 Sherbourne St
0
Listings for Sale
for Sale
0
Listings for Rent
for Rent
Imperial Lofts
90 Sherbourne St
Imperial Lofts
0
Listings for Sale
for Sale
0
Listings for Rent
for Rent
Property Management
Nadlan-Harris Property Management
Unit Size Range
778 - 2700 SQFT
90 Sherbourne St, Toronto
About this loft
The Imperial Lofts at 80-90 Sherbourne Street are like a love letter to Toronto's industrial past. The way in which the building has been maintained, its vintage ambiance, century-old character, and updated living spaces, make up a romanticized version of how all authentic hard loft conversions should go.
Surprisingly enough, the renovation process that turned 80-90 Sherbourne into 65 Toronto lofts was amongst the first in the city. Converted in 1998, these homes existed before the bulk of Toronto's lofts offered any real guidelines — or projects to beat. Perhaps the structure itself just begged to be treated kindly: even in the 90s this building had stood for nearly 100 years.
The Imperial Lofts consists of two adjoined structures at 80 and 90 Sherbourne Street. One such building is a 6-storey former warehouse, while its other half is a 3-storey art-deco office building circa the 1930s. The name for the lofts comes from the prior use of both buildings — Imperial Optical utilized both of these spaces for the bulk of the 20th century.
Today, however, the building is high-tech as ever: both a Facebook page and website are used to keep residents updated on goings-on. Other than a shared rooftop terrace with barbecues, amenities at 80-90 Sherbourne are sparse. Instead, residents are encouraged to go out and explore the neighbourhood, with the funds to do so provided by lower maintenance fees than most.
The Suites
A tremendous amount of exposed red brick is scattered throughout the lofts at 80-90 Sherbourne. Together with paned warehouse windows and exposed concrete, the homes are given a classic loft appearance.
The 65 units range from generously sized one bedrooms starting at 800 square feet, to sprawling 2 bedroom lofts reaching up to 1,700 — far larger than most condos for sale in downtown Toronto. The largest of units offer residents expansive master bedrooms, while others still maintain a sense of spaciousness.
The roomy atmospheres at the Imperial lofts are provided by open concept layouts that are surrounded by oversized, arched windows. With tons of natural light pouring into these homes, industrial elements are also given a new life. The sun's warm rays highlight authentic wooden columns and beams and exposed pipes and ductwork.
And better yet, hardwood flooring and renovated kitchen and bathrooms provide modern residents with a touch of luxury. These, combined with ceiling heights that reach to 10 feet tall, allow the Imperial Lofts to live up to their grand name.
The Neighbourhood
The St. Lawrence Market neighbourhood around the Imperial Lofts is similarly historical. Even the St. Lawrence Market itself — the area's namesake — dates back to 1803. For over 200 years vendors have been gathering at this very spot to sell their edible goods. In recent years, National Geographic has even named St. Lawrence Market one of the best food markets in the world.
For those residents taking advantage of the pet-friendly policy at 80-90 Sherbourne, a number of great parks serve as go-to dog walking spots. The Esplanade, a few streets south, spans 5 city blocks. Another outdoor escape is St. James Park, where residents can even catch a concert or movie night during the summer.
The Imperial Lofts are also nearby to the historic Distillery District, which features creative commercial enterprises within Victorian-era industrial structures. The area is a self-contained part of the city where visitors step back in time when strolling along its cobblestone streets. This area has become a go-to for tourists and locals alike in recent years, where one can spend a day or evening exploring its restaurants, galleries, theatres, and boutiques.
Transportation
Travel to and from the Imperial Lofts is never a hassle, with the building's location in the heart of Toronto. Simply walking or cycling around the immediate area is a great way to familiarize oneself with the neighbourhood or spend a sunny afternoon. Those who work in the financial district are even able to work or ride their bikes to the office, with safe bike lanes along Richmond and Adelaide assisting in the commute.
For those who take public transit, the lofts at 80-90 Sherbourne are directly between Queen and King Streets East, where streetcars transport passengers both east and west. Travelers can hop on one of these from a stop on Sherbourne, or walk to the subway at Yonge Street. From here, residents can catch trains moving in north and south directions.
A single stop south from King Station is Union, where travelers can make their way out of the city. From here, residents can connect with VIA Rail or GO Transit, as well as the UP service to Pearson International Airport.
0
Listings For Sale
Interested in receiving new listings for sale?
0
Listings For Rent
Interested in receiving new listings for rent?
Amenities
Amenities
Maintenance Fees Cover
Maintenance fees include:
Owner/renter pays separately:
Past Sold & Rented Listings
Stats, Trends & Rankings
Imperial Lofts vs The St. Lawrence Area
Building Trends At Imperial Lofts
Days on Market
Units at Imperial Lofts spend an average of
16
Days on Market
based on recent sales
List vs Selling Price
On average, these lofts sell for
below
the list price.

Offer Competition
Lofts in this building have an
AVERAGE
chance of receiving
Multiple Offers
Turnover of Units
On average, each unit is owned for
2.8
YEARS
before being sold again
Property Value
Increase
in property value within the past twelve months
Price Ranking
Highest price per SQFT out of
64
condos in the St. Lawrence area
Sold Units
4
Units were
Sold
over the past twelve months
Rented Units
2
Units were
Rented
over the past twelve months
Best Value
Imperial Lofts offers the
best value
out of 64 condos in the St. Lawrence neighbourhood
Return on Investment
Imperial Lofts has the
highest ROI
out of 64 condos in the St. Lawrence neighbourhood
Rental Yield
Imperial Lofts yields the
highest rent prices
out of 64 condos in the St. Lawrence neighbourhood
High Demand
Imperial Lofts is the
most popular
building out of 64 condos in the St. Lawrence neighbourhood
Sales vs Rental Values For This Loft
1 Bed + Den
1100 - 1200 SQFT
Average Cost Per Sqft
$771
Sales Price Range
$808,000 - $1,100,000
Rental Price Range
$2,975 - $3,500
Average Cost Per Sqft
$836
Sales Price Range
$1,081,500 - $1,081,500
Average Cost Per Sqft
$881
Sales Price Range
$2,150,000 - $2,150,000
How Often Are Units Listed?
Average Sales Availability
Average Rental Availability
Ratio of Unit Type in Building
35%
1 Bed + Den
839 - 1400 SQFT
Average Sales Availability
Average Rental Availability
Ratio of Unit Type in Building
25%
Average Sales Availability
Average Rental Availability
Ratio of Unit Type in Building
28%
2 Bed + Den
1100 - 1314 SQFT
Average Sales Availability
Average Rental Availability
Ratio of Unit Type in Building
10%
Average Sales Availability
Average Rental Availability
Ratio of Unit Type in Building
3%
Maintenance Fees
Imperial Lofts vs The
St. Lawrence Area
Imperial Lofts's Avg
monthly maintenance fee
Neighbourhood Avg
monthly maintenance fee
Similar lofts