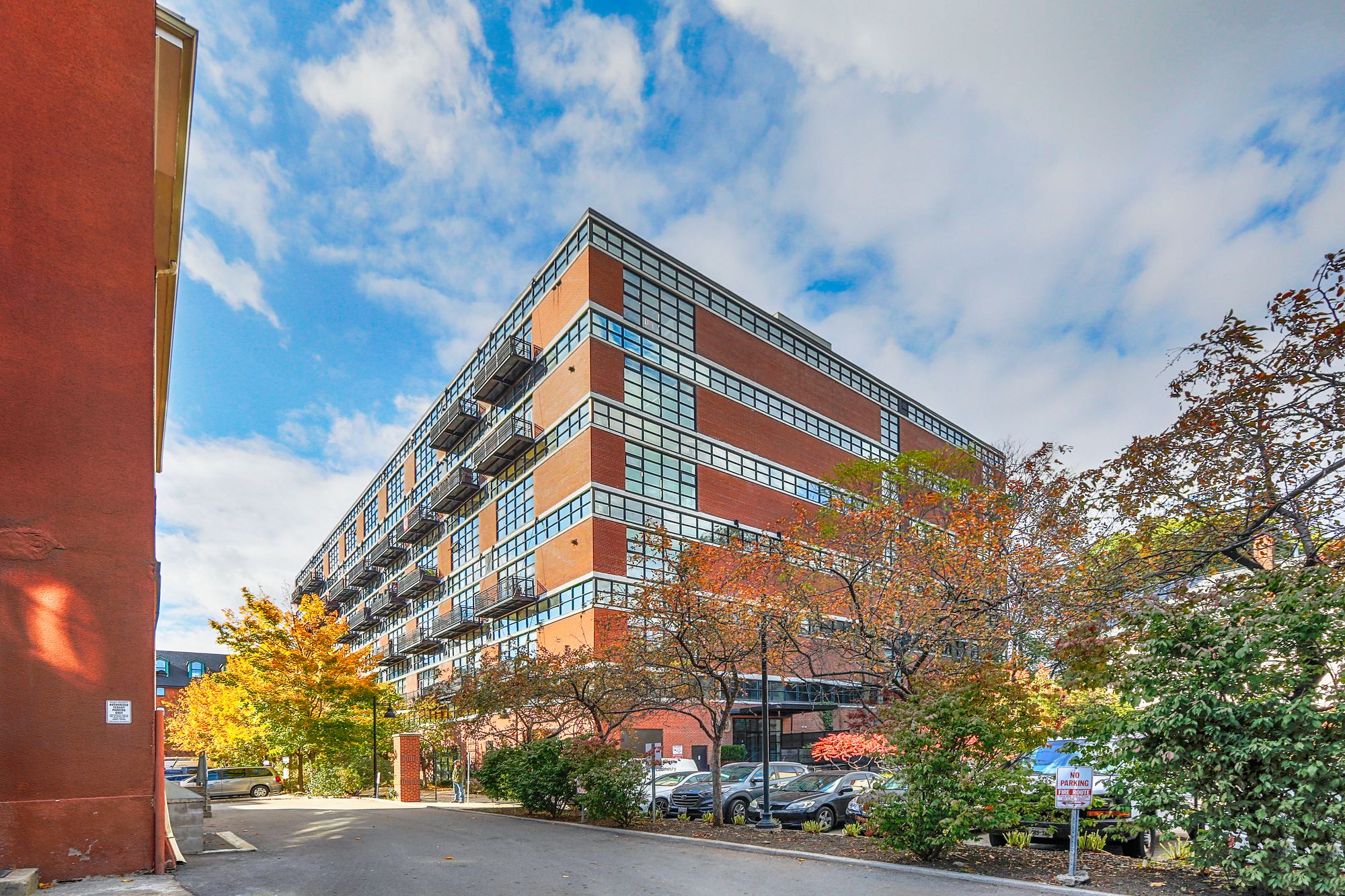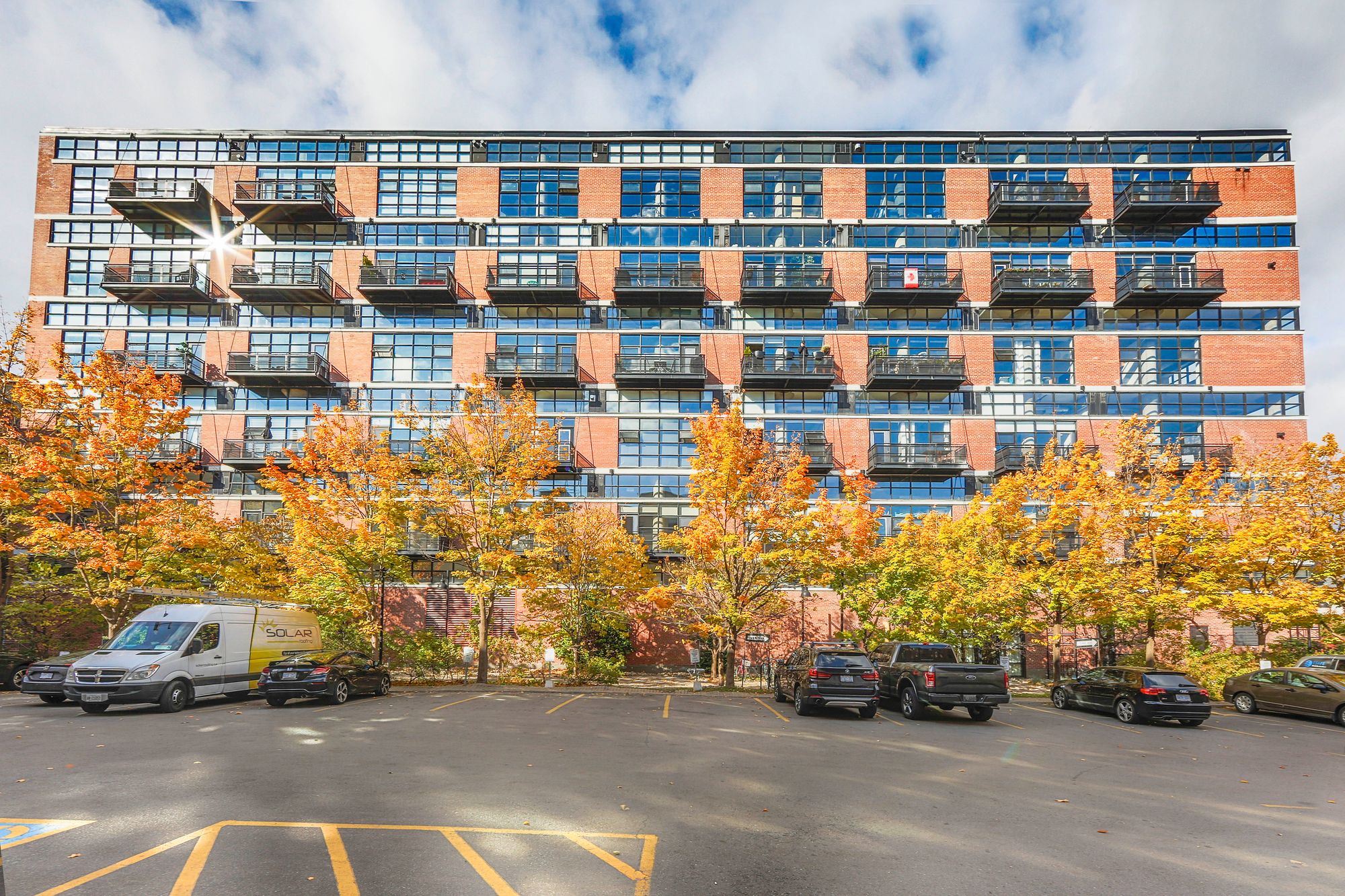 90 Sumach St
2
Listings for Sale
for Sale
0
Listings for Rent
for Rent
Brewery Lofts
90 Sumach St
Brewery Lofts
2
Listings for Sale
for Sale
0
Listings for Rent
for Rent
0
Property Management
Cie Property Management And Consulting Inc.
Unit Size Range
740 - 2363 SQFT
90 Sumach St, Toronto
About this loft
Loft Overview
The building at 90 Sumach Street is so vital to Toronto's history that the CBC has documented its chronicle in film version. Actually, the CBC had a vested interest in this story due to the building's former life as a design studio, prop warehouse, and rehearsal space for the broadcaster. "The Story of 90 Sumach" illustrates the legacy of the Brewery Lofts before they were made into residences.
While the Brewery Lofts are most celebrated for their former role as host to the CBC's inner workings, the name provided by the Sorbara Group evokes a prior function. The building was originally part of the Dominion Brewery complex, circa 1878.
Today, the majority of owners seem to have been living in the building since its initial conversion into hard lofts, just before the millennium. It's no surprise Toronto condos for sale in this building rarely make an appearance on the market, with their legacy for the entertainment industry: 90 Sumach Street is the place where Saturday Night Live creator Lorne Michaels and Muppets Mastermind Jim Henson once put their pens to paper.
Amenities are limited to a shared rooftop terrace, parking, and a pet-friendly policy, although the units are large enough that residents will feel comfortable spending plenty of time in their own homes. Additionally, the surrounding neighbourhood is chock-full of entertainment and businesses that fulfill any desire residents can think of.
The Suites
Due to their sizeable floor plans, the suites are not home to too many single young professionals who are just starting out. Rather, those who have had the opportunity to pad their savings accounts for a little while will be able to jump at any opportunity to buy a loft at 90 Sumach Street.
Sizes of the 109 units range from approximately 750 to 3,700 square feet. The homes begin at generously sized one bedroom units, and span to the more stately penthouses with two bedrooms and private rooftop areas. Layouts are distinctive, with some homes featuring raised bedrooms, split levels, and rare mezzanine style areas.
Regardless of size, natural light pours into each unit, reaching every nook and cranny of the open concept living areas. These lofts are made to feel even larger by the ceiling heights that reach up to 14 feet.
Reminders of the building's heritage include exposed ductwork, concrete floors and mushroom columns, and walls filled with windows. In fact, the paned, warehouse style windows mean they actually open, doubling as entryways for both natural sunlight and fresh air.
The Neighbourhood
Located in the Regent Park neighbourhood, the Brewery Lofts are well positioned in an up and coming area. In the recent past, Regent Park has seen plenty of revitalization efforts by the city of Toronto and intuitive business owners. The area also borders on a number of other charming spots, such as Corktown, the Distillery District, St. Lawrence, and Cabbagetown.
Along Queen Street East, residents can find anything from camera superstores to bike shops and even a number of art galleries and event spaces. Commerce along this stretch of Queen even shows early signs of progressing to a level of hip similar to its westward counterpart —Vogue's second coolest neighbourhood in the world known as Queen West.
The area is also host to a number of green spaces fit for a picnic: Orhpan's Green, Corktown Common, the Esplanade, and the Sumach-Shuter Parkette are all within walking distance of 90 Sumach Street.
Residents are also within walking distance of urban oases like Riverdale Park and the Don Valley Trails, while they are equally near to the ferry terminal for the Toronto Islands.
Transportation
With their location just seconds from Queen Street East, the location provides residents with an ideal starting point for travel around the city. Drivers can ride along Queen, Richmond, or Adelaide for quick movement east or west, while the Gardiner Expressway provides an even faster-paced route. For north-south movement, the Don Valley Parkway is also reachable in a few short moments from the Brewery Lofts.
Those utilizing public transit will be glad to hear that streetcars stop just seconds from 90 Sumach Street, at the corner of Queen and Sumach. From here, residents can ride toward Queen station on the Yonge subway line for connection to trains moving either north or south.
From Queen, Union Station is also only two stops away, where travelers can connect with VIA Rail, GO Transit, and even the UP Service toward Pearson International Airport.
2
Listings For Sale
Interested in receiving new listings for sale?
0
Listings For Rent
Interested in receiving new listings for rent?
Amenities
Maintenance Fees Cover
Maintenance fees include
Water
Owner / renter pays separately
Hydro
Heat
Air Conditioning
Past Sold & Rented Listings
Stats, Trends & Rankings
Price Per Square Foot
Brewery Lofts vs The
Regent Park Area
Less Expensive
per SQFT compared to the neighbourhood average
Brewery Lofts's Avg
price per SQFT
$1,093
/ SQFT
Neighbourhood Avg
price per SQFT
$1,122
/ SQFT
Building Trends At Brewery Lofts
Days on Market
Units at Brewery Lofts spend an average of
6
Days on Market
based on recent sales
List vs Selling Price
On average, these lofts sell for
above
the list price.

Offer Competition
Lofts in this building have a
HIGH
chance of receiving
Multiple Offers
Turnover of Units
On average, each unit is owned for
5
YEARS
before being sold again
Property Value
Increase
in property value within the past twelve months
Price Ranking
Highest price per SQFT out of
20
condos in the Regent Park area
Sold Units
4
Units were
Sold
over the past twelve months
Rented Units
4
Units were
Rented
over the past twelve months
Best Value
Brewery Lofts offers the
best value
out of 20 condos in the Regent Park neighbourhood
Return on Investment
Brewery Lofts has the
highest ROI
out of 20 condos in the Regent Park neighbourhood
Rental Yield
Brewery Lofts yields the
highest rent prices
out of 20 condos in the Regent Park neighbourhood
High Demand
Brewery Lofts is the
most popular
building out of 20 condos in the Regent Park neighbourhood
Sales vs Rental Values For This Loft
Average Cost Per Sqft
$847
Sales Price Range
$1,210,000 - $1,357,000
Rental Price Range
$2,599 - $2,599
1 Bed + Den
1300 - 2100 SQFT
Average Cost Per Sqft
$845
Sales Price Range
$1,530,000 - $1,530,000
Rental Price Range
$4,200 - $4,500
Average Cost Per Sqft
$956
Sales Price Range
$1,490,000 - $1,490,000
Rental Price Range
$3,550 - $3,550
How Often Are Units Listed?
Average Sales Availability
Average Rental Availability
Ratio of Unit Type in Building
42%
1 Bed + Den
764 - 2100 SQFT
Average Sales Availability
Average Rental Availability
Ratio of Unit Type in Building
33%
Average Sales Availability
Average Rental Availability
Ratio of Unit Type in Building
22%
Average Sales Availability
Average Rental Availability
Ratio of Unit Type in Building
3%
Average Sales Availability
Average Rental Availability
Ratio of Unit Type in Building
2%
3 Bed + Den
1618 - 1618 SQFT
Average Sales Availability
Average Rental Availability
Ratio of Unit Type in Building
2%
Maintenance Fees

Brewery Lofts vs The

Regent Park Area
Less Expensive
per SQFT compared to the neighbourhood average
Brewery Lofts's Avg
monthly maintenance
fee per SQFT
$0.57
/ SQFT
Neighbourhood Avg
monthly maintenance
fee price per SQFT
$0.65
/ SQFT
Similar lofts