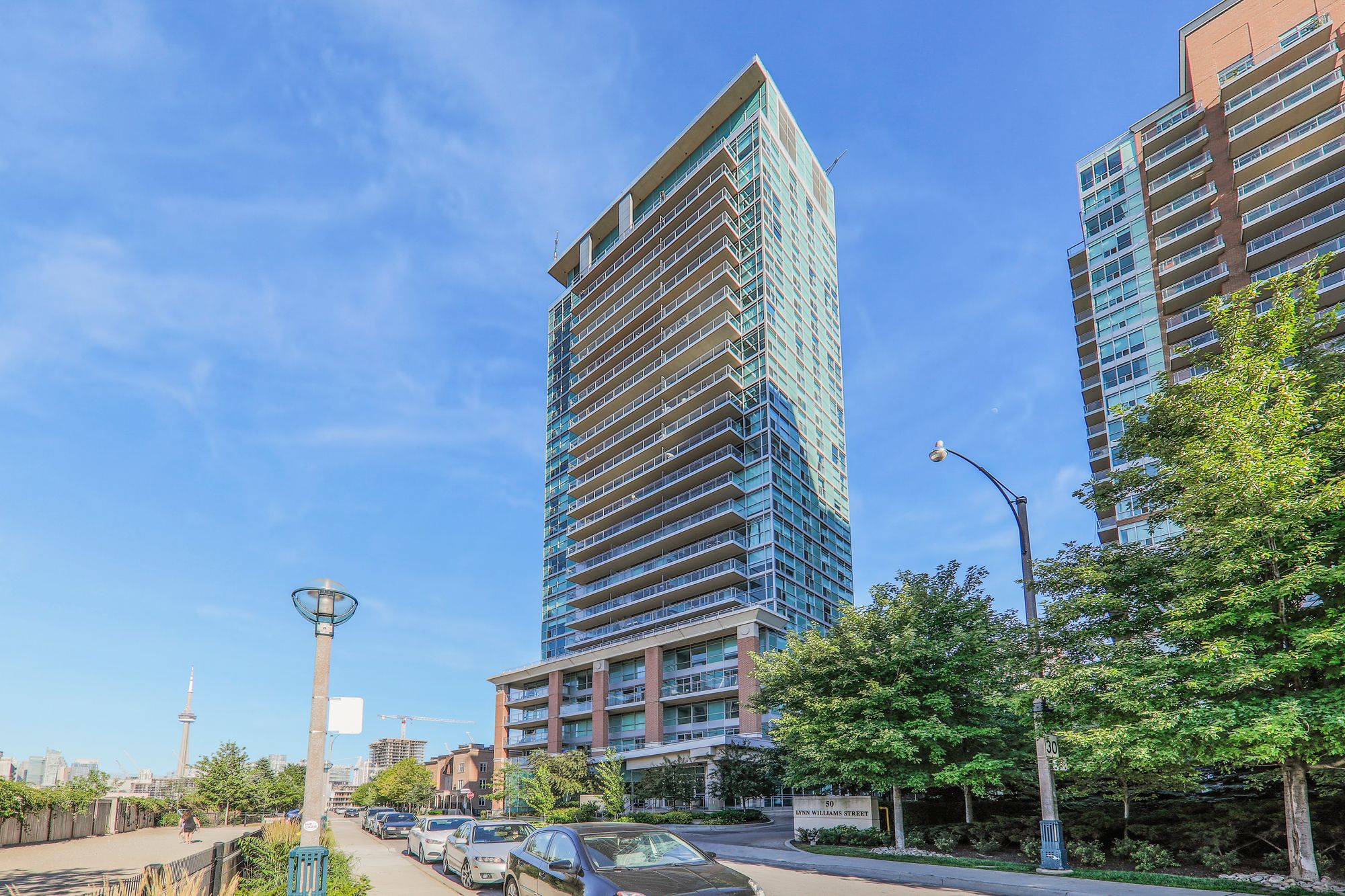 80 Western Battery Rd
1
Listing for Sale
for Sale
2
Listings for Rent
for Rent
Zip Condos
80 Western Battery Rd
Zip Condos
1
Listing for Sale
for Sale
2
Listings for Rent
for Rent
0
Property Management
Crossbridge Condominium Services Ltd.
Unit Size Range
325 - 949 SQFT
80 Western Battery Rd, Toronto
About this condo
Condo Overview
Are tumbleweeds the only pedestrian traffic outside of your building? Does FOMO — fear of missing out — keep you up at night? If this applies to you, then it's definitely time for a change of pace, and Zip Condos in Liberty Village could be the change you've been looking for.
Standing 24 storeys tall at 80 Western Battery Rd, Zip Condos is a well known residence, quite popular with young professionals. The building was completed on 2008 by Monarch, and was the second phase of their 3 phase development in Liberty Village, which includes Vibe at Liberty Village and Battery Park Condos. The exterior is modern, constructed of brick, steel and glass — a look that's well suited to the neighbourhood.
Liberty Village condos offer great extras, and Zip Condos takes a 'all the cool kids are doing it' approach to its own amenities, providing an extensive list of extras; fitness centre, yoga studio, indoor pool, whirlpool, steam rooms, theatre room, cyber lounge, party room, bicycle parking, car wash, concierge, security guard, and parking garage.
Green spaces are often overlooked when on a condo hunt, but for those who value getting some fresh air within the city limits, there are several nearby parks to enjoy; Liberty Village Park is only a 2 minute walk, stroll a little further and you have Garrison Common, and if you continue on to the waterfront you have a plethora of lakeside parks.
The Suites
With over 300 units in the building, there are ample opportunities to snatch up Toronto condos for sale in this building. All units follow open concept layouts, and are well lit due to floor to ceiling windows. Suite sizes range from 388 square feet for a studio to 1131 for a 2 bedroom + den.
Most people are accustomed to floor to ceiling windows and open concept layouts, but there's plenty inside of the suites to excite prospective buyers. Love to cook? How does granite countertops and stainless steel appliances sound? Or maybe stunning city views will get your motor running? Regardless of your individual taste, these modern condos are bound to please.
With great amenities, well appointed suites, and an excellent location in an exciting neighbourhood — these condos are a great choice for young professionals and couples.
The Neighbourhood
Living in Liberty Village comes with a lot of perks, but one of the best is the close proximity to the Entertainment District. You can act like a tourist and do the EdgeWalk at the CN Tower, observe deep sea creatures at Ripley's Aquarium of Canada, or watch the Jays, Leafs, and Raptors live. And if you just want to dance the night away, lively clubs like Orchid Nightclub, Fiction, and Cake Bar & Nightclub can accommodate you.
Nightlife options in your own neighbourhood tend to be relaxed — there's 3 Brewers Liberty, The Craft Brasserie & Grille, and Liberty Commons at Big Rock Brewery for craft beer. Make your way to King West and you have hangouts like Wheat Sheaf Tavern, Banknote Bar, Early Mercy, and many more.
Too hungry to make your own food? Just walk outside and you'll find Ciao Europa Café for a bite and a coffee. Head west and you have Williams Landing for a diverse menu, and Merci Mon Ami has everything you could want from a bistro. If you need something really quick — there's Smoke's Poutinerie, Fat Bastard Burrito, and Tim Hortons.
Another great aspect of living in this building is how close you'll be to Queen Street boutiques — with just a short walk north on Strachan, you can be enjoying boutiques for everything from high-end fashion to DIY materials.
Transportation
80 Western Battery Rd boast a 92 Walk Score — definitely worthy of a smiley face sticker — ideal for residents who prefer to run errands the greener way; Liberty Market Building is just around the corner and is host to an array of stores and service based businesses, many of which will allow you to perform your daily errands in the neighbourhood.
For groceries and the essentials, there's a Metro and Convenience K just steps from your building, and a Shoppers Drug Mart on King for any prescription needs.
Public transit riders can feel good about their decision to leave the car at home; there are bus stops for route 63 on E liberty Street, and west and eastbound streetcars on King Street. If you need subway lines, you're only a streetcar ride away from St. Andrew Station.
Car owners can avoid the majority of city traffic by heading south on Strachan for Lake Shore Blvd and the Gardiner Expressway.
1
Listings For Sale
Interested in receiving new listings for sale?
2
Listings For Rent
Interested in receiving new listings for rent?
Amenities
Maintenance Fees Cover
Maintenance fees include
None
Owner / renter pays separately
Hydro
Heat
Air Conditioning
Water
Past Sold & Rented Listings
Stats, Trends & Rankings
Price Per Square Foot
Zip Condos vs The
Liberty Village Area
Less Expensive
per SQFT compared to the neighbourhood average
Zip Condos's Avg
price per SQFT
$1,137
/ SQFT
Neighbourhood Avg
price per SQFT
$1,190
/ SQFT
Building Trends At Zip Condos
Days on Market
Units at Zip Condos spend an average of
11
Days on Market
based on recent sales
List vs Selling Price
On average, these condos sell for
above
the list price.

Offer Competition
Condos in this building have a
HIGH
chance of receiving
Multiple Offers
Turnover of Units
On average, each unit is owned for
5.7
YEARS
before being sold again
Property Value
Increase
in property value within the past twelve months
Price Ranking
Highest price per SQFT out of
16
condos in the Liberty Village area
Sold Units
19
Units were
Sold
over the past twelve months
Rented Units
35
Units were
Rented
over the past twelve months
Best Value
Zip Condos offers the
best value
out of 16 condos in the Liberty Village neighbourhood
Return on Investment
Zip Condos has the
highest ROI
out of 16 condos in the Liberty Village neighbourhood
Rental Yield
Zip Condos yields the
highest rent prices
out of 16 condos in the Liberty Village neighbourhood
High Demand
Zip Condos is the
most popular
building out of 16 condos in the Liberty Village neighbourhood
Sales vs Rental Values For This Condo
Average Cost Per Sqft
$1,204
Sales Price Range
$460,000 - $460,000
Rental Price Range
$1,495 - $1,650
Average Cost Per Sqft
$1,055
Sales Price Range
$523,000 - $785,000
Rental Price Range
$1,695 - $2,700
1 Bed + Den
615 - 798 SQFT
Average Cost Per Sqft
$921
Sales Price Range
$699,900 - $1,030,000
Rental Price Range
$2,000 - $2,575
Average Cost Per Sqft
$997
Sales Price Range
$742,500 - $1,075,000
Rental Price Range
$2,600 - $3,000
How Often Are Units Listed?
Average Sales Availability
Average Rental Availability
Ratio of Unit Type in Building
10%
Average Sales Availability
Average Rental Availability
Ratio of Unit Type in Building
35%
1 Bed + Den
606 - 803 SQFT
Average Sales Availability
Average Rental Availability
Ratio of Unit Type in Building
24%
Average Sales Availability
Average Rental Availability
Ratio of Unit Type in Building
32%
2 Bed + Den
816 - 838 SQFT
Average Sales Availability
Average Rental Availability
Ratio of Unit Type in Building
1%
Maintenance Fees

Zip Condos vs The

Liberty Village Area
More Expensive
per SQFT compared to the neighbourhood average
Zip Condos's Avg
monthly maintenance
fee per SQFT
$0.75
/ SQFT
Neighbourhood Avg
monthly maintenance
fee price per SQFT
$0.66
/ SQFT
Similar condos