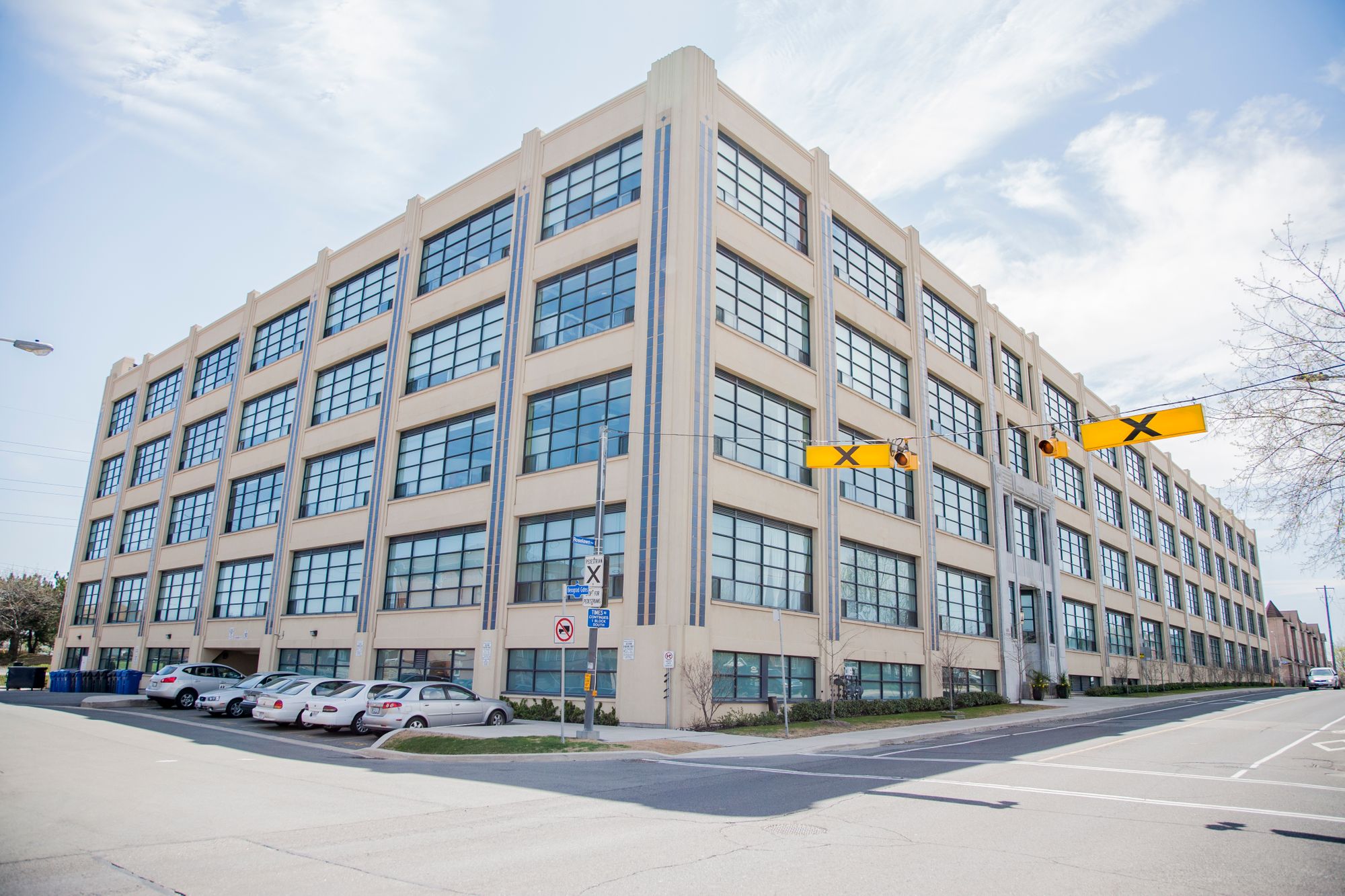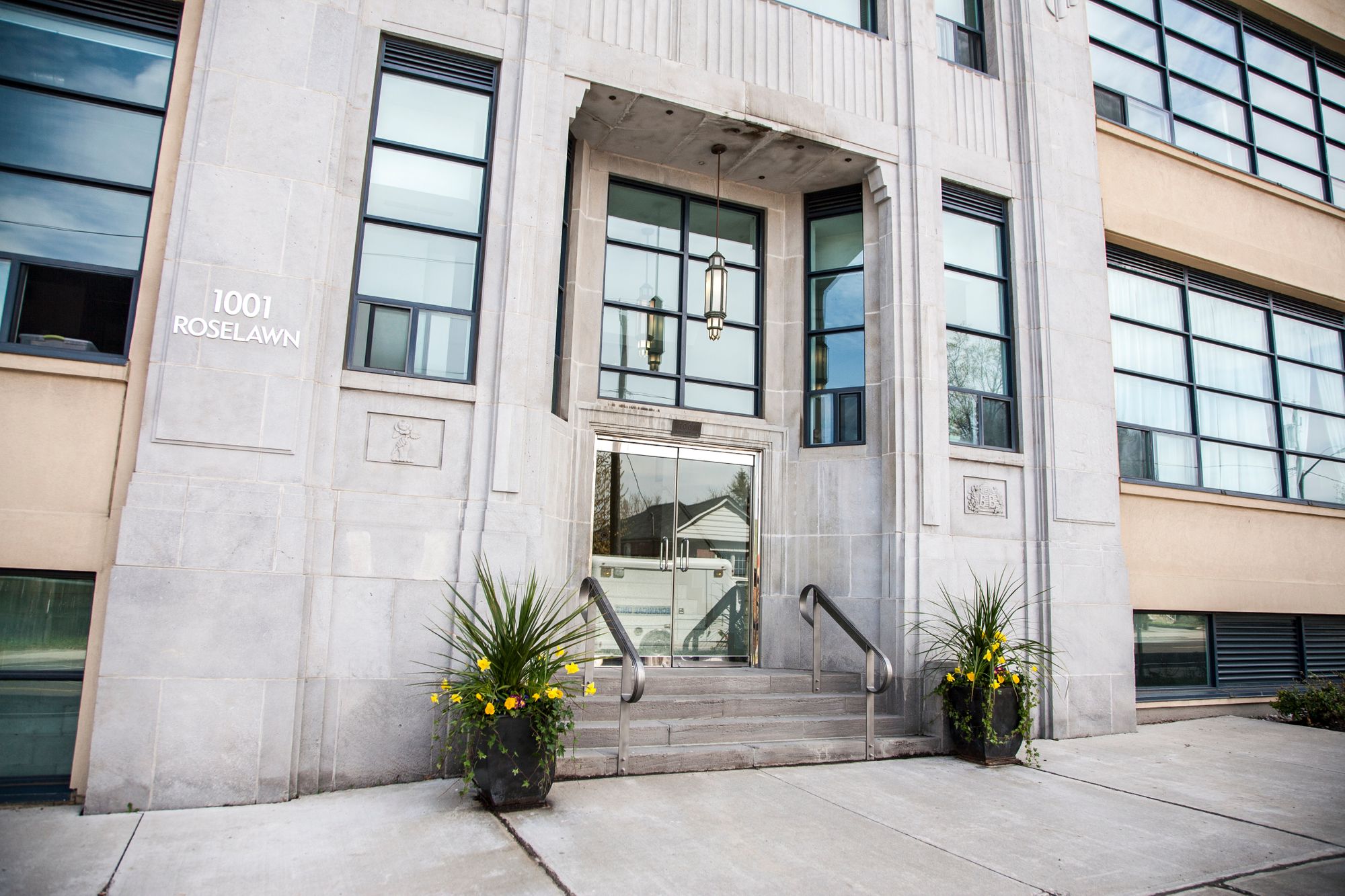 1001 Roselawn Ave
1
Listing for Sale
for Sale
1
Listing for Rent
for Rent
Forest Hill Lofts
1001 Roselawn Ave
Forest Hill Lofts
1
Listing for Sale
for Sale
1
Listing for Rent
for Rent
0
Developer
1001 Roselawn Avenue Inc
Property Management
ICC Property Management Toronto
Unit Size Range
696 - 2200 SQFT
1001 Roselawn Ave, Toronto
About this loft
Loft Overview
Art Deco may have reached its peak popularity in the 1920s and 30s, however, today buildings that embrace this style are desirable for their scarcity and uniqueness. With much of Toronto's industrial architecture reflecting techniques from the Victorian era, the rarity of this type of aesthetic is just one element that draws buyers to the Forest Hill Lofts.
Yet another enticing aspect is the location of these hard lofts. If Art Deco industrial architecture is rare in Toronto, hard lofts in midtown Toronto are in even shorter supply. Located in the Briar Hill & Belgravia neighbourhood, nearby to where the Allen meets Eglinton Avenue West, these homes stand out amongst their single-family home neighbours.
Initially a textile factory, this authentic conversion was repurposed in 2003 before its 137 homeowners could move in. From the exterior alone, one can imagine the building at 1001 Roselawn Avenue serving its former purpose. Groups of 16 horizontally oriented windowpanes make up the majority of the façade, today hinting at the sunlit homes that lie within.
The building dates back to 1932, constructed for Coats Paton and their textile-making endeavours. Up until 1999—long after many industrial buildings in the downtown core had closed or moved to the suburbs — the mid-rise structure operated as a factory. So what happened during the four-year gap before the structure's industrial-to-residential reincarnation? Residents will be happy to show you, as they point out their building during movie night.
Due to its size, developers were able to make room for common amenities in the building. While many hard loft owners make due without any extras, residents of the Forest Hill Lofts can enjoy a workout in their gym, a rest on the rooftop terrace, and even a chance to play host in the party room. What's more, those living at 1001 Roselawn will find ample parking spaces for themselves as well as their guests.
The Suites
Within the 5-storey, L-shaped structure at 1001 Roselawn Avenue, the units are prototypical of any authentic loft. Unlike their neighbours, the homes show off industrial elements with pride. Exposed ductwork and concrete columns and floors are illuminated by bright sunlight beaming through expansive windows.
The sizes of the Toronto lofts for sale at the Forest Hill Lofts may not be shocking, however they are impressive compared to their price (thanks again to their mid-town location). Floor plans range from approximately 650 to 1,100 square feet, with certain lofts comprising two levels. These multi-storey lofts feature metal staircases to enhance the industrial vibe further.
One more advantage of the building's former use is the need for high ceilings in factories. While room for machinery and storage was created in the early 20th century, millennial buyers living at 1001 Roselawn can now enjoy an added sense of opulence and spaciousness.
As for outdoor areas, most residents will congregate on the shared rooftop terrace. However, a couple of lucky ones living amongst the upper storeys are granted with private rooftop spaces of their own.
The Neighbourhood
The Briar Hill & Belgravia neighbourhood is one in transition: it has been growing for some time now and shows no signs of slowing. With the Eglinton light-rail on its way, plus the recent surge of contemporary housing, families, older cohorts, and young professionals alike have all been gravitating toward the area in recent years.
Those in south facing units can attest to the close proximity of the Forest Hill Lofts to sufficient green space. In fact, anyone living at 1001 Roselawn knows this to be true, as a few steps will land residents at Walter Saunders Memorial Park and the York Beltline Trail.
Along Eglinton West, a range of businesses are prepared to suit any need. Just west of the Allen is the York-Eglinton BIA, host to an array of Latin, Caribbean, and Italian restaurants and shops. To the east, residents of the Forest Hill Lofts can find anything from casual pubs to sushi, bagels, salons, markets, and more.
Transportation
With the Allen right next door, car-owning residents can access the 401 in no time. From here, Pearson International Airport, the Don Valley Parkway, and neighbouring cities and towns are within reach.
Even those without a vehicle of their own are in good shape. In just over 10 minutes, residents can walk to Eglinton West station on the University-Spadina line. And in about 20 minutes on the subway, passengers can find themselves at Union Station.
As well, the Eglinton Crosstown LRT line is slated for completion in 2021. This route will travel both underground and aboveground, offering an ideal east-west route for those living at the Forest Hill Lofts.
1
Listings For Sale
Interested in receiving new listings for sale?
1
Listings For Rent
Interested in receiving new listings for rent?
Amenities
Maintenance Fees Cover
Maintenance fees include
Water
Owner / renter pays separately
Hydro
Heat
Air Conditioning
Past Sold & Rented Listings
Stats, Trends & Rankings
Price Per Square Foot
Forest Hill Lofts vs The
Briar Hill | Belgravia Area
More Expensive
per SQFT compared to the neighbourhood average
Forest Hill Lofts's Avg
price per SQFT
$909
/ SQFT
Neighbourhood Avg
price per SQFT
$756
/ SQFT
Building Trends At Forest Hill Lofts
Days on Market
Units at Forest Hill Lofts spend an average of
4
Days on Market
based on recent sales
List vs Selling Price
On average, these lofts sell for
above
the list price.

Offer Competition
Lofts in this building have a
HIGH
chance of receiving
Multiple Offers
Turnover of Units
On average, each unit is owned for
4.3
YEARS
before being sold again
Property Value
Increase
in property value within the past twelve months
Price Ranking
Highest price per SQFT out of
6
condos in the Briar Hill | Belgravia area
Sold Units
8
Units were
Sold
over the past twelve months
Rented Units
3
Units were
Rented
over the past twelve months
Best Value
Forest Hill Lofts offers the
best value
out of 6 condos in the Briar Hill | Belgravia neighbourhood
Return on Investment
Forest Hill Lofts has the
highest ROI
out of 6 condos in the Briar Hill | Belgravia neighbourhood
Rental Yield
Forest Hill Lofts yields the
highest rent prices
out of 6 condos in the Briar Hill | Belgravia neighbourhood
High Demand
Forest Hill Lofts is the
most popular
building out of 6 condos in the Briar Hill | Belgravia neighbourhood
Sales vs Rental Values For This Loft
Average Cost Per Sqft
$823
Sales Price Range
$814,150 - $1,000,000
Rental Price Range
$2,700 - $3,000
2 Bed + Den
1000 - 1000 SQFT
Average Cost Per Sqft
$799
Sales Price Range
$920,000 - $920,000
How Often Are Units Listed?
Average Sales Availability
Average Rental Availability
Ratio of Unit Type in Building
11%
1 Bed + Den
708 - 950 SQFT
Average Sales Availability
Average Rental Availability
Ratio of Unit Type in Building
9%
Average Sales Availability
Average Rental Availability
Ratio of Unit Type in Building
72%
2 Bed + Den
980 - 1250 SQFT
Average Sales Availability
Average Rental Availability
Ratio of Unit Type in Building
9%
Average Sales Availability
Average Rental Availability
Ratio of Unit Type in Building
1%
Maintenance Fees

Forest Hill Lofts vs The

Briar Hill | Belgravia Area
Less Expensive
per SQFT compared to the neighbourhood average
Forest Hill Lofts's Avg
monthly maintenance
fee per SQFT
$0.64
/ SQFT
Neighbourhood Avg
monthly maintenance
fee price per SQFT
$0.71
/ SQFT
Similar lofts