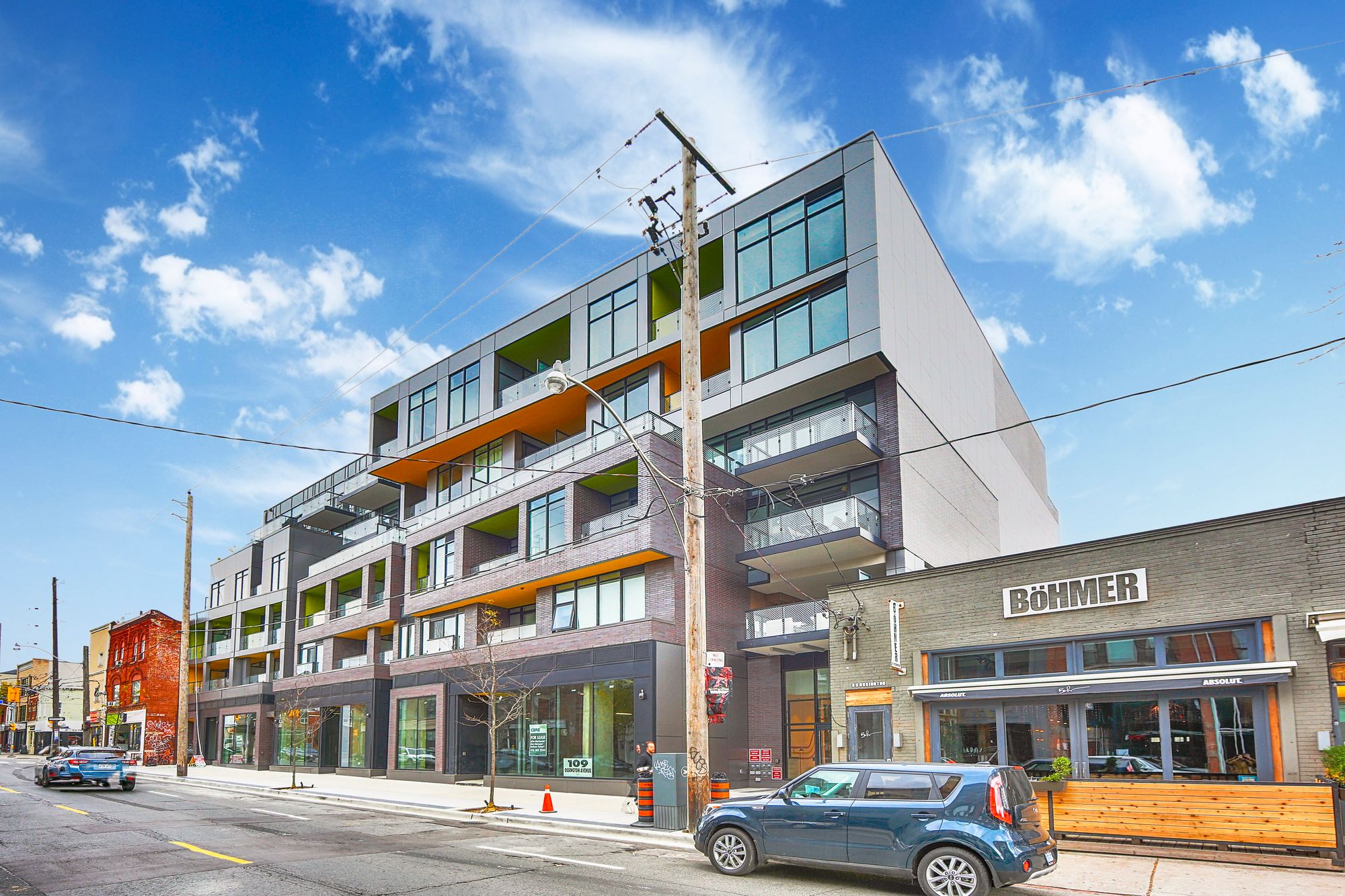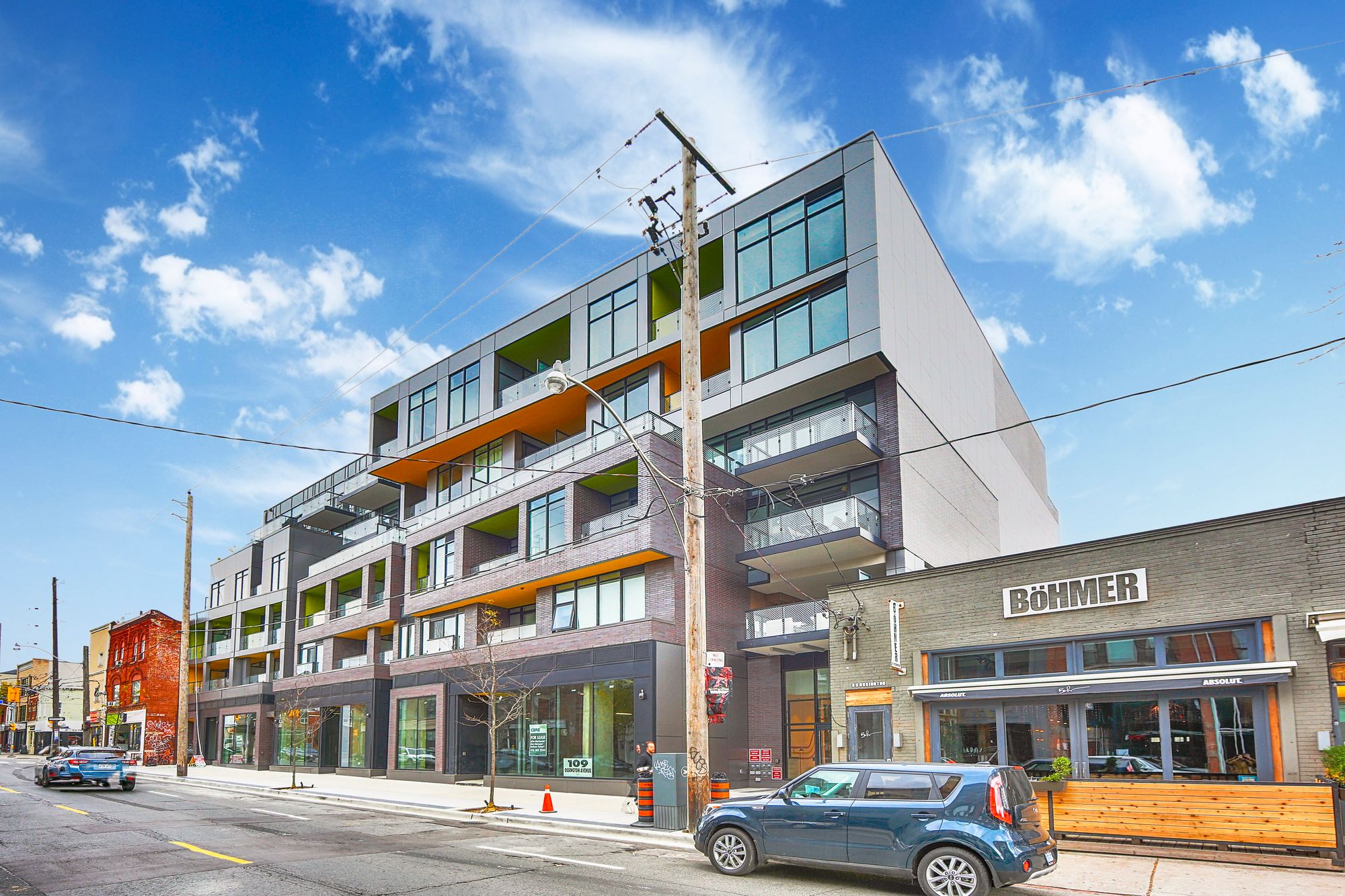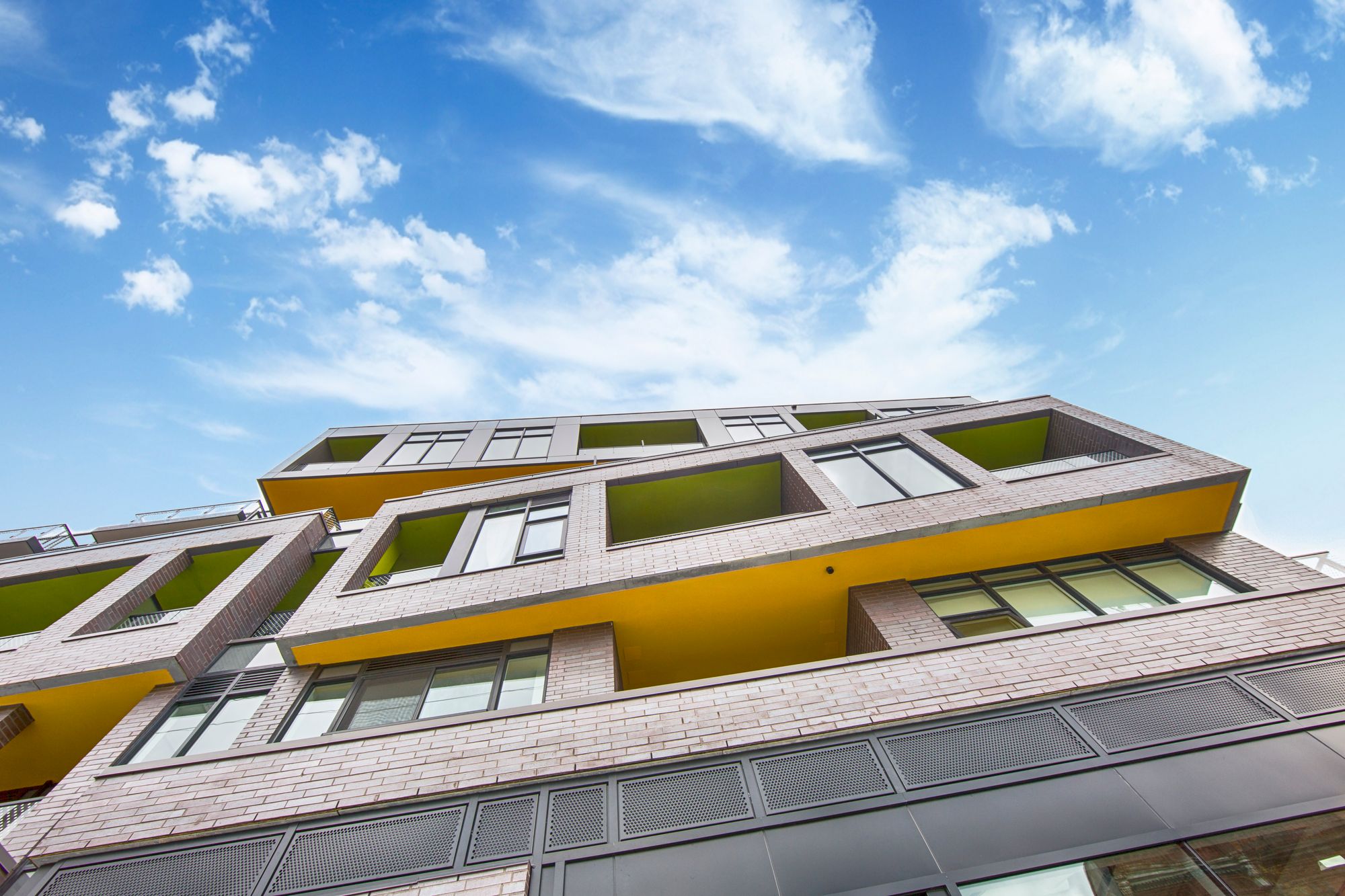 109 Ossington Ave
0
Listings for Sale
for Sale
0
Listings for Rent
for Rent
Developer
Reserve Properties
Property Management
Conkrite Capital
Unit Size Range
500 - 1160 SQFT
About this condo
Trinity Bellwoods is known for being one of Toronto's hippest neighborhoods, and residents who live there might expect that the local architecture will reflect that sentiment. In comes the 109OZ Condos, rejecting the typical concrete spires that dominate the downtown skyline. Aptly named, 109OZ Condos at 109 Ossington match the distinctiveness of the neighborhood, while providing comfortable and spacious homes to the stylish individuals who inhabit them.
Completed in 2017, this mid-rise condominium features a unique geometric design of six storeys, each staggered in height. The tasteful multi-colored façade is clad in glass and steel, and the condos' exterior almost resembles a modern art gallery, matching the vibrance and artistry Ossington has come to represent.
The building also has quite a few luxurious amenities for residents to make us of, including a common lounge, a parking garage, a concierge, a party room with kitchen, and a rooftop terrace with a barbecue.
The Suites
Standing at a comfortable 6 storeys in height, this building contains 87 west end Toronto condos, which range in size from just over 500 square feet to almost 1200 in the largest suites. Contemporary layouts come outfitted with 1 or 2 bedrooms, 1 or 2 bathrooms, and options for dens in single or double bedroom units.
These highly customizable Toronto condos for sale are the perfect template for creative residents to play designer, with their open-concept dining and living areas, 9-foot ceilings, and plentiful floor-to-ceiling windows. Floors are finished with hardwood, and kitchens are finished with sleek cabinetry, generously sized islands, and stainless steel appliances — perfect for cooking or entertaining.
Best of all, suites feature roomy glass balconies, or private terraces, allowing residents to enjoying the sights, sounds and smells of the neighbourhood below (good thing Ossington is home to multiple delicious bakeries). Units also have en-suite washers and dryers, so no more hauling hampers to the local laundromat for homeowners living at 109 Ossington.
The Neighbourhood
Located at the corner of Ossington Avenue and Argyle Street, these condos are surrounded by a multitude of fashionable hot-spots, with newer and funkier shops opening all the time.
Several large grocery stores can be found nearby: residents can take a quick trip west on Queen Street, if they aren't tempted by the idea of eating out again, that is. Many of the city's hottest and most innovative restaurants can be found around Trinity Bellwoods and Queen West, and the draw for restaurateurs shows no signs of slowing.
Plenty of entertainment can also be found in the area. Residents can spend some time taking in modern art at the Unique G Gallery, catch a live play or musical at the Lower Ossington Theatre, or check out the Artscape Youngplace's myriad of exhibits and classes. Of course, many bars are nearby as well, including mainstays like The Drake Hotel or the Bellwoods Brewery.
Last but not least, nearby green-space is one of the 109 Ossington's best assets. Residents can easily reach Osler Playground, George Ben Park, and of course Trinity Bellwoods Park, known for hosting many music, art and food festivals, as well as its skating rink, baseball diamonds, and community center. Several schools also service the area, such as St. Mary's Elementary School, or Givins/Shaw Junior Public School.
Transportation
Exploring the city is a pleasure for residents of the 109OZ Condos. TTC bus routes that run along Ossington, Dufferin, Bathurst and Harbord Street are convenient options, as are the streetcar routes along Queen and Dundas Streets. Ossington Station is the closest subway stop to 109 Ossington Avenue, and can be reached in about 15 minutes on foot.
Cyclists will be content thanks to the plentiful bike lanes around the neighborhood, and those who love to walk will enjoy taking strolls along bustling, tree lined streets. For motorists, the closest highway is the Gardiner Expressway, which can be accessed via Jameson Avenue.
0
Listings For Sale
Interested in receiving new listings for sale?
0
Listings For Rent
Interested in receiving new listings for rent?
Property Highlights
Listing History for 109OZ
Nearby Amenities
Stats, Trends & Rankings
109OZ vs The Trinity Bellwoods Area
Building Trends At 109OZ
Days on Strata
Units at 109OZ spend an average of
9
Days on Strata
based on recent sales
List vs Selling Price
On average, these condos sell for
above
the list price.

Offer Competition
Condos in this building have an
AVERAGE
chance of receiving
Multiple Offers
Turnover of Units
On average, each unit is owned for
5.1
YEARS
before being sold again
Property Value
Increase
in property value within the past twelve months
Price Ranking
Highest price per SQFT out of
20
condos in the Trinity Bellwoods area
Sold Units
2
Units were
Sold
over the past twelve months
Rented Units
8
Units were
Rented
over the past twelve months
Sales vs Rental Values For This Condo
Average Cost Per Sqft
$992
Sales Price Range
$605,000 - $650,000
Rental Price Range
$2,600 - $2,600
1 Bed + Den
549 - 700 SQFT
Average Cost Per Sqft
No Data
Rental Price Range
$2,325 - $3,500
2 Bed + Den
849 - 849 SQFT
Average Cost Per Sqft
No Data
Rental Price Range
$4,100 - $4,100
How Often Are Units Listed?
Average Sales Availability
Average Rental Availability
Ratio of Unit Type in Building
33%
1 Bed + Den
549 - 900 SQFT
Average Sales Availability
Average Rental Availability
Ratio of Unit Type in Building
47%
Average Sales Availability
Average Rental Availability
Ratio of Unit Type in Building
2%
2 Bed + Den
750 - 1160 SQFT
Average Sales Availability
Average Rental Availability
Ratio of Unit Type in Building
20%
Maintenance Fees
109OZ vs The
Trinity Bellwoods Area
109OZ's Avg
monthly maintenance fee
Neighbourhood Avg
monthly maintenance fee
Similar condos