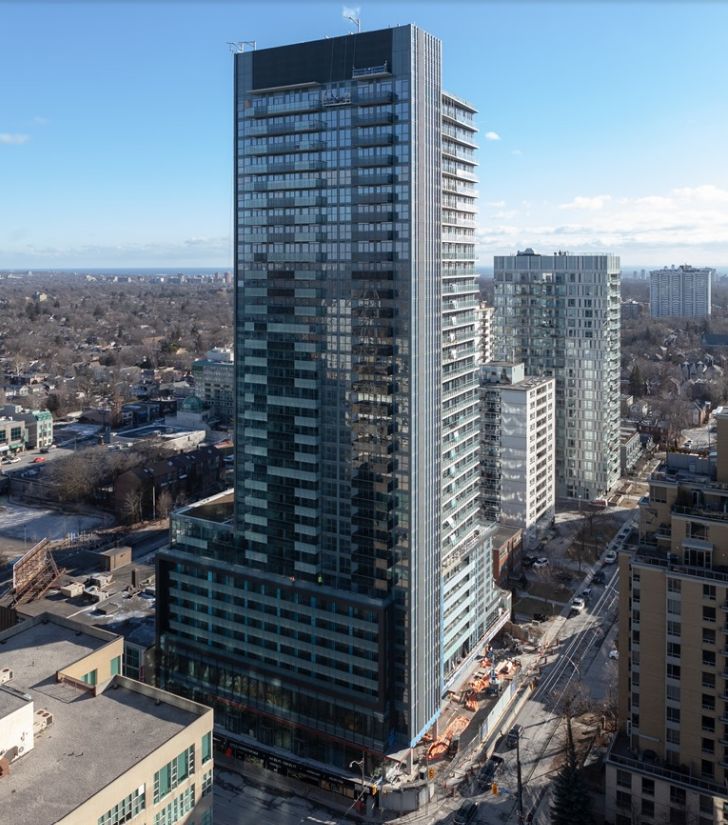 125 Redpath Ave
11
Listings for Sale
for Sale
6
Listings for Rent
for Rent
The Eglinton Condos
125 Redpath Ave
The Eglinton Condos
11
Listings for Sale
for Sale
6
Listings for Rent
for Rent
0
Unit Availability
Above Average
Developer
Menkes Developments Ltd.
Property Management
MenRes Property Management
Unit Size Range
267 - 1253 SQFT
125 Redpath Ave, Toronto
About this condo
Condo Overview
Standing 34 storeys tall at 125 Redpath Ave, The Eglinton Condos provides a convenient Midtown alternative to downtown condo life.
The tower, created by Menkes Developments, is situated in the tree-shrouded Mount Pleasant neighbourhood, where residents enjoy a slower pace than found in the downtown core, but with all the convenient neighbourhood amenities that you expect from an urban setting.
Speaking of amenities, 125 Redpath Ave provides residents with an assortment of appealing extras; a landscaped rooftop terrace and lounge with sweeping views of the surrounding area, a WIFI lounge, a games room, a fitness centre, a theatre room, a billiards room, concierge, underground garage, and more.
Though, one might expect that all of these fantastic amenities would inflate condo fees — condo fees are in fact below both the GTA and neighbourhood average. However, since completion in 2019, this building has consistently attracted prospective buyers and as such, price per square foot is often above the neighbourhood average.
The Suites
The Eglinton Condos is home to 378 Toronto condos, all featuring open concept layouts with extremely efficient floor plans. Suite sizes range 359 square feet for a studio unit to 1253 for a 3 bedroom suite. Regardless of size, prospective buyers can count on sunlit homes thanks to floor to ceiling window walls, and large private balconies for taking in the scenery.
Toronto condos for sale in this residence feature upgraded kitchens with integrated stainless steel appliances, stunning granite countertops and eye-catching subway tile backsplashes; bathrooms also feature stone vanities and subway tile backsplashes.
In principal rooms, most suites feature hardwood flooring or wood laminate. Bedrooms offer ample space for furniture and plenty of closet storage. As nice as these units are, residents might not want to spend all their time inside with all the beauty and excitement that awaits in the Mount Pleasant neighbourhood.
The Neighbourhood
For those familiar with Toronto, the Mount Pleasant neighbourhood needs no introduction. The area has long been sought after by families for the peaceful city setting. Neighbourhood streets are lined by mature trees and large detached houses, parks litter the area, and Mount Pleasant Cemetery offers the ideal location for an afternoon walk.
Mount Pleasant's parks and community are what gave this neighbourhood it's desirable reputation, but the condo boom and subsequent additions of new buildings has breathed life into business in the area. And for a neighbourhood that already wielded plenty of entertainment options, it's only added to the atmosphere.
From the lobby doors at 125 Redpath Ave, residents are mere steps from dining and entertainment. There's famed Toronto dining staples like La Carnita and one of kind locally owned eateries like Churrasco Villa; Caffeine fanatics can start their day with a pastry and espresso from the quaint Istanbul Café & Espresso Bar, or for creatures of habit, there's always a nearby Starbucks and Tim Horton's.
Nights out are relatively easy with Yonge street playing host to cozy pubs and Granite Brewery & Tied House is located within the neighbourhood. Residents can catch historically and artistically relevant films at Regent Theatre or watch the latest blockbuster at Cineplex Cinemas Yonge-Eglinton. Families will find plenty of quality schools located in the area, and also parks, recreation centres, and the scenic Kay Gardner Beltline Trail.
Transportation
Those seeking to accomplish daily errands on foot will be thrilled with 125 Redpath Ave; there's a Loblaws less than a 5 minute walk from the lobby doors, as well as pharmacies, salons, medical services, and financial institutions.
The recent addition of the Eglinton Crosstown LRT has dramatically changed transit options in Midtown and was certainly well worth the sometimes slow-going construction. East and westbound streetcars provide much better service to the neighbourhood than in the past, and with supporting bus routes, travel through midtown has never been so convenient.
Residents who commute to the downtown core for work or outside of the GTA have ample options for making the journey. Eglinton Subway Station enables effortless trips to Union Station in downtown Toronto, and conveniently located bus routes allows for easy travel around the neighbourhood.
Car owners can go west on Eglinton and then North on Allen Rd for Ontario 401, and from there it's easy to connect to the Don Valley Parkway.
11
Listings For Sale
Interested in receiving new listings for sale?
6
Listings For Rent
Interested in receiving new listings for rent?
Amenities
Maintenance Fees Cover
Maintenance fees include
Heat
Air Conditioning
Water
Owner / renter pays separately
Hydro
Past Sold & Rented Listings
Stats, Trends & Rankings
Price Per Square Foot
The Eglinton Condos vs The
Mount Pleasant Area
More Expensive
per SQFT compared to the neighbourhood average
The Eglinton Condos's Avg
price per SQFT
$1,302
/ SQFT
Neighbourhood Avg
price per SQFT
$1,043
/ SQFT
Building Trends At The Eglinton Condos
Days on Market
Units at The Eglinton Condos spend an average of
16
Days on Market
based on recent sales
List vs Selling Price
On average, these condos sell for
above
the list price.

Offer Competition
Condos in this building have a
HIGH
chance of receiving
Multiple Offers
Turnover of Units
On average, each unit is owned for
YEARS
before being sold again
Property Value
Increase
in property value within the past twelve months
Price Ranking
Highest price per SQFT out of
43
condos in the Mount Pleasant area
Sold Units
28
Units were
Sold
over the past twelve months
Rented Units
122
Units were
Rented
over the past twelve months
Best Value
The Eglinton Condos offers the
best value
out of 43 condos in the Mount Pleasant neighbourhood
Return on Investment
The Eglinton Condos has the
highest ROI
out of 43 condos in the Mount Pleasant neighbourhood
Rental Yield
The Eglinton Condos yields the
highest rent prices
out of 43 condos in the Mount Pleasant neighbourhood
High Demand
The Eglinton Condos is the
most popular
building out of 43 condos in the Mount Pleasant neighbourhood
Sales vs Rental Values For This Condo
Average Cost Per Sqft
$1,383
Sales Price Range
$478,000 - $542,000
Rental Price Range
$1,480 - $1,925
Average Cost Per Sqft
$1,131
Sales Price Range
$535,000 - $653,000
Rental Price Range
$1,700 - $2,050
1 Bed + Den
543 - 789 SQFT
Average Cost Per Sqft
$1,111
Sales Price Range
$580,000 - $805,000
Rental Price Range
$1,800 - $2,450
Average Cost Per Sqft
$1,178
Sales Price Range
$1,065,000 - $1,080,000
Rental Price Range
$2,200 - $2,900
How Often Are Units Listed?
Average Sales Availability
Average Rental Availability
Ratio of Unit Type in Building
10%
Average Sales Availability
Average Rental Availability
Ratio of Unit Type in Building
24%
1 Bed + Den
514 - 789 SQFT
Average Sales Availability
Average Rental Availability
Ratio of Unit Type in Building
54%
Average Sales Availability
Average Rental Availability
Ratio of Unit Type in Building
14%
Average Sales Availability
Average Rental Availability
Ratio of Unit Type in Building
1%
Maintenance Fees

The Eglinton Condos vs The

Mount Pleasant Area
Less Expensive
per SQFT compared to the neighbourhood average
The Eglinton Condos's Avg
monthly maintenance
fee per SQFT
$0.67
/ SQFT
Neighbourhood Avg
monthly maintenance
fee price per SQFT
$0.82
/ SQFT
Similar condos