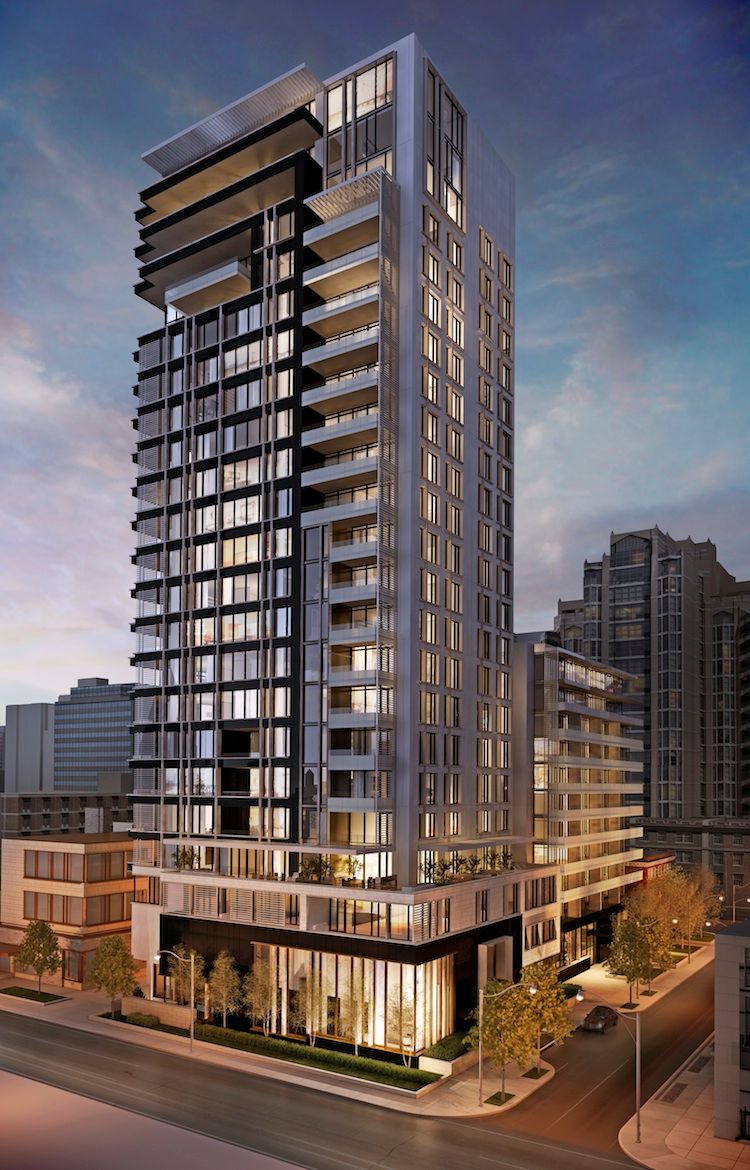 2 St Thomas St
0
Listings for Sale
for Sale
1
Listing for Rent
for Rent
Two St. Thomas Condos
2 St Thomas St
Two St. Thomas Condos
0
Listings for Sale
for Sale
1
Listing for Rent
for Rent
0
Developer
Kingsett Capital
Property Management
Bentall Kennedy (Canada) Lp
Unit Size Range
549 - 5300 SQFT
2 St Thomas St, Toronto
About this condo
Condo Overview
When Kingsett Capital teamed up with Hariri Pontarini to create Two St. Thomas, the developers and architects understood that the bar has been set high a Yorkville address like this one. Completed in 2018, the building can be considered low-key luxury: suites here aren't as flashy as those at the Four Seasons Private Residences around the corner, however, the dedication to resident satisfaction is tremendous.
For example, in addition to the fact that a 24-hour concierge staffs the fireplace lobby lounge at 2 St. Thomas Street, the building also boasts on-site property management and a parcel management system. So while misplaced (and sometimes even stolen) packages is a source of stress for many Torontonians, that simply isn't a problem for residents living at 2 St. Thomas St. Plus, residents have access to a long list of amenities including a party room on the 12th floor, a rooftop terrace, a gym, a pet spa, a private dining room with kitchen, and electric car charging stations.
The Suites
Nearly 250 suites can be found throughout the 26-storey tower at 2 St. Thomas, with layouts spanning anywhere from approximately 550 to 6,200 square feet. The building caters to all sorts of prospective residents with cozy studio suites, three bedroom homes, and many options in between.
Even the smallest Yorkville condos for sale at 2 St. Thomas are bright and welcoming thanks to floor-to-ceiling, wall-to-wall windows. Kitchens are the most modern rooms in these homes thanks to stainless steel appliances and sleek cabinetry and counters.
Being a rather recent construction, it's no wonder than Two St. Thomas was designed to please millennials. For one, features were chosen with the environment in mind, such as dual-flush toilets, Energy Star appliances, and double-glazed windows. Tech-savvy types will also enjoy the building's keyless entry system, which allows residents to enter their homes using smartphones – those who plan to use this feature will just have to be sure their phones are fully charged before leaving the house.
The Neighbourhood
When Torontonians think about Yorkville, a number of things might come to mind: posh hotels, upscale boutiques, art galleries, and cobblestone streets. In fact, many of the businesses that now inhabit this fashionable neighbourhood are set inside former homes. Once entirely residential, Yorkville was transformed into the destination it is today following the construction of the Bloor-Danforth subway line and department stores along Bloor.
The Bay and Holt Renfrew, two of the aforementioned department stores that transformed the neighbourhood, are situated on what is known as 'Mink Mile.' This nickname was given to the stretch of Bloor between Yonge Street and Avenue Road, and is Toronto's — and Canada's — foremost destination for luxury shopping. In fact, this area of Bloor is home to some of the most expensive retail real estate in the world.
While Two St. Thomas is within close reach of bustling arterial roads like Bloor and Bay, it happens to be situated on a quiet residential street. Residents hoping to explore the excitement of the city before returning home to a tranquil environment have come to the right place.
Transportation
It takes all of about 5 minutes to walk to Bay Station on the Bloor-Danforth subway line. Those heading north and south can walk to Museum Station on the University-Spadina line in around 4 minutes, while Bloor-Yonge Station, which provides access to both the Yonge and Bloor-Danforth lines, takes just 7 minutes to reach by foot.
Residents of Two St. Thomas who prefer to drive also have plenty of options for travelling about the city. While traffic can be a problem in Toronto, living so close to Avenue Road comes in handy. With three lanes moving in either direction, those heading north to the 401 or south to the downtown core can use this road to reach their destinations with ease.
0
Listings For Sale
Interested in receiving new listings for sale?
1
Listings For Rent
Interested in receiving new listings for rent?
Amenities
Maintenance Fees Cover
Maintenance fees include
None
Owner / renter pays separately
Hydro
Heat
Air Conditioning
Water
Past Sold & Rented Listings
Stats, Trends & Rankings
Price Per Square Foot
Two St. Thomas Condos vs The
Yorkville Area
More Expensive
per SQFT compared to the neighbourhood average
Two St. Thomas Condos's Avg
price per SQFT
$0
/ SQFT
Neighbourhood Avg
price per SQFT
$0
/ SQFT
Building Trends At Two St. Thomas Condos
Days on Market
Units at Two St. Thomas Condos spend an average of
Days on Market
based on recent sales
List vs Selling Price
On average, these condos sell for
of the list price.
Or in other words, the
entire list price
Offer Competition
Condos in this building have an
AVERAGE
chance of receiving
Multiple Offers
Turnover of Units
On average, each unit is owned for
YEARS
before being sold again
Property Value
Increase
in property value within the past twelve months
Price Ranking
Highest price per SQFT out of
55
condos in the Yorkville area
Sold Units
0
Units were
Sold
over the past twelve months
Rented Units
1
Units were
Rented
over the past twelve months
Best Value
Two St. Thomas Condos offers the
best value
out of 55 condos in the Yorkville neighbourhood
Return on Investment
Two St. Thomas Condos has the
highest ROI
out of 55 condos in the Yorkville neighbourhood
Rental Yield
Two St. Thomas Condos yields the
highest rent prices
out of 55 condos in the Yorkville neighbourhood
High Demand
Two St. Thomas Condos is the
most popular
building out of 55 condos in the Yorkville neighbourhood
Sales vs Rental Values For This Condo
Rental Price Range
$11,500 - $11,500
How Often Are Units Listed?
Average Sales Availability
Average Rental Availability
Ratio of Unit Type in Building
3%
Average Sales Availability
Average Rental Availability
Ratio of Unit Type in Building
28%
1 Bed + Den
853 - 853 SQFT
Average Sales Availability
Average Rental Availability
Ratio of Unit Type in Building
8%
Average Sales Availability
Average Rental Availability
Ratio of Unit Type in Building
28%
2 Bed + Den
1099 - 1099 SQFT
Average Sales Availability
Average Rental Availability
Ratio of Unit Type in Building
18%
Average Sales Availability
Average Rental Availability
Ratio of Unit Type in Building
18%
Similar condos