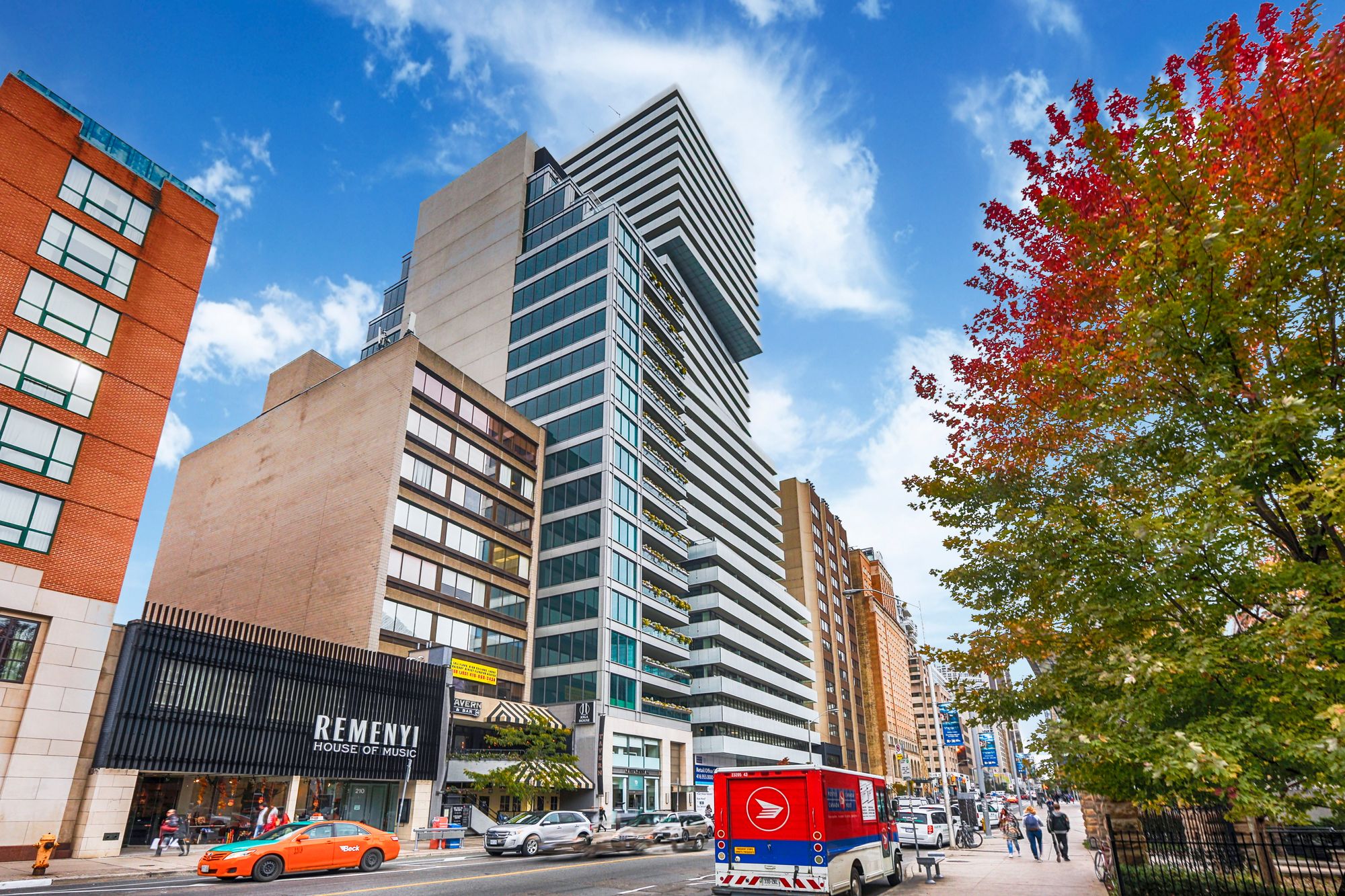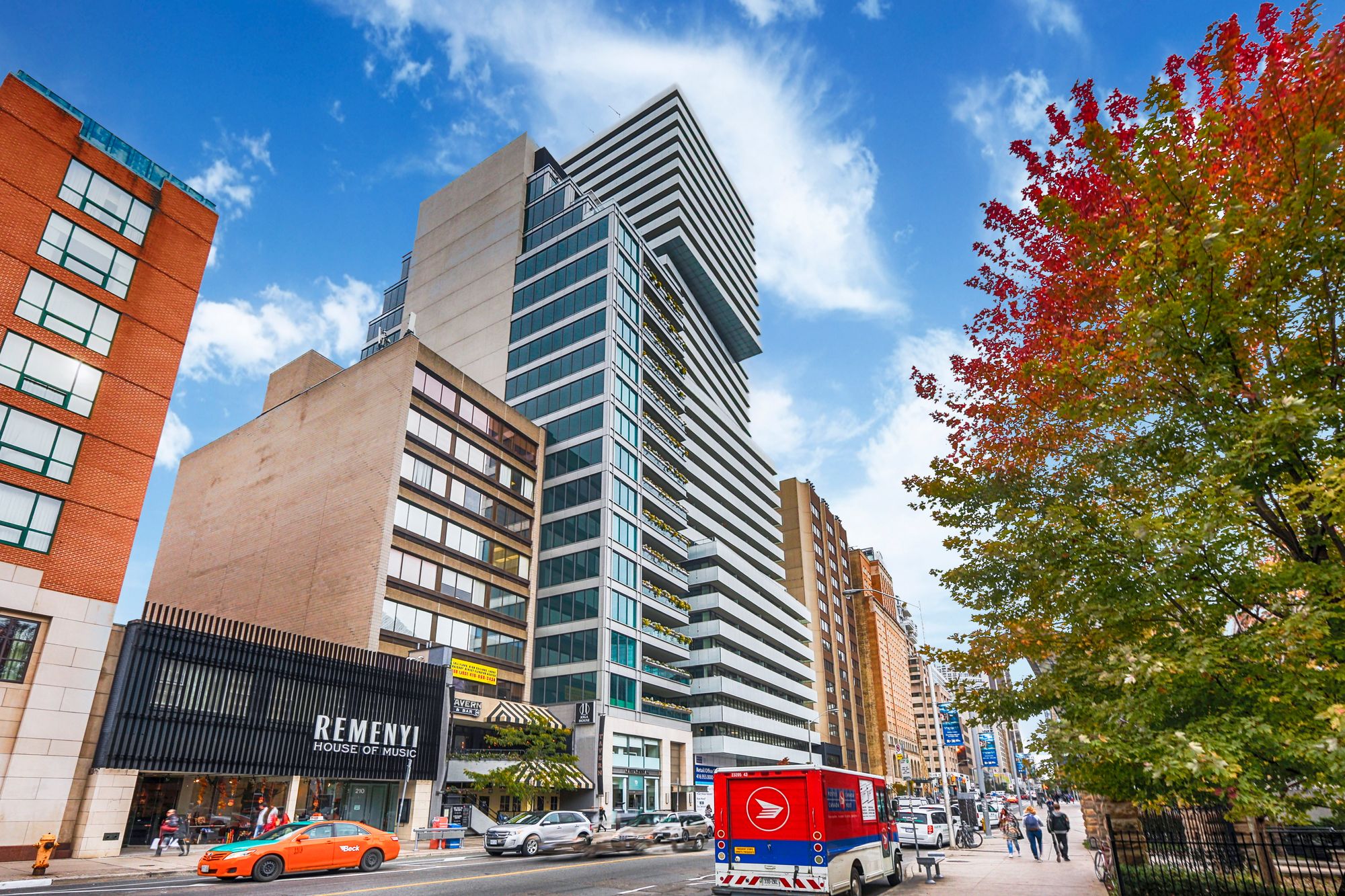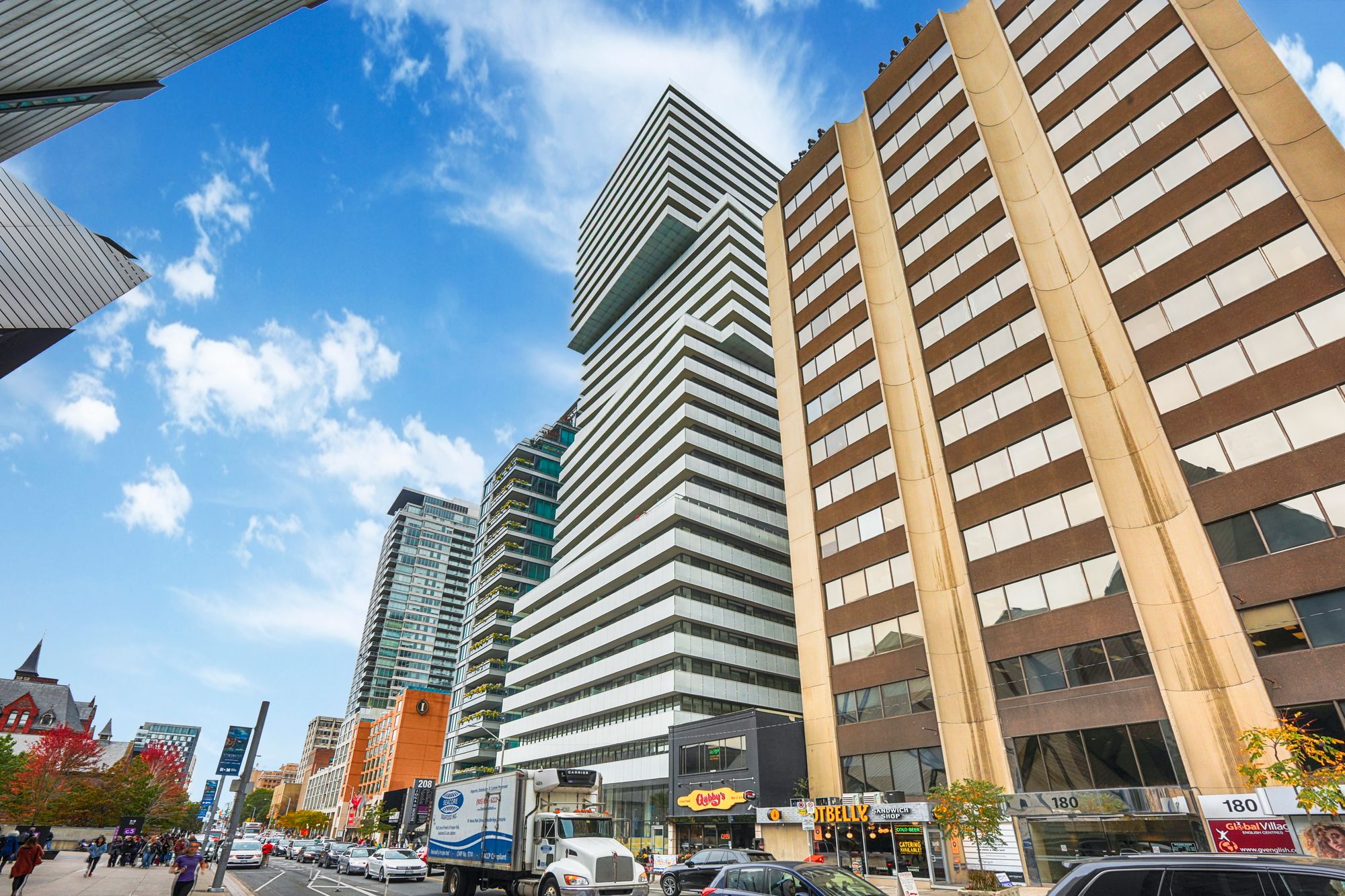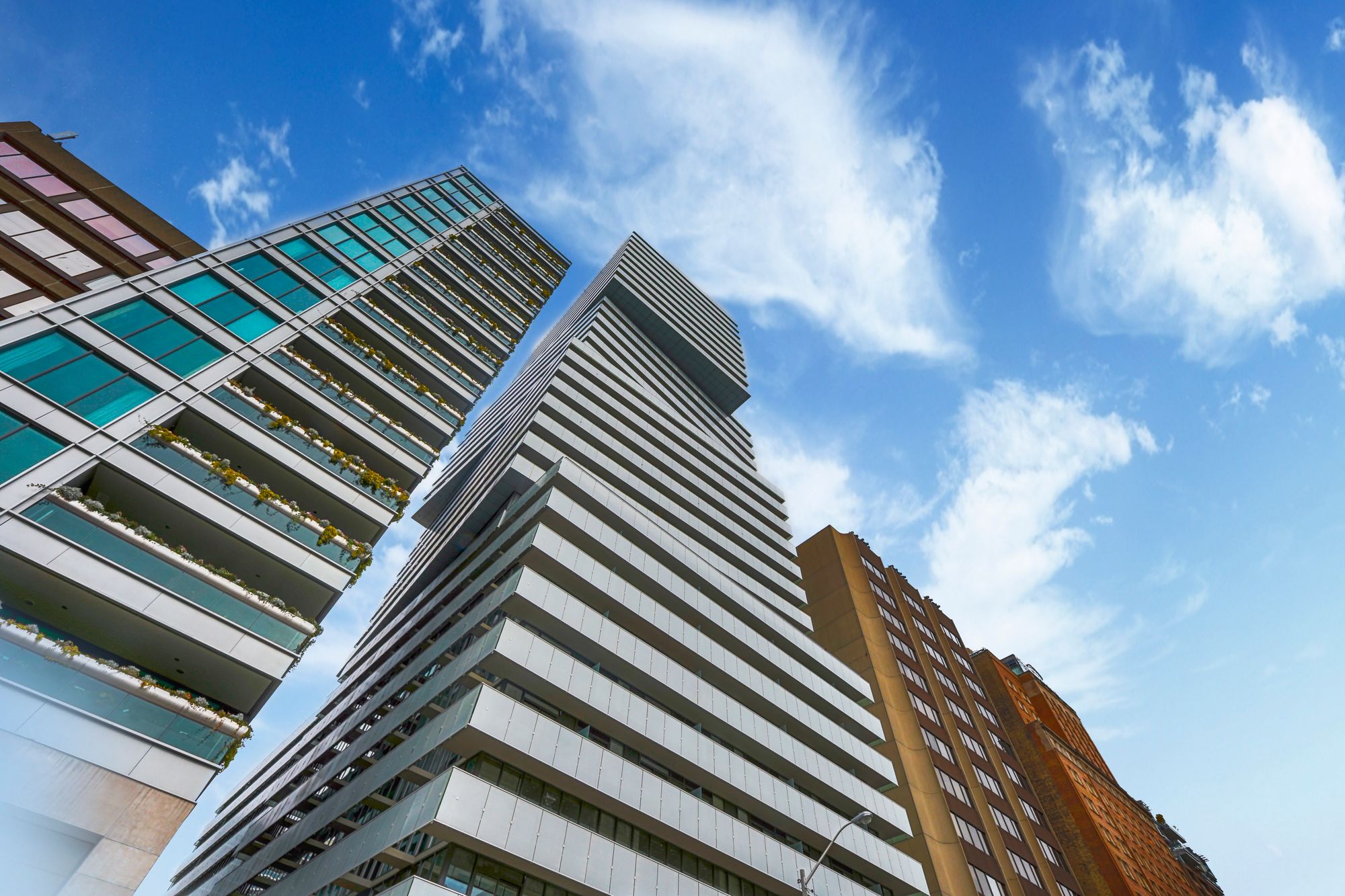 200 Bloor St
3
Listings for Sale
for Sale
0
Listings for Rent
for Rent
Developer
Bazis International
Property Management
Royale Grande Property Management Ltd.
Unit Size Range
512 - 3460 SQFT
About this condo
The Exhibit Residences at 200 Bloor Street West in Yonge and Bloor neighbourhood can be found tight across the street from the Royal Ontario Museum — getting home is easy as locating the giant crystal. This futuristic condominium building is idyllic for buyers looking to live in one of the city's most distinct luxury high-rises, with the added benefit of being right at the entrance to downtown Toronto.
Built in 2017, the Exhibit Residences have a unique façade that resembles 4 rotated and stacked white cubes, meant to mimic the ROM's Michael Lee-Chin Crystal extension by architect Daniel Libeskind. The building succeeds in contrasting with the simpler architecture along the north side of Bloor Street, while complimenting the crystalline structure attached to the museum. Just as the crystal garnered plenty of "oohs and ahhs" when it was first built, the Exhibit Residences will likely draw similar reactions from guests and homeowners alike.
On top of being an architectural spectacle in a prime location, 200 Bloor Street West has several amenities for residents to enjoy, including a gym, a party room with a catering kitchen, a lounge with a double sided fireplace, concierge and security services, an outdoor patio and garden, and guest suites.
The Suites
The Exhibit Residences stand tall at 32 storeys, and hold 200 Toronto condos that range from just over 500 square feet, to about 2400 square feet. These suites come with 1-2 bedrooms, 1-2 bathrooms, and options for an additional den. Most of the Toronto condos for sale in this building also have balconies for fantastic views of The Annex and Queens Park, especially on the upper quarter of the building where views are totally unobstructed.
200 Bloor Street West's interiors are bright and inviting, utilizing open-concept spaces and floor-to-ceiling windows to flood living and dining rooms with light. Smooth finishes, crown moulding, and laminate wood floors, as well as 9 foot ceilings, give an upscale, yet cozy feel to the interiors.
The Exhibit Residences feature smart and central kitchens with top of the line appliances, sleek laminate cabinetry, bright stone counters, ceramic backsplashes and islands for serving and dining. Bathrooms are simple, but still elegantly finished with polished stone, porcelain, ceramic, and glass doors in showers.
The Neighbourhood
200 Bloor Street sits is in a nearly perfect location, especially for those who enjoy shopping, fine dining, and getting one's fill of arts and culture. Bloor Street is packed with eclectic restaurants, fancy and eccentric boutiques, and a long list of nightlife venues and bars, while Yorkville is filled with high-end shops and eateries, as well as small art galleries. As well, the area has two malls close by: between Yorkville Village Mall and the Hudson's Bay Centre, residents should be covered when the time comes to gather groceries, visit pharmacies, or run errands.
The intersection of Avenue Road and Bloor Street is also great for enjoying theatre performances, concerts, movies and exhibits. Residents just have to visit venues like the ROM, Koerner Hall, Varsity Theatre, or the CAA Theatre, all of which are a brief walk away.
Residents don't need to travel far in order to nearby reach green spaces either. Parks in the neighborhood include Jessie Ketchum Park, Queens Park, Ramsden Park, as well as the Rosedale Ravine. And several schools are also within reach, such as Jessie Ketchum Jr and Sr Public School, Branksome Hall, St. Joseph's College, The University of Toronto, and Toronto Metropolitan University.
Transportation
Homeowners living at the Exhibit Residences shouldn't have any issues getting around. There are buses that move along Avenue Road, while Bloor even has bike lanes for cyclists to use. And residents are about a 4 minute walk away from Museum Station, or just 6 minutes from Bay Station on foot, giving them access to both of downtown's subway lines.
Drivers can reach the nearest highway, the Don Valley Parkway, by taking Bloor all the way east until it becomes Danforth Avenue.
3
Listings For Sale
Interested in receiving new listings for sale?
0
Listings For Rent
Interested in receiving new listings for rent?
Property Highlights
Listing History for Exhibit Residences
Nearby Amenities
Stats, Trends & Rankings
Exhibit Residences vs The Yonge and Bloor Area
Building Trends At Exhibit Residences
Days on Strata
Units at Exhibit Residences spend an average of
8
Days on Strata
based on recent sales
List vs Selling Price
On average, these condos sell for
of the list price.
Or in other words, the
entire list price
Offer Competition
Condos in this building have an
AVERAGE
chance of receiving
Multiple Offers
Turnover of Units
On average, each unit is owned for
5.4
YEARS
before being sold again
Property Value
Increase
in property value within the past twelve months
Price Ranking
Highest price per SQFT out of
33
condos in the Yonge and Bloor area
Sold Units
6
Units were
Sold
over the past twelve months
Rented Units
20
Units were
Rented
over the past twelve months
Sales vs Rental Values For This Condo
Average Cost Per Sqft
$1,452
Sales Price Range
$735,000 - $735,000
Rental Price Range
$2,500 - $2,600
1 Bed + Den
652 - 798 SQFT
Average Cost Per Sqft
$1,292
Sales Price Range
$945,000 - $1,035,000
Rental Price Range
$2,900 - $3,300
Average Cost Per Sqft
$1,516
Sales Price Range
$1,250,000 - $1,400,000
Rental Price Range
$3,200 - $4,800
2 Bed + Den
849 - 1299 SQFT
Average Cost Per Sqft
No Data
Rental Price Range
$4,800 - $6,700
How Often Are Units Listed?
Average Sales Availability
Average Rental Availability
Ratio of Unit Type in Building
20%
1 Bed + Den
524 - 800 SQFT
Average Sales Availability
Average Rental Availability
Ratio of Unit Type in Building
34%
Average Sales Availability
Average Rental Availability
Ratio of Unit Type in Building
37%
2 Bed + Den
834 - 2386 SQFT
Average Sales Availability
Average Rental Availability
Ratio of Unit Type in Building
11%
Average Sales Availability
Average Rental Availability
Ratio of Unit Type in Building
1%
Maintenance Fees
Exhibit Residences vs The
Yonge and Bloor Area
Exhibit Residences's Avg
monthly maintenance fee
Neighbourhood Avg
monthly maintenance fee
Similar condos