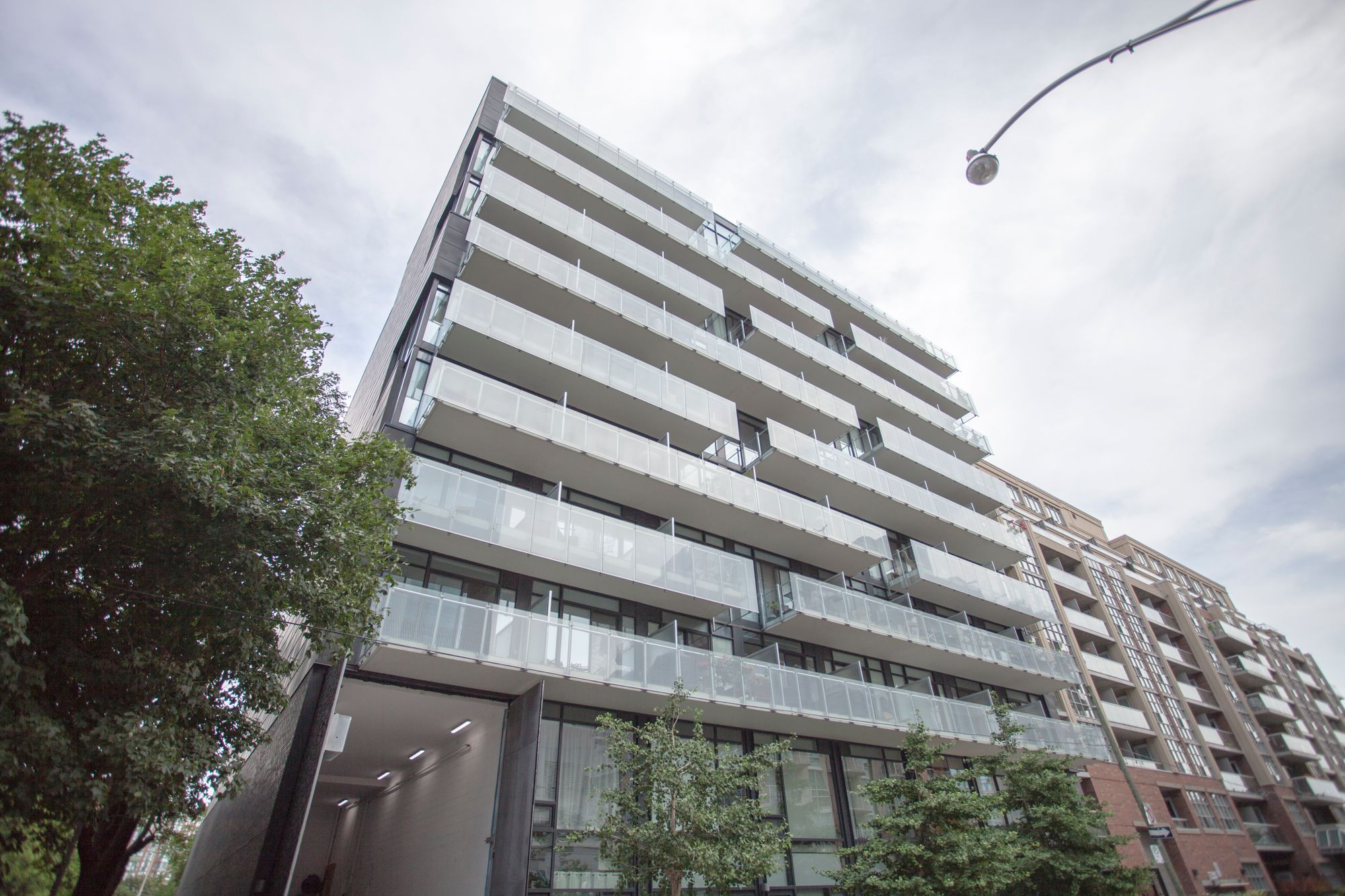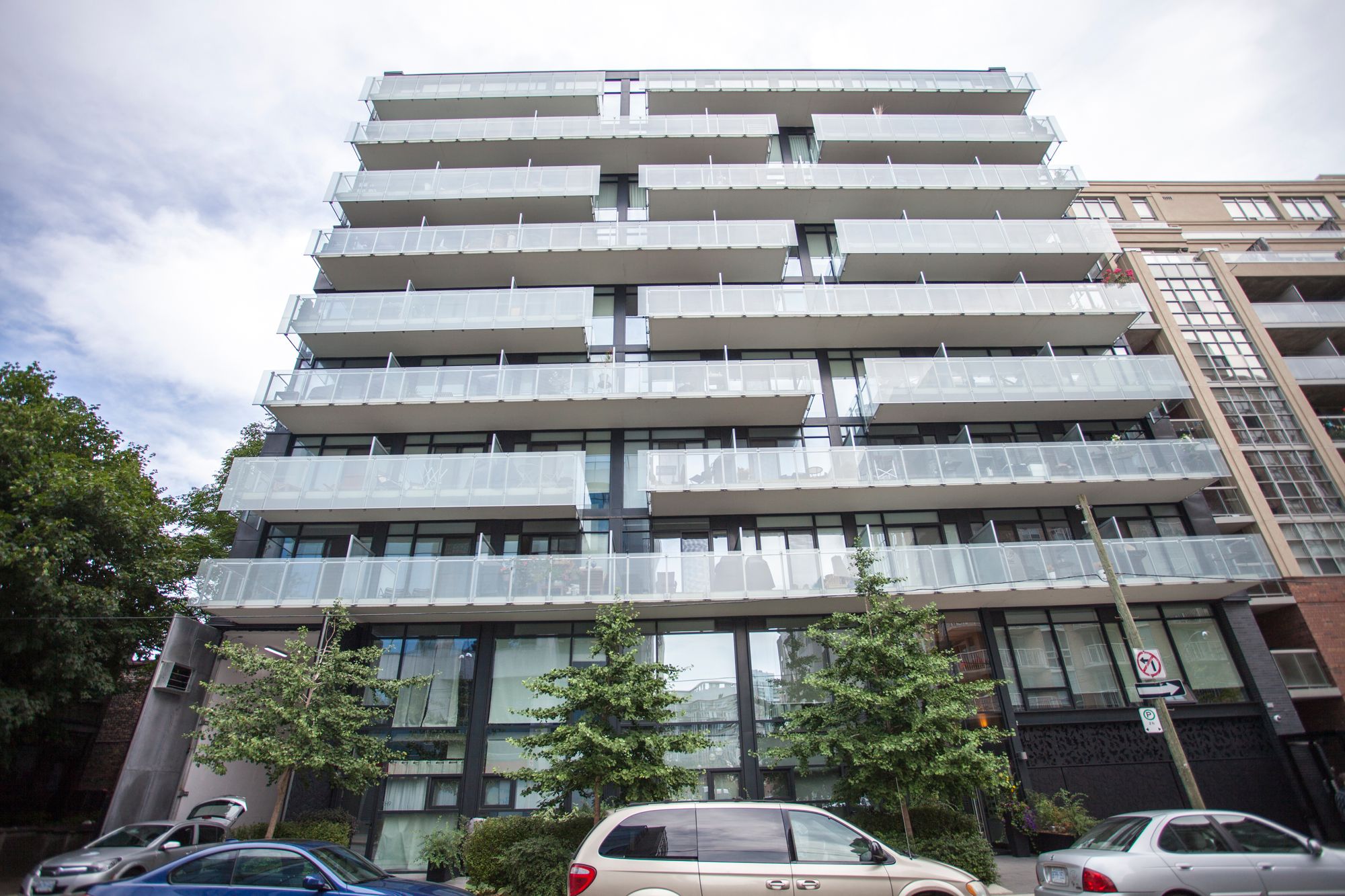 25 Stafford St
0
Listings for Sale
for Sale
0
Listings for Rent
for Rent
Parc Lofts
25 Stafford St
Parc Lofts
0
Listings for Sale
for Sale
0
Listings for Rent
for Rent
0
Developer
Lamb Development Corp.
Property Management
Icon Property Management
Unit Size Range
463 - 2866 SQFT
25 Stafford St, Toronto
About this loft
Loft Overview
When coming from Lamb Development Corp, the statement that the Parc Lofts are "the best thing to happen to the King Street West neighbourhood" really means something. Brad Lamb's team of developers has created a number of exquisite residential buildings in the area. And if you're not convinced yet, note that Lamb himself calls one of the two penthouses at 25 Stafford Street home.
One of the major selling points of the Parc Lofts is — evidently— the park next door. Directly beside Stanley Park, the developers were so thrilled with the building's location that the styles of suites are named for noteworthy green spaces around the world: Vondel Park in Amsterdam, Park Guell in Barcelona, and the Jardin du Luxembourg in Paris, to name a few. The urban oasis that is the Parc Lofts also affords residents with clear views of the city.
For a pleasant juxtaposition with the natural landscape, the building itself is futuristic in style. The 10-storey soft loft residence at 25 Stafford Street was completed in 2012, with the front constructed of angular glass, and the sides made of an edgy charcoal coloured brick.
Modern amenities are plentiful here as well. Gas hookups for barbecues offer residents an outdoor cooking space, while a water supply on the balconies makes life easier for those residents with green thumbs. Residents can also make use of a communal party room, while the parking garage has plenty of room for friends and family who attend the gatherings there.
The Suites
With just over 100 Toronto lofts, the Parc Lofts vary considerably in size. The homes range from approximately 500 to 2,800 square feet, with some spanning multiple levels. Lofts feature anything from one bedroom to two bedrooms plus den, and all are equipped with a balcony, patio, or terrace. Along the first floor of 25 Stafford, townhouse-style lofts feature private entrances that open directly to the street.
The homes are provided with high quality, modern finishes, such as European style bathrooms, engineered hardwood floors, and sizeable sliding glass doors that lead into the bedrooms (frosted for privacy of course).
Loft lovers will be pleased with the open concept layouts. Other quintessential loft features include ceilings that reach up to 11 feet high, floor-to-ceiling windows, and exposed concrete walls. And while industrial design features are profuse, prospective buyers seeking King West condos for sale can take note of the building's progressiveness — existing wiring is suited for state-of-the-art entertainment systems and high-speed internet connections.
The Neighbourhood
Stanley Park, directly beside the Parc Lofts, features an off-leash area for dogs, an outdoor swimming pool, and a basketball court. So while residents who are tempted to stick close to home will make great use of these facilities, other green spaces in the area are equally as attractive. Garrison Commons, Coronation Park, Trinity Bellwoods Park, Victoria Memorial Park, and St. Andrew's Playground are all within walking distance.
The King West neighbourhood and Niagara area also provides plenty of entertainment for residents. Upscale spas such as Hammam and Body Blitz are around the corner for those who really like to indulge, while more regular appearances might be made at some of the local boutiques and intimate eateries in the area.
Residents might need to flip a coin or consult a magic eight ball before dining out, due to the myriad of first-rate options. Date night could involve upscale sushi at Blowfish, ice cold pints from inside a converted Victorian-era home at Bar Wellington, or a 7-course meal that doubles as a feast for the eyes at Edulis.
Between the generously sized Loblaws at Queen and Portland, and the Kitchen Table and Fresh & Wild Food Market on King West, residents won't have to travel far to check items off of their grocery lists either.
Transportation
Getting around is easy with 25 Stafford Street as a starting point. Residents can take a ride on the King streetcar for access to the St. Andrew subway station, or for travel both east and west. Alternatively, the 63 Ossington Bus stops one block from the Parc Lofts, and carries passengers toward Ossington Station on the Bloor-Danforth line.
Drivers can access the Gardiner Expressway in no time, via Spadina or Jameson Avenue. From here, residents can travel about the city, or reach the 427 or Don Valley Parkway in no time. For an added bonus, residents can reach the Billy Bishop Toronto City Airport in just 8 minutes via car, or 15 when using public transit.
0
Listings For Sale
Interested in receiving new listings for sale?
0
Listings For Rent
Interested in receiving new listings for rent?
Amenities
Maintenance Fees Cover
Maintenance fees include
Water
Owner / renter pays separately
Hydro
Heat
Air Conditioning
Past Sold & Rented Listings
Stats, Trends & Rankings
Price Per Square Foot
Parc Lofts vs The
King West Area
More Expensive
per SQFT compared to the neighbourhood average
Parc Lofts's Avg
price per SQFT
$1,345
/ SQFT
Neighbourhood Avg
price per SQFT
$1,130
/ SQFT
Building Trends At Parc Lofts
Days on Market
Units at Parc Lofts spend an average of
10
Days on Market
based on recent sales
List vs Selling Price
On average, these lofts sell for
above
the list price.

Offer Competition
Lofts in this building have a
HIGH
chance of receiving
Multiple Offers
Turnover of Units
On average, each unit is owned for
6.2
YEARS
before being sold again
Property Value
Increase
in property value within the past twelve months
Price Ranking
Highest price per SQFT out of
95
condos in the King West area
Sold Units
5
Units were
Sold
over the past twelve months
Rented Units
16
Units were
Rented
over the past twelve months
Best Value
Parc Lofts offers the
best value
out of 95 condos in the King West neighbourhood
Return on Investment
Parc Lofts has the
highest ROI
out of 95 condos in the King West neighbourhood
Rental Yield
Parc Lofts yields the
highest rent prices
out of 95 condos in the King West neighbourhood
High Demand
Parc Lofts is the
most popular
building out of 95 condos in the King West neighbourhood
Sales vs Rental Values For This Loft
Average Cost Per Sqft
$1,124
Sales Price Range
$550,000 - $860,000
Rental Price Range
$2,000 - $3,050
1 Bed + Den
820 - 820 SQFT
Rental Price Range
$3,450 - $3,450
2 Bed + Den
1015 - 1550 SQFT
Rental Price Range
$4,000 - $4,700
3 Bed + Den
2866 - 2866 SQFT
Average Cost Per Sqft
$1,742
Sales Price Range
$4,750,000 - $4,750,000
How Often Are Units Listed?
Average Sales Availability
Average Rental Availability
Ratio of Unit Type in Building
74%
1 Bed + Den
820 - 1288 SQFT
Average Sales Availability
Average Rental Availability
Ratio of Unit Type in Building
8%
Average Sales Availability
Average Rental Availability
Ratio of Unit Type in Building
8%
2 Bed + Den
1000 - 2187 SQFT
Average Sales Availability
Average Rental Availability
Ratio of Unit Type in Building
10%
3 Bed + Den
2866 - 2866 SQFT
Average Sales Availability
Average Rental Availability
Ratio of Unit Type in Building
1%
Maintenance Fees

Parc Lofts vs The

King West Area
Less Expensive
per SQFT compared to the neighbourhood average
Parc Lofts's Avg
monthly maintenance
fee per SQFT
$0.71
/ SQFT
Neighbourhood Avg
monthly maintenance
fee price per SQFT
$0.74
/ SQFT
Similar lofts