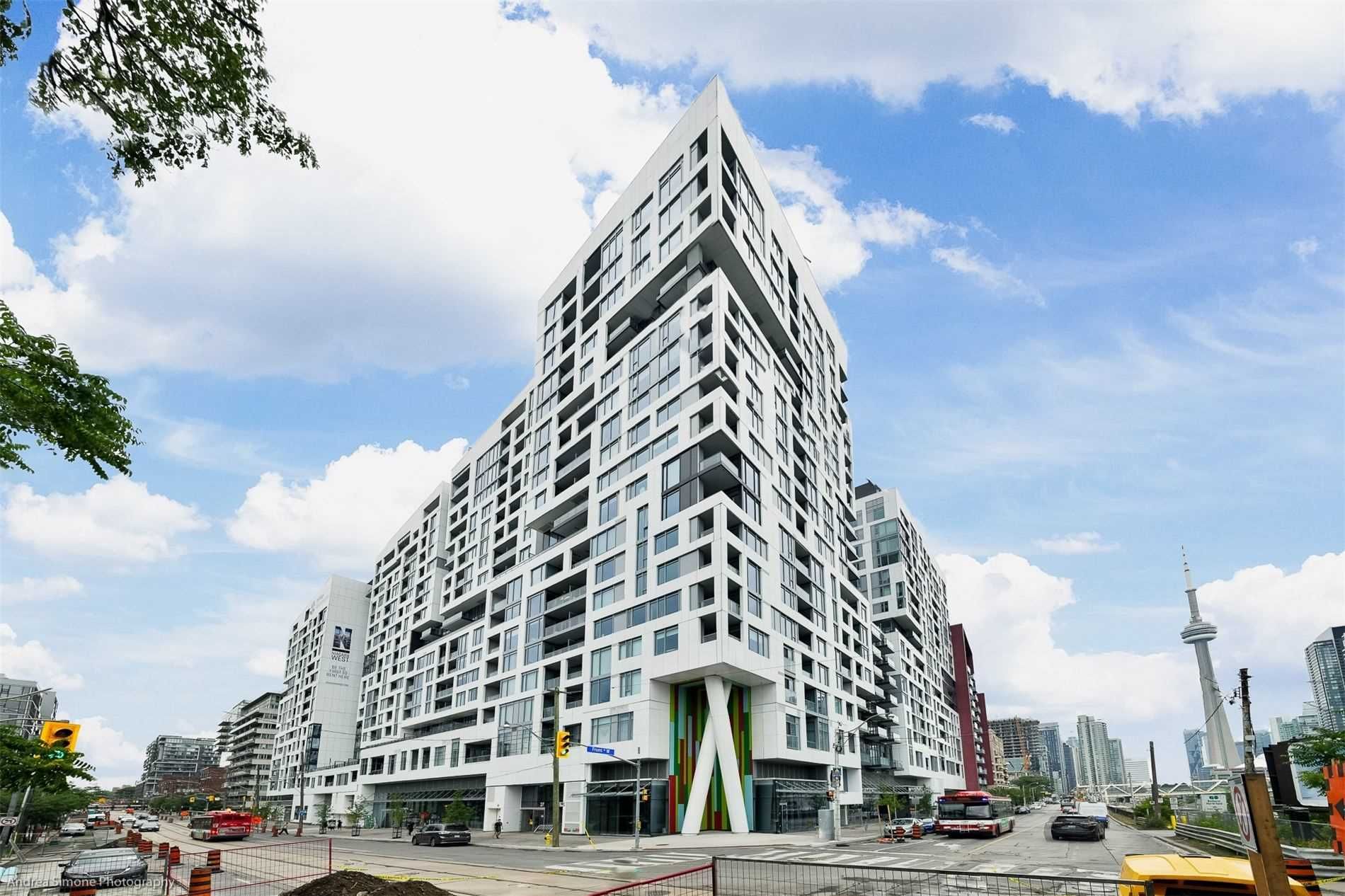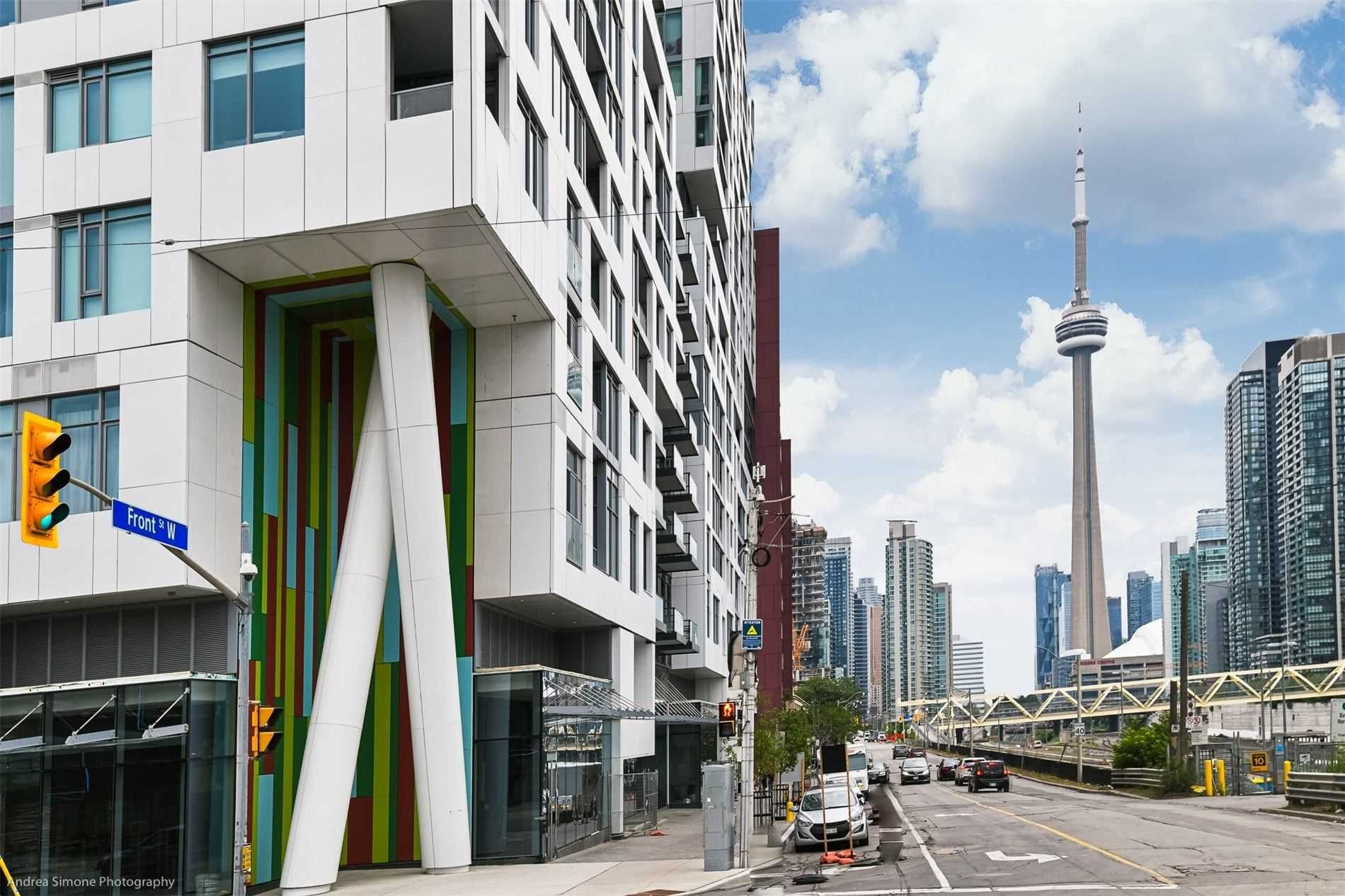 27 Bathurst St & 576 Front St W
3
Listings for Sale
for Sale
4
Listings for Rent
for Rent
Minto Westside Condos
27 Bathurst St
Minto Westside Condos
3
Listings for Sale
for Sale
4
Listings for Rent
for Rent
0
Unit Availability
Above Average
Property Management
First Service Residential
Unit Size Range
270 - 1099 SQFT
27 Bathurst St, Toronto
About this condo
Condo Overview
Rising high at 27 Bathurst Street and 576 Front Street West in the trend-setting King West neighbourhood, the Minto Westside Condos occupies a significant plot on the corner of Front and Bathurst. With two towers joined by a podium, the buildings stand 18 storeys and 20 storeys tall. This is home to 660 units in total.
Building amenities are carefully thought out and though they're extensive, they don't feel wasteful. Residents have access to a complete fitness centre, a rooftop pool and lounge area, shared BBQ spaces, a community courtyard, underground parking for residents and their guests, and a 24 hour concierge service.
Minto's sterling reputation for producing exceptional condos with LEED certification has made them a fan of climate-forward thinkers, investors, and home buyers and renters. 27 Bathurst continues the trend of quality condos with a conscience, as evidenced by the remarkable architecture and quality of life features inside.
Homes in this desirable residence are luxury condos but prospective buyers don't require extreme affluence to afford one: price per square foot is above the neighbourhood average but far less than in neighbourhoods like Yorkville. Maintenance fees are roughly around the GTA average, which is a bargain considering the excellent amenities and overall quality of the building.
The Suites
Given the sheer number of suites sizes, buyers with their eyes on 27 Bathurst St will likely be able to find a unit on the market. The coziest studio units in the building are roughly 300 square feet and the largest units, those with 3 bedroom layouts, are 985 square feet.
And don't be fooled because these aren't your typical condos. Units here tend to have unique floor plans, sometimes with triangular rooms or cute corners for a reading nook or a desk. Upgraded kitchens are standard and include granite countertops, built in stainless steel appliances, and designer cabinets.
Bathrooms show well — with large rain showers, pleasing floor and wall tiles, and unique vanities. Storage space can be at a premium in smaller suites, but bedroom closets are large enough for an avid shopper to feel at ease, and that's important with Queen boutiques nearby.
The Neighbourhood
Though many developers will advertise their condo as being located in the heart of the city or as offering unparalleled urban convenience, Minto Westside Condos actually fits the bill.
Anyone with a penchant for blowing their paychecks on fine dining might want to move a bit further away from the King Street strip. Residents can stroll to King Street in seconds for arguably the most diverse selection of restaurants and bars in the city; whether you're looking for 5 star dining or a quick bite with friends, you'll find an embarrassment of riches in the area.
Nightlife and entertainment are no less bountiful at 27 Bathurst St. There are trendy cocktail bars such as Early Mercy, craft beer hangouts like the acclaimed Bar Hop, or lively brewpubs like Northern Maverick Brewing Co. The area is also home to bars for live music and theatres for the performing arts. Sports fans can jump on a streetcar and make their way into the Entertainment District for the Leafs, Raptors and Jays, or watch on a big screen close to home.
Coffee lovers have their choice of artisan café for an espresso on their way to shop on Queen Street West. Those needing fresh air can go for a stroll through the historic Garrison Commons or can walk the dog at Stanley Park, where there's an off leash enclosure.
Transportation
When living at Minto Westside Condos, there's no need to catch a bus to grab groceries or pick up essentials, because there's a Farm Boy at ground level. Those who are feeling choosy, can make their way north to King for the Kitchen Table. The neighbourhood plays host to salons, banks, medical facilities, yoga studios and more, making it a truly walkable location.
Now that the King Street Pilot Project is permanent, commuting via the King streetcar is more efficient — music to the ears of condo residents. As well, streetcars on Bathurst can carry passengers to the north, and bus routes are scattered throughout the area and provide excellent service.
Car owners can reach the Gardiner Expressway in mere minutes by taking Spadina to Lakeshore for the nearest on-ramp; once there, it's easy to connect to the Don Valley Parkway or QEW for travel throughout the Golden Horseshoe.
3
Listings For Sale
4
Listings For Rent
Interested in receiving new listings for rent?
Amenities
Maintenance Fees Cover
Maintenance fees include
Heat
Air Conditioning
Owner / renter pays separately
Hydro
Water
Past Sold & Rented Listings
Stats, Trends & Rankings
Price Per Square Foot
Minto Westside Condos vs The
King West Area
More Expensive
per SQFT compared to the neighbourhood average
Minto Westside Condos's Avg
price per SQFT
$1,332
/ SQFT
Neighbourhood Avg
price per SQFT
$1,130
/ SQFT
Building Trends At Minto Westside Condos
Days on Market
Units at Minto Westside Condos spend an average of
12
Days on Market
based on recent sales
List vs Selling Price
On average, these condos sell for
above
the list price.

Offer Competition
Condos in this building have a
HIGH
chance of receiving
Multiple Offers
Turnover of Units
On average, each unit is owned for
4.5
YEARS
before being sold again
Property Value
Increase
in property value within the past twelve months
Price Ranking
Highest price per SQFT out of
95
condos in the King West area
Sold Units
41
Units were
Sold
over the past twelve months
Rented Units
141
Units were
Rented
over the past twelve months
Best Value
Minto Westside Condos offers the
best value
out of 95 condos in the King West neighbourhood
Return on Investment
Minto Westside Condos has the
highest ROI
out of 95 condos in the King West neighbourhood
Rental Yield
Minto Westside Condos yields the
highest rent prices
out of 95 condos in the King West neighbourhood
High Demand
Minto Westside Condos is the
most popular
building out of 95 condos in the King West neighbourhood
Sales vs Rental Values For This Condo
Average Cost Per Sqft
$1,502
Sales Price Range
$420,000 - $495,000
Rental Price Range
$1,650 - $2,300
Average Cost Per Sqft
$1,148
Sales Price Range
$507,500 - $756,500
Rental Price Range
$1,795 - $2,500
1 Bed + Den
499 - 650 SQFT
Average Cost Per Sqft
$1,120
Sales Price Range
$550,000 - $781,000
Rental Price Range
$1,899 - $2,600
Average Cost Per Sqft
$1,082
Sales Price Range
$710,000 - $950,000
Rental Price Range
$2,450 - $4,250
2 Bed + Den
819 - 941 SQFT
Rental Price Range
$3,000 - $3,650
Average Cost Per Sqft
$1,114
Sales Price Range
$885,000 - $1,100,000
How Often Are Units Listed?
Average Sales Availability
Average Rental Availability
Ratio of Unit Type in Building
15%
Average Sales Availability
Average Rental Availability
Ratio of Unit Type in Building
31%
1 Bed + Den
499 - 749 SQFT
Average Sales Availability
Average Rental Availability
Ratio of Unit Type in Building
21%
Average Sales Availability
Average Rental Availability
Ratio of Unit Type in Building
26%
2 Bed + Den
819 - 982 SQFT
Average Sales Availability
Average Rental Availability
Ratio of Unit Type in Building
7%
Average Sales Availability
Average Rental Availability
Ratio of Unit Type in Building
3%
Maintenance Fees

Minto Westside Condos vs The

King West Area
Less Expensive
per SQFT compared to the neighbourhood average
Minto Westside Condos's Avg
monthly maintenance
fee per SQFT
$0.70
/ SQFT
Neighbourhood Avg
monthly maintenance
fee price per SQFT
$0.74
/ SQFT
Similar condos