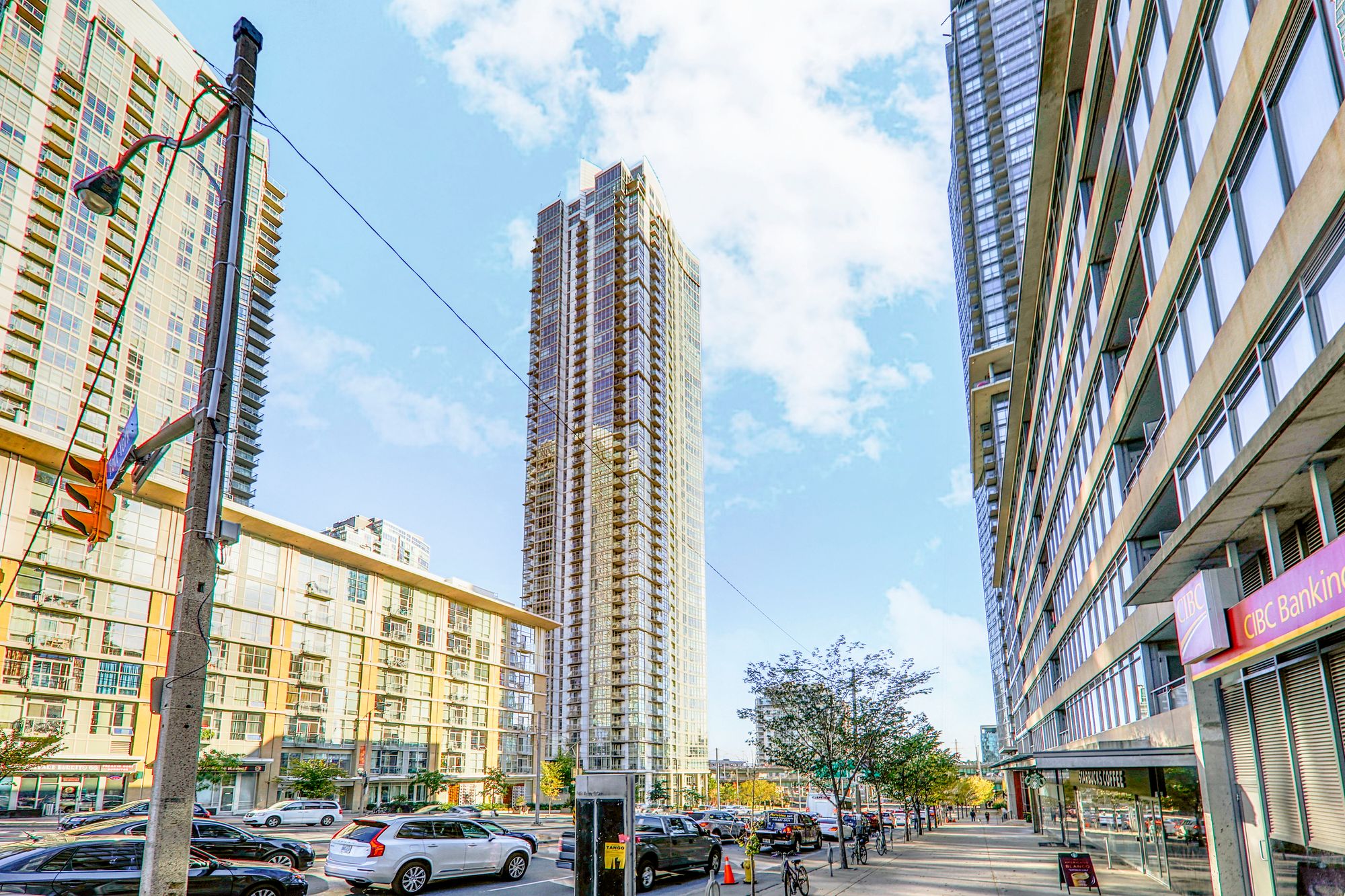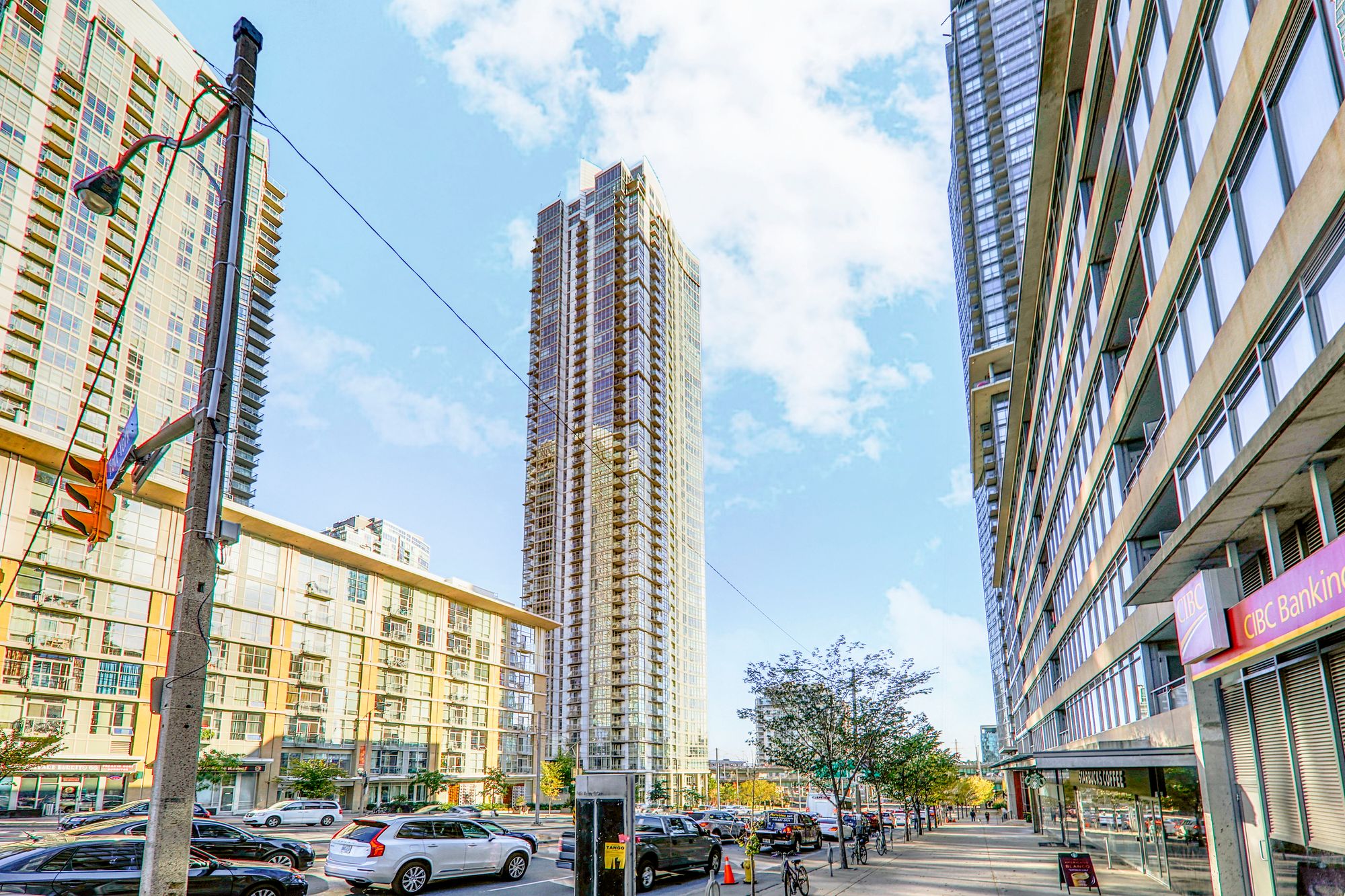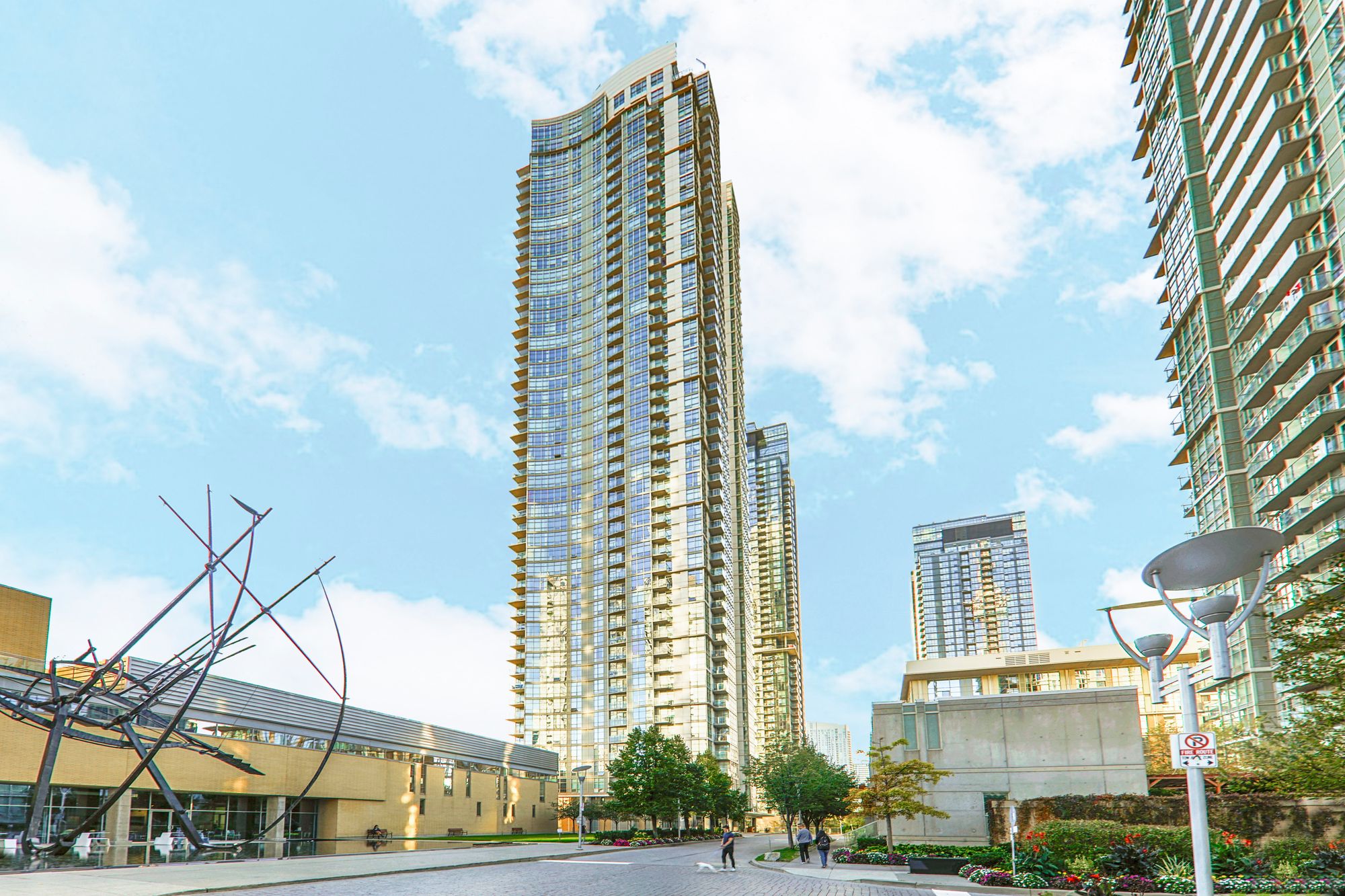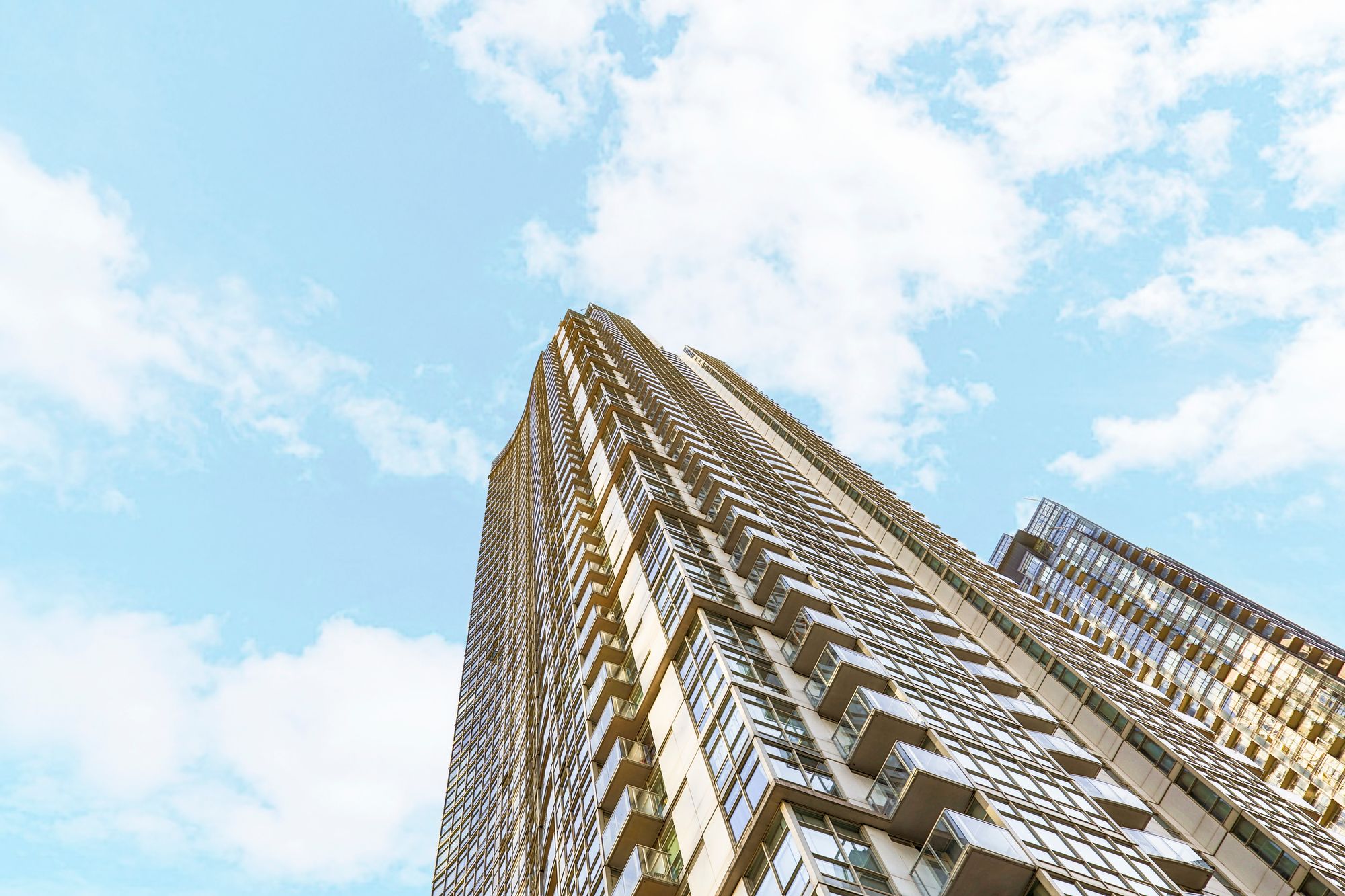 35 Mariner Terr
Harbour View Estates II Condos
5
Listings for Sale
for Sale
6
Listings for Rent
for Rent
Property Management
Del Property Management Inc.
Unit Size Range
400 - 2340 SQFT
About this condo
A word of warning, if you're afraid of heights — avert your eyes. Towering to 49 storeys at 35 Mariner Terrace, Harbour View Estates 2 Condos is a dream come true for buyers who want a condo in the heart of the action, but a nightmare for those who get dizzy when their feet leave the ground.
Built in 2005, this building is typical of modern design — a glass tower featuring a curved facade on the north and south side of the exterior — and is well suited to the CityPlace neighbourhood.
As is the case with most condos in the CityPlace, the amenities here are nothing short of extensive; gym, pool, sauna, tennis court, on-site security, concierge, parking garage, and more.
With a lively neighbourhood, reasonable prices, and a wealth of tantalizing extras — this building is perfect for first-time home buyers, couples, and young professionals, who are seeking affordable Toronto condos for sale.
The Suites
For prospective buyers, there's a lot of choice at Harbour View Estates 2 Condos — containing 515 units, with a range of layouts from 546 square feet 1 bedrooms to 2217 penthouse suites. For those who plan to have a roommate, there are 2 bedroom units which are over 1200 square feet, so you'll never feel like you're in close quarters. And seeing as how CityPlace condos for rent are quite common, there's a decent chance of finding a unit here.
Within these units you'll encounter hardwood floors, granite countertops, stainless steel appliances, floor to ceiling windows, ensuite laundry, and bright open concept floor plans. Condo owners with south facing units have views of the Lake Ontario, while those who face east can look out on the Rogers Centre.
As a resident of Harbour View Estates 2 Condos, you have the bonus of being located next to both the Entertainment District and waterfront parks — ideal for nature lovers who need to live in the city. With just a short walk south, you can be on the Martin Goodman Trail in minutes, connecting to lakeside parks for kilometres to the east and west and opening up an abundance of recreation options.
The Neighbourhood
CityPlace is neighbourhood unlike any other in the city — designed from the ground up as a condo community, this high density area offers unparalleled urban convenience and easy access to transit hubs and green spaces.
You can hardly mention CityPlace without acknowledging its proximity to the Rogers Centre; Blue Jays fans can stroll to an afternoon game and forget about $20 parking, while enjoying the crowds instead of racing them to Union Station. Likewise, you're just a short trip from the Scotiabank Arena for the Leafs and Raptors.
If sports aren't your thing, you have an eclectic mix of entertainment options of meet any desire; you can act like a tourist in your own city and visit the CN Tower, ogle undersea creatures at Ripley's Aquarium — I'm look at you Sabastian — or check out the Steam Whistle Brewery and Hockey Hall of fame.
For night on the town, you can kick things off at Fox and Fiddle Cityplace and then head to the Entertainment District. Beer fanatics can please their palates at the Town Crier and Bar Hop Brewco. If what you seek is a bustling dance floor, then Stadium Nightclub, Cure, Orchid Nightclub have got you covered. Plus, there are many karaoke bars, live music venues, and cozy watering holes. If that's not enough, there are trendy bars and late-night eateries in King West and Liberty Village.
Toronto is renowned for its restaurants, and residents of CityPlace have some excellent locations just around the corner. For food close to home, you have Macho Tex Mex Radio Bar, St. Louis Bar & Grill, and several chains on Fort York Blvd. Go a little further north, and you have a range of international restaurants like Luckee, Milagro, Tutti Matti, and many more.
Transportation
Harbour View Estates 2 Condos has a nearly flawless Walk Score of 94 — and while we can't pinpoint why it didn't get 100, you won't be able to either. For groceries, there's Sobeys Urban Fresh Spadina just around the bend, and Shoppers Drug Mart on Queen Quay W for any prescription pick-ups.
Those who rely on public transit have one of the best locations in the city; there's streetcar service on Queens Quay, Bathurst, and Spadina. Residents have buses on Fort York Blvd, connecting to Front Street and Union Station — which also happens to be within walking distance. Go Transit is available at Union for travel to anywhere in the Golden Horseshoe for those who commute, and with Billy Bishop just a few minutes away, you'll likely never want to go to Pearson again.
Car Owners also have a great location — heading south on Spadina will have you on the Gardiner Expressway in mere minutes, allowing for quick connections to the QEW or Don Valley Parkway.
5
Listings For Sale
Interested in receiving new listings for sale?
6
Listings For Rent
Interested in receiving new listings for rent?
Property Highlights
Listing History for Harbour View Estates II Condos
Nearby Amenities
Stats, Trends & Rankings
Harbour View Estates II Condos vs The CityPlace Area
Harbour View Estates II Condos's Avg
Building Trends At Harbour View Estates II Condos
Days on Strata
Units at Harbour View Estates II Condos spend an average of
14
Days on Strata
based on recent sales
List vs Selling Price
On average, these condos sell for
above
the list price.

Offer Competition
Condos in this building have an
AVERAGE
chance of receiving
Multiple Offers
Turnover of Units
On average, each unit is owned for
5.8
YEARS
before being sold again
Property Value
Decrease
in property value within the past twelve months
Price Ranking
Highest price per SQFT out of
20
condos in the CityPlace area
Sold Units
8
Units were
Sold
over the past twelve months
Rented Units
58
Units were
Rented
over the past twelve months
Sales vs Rental Values For This Condo
Average Cost Per Sqft
No Data
Rental Price Range
$2,300 - $2,600
1 Bed + Den
599 - 2340 SQFT
Average Cost Per Sqft
$1,092
Sales Price Range
$688,800 - $754,880
Rental Price Range
$2,500 - $4,000
2 Bed + Den
1134 - 1300 SQFT
Average Cost Per Sqft
No Data
Rental Price Range
$3,850 - $7,500
3 Bed + Den
1828 - 1828 SQFT
Average Cost Per Sqft
No Data
Rental Price Range
$10,500 - $10,500
How Often Are Units Listed?
Average Sales Availability
Average Rental Availability
Ratio of Unit Type in Building
1%
Average Sales Availability
Average Rental Availability
Ratio of Unit Type in Building
10%
1 Bed + Den
587 - 2340 SQFT
Average Sales Availability
Average Rental Availability
Ratio of Unit Type in Building
72%
Average Sales Availability
Average Rental Availability
Ratio of Unit Type in Building
1%
2 Bed + Den
1134 - 1300 SQFT
Average Sales Availability
Average Rental Availability
Ratio of Unit Type in Building
18%
Average Sales Availability
Average Rental Availability
Ratio of Unit Type in Building
1%
3 Bed + Den
1828 - 1850 SQFT
Average Sales Availability
Average Rental Availability
Ratio of Unit Type in Building
1%
Maintenance Fees
Harbour View Estates II Condos vs The
CityPlace Area
Harbour View Estates II Condos's Avg
monthly maintenance fee
Neighbourhood Avg
monthly maintenance fee
Similar condos