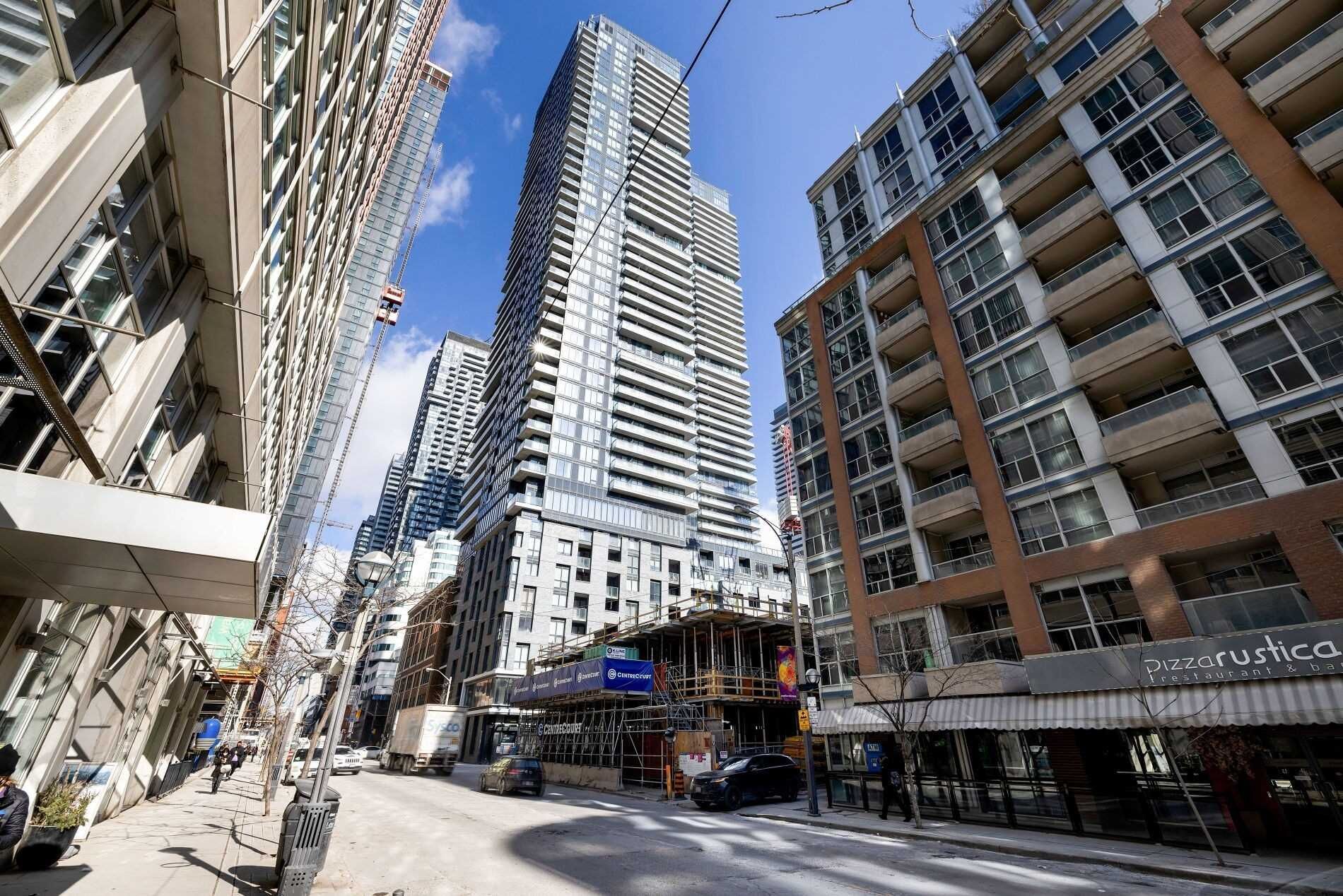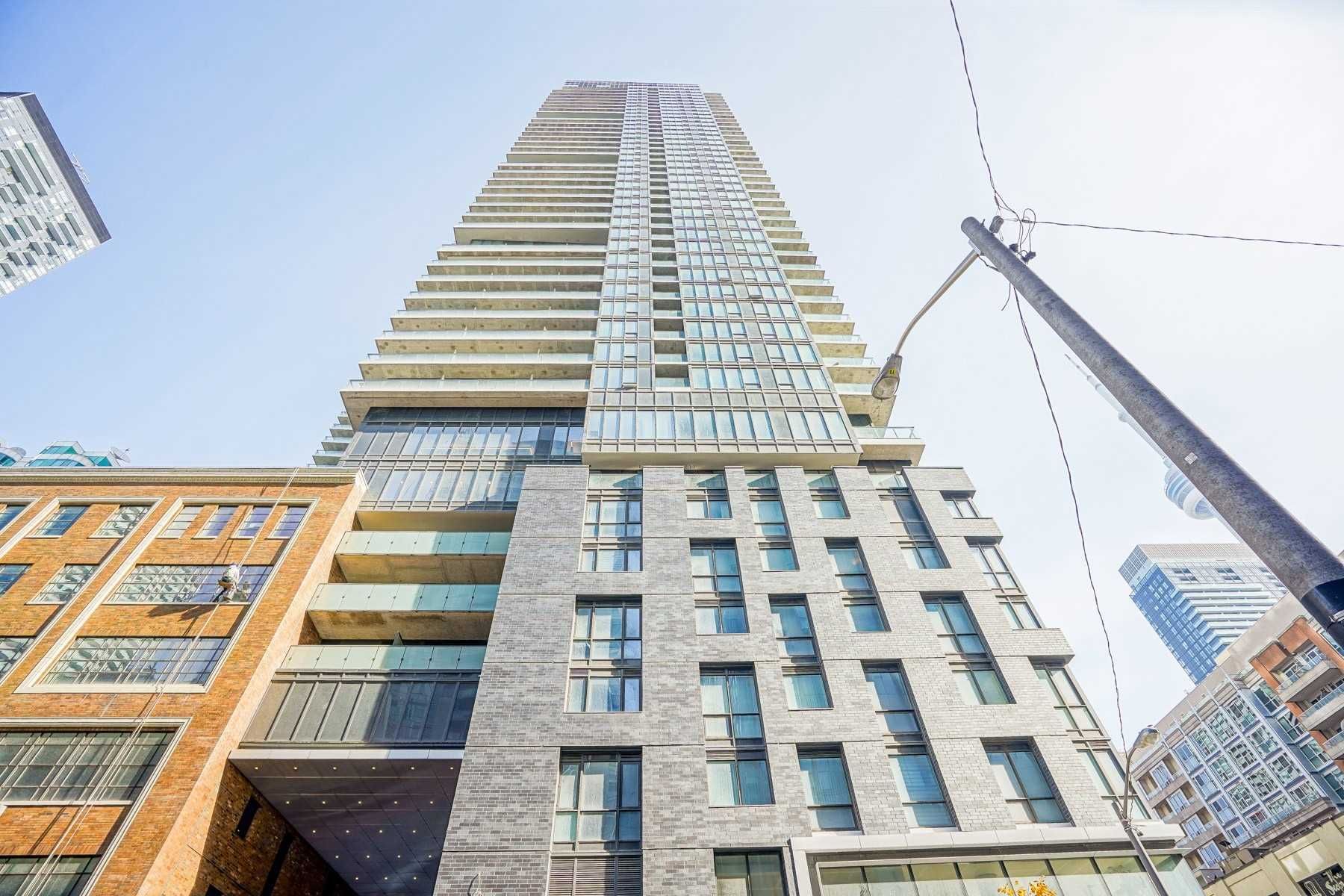 355 King St W & 115-125 Blue Jays Way
17
Listings for Sale
for Sale
6
Listings for Rent
for Rent
King Blue Condos
115-125 Blue Jays Way
King Blue Condos
17
Listings for Sale
for Sale
6
Listings for Rent
for Rent
0
Unit Availability
Above Average
Property Management
First Service Residential
Unit Size Range
285 - 1800 SQFT
115-125 Blue Jays Way, Toronto
About this condo
Condo Overview
The strong name given to the two towers at 355 King Street West reveals the aspirations their developers, the Greenland Group, have for the site. Set for completion in 2018, the King Blue Condos offers opulent residences in the already sophisticated King West neighbourhood.
The restoration specialists, ERA Architects, worked together with the group at Page + Steele / IBI Group Architects to preserve the Westinghouse Building. This resulted in the tallest heritage façade in Canada. While the revitalization of the Westinghouse's brickwork is indeed beautiful, above, the King Blue Condos' two towers are captivating beacons of innovative design and engineering.
The towers' flowing stacks of expansive balconies are reminiscent of traditional Chinese Pagodas – though much higher, at 44- and 48-storeys. That visual style seems to stem from King Blue Condos being truly a global partnership. Their groundbreaking by John Tory and Xue Beng, the Consulate General of China, signals an international investment in Toronto - in the city's bright future.
At 355 King West, prospective buyers can expect to find more than just supremely comfortable Toronto condos for sale; this site was designed to be a social hub as well. Behind the Westinghouse façade, the towers' podium houses Canada's first theatre museum, the Primus Hotel, exciting commercial spaces, and a public courtyard.
Even with all that in the podium, the King Blue Condos have quite a large lobby. Its concierge service, carefully curated art, and fireplace brings a welcoming warmth and introduces a sense of community to 355 King West.
Catering to the community, the building offers magnificent amenities. The ninth floor rooftop terrace is a great place to gather, with its lively landscaping and waterfalls. Beside the terrace, Studio Munge outfitted the lounge, party room and multimedia centre expertly.
The rooftop pool can be a place to both exercise and have a party — especially since it's got its own bar. Though residents seeking a more serious workout will be happy to hear the building boasts a fully stocked gym and yoga studio too.
The Suites
In total, there are 913 suites in 355 King West. This massive number of condos results in large range in size, from approximately 350 to almost 1,200 square feet.
Regardless of size, all the suites are suitably sophisticated for Entertainment district residents. This means oak hardwood floors throughout, floor-to-ceiling windows, and intoxicating views of the city.
The kitchens here are prepared to stage the best dinner parties. The tile backsplash, polished granite countertops, and integrated stainless steel appliances, make a great background for skillfully slicing vegetables at the generous kitchen islands available in many layouts.
The Neighbourhood
The theatre museum in the building's podium is one of the many cultural venues easily accessible for the residents of the King Blue Condos. The TIFF Bell Lightbox is just down the street, where cinephiles can enjoy screenings of internationally acclaimed art and experimental films. Alternatively, fans of blockbusters need to only turn up Peter Street to see all the major movies showing at the Scotiabank Cinemas on Richmond Street.
Nonetheless, the condos' section of King Street has gained and continues to warrant its reputation as Toronto's Entertainment District thanks to its many live performances. The best local and touring companies stage productions at the Princess of Wales and Royal Alexandra theatres. Additionally, the nearby Roy Thomson Hall houses the Toronto Mendelssohn Choir and the Toronto Symphony Orchestra.
For those seeking more intimate performances, the Music Gallery, just up John Street, hosts concerts that are very cozy, especially during the summertime in its courtyard garden.
The range of shopping in the area satisfies all tastes. All the major brands can be found just north on the Queen West promenade near Spadina. More fashion forward shoppers will enjoy the independent shops west, towards the trendy Trinity Bellwoods neighbourhood. Even those seeking performance gear for outdoor adventures will be happy at 355 King West, with Mountain Equipment Co-op just across the street.
Transportation
The transit options for residents are enviable; two streetcars run past their building, the 504 King and 514 Cherry. Residents can take either to transfer onto the subway at St. Andrew subway station, on the Yonge-University-Spadina line. At the unlikely event these streetcars aren't timely, St. Andrew Station is less than a ten-minute walk away.
It's just a quick ride on the subway, or a fifteen-minute walk, to Union Station. There, residents can find GO Transit who operates trains and buses to the city's surrounding towns and suburbs; the VIA Rail, a scenic connection of destinations across Canada; and the Union-Pearson express that will take travelers to the airport in only 25 minutes.
Drivers living in the King Blue Condos are well-positioned too. Richmond and Adelaide circulate traffic west and east, respectively, through downtown Toronto. For those travelling north and south, Spadina street just west of the condos is another great option for traveling within the city. Moreover, heading south down Spadina, drivers can reach the Gardiner Expressway in only about five minutes.
17
Listings For Sale
Interested in receiving new listings for sale?
6
Listings For Rent
Interested in receiving new listings for rent?
Amenities
Maintenance Fees Cover
Maintenance fees include
Water
Owner / renter pays separately
Hydro
Heat
Air Conditioning
Past Sold & Rented Listings
Stats, Trends & Rankings
Price Per Square Foot
King Blue Condos vs The
King West Area
More Expensive
per SQFT compared to the neighbourhood average
King Blue Condos's Avg
price per SQFT
$1,320
/ SQFT
Neighbourhood Avg
price per SQFT
$1,147
/ SQFT
Building Trends At King Blue Condos
Days on Market
Units at King Blue Condos spend an average of
17
Days on Market
based on recent sales
List vs Selling Price
On average, these condos sell for
above
the list price.

Offer Competition
Condos in this building have an
AVERAGE
chance of receiving
Multiple Offers
Turnover of Units
On average, each unit is owned for
YEARS
before being sold again
Property Value
Increase
in property value within the past twelve months
Price Ranking
Highest price per SQFT out of
95
condos in the King West area
Sold Units
50
Units were
Sold
over the past twelve months
Rented Units
244
Units were
Rented
over the past twelve months
Best Value
King Blue Condos offers the
best value
out of 95 condos in the King West neighbourhood
Return on Investment
King Blue Condos has the
highest ROI
out of 95 condos in the King West neighbourhood
Rental Yield
King Blue Condos yields the
highest rent prices
out of 95 condos in the King West neighbourhood
High Demand
King Blue Condos is the
most popular
building out of 95 condos in the King West neighbourhood
Sales vs Rental Values For This Condo
Average Cost Per Sqft
$1,371
Sales Price Range
$413,000 - $865,000
Rental Price Range
$1,350 - $3,700
Average Cost Per Sqft
$1,189
Sales Price Range
$600,000 - $730,000
Rental Price Range
$1,600 - $3,100
1 Bed + Den
474 - 715 SQFT
Average Cost Per Sqft
$1,203
Sales Price Range
$620,000 - $888,800
Rental Price Range
$1,750 - $2,400
Average Cost Per Sqft
$1,260
Sales Price Range
$793,000 - $1,025,000
Rental Price Range
$2,100 - $3,500
2 Bed + Den
649 - 989 SQFT
Average Cost Per Sqft
$1,122
Sales Price Range
$875,000 - $1,020,000
Rental Price Range
$2,200 - $3,850
Average Cost Per Sqft
$1,255
Sales Price Range
$1,038,000 - $1,208,000
Rental Price Range
$1,550 - $4,050
3 Bed + Den
816 - 816 SQFT
Rental Price Range
$3,500 - $3,500
How Often Are Units Listed?
Average Sales Availability
Average Rental Availability
Ratio of Unit Type in Building
24%
Average Sales Availability
Average Rental Availability
Ratio of Unit Type in Building
27%
1 Bed + Den
474 - 716 SQFT
Average Sales Availability
Average Rental Availability
Ratio of Unit Type in Building
19%
Average Sales Availability
Average Rental Availability
Ratio of Unit Type in Building
13%
2 Bed + Den
649 - 1335 SQFT
Average Sales Availability
Average Rental Availability
Ratio of Unit Type in Building
8%
Average Sales Availability
Average Rental Availability
Ratio of Unit Type in Building
10%
3 Bed + Den
816 - 1390 SQFT
Average Sales Availability
Average Rental Availability
Ratio of Unit Type in Building
1%
Maintenance Fees

King Blue Condos vs The

King West Area
More Expensive
per SQFT compared to the neighbourhood average
King Blue Condos's Avg
monthly maintenance
fee per SQFT
$0.83
/ SQFT
Neighbourhood Avg
monthly maintenance
fee price per SQFT
$0.75
/ SQFT
Similar condos