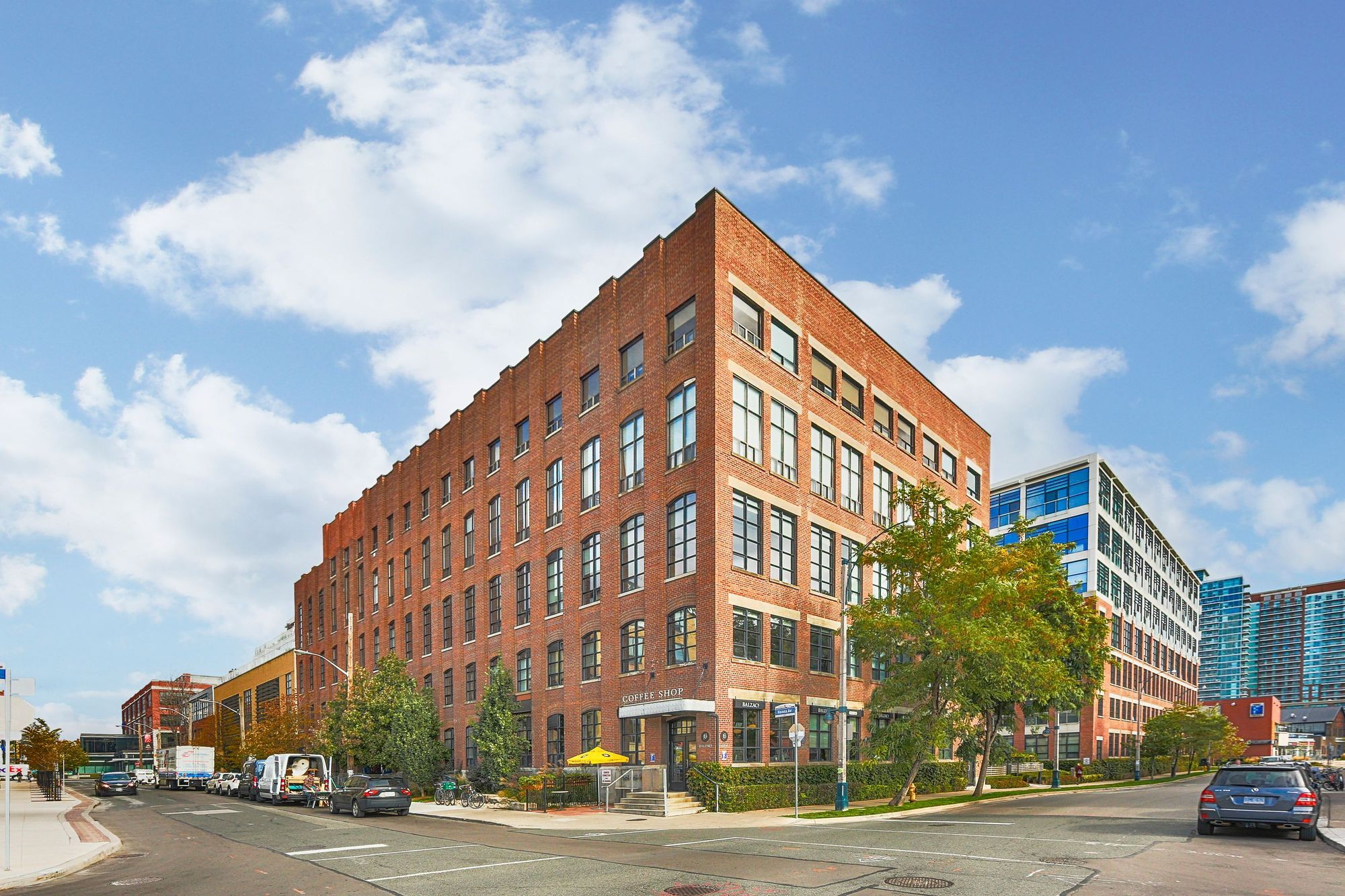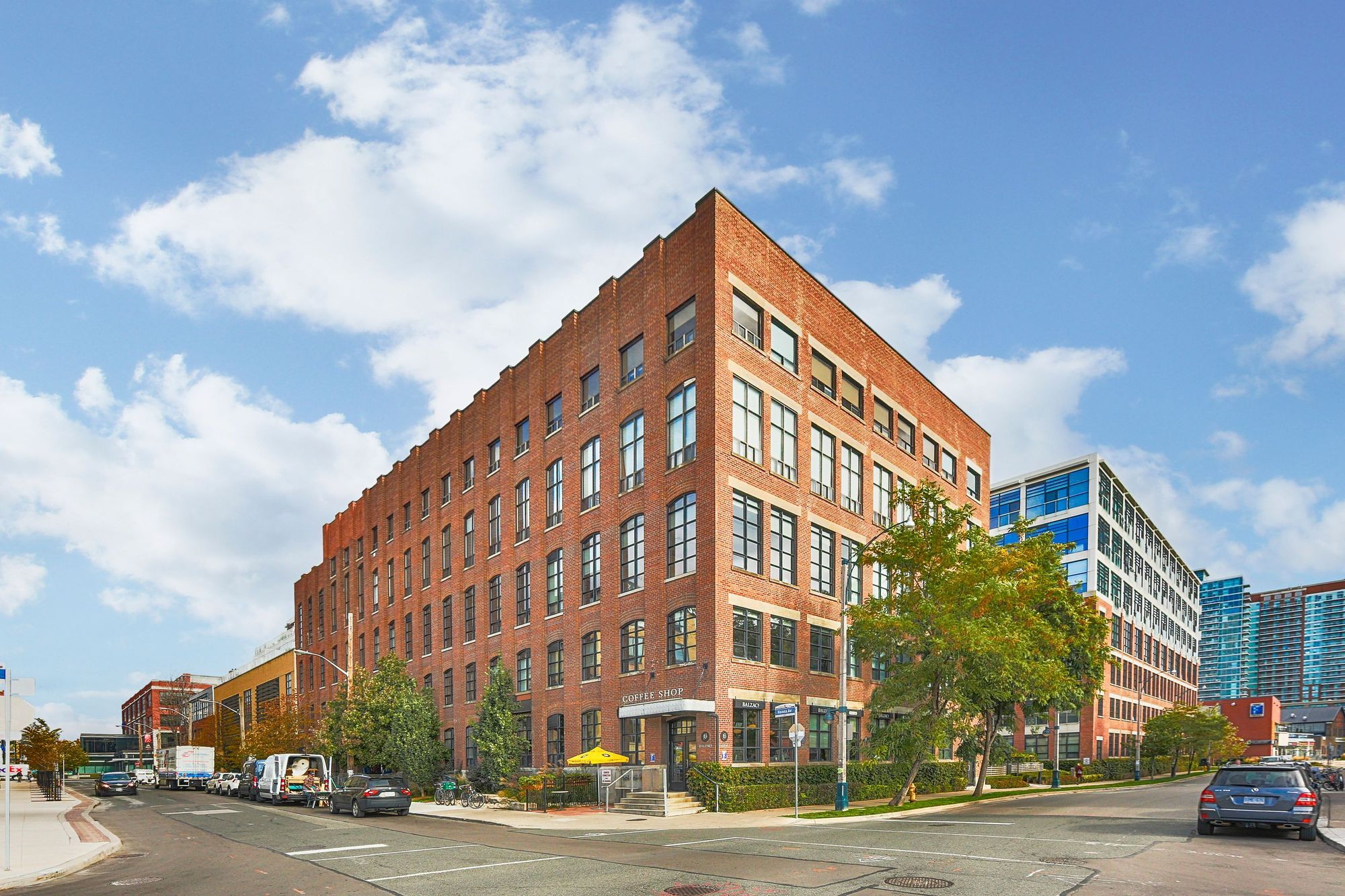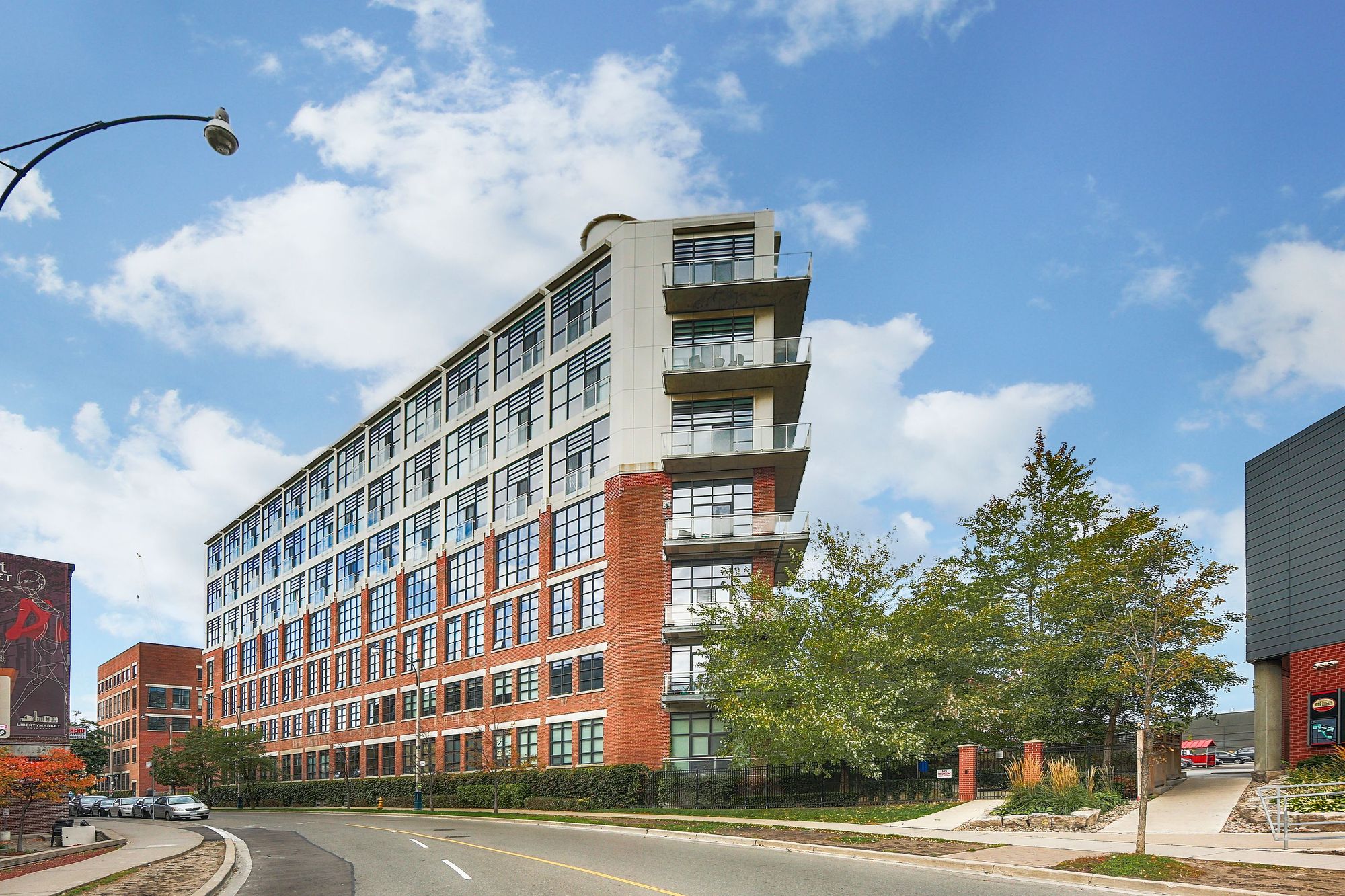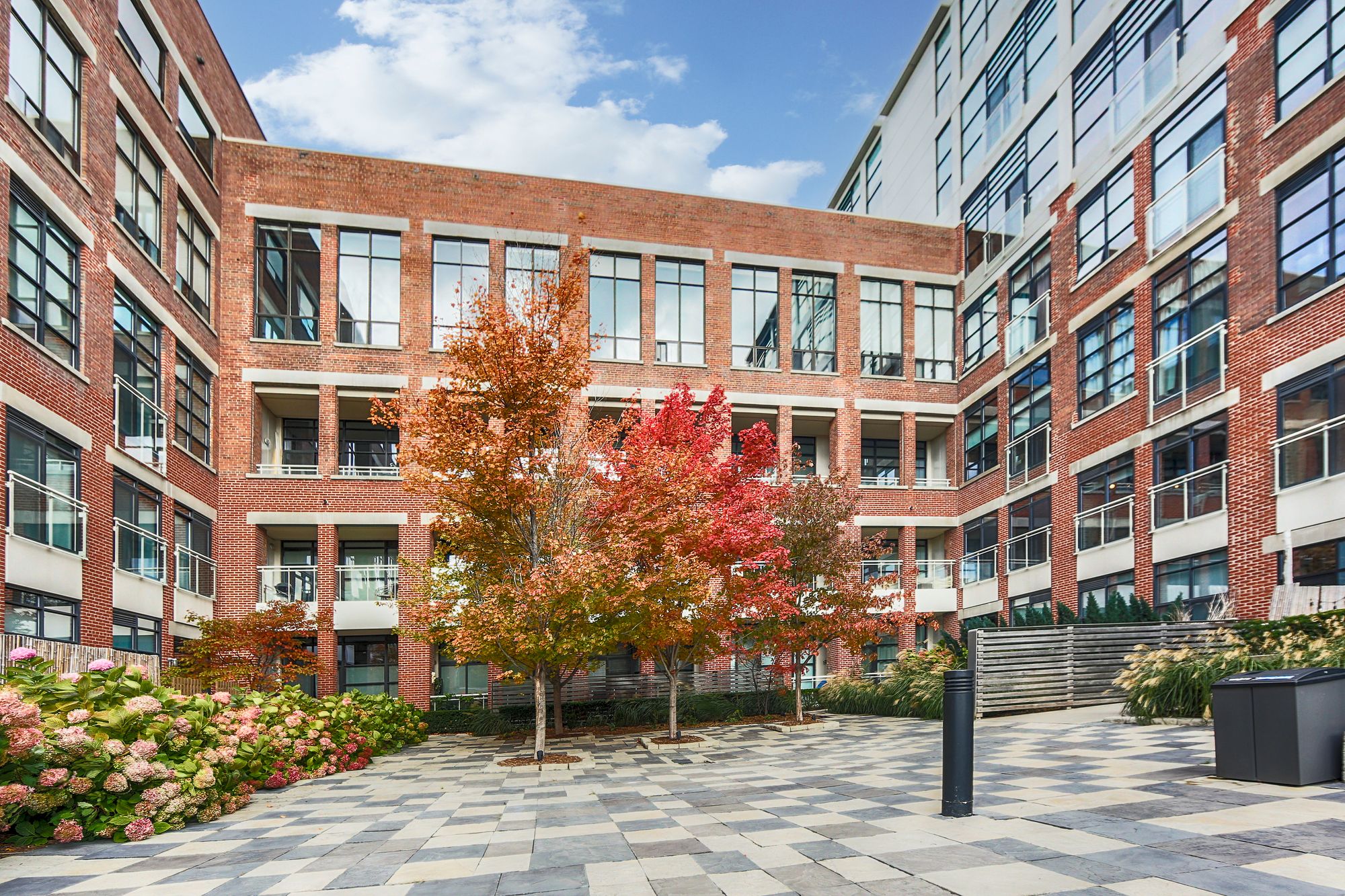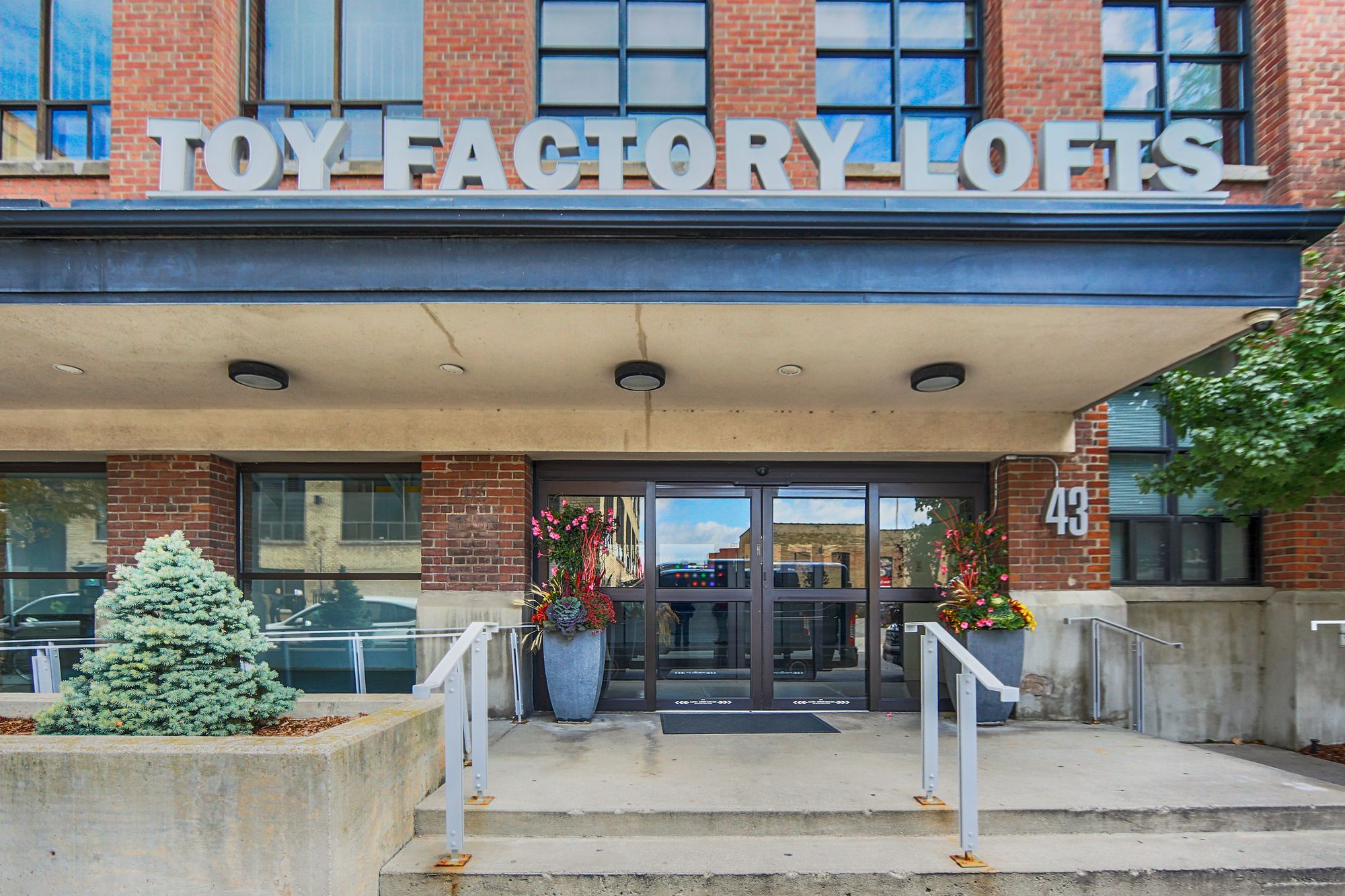 43 Hanna Ave
8
Listings for Sale
for Sale
5
Listings for Rent
for Rent
Developer
Lanterra Developments
Property Management
First Service Residential
Unit Size Range
592 - 5393 SQFT
About this loft
Even if the skeleton is already in place, the redevelopment of an existing building is no simple feat. Take the hard lofts at 43 Hanna Avenue, in Liberty Village neighbourhood, for example. For this building's conversion from a factory to a condo, both an architectural firm and a developer worked together to renovate, demolish, and create.
Lanterra Developments and Quadrangle Architects were the tag team behind the Toy Factory Lofts, which Torontonians have been able to call home since 2008. The original structure, however, was built nearly a century earlier. Back in the day, the Toy Factory Lofts was just that — a toy factory.
To be precise, 43 Hanna housed a paper production factory first, for Hinde and Dauch. It wasn't until 1940 that the building was purchased by the Irwin family, who would then manage the largest toy company in Canada for the next half century. Until 2001, when the company was sold to private investors, the building was responsible for churning out Care Bears, Easy Bake Ovens, Hula Hoops, and other childhood favourites.
While the sale of Irwin Toys meant one thing for that industry, Torontonians certainly benefited from the factory's closure. Liberty Village had, at the time, been experiencing a massive growth — in businesses, in homes, and in popularity. It only made sense, then, that Lanterra would opt to bestow the neighbourhood with 213 additional residences.
The Toy Factory Lofts is a prime example of how the old and the new can coexist in harmony with one another. The building's red brick, industrial-style exterior allures passersby with its historical charm. The modern sign, with its bold white lettering, lets everyone in on a little secret: authentic hard lofts lie within.
Plus, the building is like a toy store for adults: a wide array of amenities is available for residents to enjoy, including a business centre, guest suites, a concierge, a party room, and a modern fitness centre. And while loads of amenities can often equate to hefty monthly fees, the board of trustees is among the city's most competent. This means that residents can enjoy the amenities described above, as well as some of the lowest monthly fees in the city.
For their efforts, readers will be glad to hear that Lanterra and Quadrangle were duly rewarded. On top of seven awards for its design, the building received an award for Project of the Year from the Greater Toronto's Homebuilders Association. What better way to celebrate a building's centenary than ensuring it will last for yet another lifetime?
The Suites
The exterior isn't the only place where two worlds collide. The old literally meets the new at the Toy Factory Lofts, as three brand new storeys comprise an add-on atop the existing building. The soft lofts found in these uppermost floors are elegant and sleek, for modernists who still want some part of the industrial experience.
Below this new layer lay the four storeys that have been standing since the early 1900s. Unsurprisingly, but gratifying nonetheless, are the raw, industrial elements found throughout these hard loft units. Exposed red brick and wooden posts and beams are some of those genuine elements that simply can't be recreated the same way nowadays.
The Toy Factory Lofts is made up of 213 units, a comfortable size that's not too big nor too small: any less, and scoring a unit here might become near impossible. The considerable number of units is also beneficial in that the sizes of units range quite drastically. Someone needing nothing more than one bedroom and 600 square feet can be just as happy at 43 Hanna as someone searching for a 3,000 square foot penthouse.
And just in case 3,000 square feet caught anyone's attention, one particular penthouse of this size boasts three bedrooms and four bathrooms, a sauna, 14-foot ceilings, three Juliet balconies, and a wraparound balcony. Of course, if you're interested in one of these Toronto lofts for sale, you should expect high prices and high demand. and are generally higher than most downtown Toronto condos.
The Neighbourhood
Liberty Village was named for the Central Prison and Andrew Mercer Reformatory for Women that originally took up residence on the land. While that sounds paradoxical, the name was first given to Liberty Street, since it was the place that prisoners first walked free after being released from these detention centres.
On top of these facilities for the unlawful, back in the early 20th century Liberty Village was an industrial hotbed. The Inglis Factory, maker of the Bren light machine gun, was a major player in the area. As with other neighbourhoods in Toronto, manufacturing here ceased in the late 1900s. Following the closures of Liberty Village's factories, a creative bunch in need of lower rent moved in, creating a precedent for the future of the neighbourhood: the artists.
In 1994, deregulation allowed for a large-scale residential conversion of the area. Since then, more industrial structures have been converted to allow for the prospective buyers who can't stay away from the posh Liberty Village. Additionally, many newer residential spaces lie on the Eastern side of the neighbourhood, while design firms and trendy shops are found throughout.
The Westernmost part of Liberty Village is where the Toy Factory Lofts are located, along with some other well-preserved buildings from the neighbourhood's past.
Residents are within walking distance to hip King West neighbourhood and its endless dining and nightlife options. Independent art galleries and carefully curated boutiques can also be found just beyond the confines of Liberty Village, in the Niagara area, as well as along King and Queen Streets West.
Transportation
Residents of the Toy Factory Lofts have access to the entire city from their doorsteps. Drivers will make great use of King and Queen Streets for east-west travel. Adelaide and Richmond are also fast-moving one-way streets, and are equipped with bike lanes for those who prefer to use muscle power to move.
Those without cars are equally well situated. Streetcars run along King and Queen, carrying passengers toward the Yonge-University-Spadina subway line, and the Queen Street service even functions 24 hours a day. Bathurst Street is also not far off, where travelers can catch streetcars heading north or south.
8
Listings For Sale
Interested in receiving new listings for sale?
5
Listings For Rent
Interested in receiving new listings for rent?
Property Highlights
Listing History for Toy Factory Lofts
Nearby Amenities
Stats, Trends & Rankings
Toy Factory Lofts vs The Liberty Village Area
Building Trends At Toy Factory Lofts
Days on Strata
Units at Toy Factory Lofts spend an average of
17
Days on Strata
based on recent sales
List vs Selling Price
On average, these lofts sell for
below
the list price.

Offer Competition
Lofts in this building have an
AVERAGE
chance of receiving
Multiple Offers
Turnover of Units
On average, each unit is owned for
5.3
YEARS
before being sold again
Property Value
Increase
in property value within the past twelve months
Price Ranking
Highest price per SQFT out of
16
condos in the Liberty Village area
Sold Units
6
Units were
Sold
over the past twelve months
Rented Units
11
Units were
Rented
over the past twelve months
Sales vs Rental Values For This Loft
Average Cost Per Sqft
$1,172
Sales Price Range
$850,500 - $995,000
Rental Price Range
$2,950 - $2,950
1 Bed + Den
753 - 1200 SQFT
Average Cost Per Sqft
$1,174
Sales Price Range
$898,500 - $1,260,000
Rental Price Range
$3,000 - $3,800
Average Cost Per Sqft
No Data
Rental Price Range
$4,000 - $4,000
Average Cost Per Sqft
No Data
Rental Price Range
$6,000 - $6,000
How Often Are Units Listed?
Average Sales Availability
Average Rental Availability
Ratio of Unit Type in Building
30%
1 Bed + Den
734 - 1725 SQFT
Average Sales Availability
Average Rental Availability
Ratio of Unit Type in Building
45%
Average Sales Availability
Average Rental Availability
Ratio of Unit Type in Building
14%
2 Bed + Den
1200 - 3100 SQFT
Average Sales Availability
Average Rental Availability
Ratio of Unit Type in Building
9%
Average Sales Availability
Average Rental Availability
Ratio of Unit Type in Building
3%
3 Bed + Den
3217 - 3217 SQFT
Average Sales Availability
Average Rental Availability
Ratio of Unit Type in Building
2%
Maintenance Fees
Toy Factory Lofts vs The
Liberty Village Area
Toy Factory Lofts's Avg
monthly maintenance fee
Neighbourhood Avg
monthly maintenance fee
Similar lofts