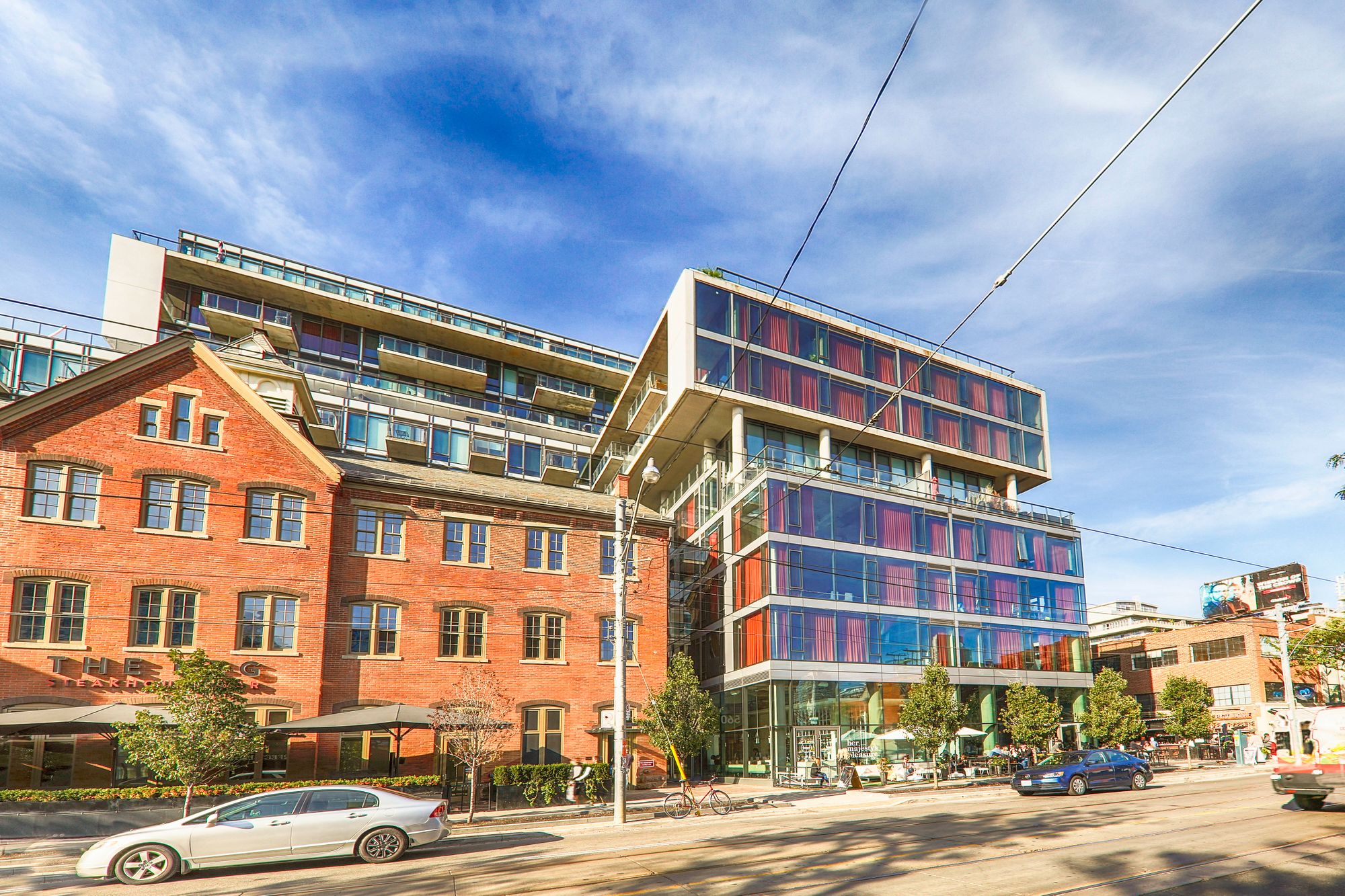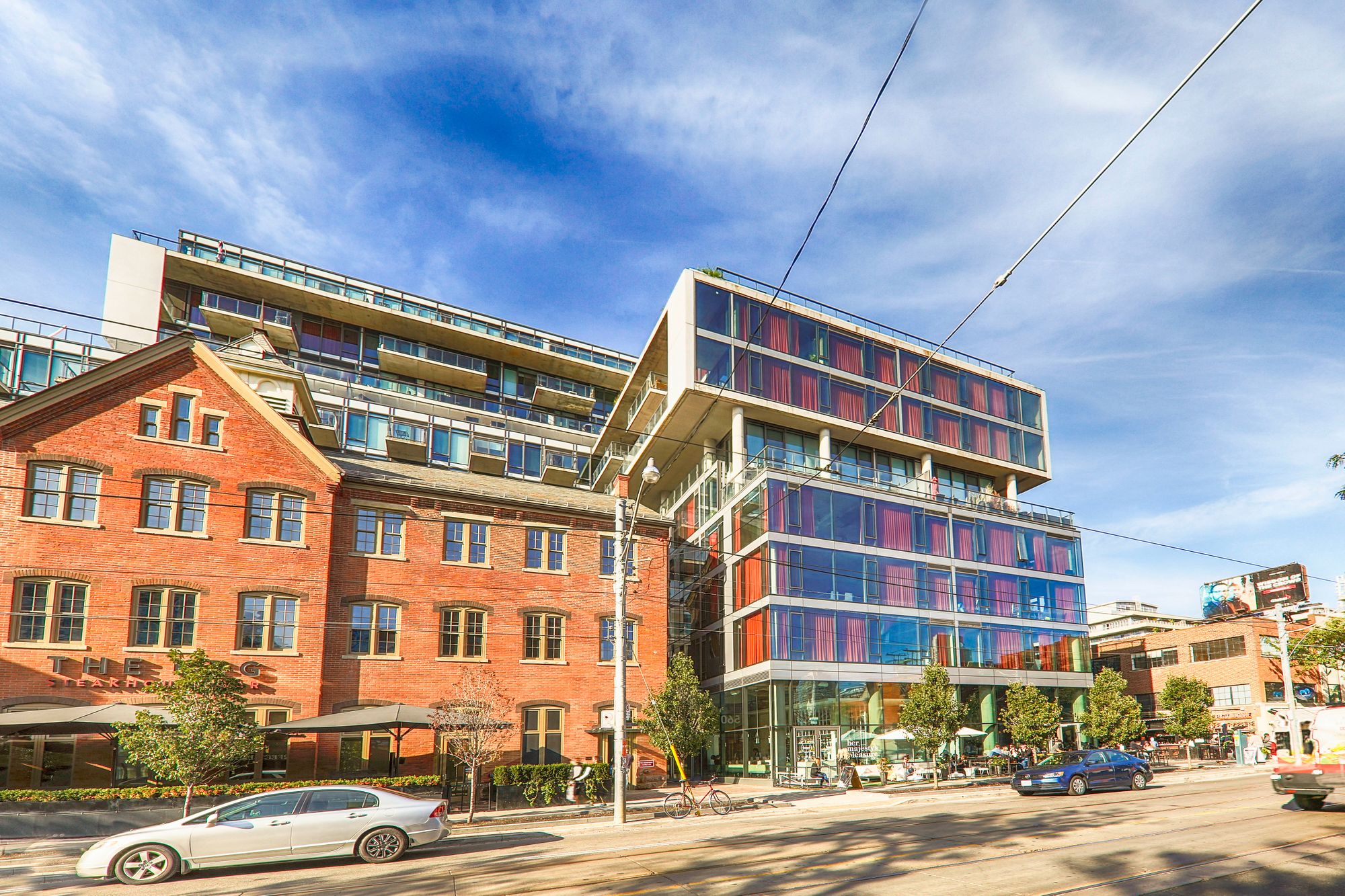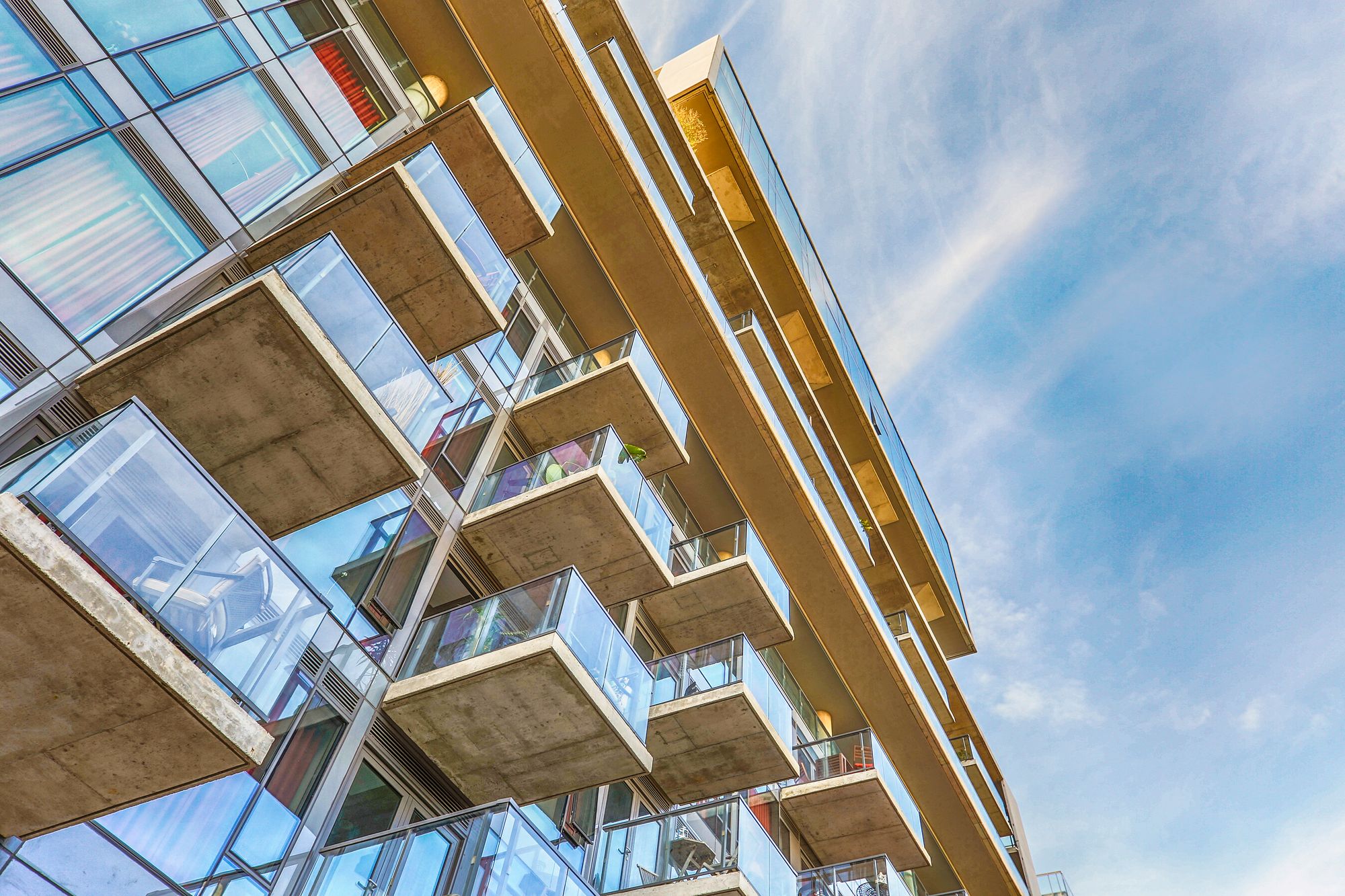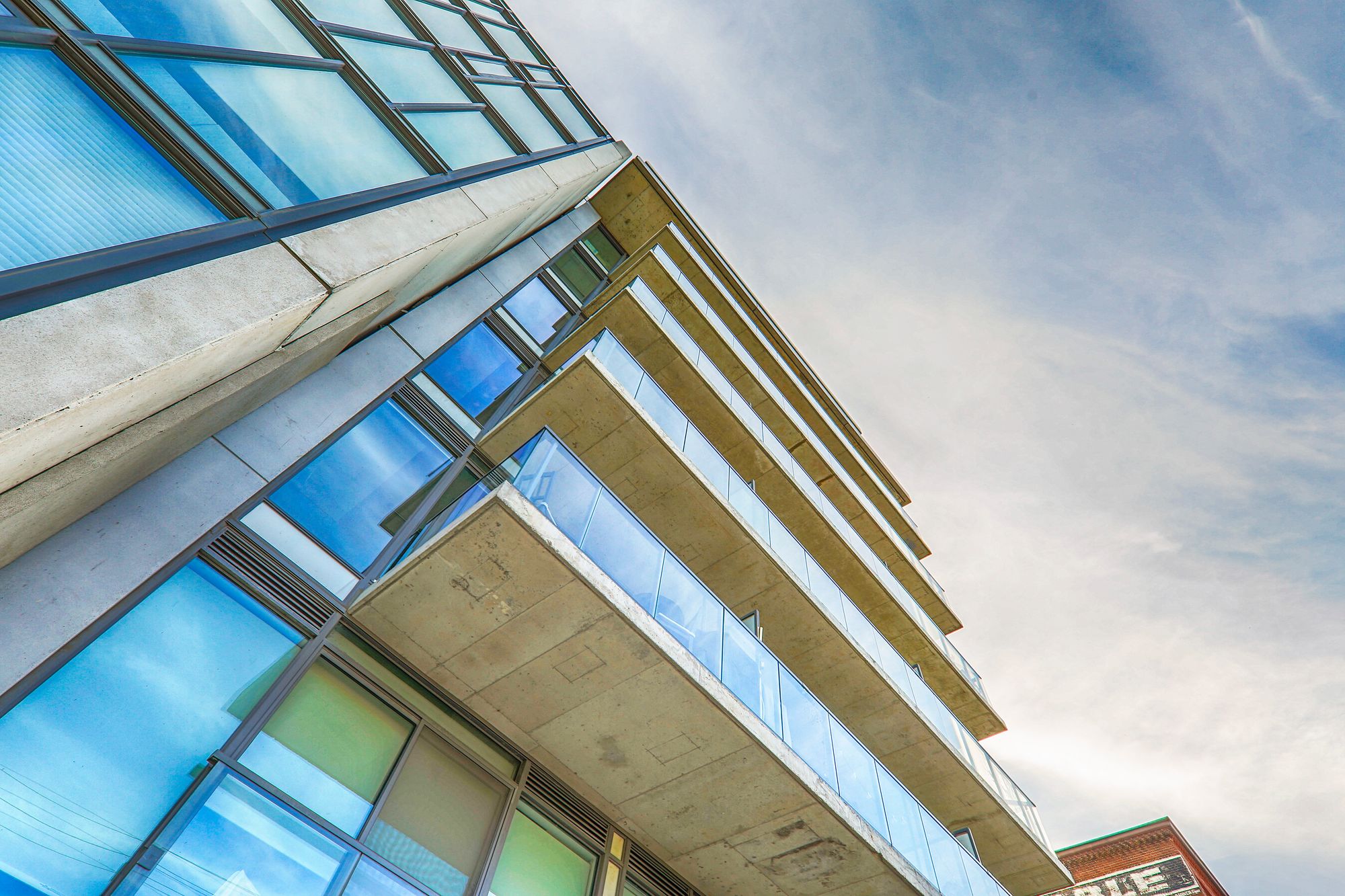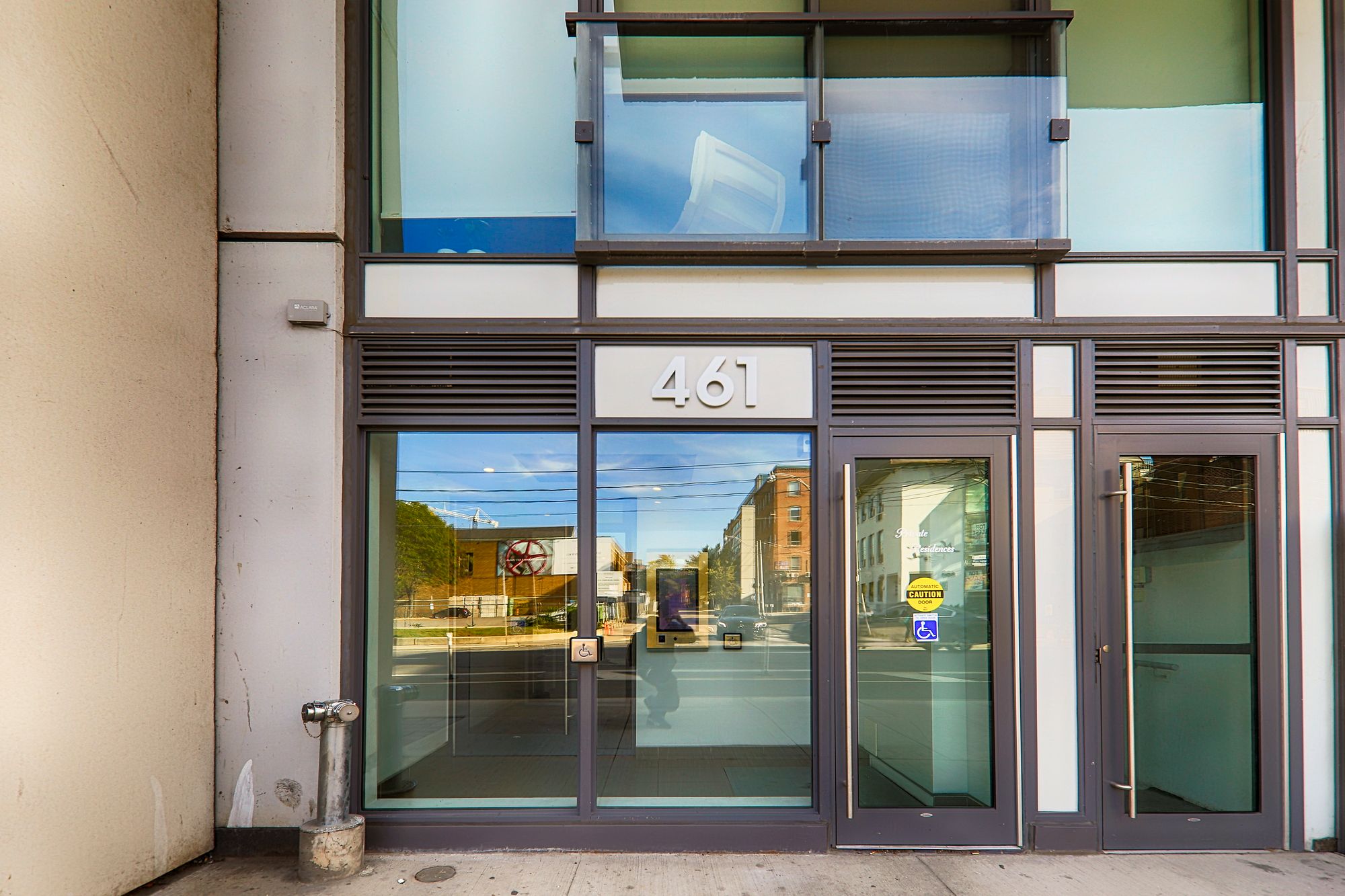 560 King St W & 461 Adelaide St W
4
Listings for Sale
for Sale
0
Listings for Rent
for Rent
Fashion House Condo
560 King St W
Fashion House Condo
4
Listings for Sale
for Sale
0
Listings for Rent
for Rent
0
Unit Availability
Above Average
Developer
Freed Developments
Property Management
Harmony Management Ltd.
Unit Size Range
356 - 2099 SQFT
560 King St W, Toronto
About this loft
It may be unsurprising that we're in favour of the Fashion House, especially after learning that the man behind these two buildings is none other than Peter Freed. Known for his clout in King West, Freed has bestowed some of the most luxurious residences upon Torontonians.
After making a name for himself, Freed was able to get even more creative when designing the soft lofts at 461 Adelaide and 560 King Street West. From above, the Fashion House resembles a deconstructed rubix cube: certain blocks seem to have been removed, allowing space for landscaped terraces and rooftop swimming pools.
The colour red figures prominently on the façade of 461 Adelaide and 560 King Street West, with glass wrapping its way around the entire building. Rather than working alone, Freed teamed up with Core Architecture in order for this structure to come alive.
The mid-rise soft loft at 461 Adelaide Street West and 560 King Street West is contemporary not only in its aesthetics, but its amenities are equally modern. Owners living at the Fashion House have access to a concierge 24 hours a day, as well as a cinema room and parking. But the icing on the cake is the "skypark:" located on the 10th storey, this rooftop terrace boasts an exercise area with heated resistance pool, plus a garden and barbecues.
The Suites
A staggering 333 units are divided amongst the Fashion House, and with such a large number of homes comes an equally great variation in size. For example, single young professionals or couples can find King West condos for sale here that have exactly they are looking for in the cozier, 380 square foot units that make up the smallest homes in the building.
Alternatively, those who really need space — whether for additional family members, pets, an office or entertaining space, or even art or collectibles — the 2,100 square foot lofts should suffice. Additionally, these sizeable units span two levels each, and are laid out in the style of the typical townhouse, rather than a condo.
Whether one has selected the former or the latter, all of these downtown Toronto condos are outfitted with high ceilings (9 feet in the loft units and 18 feet in the townhouses) and wall-to-wall windows, making them feel as spacious as can be.
The homes at the Fashion House can be described as industrial-chic, as elements typically found in authentic conversions are used to set them apart from the typical cookie-cutter condo. Concrete ceilings are left untouched, pillars are used as support, and open concept floor plans are intersected with sleek, sliding glass doors.
As for outdoor space, those who prefer spending time in the privacy of their own home are in luck, as many units are outfitted with large terraces or balconies.
The Neighbourhood
While the Fashion District is named more for its history — the area was once a hotbed for textile and clothing manufacturin — the title is still suitable today. Currently, the Fashion District is home to some of the trendiest inhabitants in the city.
With its address directly on King Street West, residents heading out the front door land themselves in the midst of Toronto's entertainment and culture hub. Restaurants, bars, and clubs along King West range from stylishly hip to ultra-elegant.
Heading a few blocks up to Queen West, on the other hand, allows explorers to experience something slightly more casual. Along Queen West, cozy bars, eclectic restaurants, and global brands line the street.
In terms of entertainment, residents of the Fashion House are unlikely to ever grow bored. From the TIFF Bell Lightbox with its international roster of films, to live productions at the Princess of Wales or Royal Alexandra Theatre, or a symphony performance at Roy Thompson Hall, the options truly are endless here.
Transportation
Travel is never problematic for those living at 461 Adelaide and 560 King Street West. Centrally located, these soft lofts provide quick and easy access to the subway, with streetcars moving along King West toward St. Andrew Station. From here, Union Station — with its myriad of trains and buses — is only two stops away.
Those traveling by car, on the other hand, will love their ability to zip over to the Gardiner Expressway, which hugs the shores of Lake Ontario. From here, those heading out of the city can ride east toward the Don Valley Parkway, or west to the 427.
4
Listings For Sale
Interested in receiving new listings for sale?
0
Listings For Rent
Interested in receiving new listings for rent?
Amenities
Maintenance Fees Cover
Maintenance fees include
Water
Owner / renter pays separately
Hydro
Heat
Air Conditioning
Past Sold & Rented Listings
Stats, Trends & Rankings
Price Per Square Foot
Fashion House Condo vs The
King West Area
Less Expensive
per SQFT compared to the neighbourhood average
Fashion House Condo's Avg
price per SQFT
Neighbourhood Avg
price per SQFT
Building Trends At Fashion House Condo
Days on Market
Units at Fashion House Condo spend an average of
16
Days on Market
based on recent sales
List vs Selling Price
On average, these lofts sell for
above
the list price.

Offer Competition
Lofts in this building have an
AVERAGE
chance of receiving
Multiple Offers
Turnover of Units
On average, each unit is owned for
6.6
YEARS
before being sold again
Property Value
Increase
in property value within the past twelve months
Price Ranking
Highest price per SQFT out of
95
condos in the King West area
Sold Units
25
Units were
Sold
over the past twelve months
Rented Units
56
Units were
Rented
over the past twelve months
Best Value
Fashion House Condo offers the
best value
out of 95 condos in the King West neighbourhood
Return on Investment
Fashion House Condo has the
highest ROI
out of 95 condos in the King West neighbourhood
Rental Yield
Fashion House Condo yields the
highest rent prices
out of 95 condos in the King West neighbourhood
High Demand
Fashion House Condo is the
most popular
building out of 95 condos in the King West neighbourhood
Sales vs Rental Values For This Loft
Rental Price Range
$2,400 - $2,400
Average Cost Per Sqft
$1,086
Sales Price Range
$520,000 - $803,000
Rental Price Range
$1,800 - $3,000
1 Bed + Den
578 - 928 SQFT
Average Cost Per Sqft
$1,077
Sales Price Range
$703,900 - $875,000
Rental Price Range
$2,300 - $3,800
Average Cost Per Sqft
$1,105
Sales Price Range
$905,000 - $1,400,000
Rental Price Range
$2,895 - $5,600
Rental Price Range
$6,500 - $6,500
How Often Are Units Listed?
Average Sales Availability
Average Rental Availability
Ratio of Unit Type in Building
4%
Average Sales Availability
Average Rental Availability
Ratio of Unit Type in Building
59%
1 Bed + Den
567 - 1200 SQFT
Average Sales Availability
Average Rental Availability
Ratio of Unit Type in Building
24%
Average Sales Availability
Average Rental Availability
Ratio of Unit Type in Building
14%
2 Bed + Den
1441 - 1441 SQFT
Average Sales Availability
Average Rental Availability
Ratio of Unit Type in Building
1%
Average Sales Availability
Average Rental Availability
Ratio of Unit Type in Building
1%
Maintenance Fees

Fashion House Condo vs The

King West Area
More Expensive
per SQFT compared to the neighbourhood average
Fashion House Condo's Avg
monthly maintenance
fee per SQFT
Neighbourhood Avg
monthly maintenance
fee price per SQFT
Similar lofts