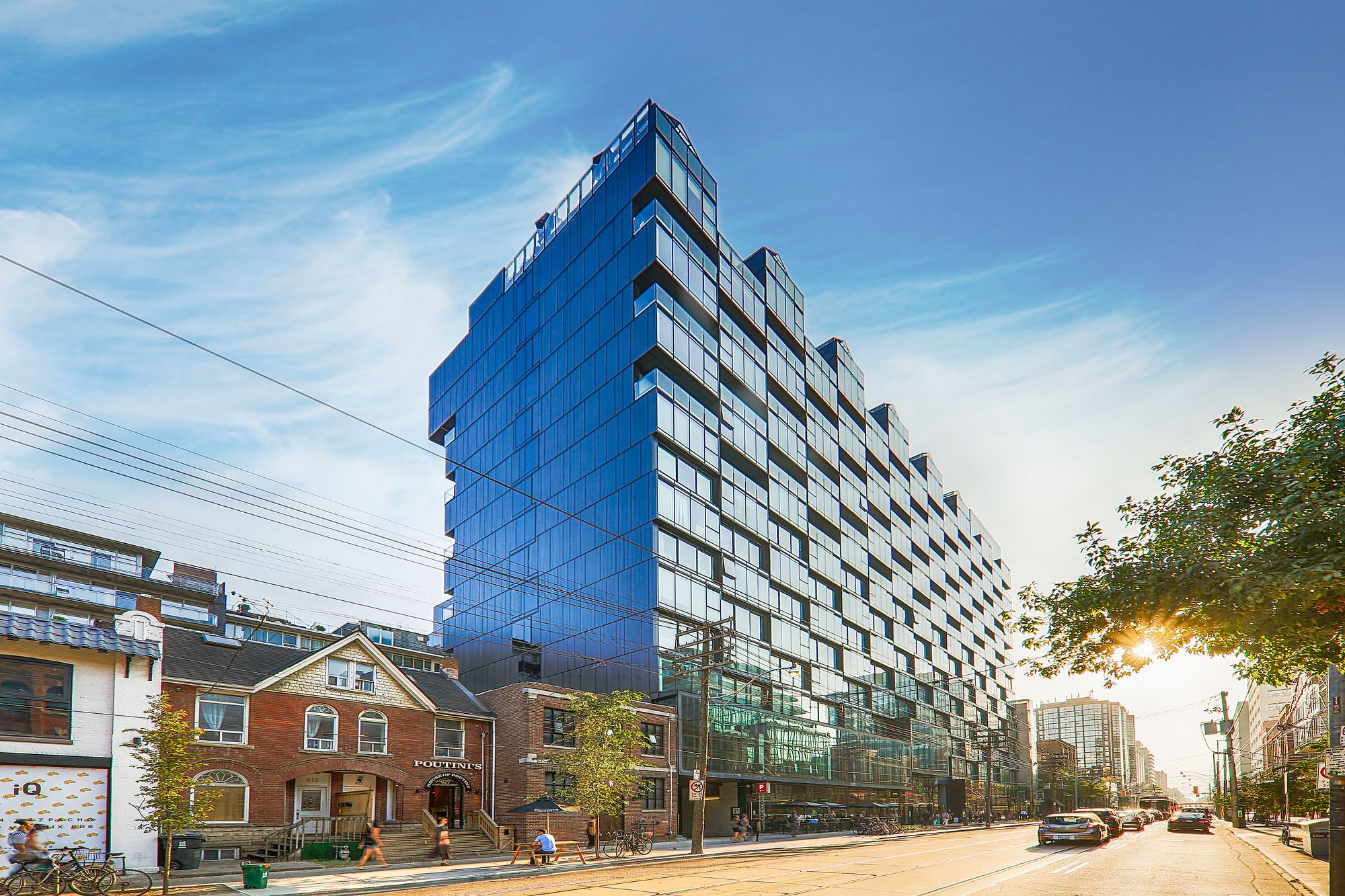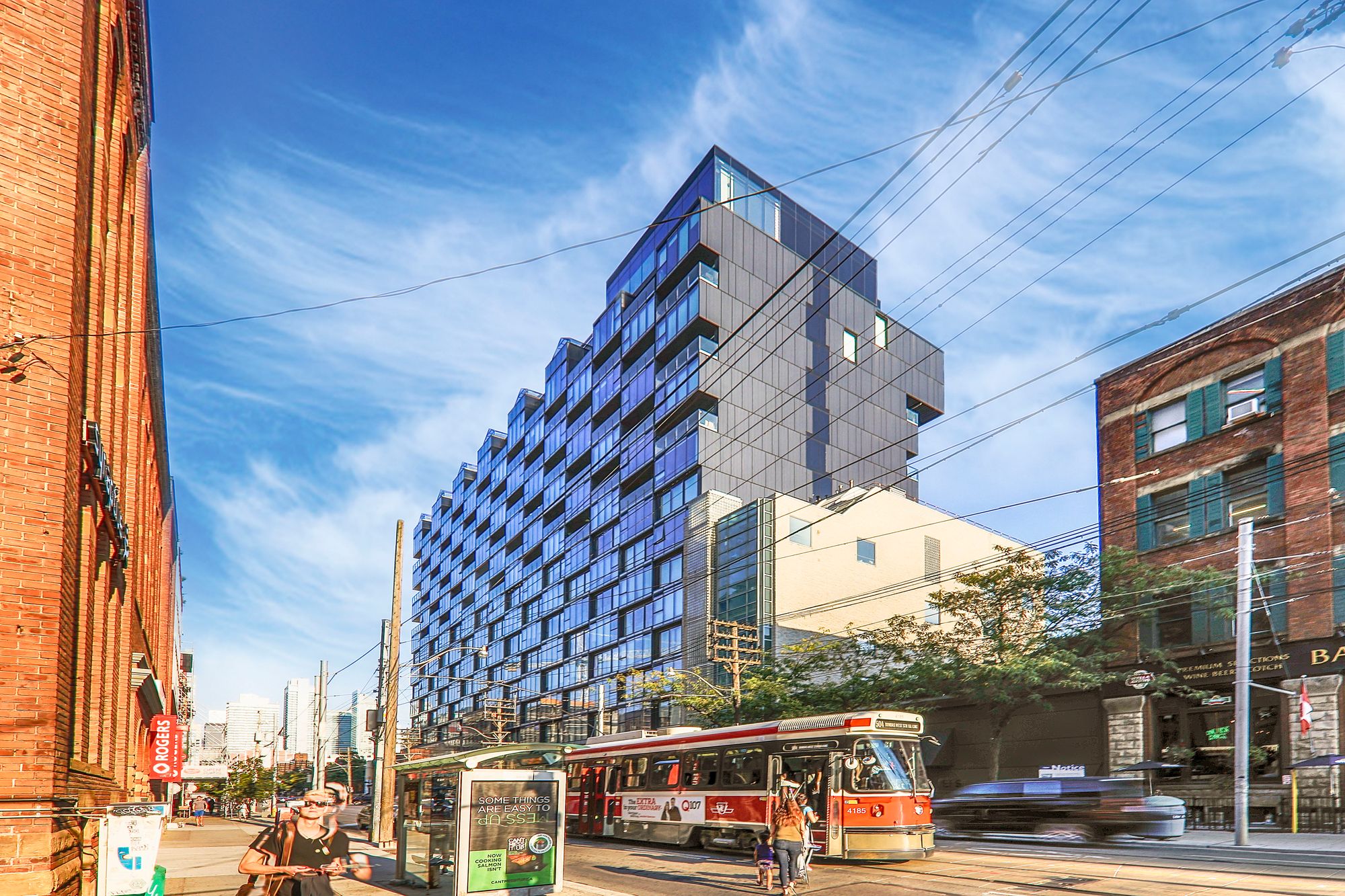 629 King St W, 38 Stewart St & 621 King St W
8
Listings for Sale
for Sale
6
Listings for Rent
for Rent
Thompson Residences
629 King St W
38 Stewart St
621 King St W
Thompson Residences
8
Listings for Sale
for Sale
6
Listings for Rent
for Rent
0
Developer
Freed Developments
Property Management
Elite Property Management
Unit Size Range
361 - 2220 SQFT
629 King St W, Toronto
About this loft
Loft Overview
It doesn't get more luxurious than living in an actual hotel. But if that seems a bit out of reach, there's always the Thompson Residences, which offers its owners an equally lavish lifestyle. These homes, located at 621 King Street West, 629 King Street West, & 38 Stewart Street, are not only affiliated with the Thompson Hotel itself, but residents can also treat themselves to use of its amenities.
Speaking of amenities, we won't make you wait to read them later on. The Thompson Residences are fully equipped with modern fitness facilities that include a gym and yoga studio, as well as a corridor between the buildings that makes a great place for a walk. A concierge is also available to assist residents and their guests 24 hours a day. These, however, are just the amenities located within the residence buildings.
Additionally, homeowners who call 621 King Street West, 629 King West, or 38 Stewart Street home can make use of the Thompson Hotel's facilities. Just steps from any of these three buildings are the hotel's rooftop bar and lounge, which also happens to be outfitted with a pretty opulent infinity pool. Other perks for those living in building include the option to employ room service, laundry, or housekeeping services from the hotel, while some might make frequent use of the 24-hour diner on the premises as well.
Peter Freed, the man behind 629 King St West, & 38 Stewart Street, and the Thompson Hotel, is also to thank for impressive buildings around the city like Sixty Colborne and 150 Redpath Condos & 155 Redpath. Freed has quite the reputation for both excellence and elegance, and these homes are no exception. The glass-clad façade fits nicely within Toronto's downtown core, while offset balconies place the style a cut above the rest.
The Suites
There's nothing traditional about the homes at the Thompson Residences. Instead, the suites at 629 King West & 38 Stewart Street boast updated appliances, fresh bathroom furnishings, and the lustrous look of engineered hardwood flooring.
While those hunting for grit and industrial charm in their search for a Toronto loft might need to look elsewhere, the elegance of the condo will certainly appeal to others. Still, these homes can be classified as soft lofts, as they have just enough of the quintessential elements to satisfy loft-lovers alike. Living spaces are designed in an open-concept fashion, with rooms divided by swinging or sliding glass doors. Ceiling heights are generous, reaching to 9 or 10 feet depending on the home. Exposed concrete covers these ceilings—or is left exposed, to put it another way.
In terms of size, the Thompson Residences are also ready and waiting to suit any need. The 400 square foot units make ideal starter homes for young couples or single professionals, while sizeable families who are seeking King West condos for sale will be more than comfortable in the more substantial, 2,000 square foot homes.
The Neighbourhood
With addresses nearby to the major intersection of King and Bathurst, residents are truly living in style. This area, known as the Fashion District, never fails to live up to its name.
Although the neighbourhood is in fact known as the Fashion District for formerly hosting textile factories, today King West neighbourhood is one of the most chic spots in the city. Boutiques and independent art galleries make for great daytime activities, while the area really becomes lively once the sun goes down.
Entertainment is abundant in the area as well. Residents are within walking distance of venues like Roy Thompson Hall, the TIFF Bell Lightbox, and the Princess of Wales Theatre.
Also within reach are areas like the Entertainment District, Kensington Market, Chinatown, and the Harbourfront.
Transportation
As previously mentioned, King and Bathurst is just steps away. What this means for travel is something quite spectacular. King streetcars run east and west, carrying passengers toward the Yonge-University-Spadina line 24-hours a day. Bathurst streetcars also operate 24/7, allowing for north-south travel no matter the time of day.
The Bathurst streetcar will even land residents at Billy Bishop Toronto City Airport in under 10 minutes, while those traveling extremely light can even make the 30 minute journey on foot. Drivers will also take advantage of both Bathurst and King streets, as well as the Gardiner Expressway, which can be accessed via Bathurst.
8
Listings For Sale
Interested in receiving new listings for sale?
6
Listings For Rent
Interested in receiving new listings for rent?
Amenities
Maintenance Fees Cover
Maintenance fees include
Water
Owner / renter pays separately
Hydro
Heat
Air Conditioning
Past Sold & Rented Listings
Stats, Trends & Rankings
Price Per Square Foot
Thompson Residences vs The
King West Area
More Expensive
per SQFT compared to the neighbourhood average
Thompson Residences's Avg
price per SQFT
$1,312
/ SQFT
Neighbourhood Avg
price per SQFT
$1,133
/ SQFT
Building Trends At Thompson Residences
Days on Market
Units at Thompson Residences spend an average of
12
Days on Market
based on recent sales
List vs Selling Price
On average, these lofts sell for
above
the list price.

Offer Competition
Lofts in this building have an
AVERAGE
chance of receiving
Multiple Offers
Turnover of Units
On average, each unit is owned for
5.3
YEARS
before being sold again
Property Value
Increase
in property value within the past twelve months
Price Ranking
Highest price per SQFT out of
95
condos in the King West area
Sold Units
17
Units were
Sold
over the past twelve months
Rented Units
77
Units were
Rented
over the past twelve months
Best Value
Thompson Residences offers the
best value
out of 95 condos in the King West neighbourhood
Return on Investment
Thompson Residences has the
highest ROI
out of 95 condos in the King West neighbourhood
Rental Yield
Thompson Residences yields the
highest rent prices
out of 95 condos in the King West neighbourhood
High Demand
Thompson Residences is the
most popular
building out of 95 condos in the King West neighbourhood
Sales vs Rental Values For This Loft
Rental Price Range
$2,000 - $2,000
Average Cost Per Sqft
$1,190
Sales Price Range
$555,000 - $715,000
Rental Price Range
$1,700 - $4,000
1 Bed + Den
731 - 1089 SQFT
Average Cost Per Sqft
$1,040
Sales Price Range
$827,500 - $1,380,000
Rental Price Range
$3,050 - $3,050
Average Cost Per Sqft
$1,094
Sales Price Range
$1,029,000 - $1,250,000
Rental Price Range
$3,300 - $3,950
2 Bed + Den
1388 - 1388 SQFT
Rental Price Range
$5,500 - $5,500
How Often Are Units Listed?
Average Sales Availability
Average Rental Availability
Ratio of Unit Type in Building
1%
Average Sales Availability
Average Rental Availability
Ratio of Unit Type in Building
87%
1 Bed + Den
615 - 1374 SQFT
Average Sales Availability
Average Rental Availability
Ratio of Unit Type in Building
2%
Average Sales Availability
Average Rental Availability
Ratio of Unit Type in Building
11%
2 Bed + Den
1238 - 1490 SQFT
Average Sales Availability
Average Rental Availability
Ratio of Unit Type in Building
1%
Maintenance Fees

Thompson Residences vs The

King West Area
More Expensive
per SQFT compared to the neighbourhood average
Thompson Residences's Avg
monthly maintenance
fee per SQFT
$0.76
/ SQFT
Neighbourhood Avg
monthly maintenance
fee price per SQFT
$0.74
/ SQFT
Similar lofts