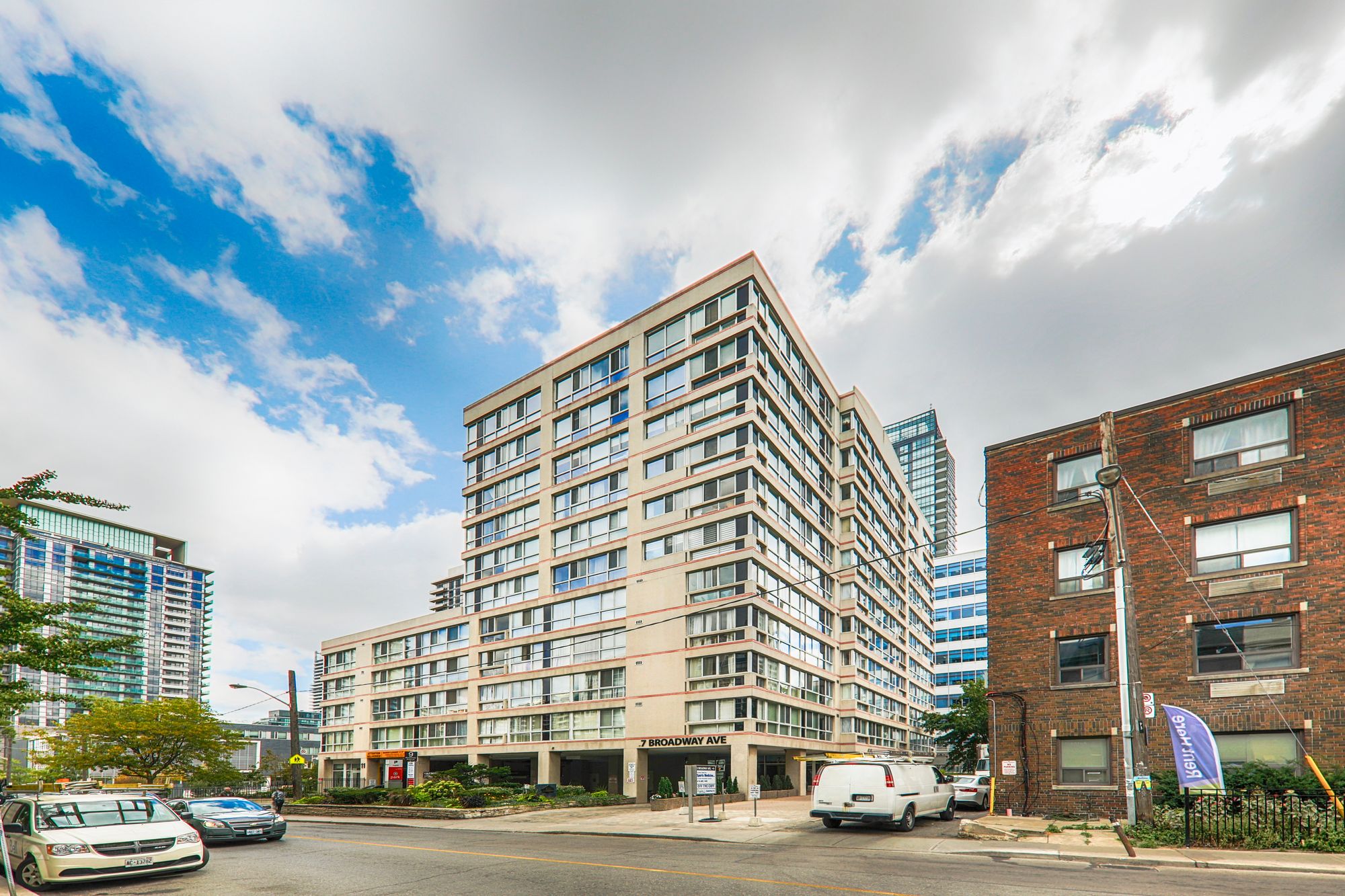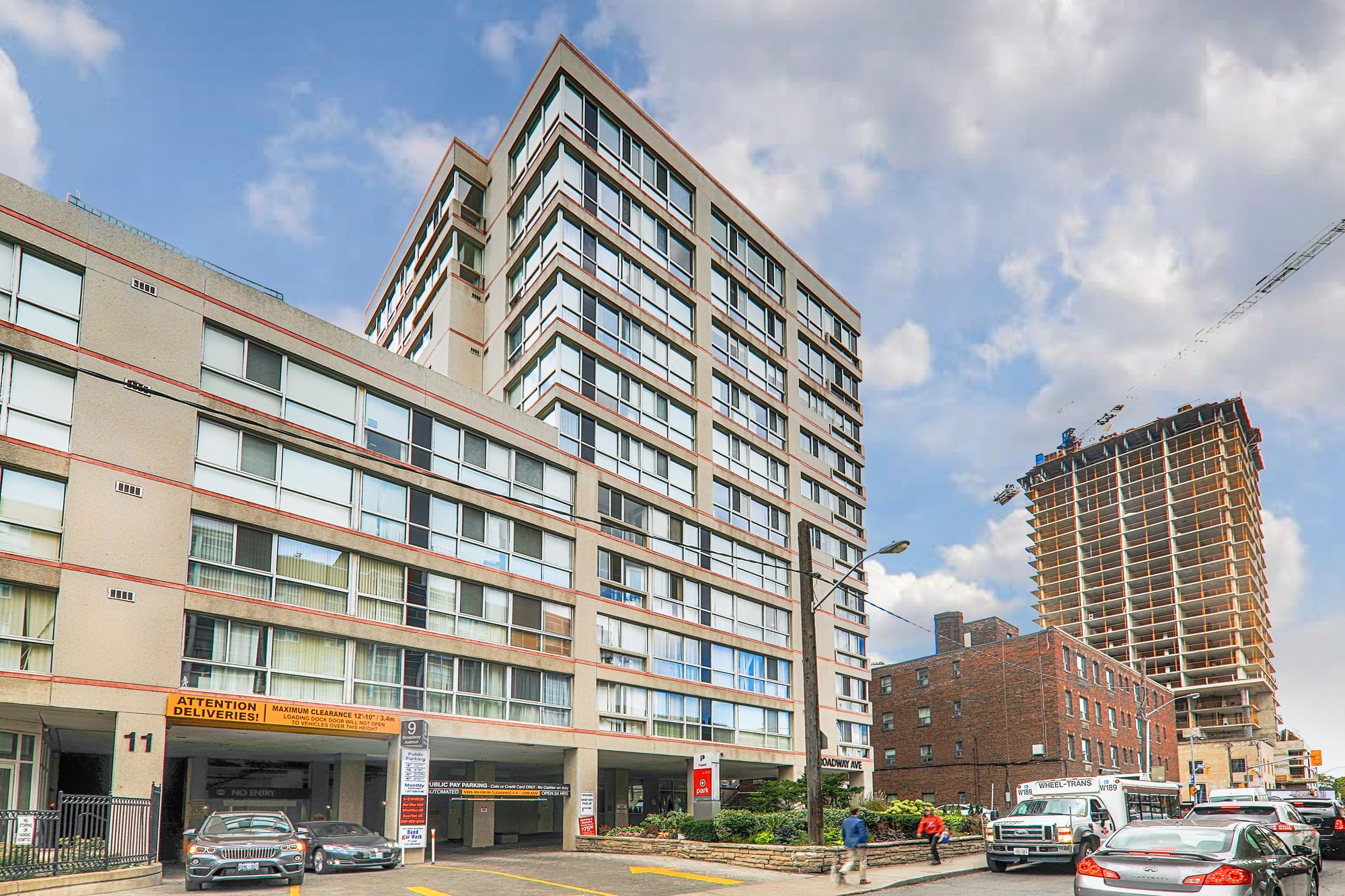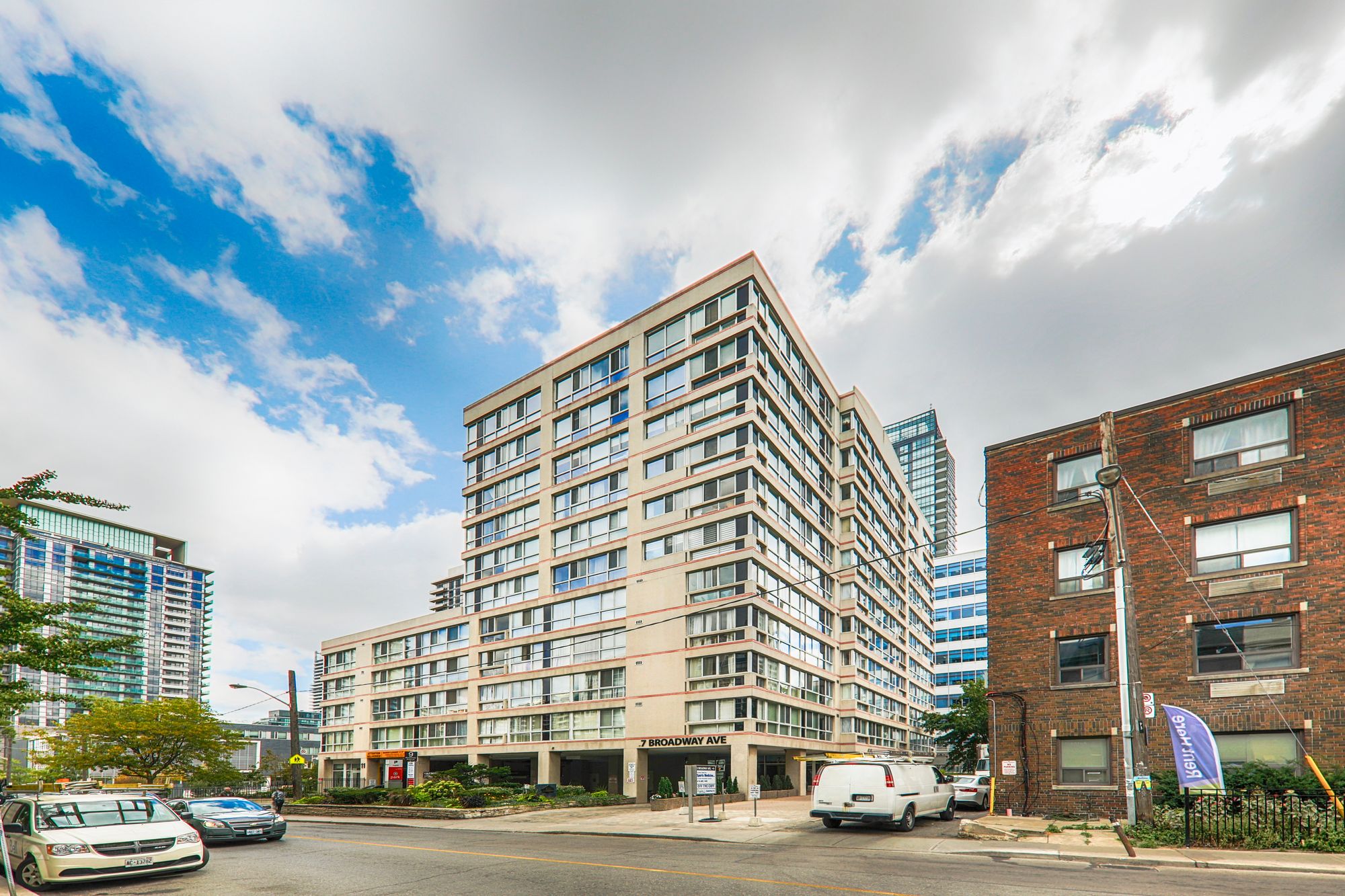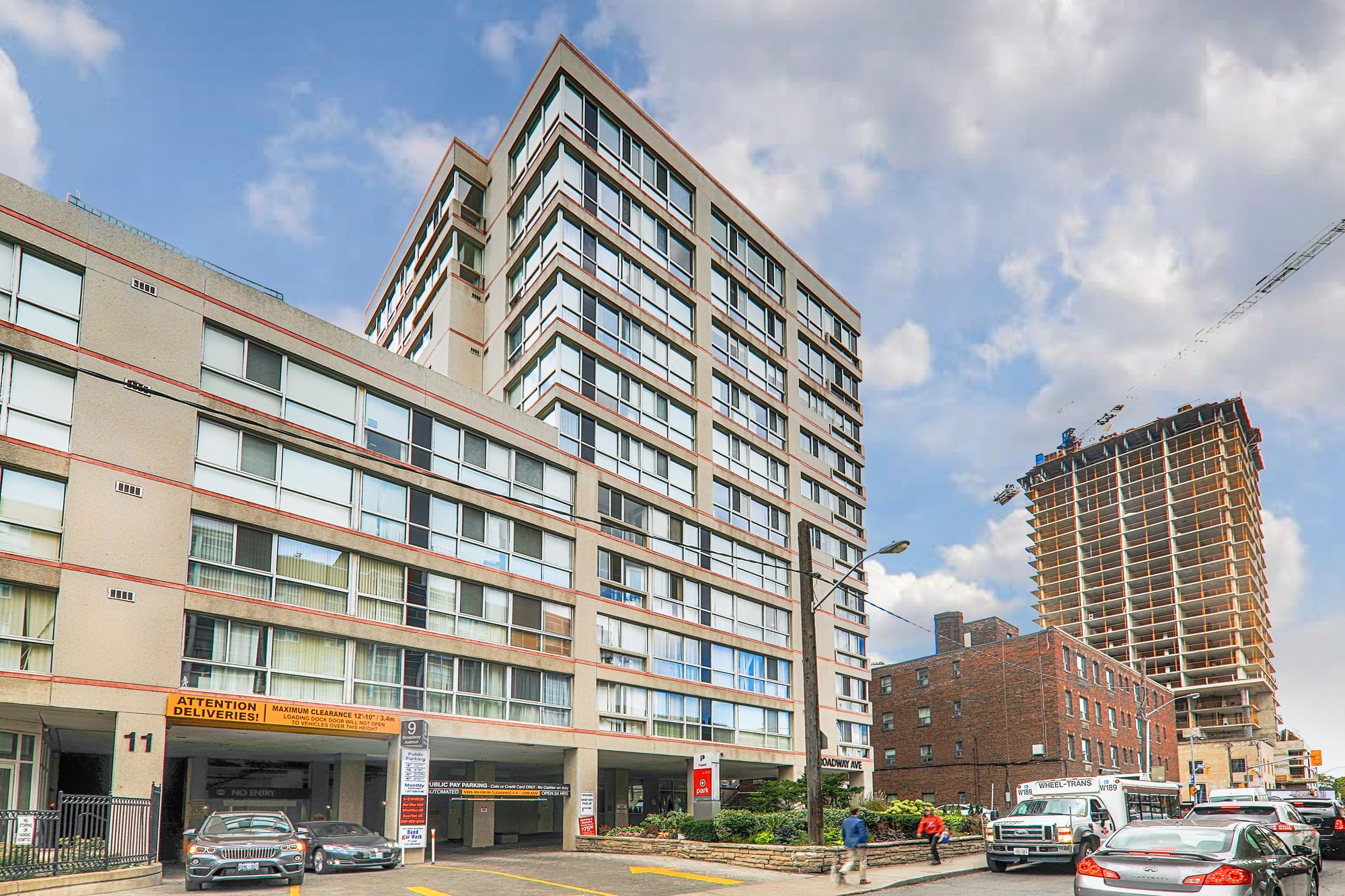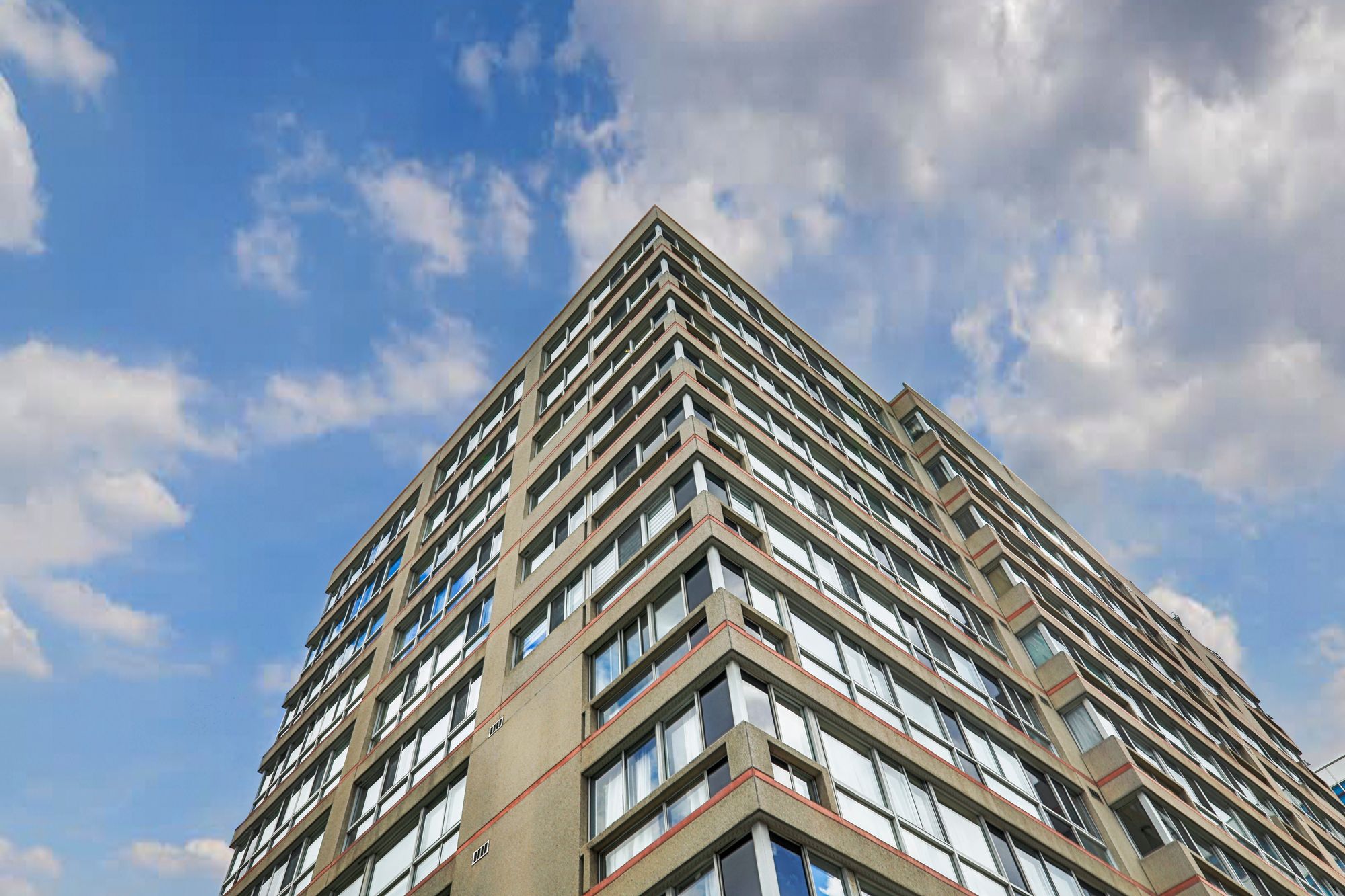 7 Broadway Ave
3
Listings for Sale
for Sale
1
Listing for Rent
for Rent
Broadway Plaza
7 Broadway Ave
Broadway Plaza
3
Listings for Sale
for Sale
1
Listing for Rent
for Rent
Developer
Edison Center Inc
Property Management
360 Community Management Ltd.
Unit Size Range
450 - 1614 SQFT
7 Broadway Ave, Toronto
About this condo
Do you love condo living but you're sick of towering condominiums in the downtown Toronto cluster? Broadway Plaza can cure what ails you.
Located at 7 Broadway Avenue — a quiet tree-lined street — Broadway Plaza is an 11-storey boutique building offering 100 units in the Yonge and Eglinton neighbourhood. This property has some relaxing extras to put residents minds at ease; indoor pool, hot tub, fitness room, sauna, rooftop garden, parking garage, and security guard.
Say goodbye to inflated prices — Broadway Plaza has spacious Toronto condos for sale at affordable prices, making this location ideal for first-time home buyers, small families, and empty nesters who are looking to trade in their home for low maintenance living.
The Suites
Broadway Plaza offers 1 bedroom, 1 bedroom + den, 2 bedroom, 2 bedroom + den and 3 bedroom condos; suite sizes range from 600 square feet to over 1400 for a 3 bedroom unit. Finishes vary based on past alterations, but expect hardwood and tile floors, galley kitchens, and bright spacious units with large windows.
Residents who need a little more space, have access to a shared rooftop garden with stunning city views.
The Neighbourhood
Yonge and Eglinton is a very popular neighbourhood in midtown Toronto. While primarily residential, this community is home to trendy cafes, fantastic restaurants, cozy pubs, and picturesque parks.
From your home at 7 Broadway Avenue, you have some great options for getting for your caffeine fix; De Mello Palheta Coffee Roasters is just a few minutes north on Yonge, Istanbul Café & Espresso Bar and Fomocha are just a few minutes south on Eglinton. And of course, you are never far from Tim Hortons or Starbucks — Tim Hortons is on Yonge and Starbucks is on Mt. Pleasant road.
Imagine having 5 outstanding restaurants just outside of your building — it's true for residents of Broadway Plaza; Grazia Ristorante, La Vecchia Restaurant, SIP Wine Bar & Authentic Neapolitan Pizza, South St. Burger, and Chipotle Mexican Grill are all less than a 2 minute walk from your front door. Plus, Eglinton is 2 blocks south and home to a host of restaurants like La Carnita and CopaCabana Brazilian Steakhouse, and many more.
Pub fans will enjoy the selection nearby, with cozy spots like Duke of Kent, Good Fortune Bar, and Scruffy Murphy's Irish Pub. For groceries and items of convenience, there is a Loblaws and a Marcheleo's Gourmet Marketplace on Eglinton, and the Yonge-Eglinton Centre is just around the corner on Yonge Street.
Nature lovers will be in their glee with Eglinton Park just a few blocks west, and Sherbourne Park and its tree-shrouded trails to the north-east.
Transportation
Broadway Plaza has a Walk Score of 96 — incredible for such a residential setting — residents can run errands in the area without the need for public transit or a vehicle.
Those who do regularly rely on TTC service have bus stops nearby on Redpath Avenue and Mt. Pleasant road, and Eglinton Station is only a few minutes south for the subway.
Drivers can take Eglinton to Don Mills for the Don Valley Parkway, and head west on Lawrence to Allen Road for the 401.
3
Listings For Sale
Interested in receiving new listings for sale?
1
Listings For Rent
Interested in receiving new listings for rent?
Property Highlights
Listing History for Broadway Plaza
Stats, Trends & Rankings
Broadway Plaza vs The Yonge and Eglinton Area
Building Trends At Broadway Plaza
Days on Market
Units at Broadway Plaza spend an average of
8
Days on Market
based on recent sales
List vs Selling Price
On average, these condos sell for
below
the list price.

Offer Competition
Condos in this building have an
AVERAGE
chance of receiving
Multiple Offers
Turnover of Units
On average, each unit is owned for
10.5
YEARS
before being sold again
Property Value
Decrease
in property value within the past twelve months
Price Ranking
Highest price per SQFT out of
33
condos in the Yonge and Eglinton area
Sold Units
2
Units were
Sold
over the past twelve months
Rented Units
5
Units were
Rented
over the past twelve months
Best Value Rank
Broadway Plaza offers the
best value
out of 33 condos in the Yonge and Eglinton neighbourhood
Appreciation Rank
Broadway Plaza has the
highest ROI
out of 33 condos in the Yonge and Eglinton neighbourhood
Rental Yield
Broadway Plaza yields the
highest rent prices
out of 33 condos in the Yonge and Eglinton neighbourhood
High Demand
Broadway Plaza is the
most popular
building out of 33 condos in the Yonge and Eglinton neighbourhood
Sales vs Rental Values For This Condo
Average Cost Per Sqft
$752
Sales Price Range
$500,000 - $536,000
Rental Price Range
$1,800 - $2,650
How Often Are Units Listed?
Average Sales Availability
Average Rental Availability
Ratio of Unit Type in Building
50%
1 Bed + Den
600 - 849 SQFT
Average Sales Availability
Average Rental Availability
Ratio of Unit Type in Building
12%
Average Sales Availability
Average Rental Availability
Ratio of Unit Type in Building
19%
2 Bed + Den
1000 - 1050 SQFT
Average Sales Availability
Average Rental Availability
Ratio of Unit Type in Building
7%
Average Sales Availability
Average Rental Availability
Ratio of Unit Type in Building
14%
Maintenance Fees
Broadway Plaza vs The
Yonge and Eglinton Area
Broadway Plaza's Avg
monthly maintenance fee
Neighbourhood Avg
monthly maintenance fee
Similar condos