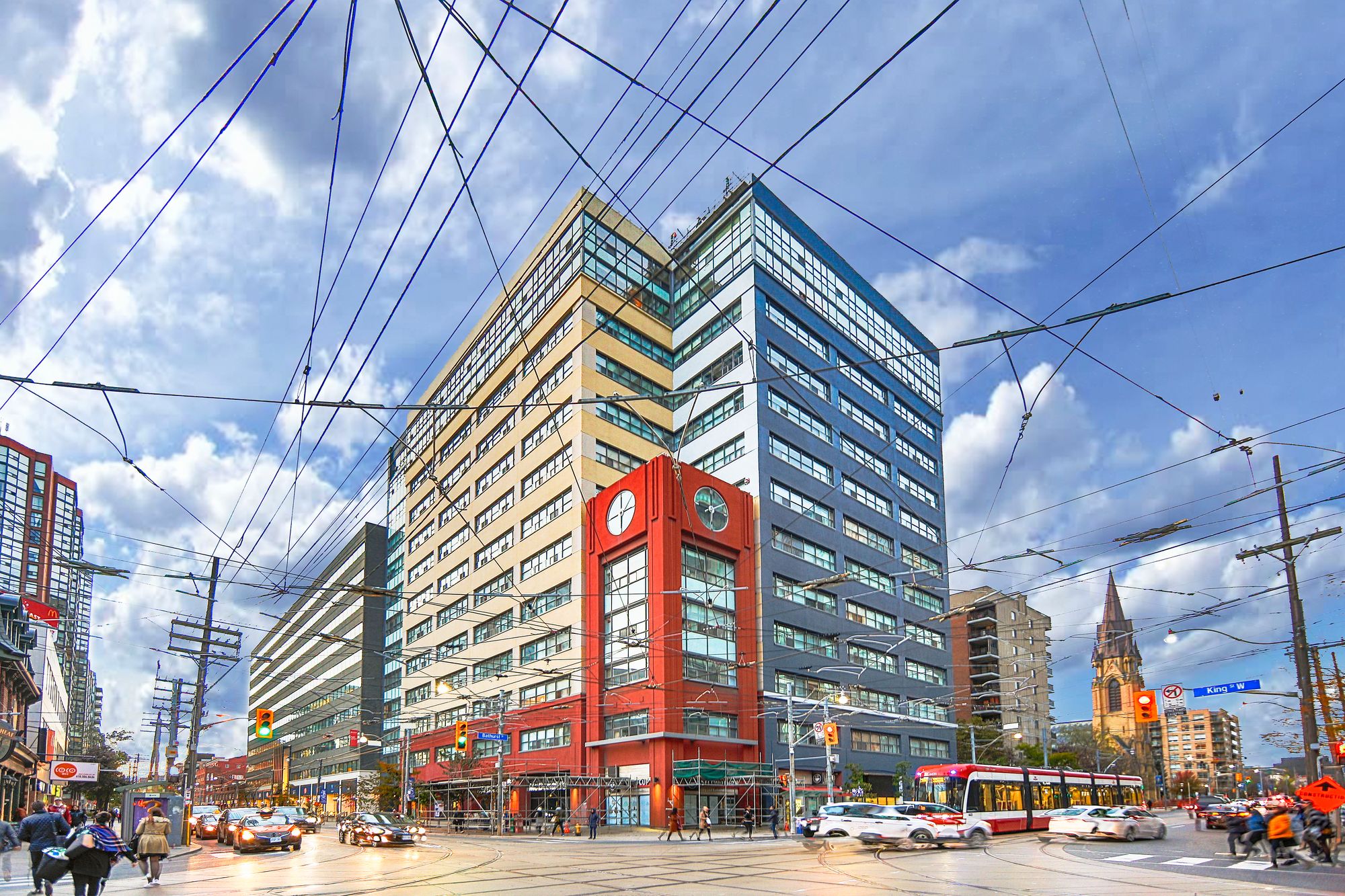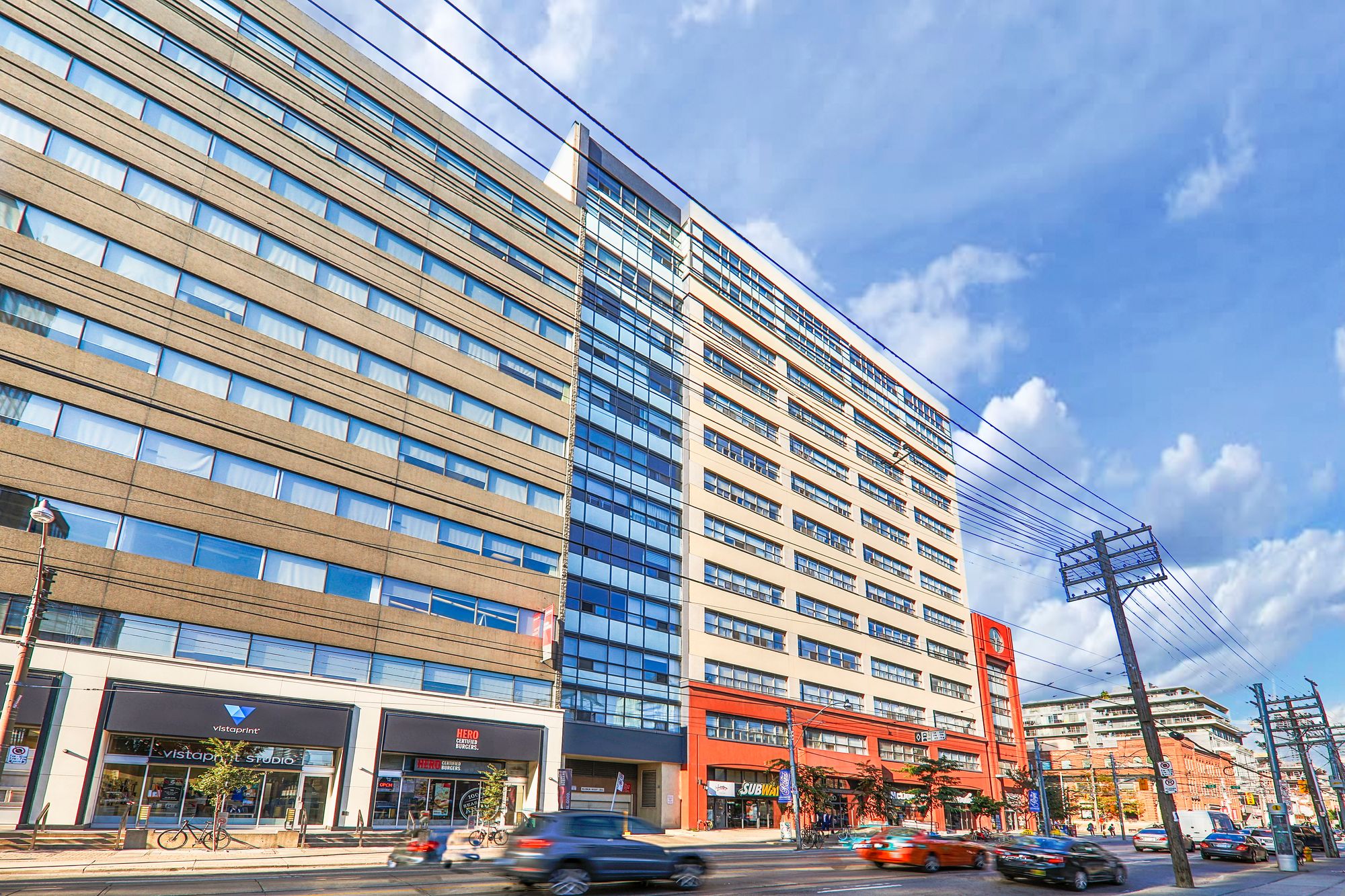 700 King St W
2
Listings for Sale
for Sale
4
Listings for Rent
for Rent
Clock Tower Lofts
700 King St W
Clock Tower Lofts
2
Listings for Sale
for Sale
4
Listings for Rent
for Rent
0
Property Management
Crossbridge Condominium Services Ltd.
Unit Size Range
669 - 3178 SQFT
700 King St W, Toronto
About this loft
Loft Overview
The Clock Tower Lofts (formerly the "Westside Lofts") may not have an industrial chronicle like some of its neighbours, but these authentic hard lofts still conjure up nostalgia for residents and their guests. In fact, the most noticeable of vintage elements at 700 King Street West can be viewed without stepping foot inside the building at all.
In front of the more muted, yellow brick edifice, the front entrance and storefronts below are built of a prominent copper hue. Gazing upwards, one's eye immediately freezes on the circular clock faces on either side.
The clock tower that has told time for a passersby on Bathurst and King Streets is nothing new; the Toronto lofts within, however, are a modern addition to the King West neighbourhood. The Clock Tower Lofts were carved of a former office building in 2001, at which time the clock faces were even replaced by windows for one fortunate homeowner to enjoy.
Contemporary amenities were also bestowed upon the building: residents can enjoy a gym, sauna, rooftop terrace, underground parking, and party room without ever leaving 700 King West.
The Suites
Throughout the 14 storeys, 216 downtown Toronto condos can be found. These lofts range from approximately 700 to 2,700 square feet, and contain one to three bedrooms each. The lofts benefit from their former lives as office spaces, especially when it comes to the ceiling heights that reach to 11 feet tall.
Broad hallways and oversized windows are other nods to the structure's past exploits that are greeted with a warm welcome by homeowners today.
Each unit at the Clock Tower Lofts is bright and spacious. However, while other lofts lure buyers with their open concept layouts, these distinctive homes provide privacy that is a rarity in loft living.
One unit within the clock tower itself takes advantage of those round windows, which reach from floor to ceiling to usher in warm sunlight as well as plenty of compliments from guests. Thanks to their variations in size and style, there are King West condos for sale at the Clock Tower Lofts for everyone — from a cozy first home for a newlywed couple to a residence fit for a family, complete with office, walk-in closet, and laundry room.
The Neighbourhood
In the King West neighbourhood, ultra-hip restaurants and bars are abundant. Residents can dress up and head out for a steak dinner at Jacobs and Co., or throw on a pair of blue jeans and grab a pie at Pizzeria Libretto. From casual bites to fine dining, one thing is for certain here: establishments know that without providing quality service they simply cannot survive here.
Around Niagara, things become a little less chaotic. This mostly residential neighbourhood is scattered with a number of intimate contemporary art galleries. Parks are plentiful as well, with Stanley Park and Victoria Memorial Park each a few blocks from the Clock Tower Lofts. Alternatively, Trinity Bellwoods Park is not far off either — a Toronto favourite for tennis, fetch, and of course picnics.
In terms of provisions, Fresh & Wild Food Market and the Kitchen Table are both just around the corner on King Street West. For more choice, a massive Loblaws is also in close proximity, at the corner of Queen and Portland.
Transportation
With its prime location in the midst of downtown Toronto, many residents of the Clock Tower Lofts will be pleased to walk and cycle around the neighbourhood. For farther journeys, however, the TTC is ready to assist: streetcars with service along King and Bathurst Streets both make stops right outside the front doors of 700 King West. The King Streetcar offers connections to St. Andrew station on the University-Spadina subway line, while Bathurst streetcars will carry passengers to Bathurst station on the Bloor-Danforth line.
Drivers can access the nearby Gardiner Expressway in minutes, from which they can travel around the southern edge of the city and beyond. Bathurst Street is also a quick-moving route for north-south travel, especially handy for those looking for access to the 401.
2
Listings For Sale
Interested in receiving new listings for sale?
4
Listings For Rent
Interested in receiving new listings for rent?
Amenities
Maintenance Fees Cover
Maintenance fees include
Water
Owner / renter pays separately
Hydro
Heat
Air Conditioning
Past Sold & Rented Listings
Stats, Trends & Rankings
Price Per Square Foot
Clock Tower Lofts vs The
King West Area
Less Expensive
per SQFT compared to the neighbourhood average
Clock Tower Lofts's Avg
price per SQFT
$986
/ SQFT
Neighbourhood Avg
price per SQFT
$1,130
/ SQFT
Building Trends At Clock Tower Lofts
Days on Market
Units at Clock Tower Lofts spend an average of
13
Days on Market
based on recent sales
List vs Selling Price
On average, these lofts sell for
above
the list price.

Offer Competition
Lofts in this building have an
AVERAGE
chance of receiving
Multiple Offers
Turnover of Units
On average, each unit is owned for
3.7
YEARS
before being sold again
Property Value
Increase
in property value within the past twelve months
Price Ranking
Highest price per SQFT out of
95
condos in the King West area
Sold Units
13
Units were
Sold
over the past twelve months
Rented Units
15
Units were
Rented
over the past twelve months
Best Value
Clock Tower Lofts offers the
best value
out of 95 condos in the King West neighbourhood
Return on Investment
Clock Tower Lofts has the
highest ROI
out of 95 condos in the King West neighbourhood
Rental Yield
Clock Tower Lofts yields the
highest rent prices
out of 95 condos in the King West neighbourhood
High Demand
Clock Tower Lofts is the
most popular
building out of 95 condos in the King West neighbourhood
Sales vs Rental Values For This Loft
Average Cost Per Sqft
$883
Sales Price Range
$700,000 - $815,000
1 Bed + Den
720 - 720 SQFT
Average Cost Per Sqft
$833
Sales Price Range
$712,000 - $712,000
Average Cost Per Sqft
$891
Sales Price Range
$720,500 - $937,000
Rental Price Range
$2,200 - $3,600
2 Bed + Den
935 - 1025 SQFT
Average Cost Per Sqft
$791
Sales Price Range
$735,000 - $735,000
Rental Price Range
$2,850 - $3,850
Rental Price Range
$8,400 - $8,400
How Often Are Units Listed?
Average Sales Availability
Average Rental Availability
Ratio of Unit Type in Building
6%
1 Bed + Den
706 - 1175 SQFT
Average Sales Availability
Average Rental Availability
Ratio of Unit Type in Building
6%
Average Sales Availability
Average Rental Availability
Ratio of Unit Type in Building
73%
2 Bed + Den
854 - 1993 SQFT
Average Sales Availability
Average Rental Availability
Ratio of Unit Type in Building
15%
Average Sales Availability
Average Rental Availability
Ratio of Unit Type in Building
2%
Maintenance Fees

Clock Tower Lofts vs The

King West Area
More Expensive
per SQFT compared to the neighbourhood average
Clock Tower Lofts's Avg
monthly maintenance
fee per SQFT
$0.80
/ SQFT
Neighbourhood Avg
monthly maintenance
fee price per SQFT
$0.74
/ SQFT
Similar lofts