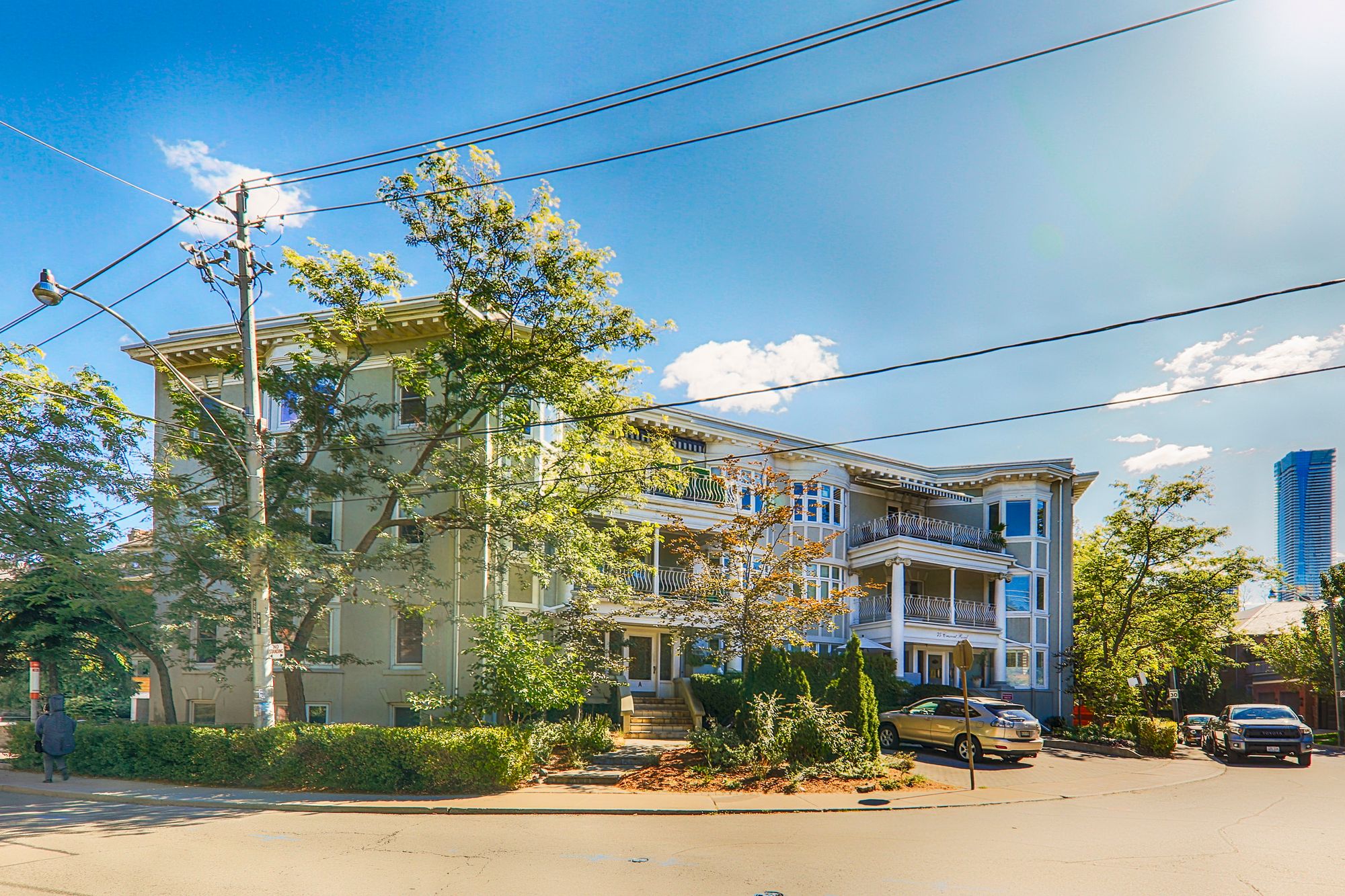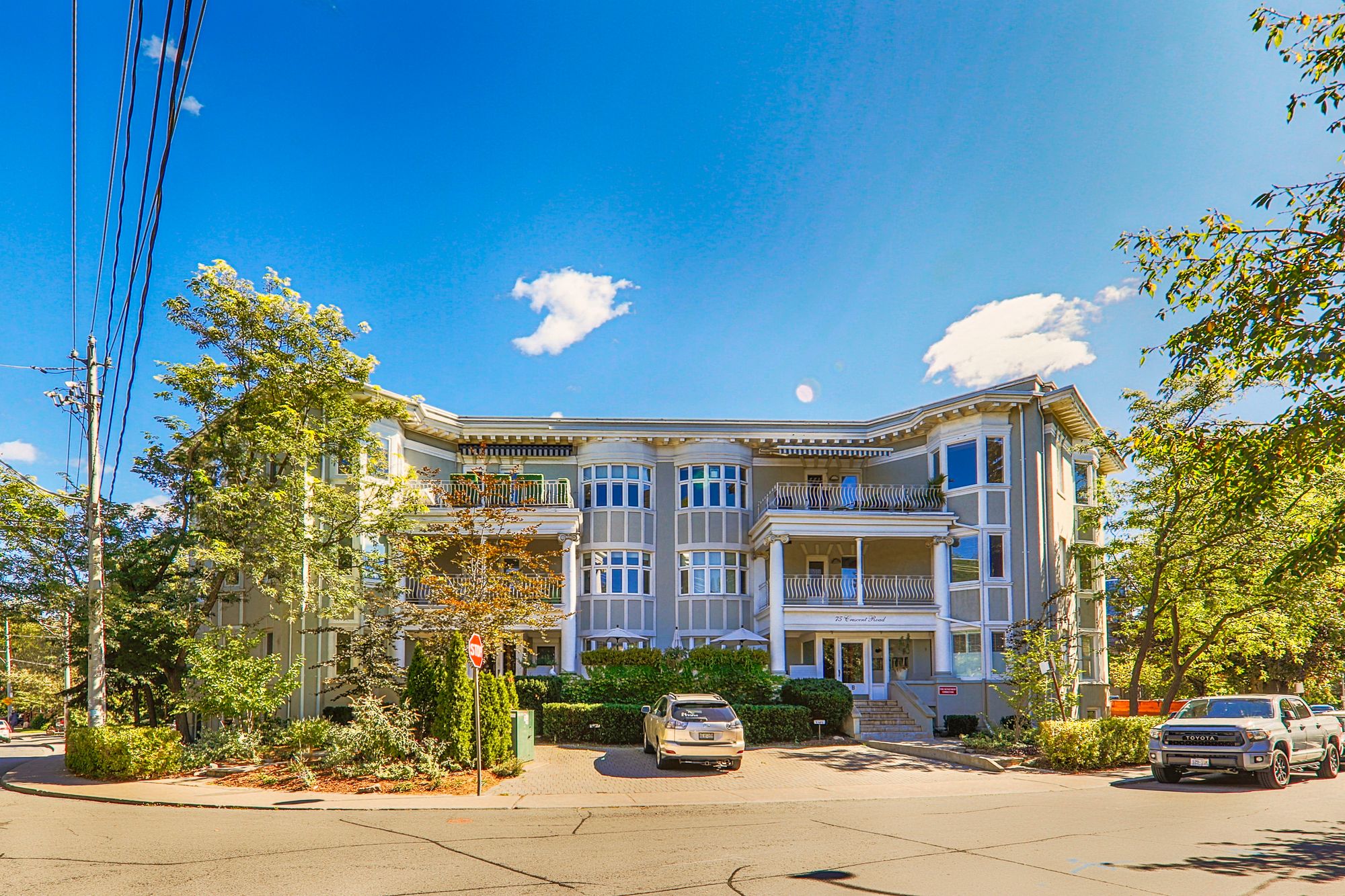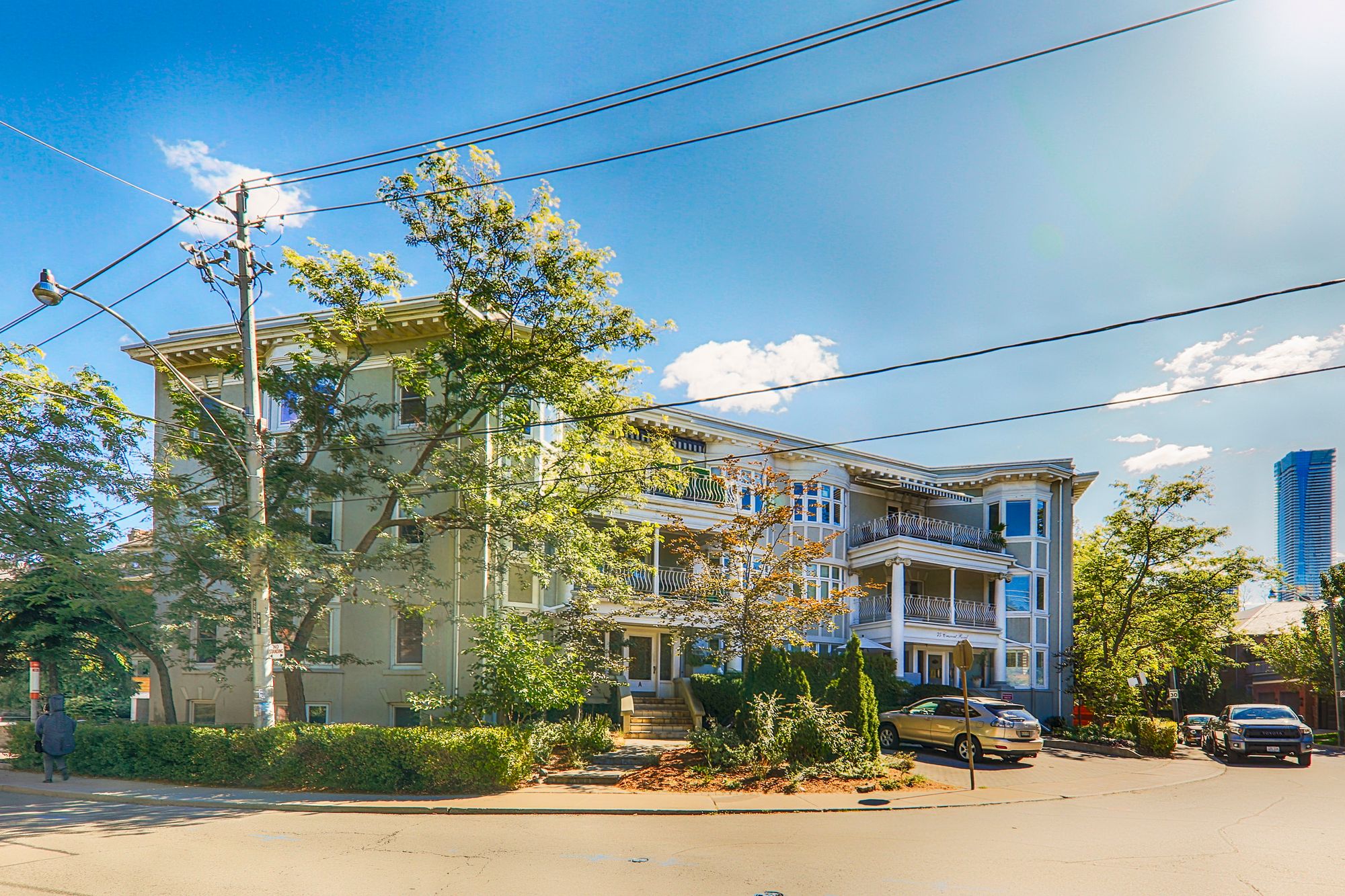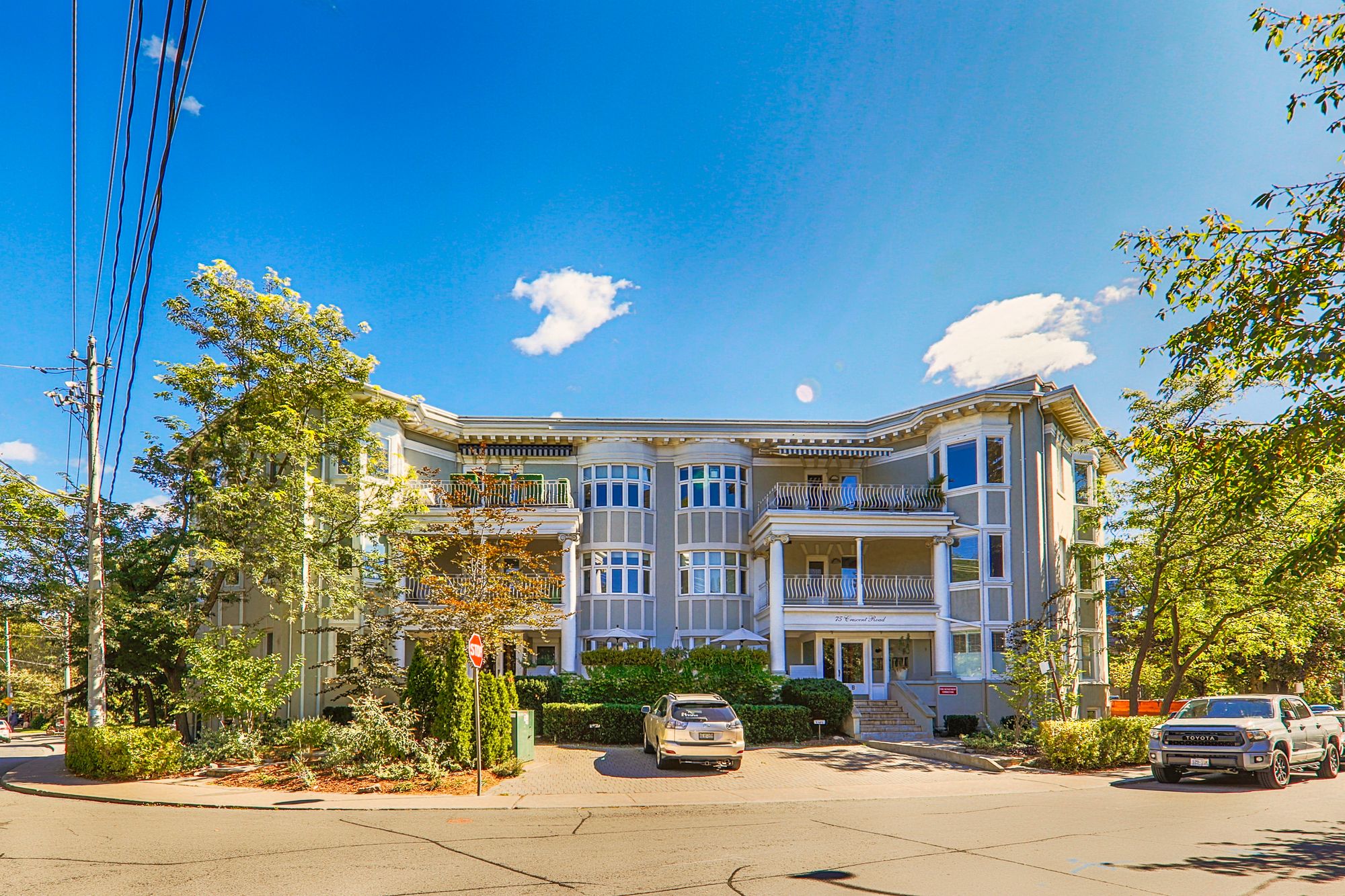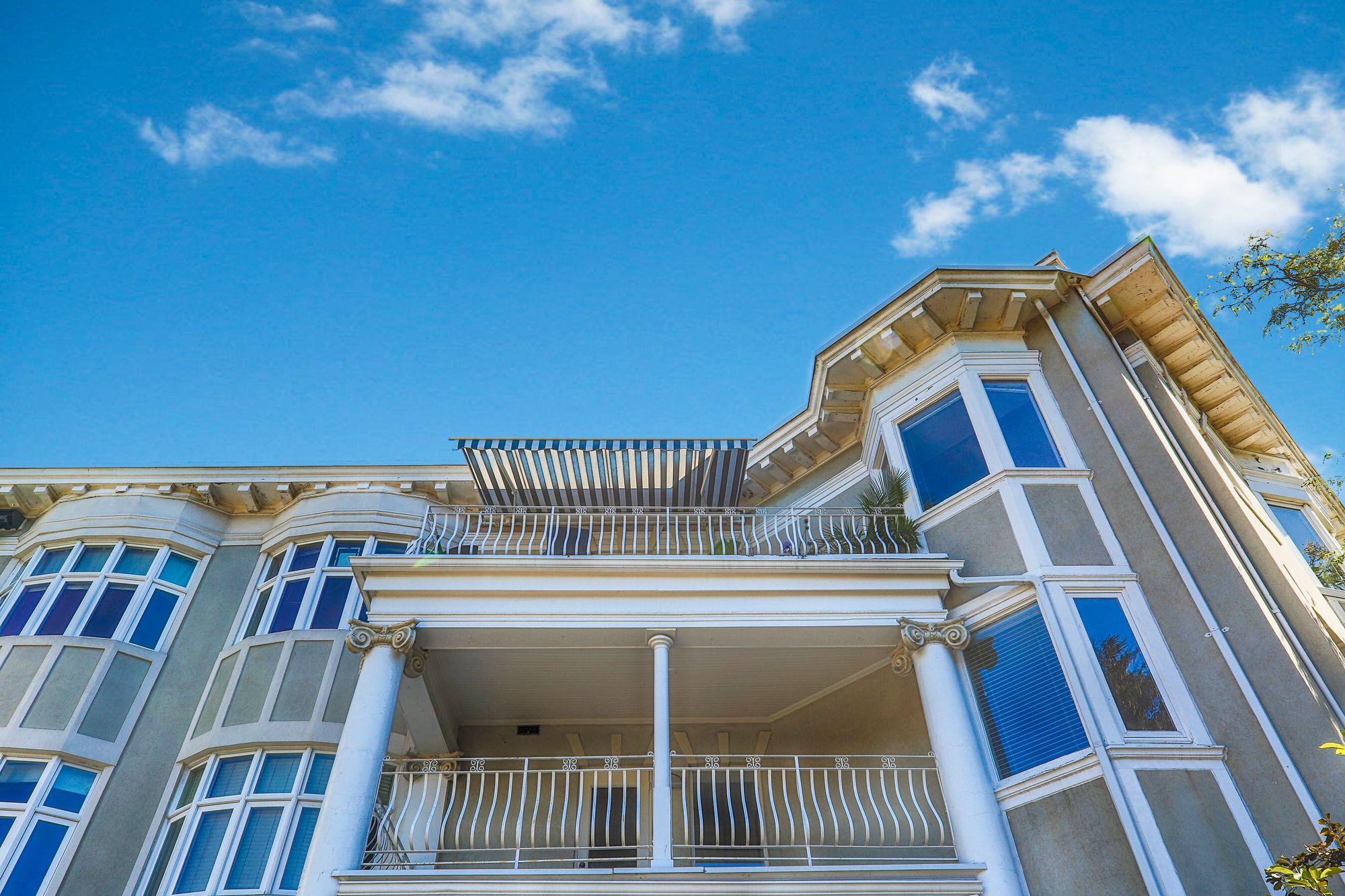 75 Crescent Rd
0
Listings for Sale
for Sale
0
Listings for Rent
for Rent
Castlemere Apartments
75 Crescent Rd
Castlemere Apartments
0
Listings for Sale
for Sale
0
Listings for Rent
for Rent
Developer
Admiral & Bernard Limited
Property Management
Goldview Property Management Ltd
Unit Size Range
890 - 1666 SQFT
75 Crescent Rd, Toronto
About this condo
So well-established a fixture in the Rosedale neighbourhood that many in the community simply refer to them as "The Apartments," the condos at 75 Crescent Road were originally built in 1912. Although they were converted into upscale condos in 1988, they've kept their name, the Castlemere Apartments — as well as all their elegance and sense of grandeur.
Designed by Henry Simpson, who trained under the prestigious architect E.J. Lennox, 75 Crescent features a bold combination of Classical and Tudor Revival aesthetics, spread out over just 4 storeys. At ground level, impressive columns support balconies that are adorned with elegant white metal balustrades. And throughout, sets of bay windows featuring charming bright frames lead the eye up to meticulously detailed cornices: the cherry on top of the Castlemere Apartments.
Regardless of their architectural beauty, these balconies and bay windows give residents a fresh atmosphere both inside and out. Similarly, being such a longstanding and carefully preserved residence, the Castlemere Apartments boasts excellently landscaped grounds and lush gardens as well.
Although, 75 Crescent contains only a few amenities, their location within such a friendly residential neighbourhood so close to the downtown core attracts many prospective homeowners. Considering the many parks and ravines surrounding these homes, residents can enjoy the best of both worlds — the bustling urban and quaint countryside vibes. And once back at home, the building itself grants residents the glamour associated with old-world opulence.
The Suites
Containing an exclusive 13 suites, floor plans are unsurprisingly spacious. The 13 suites consist of two bedroom plus den and three bedroom options, whose sizes span approximately 800 to 1,600 square feet. Although only a few balconies extend living spaces into the outdoors, 75 Crescent's open-concept suites, with high ceilings in principal rooms and a generous amount of windows, make each interior space feel airy and comfortable.
Furthermore, with exquisite hardwood floors and custom closets, the Castlemere Apartments' suites prove more than comfortable — they're simply luxurious. As is the case with many long standing condos like 75 Crescent, their residents have had plenty of time customize them to their tastes. Nonetheless, with lavish fixtures in place, including fireplaces in many suites, these Toronto condos for sale appeal to buyers who prefer a wide range of aesthetics and styles.
The Neighbourhood
Named for the wild roses that proliferated throughout the area, Rosedale is one of the most storied suburbs in the city. Although Rosedale is almost exclusively a residential area, it neighbours Yorkville, a neighbourhood renowned for its designer boutiques and eclectic eateries. And with all the stately homes, tall trees, and lush landscapes nearby, the short walk from 75 Crescent to Yorkville becomes a treat on its own.
Indeed, many people from around the city even visit the Rosedale neighbourhood just to take a look at its beautiful residences — the Castlemere Apartments included. Fortunately, residents can easily escape those admiring eyes if they so please: the nearby Park Drive Reservation Trail, accessible from Mount Pleasant Road, can led one on a reinvigorating walk through verdant natural landscapes unexpected of such a bustling metropolis.
Transportation
When some people hear 'residential suburb,' they think of long, costly public transit trips. Luckily, that's not the case for those living in Rosedale. The Castlemere Apartments are just down the street from Rosedale station on the Yonge-University-Spadina subway line, just north of the Bloor-Yonge Station.
Finally, for those who prefer to drive, the roads in the Rosedale neighbourhood don't follow a strict grid as do many newly developed suburbs; nor do they become as gridlocked as the streets of the downtown core. Best of all, residents are around the corner from major streets such as Yonge and Bloor, meaning they're a couple minutes' drive from Toronto's major attractions. Moreover, when drivers need to access the highway, Rosedale Valley Road will carry travelers down to to Bayview Avenue. This route leads to an onramp to the Don Valley Parkway, with the entire trip taking just around five minutes.
0
Listings For Sale
Interested in receiving new listings for sale?
0
Listings For Rent
Interested in receiving new listings for rent?
Property Highlights
Listing History for Castlemere Apartments
Stats, Trends & Rankings
Castlemere Apartments vs The Rosedale Area
Castlemere Apartments's Avg
Building Trends At Castlemere Apartments
Days on Market
Units at Castlemere Apartments spend an average of
7
Days on Market
based on recent sales
List vs Selling Price
On average, these condos sell for
below
the list price.

Offer Competition
Condos in this building have a
LOW
chance of receiving
Multiple Offers
Turnover of Units
On average, each unit is owned for
7.8
YEARS
before being sold again
Property Value
Increase
in property value within the past twelve months
Price Ranking
Highest price per SQFT out of
23
condos in the Rosedale area
Sold Units
2
Units were
Sold
over the past twelve months
Rented Units
0
Units were
Rented
over the past twelve months
Best Value Rank
Castlemere Apartments offers the
best value
out of 23 condos in the Rosedale neighbourhood
Appreciation Rank
Castlemere Apartments has the
highest ROI
out of 23 condos in the Rosedale neighbourhood
Rental Yield
Castlemere Apartments yields the
highest rent prices
out of 23 condos in the Rosedale neighbourhood
High Demand
Castlemere Apartments is the
most popular
building out of 23 condos in the Rosedale neighbourhood
Sales vs Rental Values For This Condo
Average Cost Per Sqft
$782
Sales Price Range
$1,070,000 - $1,070,000
2 Bed + Den
1239 - 1239 SQFT
Average Cost Per Sqft
$967
Sales Price Range
$1,180,000 - $1,180,000
How Often Are Units Listed?
Average Sales Availability
Average Rental Availability
Ratio of Unit Type in Building
84%
2 Bed + Den
1239 - 1239 SQFT
Average Sales Availability
Average Rental Availability
Ratio of Unit Type in Building
17%
Maintenance Fees
Castlemere Apartments vs The
Rosedale Area
Castlemere Apartments's Avg
monthly maintenance fee
Neighbourhood Avg
monthly maintenance fee
Similar condos