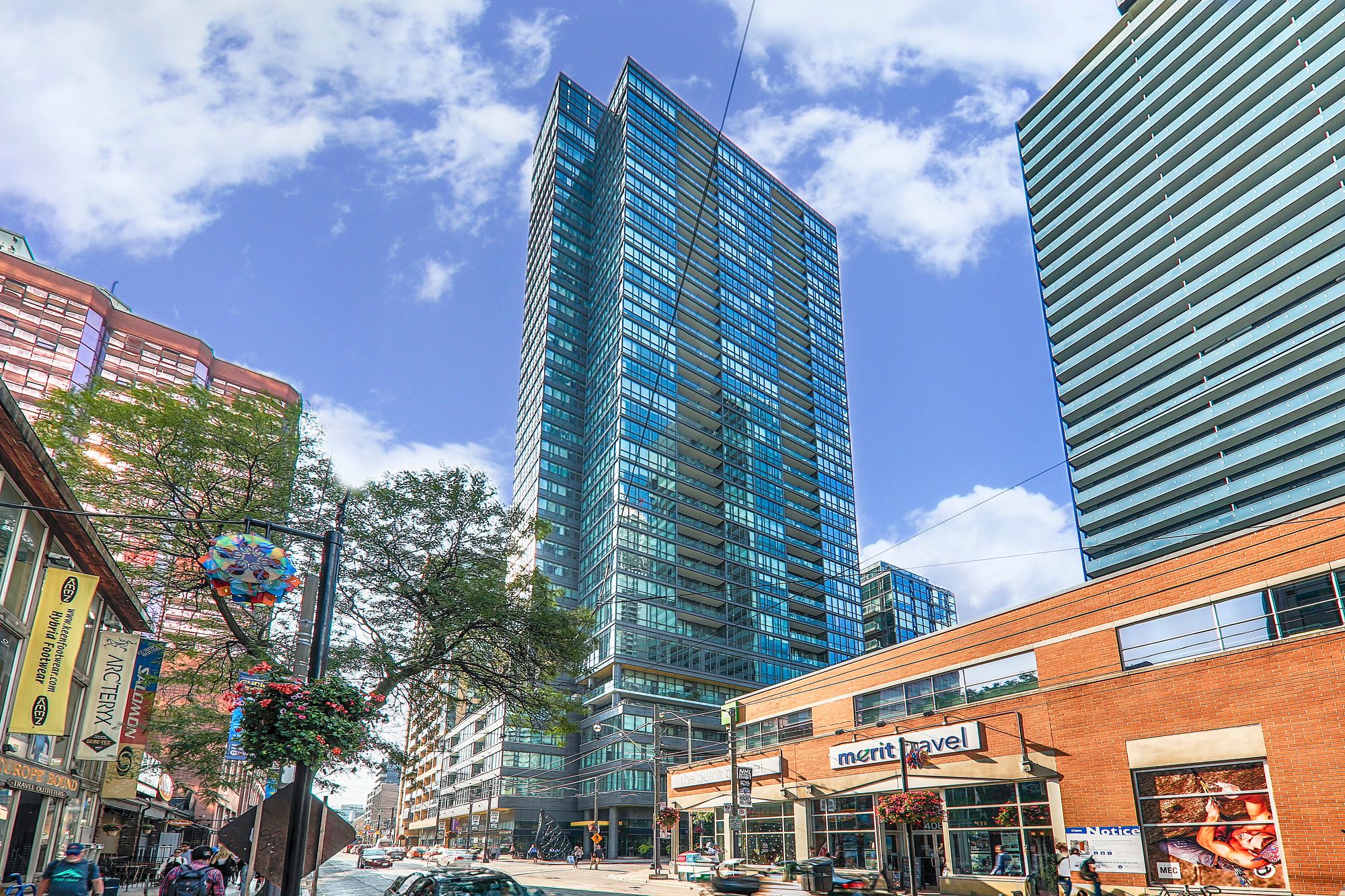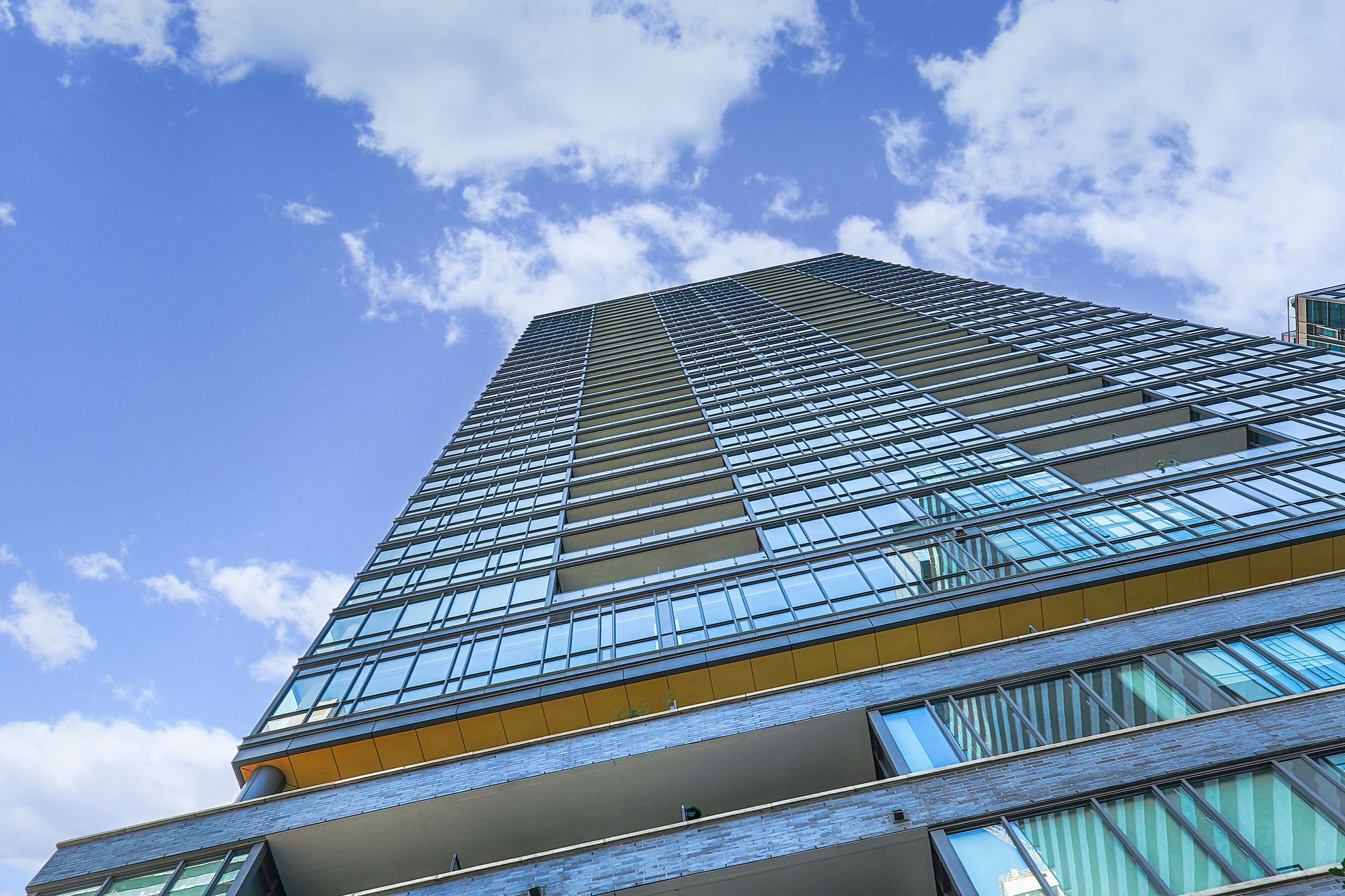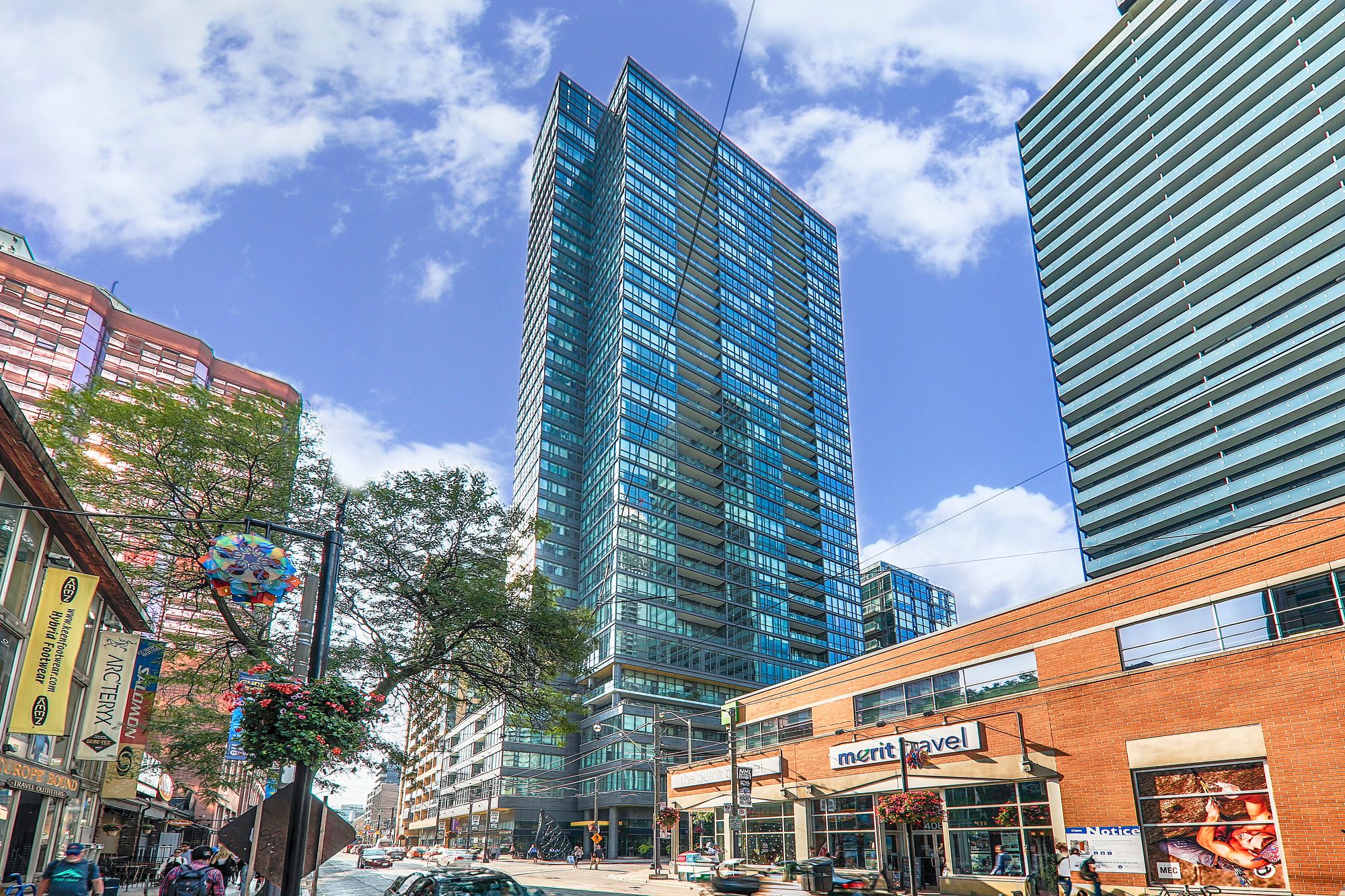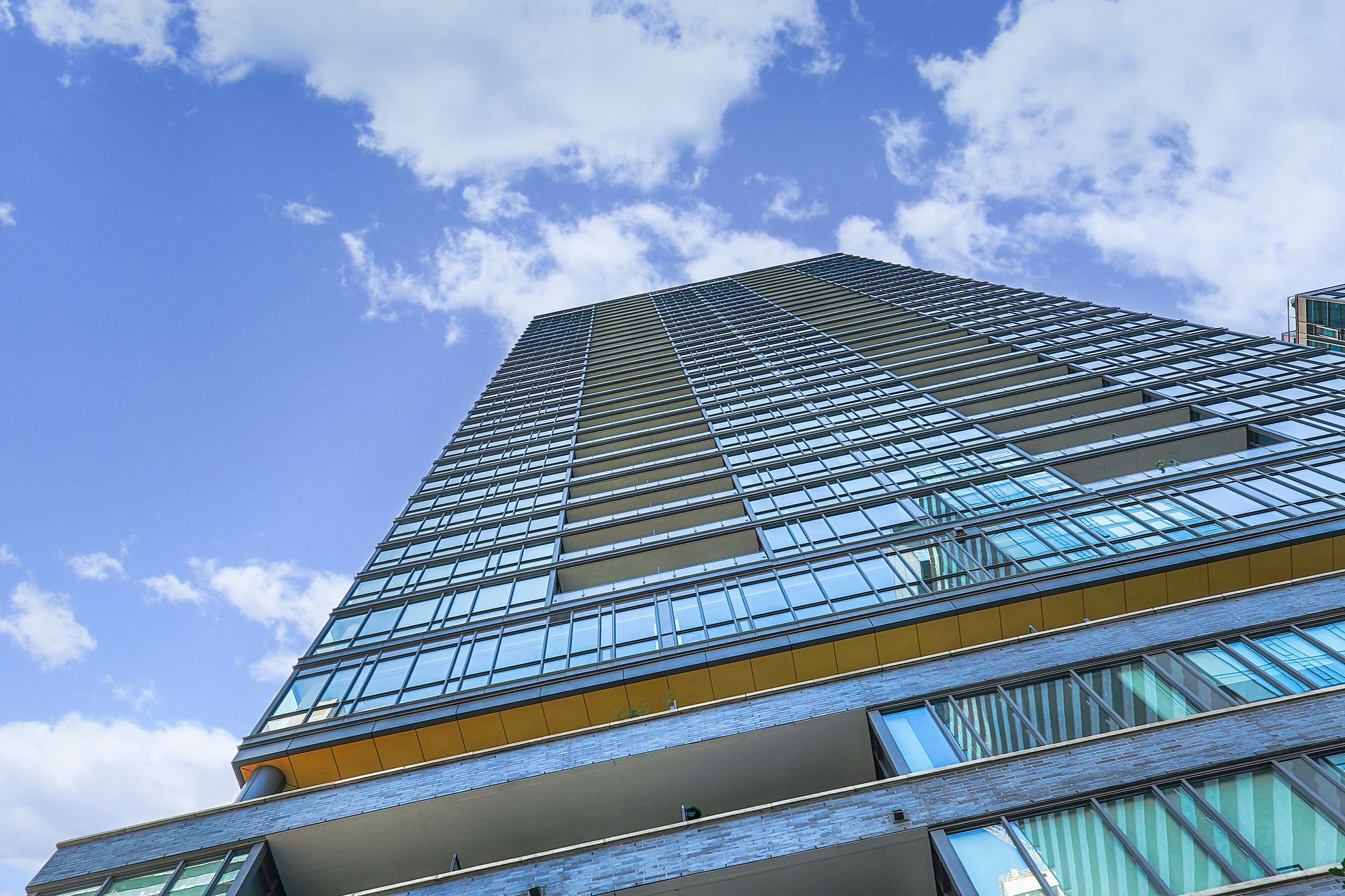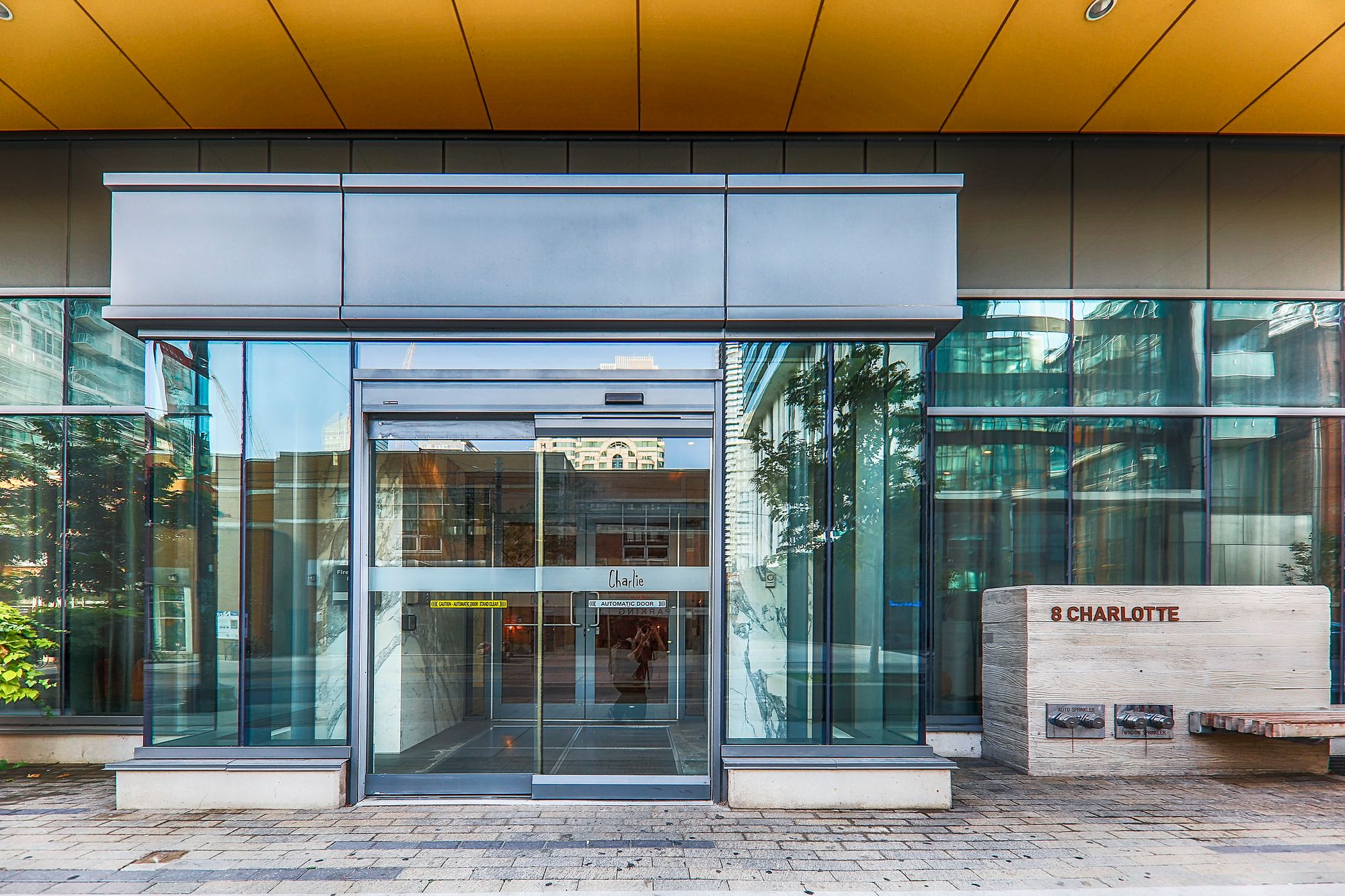 8 Charlotte St
2
Listings for Sale
for Sale
0
Listings for Rent
for Rent
Charlie
8 Charlotte St
Charlie
2
Listings for Sale
for Sale
0
Listings for Rent
for Rent
0
Unit Availability
Above Average
Property Management
Icon Property Management
Unit Size Range
372 - 2131 SQFT
8 Charlotte St, Toronto
About this condo
The ceilings covering multiple terraces that are visible from the streets below 8 Charlotte Street are painted the perfect Charlie-Brown-yellow. It's precisely this pop of colour that sets Charlie apart from the other soaring glass towers in downtown Toronto.
Built by Diamond and Schmitt and Great Gulf Homes, the façade also has hints of grey and black masonry, especially surrounding the 6-storey podium. Sliding glass doors at the front entrance welcome residents into Charlie's lobby, where a concierge is ready and waiting to assist with any needs or concerns.
The 314-unit building was completed in 2013, and reaches to 36 storeys tall. Unsurprisingly for such a large and modern construction, residents also have access to plenty of amenities. Ranging from the utilitarian to the purely entertaining, these communal spaces are located in what's known as "The Zone," which covers two floors of the building. Here, residents can find a gym, steam room, lounge with dining area and kitchen, and screening room, plus billiards and a piano.
8 Charlotte is also equipped with an outdoor pool and an accompanying lounge area with barbecues on the 7th floor, as well as a number of guest suites and plenty of visitor parking.
The Suites
The homes within Charlie range from comfortable to palatial. For those who prefer to think in terms of square footage while shopping for a home, the suites start at approximately 400 and reach to around 2,000 square feet. While single professionals or young couples will be perfectly happy in some of the cozier units, the largest Toronto condos for sale in this building can accommodate sizeable families. A couple of penthouse units can also be found throughout the building.
No matter what suite a buyer settles on, it's sure to be brightly lit and delicately modern. Generously sized windows provide these homes with plenty of natural lighting, while Cecconi Simone took care of the interior design.
The suites at 8 Charlotte boast 9-foot ceilings and engineered hardwood flooring, and high speed internet is already set up, so residents don't need to worry about arranging their own. Kitchens feature stainless steel appliances and granite countertops, plus islands in certain units. Many residents can even enjoy eating outside on their private — and spacious — balconies.
While these materials aren't necessarily present inside, each home in the building was named for a particular fabric: Chintz, Chiffon, Wool, Chenille, Lace, Satin. Prospective buyers might also choose a suite based on its view: for example, west-facing homes boast unobstructed vistas of the city, plus some pretty spectacular sunsets.
The Neighbourhood
Residents living at Charlie are well situated, regardless of how one prefers to spend their free time. The building sits in King West directly between the Entertainment and Fashion Districts, meaning plenty of options in terms of dining, shopping, and of course, entertainment.
Many other interesting neighbourhoods are also within walking distance, such as Kensington Market and Grange Park. In the former, residents of Charlie can shop for organic produce, imported cheese, or vintage clothing, while the latter is most often visited for the Art Gallery of Ontario.
When residents want to stay local, they can simply walk over to the TIFF Bell Lightbox to catch an independent or international film, or watch a comedy show at the Second City. Outdoorsy types, on the other hand, will likely be found exploring the many green spaces that surround Charlie, such as Grange Park, Clarence Square Park, or Canoe Landing.
Transportation
Traveling to and from Charlie is simple, with or without a car. Living a stone's throw from the major intersection of King and Spadina is ideal for drivers, who can use these roads to head north, south, east, or west. This locale also benefits those who rely on public transit to get around, since the streetcar routes along these roads carry passengers toward either the Yonge-University-Spadina and Bloor-Danforth subway lines.
Even international travelers are well situated. Pearson International Airport takes about 25 minutes to reach by car, or an hour on public transit. Alternatively, residents of Charlie can use the smaller — but much closer — Billy Bishop Toronto City Airport, which takes just 20 minutes to reach via streetcar or 10 by car.
2
Listings For Sale
Interested in receiving new listings for sale?
0
Listings For Rent
Interested in receiving new listings for rent?
Amenities
Maintenance Fees Cover
Maintenance fees include
Heat
Air Conditioning
Water
Owner / renter pays separately
Hydro
Past Sold & Rented Listings
Stats, Trends & Rankings
Price Per Square Foot
Charlie vs The
King West Area
More Expensive
per SQFT compared to the neighbourhood average
Charlie's Avg
price per SQFT
Neighbourhood Avg
price per SQFT
Building Trends At Charlie
Days on Market
Units at Charlie spend an average of
12
Days on Market
based on recent sales
List vs Selling Price
On average, these condos sell for
above
the list price.

Offer Competition
Condos in this building have a
HIGH
chance of receiving
Multiple Offers
Turnover of Units
On average, each unit is owned for
6.2
YEARS
before being sold again
Property Value
Increase
in property value within the past twelve months
Price Ranking
Highest price per SQFT out of
95
condos in the King West area
Sold Units
24
Units were
Sold
over the past twelve months
Rented Units
44
Units were
Rented
over the past twelve months
Best Value
Charlie offers the
best value
out of 95 condos in the King West neighbourhood
Return on Investment
Charlie has the
highest ROI
out of 95 condos in the King West neighbourhood
Rental Yield
Charlie yields the
highest rent prices
out of 95 condos in the King West neighbourhood
High Demand
Charlie is the
most popular
building out of 95 condos in the King West neighbourhood
Sales vs Rental Values For This Condo
Average Cost Per Sqft
$1,025
Sales Price Range
$545,000 - $545,000
Rental Price Range
$1,950 - $1,950
Average Cost Per Sqft
$1,184
Sales Price Range
$659,998 - $838,800
Rental Price Range
$2,000 - $2,650
1 Bed + Den
500 - 800 SQFT
Average Cost Per Sqft
$1,121
Sales Price Range
$727,000 - $1,005,000
Rental Price Range
$2,300 - $3,600
Average Cost Per Sqft
$1,199
Sales Price Range
$999,999 - $1,320,000
Rental Price Range
$3,150 - $4,300
2 Bed + Den
1000 - 1023 SQFT
Average Cost Per Sqft
$977
Sales Price Range
$1,375,000 - $1,375,000
Rental Price Range
$3,950 - $4,100
Average Cost Per Sqft
$1,056
Sales Price Range
$1,850,000 - $1,850,000
Rental Price Range
$5,995 - $5,995
How Often Are Units Listed?
Average Sales Availability
Average Rental Availability
Ratio of Unit Type in Building
2%
Average Sales Availability
Average Rental Availability
Ratio of Unit Type in Building
14%
1 Bed + Den
500 - 809 SQFT
Average Sales Availability
Average Rental Availability
Ratio of Unit Type in Building
44%
Average Sales Availability
Average Rental Availability
Ratio of Unit Type in Building
30%
2 Bed + Den
919 - 1499 SQFT
Average Sales Availability
Average Rental Availability
Ratio of Unit Type in Building
11%
Average Sales Availability
Average Rental Availability
Ratio of Unit Type in Building
2%
3 Bed + Den
1775 - 1775 SQFT
Average Sales Availability
Average Rental Availability
Ratio of Unit Type in Building
1%
Maintenance Fees

Charlie vs The

King West Area
More Expensive
per SQFT compared to the neighbourhood average
Charlie's Avg
monthly maintenance
fee per SQFT
Neighbourhood Avg
monthly maintenance
fee price per SQFT
Similar condos